May, 30, 2014
5/30/14
10:00
AM ET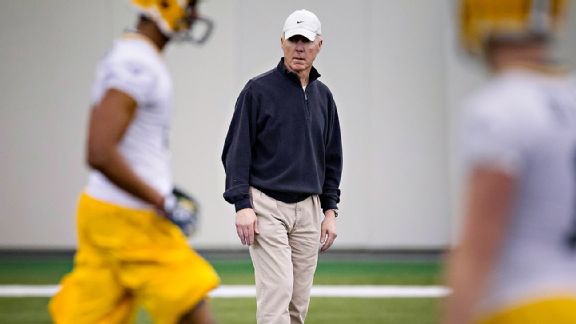 AP Photo/Mike RoemerUnder the direction of general manager Ted Thompson, the Green Bay Packers have maintained stability in the front office.
GREEN BAY, Wis. -- A month ago, Ted Thompson looked –- and sounded –- worn out.
In his annual pre-draft session with reporters, his speech was slower and more deliberate than usual, prompting whispers about his health and questions about how much longer he might continue as the
Green Bay Packers
' general manager.
Even Bob Harlan, the former Packers president and the man who hired Thompson in 2005, noticed a difference.
"I did see him on TV a couple of times where he seemed down, and I don't know if it was just exhaustion from the preparation for [the draft] and all the travel that he goes through because he just grinds all the time," Harlan said. "He's either in that room looking at video, or he's on the road."
At age 61, could Thompson have been showing signs that he was nearing the end of a successful run as general manager that has included one Super Bowl title?
Those close to him did not think so at the time, even when Thompson was forced to miss the NFL annual meetings in March because of an undisclosed personal matter. And they do not think so now, especially after he appeared energized following the draft.
So when Thompson joked a week after the draft
that he's "just getting started
," the Packers should hope there is more than just a shred of truth to his typically dry humor.
In many ways, Thompson is the key to keeping the Packers' successful leadership team intact.
Consider what happened when Thompson's mentor, Ron Wolf, retired in 2001: The Packers had a coach in Mike Sherman they wanted to keep. Harlan feared that if he went outside for a general manager, he might lose Sherman, so he added the GM role to Sherman's responsibilities. Four years later, it had become apparent it was too much for him, prompting Harlan to bring back Thompson, who had followed Mike Holmgren to Seattle and was the Seahawks' director of player personnel. Thompson and Sherman worked together for one season before Thompson fired him and hired coach Mike McCarthy.
All the while, some of quarterback Brett Favre's prime years passed without even reaching another NFC Championship Game during Sherman's tenure (2000-05).
It's not unreasonable to think the same problems could befall McCarthy and quarterback
Aaron Rodgers
if Thompson were to walk away anytime soon.
"That poses a problem; there's no doubt about it," Harlan said. "I guess because I saw it happen twice –- when Ron came in and Lindy [Infante] was here [as the coach] and with Ted, who tried very hard to make it work with Mike Sherman –- I know it can go downhill in a hurry. It is very difficult if the general manager cannot select his own coach."
No doubt, that's why current Packers president Mark Murphy indicated earlier this month that before any contract extension will be done for McCarthy, Thompson's situation will be taken care of first.
Like McCarthy, Thompson has two more years left on a contract he signed after the Packers won Super Bowl XLV. Thompson would not say how much longer he intends to work but added that he "wouldn't anticipate doing anything different."
When Harlan hired Thompson, he received no assurances of how long Thompson would stay on in the role, but Harlan considered Thompson -- who has never been married and does not have children – to be all football, all the time.
"I had watched him for all of those years when he was working for Ron in Green Bay, and his life was just football then as I'm sure it was in Seattle, too," Harlan said. "Ron was 53 when I hired him [in 1991], and I was shocked when he wanted to leave so early, but I understood. Frankly, what I was trying to do was make the move on Ted before it was time for me to go so that I could be sure football was good hands."
And Harlan's last major act as president did just that. Of the 53 players on the Packers' roster for Super Bowl XLV, 49 of them were acquired by Thompson, whose draft-and-develop philosophy has kept the Packers competitive on an annual basis.
If Murphy has a succession plan in mind for the GM job, he has not shared it. Perhaps he could try to lure former Packers scouts-turned-general managers John Schneider or John Dorsey back to town, but it might be tough to get Schneider out of Seattle or Dorsey out of Kansas City, where both have strong support from their owners.
It's possible he could maintain continuity by promoting vice president of player finance Russ Ball or one of Thompson's chief scouts –- Brian Gutekunst, Alonzo Highsmith or Eliot Wolf.
Some believe Murphy might hire a search firm -– as he has done with several other key front-office positions -– to identify candidates.
Or maybe, if the Packers are fortunate, Thompson will keep going strong.
One person close to him said recently that he does not see Thompson leaving anytime soon, unless the Packers win another Super Bowl, and that all the recent talk about him retiring "got him going."
When told of that, Harlan said, "I would think he'd at least go to 65, and then I think probably what he's going to do is become an area scout. He told me a long time ago that someday he might just go back to Texas and just be an area scout.
"Maybe he'd do it for the Packers. I would be surprised if he didn't work until at least 65. His health is good, and this is everything for him."
February, 15, 2014
2/15/14
8:00
AM ET
Each week, I will ask for questions via Twitter with the hashtag #PackersMail and then will deliver the answers over the weekend.


January, 14, 2013
1/14/13
12:50
PM ET
After the Green Bay Packers' 45-31 loss to the San Francisco 49ers, here are three issues that merit further examination:
ESPN.com

We utilized plenty of cyberspace discussing a defense that allowed 323 rushing yards, and a total of 571 offensive yards in the loss. In his understated manner, defensive back Charles Woodson made clear he thought coordinator Dom Capers should have adjusted from an approach that included some defensive-back blitzes and a good bit of man-to-man-defense -- which escalated the opportunities for 49ers quarterback Colin Kaepernick to run. It's worth noting that Woodson has made similar judgments multiple times in Capers' tenure. After Arizona Cardinals quarterback Kurt Warner had a near-perfect game against the Packers in the 2009 wild-card round, Woodson said: "They were able to move the ball up and down the field the same way." In 2011, Woodson said the Packers were making a mistake by leaving linebacker Clay Matthews "stuck on a side and double teamed every time he gets upfield." Woodson chooses his spots for public criticism and is almost always right when he speaks out. Capers' slow take to schematic adjustments in the face of failure is an unfortunate hallmark of his tenure.

There has already been plenty of discussion about the presumed departure of receiver Greg Jennings, a pending free agent. If the Packers make substantive defensive changes, you wonder if Woodson will be in their 2013 plans. He is scheduled to earn $10 million in cash and count the same against the salary cap next season, when he will turn 37. Woodson is in much better physical shape than most players would be after 15 NFL seasons, and his on-field leadership is unquestioned. But when you connect numbers like 37 years old and $10 million, it's always fair to wonder what a team might do. Under general manager Ted Thompson, the Packers have been pretty ruthless about deciding when to end the tenure of a long-time veteran. In truth, they have usually been accurate in their assessments of those players. Woodson said Saturday night that he planned to play -- somewhere -- in 2013. I don't think his status should rank high atop the Packers' list, but it will be related to any decisions coach Mike McCarthy makes about the defensive coaching staff.

Of the issues surrounding the Packers at the moment, the one I would be worried the least about is the so-called "brain drain" of their front office. There is no doubt the Packers have lost some smart and respected executives in recent years. Most recently, director of football operations John Dorsey left to become the Kansas City Chiefs' general manager. There have also been reports that the New York Jets are interested in vice president of football administration/player finance Russ Ball for their open general manager job. In truth, it is a net positive to lose talented front office men. It means you were well-staffed to begin with an have a respected development program in place. Without embarrassing anyone, we'll just note that there are teams in this division who haven't had a single executive hired into a bigger job during the entire five-year lifespan of this blog. From the Packers' perspective, the only concern I would have is ensuring there is a strong in-house candidate for whenever Thompson retires. He turns 60 this week and is signed through 2015.
And here is one issue I still don't get:
For as much discussion as the Packers' defense has generated, you have to at least wonder how different their offense will look in 2013. Jennings appears to be on the way out. Donald Driver could retire. The Milwaukee Journal Sentinel has reported that tight end Jermichael Finley might have worn out his welcome. (Although in the three regular-season games after that report, Finley caught 18 passes for 203 yards.) The Packers also have their annual search for a starting tailback to look forward to. Those are some significant positions and players. We'll see how thorough of a makeover the Packers are willing to provoke.
January, 11, 2011
1/11/11
9:45
AM ET
I was in transit for a good part of Monday and didn't get a chance to review
Green Bay Packers
coach Mike McCarthy's
news conference transcript
until Tuesday morning. But even now, it's worth noting that McCarthy did not allow a controversial series of events to go unaddressed following the Packers' Nov. 28 loss to the
Atlanta Falcons
at the Georgia Dome.
As we discussed in a
Dirty Laundry post at the time
, the NFL acknowledged that Falcons tight end
Tony Gonzalez
should not have been credited with a reception on a key fourth-down play in the second quarter. Replays clearly showed the ball hitting the ground before Gonzalez gained full control, but McCarthy did not challenge the ruling because the replay was not visible on the Georgia Dome's internal television feed until after the next play began.
Here's what McCarthy said about the issue Monday when asked if he was aware of different delays at various stadiums:
"That's a great question. I don't have the answer to that. Whether it's the direct TV feed, or if it's the direct feed from the network, or exactly what it is. I don't know if it's by stadium. I know [general manager] Ted Thompson and Russ Ball, our vice president of football operations, have looked into that specific situation after what occurred in Atlanta. But we're worried about lining up and playing. The technical part of it really in our view is not going to affect the outcome of this game."
It's true. I've been in NFL press boxes with televisions on the wall that are almost in sync with what I'm seeing live on the field. I've been in others where you can watch a play, write down some notes, and then look at the television to watch the play again "live." The assistants who monitor replays to advise coaches on challenge decisions are watching the same feed.
The implication, of course, is that the Falcons benefit from the delay at the Georgia Dome by limiting the opportunities of opponents to review officiating decisions and potentially challenge them. If there is a questionable call involving the Falcons, stadium operators immediately show the replay on the stadium scoreboard, bypassing the internal televisions, as a friendly aid to coach Mike Smith.
I'm not sure if Thompson or Ball found any evidence of intent there, but even if there was, it would be well within NFL rules and part of the built-in "strategy" to the league's challenge system. I've made my thoughts clear on that element a few (hundred) times, and to me it's a legitimate issue when you consider the Falcons were 7-1 at home this season are 19-5 there in the past three seasons. Hopefully for everyone it won't come into play in Saturday night's divisional playoff. After all we've discussed about it this season, do we really want a playoff game being decided by a competitive advantage within the replay system?