April, 28, 2014
Apr 28
1:35
PM ET
Every now and then during offseason workouts,
Carolina Panthers
center
Ryan Kalil
will get a text from recently retired left tackle
Jordan Gross
. The message usually is accompanied with a picture from the golf course, the lake or some other fun activity.
"Typical Gross,"Kalil said last week.
What's not typical for Kalil is being in offseason workouts without Gross, wide receiver
Steve Smith
and others that no longer are a part of the Carolina roster. They have either retired, like Gross, were released, like Smith, or were not re-signed.
[+] Enlarge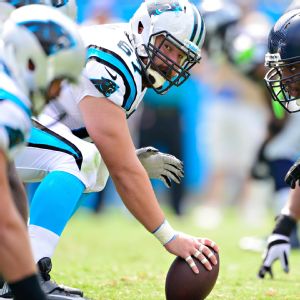 Bob Donnan/USA TODAY SportsRyan Kalil said he likes the competition that is occurring in OTAs.
As Kalil said, it's strange. It's also accepted.
Parents often go through a period of mourning, otherwise known as empty nest syndrome, when children leave home. Sports fans go through a similar grieving period when star players leave for other teams or retire.
Players don't have that luxury. To spend time debating or agonizing over the loss of a teammate, even if that teammate is a good friend like Gross and Kalil were, is time not spent getting better.
"That's just how it is,"Kalil said. "A lot of players, we joke that if you can cut
Peyton Manning
you can cut any of us. And it's true. It's part of the business and I don't envy those decisions that they have to make upstairs."
But while it feels strange for Kalil and others to see a room full of new faces during organized team activities, they are focused on moving forward. They are trying to do what it takes to assure the group is in position to become the first to record consecutive winning seasons in team history.
A big part of that is competition. The changes, for better or worse, have created more competition than Kalil can remember in any of his seven seasons at Carolina.
It's something Kalil has embraced and believes will be "really healthy for this team.''
Instead of the complacency that sometimes comes from having veterans back in key positions, the release of a 13-year player like Smith sends the message that no player's future is safe.
"Everybody's trying to make a good impression with coaches, with some of the established guys, and that's something I haven't felt around here in a while that I think is real exciting for this team,"Kalil said.
Kalil saw this initially in the weight room with players "sizing themselves up with other guys and established guys.''
There's not a sense of panic like many fans have expressed since Smith was cut and the team's next three wide receivers were allowed to sign elsewhere.
There's a sense of opportunity for others to step forward. The left tackle position, for example, has created an opportunity for right tackle
Byron Bell
and right guard
Nate Chandler
to compete for one of the more high profile jobs on the team.
"He's been busting his butt this offseason," Kalil said of Chandler. "You can tell he's put on some weight just to prepare for that.''
Kalil is excited about the prospects along the line, including the possibility of drafting a tackle with the 28th pick. He also made a plea for the team to re-sign left guard
Travelle Wharton
, who is contemplating retirement if Carolina's doesn't make an offer.
"I'd be more excited if we had Travelle coming back," Kalil admitted. "I'd feel good about having a young guy next to an older guy like that.
"So if you can write, 'Travelle, Ryan wants to know.' I text him, 'One more year,' and he won't respond back to me. So if you can let him know that I'm waiting for him to return my calls.''
But even Wharton's situation isn't something Kalil wastes a lot of time focusing on. He understands the sense of urgency to begin moving forward with the players on the roster instead of worrying about those that aren't.
So do other veterans such as middle linebacker
Luke Kuechly
, who like Kalil realizes the unfortunate part of the business is you lose friends who are teammates.
"But everyone realizes it's a business and that's how it works,"he said.
Gross understood that when he was a player. But that doesn't keep him from giving Kalil and others a hard time when they're in OTAs and he's having a good time.
Typical Gross.
October, 11, 2013
10/11/13
8:00
AM ET
EDEN PRAIRIE, Minn. -- If
Matt Kalil
was going to reach the NFL, there would be little doubt about how he would do it. His father Frank -- a center who was drafted by the
Buffalo Bills
and played in the USFL -- never pushed his boys to play football, but let them know if they asked for his help, they were going to play offensive line, and they were going to learn to do it his way.
"It's something we always wanted to do," Matt Kalil said. "He just said if we ever wanted his help, it's going to be his way or he's not going to help us. That's what he always made very clear. Football has always been a sport we loved to play."
M. Kalil
R. Kalil
His father influenced Matt Kalil growing up, but it was his older brother Ryan who set the example -- through high school, to USC and onto the NFL.
Ryan Kalil
is a Pro Bowl center for the
Carolina Panthers
. Matt reached the Pro Bowl in his rookie season with the Vikings last year. And for the first time, the two brothers will take the field on opposing teams this Sunday.
The Panthers come to Mall of America Field on Sunday afternoon, pitting Matt and Ryan Kalil against each other in a game that should be a showcase for the family. Their sister Danielle, an aspiring country artist -- will sing the national anthem, and their parents will be in the stands. They'll be wearing purple and gold; Matt Kalil made sure of that.
"This is my home game," he said.
Even though both brothers' teams are in dire need of a win on Sunday, the Kalils are making sure they enjoy the moment. They talk frequently to compare blocking notes, and when he's asked, Frank Kalil is still a candid source of advice.
"He's one of the only guys that's not going to be a 'yes guy,'" Matt Kalil said. "He's going to tell me how it is and tell me how I played. Maybe the first couple games I played bad and he'll call me up: 'What the hell were you doing?' He's always there to coach me; he's never going to B.S. me. If there's any critic that I'll really listen to, it's him and all his advice."
Ryan Kalil has been a source of advice for his younger brother, too. When Matt Kalil adopted his 6,000-calorie diet this summer, trying to keep his weight up through a healthier regimen of lean meats, vegetables and starches, he modeled the plan after what Ryan was doing. And the drive to be better than his big brother is still there.
"He's always setting the bar so high, it always keeps me motivated and play with that little chip on my shoulder that I always want to do better than him," Matt Kalil said. "I'm sure he wants to do better than me. That's how we are. We're good competitors and it's that little sibling rivalry we've always had since we were younger."
July, 26, 2012
7/26/12
10:30
AM ET
Ryan Kalil
's guarantee of
a Super Bowl victory
for the
Carolina Panthers
offered the perfect NFL media frenzy. Training camps are just about to open, optimism is at its peak in every market and fans are ripe for the kind of polar debate it generates.
Don't assume, however, that these things reverberate only among fans and media. Whether they admit it or not, other players notice as well. Among them was
Green Bay Packers
left guard
T.J. Lang
, who plays for a team that harbors legitimate Super Bowl aspirations as well. Here's
what Lang tweeted
after Kalil's infamous newspaper advertisement was published:
Nothing is more foolish than guaranteeing something that you simply cannot guarantee.

— TJ Lang (@TJLang70) July 25, 2012
Land didn't mention Kalil by name, but it's safe to make that leap. Regardless, the point is well-taken. Kalil is one of only 53 players who will be on the Panthers' final roster. He alone can't control whether his team wins a championship. And that's exactly why you probably won't hear such a guarantee from the Packers as they open training camp Thursday.
I'm all for Kalil expressing his opinion and supporting newspapers through advertising while he is at it. So are ESPN's NFL analysts in the video accompanying this post. But I think it's fair to say that plenty of NFL players became first-time readers of the Charlotte Observer this week.
Related:
Yes, if you weren't aware, Kalil is the older brother of
Minnesota Vikings
left tackle
Matt Kalil
. (We'll see if Matt proves as colorful Ryan.)
April, 19, 2012
4/19/12
5:56
PM ET
The newsbits were flying Thursday afternoon in the NFC North. Noting outrageous, but all worth a mention. Let's do just that in quick-hitting fashion.
Item:
Minnesota Vikings
general manager Rick Spielman
told the St. Paul Pioneer Press
that he's narrowed down his options for the No. 3 overall pick to three players: USC left tackle
Matt Kalil
, Oklahoma State receiver
Justin Blackmon
and LSU cornerback
Morris Claiborne
.
Comment:
The only news there is that Spielman has apparently eliminated Alabama running back
Trent Richardson
, a player believed to be coveted by the
Cleveland Browns
at No. 4. Spielman said that Kalil, Blackmon and Claiborne all grade out equally as prospects. I have a hard time believing that.
Item:
The
Chicago Bears
signed
free-agent linebacker
Geno Hayes
.
Comment:
The Bears
were in fact trying to add depth
at the position before the draft. Hayes has played four years but is still only 24.
Item:
Detroit Lions
general manager
Martin Mayhew
said he
has narrowed his options
at No. 23 to between four and seven players.
Comment:
That's about as much pre-draft insight as you'll get from Mayhew, who went out of his way to note how delicate information is when picking at the bottom of the first round.
Item:
Green Bay Packers
general manager Ted Thompson
told reporters
that he is comfortable in not knowing the future of safety
Nick Collins
until after the draft.
Comment:
It's probably safe to assume Thompson has sized up how his roster would look without Collins and has made his draft plans accordingly just to be safe.
April, 11, 2012
4/11/12
9:51
AM ET
We're Black and Blue All Over:
Classic sports blogger dream: I'm on a football team. Everyone's wearing white T-shirts and shorts, so I don't know what team it is, and it's quite possible we're in some kind of institution. I'm on offense and defense, it's a day before the first game, and I don't know any of the plays.
I walk into the defensive meeting room. The late Foge Fazio is the defensive coordinator, and he kicks me out because I don't know where I'm supposed to line up. Tells me to go to the offensive meeting room. I can't find it. I wake up breathless. Overslept. BBAO is late!!!!!
True story. I think the dream means I don't know anything about football. Or maybe I have anxiety about not knowing anything about football, which many of you would consider entirely justified.
Anyhoo. Let's get to it:
February, 25, 2012
2/25/12
12:38
PM ET
INDIANAPOLIS -- The issue of "big receivers" has been a big topic for us considering the annual outcry about the
Chicago Bears
' imbalanced roster and the
Minnesota Vikings
' futile attempts to find a replacement for
Randy Moss
-- a list that includes
Sidney Rice
,
Vincent Jackson
and Moss himself. So
this post from NFC West colleague Mike Sando
has relevance on several issues for us.
First, the combine has told us that Blackmon isn't a "big receiver" in the traditional sense, having measured at 6 feet and seven-eights of an inch and 207 pounds. That doesn't mean he won't be an excellent NFL receiver, but it does mean there wouldn't be much of a gap between his size and that of Bears incumbents
Devin Hester
(5-10 1/4 at his combine),
Earl Bennett
(5-11 1/4),
Johnny Knox
(5-11 1/4) and
Dane Sanzenbacher
(5-11).
I'm not saying the Bears wouldn't take Blackmon if he falls to their spot at No. 19 overall, but I'm not sure if he's what quarterback
Jay Cutler
had in mind last week
when he spoke of the need for a receiver over 6-2
.
Second, as Sando writes, Blackmon doesn't have the kind of frame teams have sought when drafting receivers among the top 3. Since 1985, there have been only two receivers under 6-3 who were a top-5 draft pick. That knowledge, combined with offensive tackle
Ryan Kalil
's
performance at the combine
, makes it hard to imagine that Blackmon is a legitimate candidate for the Vikings to draft at No. 3 -- or for another team to trade picks with in order to select him.
February, 22, 2012
2/22/12
10:32
PM ET
INDIANAPOLIS -- Our Franchise Focus series last week
accounted for the possibility
, but I'm not sure if anyone considered it a likely scenario. Namely: Would the
Green Bay Packers
use their franchise tag on anyone
other than
tight end
Jermichael Finley
?
Our clearly-flawed assumption was that the sides wouldn't agree on a long-term contract extension, forcing the Packers to use their tag to retain the 24-year-old tight end. But Wednesday's two-year agreement represented an unexpected compromise from both sides and opened the possibility of using the tag on another player. The two candidates would seem to be quarterback
Matt Flynn
and center
Scott Wells
, in that order.
[+] Enlarge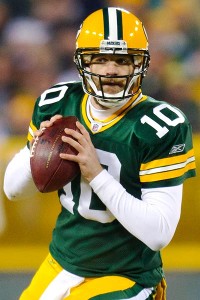 Jeff Hanisch/US PresswireWould the Packers franchise quarterback Matt Flynn with hopes of trading him?
Conventional wisdom suggests that the Packers wouldn't commit to paying Wells a 2012 salary upwards of $8 million, the projected value of the franchise tag for offensive linemen. But we've now learned our lesson about assuming the Packers' likely path this offseason, and it's only fair to point out that the franchise tag sometimes serves as a temporary stop for teams on the way to a long-term agreement.
That's what happened with
Ryan Kalil
and the
Carolina Panthers
last summer. The Panthers first tagged Kalil at $10.1 million before the sides
agreed in August
to a six-year deal worth $49 million, which made him the highest-paid center in the NFL.
The more intriguing scenario, of course, is tagging Flynn and then trading him for a high draft choice in a sign-and-trade deal. That would net the Packers at least an extra second-round draft pick for a player who projects as a starter elsewhere and thus would never have agreed to return as their backup.
The move would temporarily consume about $14 million in 2012 salary cap space, and a trade couldn't be executed until after free agency begins March 13. The Packers would also have to be confident that they will be able to find a trade partner, a tricky proposition given tampering rules in effect through March 12. It's true that NFL teams can rescind franchise tags, but not if the player signs the offer sheet -- which Flynn almost certainly would do to force the trade and ensure he isn't a late arrival to the free agent market.
Those are all reasons why franchising Flynn has seemed unlikely. But we've already had one unlikely occurrence Wednesday, and the Packers are now dealing from a position of strength with Finley now under contract. So stay tuned. I'll be roaming the scouting combine for the next three days. Packers general manager Ted Thompson and coach Mike McCarthy are both scheduled to speak with reporters Friday. We'll see what we turn up.
February, 17, 2012
2/17/12
10:45
AM ET
Another in a daily series on NFC North players who are candidates to receive their team's franchise tag. The window for tagging players opens Monday and closes March 5.
As we've moved through the Franchise Focus series, several of you have asked whether the
Green Bay Packers
could pull off a surprise -- or at least make a move counter to the prevailing (media) sentiment. It was only two years ago, after all, that they surprised many by
using their tag
on defensive lineman
Ryan Pickett
, who ultimately signed a four-year contract worth about $25 million.
Flynn
Wells
We've already discussed
the Packers' likeliest target
for a franchise tag: Tight end
Jermichael Finley
. But two other prominent players are approaching free agency as well: Center
Scott Wells
and quarterback
Matt Flynn
. Let's briefly hit on why there hasn't been much discussion about franchising either player.
All offensive linemen are assigned the same franchise tag number, even though contract values differ significantly between tackles, guards and centers. It's not unheard of for a team to franchise a center -- the
Carolina Panthers
did it with
Ryan Kalil
last year -- but it means they would be guaranteed the same kind of one-year salary as, say, a left tackle. In 2012, Brian McIntyre projects the franchise tag for offensive linemen to be around $9.5 million,
via Football Outsiders
.
The Packers currently have an estimated $10 million in salary cap room and could squeeze in Wells at that number if necessary. Wells earned his first Pro Bowl berth last season, but the Packers probably don't need to commit that kind of money to keep him. Kalil, considered the NFL's top center, ultimately signed a seven-year contract that averaged $7 million per season and included $28 million in guarantees.
Finding common ground on a reasonable long-term deal is the likeliest tool for retaining Wells. As for Flynn, the Packers probably need to accept his departure via free agency and accept a 2013 compensatory draft pick as a result.
It's conceivable for the Packers to franchise Flynn and then trade him to another team. It's a tempting scenario considering the possibility of getting a high draft choice in return. But even if temporary, that move would consume $14 million of the Packers' salary cap and, more importantly, eliminate the possibility using the tag on Finley or even Wells. In short, that's why it's unlikely -- but not impossible -- that the Packers will pull off a franchise tag surprise.
December, 17, 2011
12/17/11
5:42
PM ET
THE NATION'S TRANSPORTATION SYSTEM -- In the minutes before I board a flight to Kansas City, here are a few thoughts on the
Minnesota Vikings
' agreement on a five-year contract extension with center
John Sullivan
:
Sullivan

I've been critical of the Vikings' offensive line as a whole this year, and I stand by it. But of the five starters, Sullivan is the best candidate at the moment to anchor a rebuilding process. You can't replace all five starters at once, and Sullivan makes the center position perhaps the least pressing long-term need. He has had a nice season after rebounding from a season-long calf injury in 2010.
The deal, as reported by Tom Pelissero of 1500ESPN.com, is for a total of $25 million, including $10 million guaranteed. That sounds like a lot of money, but it's nowhere close to top dollar for the center position. That title belongs to Carolina Panthers center Ryan Kalil, whose six-year contract is worth $49 million and includes $28 million guaranteed. Sullivan could end up playing with Kalil's brother, USC offensive tackle Matt Kalil, whom the Vikings could draft in April.
I keep getting questions from Vikings fans about the financial plans of owner Zygi Wilf, who is enmeshed in a stadium battle and could sell the team if he is ultimately turned away. It wasn't long ago that former owner Red McCombs stripped down the team to its bare bones during a multiyear sale process. But Wilf has rarely restricted football spending during his tenure, and I'm aware of no plans to do so now.

NFC NORTH SCOREBOARD
Thursday, 9/4
Sunday, 9/7
Monday, 9/8