NFC North:

Ryan Tannehill
April, 24, 2012
4/24/12
5:19
PM ET
EDEN PRAIRIE, Minn. -- At one point during a lively news conference Tuesday, a nonagenarian Twin Cities reporter offered some veteran advice for
Minnesota Vikings
general manager Rick Spielman:
If you don't take that tackle, you're crazy.
"Well, maybe I am," Spielman said in a way that wasn't entirely unconvincing.
[+] Enlarge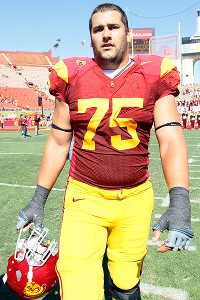 Ric Tapia/Icon SMIWould the Vikings risk losing out on a potential franchise left tackle in Matt Kalil to collect more picks in the draft?
If Spielman has demonstrated any particular draft approach in his first year as general manager, it's to create the public impression that he's just crazy enough to do anything. That includes making something other than the obvious pick at the No. 3 overall spot in the draft, a decision he claims to be considering by insisting that USC left tackle
Matt Kalil
has "exactly the same grade" as LSU cornerback
Morris Claiborne
and Oklahoma State receiver
Justin Blackmon
. It includes the kind of unsolicited information he passed along Tuesday, notably his unprompted claim that trade discussions for the No. 3 pick have "really heated up" in the past 24 hours and that there is already "potential for a trade."
And it includes the kind of non-traditional thought Spielman espoused when wondering "how important a left tackle" is "compared to having another playmaker on offense."
The only rule of NFL draft season is that no one tells the truth, so I certainly won't judge Spielman if he has joined the fun. That's how it works. But it leaves us with a few options in reading his exotic tea leaves:
Spielman is covering for a decision he long ago made to draft Kalil at No. 3, hoping to convince a team to trade up for either Claiborne, Blackmon, Trent Richardson or Texas A&M quarterback Ryan Tannehill and then grab Kalil a few spots below.

He's pulling a double Jedi-mind trick, telling the complete truth -- that he has given strong consideration to not drafting Kalil -- because he assumes everyone will believe he's lying.

With the No. 1 and No. 2 selections all but made, Spielman figures he has nothing to lose by floating every scenario, operating from a position of strength and seeing where it takes him.
Kalil, Claiborne, Blackmon, Richardson and even Tannehill are all excellent prospects. But the two players most likely to spur movement at the top of the draft are going to go No. 1 (Stanford quarterback
Andrew Luck
) and No. 2 (Baylor quarterback
Robert Griffin III
). Do we think a team behind the Vikings will give up a second choice to draft Kalil, Claiborne, Richardson, Blackmon or Tannehill? With three days remaining before the draft, that question is at best debatable.
So the question returns to whom Spielman would select at No. 3. Many of us have wondered why he would draft Claiborne, an elite press corner, for a defense that has long employed the Cover 2 scheme. So Spielman went out of his way Tuesday to note those objections, noting the Vikings play "some" Cover 3 and could move to more Cover 1 with new defensive coordinator Alan Williams. (Anything would be better than last season's cover-no-one defense.)
In the end, I'm going to continue to guess that Kalil is the pick. After the quarterback, is there a more important position on offense -- or on an entire team? I'm not sure. The Vikings have a chance to lock down that position. They're not crazy enough to ignore that opportunity -- I don't think.
April, 23, 2012
4/23/12
3:16
PM ET
The
2012 ESPN.com blog network mock draft
is in the books. It was actually a lot of fun, and I hope you got a chance to jump into the fray for at least a few moments. If not,
here is the chat transcript
.
I learned a few things. First, I'm much more conservative than I thought I was. I tried to drum up trade interest in the
Minnesota Vikings
' No. 3 overall pick, but for the most part I was content to let everyone else wheel and deal and then sit tight for targeted players to drop in a way that I thought would only happen in my dreams.
Second, every draft has some unexpected trades and some unconventional picks. Having eight people participate helped lend a sense of that dynamic, even if the trades we made and the picks that resulted don't happen this week. You got a more realistic sense of how it could go, I think, than in a conventional mock draft.
We faced decisions at each stop, which I'll detail below for those interested:

3. Minnesota Vikings
My pick:
USC left tackle
Matt Kalil
Final decision:
Kalil or LSU cornerback
Morris Claiborne
Process and reasoning:
I felt obligated to solicit trade offers for anyone who might be interested in Texas A&M quarterback
Ryan Tannehill
. I pressured AFC North blogger Jamison Hensley, who is convinced the
Cleveland Browns
do not want to trade up from No. 4. I leaned on AFC West blogger Bill Williamson, suggesting Tannehill would be a nice target for the
Kansas City Chiefs
. "I'm good," Williamson said. And I tried to entice AFC East blogger James Walker, letting him and the
Miami Dolphins
know I was talking to the Hensley/Browns and Williamson/Chiefs.
Walker sat tight. With my time (almost up), I was left to the decision we've been discussing in recent days. I can't see the Vikings taking Oklahoma State receiver
Justin Blackmon
, so it was down to Kalil or Claiborne.
In the end, I took Kalil because my top goal in this exercise was to avoid overthinking. Left tackle is one of the most difficult jobs to fill in the NFL. The Vikings don't have a left tackle, not since they released Bryant McKinnie last summer, and their quarterbacks were pummeled in 2011. Kalil is one of the draft's best prospects and certainly the top left tackle available.
It's true that the Vikings are short on cornerbacks as well, but I would feel more comfortable finding a cornerback at the top of the second or third round than a left tackle. Claiborne and Kalil are both excellent prospects. So Kalil it was. We'll soon see if the Vikings agree.

19. Chicago Bears
My pick:
Illinois defensive end
Whitney Mercilus
Final decision:
Mercilus or Syracuse defensive end
Chandler Jones
Process and reasoning:
If the real thing goes anything like our mock draft, it appears the Bears will have their pick of defensive ends to fill an important but untouched roster hole. I was holding out hope for North Carolina defensive end
Quinton Coples
, who slipped as far as No. 17 before Hensley grabbed him for the
Cincinnati Bengals
. But ultimately I was left to choose between Mercilus, Jones, USC's
Nick Perry
and Alabama's
Courtney Upshaw
.
Why Mercilus? The Bears have spent a good bit of time visiting and researching Mercilus during the past few months, and while there are questions about the best positions for some of the other defensive end prospects, Mercilus is a clear and obvious 4-3 defensive end. I liked him more than any of the receivers on the board at the time, and I didn't think the Bears would chose an offensive tackle -- even Stanford's
Jonathan Martin
-- in this spot.
Ultimately, Martin went at No. 22 to the Browns, where he will presumably play right tackle.

23. Detroit Lions
My pick:
Alabama cornerback
Dre Kirkpatrick
Final decision:
Kirkpatrick or trade down
Process and reasoning:
Frankly, I was surprised that Kirkpatrick fell that far. I can see a team jumping first for South Carolina's
Stephon Gilmore
, as Paul Kuharsky did for the
Jacksonville Jaguars
at No. 15. But having Kirkpatrick available at No. 23 for a team whose secondary collapsed in 2011 was a pretty good situation.
I had previously discussed a trade with Hensley and the
Baltimore Ravens
at No. 29, something that could arise Thursday night. But I was more than happy to sit with Kirkpatrick at that point.
Why Kirkpatrick over North Alabama's
Janoris Jenkins
? Frankly, for the obvious and previously-stated conservative reasons. The Lions had three members of their 2011 draft class run into marijuana-related issues. Jenkins has a long history dating back to his removal from the University of Florida team two years ago.
I realize Kirkpatrick was cited in January for marijuana possession, but ultimately he was not prosecuted.

28. Green Bay Packers
My pick:
Boise state outside linebacker
Shea McClellin

Final decision:
McClellin or Alabama linebacker Courtney Upshaw
Process and reasoning:
I had targeted McClellin as someone I would hope to draft for the Packers and was caught off guard when Upshaw was still available. I got some tweets and live suggestions for both players, but chose McClellin because I think he's a better fit for the Packers' 3-4 and that he'll be ready to start in Week 1 for a team that is a Super Bowl contender in 2012.
There is enough concern about Upshaw's fit as a 3-4 linebacker, as opposed to a 4-3 defensive end, that I felt more comfortable with McClellin here.
I would be willing to discuss this further in the blog, probably Tuesday. Your thoughts, as always, are welcome.
April, 19, 2012
4/19/12
10:30
AM ET
We continue our review of Jon Gruden's QB Camp with Oklahoma State's
Brandon Weeden
, who spent five years playing minor league baseball and thus enters the draft at age 28. In this clip of his session with Gruden, Weeden sold himself as someone who finds a way to get the job done. Last season, his team won in matchups against Stanford's
Andrew Luck
, Baylor's
Robert Griffin III
and Texas A&M's
Ryan Tannehill
.
"I'm a winner, man," Weeden said. "I can win some football games. That's one thing you can't take away from me. I can be 28 and all that other jazz, but I tell you what: I win football games. There's no doubt about it."
Again, we're posting these video clips under the assumption that one if not more of our NFC North teams will seek a developmental quarterback in the draft. Carry on.
April, 18, 2012
4/18/12
11:30
AM ET
Texas A&M quarterback
Ryan Tannehill
has gotten an awful lot of discussion on the NFC North blog for a player who presumably has no chance to join one of our teams next week. His status as arguably the third-best quarterback in the draft has made the
Minnesota Vikings
' No. 3 overall pick a possible trade target for any team that wants to secure him.
ESPN analyst Bill Polian
has suggested the
Miami Dolphins
swap picks with the Vikings to ensure they can draft Tannehill, whose college head coach (Mike Sherman) is now the Dolphins' offensive coordinator.
In the clip, Gruden praises Tannehill's understanding of NFL concepts and we get a glimpse of him in his former role as a receiver.
April, 16, 2012
4/16/12
11:15
AM ET
When
we last checked in
with USC left tackle
Matt Kalil
, he had shown up at the NFL scouting combine at a svelte 306 pounds spread out over his 6-foot-7 frame. He discussed plans to "bulk up" to around 310 pounds but made clear he was never going to be one of the hulking 330-pound monsters many of us associate with elite left tackles.
[+] Enlarge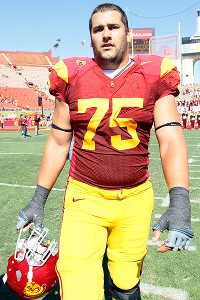 Ric Tapia/Icon SMIMatt Kalil is working on his build by overhauling his daily caloric intake to up to 6,500 calories.
I caught up with Kalil over the weekend as part of his work with the
Gatorade Sports Science Institute
, where he spent some time setting future conditioning goals and overhauling his nutrition plan. He said he weighed in at 310 or 311 pounds at all four pre-draft visits he made over the past few months, including one with the
Minnesota Vikings
, and said he might approach 315 pounds by the time the 2012 NFL regular season begins.
But to give you an idea of the type of metabolism Kalil has, nutritionists have designed a daily 6,500-calorie diet to maintain whatever weight he lands on throughout the season. For context, the United States Department of Agriculture
recommends 2,000 calories per day
for many age groups, but athletes typically need more and Olympic swimmer Michael Phelps
has consumed 12,000 during some training activities
.
"I probably don't look like I weigh 310 pounds because I'm so tall," Kalil said. "But how much you weigh is overrated sometimes. Obviously you can't be 268 pounds and block a 300-pound defensive end, but I don't think [the difference between 310 and 330] is going to mean as much in my situation. I believe it's more about how you work on your trade and improving as a player, which I'm trying to do every day.
"You look at Joe Thomas [of the
Cleveland Browns
] and he's 311, 312 pounds. Jordan Gross [of the
Carolina Panthers
] is 303 or 305 pounds. In this line of work, it's about how strong you are and how good your technique is as much as how much you weigh."
Indeed, at 306 pounds during the combine, Kalil put together arguably the most impressive workouts of any offensive lineman.
As we noted in February
, most of his speed work qualified as the second-best scores at the combine.
Why are we spending so much time discussing Kalil's seemingly thin frame? Because there really isn't much else to pick at him about, a reflection of how universally he's considered the best non-quarterback prospect in the draft. It's also why almost no one has bought assertions from Vikings general manager Rick Spielman that a left tackle might be a lower priority
than offensive playmakers
or
even cornerbacks
at the top of the draft.
Based on what I can tell, it would stun the NFL from top to bottom if the Vikings draft someone other than Kalil at No. 3, regardless of the skills of Oklahoma State receiver
Justin Blackmon
and LSU cornerback
Morris Claiborne
.
A trade market
could materialize for those who want assurance they can draft Texas A&M quarterback
Ryan Tannehill
, and Kalil could be off the board if they Vikings move down far enough. Otherwise, Kalil and the Vikings appear to be in the final stages of engagement before the big ceremony April 26. Kalil has visited the Cleveland Browns and
Buffalo Bills
as well, and he is taking what amounts to a forced neutrality on his landing spot.
"Crazier things have happened I guess," he said. "You can never really expect where you're going to go, and it's probably the wrong mindset to be set on a certain team. So I'm open-minded and working on staying in my routine until the draft starts."
Kalil has one more week of routine before leaving for New York City and draft festivities. And that gives us 11 more days of noise before what sure seems inevitable finally happens.
April, 11, 2012
4/11/12
1:03
PM ET
We've been following with interest the increasing chatter on the apparently rising draft status of Texas A&M quarterback
Ryan Tannehill
. In the most dramatic scenario imaginable, an interested team would trade up to the
Minnesota Vikings
' No. 3 overall pick to ensure it could draft him.
Longtime NFL executive and current ESPN analyst Bill Polian
strongly advocated that path Tuesday
for the
Miami Dolphins
, predicting the Vikings could net the Dolphins' No. 8 pick along with their second- and third-round picks in return. Wednesday,
Indianapolis Colts
owner Jim Irsay veered from the usual bizarre nature of his Twitter feed
to suggest a similar tack
:
Tannehill is a hidden gem in this draft, a quiet secret who was always sneaking up to #3..you want him, you better talk to Zigi The Biggie!
"Zigi The Biggie" presumably is Vikings owner Zygi Wilf, whom I'm guessing would be thrilled to pick up the phone and find a team desperately hoping to move up to No. 3.
So what do we make of this chatter? For the most part, quarterbacks and top-of-the-draft trades are the hottest topics in the final weeks before the actual event. So it's no surprise that so many people are discussing Tannehill's final destination. But what started out as a theory has at least advanced into public discussion among a wide swath of people who know more about it than you or I. Take that for what it's worth.
April, 10, 2012
4/10/12
12:20
PM ET
We've discussed on several occasions
the possibility of the
Miami Dolphins
, the
Cleveland Browns
or perhaps another team trading up in the draft to select Texas A&M quarterback
Ryan Tannehill
. The safest way to secure him, of course, would be to swap positions with the
Minnesota Vikings
at No. 3.
We've debated the pros and cons of that scenario, but it's worth nothing that longtime NFL executive and current ESPN analyst Bill Polian strongly advocated for it in
his latest Insider column

. You'll need a subscription to read the entire analysis, but Polian thinks the Dolphins need to make the trade and suggests the Vikings would receive the Dolphins' pick at No. 8, along with their second- and third-round selections as well.
Here's a portion of what Polian wrote:
The most likely competition for Tannehill is the Cleveland Browns at No. 4 overall. That means, in order to assure themselves of selecting Tannehill, the Dolphins would need to move up to the No. 3 pick in a trade with the Vikings. In my mind, this is a trade you must make if you're the Dolphins. There is no reason to gamble and hope that he falls to No. 8. With the new CBA, Tannehill's position as a QB and his contract wouldn't be an impediment to moving up to No. 3 to select him. And even if the Browns do pass on Tannehill at No. 4, there's no guarantee a team like Kansas City won't trade up to take him.

With the Dolphins owning a plethora of reasons to trade up, does their potential trade partner -- the Vikings -- have an incentive to make a deal? In short, yes they do. Minnesota has a clear-cut need at left tackle and at the top of the draft, there are two such prospects that could fill that void: Matt Kalil of USC and Riley Reiff of Iowa. Given the current draft order, it's likely that the Vikings will be able to get at least one of them with the Dolphins' No. 8 pick.

However, it may not be Kalil, the prospect many grade as the draft's top tackle. If the Vikings believe the trade package from the Dolphins to be worth the drop off in grade from Kalil to Reiff, I think they'd move the pick.
It seems clear the Vikings would like to make a deal. How would you feel if it went the way Polian describes? Additional second- and third-round picks, in exchange for moving down five spots, seems like a nice outcome to me.
April, 2, 2012
4/02/12
10:55
AM ET
We've mentioned
on
a few occasions
that the only NFC North quarterback intrigue in this draft will come in whether the stock of Texas A&M's
Ryan Tannehill
rises enough to put the
Minnesota Vikings
' No. 3 overall pick back into play as a trade commodity.
Phil of Circle Pines, Minn.
, wants to know if we've reached the point where the
Miami Dolphins
at No. 8 would seriously consider a swap with the Vikings to ensure they could draft Tannehill ahead of the
Cleveland Browns
at No. 4. Or would the Browns swap with the Vikings as a defensive move against the Dolphins? I don't think we're there yet, but we're getting closer and more discussions like the one ESPN's Mel Kiper and Todd McShay engaged in after Tannehill's recent pro pay is what could push him to that level.
McShay said that Tannehill has a "special skill set" and said he charted 64 drops from Tannehill's receivers last season. Both men agreed he is a top-10 pick and acknowledged that some teams have no choice but to overpay when it comes to quarterbacks in the draft.
I'm not saying that the Dolphins and/or Browns will feel pressure from media analysis. But I do think the media analysis is a reflection of the best guess on what teams are thinking right now. Check out the video.
March, 25, 2012
3/25/12
4:05
PM ET
PALM BEACH, Fla. -- Greetings from the Breakers Hotel, where one smells freshly cut grass at the front door and sea air in the back. I've been circulating through the common(er) areas for the past few hours, and while there is no hard news to report from an NFC North perspective, I can tell you that, based on some background discussions, I've grown increasingly convinced that the Minnesota Vikings' No. 3 overall pick in the draft will legitimately be in play over the next few weeks.

We walked through a scenario
earlier this month where the Miami Dolphins, if stymied in their efforts to acquire a new starting quarterback, might feel compelled to move up in the draft to select Texas A&M's
Ryan Tannehill
. But now that the Cleveland Browns have also failed to upgrade their situation, you have two teams that could conceivably be in competition for the third-rated quarterback in the draft.
If the Dolphins want to secure their chances of drafting Tannehill, they might need to leapfrog the Browns at No. 4, which would require swapping positions with the Vikings at No. 3. And if the Browns want Tannehill, they might need to trade with the Vikings to prevent the Dolphins from jumping ahead.
What we don't know is whether the Dolphins and/or Browns value Tannehill enough to make a move to draft him. You would have a hard time finding someone to tell you he is the third-best player available, but the value of quarterbacks has never been higher. I wouldn't be surprised in the least if one or both teams have already discussed a trade with the Vikings in general terms.
I'm not saying the Vikings will end up making a trade, although it would seem to be a no-brainer for them to swap picks with the Browns in this scenario because they would still be able to select the best non-quarterback available. But I do think there's enough here to make it a recurring theme of our pre-draft discussions. Stay tuned.
March, 15, 2012
3/15/12
1:00
PM ET
We've downplayed the
Minnesota Vikings
' realistic chances for trading down in the draft, especially after the
St. Louis Rams
shipped the No. 2 pick to the
Washington Redskins
and ensured that the draft's top two quarterbacks would be off the board when the Vikings turn arrived at No. 3 overall.
Did we speak too soon?
Peter King of Sports Illustrated
tweeted an interesting scenario that merits further inspection. Here's how the dominoes would fall:
Free agent quarterback Matt Flynn signs with the Seattle Seahawks. Flynn is visiting Seattle on Thursday.
The Miami Dolphins, thought to be in search of a new starter, lose out on the Peyton Manning sweepstakes.
The Dolphins turn their sights to the draft, where they would have no chance to select Stanford's Andrew Luck or Baylor's Robert Griffin III.
Their next-highest rated quarterback is Texas A&M's Ryan Tannehill, who just so happened to be coached there by new Dolphins offensive coordinator Mike Sherman.
Given the NFL's annual shortage of quarterbacks, the Dolphins grow concerned about Tannehill still being available when they draft at No. 8 overall.
The Dolphins believe their chief competition for Tannehill is the Cleveland Browns at No. 4.
As a result, the Dolphins offer the Vikings a deal to move up to No. 3. The Vikings move back to No. 8 and pick up multiple additional picks as a result.
Is Tannehill the third-best player in this draft? I don't think many people would tell you that. But now more than ever, quarterbacks come at a premium. I have no insight into how the Dolphins view Tannehill, but given how crazy teams get about quarterbacks this time of year, I couldn't rule out this scenario. Could you?