NFC North:

Saints-Packers 2011 Week 1
September, 9, 2011
9/09/11
2:35
AM ET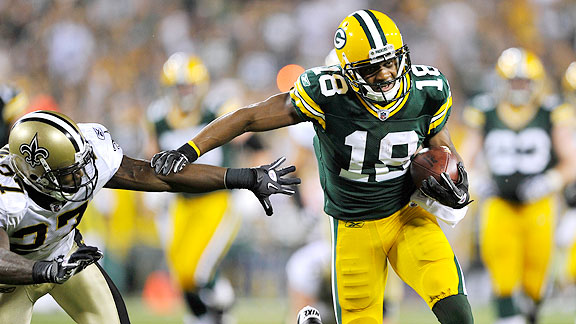 AP Photo/Jim PrischingRandall Cobb racked up two touchdowns in his debut, including a 108-yard kickoff return.
GREEN BAY, Wis. -- Some of you laughed, some of you listened and many of you mocked the audacity of some two-bit blogger's observation during a tiny window of an NFL training camp. To be sure, I'm nothing but a football amateur. Yet even to me, it was
obvious last month
that
Randall Cobb
would be the NFC North's newest dynamic playmaker.
I can't say I expected Cobb to score a pair of touchdowns in his NFL debut, as he did Thursday night in the
Green Bay Packers
' wild
42-34 victory
over the
New Orleans Saints
. But every now and then, a player comes along whose open-field running skills transcend the trained eye and are obvious to the masses. In this instance, you knew it was a matter of time.
"He's shown that from the first day of training camp," Packers coach Mike McCarthy said. "When other players talk about a player having a chance to be special, he is one of those guys. He's very raw. He's picking up our system. But he knows what to do when he gets the football in his hands, and he knows how to get open. He's a gifted young man with a lot of good football in front of him."
Cobb touched the ball on five live plays Thursday night. One was a 108-yard kickoff return, tied for the longest touchdown return in NFL history. Another was a 32-yard touchdown reception. That both came after what Cobb admitted were "rookie mistakes" only added to the significance of his debut. Namely: In his first NFL game, and 17 days after his 21st birthday, Cobb turned two busted plays into thrilling touchdowns in a nationally televised prime-time game.
"That's special," receiver
Greg Jennings
said, "and I don't care who does it or how."
There were a number of takeaways from Thursday night's game. I'm sure many of you are concerned about a defense that gave up 419 passing yards to Saints quarterback
Drew Brees
and needed a goal-line stop on the game's final play to ensure victory. The
uncertain status
of cornerback
Tramon Williams
(shoulder) is also troubling, but for me it was hard to avoid putting Cobb at the top of my postgame list.
We've spent plenty of time discussing the Packers' logjam of offensive skill players and wondering how they all could fit together. Would Cobb get blocked from an offensive contribution, especially early in the season? The answer, based on Thursday night's game, was most definitely not.
Quarterback
Aaron Rodgers
spread his 27 completions among nine receivers. On a first down in the first quarter, Rodgers changed the play just before the snap. Cobb's rookie wires got crossed, however, and instead of running a drag route to the sidelines, he ran a slant over the middle. Rodgers followed along, hit him in stride at the 25-yard line and watched as Cobb ran away from safety
Roman Harper
, put a move on safety
Malcolm Jenkins
and then leaped over the goal line.
"I ran the wrong route and luckily scored," Cobb said. "I'm going to hear about that in meeting tomorrow and probably get a negative [grade] for it. But we just made a play. That was the big thing."
[+] Enlarge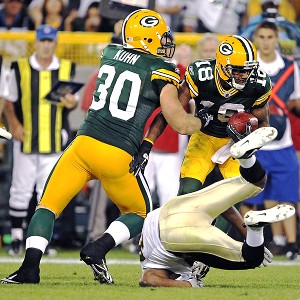 Jonathan Daniel/Getty ImagesRandall Cobb broke the team's rules on touchbacks when he brought the ball out from the end zone and scrambled for an 108-yard score.
Indeed, Cobb got a negative grade during the game from McCarthy and special teams coordinator Shawn Slocum after breaking a team rule on his third-quarter kickoff return. In the wake of the NFL's decision to move kickoffs to the 35-yard line, Slocum has instructed returners to line up 5 yards deep in the end zone.
"If I have to take any steps back," Cobb said, "the rule is don't bring it out. And I did. I'm going to be in trouble for that one. I'm thinking I'm going to get chewed out. "
In truth, Cobb probably wouldn't have made it past the 25-yard line had teammate
John Kuhn
not braced him after the Saints'
Leigh Torrence
's low hit.
"The first thing that Slocum tells us is to pick up the returner when he gets tackled," Kuhn said. "I just wanted to pick him up before he got tackled."
Still, Cobb displayed unteachable instincts and the presence of mind to accelerate downfield before the Saints realized what had happened.
"I just got lost in the moment there," Cobb said. "I just trusted in God. He told me to bring it out. I'm not supposed to bring that out at all. I'm not. Some things are illogical, and some things are the power of God. That definitely was the power of God telling me to bring it out. And he gave me great teammates to help block downfield."
McCarthy was admittedly furious that Cobb broke the 5-yard rule, but sometimes as a coach you have to shake your head and accept when a player's skills make all your structure irrelevant.
It's worth noting that Cobb quickly kneeled on his next return, which he fielded 7 yards deep in the end zone. The Packers weren't making any immediate changes to their rules, but I honestly wonder whether NFL teams watched what happened Thursday night and re-evaluated their planned responses to the league's new rule.
Of the 12 kickoffs Thursday night, eight went for touchbacks. One was an onside kick. One was returned 108 yards and another 57 yards (by the Saints'
Darren Sproles
).
If you have a potentially game-breaking returner, do you give him more leeway than you were previously planning? Should the rule really dictate touchbacks on 75 percent of a game's kickoffs?
Cobb demonstrated the benefits of the former, even if it was unintended.
"I scored two touchdowns, and they were both mess-ups," he said, laughing in the Packers' celebratory postgame locker room. "They'll go down as 'MAs.' Missed assignments. But my first game, it exceeded all of my expectations."
Maybe for the first game. But you knew it was coming sometime. NFC North, meet Randall Cobb. He's going to be around for a while.
September, 9, 2011
9/09/11
12:53
AM ET
GREEN BAY, Wis. -- I just returned from the
Green Bay Packers
locker room to see that many of you are looking for an update on cornerback
Tramon Williams
, who departed the game late in the fourth quarter with a right shoulder injury.
Williams
Coach Mike McCarthy didn't have much new information on the injury, and Williams said that the team's medical staff didn't give him a final diagnosis. But it's worth noting that Williams was walking in the locker room in the same pose he left the field in: Slowly, gingerly and with his left hand holding his right arm in place.
There's no sense speculating on what type of injury Williams has and how serious it might be. All we can say is that he was in significant pain when he left the field and that pain hadn't subsided by the time he got to the locker room. As always, stay tuned.
September, 8, 2011
9/08/11
11:51
PM ET
GREEN BAY, Wis. -- A few immediate thoughts after the
Green Bay Packers
'
42-34
victory in Thursday night's kickoff game against the
New Orleans Saints
:


What it means:
The Packers scored touchdowns on four of their first five possessions, and held on during some tense moments late in the third and fourth quarters, becoming the 12th consecutive Super Bowl champion to win its home opener. It also was the Packers' seventh consecutive victory, dating back to December 2010 and including the playoffs. Lockout or not, their offense opened the season in midseason form and demonstrated its full array of weaponry. Five players scored touchdowns. And along the way, the Packers announced the arrival of a new weapon: rookie receiver/returner
Randall Cobb
.
CobbWatch:
Cobb caught eyes early in training camp but was quiet thereafter while recovering from a bruised knee. However, he exploded onto the scene Thursday night, taking a slant pass 32 yards for a touchdown in the first quarter and then returning a kickoff 108 yards for a score in the third quarter. His 31-yard punt return in the fourth quarter was nullified by penalty. I'll have much more about Cobb after the game, including how his kickoff return -- which tied an NFL record for distance -- could affect the entire league's reaction to this year's kickoff rule change.
Turning point 1:
The Saints trailed 35-27 with 3 minutes, 10 seconds remaining in the third quarter when coach Sean Payton decided to go for a fourth down at the Packers' 7-yard line. I could see where Payton was coming from; the Packers' defense was tired and the Saints had scored 20 of the game's previous 34 points. But the Packers sniffed out a play-action pass that appeared designed for tight end
David Thomas
. Brees had nowhere to throw. The Packers then drove 93 yards over 12 plays to take a two-touchdown lead on John Kuhn's 1-yard touchdown run.
Turning point 2:
Receiver
Donald Driver
recovered an onside kick with 2:14 remaining to nearly end the Saints' hopes. Driver also finished with 41 yards to pull into a tie for the most career receiving yards in team history.
Turning point 3:
The game ended in dramatic fashion after a last-minute drive put the Saints at the Packers' 1-yard line for the final play of the game. But linebacker
Clay Matthews
and safety
Morgan Burnett
stopped Saints rookie tailback
Mark Ingram
for no gain. Wow.
Injury report:
Packers cornerback
Tramon Williams
injured his right shoulder after colliding with safety
Nick Collins
late in the fourth quarter. He walked gingerly off the field, and was replaced by
Sam Shields
and
Pat Lee
in the nickel. We'll update you with more information when we get it.
What's next:
The Packers will get a long weekend and then play Sept. 18 at the
Carolina Panthers
.
September, 8, 2011
9/08/11
7:28
PM ET
GREEN BAY, Wis. -- The
Green Bay Packers
won't have the services of oft-injured defensive end
Mike Neal
, who was declared inactive for Thursday night's season opener against the
New Orleans Saints
.
Neal practiced on a limited basis this week but obviously didn't do enough to convince the Packers his sprained knee is ready to go in game action.
Jarius Wynn
is the scheduled starter for the Packers if the open in their 3-4 base. The good news for the Packers is they will have an extended preparation time for Week 2 and could get Neal back by then.
Other inactives include cornerback
Davon House
, safety
M.D. Jennings
, linebacker
Frank Zombo
, offensive lineman
Derek Sherrod
, tight end
Ryan Taylor
and linebacker
Vic So'oto
.
With Sherrod inactive, the Packers' backup tackle for this game will be
Marshall Newhouse
. Their backup center/guard is
Evan Dietrich-Smith
.
September, 8, 2011
9/08/11
10:01
AM ET
By
ESPN.com staff
| ESPN.com
Join our ESPN.com NFL experts as they break down the opening night match up between the Super Bowl champion Green Bay Packers and the New Orleans Saints.

Contribute your thoughts and questions beginning at 8:30 p.m. ET. See you there.