NFC North:

Saints punishment
June, 20, 2012
6/20/12
1:45
PM ET
In the months since the NFL handed Green Bay Packers defensive lineman Anthony Hargrove an eight-game suspension, we've watched much of its evidence
face significant scrutiny
. Which prompts the question: What unchallenged documentation does the NFL have against Hargrove, and does it match the discipline? So goes the topic of this week's Blogger Blitz.
Related: Former New Orleans Saints defensive lineman Earl Heyman concurs that Hargrove was not the player who said "pay me my money" in video evidence the NFL presented this week. Heyman said he was standing behind the conversation that took place and knows who actually said it.
More from Jason La Canfora of CBSSports.com.
June, 18, 2012
6/18/12
10:59
PM ET
I mentioned earlier I would bring to your attention any additional evidence the NFL released about the role of
Green Bay Packers
defensive lineman
Anthony Hargrove
in the
New Orleans Saints
bounty case, and so here you go.
As noted by
Sports Illustrated's Peter King
and several other reporters who were present for an afternoon briefing by the league, the league has an NFL Films video that purportedly shows Hargrove telling Saints defensive end Bobby McCray to "give me my money" after a third-quarter hit that injured Favre's ankle. (
NFL.com video here
.)
The statement comes moments after Saints assistant coach Joe Vitt told the defense that Favre had been knocked out of the game. The quote would presumably stand as significant evidence both of a bounty scheme and Hargrove's participation; the NFL has alleged there was at least a $35,000 bounty on Favre in the game.
Here is my only concern with that conclusion: Why would Hargrove expect payment for a hit that he wasn't involved in? As you recall, the third-quarter hit that injured Favre's ankle came at the hands of McCray and defensive tackle
Remi Ayodele
. In the second quarter, Hargrove received an unnecessary roughness penalty for a hit on Favre, but Favre suffered no documented injury.
The timing doesn't make sense, but we'll have to see if anything comes of it.
June, 17, 2012
6/17/12
3:54
PM ET
I've covered players represented by agent Phil Williams for more than a decade, and I can count on one hand the times he has spoken publicly, much less
issued the kind of statement
he provided Sunday afternoon. But
Anthony Hargrove
's implication in the
New Orleans Saints
bounty case, and the eight-game suspension he faces as a result, conjured a passionate and deeply personal response, as you read in
the preceding post
.
The big issue for Williams and others is the continued disconnect between the accusations, discipline and the evidence provided by the NFL.
In questioning whether the league can back up its claims, Williams suggested it already has misrepresented three sets of facts related to Hargrove. Williams wondered if "honesty is truly paramount" to league officials and asked whether they will admit to "lying" about their portrayal of the evidence.
Hargrove is scheduled to have his appeal heard Monday by NFL commissioner Roger Goodell. It's difficult, but not impossible, to imagine Goodell reducing the suspension given the intense scrutiny of this case. But the
Green Bay Packers
are certainly hoping that will happen, and we of course will keep you updated during the week.
For now, I'll leave you with some thoughts that can help you wade through the statement if you're invested at that level. To me, it's a career-altering situation, which makes this as serious as it gets.
As we've discussed before, the NFL's portrayal of Hargrove's admissions don't match up with the original declaration he provided the NFL. He admitted to being told to "play dumb" about the existence of a program, but that's not the same thing as establishing the existence of the program and participating in it, as the league has claimed. Williams: "Is honesty truly paramount to you? If so, why did you take Anthony Hargrove's declaration and state that it said things that it did not say? Is that honest? Why did you state that Anthony 'admitted to lying' when he has done no such thing? Do you hold yourself to the same standard as you hold others? Have you 'admitted to lying'? To clarify, would you consider it lying to say someone 'admitted to lying' when they did not do so?"
Williams also said that Hargrove agreed to be interviewed on April 3 by the NFL, contrary to the league's claims that he declined. Williams: "If this is true, which it is, is it fair to state as fact that he simply declined….?"
A third set of facts Williams questioned: The league's assertion that Hargrove told at least one player on another team that former Minnesota Vikings quarterback Brett Favre was the target of a bounty in the 2009 NFC Championship Game. Williams: "And why do you say that he spoke to someone on another team about an alleged 'bounty' program back during the time in question, when in fact he did not?"
"Honesty" is a big theme of the statement because the league has said Hargrove's punishment is based in part on his initial denials when interviewed by the league in February 2010.
A portion of the statement refers to "phrases that have different meanings depending on their context." Williams is referring to reports that Hargrove was celebrating on the sideline during the 2009 NFC Championship Game when Favre injured his ankle.
OK, I've taken up enough of your Sunday. If nothing else, this statement gives you some understanding of how deeply this bounty case has penetrated the NFL core and how much of a disconnect there is between the accusations and the evidence provided. As we've discussed before, Hargrove turned around his life after substance abuse left him with a year-long NFL suspension 2008. He worked hard to extend his career, with Williams among those guiding the way, and from the outside you could look at the evidence provided and wonder what exactly he has been punished for this time. Perhaps this statement will shake loose some answers.
May, 4, 2012
5/04/12
10:10
AM ET
As you've probably heard by now, the NFL Players Association
has taken its first steps toward appealing
the bounty-related suspensions of
Green Bay Packers
defensive lineman
Anthony Hargrove
and three other current and former
New Orleans Saints
players. As ESPN's Andrew Brandt points out, the crux of the NFLPA's efforts are to circumvent NFL commissioner Roger Goodell as the point man of the appeal and put it in the hands of independent arbitrators.
Instead of Goodell, the NFLPA wants longtime arbitrator Stephen Burbank to adjudicate the appeal.
Be sure to check out the news story linked above or Brandt's "SportsCenter" appearance in the video if you're interested in the details of the proceedings. But the bottom line is that Hargrove's eight-game suspension won't be final until the appeal process is complete, and that could take some time.
The question of what happens in the meantime isn't yet relevant for Hargrove. The terms of his punishment state that he can continue to participate in the Packers' offseason program, organized team activities (OTAs), minicamp, training camp and even preseason games. His suspension wouldn't begin until Week 1 of the regular season. So he has four months of flexibility before the timing of the appeals process becomes an issue.
Earlier:
Hargrove said in a declaration
to the NFL that he was instructed to lie about the Saints' bounty program during a 2010 investigation. That lie is the primary reason Hargrove received the second-longest suspension among the four players who were punished.
May, 3, 2012
5/03/12
3:08
PM ET
On Wednesday we noted that
Green Bay Packers
defensive lineman
Anthony Hargrove
received
the second-harshest penalty
among the four players suspended in the NFL's investigation of the
New Orleans Saints
' bounty program. In a news release, the league said Hargrove "actively obstructed" the league's original investigation in 2010 by "being untruthful to investigators."
On Thursday, an attorney hired by the NFL to provide independent analysis of the investigation revealed a surprising nugget. Namely: In his signed declaration, Hargrove said he had been instructed to lie by a party the attorney refused to name. Here is what attorney Mary Joe White said in a media conference call on that topic: "In [the declaration], he acknowledges the nature of the program and his participation in it. And, which was really the thrust of the declaration, that he was told to lie about it and he did when he was asked about it in 2010 by the NFL investigators."
Hargrove
When asked if Hargrove revealed who advised him to lie, White said: "He did, but I don't think it is appropriate to reveal that."
From the top, I'll say that every man must own his words. However it came to be, a lie is a lie and Hargrove told one. But I do think this revelation provides some important context for understanding why Hargrove acted in a way that was ultimately responsible for the severity of his eight-game suspension.
At the time of his 2010 discussion with the NFL, Hargrove had just wrapped up his first season after returning from a league suspension. The Saints were one of only a few teams that had expressed any interest in him, and with his contract expiring, Hargrove was hoping the Saints would offer him a new deal to return.
Hargrove likely would have severed his ties with the Saints organization and probably submarined his career if he had admitted anything in 2010 that would have implicated the Saints. He had a tough choice to make with potentially destructive consequences in either direction. I don't know who instructed him to lie, but conspiracy theorists could run wild given what we already know about the lying that went on during this investigation.
Again, Hargrove must take ultimate responsibility for lying. But there are a lot of layers left to be pulled back here, and the question of who instructed Anthony Hargrove to deny the existence of a bounty program is one of them.
May, 2, 2012
5/02/12
1:00
PM ET
Let's run through some of the basics on the NFL's eight-game suspension of
Green Bay Packers
defensive tackle
Anthony Hargrove
in a Q&A format:
Will Hargrove appeal?
Almost certainly, yes. He has three days to file it with the NFL.
Who will preside over the appeal?
NFL commissioner Roger Goodell, who finalized the original suspension as well.
Will Hargrove file a lawsuit?
[+] Enlarge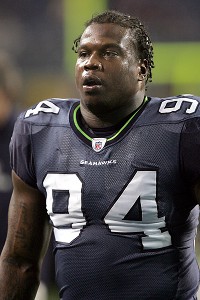 AP Photo/Paul JasienskiAnthony Hargrove "actively obstructed the league's 2010 investigation into the program by being untruthful to investigators," according to the NFL.
Someone will, perhaps on his behalf. The NFL Players Association said in a statement that it will "vigorously protect and pursue all options" on behalf of the suspended players. This is a potentially career-altering suspension. A source told ESPN's Adam Schefter: "Get ready for a massive multiple legal battle over this on several fronts."
When would the suspension start?
At the start of the regular season. That means Hargrove can continue to participate in the Packers' offseason program, go to training camp with them and participate in the preseason. He would be eligible to resume practicing on Monday, Oct. 29.
What does this mean for the Packers?
General manager Ted Thompson rarely signs veteran free agents, so it was fair to assume the Packers had a significant -- if not starting -- role in mind for Hargrove when they signed him. Fortunately for them, they drafted two defensive linemen last weekend,
Jerel Worthy
and
Mike Daniels
.
Did the Packers know about the suspension before signing Hargrove?
No. It's reasonable to assume they thought one was a possibility, but it's doubtful they thought it would be for eight games.
Will the Packers keep him on their roster?
That's unknown at this point. They wouldn't have to pay him during the suspension and he wouldn't count against their roster. It's worth pointing out that defensive line coach Mike Trgovac
said Hargrove's intensity was already having an impact
on the team's defensive line in the early stages of the offseason program.
Why was Hargrove punished so severely?
The NFL is obviously sending a serious statement about the bounty issue. But of the four players who were suspended, the NFL singled out Hargrove because he "actively obstructed the league's 2010 investigation into the program by being untruthful to investigators," according to the league's official statement.
The league said Hargrove certified that he was aware of the bounty program and that he actively participated in it. Does that jibe with a statement Hargrove sent us in March?
In the statement, Hargrove said he did not receive any money, nor was he expecting any, for a late hit on
Minnesota Vikings
quarterback
Brett Favre
in the 2009 NFC Championship Game. He admitted to celebrating Favre's ankle injury during the game but said it was a mistake and added: "[D]id I personally want Favre INJURED? Absolutely and categorically NO!"
What's your take, Mr. NFC North blogger?
I think this thing is going to get much, much uglier before it goes away. What the NFL alleged about Hargrove's role, as well as that of the three other players, is career-threatening and life-altering. I don't see anyone absorbing such a blow without a legal fight. Hargrove has overcome a number of obstacles just to make it this far in his NFL career, having turned his life around following a yearlong suspension for substance abuse in 2008. Remember, there are two sides to every story. Hargrove will be highly motivated to clear his name.
March, 24, 2012
3/24/12
8:00
AM ET
We just completed an unprecedented week of NFL news, one that revealed details of a
New Orleans Saints
bounty program
that targeted two NFC North quarterbacks
over the past three seasons. But the occasion brought forth disparate views among NFL players, especially among those who play defense and those who play offense.
Specifically, who should be blamed for the beating
Minnesota Vikings
quarterback
Brett Favre
took in the 2009 NFC Championship Game? The Saints' (apparently incentivized) defenders? Or the Vikings' pass protection?
Consider these statements from two of our players this week. First, here is what
Chicago Bears
linebacker
Brian Urlacher
said about bounties during an
ESPN 1000 radio interview
.
"If you don't want your quarterback to get hit, protect him," Urlacher said. "You don't want to get hit? Then don't play offense. They're going to hit you. It's the referee's job to mandate [legality]. If they think it's excessive, throw a penalty on it. That's all there is to it."
On the other hand, Vikings center
John Sullivan
objected to criticism his offensive line took after that game.
"A lot of the hits on Brett were illegal," Sullivan
told KFAN-1130
. "So what are you supposed to do to prevent that? That's not our job. That's the official's jobs."
In essence, Urlacher is saying it's up to the offense to protect its quarterback and for officials to punish defenders if they play beyond the rules. Sullivan, on the other hand, suggested it's up to officials to provide enough deterrent to eliminate illegal plays.
We could spend days in a college-style sociological debate on the effectiveness of deterrence as a form of discipline. But what do you think? How much do you blame the Saints for what happened to Favre? And how much should the Vikings themselves be blamed? Or did the officiating crew drop the ball? I'm all ears.
March, 22, 2012
3/22/12
6:46
PM ET
Minnesota Vikings
punter
Chris Kluwe
has never been afraid to speak his mind, and on Thursday
he went on ESPN 1500 radio
in the Twin Cities and called for a lifetime ban of
New Orleans Saints
linebacker
Jonathan Vilma
.
Kluwe
Vilma
According to the NFL, Vilma offered $10,000 to any player who knocked Vikings quarterback
Brett Favre
out of the 2009 NFC Championship Game. Commissioner Roger Goodell has punished the Saints, general manager Mickey Loomis and coach Sean Payton, but he hasn't announced specific discipline for players involved in the Saints' bounty program and is awaiting a recommendation from the NFL Players Association.
"I think this is a spot," Kluwe said, "where the [NFLPA] definitely has to take a stand and say, 'Look, you put other guys' livelihoods in danger. You're jeopardizing other guys' chances to play.' Football is violent enough as it is. It's hard enough to stay healthy in the league and so by maliciously trying to hurt people they need to show, we need to show, that there's no place in the game for that kind of behavior."
Based on the Saints' abuse of Favre, Kluwe said he spoke with Vikings place-kicker
Ryan Longwell
during the game about the possibility of a bounty.
"But you don't want to believe that something like that is happening because you think better of the other players."
Kluwe's point is well taken, and Goodell has already surprised most observers with the harshness of his initial penalties. A lifetime ban might be unrealistic, but we've already learned our lesson about projecting Goodell's plans in this instance.
March, 21, 2012
3/21/12
4:37
PM ET
By now, we all know that the 2009 NFC Championship Game is one of the most visible examples of the
New Orleans Saints
' three-year bounty program. But there has been a secondary connection between the bounty story and the
Minnesota Vikings
: One of the Saints' defensive starters in that game signed a free agent contract with the Vikings last season.
Ayodele
Nose tackle
Remi Ayodele
, in fact, was the second player involved in a high-low hit that caused Vikings quarterback
Brett Favre
to suffer an ankle injury and throw an interception. Ayodele hit Favre high, while defensive end
Bobby McCray
grabbed Favre's ankle. The NFL later fined McCray and said a penalty should have been called.
NFL commissioner Roger Goodell is still mulling player discipline related to the bounty system, so we don't know if Ayodele is in line to be suspended. For now we'll just consider it a coincidence that the Vikings released Ayodele hours after the league announced unprecedented punishment against the Saints' organization and leadership staff.
What we do know: Ayodele made almost no impact after signing a three-year, $9 million deal a year ago. He started 13 games but played sparingly (23.6 percent of the Vikings' snaps) and managed only four official solo tackles.
And in recent days, the Vikings had re-signed veterans
Fred Evans
and
Letroy Guion
, both of whom can play nose tackle. Evans' deal was official Wednesday.
The Vikings would be justified in releasing Ayodele for either reason: The fear of a looming suspension or ineffectiveness. Take your pick, as far as I'm concerned.
March, 21, 2012
3/21/12
1:48
PM ET
From the beginning,
Minnesota Vikings
fans have taken the NFL's bounty investigation personally. The league, after all, found that the
New Orleans Saints
had given players a financial incentive to knock quarterback
Brett Favre
out of the 2009 NFC Championship Game. Although Favre did not leave the game, he was pummeled throughout and threw two interceptions -- one after an illegal hit -- that had a direct outcome on the game. Even if indirectly, many Vikings fans insist the bounty program impacted the outcome of a contest that decided the NFC's Super Bowl participant.
So shortly
after the NFL announced
its unprecedented sanctions against the Saints and its leadership, I threw out a question on Twitter: Was it enough for you? Has justice been served in the form of the following penalties?
Indefinite suspension of former defensive coordinator Gregg Williams
One-year suspension of coach Sean Payton
Eight-game suspension of general manager Mickey Loomis
Six-game suspension of assistant head coach Joe Vitt
A $500,000 franchise fine
Forfeiture of second-round draft picks in 2012 and 2013
Future discipline of individual players to be determined
With varying levels of anger, most of you said no.
"Nothing will ever be enough," tweeted
@missjackson75.
@KimSherayko
: "no bc what's done is done we can't replay the game."
@Shea_Carr:
"I would have like to see at least 1 first rd pick gone."
@JeremyAnderson:
"no, I think they should lose the trophy."
And in the end,
@PaulFerence
had the most thought-provoking response: "I'd take a year suspension for the coach, an 8 game suspension for the GM, and the loss of two 2nd rd picks for a title here."
I don't know if we'll ever settle whether the bounty program squashed the Vikings' Super Bowl hopes that year. Favre's second interception, as well as an inexcusable 12-men-in-the-huddle penalty, both played huge roles in a close game. I do, however, think you're entitled to eternal anger at losing to a team found to have competed above the ethical rules of the game and then lying repeatedly about it when confronted by the league. Often our natural (if immature) reaction is to assume that a victorious opponent cheated. In this case, that's exactly what happened, according to the league.
But in the same breath, I think you're underestimating how much turmoil this punishment will throw the Saints' entire franchise into. Say what you want about Payton, but he is one of the league's best coaches. The Saints won't have him in 2012 and can't promote Vitt, his logical replacement. Whoever coaches the Saints this season will be underqualified for the job, and it's easy to see a disastrous 2012 campaign that could reverberate for years to come. Removing a head coach from the mix for a year is unprecedented, and it would be wrong to assume Payton would seamlessly restore the Saints' championship-caliber play upon returning in 2013. On a personal note, Payton will lose his 2012 salary of $7 million.
And let's not forget that these sanctions could end the career of the man who masterminded the program and has been the first target of your ire. Gregg Williams' suspension is technically indefinite, but will he ever be hired as a defensive coordinator again?
In the end, I'm not sure if there were a set of penalties -- short of reversing the outcome of the game -- that could have distilled your anger in this case. If it makes you feel any better, the bounty program led to the steepest discipline in NFL history. That will have to do.