August, 7, 2011
8/07/11
1:00
PM ET
MANKATO, Minn. -- The summer of 2011 is not the time for Nervous Nellies. After the NFL lockout wiped out five months of offseason work, there is a lot to do and (almost) no time to do it. If you freak out under stress, you aren't going to be much good to anyone this August.

Fortunately for the
Minnesota Vikings
, their new coach is probably the most serene leader in the NFL. Leslie Frazier makes Tony Dungy look like a spaz. No matter what curveball he has been dealt since accepting the Vikings' interim job last November, Frazier has projected a tranquility that should serve the team well during the hectic run-up to the 2011 season.
In the span of about six weeks, Frazier will oversee the installation of a new offense. He'll preside over the transition to quarterback
Donovan McNabb
, develop a new left tackle and do his best to instill a tone of professional confidence that reflects his own personality.
Three days at Minnesota State University, Mankato, revealed the Vikings are well on their way to adopting Frazier's style. Players and staff worked hard but with an emotional ease that belied the tense tenure of former coach Brad Childress. It's been a while since I've seen smiles during a full-contact Vikings practice, and I was amazed at how downright
happy
people were -- from the elite players on the roster to the lowest-level staffers. Even left guard
Steve Hutchinson
, whose next career is certain to include a role as
Oscar the Grouch
, chatted gregariously with reporters after last Wednesday's practice.
As a football team, the Vikings have a long way to go in terms of chemistry and scheme. But I can tell you this: No one seemed worried.
"I've been around enough successful teams," said Frazier, who won a Super Bowl as a player [the 1985
Chicago Bears
] and assistant coach [the 2006
Indianapolis Colts
]. "I think I have an idea of what it takes to win in this league. That's what I've tried to get across to the players over and over, and will continue to do that."
THREE BIG ISSUES
1. How quickly can the Vikings install Bill Musgrave's new offense?
Players are learning different terminology and an entirely new scheme, one that will roughly resemble what the
Atlanta Falcons
run under coordinator Mike Mularkey. Rookie quarterback
Christian Ponder
received a partial playbook during the one-day lockout respite in April, and he helped distribute it to teammates by making copies himself.
Still, Musgrave freely admits there isn't enough time to install everything. He has cut back the volume of the playbook and won't have his full arsenal installed for some time, if at all, in 2011.
"We're in uncharted territory," he said. "We've never been through anything like this, whether as a coach or a player. We're trying to be smart in whittling down the volume that we present to the players. We want to be diverse and difficult to defend on offense, but at the same time, we want to know what the hell we're doing. We also want to get these guys back in football shape, so we don't want to work hard mindlessly. We want to work smart. We're balancing all those factors."
For now, at least, less will have to be more.
[+] Enlarge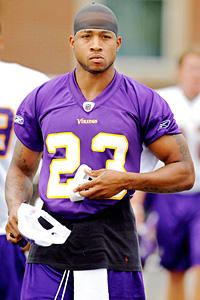 Bruce Kluckhohn/US PRESSWIRECedric Griffin has recovered from injuries to both of his knees last season and coach Leslie Frazier plans to start him in Week 1.
2. Cedric Griffin's quick recovery:
I'm not sure if Griffin's story has gotten enough national attention, but it will be remarkable if it holds up. Griffin tore both anterior cruciate ligaments in a span of 10 months, starting with the right knee in January 2010 and then the left knee last October. But doctors cleared him for full participation when training camp began and he was working with the first team throughout my three days in Mankato.
Griffin was never the fastest cornerback in the NFL, and it's fair to wonder how two major knee surgeries will impact his ability to run downfield with receivers. But the Vikings appear to be counting on Griffin, who is backed up by a pair of young cornerbacks --
Chris Cook
and
Asher Allen
-- who each struggled last season.
Griffin probably won't play in the preseason opener, but Frazier said he has every intent of starting him in the Sept. 11 season opener against the
San Diego Chargers
. Said Griffin: "Injuries are a part of this game. If you get hurt, you get back up and continue to work hard. That's what I do."
3. Replacing Sidney Rice:
The reality is the Vikings weren't going to find a receiver who could duplicate Rice's ball skills and leaping ability. Instead, they signed
Michael Jenkins
to offer reliable hands and precise routes. They renegotiated the contract of receiver
Bernard Berrian
, who should be motivated to put aside two lost years caused by a poor connection with former quarterback
Brett Favre
.
Most of all, however, the Vikings have thrust their faith behind third-year pro
Percy Harvin
, whom they hope will be their pseduo-No. 1 receiver and the top playmaker in their passing game. At 5-foot-11 and 195 pounds, Harvin doesn't have the prototypical size for that role. But he has already earned the respect of McNabb, for one.
"I have played with guys that play big, but are short in stature and have been so successful," McNabb said. "You talk about guys like
DeSean Jackson
and
Santana Moss
. There is no reason why Percy can't be a perennial Pro Bowler, as a starter at the receiver position with over 1,000 yards receiving, 90-100 catches."
BIGGEST SURPRISE
The release
of left tackle
Bryant McKinnie
could qualify as both the biggest surprise and biggest disappointment of the Vikings' summer. We'll classify it as the former because no one, not even Frazier, saw these circumstances coming. Specimens like McKinnie, who is 6-foot-8 with a 94-inch wingspan, are rare and can take years to suitably replace.
Last week, I suggested McKinnie's departure was
a warning shot
to a roster that might have underestimated Frazier's demeanor. But I really don't think Frazier arrived at training camp intending to make that kind of splash, a belief Frazier reinforced during an interview.
"It really wasn't intended to send a message to our team," he said. "I had not planned in this offseason to have a new left tackle. That was not the plan. It was just a matter to do what's best for our team and our organization. If there is anything from them to get from this, it's that. That's why I did what I did it. Every decision I make is going to be what's best to bring a championship to Minnesota. No hidden agenda. No personal agenda, that was it."
Indeed, Frazier could have chosen a less crucial position if he was just looking to make a point. No, Frazier arrived in Mankato to find he had an unexpected crisis on his hands: a key player who was in no condition to play anytime soon. The Vikings planned for uncertainty at quarterback. They orchestrated intentional changes at receiver and defensive line. All the while, they were counting on McKinnie as their left tackle. His condition stunned and angered them and will leave them weakened for some time.
[+] Enlarge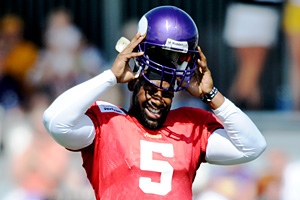 Hannah Foslien/Getty ImagesMinnesota quarterback Donovan McNabb is with his third team in three seasons.
MOST DELICATE JOB
The Vikings acquired McNabb for the
shortest of short-term jobs
: To help them win until Ponder is ready to start. In order to give McNabb a fair chance to do that, Frazier and Musgrave must give him unconditional support. But they'll have to do it while keeping one eye on Ponder's development as well.
The first week of training camp suggested the Vikings aren't close to having a quarterback controversy on their hands. McNabb
authoritatively took control of the offense
, working with several veterans at a local high school until he was eligible to practice, and then learning enough of the playbook to effect a smooth transition on his first day as the starter.
Ponder, on the other hand,
looked like a rookie
in his first week of professional practices. He displayed a quick release and an obvious ability to throw on the run, but his inexperience manifested itself in poor downfield accuracy and some bad interceptions.
McNabb's
one-year, $5.05 million contract
doesn't suggest he is in the team's long-term plans. But Frazier said he hasn't given much thought to the eventual quarterback succession, and I for one believe him.
"I really haven't thought that far ahead," Frazier said. "From time to time I'll look a little bit ahead, but there is so much to get done right now. It's all-encompassing. So to start saying right now what we're going to do a year from now or two years from now, that we're going to do this or that in certain positions. ... With all the changes we're having in 2011, you better get your focus on right now or you'll look back and regret certain things."
OBSERVATION DECK
After spending four seasons in a West Coast, zone-blocking scheme, tailback Adrian Peterson appears invigorated by the potential of Musgrave's offense. "The running back is definitely asked to do a lot more," Peterson said. "I'm excited about it. [There are] different formations, different looks that a running back has outside of the box. I'm excited to get this installed in my mind, this playbook, and get out there on Sunday to showcase the new Vikings offense." If all goes as planned, Peterson will play a much bigger role in the Vikings' downfield passing game than in previous years.

Peterson wants to be on the field for every play, but obviously the Vikings will need to establish both a backup and some potential relief on third down as well. Conventional wisdom suggests it will be Toby Gerhart, a second-round pick in 2010 who ran for 322 yards in limited service as last season. But I wouldn't rule out fourth-year pro Lorenzo Booker, a late addition last season who could also return kickoffs. During full-padded goal-line drills, Booker hit the holes quicker and more decisively than Gerhart, who seems to need time to gather a head of steam.

The Vikings' left tackle transition has attracted national attention, but it's not the only offensive line position in flux. Right guard Anthony Herrera is still recovering from a torn anterior cruciate ligament suffered last November and has not yet returned to practice. His status for the start of the regular season is uncertain at best. The Vikings are using second-year player Chris DeGeare in his spot, but they also re-signed veteran Ryan Cook as a possible alternative. From what I saw, neither player can match Herrera's aggressive play. On the plus side, Hutchinson and right tackle Phil Loadholt both reported to camp in the best shape of their Vikings careers.

While the offense is under significant schematic renovation, the defense doesn't appear much different under new coordinator Fred Pagac. That's no surprise. Pagac was the Vikings' linebackers coach for five years, including four under Frazier, and will run a similar hybrid form of the so-called "Tampa-2" scheme. Pagac implied that his game-day calls might be more aggressive than Frazier's, and there was plenty of blitzing during the team drills I saw. "The calls might be a little different according to the different situations but that's just a difference in philosophy," Pagac said. "Our defense is going to be the Viking defense that you've seen here for the last five years except again, we're going to push running to the football, playing with our hair on fire and having fun. We're going to get after it."

Fourth-year pro Erin Henderson is working with the first team at outside linebacker, the position vacated by the unsigned Ben Leber. It's not clear if Henderson is merely the first of a rotation of players who will get an opportunity or if the Vikings intend for him to be their starter. Henderson has been a good special-teams player but hasn't previously done much to distinguish himself on defense. Another candidate, Kenny Onatolu, is recovering from a stress fracture in his foot.
July, 26, 2011
7/26/11
9:57
PM ET
I'm continuing to get my head around the
Minnesota Vikings
'
reported pursuit
of quarterback
Donovan McNabb
, which to this point qualifies as the biggest NFC North development on Day 1 of the 2011 free-agent market. We've also discussed issues from
Matthew Stafford
's
swagger
to
Aaron Rodgers
'
free-agent wish list,
and I'm sure there will be much more to come.
McNabb
For now, let's review in rapid-fire fashion a number of other developments that merit comment but maybe not their own blog post:
Item:
Former Vikings quarterback
Tarvaris Jackson
agreed to terms
with the
Seattle Seahawks
, where he will reunite with offensive coordinator Darrell Bevell.
Comment:
Someone in the Seahawks' building clearly wants someone else to win the starting job, be it
Charlie Whitehurst
or
Matt Leinart
. As much as I respect Jackson as a person, I don't see him as an NFL starter -- and neither do many other people in the league.
Item:
The Vikings
agreed to terms
receiver
Devin Aromashodu
, formerly of the
Chicago Bears
, to a one-year contract.
Comment:
Aromashodu isn't a possible replacement for
Sidney Rice
or even
Bernard Berrian
, should he be released. Aromashodu remains an intriguing big target who had a career game against the Vikings in 2009, catching seven passes for 150 yards and a game-winning touchdown. Opponents don't forget games like that.
Item:
Free agent receiver
Santana Moss
agreed to terms
with the
Washington Redskins
.
Comment:
Send your condolences to Bears receiver
Devin Hester
, who
publicly lobbied
the team to sign Moss.
Item:
The Bears have interest in free-agent receiver
Brad Smith
, according to a report by
ESPNChicago.com's Michael C. Wright
.
Comment:
Smith offers a bigger look than the rest of the Bears' receivers and could also return kickoffs following the expected departure of
Danieal Manning
. Bring him on.
Item:
The Bears want free-agent linebacker
Nick Roach
to return as a backup, according to a report by
ESPNChicago.com's Jeff Dickerson
.
Comment:
That means the Bears still need a starter at strong-side linebacker. They are interested in
Jacksonville Jaguars
linebacker
Justin Durant
, according to a
ESPNChicago.com
report.
Item:
The
Detroit Lions
will release
receiver
Bryant Johnson
, according to report by Dave Birkett of the Detroit Free Press.
Comment:
It wouldn't have made sense to bring Johnson to training camp after drafting
Titus Young
as the likely No. 3 receiver. That gives a player many of you have asked about,
Derrick Williams
, a fighting chance to make the team as a No. 4 receiver.
Item:
The Vikings have told defensive tackle
Jimmy Kennedy
he won't return in 2011, according to
Kennedy's Twitter feed
.
Comment:
Cross off another candidate to start at defensive tackle if free agent
Pat Williams
signs elsewhere and during
Kevin Williams
' expected four-game suspension.
Item:
The Bears are the only NFC North team to release a list of undrafted free agents they have signed.
Comment:
All 26 names are
published over at ESPNChicago.com
for your enjoyment.
Item:
And today will be better than yesterday.
Comment:
That's my friend Buster Olney's
signature blog sign-off
. I like it.
July, 25, 2011
7/25/11
3:27
PM ET
»
NFC
:
East
|
West
|
North
|
South
»
AFC
:
East
|
West
|
North
|
South
»
Unrestricted FAs
A look at the free-agent priorities for each NFC North team:

Chicago Bears
Assemble a starting offensive line: As we've noted many times, the Bears have held off any public discussion about their five linemen pending the results of free agency. Well, we're here. It's time for the dominoes to start falling. The first will be whether center Olin Kreutz re-signs. It's generally expected, but nothing is guaranteed. Then, the Bears need to decide whether to pursue any starting-caliber guards or tackles. You would think they'll seek at least one new starter. Will they raid the Atlanta Falcons' glut of linemen? Might they take a flier on Robert Gallery? We'll know soon enough.
Establish a strongside linebacker: The position has largely been held by Pisa Tinoisamoa and Nick Roach over the past two years, but both have expiring contracts. It makes sense to re-sign at least one given the lack of offseason work for a presumptive new starter, and Roach is the younger of the two. If the Bears have another player on the roster they've targeted for this job, it's not readily apparent. While they're at it, the Bears should seek depth at defensive tackle following the release of Tommie Harris. They did draft Stephen Paea, but the Bears might pursue Seattle Seahawks free agent Brandon Mebane, as well.
Sift through receivers: From a media perspective, at least, there has been more offseason talk than ever suggesting the Bears will/should/might pursue a free-agent receiver. This year's class is deep, from Sidney Rice to Santonio Holmes to Randy Moss, and a number of other veterans could be available via trade. Coach Lovie Smith has said he wouldn't mind a receiver bigger than his current trio of sub 6-footers, and Devin Hester has lobbied publicly to sign Santana Moss. I think the increased discussion is largely a product of lockout boredom, but it wouldn't hurt the Bears to add depth so that Hester can be used more efficiently.
Top five free agents
: Center Olin Kreutz, safety
Danieal Manning
, punter
Brad Maynard
, linebacker Nick Roach, linebacker Pisa Tinoisamoa.

Detroit Lions
Sign a starting cornerback: The Lions' top cornerbacks under contract are Alphonso Smith and Nate Vasher. Chris Houston, who started 15 games last season, is a free agent, so it's possible the Lions will bring Houston back. Or they could seek an outside upgrade, be it Nnamdi Asomugha or Ike Taylor or Johnathan Joseph. Lions Fever would spike if they can land Asomugha, but they would have to use most of their salary-cap space to do it. For several reasons, the odds are against it.
Sort out the linebacker position: DeAndre Levy is the only linebacker assured a 2011 starting job, but even Levy can't be totally sure if he will play outside or in the middle. That answer will come only after the Lions sift through the available free agents. They could pursue one with a background in the middle, perhaps Stephen Tulloch. Or they could seek an outside linebacker to replace the released Julian Peterson. One of their outside positions is likely to be decided by a training camp competition among incumbents.
Evaluate right tackles: Early indications have been that Gosder Cherilus has made progress from microfracture surgery on his knee. If there is any question, however, the Lions might want to bolster their depth. Corey Hilliard did a decent job as Cherilus' replacement late last season. But keeping quarterback Matthew Stafford healthy is at a premium this season. Do the Lions want to face the possibility of opening the year with a backup plan at right tackle?
Top five free agents:
Linebacker
Bobby Carpenter
, cornerback Chris Houston, linebacker
Landon Johnson
, quarterback
Drew Stanton
, safety
John Wendling
.

Green Bay Packers
Stay the course: It's been well-documented that general manager Ted Thompson hasn't participated much in free agency over the past few years, and it's hard to imagine his changing tack dramatically this summer. Thompson's most important decisions will be deciding which of his pending free agents to re-sign and which ones he should allow to depart.
Re-sign place-kicker Mason Crosby: Thompson gave Crosby a second-round tender in February in the event Crosby wound up as a restricted free agent. That move suggested Crosby is in the Packers' future plans and makes re-signing him one of the first orders of business now that he is an unrestricted free agent. Crosby has had some difficulties over the years, but kicking in Green Bay is difficult given the weather and he has made some important adjustments. Concerns about his kickoffs should be minimized by the NFL's decision to move them up 5 yards.
Think twice: The Packers appear set to let defensive end Cullen Jenkins depart. They can do so knowing they have a number of intriguing young players to compete for that job, from Mike Neal to C.J. Wilson to Jarius Wynn. But another player the Packers might lose, Daryn Colledge, doesn't have an obvious replacement. Would the Packers shift T.J. Lang from backup tackle to guard? Would first-round draft pick Derek Sherrod, their projected left tackle of the future, get a crash course on step down? It's something to think about and, given the lack of an offseason, might spur further discussion about re-signing Colledge.
Top five free agents:
Guard Daryn Colledge, place-kicker Mason Crosby, defensive end Cullen Jenkins, receiver
James Jones
, running backs
John Kuhn
/
Brandon Jackson
.

Minnesota Vikings
Address receivers: Are the Vikings about to bid farewell to receiver Sidney Rice, a 24-year-old who is one year removed from an 83-catch Pro Bowl season? There is nothing they can do to stop it at this point, and Rice seems intent on at least testing his value on the open market. The Vikings spent most of last season searching for a suitable replacement when Rice was injured, and that job will intensify this summer. They have added an additional pass-catching threat in rookie tight end Kyle Rudolph. But if they lose Rice, the Vikings must either sign or trade for an established veteran to join Percy Harvin and Bernard Berrian (if he makes the team).
Find a kicker: The Vikings made no known effort before the lockout to re-sign veteran Ryan Longwell, who has converted 43 of 46 kicks over the past two seasons. It's possible they'll make their move now. But they did not draft a kicker, and if Longwell signs elsewhere, the Vikings will have to scour the always-murky free-agent market. I'm guessing they already have a plan on this issue, but we haven't smoked it out yet.
Establish QB depth: We all know that rookie Christian Ponder eventually will assume the starting job. But are the Vikings comfortable with Joe Webb and Rhett Bomar as their only alternatives if Ponder needs some development time? I'm not sure about that. I also wonder if making Webb the No. 2 quarterback would limit his opportunities to contribute in other ways, perhaps as a receiver or a kick returner. For that reason, it would make sense for the Vikings to seek a quarterback with more experience to pair with Ponder.
Top five free agents:
Defensive end
Ray Edwards
, linebacker
Ben Leber
, place-kicker Ryan Longwell, receiver Sidney Rice, nose tackle
Pat Williams
.
July, 13, 2011
7/13/11
3:30
PM ET
This week,
Chicago Bears
receiver/kick returner
Devin Hester
advocated the pursuit
of receiver
Santana Moss
, a fellow former University of Miami player who will be a free agent when the NFL completes negotiations on its new collective bargaining agreement.
Moss
Wednesday, Bears safety
Chris Harris
jumped aboard the idea as well
.
Does it make sense?
On one hand, no. Adding Moss would give the Bears a fourth receiver who measured less than 6-feet tall at their respective scouting combines. Moss was 5-9 1/2 at the time, and as we
noted this spring
, here are the combine measurements for the Bears' current top receivers:
On the other hand, Moss set a career high last season with 93 receptions for the
Washington Redskins
and believes he has a number of productive seasons left. Smaller receivers have a long history of success in offensive coordinator Mike Martz's scheme, and the Bears can always rely on tight end
Greg Olsen
for routes that capitalize on height.
This topic has been bouncing around for years. The Bears still seem scarred by the free agent acquisition of
Muhsin Muhammad
, which among other things convinced them not to re-sign free agent
Bernard Berrian
. I really can't tell you how aggressive the Bears will be, if at all, in adding a veteran receiver later this summer.
It would make sense for the Bears to pursue a player who brings a different skill set than their existing players. But Martz has a time-tested route tree that might be better suited for a player of Moss' skills. How's that for fence-sitting?
February, 23, 2011
2/23/11
11:15
AM ET
Tuesday's SportsNation chat
was admittedly a little thin on
Chicago Bears
content, so I wanted to make sure to address a question that a number of you have sent to the mailbag. Here's a version from
Chris of Baltimore
:
I know that one of our many pressing needs this offseason is at wide receiver; to get a true No. 1. I think it is fair to say that the early rounds in the draft should definitely be directed to the O-Line and maybe a DB. Since getting a stud receiver in the draft is a crap shoot, do you think that the Bears may make a move in free agency (assuming the CBA works itself out)?
It's interesting that we're back to a topic we spent much of last offseason on. Do the Bears truly need to add a No. 1 receiver? Or is the sum of their parts adequate, especially when you add tailback
Matt Forte
and tight end
Greg Olsen
to the mix?
[+] Enlarge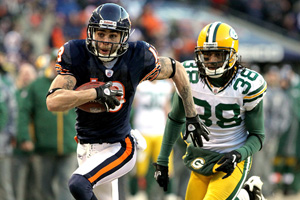 Doug Pensinger/Getty ImagesJohnny Knox tied for the team lead in catches last season with 51 and averaged 18.8 yards per catch.
I would peg the Bears' offensive line as their top offseason need, by far. That's where their draft focus should lie. But as my
AFC West colleague Bill Williamson
recently pointed out, there will be a glut of receivers available on the free-agent market whenever the league and its players agree on a new collective bargaining agreement (CBA).
That list includes
Sidney Rice
,
Braylon Edwards
,
Malcom Floyd
,
Santonio Holmes
,
Steve Breaston
,
Randy Moss
,
Santana Moss
,
Steve Smith
(of the
New York Giants
),
Terrell Owens
and
Mike Sims-Walker
.
So if you are the Bears this offseason, are you:
Satisfied with the status quo?

Interested only in an ideal addition?

Determined to add more depth?
If I had to make an educated guess, I would say the Bears will land in category No. 2. I'm guessing they believe that
Johnny Knox
's 951-yard season was a sign that, with another year in Mike Martz's offense, he will be as close to a No. 1 receiver as they need. I would think they're satisfied with
Earl Bennett
as a tough possession receiver and know they have
Devin Hester
as a big-play slot man.
General manager Jerry Angelo has been reluctant in recent years to invest in receivers, and I'm not sure he'll feel compelled to change that tack in 2011.
With that said, I think the Bears should be disappointed if their top four wide receivers combine for 147 receptions next season, as they did in 2010. For comparison, consider that the
Green Bay Packers
' top four wide receivers combined for 222 receptions in 2010.
The Bears are hoping for internal improvement, first and foremost. If they can target a mid-level receiver that fits Martz's offense, the Bears might consider it. But if you're hoping they break the bank to acquire someone like Edwards or Holmes, you might be disappointed.
Bears coach Lovie Smith will be among those who speak to reporters at this week's scouting combine. We'll of course pass along any updates on the receiver situation as warranted.
October, 30, 2008
10/30/08
8:11
AM ET
Posted by ESPN.com's Kevin Seifert
Chicago's Devin Hester knows what the easy story would be: As he has transitioned into a full-time receiver, his effectiveness as a returner has diminished.
The statistics make a good case: In six games this season, Hester is two receptions away from matching his season total in 2007 of 20. At the same time, he is averaging 5.4 yards on 11 punt returns and 22.1 on 16 kickoff returns. His longest has been a 51-yard kickoff return and he has no touchdown returns after totaling 11 in his first two seasons.
Hester, however, isn't ready to use that excuse. Here's how he put it Wednesday, according the Chicago Sun-Times:
"I want to say [focusing on playing receiver] is the reason why. But I know that I've got to be better at what I'm capable of doing. I would say that goes toward the return game."
Opponents are still treating Hester as a dangerous returner, routinely angling their punts or popping up their kickoffs to avoid giving Hester and his blocking a full opportunity to set up the return. The tactic has given the Bears the NFL's fourth-best field position after a kickoff, as the Daily Herald points out. (On average, the Bears are starting at their 29.3-yard line).
The Detroit Lions, the Bears' opponent Sunday at Soldier Field, gave up an 80-yard punt return to Washington's Santana Moss last week. Perhaps Hester will break through as well.
Continuing around the NFC North: