July, 8, 2014
Jul 8
10:00
AM ET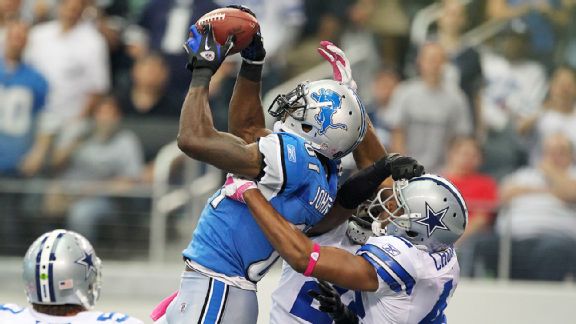 Matthew Emmons/USA TODAY Sports
»
VOTE HERE
»
NFC Plays:
East
|
West
|
North
|
South
»
AFC:
East
|
West
|
North
|
South
This is one of three nominations for the most memorable play in
Detroit Lions
history. On Monday, we featured Barry Sanders' touchdown run to cap off the Lions' only Super Bowl era playoff win. On Wednesday, we'll feature
Dan Orlovsky
running out of the end zone for a safety in 2008. Please vote for your choice as the Lions' most memorable play.
Score:
Lions 34, Cowboys 30
Date:
Oct. 2, 2011
Site:
Cowboys Stadium
What Barry Sanders was to running with the Detroit Lions, the team found the pass-catching equivalent less than a decade later when they drafted wide receiver
Calvin Johnson
with the No. 2 pick in the 2007 draft. And for that, the Lions should be forever thankful to Oakland's decision to take JaMarcus Russell with the No. 1 overall selection.

Since then, Johnson has made eye-popping catch after eye-popping catch. If there is one defender on him, it is usually a loss for that cornerback or safety. If there are two defenders on him, often a defense has a chance -- but there are many times where Johnson will make the grab anyway.
And sometimes, every once in a while, he'll do it when there are three defenders on him. That there were two such touchdown receptions to pick from in Johnson's career is unbelievable enough. So one of them definitely deserved to be on this list.
The one we chose came on the road at Dallas during the team's last playoff season in 2011.
Matthew Stafford
waited for what seemed like an eternity, continuously patting the ball as he waited for Johnson to come free. He didn't, but it didn't matter. As has happened so often in the careers of Stafford and Johnson, the duo went for the play anyway.
Stafford threw the ball toward the end zone with Johnson surrounded by three Dallas defenders. Johnson had sprinted toward the end zone and posted up safety
Barry Church
, who was fighting with Johnson in the end zone. Stafford had thrown the ball during the post-up, which Johnson routinely wins.
By the time the ball reached Johnson, Church had help from cornerback
Mike Jenkins
and linebacker
Sean Lee
. It didn't matter. Johnson had already snagged the ball out of the air and when he is able to do that, defenders typically don't have much of a chance.
The play was one of some significance for the season, too. The touchdown began a come-from-behind win for Detroit in which the team scored 17 points in the final quarter to stun the Cowboys. This was the fourth win in a row to start the season for the Lions. The team began the year 5-0 and finished 10-6 to make the playoffs. Without Johnson's triple-coverage catch -- and the second touchdown he caught in the fourth quarter -- the team may not have reached the playoffs.
"@Zack_Hadaway: @mikerothstein Calvin Johnson's TD against Dallas... IN TRIPLE COVERAGE!!!! #NFLLionsTopPlays" best spike ever!

— Franco (@vectorious) June 5, 2014
December, 12, 2013
12/12/13
10:00
AM ET
IRVING, Texas -- The
Green Bay Packers
and
Dallas Cowboys
are two of the most storied franchises in NFL history, but with three games to play in the 2013 season both are on the outside of the playoff chase and in need of a win.
The Packers have fallen on hard times without
Aaron Rodgers
but won last week against the
Atlanta Falcons
. The Cowboys are coming off a humiliating loss to the
Chicago Bears
and have a short week to get ready.
ESPN.com Packers reporter Rob Demovsky and Cowboys reporter Todd Archer debate the matchup in this week's Double Coverage.
Archer:
I'll skip the "What's Aaron Rodgers status?" and ask about Ted Thompson's approach to the backup quarterback. The Cowboys pay
Kyle Orton
a lot of money to hopefully never throw a pass. Is there any regret form the Packers that they did not have a better backup quarterback situation behind Rodgers, considering their struggles without him?
[Editor's note: Rodgers was officially ruled out for Sunday's game on Friday.]
Demovsky:
Thompson admitted at the end of training camp that he probably should have signed
Vince Young
much earlier than he did, although after watching Young for about a month, I'm not sure he would have been any better had the Packers signed back in the spring. Where they probably erred was in not drafting a quarterback. They overestimated what they had in
Graham Harrell
and B.J. Coleman, and neither one developed enough. When Ron Wolf was the GM, he made it a regular practice to draft a quarterback in the middle-to -late rounds. Not all of them worked out, but guys like
Ty Detmer
,
Mark Brunell
,
Matt Hasselbeck
and
Aaron Brooks
all came up through the Packers' system.
Packers defensive coordinator Dom Capers said
Tony Romo
is "playing probably as good as he has in his career." Do you agree with that assessment?
Archer:
I'd agree with that, sure. It's hard to argue against his numbers. He has 3,244 yards passing with 27 touchdowns and seven interceptions. He's taking care of the ball. He had one really careless throw and it cost the Cowboys big-time in their loss to the
Denver Broncos
. Romo gets most of the blame for the December/January woes this team has had, but in his last 16 games he has 34 touchdowns and seven picks. It's hard to play better than that. But you know what? He has to. This defense is so bad that Romo has to be nearly perfect. There can be no poor drives. If they don't get points they at least need to chew up time because there's not an offense the Cowboys can slow down right now.
When the Packers won Super Bowl XLV at AT&T Stadium they were able to overcome so many injuries, especially on defense as we talked about. The difference this year is Rodgers missing time, but is there anything more to it than that?
Demovsky:
They did end up with 15 players in injured reserve in their Super Bowl season, and then during that game itself they lost
Charles Woodson
to a broken collarbone. But you know what? This defense played fine early this season and even during the stretch
Clay Matthews
missed because of his broken thumb. Capers said last week that losing Rodgers had nothing to do with the Packers' defensive slide, but I'm not buying it. The Packers' defense got four turnovers in the Thanksgiving game at Detroit and still got walloped 40-10 because the offense couldn't do a darn thing with them. To be sure, there are issues on defense. Their failure to address needs at safety has hurt them up the middle, where their inside linebackers also haven't played well enough.
It sounds like Monte Kiffin is already taking heat, but how much of it is personnel? When I saw Packers castoff
Jarius Wynn
playing Monday night against the Bears, to me that was a red flag that there are talent issues, perhaps some of them caused by injuries.
Archer:
There are talent issues and there are depth issues. Blame the owner and GM who constructed this team. Blame the coaches -- Kiffin and Rod Marinelli -- for saying the line was a position of strength. The Cowboys thought they had pieces to fit Kiffin's scheme at the start of the year.
DeMarcus Ware
has not been DeMarcus Ware in part because of injuries, but he acknowledged he has to play better.
Bruce Carter
was supposed to be the ideal weak-side linebacker and he just has not made any plays. The corners are more man corners and Kiffin has tried to play more man but all of them --
Brandon Carr
,
Morris Claiborne
and
Orlando Scandrick
-- have had issues.
Sean Lee
has been hurt and could miss Sunday's game with a neck injury. He's been good but the defense has been lit up with him on the field, too. It's just a mess. Until Jerry Jones realizes he needs better players, not necessarily better schemes, it will be a mess.
Let's stick with the defensive coordinators. From the outside looking in, it appears Capers is catching a lot of grief too. Are the Packers committed to the 3-4 regardless or could they pull a Dallas and move to a 4-3 in the future?
Demovsky:
When the cornerstone of the defense is Matthews, an outside linebacker, I would think they'd have to stick with the 3-4 even if they part ways with Capers, which I'm not sure will happen anyway. Mike McCarthy has continually praised Capers and the defensive staff. It's probably more about personnel. They need a few more playmakers to help out Matthews. They haven't gotten enough production from their defensive front. I'd look for an overhaul in personnel more than a coaching change.
Knowing the temperature in the Cowboys locker room like you do, how do you think they will react to getting steamrolled Monday night? Is this a group that will fight? Or will they pack it in?
Archer:
This is where I have to give Jason Garrett credit. This team has fought. Maybe they didn't fight all that much in the losses to New Orleans and Chicago, but they have not packed it in. You saw the last time the Cowboys packed it in in 2010 at Lambeau Field when Wade Phillips was the coach. The Cowboys lost 45-7 and were completely disinterested. Phillips was fired the next day and Garrett took over. There is some gumption to this team. They do work hard. They do the right things. I'll say it again: Most of it is a talent issue. I'd expect the Cowboys to come out with the effort Sunday because they're still very much in the playoff chase. But do they believe they can really make a run? I don't know about that.
November, 21, 2013
11/21/13
8:00
AM ET
IRVING, Texas --
Ernie Sims
understands he's being asked to fill some big shoes at middle linebacker for the
Dallas Cowboys
while
Sean Lee
recovers from a strained hamstring.
Sims acknowledged that there's pressure that comes along with replacing a player who is in the midst of a Pro Bowl-caliber season. But Sims, a former first-round pick who was unemployed midway through last season and considered a bubble player entering training camp, sees this as an opportunity to prove his value.
Sims
"I can play in this league," Sims said. "I'm a starter in this league. I've been doing it for a long time. I can make plays in this league. That's what I want to prove."
Sims, an eight-year veteran, has seen significant playing time at outside linebacker this season. He has 29 tackles and one forced fumble, but ProFootballFocus.com grades him 32nd among 35 4-3 outside linebackers who have played at least 25 percent of their team's snaps this season.
Now Sims moves to middle linebacker, a spot he said he has played only a little as an injury fill-in one season in Detroit and then again after Lee's injury in last week's blowout loss to the
New Orleans Saints
.
The 6-foot, 233-pound Sims considers his biggest challenge this week to be learning the correct keys and alignments for the middle linebacker, which are different than the outside linebackers'. He has spent extra time studying this week, including sessions with Lee and assistant coaches.
Sims hopes to be comfortable enough by Sunday to just let his instincts take over against the
New York Giants
.
"It's a real big moment," Sims said. "A lot of eyes are on me to see how I'm going to approach the situation. I know one thing, I'm not afraid. I'm not afraid. I'm stepping up to the plate."
October, 24, 2013
10/24/13
12:00
PM ET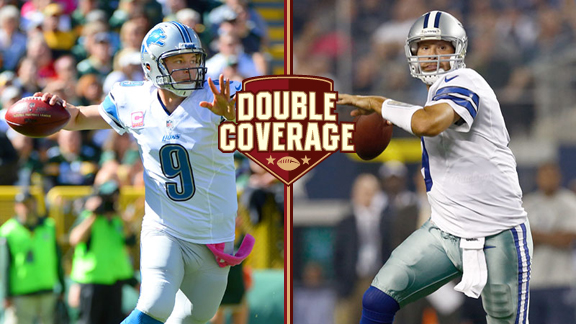 Getty ImagesBoth Dallas quarterback Tony Romo and Detroit quarterback Matthew Stafford have seen needed improvements in certain aspects of their games this season.
It is a matchup between two potential playoff teams and two of the best wide receivers in the game,
Calvin Johnson
and
Dez Bryant
.
But the Dallas-Detroit game on Sunday has other twists, too. For the Lions, Sunday is a chance to grab back some momentum from a strong start to the season. For the Cowboys, it could be a chance to widen their lead on their NFC East opponents.
Dallas NFL Nation reporter Todd Archer and Detroit NFL Nation reporter Michael Rothstein break down what you might see Sunday afternoon.
Rothstein:
Let's start here -- last week in Detroit there was a lot of discussion of
A.J. Green
and Johnson as two of the best receivers in the league. Now it is Bryant and Johnson this week. What is it that Bryant does that should really concern Detroit's cornerbacks, who let Green go for 155 yards Sunday?
Archer:
Bryant can go get the ball. He is virtually impossible to defend in the red zone (and sometimes he'll push off too), but cornerbacks just don't have a chance on him. He's a better route runner now than he was last year and the Cowboys are using him on more varied routes. When he came into the league he would make the spectacular play but couldn't make the boring play consistently. Now he's doing both. But his No. 1 attribute is his physical style. He will fight for the ball and fight for yardage. He's special in that regard.
The Cowboys have had
Brandon Carr
follow Demaryius Thomas,
Pierre Garcon
and
DeSean Jackson
the past three games. I'm sure they'll do the same with Calvin Johnson. When teams have matched up with Johnson like that, how has or hasn't it worked?
Rothstein:
There haven't been too many teams that have single-covered Johnson -- at least not for extended periods of the game. The closest would have been against Arizona in Week 2, but the Cardinals have
Patrick Peterson
and Johnson had six catches for 116 yards and a touchdown against him. Really, the only thing that has slowed Johnson this season was a knee issue that kept him out of the loss to Green Bay and limited him against Cleveland a week later. Not surprisingly, Johnson still draws a ton of attention with a safety rolling to him over the top.
What that has done is opened up the offense underneath for
Reggie Bush
and, to an extent,
Joique Bell
. When both are healthy and playing well, the Lions have had a pretty strong offensive threat from deep threats to short bursts. How does Dallas plan on dealing with that, especially considering
DeMarcus Ware
's questionable status?
Archer:
Running backs and tight ends have hurt the Cowboys in the passing game this year. The safeties have been only OK but are coming off a pretty good game at Philadelphia against
LeSean McCoy
, who's as shifty or more than Bush. The Cowboys had their best tackling game last season against the Eagles.
Sean Lee
and
Bruce Carter
have played better here lately and will be largely responsible for the backs, but safeties
Barry Church
and
J.J. Wilcox
will be a presence too. Losing Ware would be a big blow to a defense that has to get pressure on
Matthew Stafford
. The Cowboys have been rolling in new guys pretty much every week across the defensive line, and added Marvin Austin this week to help at tackle.
Speaking about the defensive line allows me to talk about Rod Marinelli. He has been nothing but great here with those no-name guys, but what's the feeling of him up there considering that 0-16 season?
Rothstein:
That was before my time -- I was still covering the Charlie Weis Notre Dame years when Marinelli was in Detroit -- but I can say I have not heard anything about that season in my short time here and most of the current team arrived in 2009 or later.
But the 0-16 season contributes to the typical angst the Lions fan base has over any success the team has -- as in waiting for the bottom to drop out. But most of this team is so new, there isn't much of that feeling. Plus, as injured receiver
Nate Burleson
said earlier this year, when you go to play in Detroit, you know there are going to be questions about losing streaks to be broken and demons to be exorcised.
Since we're chatting a little bit about defense,
Tony Romo
is being sacked on 6 percent of his attempts, so is Dallas' line doing a good job protecting him or are these more coverage sacks? What's going on with the protections?
Archer:
The line has improved a lot from recent years, especially in pass protection. They revamped their interior line with
Travis Frederick
, their first-round pick at center,
Ronald Leary
at left guard and
Brian Waters
, who did not play last season, at right guard. Tackles
Tyron Smith
and
Doug Free
are performing better than they did a year ago. Romo has taken a number of coverage sacks this year, and he's also elusive for a guy who does not appear to be the most athletic. He has terrific vision and a quick release that can bail him out of trouble. As strange as it sounds, I think Romo also has seen the value of taking a sack and not forcing a throw.
Let's stick with the quarterback play. Stafford is a Dallas kid, so we know his background. He likes to throw it around, but like Romo, his interceptions are down. Is he just being more careful with the ball or has the attack changed a little?
Rothstein:
Having Reggie Bush in the offense has allowed Stafford to throw the ball shorter more often and as an old coach I used to cover once said, "Short passes are happy passes." They are also more likely to be completed passes. Here's something to consider with Stafford as well. His numbers could be much better, but his receivers have dropped 6.9 percent of his passes. Hold on to even half those and he's completing around 65 percent of his passes this season. He also has gotten much better at throwing the ball away instead of forcing passes. That's been a big change. There is an accuracy component to it as well, but he isn't taking nearly as many downfield chances.
Speaking of semi-homecomings, you mentioned Carr earlier. Does this game mean more to him because he is coming home as he grew up and played his college ball in Michigan? And second thing on that, has Dallas changed a lot from last season or can a guy like
Kevin Ogletree
help this week?
Archer:
I'm sure it does but Carr will attempt to downplay it. He still carries that Grand Valley State/fifth-round pick chip on his shoulder even if the Cowboys gave him a $50 million deal last year as a free agent. He has done a terrific job here the past three weeks as we talked about earlier. Jason Garrett even went out of his way to praise Carr's work on special teams, so you can see the Flint in him hasn't left. As for the Ogletree angle, he had a hard enough time with the offense that I don't think he would help with the defense. The Cowboys have a completely different scheme from Rob Ryan's 3-4 to Monte Kiffin's 4-3. Ogletree will know some personnel, but the corners are playing a little different than they did a year ago so I don't think it will matter much.
I haven't asked about the Lions defense yet. Just by looking at the numbers they seem to be pretty good situationally: third down, red zone. Is that the wrong read here?
Rothstein:
The defense is kind of a little bit of everywhere. Great on third down over the first month of the season -- not as much over the past three weeks. Perhaps a corollary here is the defensive line not getting quite as much pressure on opposing quarterbacks the past three weeks as it did during the first month of the season. Red zone defense has been pretty good. Overall, it is a decent Lions defense.
DeAndre Levy
is having a Pro Bowl-caliber season at linebacker and the defensive line and safeties have been good. Cornerback has been a bit up-and-down, though.
My final question to you sticks with this theme. We touched on the Dallas offensive line earlier, but how do the Cowboys deal with
Ndamukong Suh
? He is a guy who can change games on his own.
Archer:
This is part of the reason why the Cowboys wanted Frederick, Waters and Leary. They're stout players. The Cowboys have not had much power in the middle and it has hurt the running game as well as pass protection. Suh, obviously, offers a different challenge. Waters has the strength necessary but he does not move like he did a few years ago. The Cowboys will give him some help but not all the time. And I think Romo can help out the line as well by getting rid of the ball quickly. The Cowboys only take a handful of downfield shots a game, relying mostly on underneath stuff to work their way down the field.
The Lions are 4-3 like the Cowboys and this is a huge game for both when you start thinking about December and playoff chases. You touched on this earlier, but is the town ready to get behind the Lions, especially because the Tigers aren't in the World Series and it's still early in the Red Wings' season?
Rothstein:
I think there is some of that, for sure, and I think there is the hope among the fan base that this year's Lions team is for real. But as I mentioned earlier, there is going to be that sense of dread -- which is why a win for Detroit on Sunday would really go a long way to bolster that fan base confidence. And probably to maintain the confidence in the locker room as well.
.
April, 2, 2010
4/02/10
11:20
AM ET
I had an interesting conversation Thursday with a friend who posed this question: What does Green Bay do with the No. 23 overall draft position if the top four offensive tackles are already off the board?
(Yes, I know. I lead a really fascinating life.)
Seriously, I think it's an interesting and relevant debate with the draft three weeks away. We've discussed the Packers' clear need for a depth infusion at both tackle positions, where starters
Chad Clifton
and
Mark Tauscher
will be 34 and 33 years old, respectively, when the season begins. But take a look at
Mel Kiper's offensive tackle rankings

as they stood Thursday:
1. Oklahoma State's Russell Okung
2. Oklahoma's Trent Williams
3. Iowa's Bryan Bulaga
4. Rutgers' Anthony Davis
5. Indiana's Rodger Saffold
It's not out of the question that Okung, Williams, Bulaga and Davis all will be taken before No. 23. But there seems to be a consensus among media analysts, at least, that the drop-off after Davis is significant. Scouts Inc. ranks Safford as a mid-second round pick. The same goes for Maryland offensive tackle Bruce Campbell, whose draft value varies wildly depending on who you listen to.
The Packers could go with Campbell at No. 23. Or, if they like both him and Saffold, they could probably trade down and get one of them in the second round.
Packers general manager Ted Thompson has a well-earned reputation for the trade-down model. But what if he doesn't move? Where do the Packers go at No. 23 under this scenario?
I don't disagree with what Green Bay linebacker
Nick Barnett
tweeted
Friday morning:
Here is what is going to happen in the draft i think.. We will draft one or two things... Olb or o lineman... It depends which is avalible.
Yes, the Packers could also use an outside linebacker to replace the departed
Aaron Kampman
. Here are Kiper's top five outside linebackers:
1. Texas' Sergio Kindle
2. Missouri's Sean Weatherspoon
3. TCU's Jerry Hughes
4. South Carolina's Eric Norwood
5. Penn State's Sean Lee
Kindle would be quite a coup for the Packers at No. 23, especially considering his apparent aptitude for a 3-4 defense. Will he be available? It would only be a guess, but typically, anyone with elite pass rushing potential usually goes in the top half of the first round. I wouldn't want to speculate on which linebacker the Packers might like after Kindle, but the list above at least gives you an idea of the players who might be available.
Feel free to weigh in below.

NFC NORTH SCOREBOARD
Friday, 8/22
Saturday, 8/23