January, 2, 2014
Jan 2
1:33
PM ET
LAKE FOREST, Ill. –
Chicago Bears
head coach Marc Trestman offered no definitive statement on the future of embattled defensive coordinator Mel Tucker, but Trestman praised the way Tucker handled the injury-riddled defense on multiple occasions during Thursday's 90-minute joint news conference with team general manager Phil Emery.

However, Trestman said a direct conversation between himself and Tucker still needs to take place before he can comment on the status of his coaching staff.
"I don't want anybody to read into anything what we are doing," Trestman said. "Everything is on the table. We're going through a very thoughtful and methodical process here. Other than that, we've talked enough at these press conferences that I'm hopeful you won't [draw conclusions on the staff]. We're going to look at everything because we have an obligation to do that and what I can do to get this football team better.
"Everything is on the table. Again, we're just three days into this. All we've done is looked at some tape. This is a process that's going to involve not just myself, but all of our coaches. It'll be a process where we've left everything on the table."
The Bears finished 2013 ranked No. 30 in total defense and dead last in rushing defense and yards allowed per play. The defense was also tied for 30th in points allowed and ranked 26th in sacks per pass play.
But the group did suffer key injuries to cornerback
Charles Tillman
, linebacker
Lance Briggs
, defensive tackles
Henry Melton
and
Nate Collins
, middle linebacker
D.J. Williams
, nickel back
Kelvin Hayden
and defensive lineman
Turk McBride
. Veteran defensive tackle
Sedrick Ellis
also opted to retire on the eve of training camp, further depleting the Bears' depth on the defensive line.
When relatively healthy, the Bears' defense put up respectable numbers over the first three games of the regular season, but their performance sharply regressed as the year wore on.
"I think it's a real shame that Mel got the raw end of the deal," Bears cornerback
Tim Jennings
said.
Bears quarterback
Jay Cutler
said on ESPN 1000's "The Jay Cutler Show" on Monday that he believes Tucker will be the team's defensive coordinator until "he lands a head coaching job" either in the NFL or college ranks.
Trestman said he and Emery work together when shaping the coaching staff, but Emery clarified that Trestman has final say on the matter.
October, 6, 2013
10/06/13
3:40
PM ET
CHICAGO --
Chicago Bears
defensive tackle
Nate Collins
sustained a left knee injury in the third quarter against the
New Orleans Saints
and has been ruled out for the remainder of the game.
Collins hurt the knee while attempting to pressure Saints quarterback
Drew Brees
on a pass attempt. Collins' knee appeared to buckle as he was tied up with a New Orleans offensive lineman. The four-year veteran defensive lineman grabbed his knee after falling to the ground and remained on the turf for a short period of time before eventually walking back to the locker room under his own power.
Collins moved into the Bears' starting lineup after Pro Bowl defensive tackle
Henry Melton
suffered a season-ending ACL tear. Entering Sunday's game versus the Saints, Collins led all Bears defensive linemen with 10 tackles through the first four games. Collins also recorded two quarterback pressures and forced one fumble.
The Bears are perilously thin on their defensive line. Not only are
Turk McBride
and Melton already on injured reserve, but starting nose tackle
Stephen Paea
was inactive on Sunday because of toe injury. The Bears also lost another prospective body on the defensive line when veteran tackle
Sedrick Ellis
announced his retirement on the eve of training camp.
Because of the rash of injuries on the defensive line, relative newcomer
Landon Cohen
and undrafted rookie
Zach Minter
are both in the defensive tackle rotation on Sunday, along with
Corey Wootton
, who the club bumped inside from his customary defensive end spot.
David Bass
is seeing significant playing time outside at end.
July, 26, 2013
7/26/13
8:45
AM ET
We're Black and Blue All Over:

Training camp PUP lists can empty quickly as players prove they are healthy and/or pass conditioning tests, but based on the numbers at least, it's going to take a while for that to happen for the Green Bay Packers. On the eve of training camp, the Packers placed seven players on the PUP and an eighth (linebacker Jamari Latttimore) on the non-football injury list.
Jason Wilde of ESPNMilwaukee.com
has the full list, which includes important names such as running back DuJuan Harris (cyst) to offensive lineman Dererk Sherrod (leg) to defensive lineman/linebacker Mike Neal. Harris and Sherrod weren't a total surprise, but it's not clear what is Neal's ailment.
Often players are activated within days of the start of camp, so I wouldn't get too worked up yet. All four NFC North teams will have their first training camp practice Friday.
Continuing around the NFC North:
July, 25, 2013
7/25/13
2:00
PM ET
The
surprise retirement
of defensive tackle
Sedrick Ellis
brings to mind a two-week stretch in the middle of June that impacted both he
Chicago Bears
' and
Detroit Lions
' defensive lines.
On June 11, the Bears signed Ellis to a one-year contract worth $1 million that included $500,000 in guarantees. Ellis in essence took the reserve spot once held by veteran
Israel Idonije
, giving the Bears a player better suited for a full-time role as a defensive tackle.
Two weeks later, on June 26, the Lions signed Idonije to a one-year, $905,000 deal that included $485,000 in guarantees. Idonije could play end or tackle for the Lions, or probably both, in a reserve role.
If Ellis had retired in June rather than Thursday, would the Bears have pursued Idonije more aggressively? We can't know for sure. But we do know that Ellis and Idonije signed almost identical contracts. Less than two months later, one is apparently ready for training camp and the other is done.
June, 12, 2013
6/12/13
8:48
AM ET
By
ESPN.com staff
| ESPN.com
June, 4, 2013
6/04/13
8:25
AM ET
We're Black and Blue All Over:
GREEN BAY, Wis. -- The No. 7 overall pick of the 2008 draft has drawn interest from half of the NFC North. Defensive tackle Sedrick Ellis, who spent five seasons with the New Orleans Saints, has visits scheduled with the Chicago Bears and Detroit Lions this week, according to
ESPN's Adam Schefter
.
The Saints are transitioning to a 3-4 scheme, leaving them to part ways with several mainstays of their previous 4-3. Ellis started 70 games for the Saints, but recorded only a half-sack in the two seasons after notching a career-high six in 2010.
Neither the Bears nor the Lions have obvious openings for a starter, especially in the three-technique role Ellis is said to prefer. The Bears plan to start Henry Melton and Stephen Paea as their two defensive tackles, while the Lions have Ndamukong Suh and Nick Fairley. But depth is an issue for both teams. Ellis visited the New England Patriots last week.
Continuing around the NFC North as we gear up for the start of the Green Bay Packers' minicamp:
September, 8, 2011
9/08/11
12:00
PM ET
The
New Orleans Saints
won Super Bowl XLIV.
The
Green Bay Packers
were crowned champions after Super Bowl XLV.
They'll meet Thursday night to begin the NFL's march to Super Bowl XLVI.
So let's honor a whole bunch of Roman Numerals with XXV thoughts on this game. Why XXV? It's a nice, round Roman Numeral. And I didn't think you wanted XLVI of my thoughts on this game or any other.
1.
The Packers have been downright defensive this week about their decision
not to conduct players-only workouts
during the lockout. Quarterback
Aaron Rodgers
refused to discuss it, possibly fearing his words would be interpreted as criticism of the New Orleans Saints' highly public workouts. Here's the truth: Many people around the NFL thought the Saints' efforts were more for public show than to get in actual football work. I can't see this issue being a factor in tonight's outcome.
[+] Enlarge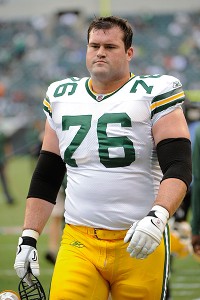 Howard Smith/US PresswirePackers left tackle Chad Clifton returns for another season protecting quarterback Aaron Rodgers' blind side.
II.
Here's one issue that could: Rodgers' pass protection was spotty this preseason, and the Saints' rebuilt defensive line will force some matchup problems.
III.
Every year at this time, we're asking whether Packers left tackle
Chad Clifton
, 35, has hit the wall. Every year, he answers the bell. But we're still asking the same thing.
IV.
You think your stomach is twisted into knots? Here's what Packers guard
Josh Sitton
tweeted this morning
: "Gameday. ... nervous as poop." And Sitton just signed a new $33 million contract extension!
V.
It was surprising to see Sitton give up a couple of sacks in the preseason. The Saints' defensive tackle rotation of
Shaun Rogers
,
Sedrick Ellis
and
Aubrayo Franklin
no doubt noticed.
VI.
No one blitzed more than the Saints last season, sending five or more rushers on 49.5 percent of the time in 2010. Sitton, Clifton and company can feel confident knowing that Rodgers has been the NFL's second-best quarterback against the blitz (based on Total Quarterback Rating) over the past three seasons.
VII.
Trevor Ebaugh of ESPN Stats & Information has
a cool scouting report
on a play the Packers could use Thursday night against the Saints' defense.
VIII.
If you're in transit to the game today, know that snack options are limited.
Follow this link
to see what I found Wednesday night.
IX.
The Saints will be making some difficult guesses about the Packers' offensive approach.
X.
With no regular-season running game to speak of last season, the Packers focused on their passing game. They ran more empty-backfield sets than any other NFL team (91). Will the Packers focus on that formation, allowing them to maximize their talented group of five receivers?
XI.
Or will the Packers re-balance their offense now that
Ryan Grant
is healthy and
James Starks
is re-established?
XII.
Or will the Saints see more of the no-huddle offense that Rodgers directed to near-perfection in the preseason? And will they work to get receiver
Donald Driver
the 42 yards he needs to be the team's all-time leading receiver by yardage?
XIII.
It's hard to be ready for such a varied menu of options. Which is just the way the Packers like it.
XIV.
Grant is the Packers' likely starter at running back, but it wouldn't be at all surprising if Starks finishes the game with more carries.
XV.
If one relatively unknown player makes a name for himself in this game, I'm betting it will be Packers returner/receiver
Randall Cobb
.
XVI.
If you think Packers fans are excited about Cobb's debut, imagine how they feel about the return of tight end
Jermichael Finley
. Never in NFL history has a tight end with 82 career catches gotten so much hype. ESPN's Rachel Nichols reports Finley got a pedicure Wednesday. Why wouldn't he?
XVII.
Saints quarterback
Drew Brees
threw at least one interception in each of his final 12 regular season games last season and had an NFL-high 22 over that span. Just saying.
XVIII:
Kid Rock is a notorious
Detroit Lions
fan but will be singing Thursday night in the Lambeau Field parking lot. Hey, business is business.
XIX:
Couldn't Rodgers book
"The Make"
for an opening act Thursday night?
XX:
One of the more confusing stories recently to get national attention: Rodgers' claim that
New York Jets
quarterback
Mark Sanchez
's GQ photospread was
"embarrassing."
And?
XXI:
The Saints' running game is in much better hands with
Pierre Thomas
,
Darren Sproles
and
Mark Ingram
than it was with Thomas and
Reggie Bush
.
XXII:
I can't say for sure that Packers defensive end
Mike Neal
(knee) won't play, but limited practice for three days after two weeks of inactivity caused by a knee injury means he probably won't make a huge contribution even if he does get on the field. The Packers have been counting on him to be a dual run-stopper and playmaker against the pass.
XXIII:
This game has been billed as a battle between two elite quarterbacks, but I know which team I like if both backups were forced on the field. And no, it's not the Saints and
Chase Daniel
.
XXIV:
There will be a lot of really good coaches on the field Thursday night, from McCarthy to Sean Peyton to Greg Williams to Dom Capers. But every team in the NFL should hope its quarterbacks will one day be coached by Packers assistant Tom Clements. A one-time Saints quarterbacks coach, Clements deserves a lot of credit for the development of both Rodgers and
Matt Flynn
.
XXV:
Every single ESPN expert
, including the AccuScore computer simulation program, picked the Packers to win tonight. So there you go. If I had made this No. I, you wouldn't have had to read all this way!
October, 28, 2010
10/28/10
10:30
AM ET
Pop quiz: Who leads NFL defensive tackles in sacks?
You got it.
(Was the headline a spoiler?)
It's the NFC North's own
preseason rookie of the year
. The
Detroit Lions
'
Ndamukong Suh
has been credited with 4.5 sacks through six games this season. I'm not sure how many people outside of the division are aware of how consistent and dynamic Suh has been, but at this point I think we have to start tracking his sack totals in the context of Pro Bowl candidacy.
Obviously, sacks aren't the only criteria for making the Pro Bowl. But for rookies and other first-time possibilities, they are the first thing voters will notice. So as we approach the midway point of the season, here is how NFL defensive tackles stack up in that department:
Ndamukong Suh
(DET): 4.5
Barry Cofield
(NYG): 3.0
Sedrick Ellis
(NO): 3.0
Antonio Garay
(SD): 3.0
Terrance Knighton
(JAX): 3.0
August, 3, 2009
8/03/09
2:29
PM ET
Posted by ESPN.com's Kevin Seifert
MANKATO, Minn. -- Thanks to everyone who participated in Monday's chat, held live from the Vikings' media center at Minnesota State University, Mankato.
You can review the entire transcript here, but Nick gave us the opportunity to update the B.J. Raji situation in Green Bay.
Nick (Marshfield, WI)

Any word on why the deal with Raji is taking so long? Does he have some specific issues with the contract he's being offered?

Kevin Seifert (1:12 PM)

I think it's mostly a slotting problem. Michael Crabtree at No. 10 isn't signed, so Raji's agent isn't going to want to take a deal that might ultimately be worse than Crabtree's. And Darrius Heyward-Bey's big contract is making it difficult on the other side.
Let's expand on that answer a bit. Raji, of course, was the No. 9 overall pick in the draft. If you look at this chart compiled by our ESPN.com editing staff, you'll see that only one player between picks six and 12 are signed. That would be Heyward-Bey, whose five-year contract represents about a 17 percent increase over that of the No. 7 overall pick last season (New Orleans defensive tackle Sedrick Ellis.)
So at this point, the only thing agents and negotiators have to go by in determining 2009 values between 6-12 is the 17 percent increase Oakland gave Heyward-Bey. That hefty jump is spurring caution as everyone waits for another team or agent to jump out and further define the market.
That's a big part of what's causing the holding pattern that Raji finds himself in. As we learned Sunday with Minnesota receiver Percy Harvin, stalemated negotiations can jump-start on a moment's notice. But there are so many unknowns in that portion of the draft that it could take some time before things flesh out and everyone gets to training camp.
What does that mean for Raji? At least a couple of days and maybe more. On with the show.