April, 26, 2010
4/26/10
2:30
PM ET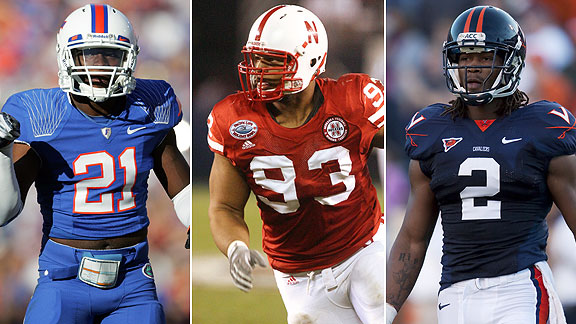 Icon SMIMajor Wright (Chicago), Ndamukong Suh (Detroit) and Chris Cook (Minnesota) all help fill voids for their new teams.
No point in the NFL year is filled with more optimism than the week after the draft, when every team is basking in what it considers undeniable across-the-board improvements. But unless the 2010 season is characterized by a rash of ties, we're going to have the same number of losses as we did last year -- some by chance, a few by strategy and many as a result of flawed team building.
So this is my opportunity to play
Scrooge
. (I believe I was born for the role, but that's another story.) We spent the past four days hyping the additions in Chicago, Detroit, Green Bay and Minnesota. Now, with the draft concluded and the top half of the free-agent market accounted for, we must acquiesce to reality and note where each team still falls short.
(A Scroogism: How shall I ever understand this world? There is nothing on which it is so hard as poverty, and yet, there is nothing it condemns with such severity as the pursuit of wealth.)
[+] Enlarge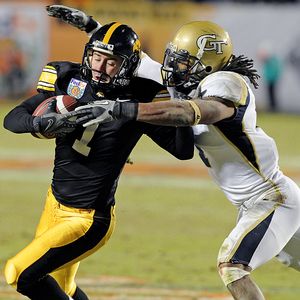 Richard C. Lewis/Icon SMIGeorgia Tech safety Morgan Burnett will have a chance to help improve Green Bay's pass defense.
We took an in-depth look last month at Green Bay's plans to improve its pass defense.
That plan, I think we can safely say, does not include significant personnel changes. In fact, the Packers have added only one player who could impact this segment of their team: Third-round safety
Morgan Burnett
, and that's if he beats out
Atari Bigby
for a starting job.
Many of us thought the Packers would target an outside linebacker at No. 23. I can't blame them for passing up
Sergio Kindle
or
Jerry Hughes
in favor of left tackle
Bryan Bulaga
, who filled what might have been the franchise's biggest single need. But wrapping up the draft without a single player at the position means that, for now, the Packers will look to
Brady Poppinga
and
Brad Jones
at the position manned for much of last year by
Aaron Kampman
.
The Packers also haven't addressed the cornerback position, putting a premium on their belief that veterans
Al Harris
,
Will Blackmon
and
Pat Lee
will all return healthy from major injuries this summer.
"I think we got guys that can come in and make an impact," general manager Ted Thompson said. "I've said all along I think we have a good team. I think we have a team that's going to be competitive week in and week out. And at those positions, we have some guys that are dinged up, but we don't necessarily think that's going to be an ongoing problem."
Thompson added that the Packers are "still doing some work at the outside linebacker spot," but it's uncertain if he meant adding rookie free agents or if he would target a veteran. Often a second wave of free agency occurs after the draft, and New England kicked it off Monday morning by
releasing
veteran
Adalius Thomas
.
Improving a segment of your team doesn't necessarily mean swapping out players. Last month, coach Mike McCarthy detailed some practice changes and new priorities for his pass defense. For the most part, the Packers will do it with the same players they had last year. Take that for what it's worth.
April, 22, 2010
4/22/10
10:09
PM ET
ALLEN PARK, Mich. -- Sitting in Detroit's media room, I watched Green Bay's selection approach with increasing drama. Who would have thought that four players long considered likely targets -- Iowa left tackle Bryan Bulaga, Texas linebacker Sergio Kindle, TCU linebacker Jerry Hughes and Boise State cornerback Kyle Wilson -- would all be available at No. 23 overall?

Bulaga
The riches were so abundant that I half expected Packers general manager Ted Thompson to trade down a few spots, gain an extra pick and still get one of those players. In the end, however, the Packers did exactly what Detroit did earlier: they refused to over think. They took the obvious and, in my mind most appropriate, option.
In the short-term, Bulaga will give the Packers insurance against the increasing health risk inherent in starter
Chad Clifton
. At some point, Bulaga will offer a seamless transition as the 33-year-old Clifton's permanent replacement.
Many of us assumed the Packers would have a much more difficult choice. Based on pre-draft mocks, at least, it seemed they would have to choose between a lesser-regarded left tackle -- I gave them USC's Charles Brown in our blog network mock draft -- or perhaps Hughes. Some unorthodox decisions in the middle of the draft allowed Bulaga to fall into their laps.
We'll have more on Bulaga as the draft continues. For now, here is a quick scouting report on him from Scouts Inc:
Pros: Works from the snap until the whistle and gives same effort when Iowa runs to the opposite side as he does when Iowa runs behind him. Short-term memory and doesn't appear to dwell on mistakes. Gets set quickly, locks out arms and can ride explosive edge rushers past the pocket. Shows excellent body control and footwork when forced to redirect. Active and strong hands.

Cons: Can be a step late sliding off combo block and covering up linebacker. Doesn't always show great spatial awareness as a zone blocker or take sound angles to downfield blocks. Vulnerable to some spin moves and needs to do a better job of handling power-to-speed moves. Must continue to improve lower-body strength in order to anchor better versus bull rush.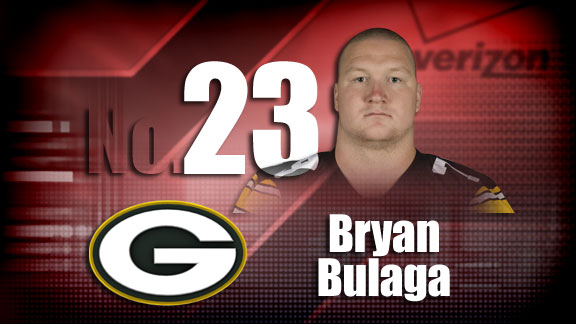 April, 20, 2010
4/20/10
7:05
AM ET
We've
discussed the possibility
of Chicago adding a veteran backup quarterback behind Jay Cutler and
floated the name
of free agent Marc Bulger, who has extensive experience playing under new Bears offensive coordinator Mike Martz.
Brad Biggs of the Chicago Tribune
reports the Bears are likely also to have interest in veteran Josh McCown, who spent last season on injured reserve with Carolina.

(Not to be confused with Cade McNown, of course.)
McCown worked under Martz in 2006 when both were with Detroit. He didn't throw a pass that season, however, after Jon Kitna won the starting job. His primary attribute would be experience, something current backup Caleb Hanie can't boast of.
Continuing around the NFC North with the NFL's 2010 schedule announcement about 12 hours away:
April, 19, 2010
4/19/10
10:50
AM ET
So you've had a few hours to ruminate over the NFL Blog Network's
2010 mock draft
. I'm glad to see the comments are flowing over on the
NFL Nation blog
as well. Now it's time for me to justify, make excuses for and/or weakly defend my choices for Detroit, Green Bay and Minnesota.
Detroit Lions
Position:
No. 2 overall
Pick:
Nebraska defensive tackle
Ndamukong Suh
Justification:
We've been through so many angles on this pick that we forget what should be the Lions' top priority: Choosing the best player available. There is some debate about whether Suh will be a better pro than Oklahoma's
Gerald McCoy
, but there is no doubt (in my mind) that Suh was the better and more productive college player. Ultimately, I sided with past history over future projection.
Green Bay Packers
Position:
No. 23 overall
Pick:
USC tackle
Charles Brown
Making excuses:
Esteemed NFC East baron Matt Mosley immediately took a shot at this decision, calling Brown a "project" whose selection allowed Philadelphia to grab Boise State cornerback
Kyle Wilson
. I found myself in the no-man's land we
first discussed
last month. The top four tackles were off the board, as was Idaho guard
Mike Iupati
. Texas linebacker
Sergio Kindle
went at No. 22. I gave some thought to Texas Christian linebacker
Jerry Hughes
, but I decided I would rather have the next-best left tackle rather than the next-best pass-rusher. Packers general manager Ted Thompson has taken "project" players before (defensive tackle Justin Harrell). And there is no indication the Packers are looking for an immediate starter at left tackle considering the contract they gave Chad Clifton.
Minnesota Vikings
Position:
No. 30 overall
Pick:
Florida guard/center
Maurkice Pouncey
Weakly defending:
I know a quarterback would have been the more interesting choice, but my decision was not to use the No. 30 overall pick on Florida's
Tim Tebow
or Texas'
Colt McCoy
. The Vikings could probably trade back into the top or possibly middle of the second round and still get either player if that were the case. Minnesota's roster is such that it can pick for value at every spot in the draft. When I looked at the remaining players on the board, I thought Pouncey was the best. The Vikings might have their board stacked differently, but I think they'll take their highest-rated player here. In the short-term, Pouncey would put some pressure on center
John Sullivan
and right guard
Anthony Herrera
.
April, 2, 2010
4/02/10
11:20
AM ET
I had an interesting conversation Thursday with a friend who posed this question: What does Green Bay do with the No. 23 overall draft position if the top four offensive tackles are already off the board?
(Yes, I know. I lead a really fascinating life.)
Seriously, I think it's an interesting and relevant debate with the draft three weeks away. We've discussed the Packers' clear need for a depth infusion at both tackle positions, where starters
Chad Clifton
and
Mark Tauscher
will be 34 and 33 years old, respectively, when the season begins. But take a look at
Mel Kiper's offensive tackle rankings

as they stood Thursday:
1. Oklahoma State's Russell Okung
2. Oklahoma's Trent Williams
3. Iowa's Bryan Bulaga
4. Rutgers' Anthony Davis
5. Indiana's Rodger Saffold
It's not out of the question that Okung, Williams, Bulaga and Davis all will be taken before No. 23. But there seems to be a consensus among media analysts, at least, that the drop-off after Davis is significant. Scouts Inc. ranks Safford as a mid-second round pick. The same goes for Maryland offensive tackle Bruce Campbell, whose draft value varies wildly depending on who you listen to.
The Packers could go with Campbell at No. 23. Or, if they like both him and Saffold, they could probably trade down and get one of them in the second round.
Packers general manager Ted Thompson has a well-earned reputation for the trade-down model. But what if he doesn't move? Where do the Packers go at No. 23 under this scenario?
I don't disagree with what Green Bay linebacker
Nick Barnett
tweeted
Friday morning:
Here is what is going to happen in the draft i think.. We will draft one or two things... Olb or o lineman... It depends which is avalible.
Yes, the Packers could also use an outside linebacker to replace the departed
Aaron Kampman
. Here are Kiper's top five outside linebackers:
1. Texas' Sergio Kindle
2. Missouri's Sean Weatherspoon
3. TCU's Jerry Hughes
4. South Carolina's Eric Norwood
5. Penn State's Sean Lee
Kindle would be quite a coup for the Packers at No. 23, especially considering his apparent aptitude for a 3-4 defense. Will he be available? It would only be a guess, but typically, anyone with elite pass rushing potential usually goes in the top half of the first round. I wouldn't want to speculate on which linebacker the Packers might like after Kindle, but the list above at least gives you an idea of the players who might be available.
Feel free to weigh in below.
January, 14, 2010
1/14/10
3:00
PM ET
As we
noted
earlier this week, Green Bay will have the No. 23 overall pick in the draft. That's easy to figure out. Now the hard part: Who might they choose if they remain in that spot?
At this point in the draft season, it's nearly impossible to tell. But draft evaluation is a year-round business, so there is always a list. Below, I've given you two assessments of the players who enter the Senior Bowl ranked in the middle-to-end of the draft's first round. Remember, in some cases juniors haven't declared for the draft.
First, here is the 10 players ranked between No. 18 and No. 28 by
Scouts, Inc.
:
18.
USC safety Taylor Mays
19.
North Carolina outside linebacker Bruce Carter
20.
Florida inside linebacker Brandon Spikes
21.
Florida defensive end Carlos Dunlap
22.
California running back
Jahvid Best
23.
Oklahoma tight end
Jermaine Gresham
24.
Maryland offensive tackle Bruce Campbell
25.
Florida State cornerback Patrick Robinson
26.
Notre Dame receiver
Golden Tate
27.
Iowa offensive tackle Bryan Bulaga
28.
Notre Dame quarterback
Jimmy Clausen
Mel Kiper's
Big Board
only includes 25 players, so here are Mel's Nos. 18-25:
18.
Rutgers offensive tackle
Anthony Davis

19.
Mays

20.
Michigan defensive end Brandon Graham

21.
Texas linebacker Sergio Kindle
22.
Gresham
23.
Best
24.
Illinois receiver
Arrelious Benn
25.
Robinson