September, 8, 2011
9/08/11
12:00
PM ET
The
New Orleans Saints
won Super Bowl XLIV.
The
Green Bay Packers
were crowned champions after Super Bowl XLV.
They'll meet Thursday night to begin the NFL's march to Super Bowl XLVI.
So let's honor a whole bunch of Roman Numerals with XXV thoughts on this game. Why XXV? It's a nice, round Roman Numeral. And I didn't think you wanted XLVI of my thoughts on this game or any other.
1.
The Packers have been downright defensive this week about their decision
not to conduct players-only workouts
during the lockout. Quarterback
Aaron Rodgers
refused to discuss it, possibly fearing his words would be interpreted as criticism of the New Orleans Saints' highly public workouts. Here's the truth: Many people around the NFL thought the Saints' efforts were more for public show than to get in actual football work. I can't see this issue being a factor in tonight's outcome.
[+] Enlarge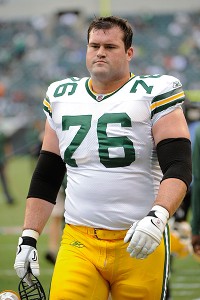 Howard Smith/US PresswirePackers left tackle Chad Clifton returns for another season protecting quarterback Aaron Rodgers' blind side.
II.
Here's one issue that could: Rodgers' pass protection was spotty this preseason, and the Saints' rebuilt defensive line will force some matchup problems.
III.
Every year at this time, we're asking whether Packers left tackle
Chad Clifton
, 35, has hit the wall. Every year, he answers the bell. But we're still asking the same thing.
IV.
You think your stomach is twisted into knots? Here's what Packers guard
Josh Sitton
tweeted this morning
: "Gameday. ... nervous as poop." And Sitton just signed a new $33 million contract extension!
V.
It was surprising to see Sitton give up a couple of sacks in the preseason. The Saints' defensive tackle rotation of
Shaun Rogers
,
Sedrick Ellis
and
Aubrayo Franklin
no doubt noticed.
VI.
No one blitzed more than the Saints last season, sending five or more rushers on 49.5 percent of the time in 2010. Sitton, Clifton and company can feel confident knowing that Rodgers has been the NFL's second-best quarterback against the blitz (based on Total Quarterback Rating) over the past three seasons.
VII.
Trevor Ebaugh of ESPN Stats & Information has
a cool scouting report
on a play the Packers could use Thursday night against the Saints' defense.
VIII.
If you're in transit to the game today, know that snack options are limited.
Follow this link
to see what I found Wednesday night.
IX.
The Saints will be making some difficult guesses about the Packers' offensive approach.
X.
With no regular-season running game to speak of last season, the Packers focused on their passing game. They ran more empty-backfield sets than any other NFL team (91). Will the Packers focus on that formation, allowing them to maximize their talented group of five receivers?
XI.
Or will the Packers re-balance their offense now that
Ryan Grant
is healthy and
James Starks
is re-established?
XII.
Or will the Saints see more of the no-huddle offense that Rodgers directed to near-perfection in the preseason? And will they work to get receiver
Donald Driver
the 42 yards he needs to be the team's all-time leading receiver by yardage?
XIII.
It's hard to be ready for such a varied menu of options. Which is just the way the Packers like it.
XIV.
Grant is the Packers' likely starter at running back, but it wouldn't be at all surprising if Starks finishes the game with more carries.
XV.
If one relatively unknown player makes a name for himself in this game, I'm betting it will be Packers returner/receiver
Randall Cobb
.
XVI.
If you think Packers fans are excited about Cobb's debut, imagine how they feel about the return of tight end
Jermichael Finley
. Never in NFL history has a tight end with 82 career catches gotten so much hype. ESPN's Rachel Nichols reports Finley got a pedicure Wednesday. Why wouldn't he?
XVII.
Saints quarterback
Drew Brees
threw at least one interception in each of his final 12 regular season games last season and had an NFL-high 22 over that span. Just saying.
XVIII:
Kid Rock is a notorious
Detroit Lions
fan but will be singing Thursday night in the Lambeau Field parking lot. Hey, business is business.
XIX:
Couldn't Rodgers book
"The Make"
for an opening act Thursday night?
XX:
One of the more confusing stories recently to get national attention: Rodgers' claim that
New York Jets
quarterback
Mark Sanchez
's GQ photospread was
"embarrassing."
And?
XXI:
The Saints' running game is in much better hands with
Pierre Thomas
,
Darren Sproles
and
Mark Ingram
than it was with Thomas and
Reggie Bush
.
XXII:
I can't say for sure that Packers defensive end
Mike Neal
(knee) won't play, but limited practice for three days after two weeks of inactivity caused by a knee injury means he probably won't make a huge contribution even if he does get on the field. The Packers have been counting on him to be a dual run-stopper and playmaker against the pass.
XXIII:
This game has been billed as a battle between two elite quarterbacks, but I know which team I like if both backups were forced on the field. And no, it's not the Saints and
Chase Daniel
.
XXIV:
There will be a lot of really good coaches on the field Thursday night, from McCarthy to Sean Peyton to Greg Williams to Dom Capers. But every team in the NFL should hope its quarterbacks will one day be coached by Packers assistant Tom Clements. A one-time Saints quarterbacks coach, Clements deserves a lot of credit for the development of both Rodgers and
Matt Flynn
.
XXV:
Every single ESPN expert
, including the AccuScore computer simulation program, picked the Packers to win tonight. So there you go. If I had made this No. I, you wouldn't have had to read all this way!
February, 16, 2011
2/16/11
12:05
PM ET
Shaun Rogers
is
touring the NFL
as a free agent.
Albert Haynesworth
continues to wear out his welcome with the Washington Redskins
. Both players have significant
Detroit Lions
connections, but happily and mercifully, neither appears on the team's radar.
If the Lions did anything last season, it was establish one of the better defensive lines in the game. Rookie defensive tackle
Ndamukong Suh
earned All-Pro and Pro Bowl honors, and
Corey Williams
--15 penalties and all -- proved a valuable cohort. In large part because of their defensive line, the Lions had the NFL's biggest drop in points allowed from 2010 to 2009, bringing their total down by an average of 7.8 points per game.
There is every reason to believe Suh and Williams, with Sammie Hill as their primary backup, can provide front-line production for at least the time period that Rogers (32 next month) and/or Haynesworth (30 in June) would.
Rogers played in Detroit for seven seasons. Haynesworth played seven seasons under Lions coach Jim Schwartz when both were with the
Tennessee Titans
. Simply put, the Lions don't need either of them. Talent-poor teams owe it to themselves to consider every possibility, no matter what baggage exists. But at defensive line, at least, the Lions don't have to go there.
There has been some buzz about both players among Lions fans this offseason, but I agree with the guys who man the @SideLionReport
Twitter feed
: "Loving the #Lions DL right now. Glad to see the Shaun Rogers circus stopping elsewhere. Liked him when he was here but don't want him back."
During our
SportsNation chat Tuesday
, Robert of Gainesville, Fla., asked if I thought the Lions should trade a low-round draft pick for Haynesworth. My answer: No way. Does anyone really think Haynesworth wants to come to play in the shadow of, and possibly as the backup to, Suh? For the first time in years, that's a mess the Lions don't need to even consider.
November, 2, 2009
11/02/09
4:02
PM ET
Posted by ESPN.com's Kevin Seifert
After Chicago's 30-6 victory over Cleveland, here are
three (mostly) indisputable facts I feel relatively sure about:

Tailback Matt Forte needed 26 carries to churn out 90 yards. He didn't have a run of more than 12 yards, but I had no problem with his performance Sunday. Why? Forte rushed for two touchdowns, both in the red zone. Scoring is the great equalizer in measuring performance, and for weeks the Bears have been struggling in the red zone. Forte might never be the type of back who consistently averages 4-plus yards per carry. But if he can be a consistent weapon in the red zone, closing out drives with touchdowns if quarterback Jay Cutler falters or falls under heavy pressure, then he'll close a huge gap in the Bears offense.
I think we now know why the Bears were so eager to replace left guard Josh Beekman during the offseason. Free agent Frank Omiyale hasn't been the answer thus far, but Beekman didn't perform much better Sunday against the Browns. Granted, he was matched up often against one of the NFL's best defensive tackles in Shaun Rogers. But the physical manhandling he absorbed at times illustrates the size and strength deficiencies the Bears identified in the offseason.
It looks like the Bears have settled on Hunter Hillenmeyer as their middle linebacker with Nick Roach on the strong side. I'm all for that decision. All things equal, I'd rather have a veteran getting everyone lined up with the younger and faster player outside. That's the way it sets up with Hillenmeyer and Roach. Lance Briggs, of course, remains on the weak side. Coach Lovie Smith said Monday he is "pleased" with the arrangement and added: "That's the way we wanted to go before Hunter went down" earlier this season with a rib injury. More than anything, I think the inconsistency the Bears have had at middle linebacker is a reflection of how we all took Brian Urlacher's leadership and organizational skills for granted in recent years.
And here's
one question I'm still asking:
When will Devin Hester return another punt for a touchdown? They once seemed to come every week, but it's now been 23 weeks of NFL games since he last scored on a punt return; a 64-yarder against New Orleans on Dec. 30, 2007. Hester got close a couple of times Sunday, getting tackled by punter Dave Zastudil after a 32-yarder and then having a 69-yard touchdown called back because of a holding penalty on Rashied Davis. Soon enough.
November, 1, 2009
11/01/09
11:31
PM ET
Posted by ESPN.com's Kevin Seifert


We've been though this before in these parts. Black and Blue Team X soundly defeats inferior Team Y, and we're left to judge how much credit to give Team X.
Do we acknowledge that Chicago did what it was supposed to do Sunday by soundly defeating hapless Cleveland? Do we credit quarterback
Jay Cutler
for a blood-inducing performance, as
ESPN Chicago colleague Jon Greenberg
does? Or do we fixate on new left guard Josh Beekman's tough day? Or the fact that the Browns were within 10 points late in the third quarter? Or possibly the four sacks and three additional hits Cutler absorbed?
I wouldn't be happy about the beating Cutler took, but I would point out that defensive line is one of the Browns' few bright spots. Defensive tackle
Shaun Rogers
is one of their best players. Sometimes you have to acknowledge some talent on the other side of the line.
I'm sure there are those who would have liked to have seen the Bears beat the Browns the same way they were trounced last week by Cincinnati: Brutally, and with no mercy. But to this point, we've seen nothing to suggest the Bears are a complete enough team to do that.
For this weekend, at least, a 24-point victory was enough.
October, 26, 2009
10/26/09
12:59
PM ET
Posted by ESPN.com's Kevin Seifert
After Green Bay's 31-3 victory over Cleveland, here are
three (mostly) indisputable facts I feel relatively sure about:

As they prepare to play a team that registered eight sacks against them last month, the Packers have some interesting decisions to make on their offensive line. First: Should rookie T.J. Lang remain the starter at left tackle, or should veteran Chad Clifton reclaim the job (assuming Clifton's sprained ankle has healed)? Clifton has had some success against Minnesota defensive end Jared Allen in the past, but not recently. You would assume Lang would be more comfortable starting at Lambeau Field than he would have been last month at the Metrodome. Second: Will Scott Wells remain the starter at center even if Jason Spitz's back returns to health? As Bob McGinn of the Milwaukee Journal Sentinel pointed out, Wells had a strong game Sunday against Cleveland defensive lineman Shaun Rogers. Just two things to consider .
The Packers should be crossing their fingers about the condition of tight end Jermichael Finley. No matter how mild his sprained left knee is determined to be, you wonder if Finley is going to recover quickly enough to get on the field Sunday against Minnesota. As you recall, he had a career game last month against the Vikings and would be an important option for quarterback Aaron Rodgers on the off-chance that pass protection will break down. Donald Lee had been mostly solid as a receiver this season, but the Packers have no one who could replace Finley's playmaking ability. Update: Coach Mike McCarthy said Monday it is a "long shot" that Finley will play this week.
Defensively, the Packers have allowed three points over the last eight quarters. That's a pretty respectable statistic no matter who you are playing. I love that cornerback Charles Woodson has dismissed suggestions that the defense has turned the corner by shutting down Detroit and Cleveland, but facts are facts. It's been 43 years since a Packers defense has held consecutive opponents to so few points, as Pete Dougherty points out in the Green Bay Press-Gazette. I have a strong hunch they'll be more prepared for Minnesota and quarterback Brett Favre this time around.
And here's
one question I'm still asking:
Will the Packers find a way to draw attention to Favre during pregame warm-ups Sunday -- to help rev up their crowd, if nothing else? Minnesota hasn't had players individually introduced all season, either at home or on the road. So we won't have that moment to tell our grandchildren about. Typically, NFL teams don't show opposing players on the video screen. Here's my suggestion, and keep in mind the value is commensurate with the price: Ignore him all together. Carry on pregame festivities as if nothing unusual is going on, and send the message the Packers have moved on from the Favre Era.
September, 14, 2009
9/14/09
3:50
PM ET

Posted by ESPN.com's Kevin Seifert
After Minnesota's 34-20 victory over Cleveland, here are
three (mostly) indisputable facts I feel relatively sure about:

I walked out of Browns Stadium thinking that new center John Sullivan got worked over pretty good by Browns defensive tackle Shaun Rogers. But I'm backing off that a little bit. I definitely saw Sullivan get plowed into the backfield a few times. A little perspective is needed, though. Rogers is one of the NFL's best at his position and probably would have made some plays against former center Matt Birk as well. Second, you don't typically notice a center when he makes a good block. Finally, coach Brad Childress said Monday he thought Sullivan played "particularly well." Overall, I think Sullivan deserves another start.
Quarterback Brett Favre admitted he got crossed up on a third-down pass on the goal line in the first quarter, throwing a fade to receiver Sidney Rice while Rice broke off his pattern midway through the end zone. "I was wrong, he was right," Favre said. And I don't think Favre was just covering for his receiver, either. When I asked Rice about it, he paused several seconds and said: "It was a miscommunication." Had it been Rice's fault, I'm sure he would have taken the blame. The play didn't impact the result against a bad Browns team, but the Vikings won't be able to afford those kind of avoidable mistakes in division games.
Percy Harvin needs to watch out for more than just opposing defenders this season. Favre caught Harvin by surprise after his 6-yard touchdown pass Sunday, drilling him to the turf in celebration. "I seen him coming from a long way," Harvin said. "I thought we were going to try to bump chests. When I looked at him and saw that he wasn't slowing down at all, I just kind of took it. ... I hope it's a one-shot deal from my perspective." The Vikings will take a similar performance from Harvin every game, however. He netted 157 all-purpose yards against the Browns, but Monday, Childress was touting his pair of pancake blocks in the running game.
And here is
one question I'm still asking:
When will the Vikings' defense get tested? The Browns didn't offer much explosiveness Sunday. Detroit might muster a little more this week with receiver Calvin Johnson, but only if it can establish a semblance of a running game. I don't see San Francisco's offense as a particularly dynamic threat. So while we think this defense is pretty good, we might not know for sure when Green Bay I week arrives next month.
September, 13, 2009
9/13/09
10:56
AM ET

Posted by ESPN.com's Kevin Seifert
CLEVELAND -- Sign of the (economic) times: I saw a number of No. 10 Cleveland jerseys as I made my way to the stadium Sunday morning. Most of them said "Quinn" on the back. But I spotted one that said "Zeier." (Last/only year for Eric Zeier in Cleveland: 1995.)
I'm perched here in the press box looking for signs of Minnesota receiver
Bernard Berrian
, who hasn't been seen (on the field) since straining his hamstring in the Aug. 14 preseason opener at Indianapolis. So far, I haven't seen him. In fact, one of the few Vikings players on the field is center
John Sullivan
, who is no doubt putting in last-minute preparations for matching up against Cleveland defensive tackle/monster
Shaun Rogers
.
The Vikings are required to report Berrian's status at 11:30 a.m. ET. I'll bring it to you as quickly after that as I can.
August, 2, 2009
8/02/09
1:00
PM ET
| | |
| --- | --- |
| | |
| | AP Photo/Jim Mone |
| | With Brett Favre out of the picture, the Vikings' quarterback competition comes down to Tarvaris Jackson (7) and Sage Rosenfels (2). |
Posted by ESPN.com's Kevin Seifert
MANKATO, Minn. -- The scene was set for a rock concert. Now, temporary bleachers sit empty at one end of the practice fields at Minnesota State University, Mankato. A super-sized interview tent now seems out of place. One lowly blogger sits in the overflow media room.
Vikings training camp opened to a quiet and anticlimactic scene, one that once seemed destined to be dominated by the arrival of quarterback Brett Favre. Instead, the Vikings have been left with Plan B and C at quarterback as they prepare to defend their NFC North title. And a largely veteran roster has been left to pick up the pieces and steer clear of the letdown that surrounds it.
"That's our job as adults," defensive end Jared Allen said. "We're not in high school. You don't need to carry little grudges with you. It's professional football. [We're] professionals. Let's go do our job. Our job is to win games, defend our division championship and hopefully win the Super Bowl."
Key questions
1. Can Tarvaris Jackson or Sage Rosenfels be a competent starting quarterback?
Fantasy Football: 32 Questions

Christopher Harris analyzes Bernard Berrian and the Vikings receivers from a fantasy perspective now that Brett Favre is in town. Story

It's a fair question. After all, in a combined 11 NFL seasons, neither player has proved worthy of a full-time starting job. For what it's worth, camp hardly started in ideal fashion. Rosenfels appeared still to be growing comfortable with the offense while a sprained knee felled Jackson in the third practice.
Jackson's injury is not serious, but his long injury history illustrates the perils of counting on him to be a full-time starter. Rosenfels, meanwhile, is a career backup who now realizes the Vikings' offense isn't as familiar as he previously believed. His transition from Houston's version of the West Coast scheme will take some time.
| | |
| --- | --- |
| | |
| | Tom Dahlin/Getty Images |
| | Rookie Phil Loadholt is the early favorite to win the starting right tackle spot. |
But at this point, the Vikings have given themselves no choice but to count on one of them to step up after Favre turned down their overtures last month. In the competitive NFC North, that gambit could mean the difference between the division title and missing the playoffs.
2. Can the offensive line withstand the addition of two new starters?
Rookie Phil Loadholt appears set to take over the right tackle position, and his sheer girth -- 6-foot-8, 343 pounds -- will make it difficult for most defensive ends to get around him. Loadholt also looked relatively smooth as a run-blocker early in camp, and it's hard to imagine him losing a competition for the starting job.
The prognosis for new center John Sullivan, however, is not as certain. He is universally recognized as a smart player, but his ability to match up with the NFL's top defensive tackles has not been measured yet. From a physical standpoint, Sullivan might be at a disadvantage. The Vikings list Sullivan at 6-foot-4, but he has an odd build -- short legs and a long torso -- that make him look and play much shorter.
I asked Pro Bowl nose tackle Pat Williams if he thought Sullivan was ready.
"He doesn't have a choice," Williams said. "That's all we've got. He's still learning, but I think he'll be a good center for us."
Williams, however, also noted the long list of big defensive tackles Sullivan will have to match up against this year -- starting with Cleveland's Shaun Rogers in the Sept. 13 season opener.
"He's got to be strong," Williams said. "The guys he is going to be playing are some big dudes."
3. Are the Vikings prepared for the possibility of losing the Williams Wall?
The team is developing a contingency plan in the event that defensive tackles Kevin Williams and Pat Williams are forced to serve their four-game suspensions. (A Minnesota judge will decide by Aug. 7 whether the players' legal case can proceed in state court.) Few teams have starting-caliber defensive tackles in reserve, but the Vikings are hoping to patch together a decent lineup if they have to.
Fred Evans, Jimmy Kennedy and Letroy Guion have been working as the second-team defensive tackles during practice. Guion also has been working with the first-team nickel defense when Pat Williams takes a breather.
Defensive coordinator Leslie Frazier acknowledged it will be "a bit of a drop-off" if Evans, Kennedy and/or Guion is forced into the starting lineup. But Frazier added: "We feel confident we will still be able to play good defense with those other guys in the lineup."
I think that's a fair way of looking at it. The question will be whether the replacements can hold their own, not whether they can maintain the NFL's top-rated run defense. That's an unrealistic expectation.
Market watch
You have to wonder where veteran receiver Bobby Wade will fit in after the Vikings drafted receiver Percy Harvin and welcomed back a healthy Sidney Rice. Even with Harvin unsigned at the beginning of training camp, it seemed clear that Wade will lose some playing time after leading the team in receptions the past two seasons.
If everyone stays healthy, early indications are that Bernard Berrian, Rice and Harvin are first in line for snaps this season. Wade could share some slot responsibilities with Harvin, but the Vikings want the exciting rookie on the field as often as possible.
It's hard to imagine Wade not making the team after catching 107 passes since 2007. But he does appear to be in a fight for playing time that also includes youngsters Jaymar Johnson and Darius Reynaud. Depending on how many receivers they carry on the roster, the Vikings might have to decide whether to keep a reliable veteran or an intriguing up-and-comer.
Newcomer to watch
Harvin missed the first three days of training camp, but it wasn't difficult to see the multi-faceted role the team has mapped out for him.
Reynaud played Harvin's role during practice, roving all over the field -- much like Harvin did while playing at the University of Florida. It's also possible the Vikings will use Harvin as a punt and kickoff returner if he gets into camp soon enough.
Harvin is the kind of open-field runner who can change the dynamic of a game on one play. He'll give the Vikings the best weapon they've ever had in taking defensive attention away from tailback Adrian Peterson. If he and Peterson stay healthy, Harvin is an early candidate for rookie of the year.
Observation deck
Middle linebacker E.J. Henderson is back after a pair of dislocated toes caused him to miss the final 12 games last season. In his first practice this summer, Henderson brought the entire defense together to discuss his goals for this season. "You could hear a pin drop in our huddle," Frazier said. Henderson is normally a quiet leader. "For him to do that," Frazier said, "it makes everyone feel as if this is for real. No more playing around." ... The Vikings signed free agent Karl Paymah ostensibly as their nickelback, but early in camp he was playing with the third team. Benny Sapp, Marcus McCauley and rookie Asher Allen were rotating at nickel. ... Coaches would like to get Peterson more involved in the passing game, but so far tailback Chester Taylor has gotten most of the third-down snaps. "We have a Chester Taylor and we might as well use him," offensive coordinator Darrell Bevell said. ... Peterson on rushing for 2,000 yards in a season: "It is something I think about and dream about." ... With Loadholt the likely starter at right tackle, Ryan Cook is getting a chance to win a backup center/tackle job.
March, 21, 2009
3/21/09
12:00
PM ET
Posted by ESPN.com's Kevin Seifert
I guess I should be careful what I wish -- or ask -- for. You deposited almost 200 questions in the mailbag following Thursday's request for new material. So we'll continue last week's format of posting Part I on Saturday. That would leave Part II for Sunday. I'll get to as many as I can. Now, on with it.
Jeff of Rochester, Minn., writes: Kevin, really enjoy the blog. I consider myself a fairly knowledgeable football fan in general and Packers fan in particular and I am really struggling to buy into Ted Thompson's plan here. My question to you is, as the Packers stand now, and even if they have a super draft, have they done enough to improve enough to compete for a Super Bowl given the improvements other teams have made? After all, isn't the super bowl the goal?
Kevin Seifert: Thanks Jeff. I hate to say this, but a lot of your answer is in Dom Capers' hands. He's in charge of the most significant change the Packers made -- moving to a 3-4 defense -- in the wake of last season's problems. Capers is going to have to navigate a bit of a minefield. For the most part, he has to design his scheme around a group of 4-3 players. The draft could help, but how much immediate assistance can you expect from any rookie class? (Last year, for example, the Packers got almost none.) If Capers can improve the defense under those circumstances, the Packers have a chance to win the division. The Super Bowl? I don't think they're there yet.
---
Steve of Riverside writes: Why doesn't Minnesota open up with a 3-way battle between Tarvaris Jackson, Sage Rosenfels, and John David Booty? Does Booty really need another year to "learn" the system? Look how well Cassel did in NE, and he wasn't even a starter. Booty proved he could play at SC so why not give him a chance? Is Childress that attached to TJack that he won't let Booty even sniff the field?
Kevin Seifert: I get a lot of questions about J.D. Booty, and I'll keep answering the same way: Nothing that I saw of Booty last summer suggested he would be ready to compete for a job in 2009. Remember, Cassel sat on the bench for three seasons before he got into the lineup last year.
---
Patrick of Rochester writes: Are the Lions waiting until after the draft to add another veteran QB? Considering the fact that they already have a veteran QB in Daunte Culpepper, would adding J.P. Losman, Kyle Boller or another young "veteran" be the best way to go?
Kevin Seifert: I think it's very possible that's why they're waiting. If they draft a quarterback in the first round, it's likely he would serve as the No. 2 behind Culpepper entering training camp. But if they don't have a young stud at quarterback this year, the Lions probably are going to want more depth. I'm sure they don't see Drew Henson as a viable backup and it seems like they're on the fence -- at best -- about Drew Stanton.
---
Mark from Rochester writes: Hey Kevin, what's your take on Michael Vick wearing purple and gold. Think about having Vick, A.P., and Chester Taylor in the Vikings backfield. They could have 3000+ rushing yards per year. I wouldn't mind having him in Minnesota.
Kevin Seifert: I don't think there is any chance of Vick signing with the Vikings as long as the Wilfs are their primary owners. And that's pretty much what Rick Spielman said when he was asked about it a few weeks ago.
---
Bobby of Chicago writes: If the Bears take Darrius Heywood-Bey with their first pick as predicted, what will they do to address their O-line and secondary? They can't fill every hole through the draft.
Kevin Seifert: This is supposed to be a deep draft for tackles, and they should be able to find value in the second or even third round. Unless Michael Oher slips, there might not be a tackle available at No. 18 overall that's worthy of being selected at that spot. As for the secondary, well, as you said, you can't address every need. I think that's why the Bears really had their eggs in the John St. Clair basket.
---
AJ of Marathon, New York, writes: Hey Kevin love the blog. What is the possibility of Chester Taylor being moved draft day or before the draft? Maybe a possibility of moving up by using him as trade bait?
Kevin Seifert: That's another question I get a lot, especially now that Taylor is entering the final year of his contract. Unless the Vikings get a running back early in the draft, I just don't see it happening. Even with Adrian Peterson on the roster, it's really become mandatory in the NFL to have two starting-caliber running backs. It's one of the best parts of the Vikings' roster and not a strength they're likely to dilute.
---
Baltimore writes: If the Vikings considered an aging Brett Favre why wouldn't they consider Jeff Garcia who knows the West Coast offense and is starter quality available for backup price. He has produced well his last three years working in a system that is run first and has a strong defense. He is a perfect fit and nobody is talking about it anywhere! To me it's a no-brainer.
Kevin Seifert: I, too, wonder if Garcia wouldn't be a decent short-term fix for the Vikings. But they weren't interested in him two years ago when he became a free agent, and they've shown him no interest now. Although I will say the thought process between adding Brett Favre and Jeff Garcia isn't totally the same.
---
Matt of Chicago writes: Now that Chicago has lost their starting LT St. Clair to free agency, what are they going to do to fill that void? They really don't have anybody on their roster right now to fill that spot. Will they spend their 1st round pick on a RT now instead of a WR?
Kevin Seifert: I doubt it. For now, they're going to use Frank Omiyale -- whom they signed as a free agent -- at right tackle. I would imagine they'll draft a tackle at some point, but it's unlikely to be in the first round. At least as of now.
---
Chris of Boulder writes: Who do you think is taking the best approach this offseason in the North? We have a variety of approaches and obviously different teams need different approaches, whether that is dismantling and retooling, signing big name free agents, trades, drafting, or Lovie Smith's simple 'toolbo
x' approach. In other words who has their mind right, who doesn't, and who do you think is currently on pace to put themselves in the best place to win the division?
Kevin Seifert: Interesting question. The way I see it, the only team that isn't sitting on the status quo -- at least from a personnel standpoint -- is Detroit. And the Lions were 0-16 last season. We'll start with them. I wouldn't always advocate their approach, which has generally been to sign aging veterans who figure as short-term starters at best. But their roster was so depleted that they couldn't afford to take long-term approaches at every position. So in short I think they've done what they needed to do. I'm a little surprised Green Bay hasn't been more active given their defensive scheme change, but that's the way Ted Thompson operates. Chicago played with fire and lost in the John St. Clair sweepstakes, so they're a little behind the ball at this point. The Vikings took another measured stab at trying to improve their quarterback position, but I still think they owe it to themselves to pursue Jay Cutler.
---
Max from Phoenix writes: Kevin, Enjoy your writing. I was wondering if you think there is any kind of possibility of the Lions making a deal with the first overall pick. I realize the money is astronomical, but do you think one team out there might fall in love with Matt Stafford?
Kevin Seifert: Thanks, Max. It's a bit early to get a sense if anyone really loves Stafford to the point where they would trade up. I think the Lions would definitely consider the trade option if it arises, especially if they can still pick in the top 5 or so. But to this point there aren't any obvious takers.
---
Steve of Chicago writes: Hey Kevin. I'm personally getting tired of all the mock drafts and projections already. I know, there's not much else going on right now, but I see 5 or more "updated" mocks every week just on the major sports sites. Historically, looking only ESPN mock drafts for NFC North teams, how accurate have mocks been anyway? If they're as inaccurate as I suspect, maybe people can join me in ignoring all mock drafts and they'll just go away. Or is that too much to hope for?
Kevin Seifert: I've always thought mock drafts should include a tagline that explains they're for entertainment purposes only. That would help everyone's blood pressure, I think.
---
Renzo of Dinkytown writes: How would you rate the Vikings drafting in the Childress/Spielman era? I was looking at the draft history and it seems like the past few years have produced some pretty solid picks, including the always amazing AP. Do you expect them to find similar playmakers this year?
Kevin Seifert: If I counted right, the Vikings still have 10 of the 13 players they've drafted under Spielman. That's a pretty good percentage. I would think they'll find at least one playmaker this year, especially if they take a receiver with the No. 22 overall pick.
---
Brent of Chicago writes: Just read your post regarding how Culpepper has come back this year looking much more like his former self. What are the odds that the Lions suddenly get high on Culpepper before the draft and start to think that they can get at least 2 more productive years out of him? If that's the case, they could obviously take a more developmental prospect with 33rd pick or even wait to the third round. Any chance this scenario plays out, or am I just crazy?
Kevin Seifert: I could see it playing out under a different initiating event. I don't think they'll make a draft decision based on how long they think Culpepper can play. But if they decide not to take a quarterback high in the draft, it's possible they could turn to Culpepper for the next few years. In the end, it's the same scenario. Just a different motivation.
---
Miksouza of Maui writes: If the Vikings do move somewhere else someday, would they lose the name and colors (e.g. Titans/Oilers or Ravens/original Browns)?
Kevin Seifert: That's been the trend lately. But don't forget the reason why the NBA has the Los Angeles Lakers. They were originally the Minneapolis Lakers, in the state of 10,000 lakes. Just saying.
---
Aaron of St. Louis writes: Did Detroit burn every bridge with Shaun Rogers? That interception he ran back for a touchdown two seasons ago was so fun to watch.
Kevin Seifert: It sure was. I don't think the Lions' previous regime would want him back. But I wonder if Jim Schwartz could use him in the Albert Haynesworth role of his defense.
February, 5, 2009
2/05/09
6:54
AM ET
Posted by ESPN.com's Kevin Seifert
One more thought on Detroit's decision to part ways with cornerback Leigh Bodden, as first reported Wednesday by John Niyo of the Detroit News.
You could look at this as one of the first significant unravelings of the Matt Millen personnel disaster, one of many that likely will have to take place as the offseason progresses. Millen gave up the Lions' best defensive player, Shaun Rogers, to get Bodden and a third-round draft pick. But as Tom Kowalski of the Mlive.com alludes to, there was a disconnect between the front office and the coaching staff about Bodden's place.
Millen and his advisors no doubt saw Bodden as a long-term fixture for the defense, a classically cocky but talented cornerback who had six interceptions for the Browns in 2007. But former coach Rod Marinelli did not guarantee him a starting job, engendering a mistrust that continued throughout the season. That was Marinelli's policy for all new players, but Millen didn't foresee it being a problem for Bodden despite his personality.
It was an oil-and-water mixture that was never destined to work out, something that might have been clear with more pre-trade research into the matter. It was an example of the type of the disconnect between the front office and coaching staff that new general manager Martin Mayhew has alluded to several times.
If you're wondering, the only thing the Lions have to show for the Rogers trade is defensive tackle Andre Fluellen, who was selected with the third-round pick the Browns included in the trade. Fluellen played in eight games and started two as a rookie in 2008.
Continuing around the NFC North:
Brad Biggs of the Chicago Sun-Times and Vaughn McClure of the Chicago Tribune provide a transcript of an interview that pending free agent receiver T.J. Houshmandzadeh gave a Chicago radio station. The key quote from Houshmandzadeh: "I'm open to everything, I promise you that."
Bob McGinn of the Milwaukee Journal Sentinel analyzes the Packers' shift from Rock Gullickson to Dave Redding as strength and conditioning coordinator. Coach Mike McCarthy said he was looking for "a change in environment and attitude." Redding is known as an intense character.
Here's what Minnesota tailback Adrian Peterson said when Philadelphia coach Andy Reid asked him how many times he wanted to carry in the Pro Bowl this weekend: "You can give it to me every time." Here's an Associated Press story on the exchange from Hawaii.

February, 4, 2009
2/04/09
5:53
PM ET
Posted by ESPN.com's Kevin Seifert
The Detroit Lions are shedding at least two players who expressed recent dissatisfaction with the organization. John Niyo of the Detroit News is reporting that cornerback Leigh Bodden has been informed he will be released later this month.
Bodden criticized the Lions' former defensive staff at the end of the 2008 season, saying its Cover 2 scheme was a poor fit for personnel. (Last week, receiver Mike Furrey told reporters that he had been informed of his pending release.) That public viewpoint probably didn't sit well with new Lions general manager Martin Mayhew, but the most prominent reason for Bodden's departure is likely the $8.6 million roster bonus he would be due this spring.
The Lions acquired Bodden last spring from Cleveland in exchange for defensive tackle Shaun Rogers. Detroit also got a third-round pick in the deal. Bodden managed one interception in 16 games for the Lions, his lowest output since becoming a starter for the Browns in 2005. Still, scouts will tell you he was the best cover corner on the Lions' roster last season.
NFL teams can't formally begin releasing players until Feb. 9. There has been no word yet of another looming personnel decision: whether the Lions will keep quarterback Daunte Culpepper, who is due a $2.5 million roster bonus.