NFC North:

Shawne Merriman
August, 14, 2011
8/14/11
7:27
AM ET
Reviewing Saturday's preseason action at Soldier Field:

Chicago Bears 10, Buffalo Bills 3
Preseason record:
1-0

Of interest:
None of the anticipated drama for this game played out. Tailback
Matt Forte
played despite the lack of a contract extension, although it's worth noting he played one series and didn't get a carry. (He did make one catch.)
Marion Barber
ended up rushing for 45 yards on seven carries, and
Chester Taylor
had three yards on three carries. ... And by all accounts, the playing surface at Soldier Field held up despite some visible seams between the sod. The only issue: Longtime Chicago-area sportscaster Peggy Kusinski
said she was told by security officials
that no cell phone photos of the field were allowed. ... The first-team offensive line played the entire first half but gave up four sacks, including three to Bills linebacker
Shawne Merriman
, who gave left tackle
J'Marcus Webb
fits. I thought two of Merriman's sacks, against backup quarterback
Caleb Hanie
, came in part because Hanie held the ball. ... Defensive tackle
Henry Melton
flashed in the first quarter, getting into the backfield on three early plays. That's an encouraging sign. ... The Bears kicked off twice from the 30-yard line before, saying the NFL's new rule for kickoffs at the 35-yard line was optional. NFL officiating czar Carl Johnson
was forced to call Soldier Field
to tell them otherwise. Interesting but ultimately a meaningless attempt by the Bears. ... Finally, demoted receiver
Johnny Knox
made an a strong impression on special teams, reminding everyone how fast he is during a 70-yard kickoff return. He also returned two punts, but that job will go to
Devin Hester
in the regular season.
Local coverage:
No one criticized the field, reports
Fred Mitchell of the Chicago Tribune
. But quarterback
Jay Cutler
did say: "I don't know. It is what it is. I don't think it is going to change, so we just have to play on it." ... Knox, via
Mark Potash of the Chicago Sun-Times
: "I know what I need to do -- just handle my business on the field and that's what I came to do. I'm just trying to make the best of it and make plays when I can." ... The Bears' offensive line needs more time together, writes
Dan Pompei of the Tribune
. ... New defensive lineman
Amobi Okoye
had two sacks, notes
Jeff Dickerson of ESPNChicago.com
.
Next:
Aug. 22 at
New York Giants
(ESPN)
April, 7, 2011
4/07/11
12:00
PM ET
»
NFC Draft Watch
:
East
|
West
|
North
|
South
»
AFC
:
East
|
West
|
North
|
South
Each Thursday leading up to the NFL draft (April 28-30), the ESPN.com NFL blog network will take a division-by-division look at key aspects of the draft. Today's topic: history in that spot.
Chicago Bears

The Bears' top pick is No. 29 overall. Here are the past seven players taken in that spot, with their NFL team in parentheses:
2010: Cornerback
Kyle Wilson
(
New York Jets
)
2009: Wide receiver
Hakeem Nicks
(
New York Giants
)
2008: Defensive end
Kentwan Balmer
(
San Francisco 49ers
)
2007: Offensive guard
Ben Grubbs
(
Baltimore Ravens
)
2006: Center
Nick Mangold
(New York Jets)
2005: Defensive back
Marlin Jackson
(
Indianapolis Colts
)
2004: Wide receiver
Michael Jenkins
(
Atlanta Falcons
)
ANALYSIS:
The bottom of the first round is a great place to find starting-caliber guards and centers. The top tackles are usually off the board. Fortunately for the Bears, they could use a guard or center just as much as a tackle. While coach Lovie Smith wants to bring back veteran center
Olin Kreutz
, a free agent, he will have to be replaced someday. And more depth at guard could allow the Bears to move 2008 first-round draft pick
Chris Williams
back to left tackle.
Detroit Lions

The Lions' top pick is No. 13 overall. Here are the past seven players taken in that spot, with their NFL team in parentheses:
2010: Defensive end
Brandon Graham
(
Philadelphia Eagles
)
2009: Defensive end
Brian Orakpo
(
Washington Redskins
)
2008: Running back
Jonathan Stewart
(
Carolina Panthers
)
2007: Defensive lineman
Adam Carriker
(
St. Louis Rams
)
2006: Linebacker
Kamerion Wimbley
(
Cleveland Browns
)
2005: Offensive lineman
Jammal Brown
(
New Orleans Saints
)
2004: Receiver
Lee Evans
(
Buffalo Bills
)
ANALYSIS:
Unfortunately for the Lions, this isn't a great spot to get an elite cornerback. Those types of players are usually drafted in the top seven or eight picks. (The Lions are hoping that Nebraska's
Prince Amukamara
somehow slips through the cracks.) This is a nice area to draft a second-tier defensive lineman, and this year, the Lions will probably have their pick of offensive tackles as well.
Green Bay Packers

The Packers' top pick is No. 32 overall. Here are the past seven players taken in that spot, with their NFL team in parentheses:
2010: Cornerback
Patrick Robinson
(New Orleans Saints)
2009: Defensive tackle
Ziggy Hood
(
Pittsburgh Steelers
)
2008: Defensive end
Phillip Merling
(
Miami Dolphins
)*
2007: Receiver
Anthony Gonzalez
(Indianapolis Colts)
2006: Defensive end
Mathias Kiwanuka
(New York Giants)
2005: Offensive guard
Logan Mankins
(
New England Patriots
)
2004: Tight end
Benjamin Watson
(New England Patriots)
*First pick of second round.
ANALYSIS:
There are some awfully productive players on this list. Part of the reason is that the previous year's most successful organization was in that spot and thus was more likely to make a good scouting decision. But it also tells us the Packers should have an opportunity to select a player who can make an immediate impact as long as they don't limit themselves to certain positions.
Minnesota Vikings

The Vikings' top pick is No. 12 overall. Here are the past seven players taken in that spot, with their NFL team in parentheses:
2010: Running back
Ryan Mathews
(
San Diego Chargers
)
2009: Running back
Knowshon Moreno
(
Denver Broncos
)
2008: Offensive tackle
Ryan Clady
(Denver Broncos)
2007: Running back
Marshawn Lynch
(Buffalo Bills)
2006: Defensive lineman
Haloti Ngata
(Baltimore Ravens)
2005: Linebacker
Shawne Merriman
(San Diego Chargers)
2004: Linebacker
Jonathan Vilma
(New York Jets)
ANALYSIS:
This list tells us what we knew already: You can get a blue-chip, impact player here if you exercise good judgment. The Vikings' decision, of course, will be complicated by their need for a quarterback. What will they do if they have, say, a potentially elite pass-rusher like North Carolina's
Robert Quinn
available to them? Take Quinn and look for a quarterback later? Or prioritize the quarterback?
February, 1, 2010
2/01/10
3:00
PM ET
MIAMI -- It was interesting to see Carolina defensive end
Julius Peppers
grimacing on the NFC bench Sunday night at the Pro Bowl. He appeared to have suffered a mild leg injury -- an auspicious start to an offseason journey that promises to be wild.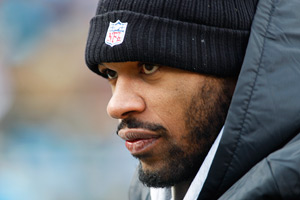 AP Photo/Nell RedmondUnhappy with his contract situation in Carolina, could Julius Peppers end up in the NFC North?
Peppers is scheduled to be an unrestricted free agent, and Peppers agent
said over the weekend
that he isn't expecting a long-term deal to materialize with the Panthers. A franchise tag would likely cost the Panthers more than $20 million, a prohibitive cost for most teams.
So
George of Florida
wondered: "Now that it appears that Julius Peppers will probably be a free agent in the offseason, what are the odds that the Bears will pursue him to bolster their defensive line?"
Theoretically, we I think we can expand this conversation to more than one NFC North team. With the expected loss of pending free agent
Adewale Ogunleye
, and the death of
Gaines Adams
, the Bears certainly have an opening for a pass-rushing defensive end in their 4-3 scheme.
But what about Green Bay? Last week, we discussed the possibility -- however fantastical -- of San Diego's
Shawne Merriman
making his way to the Packers. But what about Peppers as a replacement for
Aaron Kampman
in the Packers' 3-4 scheme?
Acquiring Peppers certainly wouldn't follow the Packers' recent personnel practices under general manager Ted Thompson. But last season, Peppers expressed interest in playing as a 3-4 linebacker. It's not often that a player successfully makes that transition in the latter stages of his career, but Peppers might be the type of exceptional athlete who could do it.
As for the Bears, I think it's something they would have to give strong consideration to given their lack of other available assets. You typically need to take pass-rushing defensive ends high in the draft, but the Bears don't pick until the early portion of the third round. They don't want to give up any additional draft picks to move up, and so paying Peppers a truckload of money might be one of their few legitimate options.
It's hard to know exactly where the Bears are headed defensively until they hire a defensive coordinator, but we know they will keep the basic concepts of the Tampa-2 scheme. Peppers would be a great fit regardless. Will it happen? I wouldn't rule it out.
January, 28, 2010
1/28/10
2:15
PM ET
Here is a fun late-January Twitter conversation between Green Bay linebacker
Nick Barnett
(
@nickbarnett
), ESPN's Trey Wingo (
@wingoz
) and Green Bay tailback
Ryan Grant
(
@RyanGrant25
):
Barnett:
What you guys think @shawnemerriman in the green and gold????
Wingo:
@NickBarnett more to the poit [sic] nick, what do YOU think?
Grant:
@wingoz I think that's a great idea
Barnett:
@wingoz I think he is a great player but honestly. I would like to see us get Kampman back. One free agent I would like to see
Dwan Edwards
Barnett:
@wingoz but don't get me wrong if we don't get kamp back would love to have him... But he would have to change his number lol
To translate for the non-Twitterati, Barnett was playfully suggesting the idea of Green Bay signing San Diego linebacker
Shawne Merriman
this offseason if incumbent
Aaron Kampman
doesn't return. (Like Barnett, Merriman wears No. 56.) Barnett also referred to Baltimore defensive end Dwan Edwards.
This is all fun to discuss with more than a month remaining before the start of free agency, but it also gives us an opportunity to discuss a number of semi-serious issues:
First, both Merriman and Edwards will be restricted free agents if the NFL moves to an uncapped system, as expected. At the very least, that means the Chargers and Ravens, respectively, would have the right to match any offer the players receive. Both teams could also be eligible for draft-choice compensation if they decide against matching. (By the way, here's the
last we've heard
from Merriman, courtesy AFC West colleague Bill Williamson.)
Second, the Kampman issue is going to be one the Packers will have on their plate for a while. Not only is he recovering from a torn anterior cruciate ligament, but he also proved to be a middling fit for the 3-4 defense last season. The Packers must separate medical, financial and schematic decisions about one of their most popular players.
Third, we're in the all-fantasy part of the NFL offseason. This is the time when fans and players alike start tossing around dream scenarios before the nuts and bolts of free agency actually hit. The reality, as we've
discussed many times
, is the Packers haven't participated in the free-agent market for the past few years. Throwing draft-choice compensation into the mix only further limits the possibility that a player like Merriman could end up in Green Bay.
But it's a great trending topic for the last week of January.
April, 18, 2009
4/18/09
12:00
PM ET
Posted by ESPN.com's Kevin Seifert
Just think about it: At this time next week, we'll only be FOUR HOURS AWAY from the start of the NFL draft. Can you hang on for seven more days? Maybe this weekend's mailbag can help you along.
We'll start with an analysis so thorough that we'll cede many megabytes of ESPN space to air it out. In fact, it pushes the rest of our mailbag into a newly created Part II that will appear Sunday. Hold on to your seat!
| | |
| --- | --- |
| | |
| | AP Photo/Nam Y. Huh |
| | How does the Jay Cutler trade compare to the draft-day deal that sent Eli Manning to the Giants? |
Andy of Springfield, Ill., writes: I know the Jay Cutler trade has to been beaten into the ground to an extent. However, there's a really good comparison I've yet to see anyone make. The similarity between Cutler and Eli Manning coming out of Ole Miss in 2004 is pretty uncanny. Eli didn't want to play for San Diego and, for the lack of a better term, whined until he got his trade. Cutler did very much the same. However, I've yet to see anyone compare the two trade in terms of value.
In 2004, New York traded their #4 pick, and their 3rd round choice (65th overall), plus a 2005 1st (which turned out to be No. 12) and 5th (144th) for Eli. Those picks turned out to be Phillip Rivers, Nate Kaeding, Shawne Merriman and they traded the 5th for Roman Oben. The Chargers made out like bandits getting two Pro Bowlers in Kaeding and Merriman and a probable future Pro Bowler in Rivers.
Chicago gave up the 18th pick, 84th pick in 2009 along with Orton and a future first-rounder in 2010. Both of the 2009 picks were worse than the ones the Giants gave up in 2004. If you go by the trade value chart on the Internet, the 2009 picks were worth 1,070 points. The picks the Giants gave up were worth 3299. Its hard to put a value on Orton but for the sake of math let's say he's worth 230 (8th pick in round 3).
At 1,300 points that means the Bears 2010 pick would have to be worth 2000 points (between the No. 3 and No. 4 pick in the draft) to equal what the Giants gave up for Eli. And that's not even mentioning the 5th the bears got back.
From the Bears standpoint, it seems like the Cutler deal is a steal in comparison to what the Giants had to pay. From a financial standpoint Cutler's contract is much more manageable than a #1 overall pick. ... Then there's the fact that Cutler is at least a somewhat proven player vs. Eli, who hadn't played an NFL down. Worst case for the bears would seem to be a level of play similar to Eli. Best case ... who knows.
Kevin Seifert: Thanks, Andy. That's a really thought-provoking analysis. Even without seeing those numbers, I think most everyone would agree that the Giants gave up much more value for Manning than the Bears did for Cutler.
But to me, that speaks to the value -- real or assigned -- to the No. 1 overall pick in the draft. As it stands right now, NFL teams give it the highest premium -- both in terms of cash and trade value -- of any other asset they deal with.
Consider it this way. To complete the analysis in terms of the draft value chart, you probably have to include the fact that Manning -- at No. 1 overall -- was worth 3,000 points. So purely in terms of draft picks, the Chargers came out 299 points "ahead" of the Giants in the trade.
Now let's look at the Cutler trade. We'll start with 1,070 points in the form of two picks in 2009. To keep things as close to apples-to-apples as we can, you have to take into account the approximate point value the Bears got in return. Cutler was the No. 11 overall pick in 2006, so in pure draft terms he is worth 1,250 points -- less than half of what Manning was worth at No. 1 overall.
When you add in the 900 points for the 2010 pick, leaving the position at No. 18 as you suggested, we get a total value of 1,970 points, which puts the Broncos ahead by 720 points in terms of draft picks. That's the equivalent of the No. 25 overall pick of the draft.
You could make an argument that Orton, plus the undefined value of Cutler's experience and development, are probably equal to that 720-point remainder. The conclusion is a relatively fair trade.
What this exercise points out is how unbelievably expensive the No. 1 overall pick is in every conceivable way. In order to grab it, the Giants had to give up far more value than the Bears did to acquire a 25-year-old Pro Bowl quarterback.
In the end, the Bears paid less value than the Giants to get a more proven asset. Now you know why the No. 1 overall pick may never be traded again, at least under the current system.
February, 24, 2009
2/24/09
5:00
PM ET
Posted by ESPN.com's Kevin Seifert
Wake Forest linebacker Aaron Curry's eye-opening workout at the NFL scouting combine has energized the debate over whether he -- and, more generally, an outside linebacker -- is a legitimate candidate to be the No. 1 overall pick in the draft.
| | |
| --- | --- |
| | |
| | Scott Boehm/Getty Images |
| | Linebacker Aaron Curry was impressive during his workout at the combine. |
First, let's consider ESPN.com analyst Todd McShay's analysis of Curry's performance:
Curry finished with the fastest 40-yard dash time (4.56 seconds), the longest broad jump (10 feet, 4 inches) and tied with two other players for the best vertical jump (37 inches) among the linebackers. He also impressed with his work during drills, particularly one that's designed to simulate a linebacker shifting through traffic between the tackles.

In that drill, each prospect steps over a set of pads while sliding laterally in one direction, quickly reverses direction, slaps the pads with his hands as he shuffles back and then explodes through the cones to finish. It's important to be fluid and quick, and just as important to keep your eyes up because teams want to know whether you can locate the ball as you scrape down the line of scrimmage. Most prospects were seen peeking down at the pads, but Curry did an excellent job of keeping his eyes up. It's a small difference but an important one. And weighing in at 254 pounds and measuring 6-foot-1 made Curry's performance that much more impressive.
I realize that Curry's performance in Indianapolis guarantees nothing about his future NFL success. But even before he arrived, most NFL teams considered him a top-5 pick. It's natural that a strong combine would catapult him into the discussion for the No. 1 overall selection.
The lack of an obvious top pick makes Curry fair game in this debate. On one side, you have many people who believe Curry is the best player in the draft. On the pragmatic scale, that makes him a no-brainer for Detroit. Right?
The other side is whether an outside linebacker is an important enough position to merit the top pick, especially for a team that runs a 4-3 defense. In fact, only two linebackers have gone No. 1 overall since the 1970 merger: Tom Cousineau in 1979 and Aundray Bruce in 1988. Let's just say neither is headed to the Hall of Fame.
Why the hesitance? We've all seen how linebackers can impact the game, from Lawrence Taylor to Ray Lewis to Shawne Merriman. Fair or not, here's how Baltimore general manager Ozzie Newsome put it last week at the combine:
"We put the premium on quarterbacks, corners, left tackles and pass rushers. For the most part, those are the guys that are going to come off the board early."
What do you think? Could Curry be enough of a difference-maker to merit a near-historic decision? Let me know, either in the comments section below or in the mailbag, and we'll revisit the topic later this week.