December, 8, 2012
12/08/12
8:00
AM ET
Chicago Bears
receiver
Brandon Marshall
is averaging 7.6 receptions per game this season. So with a slightly better-than-average performance Sunday against the
Minnesota Vikings
, Marshall could achieve some hefty milestones with plenty of room to spare.
Marshall is nine catches away from hitting 100 for the season, an accomplishment that would place him among the most productive receivers in NFL history. As the chart shows, he would become the fourth player in NFL history to compile four 100-catch seasons in their careers. No one has done it five times, although the
New England Patriots
'
Wes Welker
is eight receptions away from doing so this season.
Whenever Marshall gets to 100 catches, he will tie
Marty Booker
's franchise record for receptions in a season.
We'll figure it all out when the final numbers come in, but I think we can safely project that Marshall is going to finish with the best season for a receiver in Bears history. As we noted Friday, Marshall leads the NFL in parentage of his team's targets (39.2 percent of all throws) as well as the percentage of his team's receptions (41.9) and passing first downs (44.9).
The real question is whether we can quantify it as the most productive year for a Bears player at any position. That will take some apples-to-oranges analysis to compare him to the likes of Sid Luckman, Gale Sayers and Walter Payton.
June, 21, 2012
6/21/12
10:30
AM ET
While we were scrambling with a newsy week, ESPN.com produced the kind of project that would normally give us ample fodder during the dog days of June. Experts from around the company ranked the top 25 playoff performances in each sport, and
the NFL version
-- compiled by John Clayton, Mike Sando and Jeffri Chadiha -- contains six references to games involving NFC North teams. Let's take a look:
25. Green Bay Packers returner Desmond Howard in Super Bowl XXXI
Performance:
Howard returned six punts for 90 yards and four kickoffs for 154, including a 99-yard kickoff return for a touchdown.
Seifert comment:
Howard's MVP award is especially amazing considering he didn't touch the ball on offense. But it's hard to argue when you consider the timing of his touchdown return.
19. Arizona Cardinals quarterback Kurt Warner vs. Packers in 2009 wild-card game
Performance:
Warner had 29 completions, five touchdown passes and only four incompletions in the Cardinals' wild 51-45 victory.
Seifert comment:
I covered that game
along with Sando and Clayton. The Packers defense had some issues that season, to be sure, but Warner was surgical.
15. Chicago Bears quarterback Sid Luckman in 1943 NFL title game
Performance:
Luckman outshone Sammy Baugh, totaling 286 yards on 15 completions.
Seifert comment:
I did not cover that game. Neither did Sando nor Clayton. But 286 yards in those days was an elite figure.
14. St. Louis Rams quarterback Kurt Warner vs. the Minnesota Vikings in the 1999 divisional game
Performance:
Warner completed 27 of 31 passes for 391 yards and five touchdowns in his playoff debut.
Seifert comment:
I covered that game and Warner was as surgical that day as he was against the Packers 10 years later. The Rams scored 35 unanswered points.
11. Packers quarterback Aaron Rodgers vs. Atlanta Falcons in 2010 divisional game
Performance:
Rodgers completed 31 of 36 passes for 366 yards and accounted for four touchdowns.
Seifert comment:
I covered that game, and
as we discussed at the time
, it was one of the greatest playoff performances by a quarterback in NFL history. I'm glad our panel didn't forget about it.
9. Washington Redskins running back John Riggins vs. Vikings in 1982 divisional game
Performance:
At 33, Riggins got 37 carries and rushed for 185 yards.
Seifert comment:
These days, there aren't many NFL running backs still in the game at 33, let alone having that kind of impact in a playoff game.
Like any list or ranking, this one is subjective. Your thoughts on inclusions and exclusions are welcome below.
November, 16, 2011
11/16/11
1:25
PM ET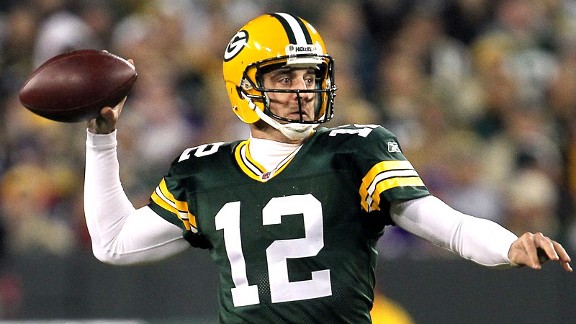 Jonathan Daniel/Getty ImagesAaron Rodgers continued his MVP-type season Monday with four TD passes against Minnesota.
LambeauOrWrigley
offered some perspective through the mailbag that I thought should be shared with the group. As you know, I'm always in favor of letting someone else do the heavy lifting around here.
As the
chart shows
,
Green Bay Packers
quarterback
Aaron Rodgers
has the second-highest career completion percentage in NFL history, based on a minimum of 1,000 attempts. If he continues at his current pace, Rodgers will leapfrog
Chad Pennington
and finish the 2011 season atop this list.
(That's provided
New Orleans Saints
quarterback
Drew Brees
, whose career completion percentage trails Rodgers' by .064 percent, doesn't exceed his current 2011 pace of 70.9 percent completions over his final six games.)
It's only fair to point out that accuracy has elevated substantially over the past decade in the NFL, a product both of West Coast offenses and rules changes that have favored the passing game. A
look at the extended list
reveals that 18 of the 20 most accurate quarterbacks in history have played within the past three seasons. Two Hall of Famers are the only exceptions:
Steve Young
and
Joe Montana
.
I know you're probably bored with it, but I keep going back to Rodgers' rare combination of high completion percentage and yards per attempt (YPA). According to the
always-fantastic database at pro-football-reference.com
, Rodgers has the third-highest average per attempt in NFL history (minimum 1,000 attempts). He is the only player among the top four on this list who played after 1960:
1. Otto Graham (8.98 YPA)
2. Sid Luckman (8.42)
4. Norm Van Brocklin (8.16)
YPA is one measure of downfield passing. It stands to reason that the more downfield (i.e. low percentage) passes a quarterback throws, the lower his completion percentage will be. Graham, Luckman and Van Brocklin all had career completion percentages less than 56 percent.
For those who don't appreciate the numbers, consider a more detailed way of saying that Rodgers is putting together one of the best and historically rare seasons -- and careers -- for a quarterback in the history of the NFL. Plus, who wouldn't want to find a way to get Aaron Rodgers, Steve Young, Joe Montana, Drew Brees, Otto Graham, Sid Luckman and Norm Van Brocklin into a single NFC North blog post? Thanks again to LambeauOrWrigley.
September, 27, 2010
9/27/10
4:28
PM ET
The
death of Pro Football Hall of Fame quarterback/kicker George Blanda
brings to mind the earliest part of his professional career with the Chicago Bears. Here's how the folks at the Hall of Fame Players Association encapsulated that part of Blanda's life:
At Kentucky, George had become a fine linebacker, an outstanding punter and place-kicker, and developing quarterback when George Halas drafted him as a 12th round pick for the Chicago Bears. Chicago already had some big name quarterbacks on its roster such as Sid Luckman, Johnny Lujack and Bobby Layne. Blanda signed with the Bears when Halas offered him a $6,000 contract and a $600 bonus.
"What could I do?" George remembers, "That's an awful lot of money for a 21 year-old kid who's never had anything in his life."
Widely recognized as one of the truly great competitors sports has known, Blanda was also a student of the game he played. In his first pre-season game for the Bears he took over in the third quarter of a 0-0 game and promptly threw a 40-yard TD strike to George McAfee on the first play and had a seven for seven day and a 34-0 win.
This performance was not, however, the sign of things to come. Except for the 1953 and 1954 seasons, Blanda was never a regular for the Bears. He was enjoying great success in 1954 when a shoulder injury kept him out of the last four season games. This was the only time in his stellar career that he had to miss a game due to injury. The Bears had kicking in mind for the 31-year-old Blanda, but George balked at the offer and retired (for the first time) in 1959.
Our thoughts are with Blanda's family.
December, 21, 2009
12/21/09
1:45
PM ET
After
Chicago's 31-7 loss at Baltimore
, here are
three (mostly) indisputable facts I feel relatively sure about:

The popular reaction to general manager Jerry Angelo's pregame interview was that he wouldn't guarantee coach Lovie Smith's return in 2010. But how do we know that the decision will be Angelo's to make? Isn't it possible that he's is also under heavy scrutiny by the McCaskey family for his role in the Bears' failure to reach the playoffs in the past three seasons? And if the McCaskeys decide to fire Smith, would they let Angelo pick the new coach? The only thing I can really take from Angelo's statements is that the Bears' leadership structure could be a fluid situation when the season ends.
The hits keep coming for quarterback Jay Cutler. His trio of interceptions gives him 25 on the season, which -- according to the Elias Sports Bureau -- is the highest total by a non-rookie in his first season with a new team since Ken Stabler threw 28 interceptions for Houston in 1980. And Cutler is only seven interceptions away from setting a new Bears record for most in a season, currently held by Sid Luckman (31 in 1947). Cutler is truly getting worse with every passing game in 2009. (Pun intended.)
It's pretty obvious that receiver Devin Aromashodu is starting to rival tight end Greg Olsen as Cutler's favorite receiver. Cutler targeted Aromashodu on 10 throws, twice as many as the next most-targeted receiver. When a quarterback starts forcing the ball to a receiver who only ascended to a regular role two weeks ago, it speaks to his satisfaction with the rest of the group. And, while we're at it, did anyone NOT predict Cutler would throw to Olsen on the failed fourth-down in the second quarter?
And here is
one question I'm still asking:
Have we seen defensive end Adewale Ogunleye in a Bears uniform for the last time? Ogunleye fractured his left foot Sunday and would seem to be out for the season. With his contract set to expire this offseason, will the Bears re-sign him? He'll be 33 next August and hasn't had a double-digit sack season since 2005. Ogunleye's departure has seemed likely ever since the Bears sent a second-round draft pick to Tampa Bay for defensive end Gaines Adams. Perhaps Ogunleye injury will speed up the transition.