NFC North:

Stanford Routt
November, 9, 2012
11/09/12
2:50
PM ET
Two very interesting off-field stories emerged Friday as the
Detroit Lions
completed preparation for Sunday's game at the
Minnesota Vikings
.
Free agent cornerback
Stanford Routt
, released in a surprise earlier this week by the
Kansas City Chiefs
, visited and worked out for Lions officials. Meanwhile, the Lions and receiver
Calvin Johnson
painfully tried to get on the same public page
about his physical condition. We'll take the stories in that order.
[+] Enlarge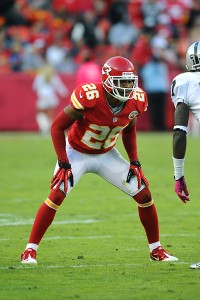 John Rieger/US PresswireStanford Routt was released by the Chiefs before getting through one season of a three-year deal.
Routt has been released by two teams in the past nine months, and the Chiefs' decision to part ways with him -- not long after signing him to a $19 million contract over three years -- raises a red flag. But in the context of Week 10, when acquired players rarely make an impact of any kind, signing Routt would be a no-brainer for the Lions.
They have already lost rookie cornerback
Bill Bentley
for the season, leaving them with
Chris Houston
,
Jacob Lacey
and rookie
Jonte Green
as their top three corners. Veteran
Drayton Florence
could return soon from a broken arm, but the Lions are still one injury away from a really thin situation.
Routt left the Lions' facility without a contract, and it's possible he will continue meeting with teams before determining a landing spot. That's a standard approach for veterans who are midseason free agents. That can't be said for the unusual situation between the Lions and Johnson, however.
As you probably know, Johnson said earlier this season that he suffered a concussion on a hit by the Vikings'
Chad Greenway
on Sept. 30 at Ford Field. The Lions repeatedly denied his self-diagnosis, saying he passed all tests administered immediately after the hit and in the following days.
Johnson, however, had not recanted his statement since the Lions' denial, and on Thursday he added another layer to his health status. Asked about several high-profile drops this season, Johnson said he suffered nerve damage against the Vikings, making it more difficult than usual to clasp the ball.
The Lions had never acknowledged such an injury on their daily injury report, and on Friday they issued a statement -- along with one from Johnson -- that said he suffered a "stinger," not nerve damage. The Lions also reiterated that Johnson was never diagnosed with a concussion, with which Johnson agreed.
In his statement, Johnson said in part: "I am aware that I did not suffer a concussion in our game against the Vikings earlier this year. I misused the terms 'nerve damage' and 'concussion.'"
I guess I can understand Johnson confusing "nerve damage" with a "stinger," mostly because they're closely related and also because the distinction is irrelevant relative to his larger point.
A "stinger"
is a non-medical description for an injury to nerves in the shoulder. The Mayo Clinic refers to
as a brachial plexus injury
, which is defined as an injury to "the network of nerves that sends signals from your spine to your shoulder, arm and hand."
So whether Johnson had "nerve damage" or a "stinger," it stands to reason the injury could impact his ability to catch the ball.
The concussion issue seems more complicated, especially because we are asked to believe that a player of Johnson's intelligence misused the term "concussion." There is of course a difference between a "concussion" and being hit hard, and I suppose Johnson might not have drawn that medical distinction.
I understand why the Lions or any other team would be sensitive to the idea that a player was either allowed to return to a game with a concussion, or was misdiagnosed in the first place, and that's assuredly why the Lions felt compelled to issue this statement. Why the Lions had to convince Johnson he had not suffered a concussion can be explained only by information we don't have at the moment. But something tells me Johnson won't be commenting much on his physical condition again anytime soon.
November, 9, 2012
11/09/12
7:00
AM ET
We're Black and Blue All Over:
As he pushes through a physically demanding season, Detroit Lions receiver Calvin Johnson hasn't been shy about acknowledging ailments that hadn't previously been made public.

Thursday,
Johnson told reporters
that he suffered nerve damage in hits he received during a Week 4 loss to the Minnesota Vikings. The ailment has made it difficult for him to grip the ball at times, he said, presumably explaining why he has been credited with anywhere between three and eight drops this season, depending on the statistical service you reference.
"Taking those hits, man, they're real violent," Johnson said. "They definitely have a lot of lingering impact. ... Stuff shooting down your arms and stuff like that."
Earlier this season, Johnson also said he suffered a concussion in that game. The Lions have denied that suggestion, saying he passed all tests during the game and in succeeding days. Finally, Johnson has been dealing with a knee injury that has kept him from practicing over the past two weeks.
Johnson is a smart guy and certainly not prone to saying something he meant to keep private. I don't necessarily think he's making excuses for a season in which he has scored only one touchdown. More simply, he is among a handful of NFL players -- with superstar status and a monster guarantee in his contract -- who are probably less encumbered by their teams' desire to keep injuries secret.
When production goes down in the NFL, it's often due to injuries even when the player doesn't miss game time. That's just a fact of life in this league. Usually, the players receive blame from reporters and fans who don't know the extent of their injuries. In this case, Johnson is in a position to provide us with more context, and he has done just that.
Continuing around the NFC North after a long introduction:
February, 20, 2012
2/20/12
4:39
PM ET
As we noted from the start
, there was never any indication that free-agent cornerback
Stanford Routt
would land with one of the NFC North's cornerback-deficient teams. But could Routt's
decision to sign
with the
Kansas City Chiefs
put another player on our division map?
Conventional wisdom suggests the Chiefs won't break the bank on re-signing cornerback
Brandon Carr
, 25, who has started every game for them in the past four years. I'm not sure if that's a safe bet, considering the Chiefs had a
monstrous $67 million in salary-cap space
before Routt signed a three-year deal that will pay him $11 million in 2012.
In other words, the Chiefs can keep Carr if they want him. We'll soon find out if they do. If he reaches the open market, however, Carr will be an attractive option for the
Minnesota Vikings
, who need multiple layers of help at the position, and the
Chicago Bears
, who might be looking for an upgrade alongside
Charles Tillman
. It's hard to imagine the
Detroit Lions
finding the salary-cap space to sign Carr, assuming they retain defensive end
Cliff Avril
in one way or another, but stranger things have happened.
February, 10, 2012
2/10/12
10:30
AM ET
We noted Thursday
that NFL teams will face tight salary cap situations for the first time in years. A few hours later, the cap-related cuts started coming -- leading with the
Oakland Raiders
'
decision to release
cornerback
Stanford Routt
.
There were cash considerations in Routt's departure as well; he was reportedly due a $5 million bonus if he was on the Raiders' roster Friday. But Routt is a talented player who has six interceptions and 28 defensed passes in the past two seasons, and almost immediately you began filling the mailbag with questions about potential connections with NFC North teams.
Nick of Columbus, Ohio,
wrote: "What might the chances be of [
Green Bay Packers
general manager] Ted Thompson going for another Oakland free agent cornerback? Maybe they could pair him with
Tramon Williams
on the other side, and move
Charles Woodson
to safety if
Nick Collins
still needs time, or if his career ends.
You could make a reasonable argument that all four NFC North teams have a need at cornerback, if in fact the Packers move Woodson to safety -- which is by no means a certainty. The
Chicago Bears
ended last season with uncertainty opposite
Charles Tillman
, the
Minnesota Vikings
had one of the worst pass defenses in NFL history and the
Detroit Lions
are facing the pending free agency of starter
Eric Wright
.
Generally speaking, I'm not going to post an item on the chances of every available veteran landing in the NFC North -- unless there is a reason to think it might or should happen. But this is the start of the speculation season, and I figured we should celebrate.
Alas, two non-division teams have jumped to the front of the line for Routt's services. He has visits scheduled with the
Buffalo Bills
and
Tennessee Titans
. We'll let you know if an NFC North team comes into play for Routt or any other free agent.
*Update:
The Vikings are one of five teams that have inquired about Routt, according to ESPNDallas.com's Calvin Watkins. The others, including the Bills and Titans, are the Kansas City Chiefs and Dallas Cowboys. At this point, Routt's only scheduled visits are with the Bills and Titans.