NFC North:

Star Lotulelei
April, 27, 2013
4/27/13
12:05
PM ET
EDEN PRAIRIE, Minn. -- In their final mock drafts of 2013, ESPN analysts
Mel Kiper Jr.
and
Todd McShay
each projected Florida defensive tackle
Sharrif Floyd
to go No. 3 overall to the
Oakland Raiders
. Kiper and McShay were not alone. Floyd was roundly expected to be a top-5 pick and almost certainly the first defensive tackle selected.
Instead, as we all know, Floyd was still available at No. 23, when the
Minnesota Vikings
scooped him up with a mixture of glee and disbelief. General manager Rick Spielman said he ran through 1,000 first-round scenarios before the draft, and Floyd was gone by No. 23 in all of them.
So what happened? Why did the league draft two other defensive tackles ahead of him? Let's consider a few explanations.
[+] Enlarge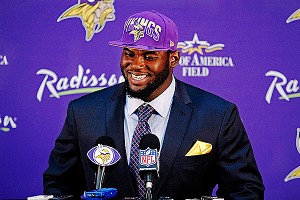 Bruce Kluckhohn/USA TODAY SportsGM Rick Spielman said the Vikings were all smiles when Sharrif Floyd was available with the No. 23 overall pick in the NFL draft.
Spielman suggested the early run on offensive linemen and edge pass-rushers pushed down interior players like Floyd. Indeed, 12 of the first 22 picks fell into one of those categories. That thought, of course, doesn't explain why the
New York Jets
chose defensive tackle
Sheldon Richardson
at No. 13 and the
Carolina Panthers
grabbed
Star Lotulelei
at No. 14.
We could note that the Raiders, Floyd's presumptive destination at No. 3, traded out of the pick and landed at No. 12. But even there, the Raiders passed on Floyd to select cornerback
D.J. Hayden
.
If there were a previously-unknown character flaw or failed drug test, it hasn't been reported. Spielman, in fact, said Vikings representatives met before the draft with Floyd "numerous times" and that he "fell very clean."
Here are two more likely explanations, one of which has incredibly been part of our post-draft discussion for several years now. First, for an interior disruptor, Floyd wasn't productive from a statistical standpoint last season at Florida. Second --
and yes
, I'm going
there again
-- Floyd's arms measured below average at the NFL scouting combine in March.
We'll start with his production first. Floyd had
only one regular-season sack last season before notching two more
in the All State Sugar Bowl.
As we've noted
in the case of
Green Bay Packers
linebacker
Clay Matthews
, relying on college production is a tricky business.
Here is some additional context: According to ESPN Stats & Information, two of those three sacks came against double-teams when the Gators were rushing only four men. That suggests Floyd drew plenty of attention from opposing offenses. As a result, nine other players on Florida's defense had at least two sacks, tied for the third-most in the FBS.
Meanwhile, Floyd's arms
measured 31 3/4-inches in February
. Hard-core NFL personnel men consider that short, and it's a presumed deficiency when facing longer-armed offensive linemen because of the leverage issues it creates.
I suppose if you're drafting a player in the top 5, you want him to be as close as perfect as possible from a physical and résumé standpoint. Floyd, in retrospect, was not. But I don't think anyone in Minnesota is worried. A disruptor can do his work in many ways while falling short in sack totals (and arm length).
February, 26, 2013
2/26/13
1:30
PM ET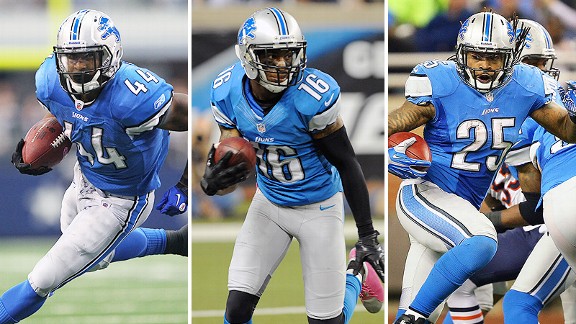 USA TODAY SportsJahvid Best, left, Titus Young, center, and Mikel Leshoure are among the recent draft picks by the Detroit Lions who have had their careers impacted by injuries and/or off-the-field issues.
The NFL's cyclical intent is never more apparent than draft time, when the worst teams from the previous season line up to select the best players entering the league. It is a time of renewed hope and realistic dreams for a better tomorrow. For the
Detroit Lions
, this year is also reason for reflection, nerves and perhaps some skittishness as well.
The Lions have the No. 5 overall pick when many of the draft's top prospects face physical or character issues. The situation isn't necessarily unique, but it draws further scrutiny to a franchise that has experienced a debilitating mix of bad luck and poor decisions in its recent drafts.
The Lions have drafted 29 players over the four-year tenure of general manager Martin Mayhew. Of that group, 11 -- about 38 percent -- have had their careers significantly sidetracked by injuries or disciplinary issues. That list, detailed in the chart, doesn't include quarterback
Matthew Stafford
, who missed 19 of his first 32 games because of shoulder injuries.
In many cases, those players had predictive histories. Receiver
Titus Young
had been suspended for behavior issues at Boise State. Tailback
Jahvid Best
suffered a violent concussion on the final play of his college career. Other setbacks, including running back
Mikel Leshoure
's ruptured Achilles tendon, could not reasonably be expected.
Still, as a whole, the Lions' recent draft performance is a worrisome backdrop for 2013. Utah defensive tackle
Star Lotulelei
, the draft's No. 3 prospect
according to Scouts Inc.
, was diagnosed with a heart condition at the NFL scouting combine. Linebacker
Jarvis Jones
, who might be the draft's top pass-rusher, was forced to transfer from USC to Georgia
because of spinal stenosis
, a narrowing of the spinal cavity. Meanwhile, Alabama's
Dee Milliner
-- the draft's top cornerback -- is
scheduled for surgery
to repair a torn labrum. Another top linebacker, Georgia's
Alec Ogletree
, has been
suspended for a failed drug test and arrested for DUI in the past year.
Medical and character evaluations are a part of every draft class. But if you're the Lions, and your recent list of issues is as long as the one in the chart, you have less room for error. With only six draft choices at their disposal at the moment, the Lions might have to reconsider their risk tolerance.
"Honestly," said Lions coach Jim Schwartz. "We've had guys that have had a history of injuries that got injured. We've had guys that have had a history of injuries that have made it through without getting injured. Injuries are a part of the landscape. And if you think because a guy hasn't been hurt before that he won't get hurt, you might be mistaken. If you discount a player because he's been hurt. …"
I can fill in where Schwartz left off. If you discount a player because he's been hurt, you're dramatically and unnecessarily limiting your pool of candidates.
"I think the biggest thing with injuries," Schwartz said, "is probably identifying things that are chronic, things that aren't going to get any better, things that he can rehab."
In 2013, the concussions Best suffered while playing at Cal would be considered chronic. In 2010,
as we discussed last fall,
they were not. Generally speaking, though, NFL people will tell you that players who were routinely injured in college will be routinely injured in the NFL. Offensive lineman
Jason Fox
, whose knee problems at Miami carried over to his rookie season in 2010, is an example. (The Lions hope Fox can compete for a starting job in 2013.)
Even so, injuries are a much more scientific evaluation than the type of character judgments the Lions have been forced to make in recent years. Four of the five players they drafted in 2011, for example, experienced disciplinary issues over the following year, from defensive tackle
Nick Fairley
's arrests to Young's insubordination to Leshoure's drug suspension.
Young lasted only two seasons before the Lions released him this month, but at the combine Mayhew said that was "a very unique situation" and added that he is "confident" in the process that led to drafting him. He also noted that new personnel executive Brian Xanders has helped make some changes in the Lions' combine preparation and interview process.
In the end, the Lions are almost certain during this draft to face the same type of decision they did with Fairley, Young, Best, Fox and others. And I agree: A risk-free approach isn't any more advisable than a high-risk one. But the Lions need to improve their batting average, and their high-profile position in this draft means no one will miss the result.
May, 3, 2012
5/03/12
4:00
PM ET
Earlier this week
, we brought you a quick look at Mel Kiper Jr.'s top 2013 draft prospects. Taking it to another level, ESPN analyst
Todd McShay has posted the first official 2013 mock draft

.
McShay acknowledges one of many obvious pitfalls here: We have no clue what the 2013 draft order will be. So to me, the best way to look at this exercise is to consider it an early rendering of McShay's top 2013 prospects now that schools have wrapped up spring practices.
You need an Insider subscription to see the complete file. I'll give you a glimpse at McShay's top five prospects based on their appearance in this draft, a list that is especially helpful because it doesn't include any of the quarterbacks -- USC
Matt Barkley
, Virginia Tech's
Logan Thomas
and Oklahoma's
Landry Jones
-- who figure to push their way up this list in the coming months.
So consider this list the best five non-quarterback prospects with 11 months remaining before they could be drafted:
*Underclassman who would need to declare for the draft