October, 5, 2011
10/05/11
1:10
PM ET
On Monday
, we noted that
Minnesota Vikings
receiver
Bernard Berrian
took to Twitter in defense of his low production this season. When a follower told him he was "wide open at least 5 times," Berrian responded: "been like that the last 4 yrs."
[+] Enlarge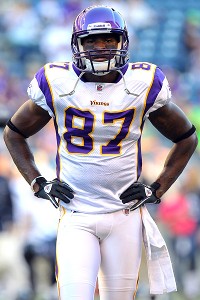 Otto Greule Jr./Getty ImagesSince joining the Vikings in 2008, Bernard Berrian has caught roughly 50 percent of the passes thrown his way.
One of the fans who challenged Berrian on that point was a Minnesota state representative and a co-author of the team's stadium finance bill. That fact was dramatic but ultimately irrelevant. What concerned me was Berrian's implication that getting open is the extent of his job as a receiver, and beyond that, his production is in the hands of someone else -- presumably the quarterback or the play-caller.
So with help from several resources, I sought out some key facts that would help us understand whether Berrian is justified or if he needs to take more ownership for catching only two passes over the Vikings' first four games.
First, it should be noted that Berrian has been on the field more often than any Vikings wide receiver. According to
Pro Football Focus
, he has played on 182 of the Vikings' 248 snaps.
Michael Jenkins
is next with 175 plays,
Percy Harvin
has 141 and
Devin Aromashodu
has 36.
On those 182 plays, Berrian has been targeted on 13 passes. ESPN Stats & Information doesn't assign a target when one isn't clear, making its number different from press-box statistics that say Berrian has been targeted 15 targeted times. Regardless, Berrian has caught only two of the 13, or 15 percent.
The top NFL receivers typically catch between 60 and 70 percent of the passes thrown their way, according to a spreadsheet I viewed from ESPN Stats & Information.
New England Patriots
slot man, for example,
Wes Welker
has caught 70 percent this season.
Houston Texans
receiver
Andre Johnson
is at 71 percent.
Steve Johnson
of the
Buffalo Bills
is at 66 percent and the
San Diego Chargers
'
Vincent Jackson
is at 65 percent.
Admittedly, 13 targets on 182 plays is a very small number. There are 84 NFL players who have been targeted more than Berrian this season. But this is where his career history, at least with the Vikings, needs to be reviewed for context.
Katie Sharp of ESPN Stats & Information provided the following chart. It shows that in the four years Berrian was referring to, he's caught 52 percent of the passes thrown his way. Since the start of the 2010 season, that number is 45 percent.
There are many factors that go into how frequently a receiver should catch the passes thrown his way. Obviously, quarterback accuracy is one of them. So is the route a receiver is asked to run; a short route is more likely to be completed than one that takes a receiver 30 yards downfield.
But there are some factors that a receiver can control. Does he need the ball delivered precisely to his hands? How good is he at catching imperfect passes? Can he win a physical fight with the defender? To what extent can he twist his body or shield defenders or maintain control after a big hit?
All of these factors go into the pot when evaluating Berrian's past four years. He obviously hasn't gotten as many passes as he would have liked. But over that stretch, he's worked with four different veteran quarterbacks:
Gus Frerotte
,
Tarvaris Jackson
,
Brett Favre
and
Donovan McNabb
. Have they all inexplicably looked elsewhere when he Berrian was open, presuming he has been? Or did Berrian's extended history of catching about half of the passes thrown his way play a role in their (possibly subconscious) decision-making?
Berrian isn't totally at fault for his two-catch season. McNabb has under-and overthrown him on a number of occasions already. But I hope Berrian doesn't think that getting open is the sole factor in a quarterback throwing his way. That's only half of the battle, and perhaps Berrian hasn't won enough of the other half to justify additional attention. Just a thought.
November, 9, 2010
11/09/10
1:00
PM ET
»
NFC Decisive Moments
:
East
|
West
|
North
|
South
»
AFC
:
East
|
West
|
North
|
South
In the span of 13 seconds on the game clock, cornerback
Tim Jennings
flipped the fourth-quarter momentum of Sunday's game at Rogers Centre and sent the
Chicago Bears
on the way to their fifth victory of the season.
The Bears trailed the
Buffalo Bills
19-14 with 9 minutes, 16 seconds remaining in the game. The Bills had taken over possession at their 29-yard line when quarterback
Ryan Fitzpatrick
spotted receiver
Steve Johnson
with a step on Jennings down the right hashmark.

Jennings had played a double move too aggressively, and although safety
Chris Harris
was sprinting to help, Johnson was open for a big play. Fitzpatrick's pass was a bit late and slightly underthrown, however, and that's all Jennings needed to make a leaping and juggling interception at the Bears' 38-yard line.
Had Johnson caught the ball, the Bills would have been in position to take at least an eight-point lead. Instead, Jennings landed on his feet, turned upfield and ripped off a 39-yard return down the left sideline.
Four plays later, Bears quarterback
Jay Cutler
threw a game-winning 2-yard touchdown pass to receiver
Earl Bennett
.
"I was most definitely beat on that play,"
Jennings said
. "It was a man-to-man call, and [Steve Johnson] ran a double move. I just wanted to use my safety as help so I stayed on the outside because I had inside help. He threw it inside, so I was able to run up under him and make a play on the ball.
"I had to play it kind of aggressive, because I didn't want to give up the hitch route, so I played the first move. He ran the double move and it was a great play call, but I just played my fundamentals, stayed outside and he threw it where I could make a play on the ball."
It was the decisive moment of Sunday's game.
November, 8, 2010
11/08/10
10:00
AM ET
After the Chicago Bears' 22-19 victory Sunday over the Buffalo Bills, here are three issues that merit further examination:
Kevin SeifertFollowing their win over Buffalo, the Chicago Bears take their turn in the examination room.

There is a line of thinking in the NFL that suggests quantity of runs is more important than quality. I don't generally agree, but for this offense I think it makes some sense. Offensive coordinator Mike Martz almost needs a pregame quota to ensure balance and, more importantly, that he doesn't rely too much on a passing game that has demonstrated it can't carry this offense alone. On Sunday, tailbacks Matt Forte combined for 62 yards on 24 carries. No one is going to get excited about those numbers. But if nothing else, those carries lessened the pressure on quarterback Jay Cutler -- who coincidentally (or not) had a nearly mistake-free game. The Bears also converted 58 percent of their third-down attempts, another likely byproduct of balanced play calling.

I had to smile when Chester Taylor scored on a 1-yard run in the second quarter. The Bears would be wise to continue using him in that role. I'm sure they're well aware of the statistic we discussed last week: Entering Sunday's game, Forte had scored on only four of 44 goal-to-go rushes since the start of the 2009 season. Of all the things he does well, hard running near the goal line doesn't rank at the top of the list. Taylor is much more suited for that role. I'm also all in favor of every opportunity the Bears have to put Forte and Taylor in the backfield at the same time.

It was also nice to see tight end Greg Olsen continue to return to the offensive flow. He has now caught six passes over his past two games after going without a catch in his previous two outings. It's been a stop-and-start process as Olsen tries to penetrate a scheme that hasn't always emphasized tight ends in the past, and often you can see it's a work in progress. His 4-yard touchdown reception was almost broken up -- by teammate Earl Bennett. Olsen told reporters that Bennett thought he was a defender on the play. No, sometimes the tight end is actually the intended receiver. Even in this offense.
And here is one issue I don't get:
I'm not sure if there should be concern about a defense that gave up 340 yards to the Bills offense, while allowing 10 of 16 third-down conversions, or if it has earned the faith that it will consistently make game-saving/clinching big plays. On Sunday, it was cornerback Tim Jennings leaping for a fourth-quarter interception on a play he was trailing Bills receiver Steve Johnson by several steps. Had Johnson made the catch, he probably would have made it at least to the Bears' 30-yard line and put the Bills in position to add to a 19-14 lead. Instead, Jennings returned it to the Bills' 23-yard line to set up the Bears' winning score. If your defense regularly can make those kinds of plays, yardage totals are pretty insignificant.