NFC North:

Steve McLendon
November, 18, 2013
11/18/13
6:15
PM ET
ALLEN PARK, Mich. -- Detroit coach Jim Schwartz saw an opening in the coverage, saw something he liked when
Sam Martin
,
David Akers
,
Don Muhlbach
and the rest of the field goal protection unit ran onto the field in the fourth quarter Sunday.
So Schwartz made a decision. His team would fake the field goal and send Martin scampering up the right side on a slick, muddy Heinz Field. It is a decision and a play that has been scrutinized over and over again over the past day with his team up four points, 27-23, before losing, 37-27.
Martin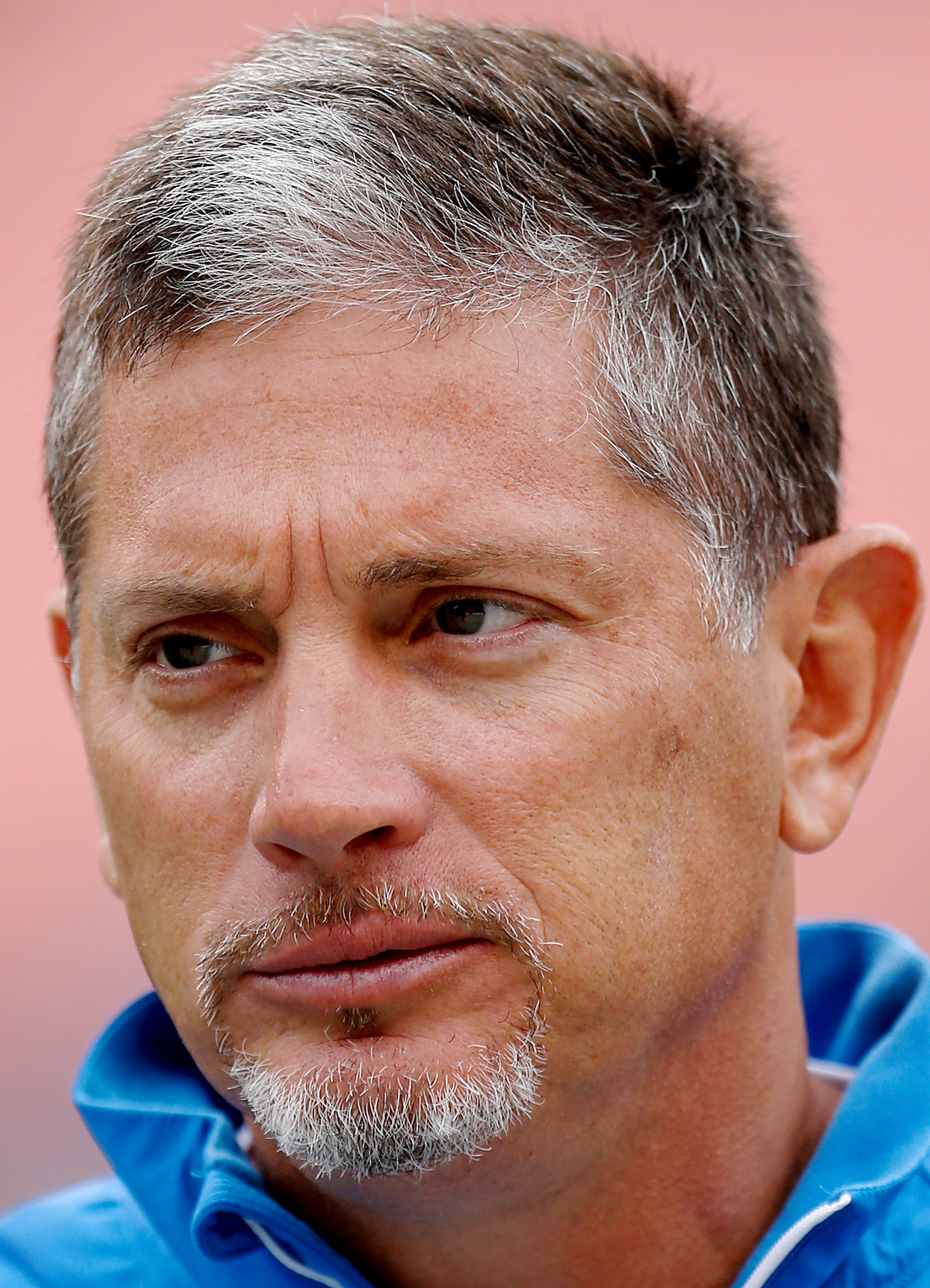 Schwartz
And a day later, he'd do it all over again.
"I just know what goes on in our locker room," Schwartz said. "Everybody knows why we called it and why we practiced it and everything else. We really don't care what anybody else's feeling is.
"We got the look we wanted. We thought it was there. We didn't execute it great. Some guys executed it really well.
Larry Warford
made a great block. We had a chance right there to really put a dagger in that game and go up 11."
So, to be clear, the play was called as a potential touchdown, not just an attempt to gain 5 yards for a first down. That, Schwartz seemed to indicate, would have been a minimum.
So what happened?
Detroit lined up for the field goal on the right hash mark and Pittsburgh was heavily stacked to the left side with six guys lined up on the line. There was a gap in the middle and then four players lined up on the near side, the right side, where Martin would eventually run.
The safety,
Ryan Clark
, was initially lined up on the near side 5 yards off the line of scrimmage. Right before the snap, he sprinted to the far side to put seven players over there and four where Martin would try to go.
After the game, Clark would approve of Schwartz's call.
"It was drawn up extremely well," Clark said. "But when you've got guys that hustle to the ball on your front line the way we do, that's how you stop things like that."
Martin had a fairly large hole at first and could have easily reached the first down marker at least.
Dominic Raiola
pushed his man outside to give Martin a hole from the right professional hash out past the college hash marks.
At the same time, Warford provided a clear path to run through ahead of Martin. He ran right at cornerback
William Gay
, who was waiting to make a play, and blocked him well.
"It's one of those things that it was there for a second and he got through," Akers said. "That's why you play the game. He made a good play and they were able to defend it."
At the same time, Muhlbach and tackle
Riley Reiff
, who were blocking in the middle of the formation, had their assignments engage into them and then pull off immediately once the fake happens.
Steve McLendon
pulled off Muhlbach and
Cameron Heyward
off of Reiff -- Reiff and Muhlbach ended up next to each other when Warford pulled across the line -- and ran at Martin, who was trying to squeeze through the line.
McLendon and Heyward appeared to hit Martin almost simultaneously 3 yards past the line of scrimmage and 2 yards behind the first down marker.
"I got hit by a 350-pound man," Martin said. "I don't think I had the first down, but regardless, that guy made a great play. You have to give him credit. When you looked at initially, it was a big hole."
Martin fumbled almost as soon as he was hit by McLendon and the ball squirted forward to the 3-yard line, where Clark recovered it.
In retrospect, with a day to think about it, Schwartz said he would not change his mind on the call. He would do it again.
And don't be surprised if he went for something similar again in the future. Schwartz has checks and calls for all special teams scenarios.
"I will say this. If we see something next week where we think we have an opportunity, we're not going to be afraid to do it," Schwartz said. "I think that's got to be a mentality thing, you can't all of a sudden be conservative just cause a call didn't work.
"The reasoning behind it was good. I think the situation was good. I think we had an opportunity to really put a dagger in that game, make it an 11-point game at that point and we didn't get it done."
April, 18, 2013
4/18/13
3:11
PM ET
Steve McLendon
, we had barely heard of you, and now hardly knew you.
McLendon, a backup defensive lineman for the
Pittsburgh Steelers
, spent Wednesday
taking a visit at Lambeau Field as a restricted free agent.
Thursday, the Steelers signed McLendon to
a three-year contract
worth a maximum of $7.25 million.
Perhaps McLendon used the
Green Bay Packers
as leverage against the Steelers. Maybe the Packers decided after the visit not to pursue an offer sheet. The most we can take out of this episode is the Packers genuinely want to upgrade their defensive line this offseason.
The Packers' cautious approach to free agency makes every visit noteworthy, and McLendon joined at least one other defensive lineman,
Chris Canty
, as veteran visitors to Green Bay. The Packers don't host such visits for fun. It's fair to read some level of interest into each one.
April, 18, 2013
4/18/13
8:10
AM ET
We're Black and Blue All Over:
Wednesday was a busy day for the Green Bay Packers, and not just because they made linebacker Clay Matthews one of the
most highly-paid defensive players in the NFL
. They also took the rare step of hosting a restricted free agent, Pittsburgh Steelers nose tackle Steve McLendon, on a visit at Lambeau Field.

(A number of media outlets reported the news, including
the Milwaukee Journal Sentinel
.)
The deadline for signing restricted free agents to an offer sheet is Friday, and the Steelers put McLendon in a favorable position to depart. First, they issued him a low tender that would not require any draft-choice compensation for another team to sign. Also, as
AFC North colleague Jamison Hensley
notes, the Steelers are down to $800,000 in salary-cap space and would have to make some changes to match any offer the Packers might make.
McLendon has started only one game in his three-year career but apparently was set to take over for veteran Casey Hampton this season. The Packers have a well-known desire and need to beef up their defensive line this offseason. We'll let you know if the Packers ultimately make him an offer.
Continuing around the NFC North:

NFC NORTH SCOREBOARD
Friday, 8/22
Saturday, 8/23