April, 28, 2014
Apr 28
1:35
PM ET
Every now and then during offseason workouts,
Carolina Panthers
center
Ryan Kalil
will get a text from recently retired left tackle
Jordan Gross
. The message usually is accompanied with a picture from the golf course, the lake or some other fun activity.
"Typical Gross,"Kalil said last week.
What's not typical for Kalil is being in offseason workouts without Gross, wide receiver
Steve Smith
and others that no longer are a part of the Carolina roster. They have either retired, like Gross, were released, like Smith, or were not re-signed.
[+] Enlarge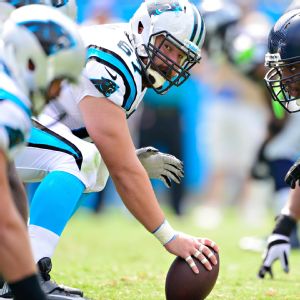 Bob Donnan/USA TODAY SportsRyan Kalil said he likes the competition that is occurring in OTAs.
As Kalil said, it's strange. It's also accepted.
Parents often go through a period of mourning, otherwise known as empty nest syndrome, when children leave home. Sports fans go through a similar grieving period when star players leave for other teams or retire.
Players don't have that luxury. To spend time debating or agonizing over the loss of a teammate, even if that teammate is a good friend like Gross and Kalil were, is time not spent getting better.
"That's just how it is,"Kalil said. "A lot of players, we joke that if you can cut
Peyton Manning
you can cut any of us. And it's true. It's part of the business and I don't envy those decisions that they have to make upstairs."
But while it feels strange for Kalil and others to see a room full of new faces during organized team activities, they are focused on moving forward. They are trying to do what it takes to assure the group is in position to become the first to record consecutive winning seasons in team history.
A big part of that is competition. The changes, for better or worse, have created more competition than Kalil can remember in any of his seven seasons at Carolina.
It's something Kalil has embraced and believes will be "really healthy for this team.''
Instead of the complacency that sometimes comes from having veterans back in key positions, the release of a 13-year player like Smith sends the message that no player's future is safe.
"Everybody's trying to make a good impression with coaches, with some of the established guys, and that's something I haven't felt around here in a while that I think is real exciting for this team,"Kalil said.
Kalil saw this initially in the weight room with players "sizing themselves up with other guys and established guys.''
There's not a sense of panic like many fans have expressed since Smith was cut and the team's next three wide receivers were allowed to sign elsewhere.
There's a sense of opportunity for others to step forward. The left tackle position, for example, has created an opportunity for right tackle
Byron Bell
and right guard
Nate Chandler
to compete for one of the more high profile jobs on the team.
"He's been busting his butt this offseason," Kalil said of Chandler. "You can tell he's put on some weight just to prepare for that.''
Kalil is excited about the prospects along the line, including the possibility of drafting a tackle with the 28th pick. He also made a plea for the team to re-sign left guard
Travelle Wharton
, who is contemplating retirement if Carolina's doesn't make an offer.
"I'd be more excited if we had Travelle coming back," Kalil admitted. "I'd feel good about having a young guy next to an older guy like that.
"So if you can write, 'Travelle, Ryan wants to know.' I text him, 'One more year,' and he won't respond back to me. So if you can let him know that I'm waiting for him to return my calls.''
But even Wharton's situation isn't something Kalil wastes a lot of time focusing on. He understands the sense of urgency to begin moving forward with the players on the roster instead of worrying about those that aren't.
So do other veterans such as middle linebacker
Luke Kuechly
, who like Kalil realizes the unfortunate part of the business is you lose friends who are teammates.
"But everyone realizes it's a business and that's how it works,"he said.
Gross understood that when he was a player. But that doesn't keep him from giving Kalil and others a hard time when they're in OTAs and he's having a good time.
Typical Gross.
October, 10, 2013
10/10/13
12:00
PM ET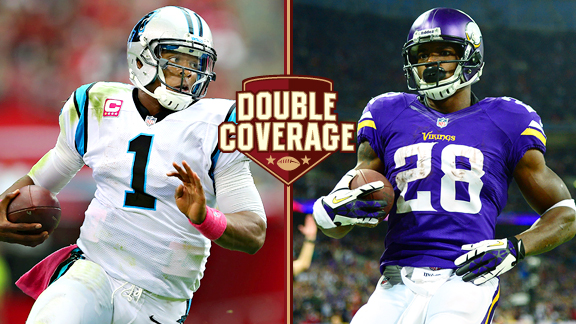 Getty ImagesCam Newton looks to take advantage of a spotty Vikings secondary, but the Panthers may have their hands full with Adrian Peterson.
Both the
Minnesota Vikings
and
Carolina Panthers
have reason to feel they should be better than 1-3 through their first four games of the season. One of those teams will get to stoke its flickering playoff hopes Sunday at Mall of America Field, while the other will fall even further out of the picture.
The Vikings have yet to announce whether
Christian Ponder
or
Matt Cassel
will start, and it might not be long before
Josh Freeman
takes over the quarterback job. But while the quarterback position might be the most intriguing question facing the Vikings at the moment, it probably isn't the most pressing one. That would be in the secondary, where the Vikings are hoping
Chris Cook
and
Jamarca Sanford
return from injuries to help a team that's given up an average of 326 passing yards a game and allowed decisive touchdowns on a pair of last-minute drives.
That could be good news for a Panthers team that's so far had more problems on offense than defense. Carolina has scored just 74 points, turning the ball over nine times and throwing for more than 220 yards just once this season. Third-year quarterback
Cam Newton
-- who came into the league with Ponder in 2011 -- has continued to struggle. Even though the Panthers have allowed the third-fewest points in the league, outscoring opponents through four games, they are trying to keep their season alive, just like the Vikings are.
ESPN.com Vikings reporter Ben Goessling and Panthers reporter David Newton broke down this week's matchup:
Ben Goessling:
David, I have a feeling the Panthers are as steamed about their record through four games as the Vikings are. Both of these teams lost in the waning seconds in Week 2, and neither has gotten good enough quarterback play to help their playoff aspirations after late-season surges in 2012. At first glance, though, this matchup would seem to favor the Panthers, who have done an excellent job of stopping the run and might force the Vikings to lean on their passing game more than they'd like to at home. How do you think this defense matches up against
Adrian Peterson
, and how much trouble can it give whomever starts for the Vikings at quarterback?
David Newton:
This matchup definitely seems to favor the Carolina defense that has played well enough to win every game. Yeah, Arizona scored 22 points. But that's a bit misleading since two came on a safety late in the third quarter and the last came on a real short field with just over two minutes left after Cam Newton's fourth turnover. The Panthers actually improved from 10th to third in total defense, holding Arizona to 250 total yards. Stopping Adrian Peterson will be the challenge, but Carolina has done a good job all season of making opponents pass with a stout front seven that is allowing only 92.3 yards a game. The key in my opinion will be how much pressure the front four can put on whomever the Vikings play at quarterback. Arizona went with three-step drops and quick passes to somewhat negate that and frustrate pass-rushers
Greg Hardy
and
Charles Johnson
. But what has made Carolina successful against the rush and the pass is that it has been able to stop both without using a lot of blitz packages that sometimes opens big holes for big-time backs like Peterson.
While we're on defense, the Vikings haven't really faced a quarterback that can run and throw like Newton this year, and they are ranked 30th on defense. How do you see that matchup?
Goessling:
I don't particularly like it for the Vikings. They probably struggled the most in Week 1 against the
Detroit Lions
, when they were facing a team with a dynamic passing game and a shifty running back (
Reggie Bush
) who did a lot of his damage thanks to missed tackles on the first and second levels of the Vikings' defense. The Vikings also haven't faced much of the read-option in the last two years, and when they did see it -- particularly against
Robert Griffin III
last year -- they struggled with it. I could see Cam Newton giving the Vikings problems with his feet, and
Ben Roethlisberger
also showed how you can burn the Vikings' young secondary by keeping plays alive. If Newton can avoid turnovers (and the Vikings have caused 12 of them this season), he could direct the Panthers' offense to a big day.
Here's the question the Vikings are probably asking themselves, though: How erratic will Newton be? He's part of that 2011 quarterback class (like Ponder) that has struggled quite a bit in the NFL, and as you mentioned, his turnovers cost the Panthers against Arizona. Will he be able to take advantage of the Vikings defense, or will they have their chances to create a few takeaways off of him?
Newton:
Let me clarify first. Newton's turnovers in the fourth quarter did lead to the widening of the margin at Arizona, but he played well early and the Panthers would have been -- should have been -- up by two scores at halftime if
Steve Smith
hadn't dropped a 4-yard touchdown pass and
Brandon LaFell
a first-down pass at the Arizona 15. But Newton has been inconsistent with his throws, particularly if pressured. When given time like he had against the Giants he was able to pick apart the defense. Teams that have pressured Newton, particularly with five-man fronts, have forced him into mistakes. Looking at the numbers, it appears the Vikings haven't done a great job of pressuring quarterbacks. That to me is where this game will be won or lost for Minnesota.
While we're on quarterbacks, what's been wrong with Ponder this year? And if Josh Freeman is the answer, why not go ahead and give him a shot this week?
Goessling:
Ponder's issues have been the same ones we've seen from him during his entire run in Minnesota. It just seems like he's apprehensive about pulling the trigger unless he's got a perfect throwing lane or a receiver who's a step clear of his defender. That throws off his timing, or he gives up and takes off, when a more confident quarterback might be able to hit a receiver for a 15-yard gain in tight coverage. Essentially, he's just not confident enough to make the tough throws, and his interceptions have come when he's flinched and either thrown a pass too early or failed to put enough on the ball. That might be why the Vikings seem ready to move on -- Ponder's issues are about more than his physical attributes, and that's a hard thing to fix.
As for Freeman, the Vikings want to give him time to learn the offense, and while I'm guessing we'll see him in a week or two, particularly if the Vikings lose, my hunch is Matt Cassel will get a chance to build on his Week 4 win this Sunday.
To wrap this up, what do you think is the biggest key to a Panthers victory?
Newton:
I almost laugh when you say key to victory because this team simply doesn't know how to win -- at least on a consistent basis when it matters. This is the third straight 1-3 start and they haven't had a winning record since 2008. But as coach Ron Rivera keeps saying, they are close. But they were close last week and blew countless opportunities to take command in the first half and wound up looking dismal. It seems almost every week it's a breakdown in another area, or multiple areas. If I had to pick one key, though, it would be for the offensive line to give Newton protection. When he has time, the Panthers score points. If they score points, the defense will take care of itself.
How about for the Vikings?
Goessling:
I agree that getting to Newton is a big part of the equation; they need to force him into turnovers and keep him from putting their defense on its heels. This is a team that plays its best when it gets an early lead, can run Adrian Peterson and turn its defensive line loose. If the Vikings do that, they might be able to cover up their issues in the secondary and sneak out with a victory.
.
October, 26, 2012
10/26/12
1:30
PM ET
»
NFC Final Word
:
East
|
West
|
North
|
South
»
AFC
:
East
|
West
|
North
|
South
Five nuggets of knowledge on Week 8:
Early issues:
Every NFL team wants to start a game fast, and no team has been worse at it than the
Detroit Lions
. Get this: The Lions have reached the red zone just seven times on 37 first-half possessions in 2012, scoring a touchdown an NFL-low once in those instances. That failure speaks to the Lions' reliance on the big downfield play and illustrates how they have been unable to compensate with extended drives. It's another reason why opponents are outscoring them 77-37 in the first half this season. The
Seattle Seahawks
will arrive at Ford Field having outscored opponents 36-16 in the first quarter. Needless to say, the Lions won't win at a better rate than their current 33.3 percent if they keep falling behind early in games.
[+] Enlarge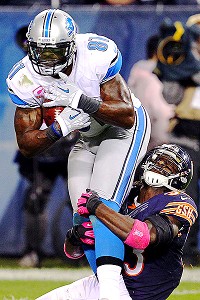 Dennis Wierzbicki/US PresswireCalvin Johnson had 109 more targets than any other pass-catcher last season.
Transformer battle:
As
we noted earlier Friday,
Seahawks cornerback
Richard Sherman
tossed out a challenge to Lions receiver
Calvin Johnson
by changing his Twitter name to "Optimus Prime." Sherman has played well this season, intercepting three passes and batting away a total of 14, and the Seahawks have allowed only one 100-yard receiver this season (the
New England Patriots
'
Wes Welker
in Week 6). Johnson has been as productive as ever this season from a reception and yardage standpoint, but his drop-off in touchdowns is another illustration of the Lions' difficulty in scoring. At this point last season, he had eight more touchdowns (nine) than he has now (one). As Sherman no doubt knows, there's no shame in giving up catches and yardage to Johnson if you can keep him out of the end zone.
New connection:
The
Green Bay Packers
are already down one receiver (
Greg Jennings
) and a second (
Jordy Nelson
) was struggling to make it through practice this week because of a hamstring injury. But Sunday, the
Jacksonville Jaguars
will have to deal with a new and undeniable connection quarterback
Aaron Rodgers
has made. Rodgers has completed 37 of the 43 passes he has targeted second-year receiver
Randall Cobb
on this season. That completion percentage of 86.0 is the highest in the NFL for a quarterback to a receiver with a minimum of 30 attempts. The Jaguars' defense has given up an average of 27.3 points per game this season, and it's hard to imagine it slowing down Rodgers, Cobb and the rest of the Packers' offense.
Defensive fill-ins:
The Packers should be able to handle the Jaguars' underwhelming offense even with two of their top five defensive backs (
Charles Woodson
and
Sam Shields
) sidelined by injuries. Woodson's injury, however, will give us an extended look at rookie
Casey Hayward
and help us determine if he is playing as well as the statistics indicate. Hayward's four interceptions are tied with two other players for the NFL lead. And according to
Pro Football Focus
, opponents have completed only 44.8 percent of the passes thrown his way. The resulting 23.7 passer rating on throws in Hayward's direction is the NFL's best. Is Hayward really that good? Let's keep an eye on him Sunday and in the coming weeks.
Fighting chance:
There aren't many people giving the
Carolina Panthers
(1-5) a chance to beat the
Chicago Bears
(5-1) at Soldier Field. The Bears were a nine-point favorite as of Friday morning. Among many other factors, Panthers quarterback
Cam Newton
is 2-12 against opponents with winning records in his career. But if the Bears have reason to worry, it's about receiver
Steve Smith
. In
three games against Bears teams
coached by Lovie Smith, he has caught 34 passes for 568 yards and two touchdowns. That includes eight receptions for 181 yards last season. Is Smith the antidote to the Cover 2? Let's see if the Bears' top-ranked defense can corral him the same way it did Johnson last Monday night.
October, 26, 2012
10/26/12
9:00
AM ET
We're Black and Blue All Over:
I'm a little fried after covering three games in five days. But I'm sorry: I can't get worked up about some loudmouth cornerback changing his name on Twitter to mimic a cartoon robot.

But much to my surprise, the Detroit Lions are worked up about Seattle Seahawks cornerback Richard Sherman referring to himself as "Optimus Prime," the Transformer nemesis to Calvin Johnson's Megatron, as
NFC West colleague Mike Sando points out
. So I guess we can't ignore it, especially after
seeing how Johnson played last season
against the Dallas Cowboys when defensive coordinator Rob Ryan said Johnson would be the third-best receiver on the field when the teams met.
Center Dominic Raiola said he thought the Twitter shift was "WWE-ish" and suggested it was "disrespectful to the game." Even the mild-mannered Johnson, whose nickname was bestowed by former teammate Roy Williams, noted Sherman had a "self-given nickname" and added he will "definitely" use it as motivation.
As Sando notes, the Seahawks have done a pretty nice job against opposing receivers this season. Johnson might well have a good game against them Sunday at Ford Field, but if anyone thinks it's because Sherman changed his Twitter name, then it's time for me to try a new business.
Let's take a later morning stroll around the NFC North:
October, 31, 2011
10/31/11
12:40
PM ET
After the Minnesota Vikings' 24-21 victory over the Carolina Panthers, here are three issues that merit further examination:
Kevin SeifertFollowing their win over the Panthers, the Vikings take a seat in the examination room.

There was plenty to like about quarterback Christian Ponder's first NFL victory, but the word many people keep returning to is "poise." It's difficult to tell from Ponder's movement or body language whether a play is running perfectly or has totally broken down. There is also no discernible change in his blood pressure between a first-quarter series and a potential game-winning drive. I think that's why Ponder is having some early success in critical situations. Sunday, he completed nine of his 10 third-down attempts, converting seven into first downs. And in both of his NFL starts, he has led long fourth-quarter scoring drives. Sunday's game-winning drive took 7 minutes, 10 seconds off the clock, traveling 72 yards on 13 plays. At the start of his NFL career, Ponder has at least demonstrated the game isn't too big for him.

A couple of encouraging events occurred in the final few plays of the game. On a second-and-3 play from the Vikings' 14-yard line, safety Husain Abdullah got excellent position on Panthers tight end Greg Olsen to break up a pass in the end zone that would have given the Panthers a lead with 50 seconds remaining. It's rare and notable when you see a member of the Vikings' secondary make a play like that. Second, coach Leslie Frazier wisely called a timeout after the Panthers failed to make a first down one play later. If nothing else, Frazier bought his team about 30 seconds to get into position for a winning field goal and avoid overtime if Olindo Mare had converted a 31-yard field goal. It's worth noting that Frazier missed an opportunity to save his offense some time in a similar situation last month against the Tampa Bay Buccaneers. Live and learn, right?

Somehow the Vikings survived against the Panthers' offense with cornerback Asher Allen locked in single coverage against receiver Steve Smith for a good portion of the game. Allen, a third-round draft pick in 2009, opened the season as the Vikings' dime back but has started the past two weeks because of Antoine Winfield's neck injury and Chris Cook's suspension. Allen has made some progress since his rookie season but wouldn't be the first choice of many people to match up with Smith, who caught seven passes for 100 yards, including a 22-yard touchdown. It's notable the Vikings tapped Allen for that role and not veteran Cedric Griffin, who is gamely trying to play on a pair of surgically repaired knees.
And here is one issue I still don't get:
Did you have Marcus Sherels atop your list as the Vikings' surprise young player of the first half? I can't say I did. In winning the punt return job, and now assuming the kickoff return role while Percy Harvin and Lorenzo Booker nurse injuries, Sherels has proved to be a shifty and aggressive open-field runner. His 78-yard kickoff return Sunday didn't directly lead to a score but helped flip field position early in the Vikings' favor. Sherels ranks No. 13 in the NFL with an average punt return of 10.6 yards, including a 53-yard scamper in Week 3 against the Detroit Lions. The Vikings don't have a roster spot dedicated for a return specialist, so Sherels is making the most of his opportunity thus far.
October, 28, 2011
10/28/11
1:30
PM ET
»
NFC Final Word
:
East
|
West
|
North
|
South
»
AFC
:
East
|
West
|
North
|
South
Five nuggets of knowledge on Week 8, which includes byes for the Green Bay Packers and Chicago Bears:
Critical juncture:
The
Detroit Lions
have reached what might be the defining period of their season. (Too dramatic? Time will tell, I guess.) They opened 2011 displaying the explosiveness and swagger that many of us thought they possessed; their 5-0 start put them in excellent position to make a playoff run. But consecutive losses suggest the NFL has caught up to some of what they were doing, a pretty normal occurrence over the course of a season. So do the Lions have a counterpunch, both schematically and psychologically? Or are they destined to settle in as an average team? Bouncing back against the
Denver Broncos
, who are 2-4 but riding the
Tim Tebow
wave, would give us an early answer to that question.
[+] Enlarge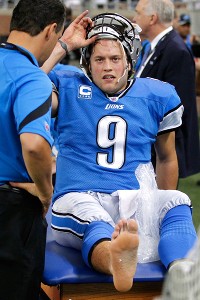 Gregory Shamus/Getty ImagesMatthew Stafford might be playing with a tender ankle, but faces a favorable matchup against the Broncos.
Straightening out Stafford:
All indications are that Lions quarterback
Matthew Stafford
will start despite an injured right ankle. Assuming he does, Stafford should face favorable conditions for rectifying his below-standard play the past two weeks. To be clear, Stafford hasn't been awful.
Total Quarterback Rating
tells us he played like a top-10 quarterback in the season's first five weeks but was essentially average in Weeks 6 and 7. Broncos opponents are completing 68 percent of their passes and have a 104.2 passer rating, in both cases the second-highest total in the league. The Broncos have only three interceptions and are giving up 25.8 points per game, the fourth-worst total in the league. You hate to forecast a game based solely on past performance. So let's just say the Lions appear to have a good opportunity to right themselves Sunday in Denver.
Facing Tebow:
Sunday will mark the NFC North's first extended regular-season meeting with Tebow. We can't let that opportunity pass in Final Word, can we? Here's all you need to know about the good and bad of the Broncos' new starter. Based on video review, ESPN Stats & Information has classified 14 of his 37 passes in 2011 as either an underthrow or an overthrow. That inaccuracy percentage of 37.8 is the highest in the NFL among quarterbacks with at least 30 attempts. On the other hand, Tebow already has rushed for 96 yards this season. According to ESPN Stats & Information, 66.7 percent of those yards have come after first contact. So the Lions can expect a quarterback who has been better at running through defenders than he is throwing past them. Take that for what you will.
Avoiding history:
The debut of rookie quarterback
Christian Ponder
gave the
Minnesota Vikings
a needed injection of life and competitiveness. But at 1-6, the Vikings have matched the worst start to a season in franchise history. The only team that started 1-7 was Minnesota's first team as an expansion franchise in 1961. That group finished 3-11. These Vikings can't use the expansion excuse, but with Ponder starting in place of veteran
Donovan McNabb
, they can at least argue they are building toward a better tomorrow.
Long history:
There has been plenty of discussion about the Vikings' first game against
Carolina Panthers
quarterback
Cam Newton
, who already has seven rushing touchdowns and has proved to be an effective pocket passer as well. But it's worth nothing how thoroughly Panthers receiver
Steve Smith
has
torched the Vikings in his career
. Over a span of five games, Smith has caught 30 passes for 525 yards and three touchdowns. Smith has established a quick connection with Newton and is leading the NFL with 818 receiving yards. And as you know, the Vikings have suspended their best cornerback this season (
Chris Cook
) and aren't sure whether veteran
Antoine Winfield
(neck) will be ready for this game. Anchors aweigh.
September, 20, 2011
9/20/11
2:41
PM ET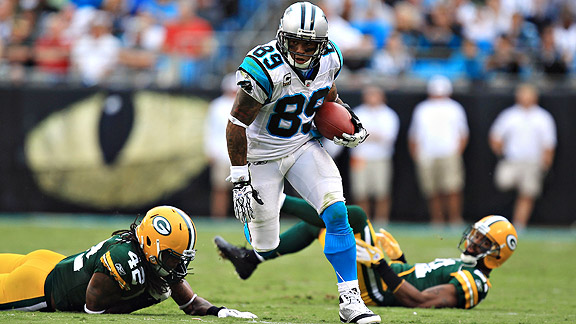 Streeter Lecka/Getty ImagesThe Packers' secondary has allowed over 400 yards passing in back-to-back weeks.
Through two games this season, opponents have smoked the
Green Bay Packers
' defense at a record pace. No one around the team seems concerned about it. Should they be?
I suppose there are any number of reasonable answers to that question. But as we stand here on Sept. 20, it seems the Packers would do themselves more harm by overreacting to allowing a pair of 400-yard passing games in as many weeks. Over time, most NFL teams would accept big yardage totals as long as it's balanced by the kind of red zone defense the Packers have played so far this season.
There is a measure of risk involved with expecting a defense to tighten routinely on key plays, but coach Mike McCarthy said that what he calls "adversity play" is "the strength of our team right now. That's why we're 2-0. We've stepped up two weeks in a row when it's counted, but we definitely have a lot of work to do."
Yes,
Carolina Panthers
rookie
Cam Newton
lit up the Packers for 432 yards last Sunday at Bank of America Stadium. That performance came a week after
Drew Brees
logged 419 yards for the
New Orleans Saints
. Even in a pass-happy league, as the chart shows, the Packers defense ranks near the bottom of the NFL in yardage, points allowed and third-down conversion rate.
Yet the Packers have managed to win on both occasions thanks literally to a handful of important plays. They've allowed only three touchdowns on 11 opponent trips to the red zone, a touchdown percentage of 27.3 that ranks third in the NFL. They also rank near the top of the league in takeaways (five) and sacks (seven).
That's why McCarthy seemed comfortable with the situation, and
that's why you heard
linebacker
Clay Matthews
say: "I don't think we're concerned." Cornerback
Charles Woodson
told reporters that the Packers "definitely have a lot of things to clean up," but expressed full confidence that they would.
The Packers are now down two starters from their Super Bowl team, having lost defensive end
Cullen Jenkins
via free agency and safety
Nick Collins
to a neck injury. Jenkins' expected replacement,
Mike Neal
, had knee surgery earlier this month and will miss a significant amount of the season. Cornerback
Tramon Williams
, meanwhile, is rehabilitating a shoulder injury that kept him out of the Panthers game.
But those developments, along with the on-field performance in Weeks 1 and 2, are causing only a mild reaction among the football people I trust. Matt Williams of Scouts Inc. cited mitigating factors in both cases.
"It's been a little worrisome," Williamson said. "Tramon Williams being out was a huge part of it this past week, though. … I didn't worry too much against the Saints. Brees will do that to everyone. This past weekend opened my eyes a little, but I'm not yet officially concerned."
Williamson did question whether second-year cornerback
Sam Shields
, who excelled as a nickelback last season, would be ready to handle a larger role if Williams' injury lingers. And he also brought up an important point: After Jenkins' departure, do the Packers have enough pass-rushers to complement Matthews?
I'm sure the Packers are hoping that defensive lineman
B.J. Raji
will pick up much of Jenkins' slack, and linebacker
Erik Walden
has proved an aggressive pass-rusher off the edge. Raji and Walden each have a sack this season, but obviously the sample size is small.
In reality, you can point to three series of plays that ensured the Packers' 2-0 record:
[+] Enlarge

AP Photo/Mike RoemerThe Packers stuffed Mark Ingram at the goal line to preserve their victory in Week 1.

Stopping Saints running back Mark Ingram at the goal line on the final play of Week 1.

Limiting the Panthers to a field goal after they had first-and-10 at the 11-yard line on their second possession Sunday.

Again holding the Panthers to a field goal after facing first-and-goal at the 8-yard line in the fourth quarter.
Had the Saints or Panthers scored a touchdown on any of those possessions, the Packers could have at least faced an overtime situation. You don't want to play with such a thin margin of error, but everything that has happened is "correctable" McCarthy said, and "are things we can adjust to."
An unofficial poll via Twitter this week suggested you are nervous but nowhere near panic.
@Jacobklossner
noted the Packers are "finding ways to win" but wondered: "How long does that last?"
@Elvin1983
is "mildly alarmed with the secondary" and thinks the red zone defense has been called on "too often."
What exactly has happened? I don't think it can be traced to one or two factors. But I do think the Panthers' opening drive Sunday was a nice illustration of where the Packers have been vulnerable at least to this point.
In completing six of seven passes, Newton capitalized on two personnel advantages. First, the Panthers' abundance of tight ends forced Matthews to drop into coverage twice and sit on the line of scrimmage on a third play. Matthews hit Newton after one throw, but Newton smartly threw to the area Matthews vacated for an 18-yard play to tight end
Jeremy Shockey
. And on a screen pass to running back
Jonathan Stewart
, Matthews slipped at the snap. He got up in time to chase down Stewart from behind, but not before a 19-yard gain.
Second, the Panthers had a rare strength advantage against cornerback Charles Woodson. Veteran receiver
Steve Smith
escaped contact on two occasions to get open for passes of 15 and 12 yards. I guess it's possible that Woodson's coverage skills have slipped, but generally speaking, I don't think there are many NFL receivers who are strong enough to escape Woodson the way Smith did.
That said, I think it's worth tracking Williamson's point about the Packers' pass rush. Matthews obviously can't do it all on his own. But given what we know about their defensive personnel and coaching staff, it's reasonable to believe the Packers will level themselves out. You might consider that unjustified cover for a group in crisis, but I consider it a deserved benefit of the doubt.
February, 23, 2011
2/23/11
11:15
AM ET
Tuesday's SportsNation chat
was admittedly a little thin on
Chicago Bears
content, so I wanted to make sure to address a question that a number of you have sent to the mailbag. Here's a version from
Chris of Baltimore
:
I know that one of our many pressing needs this offseason is at wide receiver; to get a true No. 1. I think it is fair to say that the early rounds in the draft should definitely be directed to the O-Line and maybe a DB. Since getting a stud receiver in the draft is a crap shoot, do you think that the Bears may make a move in free agency (assuming the CBA works itself out)?
It's interesting that we're back to a topic we spent much of last offseason on. Do the Bears truly need to add a No. 1 receiver? Or is the sum of their parts adequate, especially when you add tailback
Matt Forte
and tight end
Greg Olsen
to the mix?
[+] Enlarge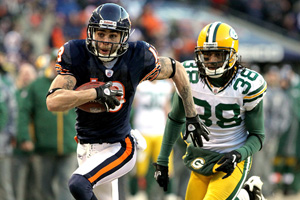 Doug Pensinger/Getty ImagesJohnny Knox tied for the team lead in catches last season with 51 and averaged 18.8 yards per catch.
I would peg the Bears' offensive line as their top offseason need, by far. That's where their draft focus should lie. But as my
AFC West colleague Bill Williamson
recently pointed out, there will be a glut of receivers available on the free-agent market whenever the league and its players agree on a new collective bargaining agreement (CBA).
That list includes
Sidney Rice
,
Braylon Edwards
,
Malcom Floyd
,
Santonio Holmes
,
Steve Breaston
,
Randy Moss
,
Santana Moss
,
Steve Smith
(of the
New York Giants
),
Terrell Owens
and
Mike Sims-Walker
.
So if you are the Bears this offseason, are you:
Satisfied with the status quo?

Interested only in an ideal addition?

Determined to add more depth?
If I had to make an educated guess, I would say the Bears will land in category No. 2. I'm guessing they believe that
Johnny Knox
's 951-yard season was a sign that, with another year in Mike Martz's offense, he will be as close to a No. 1 receiver as they need. I would think they're satisfied with
Earl Bennett
as a tough possession receiver and know they have
Devin Hester
as a big-play slot man.
General manager Jerry Angelo has been reluctant in recent years to invest in receivers, and I'm not sure he'll feel compelled to change that tack in 2011.
With that said, I think the Bears should be disappointed if their top four wide receivers combine for 147 receptions next season, as they did in 2010. For comparison, consider that the
Green Bay Packers
' top four wide receivers combined for 222 receptions in 2010.
The Bears are hoping for internal improvement, first and foremost. If they can target a mid-level receiver that fits Martz's offense, the Bears might consider it. But if you're hoping they break the bank to acquire someone like Edwards or Holmes, you might be disappointed.
Bears coach Lovie Smith will be among those who speak to reporters at this week's scouting combine. We'll of course pass along any updates on the receiver situation as warranted.
December, 21, 2009
12/21/09
12:10
PM ET
After Minnesota's 26-7 loss at Carolina, here are
three (mostly) indisputable facts I feel relatively sure about:

As much as I want to dismiss the possibility that coach Brad Childress actually wanted to bench quarterback Brett Favre for performance reasons, I just can't. During his four years in Minnesota, Childress has displayed an unpredictable touch with the position. In 2006, he pulled starter Brad Johnson from two games after throwing interceptions before finally benching him for the season. He alternated between Kelly Holcomb, Brooks Bollinger, Tarvaris Jackson and Gus Frerotte over the next three years before signing Favre. Childress has allowed Favre more leeway than any of those five quarterbacks combined. But all I'm saying is that Childress has surprised us before with the way he has handled quarterbacks. We should know more Monday afternoon.
I, for one, noticed that backup tailback Chester Taylor got a carry on the Vikings' first series. That's been a relative rarity this season, and I wonder if it isn't related to Adrian Peterson's five-game "slump." Peterson has averaged 3.18 yards per carry over that stretch, and Taylor has always been productive in a limited role. Taylor only got one more carry the rest of the way, and I'm not sure if using him more is the answer. But I do think it's clear the Vikings need to do something to shake up their tendencies and habits.
I'm guessing the Vikings would be happy if they never face Carolina receiver Steve Smith again. In his past four games against them, Smith has caught 29 passes for 509 yards and three touchdowns. It didn't matter who defended him Sunday night. Not even Pro Bowl cornerback Antoine Winfield could slow down Smith, who had nine catches for 157 yards in this particular outing. On a side note, the Panthers did a pretty good job of rolling quarterback Matt Moore away from defensive end Jared Allen, which gave him enough time to target Smith on 14 of his 33 passes. That's how you find ways to get the ball to your best receiver.
And here is
one question I'm still asking:
What is truth and what is fiction when it comes to the condition of receiver Percy Harvin? Less than 24 hours after telling NBC that he was still suffering from the effects of migraines -- and that he had an appointment at the Mayo Clinic to have two bulging discs in his neck examined -- Harvin was active and played against the Panthers. Would the Vikings really play someone with symptoms as seemingly significant as those? Or did Harvin not fully represent his condition to NBC? It's time for everyone to come clean in this increasingly cluttered landscape. Harvin also told NBC that he missed the Vikings' rookie minicamps and the NFL's rookie symposium because of migraines. In May, the Vikings attributed the former absence to a virus exacerbated by air travel. Let's get these stories straight.
June, 25, 2009
6/25/09
10:45
AM ET
Posted by ESPN.com's Kevin Seifert
Wednesday, we noted that Green Bay receiver Greg Jennings has become one of the NFL's highest-paid receivers.
We all know Jennings has never played in a Pro Bowl, but Ben Lerner of ESPN Stats & Information generated a couple of charts that illustrate how Jennings has been one of the league's top downfield receivers in each of the past two seasons.
No one has had more receptions of 40 or more yards since the start of 2007, as this chart shows:
Jennings' explosiveness has also translated into his scoring capabilities:
20-plus-yard touchdowns, last two seasons
Player
Team
TD
Randy Moss
New England
15
Terrell Owens
Dallas*
14
Greg Jennings
Green Bay
11
Reggie Wayne
Indianapolis
10
*Now with Buffalo
June, 24, 2009
6/24/09
6:00
PM ET
Posted by ESPN.com's Kevin Seifert
By one measure, only two NFL receivers have more lucrative contracts than the one Green Bay's Greg Jennings inked Wednesday. And here's even better news for Jennings: He's in line for another huge payday in the prime of his career.
| | |
| --- | --- |
| | |
| | Jeff Hanisch/US Presswire |
| | Greg Jennings' new deal adds at least $27 million to his contract. |
Wednesday's finalized agreement adds at least $27 million in new money to Jennings' contract over the next three seasons. Only two NFL players have a higher annual average than $9 million: Arizona's Larry Fitzgerald ($10 million) and Detroit's Calvin Johnson ($9.25 million).
(Some consider Carolina's Steve Smith to have a five-year deal worth $53.75 million, giving him an average of $10.75 million. But that deal has also been reported as a six-year deal worth $43.85 million when you peel away incentives. So we'll give Smith an asterisk for now.)
Many of you have asked why the Packers didn't insist on a longer-term contract for a player who is currently 25. Mostly, it's a huge victory for Jennings. Now he will have a chance at free agency before he turns 30. The only explanation I can offer is the Packers would have had to pay more guaranteed money in order to extend the deal for the more typical five or six years. As it is, $16 million of the $27 million is guaranteed.
Based on Jennings' comments Wednesday, any insistence on additional years might have been a deal-breaker.
Jennings: "That was pretty much our game plan if there is to be career after this contract. Again, I can't tell the future, but that was definitely the game plan, to make it a situation where I would have another opportunity to go to the table and redo a deal."
For those interested, New England's Randy Moss and Dallas' Roy Williams also have contracts that average $9 million annually.
September, 17, 2008
9/17/08
7:39
AM ET
Posted by ESPN.com's Kevin Seifert
We all knew the Detroit Lions were committed to improving their running game this season. But with all the problems they've had in their first two games, it's a little jarring to see reports of their running back tea party Tuesday at team headquarters.
Two weeks after signing veteran Rudi Johnson, the Lions had former MVP Shaun Alexander and ex-Green Bay runner Vernand Morency work out for them. Disgraced former Chicago tailback Cedric Benson also visited.
None were signed, and reports indicated the Lions were merely building an internal scouting report should they need to add a runner in the future. But as John Niyo of the Detroit News points out, the same thing was said the night Johnson arrived for his visit Labor Day weekend.
As it stands, Johnson is backing up rookie starter Kevin Smith. The No. 3 runner is rookie Marcus Thomas, whom the Lions claimed on waivers from San Diego.
From this vantage point, personnel in the backfield ranks pretty low on the Lions' list of concerns. You can only hope the Lions are attacking the rest of their issues with the same tenacity.
Elsewhere around the NFC North this morning:
September, 12, 2008
9/12/08
8:37
AM ET
Posted by ESPN.com's Kevin Seifert
The way Al Harris figures it, the more targeted he is this season, the better.
Jason Wilde of the Wisconsin State Journal outlines the peculiar situation facing the Green Bay cornerback. Coming off his first Pro Bowl season, Harris nonetheless might be the favored matchup of many opponents this season. If nothing else, his poor performance in the NFC championship game last January, combined with the presence of teammate Charles Woodson, makes him the lesser of two evils.
That's fine with Harris:
"I hope so. I really hope so," he told Wilde. "I need to get more picks. So I definitely hope so. If you're not having balls thrown to your side, you're not having opportunities."
Monday night, Harris was as physical as ever against the Minnesota Vikings. He had his hands all over receiver Bernard Berrian and had a few post-whistle tussles with receiver Bobby Wade.
All eyes will be on him Sunday in Detroit, where the Packers will have to decide which receiver to match him up against: Roy Williams or Calvin Johnson. He has traditionally faced Williams but, with Woodson playing with a fractured toe, he could switch to Johnson.
Elsewhere around the NFC North this morning: