August, 23, 2014
Aug 23
4:03
PM ET
The
Detroit Lions
have started to trim their roster.
Rookie wide receiver
TJ Jones
, who has been on the team's active PUP list while recovering from shoulder surgery in the offseason, has been moved to the physically unable to perform reserve list. This means he won't be available to practice for six weeks and then the Lions will have five weeks to decide whether to allow him to practice. If they do not -- or they do not activate him to the 53-man roster after he starts practicing -- he'll be on the PUP list the entire season.
Detroit also began its first round of roster cuts Saturday following Friday night's game against Jacksonville. The team started the day at 89 players and released OG
Alex Bullard
, OL
A.J. Dalton
, DT
Gregory Hickman
, RB
Steven Miller
, DE
Kris Redding
and WR
Conner Vernon
.
Of those players, only Miller had been with the team last season and he was on the practice squad. Redding and Vernon were brought in earlier during training camp and the rest of the cuts signed soon after May's draft. Dalton had been given a $2,500 signing bonus and Bullard a $500 signing bonus to come to Detroit as undrafted free agents.
This brings Detroit to 83 players. The Lions need to be at 75 players by 4 p.m. on Tuesday. None of the players the Lions released Saturday were expected to make the roster and of those, only Bullard appeared to be a practice squad candidate at any point.
February, 21, 2014
Feb 21
12:45
PM ET
INDIANAPOLIS -- The
Detroit Lions
' receiving corps was bolstered a little bit more Friday, as general manager Martin Mayhew said the team will bring back
Jeremy Ross
and
Kris Durham
, who were exclusive rights free agents.
After an injury to
Nate Burleson
and overall ineffective play from Patrick Edwards, Durham was elevated to a starting wide receiver opposite
Calvin Johnson
for the majority of the season. Durham played in 16 games, making 38 catches for 490 yards and two touchdowns last season. He has good familiarity with quarterback
Matthew Stafford
from their shared time at Georgia.
Ross
Durham
Ross emerged as a return threat for Detroit after he was bumped up from the practice squad in October. He was one of Mayhew's better signings throughout the season, as he grabbed Ross off the waiver wire after he was released by Green Bay.
He turned into the team's primary kick and punt returner, returning both a punt and a kick for a touchdown against Philadelphia in Week 14.
"I think he did a good job for us last season," Mayhew said. "He didn't have quite enough returns to get into some of the categories with the leaders. I guess his stats don't really show up. If he had a handful more returns, he would be one of the top punt returners in the NFL right now.
"So he's a very talented guy. He's young. He had upside. He's still growing. We might add to that (return) group. We might add there."
Among the guys Mayhew pointed to were practice squad running back
Steven Miller
and utility guy
Carlin Isles
, who has not decided whether he will give up football for rugby. Mayhew also didn't rule out adding a player through the draft or free agency as competition for Ross.
September, 1, 2013
9/01/13
3:11
PM ET
The
Detroit Lions
have assembled
their full practice squad,
and all eight members are players the team waived Saturday.

They include three former draft choices: receiver
Corey Fuller
, cornerback Chris Greenwood and linebacker Brandon Hepburn. Also among the group: running back/kick returner Steven Miller, fullback
Shaun Chapas
, offensive lineman Rodney Austin, and defensive tackles
Jimmy Saddler-McQueen
and Xavier Proctor.
The two most prized possessions of that group are probably Greenwood and Miller.
The Lions couldn't justify a roster spot for Greenwood, who missed all of last season and a good portion of training camp this summer because of injuries, but he is as physically gifted as any defensive back on their roster. Miller, meanwhile, made a big push to win the returner job that presumably has gone to veteran newcomer
Micheal Spurlock
.
Note:
The Lions claimed
former
Washington Redskins
safety
DeJon Gomes
on waivers, according to multiple reports. That means a corresponding move will have to take place at some point Sunday to create a spot on the roster.
August, 31, 2013
8/31/13
6:28
PM ET

Most significant move:
There were no surprises for the
Detroit Lions
and, really, there were few big decisions. We noted earlier that the team decided to preserve a roster spot for No. 3 quarterback
Kellen Moore
, so the most significant move they did make was placing rookie tight end
Michael Williams
on injured reserve. The Lions had substantial plans for Williams this season as the third tight end in the jumbo package that lineman
Riley Reiff
filled last season. They also hoped to develop his receiving skills as veterans
Brandon Pettigrew
and
Tony Scheffler
enter contract years. Williams had surgery last week to repair a hand injury, and though coach Jim Schwartz said the team had no long-term injuries, Williams is in fact lost for the season. (NFL teams can't start placing players on short-term injured reserve until next week.) As a result, rookie
Joseph Fauria
-- a much better receiver but less of a blocker than Williams -- is on the 53-man roster with Pettigrew and Scheffler.
The dominoes:
The Lions apparently chose veteran Michael Spurlock as their kick returner, necessitating the release of rookie
Steven Miller
, who could return on the practice squad. Spurlock is also a receiver, and for the now he is one of six on the roster, presumably because of
Ryan Broyles
' sore knees. The release of veteran
Matt Willis
means
Kris Durham
is the sixth receiver. You wonder if the Lions would change directions soon in that regard. The Lions sifted through their big group of veteran defensive backups by tapping
Rashean Mathis
as a swing cornerback/safety and
Rocky McIntosh
as a backup linebacker while releasing the rest.
John Wendling
and
Don Carey
are the backup safeties for now.
What's next:
According to multiple reports,
the Lions will place running back
Montell Owens
on short-term injured reserve. That can't happen until next week, so for now he is part of the 53-man roster. He must miss at least six weeks of the regular season. You would think the Lions will bring back a number of the players they cut Saturday for their practice squad, and it's worth remembering that they are No. 5 in priority for NFL waiver claims. Sunday could be a busy day.
List of players cut:
WR:
Corey Fuller
, Matt Willis. RB: Steven Miller,
Shaun Chapas
. OL:
Rodney Austin
,
Kevin Haslam
,
Darren Keyton
,
Jake Scott
. DL:
Andre Fluellen
,
Ogemdi Nwagbuo
,
Xavier Proctor
, Jimmy Sadler-McQueen. LB:
Brandon Hepburn
,
Jon Morgan
(waived/injured)
Chris White
. CB:
Ron Bartell
,
Chris Greenwood
. S:
Amari Spievey
,
Tyrell Johnson
,
Martavius Neloms
(waived/injured) P:
Blake Clingan
.
August, 29, 2013
8/29/13
11:00
AM ET
In which we look ahead to the Detroit Lions' preseason finale:
Opponent:
Buffalo Bills
Location:
Ralph Wilson Stadium
Time:
7 p.m. ET


Personnel notes:
Healthy starters are expected to get one series, which probably means that receiver
Calvin Johnson
(knee) will be among those sitting out. … The first-team offense, with or without Johnson, has managed one touchdown drive this preseason, providing enough incentive to give quarterback
Matthew Stafford
and others one more chance. … The Lions have a number of position battles to sort through, some of which will get a better run Thursday night than others. … You have to wonder how much the top candidates to start at right guard and right tackle (
Larry Warford
and
Jason Fox
?) will play. But we'll get a long look at the players competing to return kicks --
Steven Miller
,
Micheal Spurlock
,
Patrick Edwards
and others -- and the same goes for the last few receiver positions. Edwards,
Matt Willis
, Spurlock and
Kris Durham
are all among those competing. Finally, we'll be looking for clues on how the Lions plan to work in the nickel. Is
Bill Bentley
still the third cornerback? Could
Rashean Mathis
unseat him?
Focal point:
Tailback
Reggie Bush
has gotten 17 carries and caught 10 passes this preseason, so the guess is that he won't play much if it all. So that will make Thursday night a big final test for the Lions' backfield depth behind him.
As we've discussed,
Joique Bell
has done just about everything he can to win the No. 2 job ahead of
Mikel Leshoure
, and I've gotten no sense that coaches are giving Leshoure the benefit of the doubt because he was a second-round pick. It's hard to imagine the Lions cutting Leshoure, even if he doesn't play a big role on special teams, but there is also a rookie running back in
Theo Riddick
that the Lions like and want to keep on the roster. Another possibility is rotating Bell and Leshoure based on game plans and matchups during the season. We'll see how it plays out Thursday night.
August, 12, 2013
8/12/13
11:00
AM ET
ALLEN PARK, Mich. -- The
Detroit Lions
opened training camp
expressing unprecedented confidence
in the direction of their program, and, if anything, their steam has picked up since then. A relatively injury-free camp, the obvious impact of multiple newcomers and a rousing victory in the first week of the preseason have the Lions and many of their fans convinced they will bounce back from last season's 4-12 record.

"We're every bit as optimistic now as we were then," coach Jim Schwartz said late last week, "and probably more so -- particularly with some of our rookies and younger players. Now, we're saying that two weeks into camp, before we've even played a preseason game. The tale of the tape is going to be consistency over the course of time. But certainly our stance hasn't changed."
Importantly, that optimism isn't based solely on anticipation of another year of development between quarterback
Matthew Stafford
and receiver
Calvin Johnson
. It's a nod toward the early returns on the fit with tailback
Reggie Bush
. There is relief that receivers
Nate Burleson
and
Ryan Broyles
, who both suffered significant leg injuries last season, have returned healthy.
There's more. Defensive tackles
Ndamukong Suh
and
Nick Fairley
were unblockable during the practices I watched last week. Rookie defensive end
Ziggy Ansah
returned an interception for a touchdown in the first quarter of his first NFL game action. New safety
Glover Quin
's leadership is notable, and rookie punter
Sam Martin
has been perhaps the most impressive newcomer of all.
The good vibes, and presumed results, come at a crucial time for the franchise. The Lions are entering their fifth season under Schwartz and general manager
Martin Mayhew
, and there might not be a sixth if this team misses the playoffs.
"I'm a vet,"
Burleson said
. "I've been at this 11 years. I'm trying to get everyone to understand that if we don't do what we need to do, these name plates above these lockers, this furniture, [everything] is going to be shipped up out of here -- including myself. So I've got to be productive, and everybody has to have the mindset that the time is now, so in order for us to do something special and bring something special to this city, we're going to have to win."
THREE HOT ISSUES
[+] Enlarge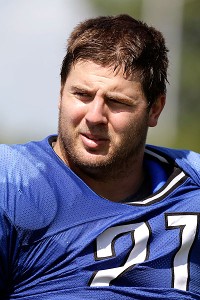 AP Photo/Paul SancyaThe Lions are counting on Riley Reiff to protect Matt Stafford's blind side.
1. Offensive line transition:
The Lions will have three new starters on the line, and here's the good news: The player in the most important position appears to be making a smooth transition.
Riley Reiff
, the Lions' first-round draft pick in 2012, has replaced retired left tackle
Jeff Backus
, and he held his own against the Lions' talented defensive line during my training camp visit last week.
Reiff bulked up this offseason after spending his rookie year in a quasi-tight end role. He might be the most soft-spoken player in the Lions' otherwise-boisterous locker room -- when I asked him about the job, he shrugged his shoulders and said, "They asked me to play left tackle so I'm playing left tackle" -- but he more than passed the eyeball test as a credible left tackle.
The same can't be said, at least not yet, about the wide-open jobs on the right side of the line. The Lions are rotating two players at right tackle and up to four at right guard, and no clear leaders had emerged by the weekend. (It was notable, however, that the Lions played rookie right guard
Larry Warford
for three-quarters of Friday night's game against the
New York Jets
.) In this case, time will tell.
2. Stafford's next step:
He failed to build on his breakout 2011 season in 2012, but in the big picture, Stafford is an experienced starter who has thrown for 10,005 yards in two seasons and who, at 25, still has plenty of room to grow.
That status, however, has generated rare expectations for a Lions quarterback, leading to training camp reports of missed passes and
microanalyses of mechanics
in a space once reserved for delineating various levels of incompetence. The franchise endorsed his progress with a contract extension that in essence locks him in for another three years at the helm, but the football world is waiting anxiously to see whether Stafford can elevate his career to an elite level.
My time at Lions camp suggested he is aware of but unaffected by those expectations. I saw no worrisome incompletions, no signs of malaise and an important sense of context as voiced by Schwartz.
"You don't [want to] take him for granted," Schwartz said. "We have a couple of guys new to our organization that come out to practice, and that's one of the first things that they want to say is, 'Holy mackerel, did you see the throw he made here?' It's a little bit like Calvin. You watch him a lot, and you forget how big he is and the plays he made."
3. Special-teams overhaul:
Lost in the Lions' busy offseason was a near-total reconstruction of their special teams. New coordinator John Bonamego has welcomed newcomers at place-kicker (likely
David Akers
), punter (likely Martin) and returner (a wide-open competition to replace
Stefan Logan
). The Lions also signed longtime special-teams ace
Montell Owens
to anchor their coverage units.
Akers is working on a limited regimen after an injury-plagued season with the
San Francisco 49ers
, but he appears healthy and will benefit from both indoor home games and Martin's strong kickoff skills. Martin has been booming punts throughout camp, and his three touchbacks (in as many attempts) in the preseason opener suggest the Lions might have found a long-term answer at the position.
The return game is unsettled and probably dependent on bottom-of-the-roster decisions at other positions. Undrafted rookie
Steven Miller
has demonstrated elite quickness while getting the majority of reps in training camp, but can the Lions squeeze a return specialist onto their roster? His minimal action as a returner in the preseason opener makes you wonder whether he is a candidate for the practice squad.
REASON FOR OPTIMISM
Of all the factors I rattled off earlier this post, the most significant might be the attention the Lions placed on their defense this offseason. You're doing pretty well if the worst thing you can say is that the strongside linebacker position is unsettled, especially when you realize that whoever wins the job will come off the field in nickel situations, anyway.
[+] Enlarge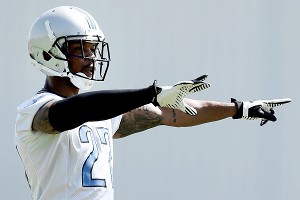 AP Photo/Paul SancyaThe Lions believe Glover Quin can provide steady leadership as well as solidify the secondary.
The Lions invested heavily at defensive end (drafting Ansah and
Devin Taylor
, signing
Jason Jones
and
Israel Idonije
), cornerback (re-signing
Chris Houston
, drafting
Darius Slay
) and safety (re-signing
Louis Delmas
and acquiring Quin). After two weeks of camp, Stafford said, "This is probably the most talented secondary we've had since I've been here," and Schwartz was lauding the leadership Quin will provide.
"A lot was made a few years back when we signed
Kyle Vanden Bosch
and Nate Burleson," Schwartz said, "and the difference that they made on the team was a big part of us making it to the playoffs [the] next year. I think the same thing, when it's all said and done, will be said about Quin because he brings that same kind of leadership, that same sort of professionalism."
We all expect the Lions' offense to score this season. If their defense can keep pace, as it appears it is equipped to do, the Lions will be a playoff team.
REASON FOR PESSIMISM
Schwartz said "there is no doubt" that the Lions have enough good pieces to make up a competent offensive line. But on the list of potential problem spots that could derail their season, the Lions' offensive line sits most prominently. If you believe in the law of averages, you wonder whether any team could come up with three good starters in one offseason, as the Lions are hoping to accomplish.
Warford has his work cut out to win the right guard job, as many have assumed he would. (The Lions got him 53 snaps in the preseason opener to accelerate that process.) Many have considered
Jason Fox
the favorite to win the right tackle job, but competitor
Corey Hilliard
got the first start of the preseason.
It's too early to judge the outcome of this overhaul, but there is no doubting the challenge it entails and the ramifications if it falls short.
OBSERVATION DECK
Excitement about the Bush acquisition has centered around his receiving skills and ability to break long runs. But you'll have to trust me on this: The Lions are just as intrigued by his ability to run between the tackles. There will be just as many opportunities for that kind of yardage in a Calvin Johnson offense as there will be anywhere else. "The things that Jahvid [Best] was able to do for us, when he got outside of the tackles, Reggie can do those things," Johnson said. "But Reggie can run inside the tackles as well. He's a good overall back."

Along those lines, the Lions also are trying to identify a change-of-pace back behind Bush, and my sense is that they're past the point of giving Mikel Leshoure an inherent advantage over Joique Bell because of his pedigree as a second-round draft pick. If Leshoure isn't any more explosive than he was last season -- and I didn't see any evidence of that at camp -- there is a real opportunity for Bell to win the job.

One of the more intriguing prospects in camp is rookie running back Theo Riddick, who has a relatively similar skill set as Bush. He is quick, a good receiver, smart in the open field and in contention for a kick return job. And like Bush, he isn't afraid to bust it inside the tackles, either.

Another interesting prospect who has gotten plenty of attention is 6-foot-7 tight end Joseph Fauria. He can get to balls no one else on the field can reach, with the exception of Johnson when he leaps, and he is a natural receiver. It will be really tough for him to be a good blocker with his lean build, but the Lions need him to be just good enough. I sensed real optimism that he can qualify for that modest expectation.

Players such as Riddick, Fauria, tight end Michael Williams and others will give the Lions some interesting roster decisions. You wonder whether they will find some room by deciding against having a No. 3 quarterback on their roster. Kellen Moore looks improved and Thaddeus Lewis is intriguing, but the only real reason to keep one of them is if he is projected to someday succeed No. 2 quarterback Shaun Hill. Otherwise, that roster spot might be more valuable elsewhere. "It's about talent and about having a plan for guys," Schwartz said. "We're flexible, and that's not just at quarterback. That's all positions."

Receiver Patrick Edwards has gotten plenty of work with the first team in camp and has the unwavering support of Burleson, who said: "In my eyes, he is going to be the surprise player that changes games this year." But Edwards didn't show much in 29 snaps Friday night, going without a catch amid two targets. He got a step on Jets rookie cornerback Dee Milliner in the end zone, but Milliner out-jumped him to knock away Stafford's pass. At some point, Edwards will need to demonstrate some game production if he is going to be in the Lions' receiver rotation.

Delmas (knees) has worked in a little less than half of the Lions' practices and did not suit up for the preseason opener, but the Lions remain confident his limited schedule will leave him ready to play in games when the regular season starts. Schwartz: "We're working hard to get there right now. ... He's feeling good right now, and we're trying to keep it that way. Lou has the advantage of having played in this defense the past few years, even though we have new wrinkles each year. The terminology is the same. He's a really hard worker. We need to balance being on the field and practicing with the point of diminishing returns. I think we've been very proactive in camp doing that. Time will tell how effective that plan has been."

Much like his week at the Senior Bowl, Ansah wasn't nearly as noticeable during practice as he was during the preseason opener. Nothing he did in three days of training camp jumped out to suggest he was on the cusp of being an elite playmaker, but he stood out immediately against the Jets. In addition to his 14-yard scoring return of an interception, he nailed running back Bilal Powell for a 2-yard loss among his 20 snaps.

Take this for what it's worth: Even the amateur observer could notice a big upswing in man coverage from the Lions' defense during 11-on-11 drills. Stafford concurred but suggested the shift was more about evaluating the Lions' newly fortified secondary than it was a scheme change. "They're trying to figure out who can cover and who can't," he said. "But they're doing pretty good out there."
August, 9, 2013
8/09/13
12:00
PM ET
In which we look ahead to Week 1 of the 2013 preseason. All four NFC North teams will take the field Friday night. Rob Demovsky will have a preview of the Green Bay Packers' game against the Arizona Cardinals, and our friends at ESPNChicago.com handled pregame coverage of the Chicago Bears' matchup at the Carolina Panthers.

Detroit Lions
Opponent:
New York Jets
Location:
Ford Field
Time:
7:30 p.m. ET

Personnel notes:
Starters will probably play a couple of series, but some are expected to sit out. Atop that list is safety
Louis Delmas
(knee), whose limited work in training camp suggests the Lions wouldn't risk him in a preseason game. Fans at Ford Field will have their first chance to see tailback
Reggie Bush
in the Lions' offense, and everyone is looking forward to seeing place-kicker
Havard Rugland
-- aka "Kickalicious" -- see his first action in a live game. Rugland didn't look out of place in training camp practices earlier this week. Also, it will be fun to watch the Lions try out a number of candidates for their kickoff and punt return roles. Rookie
Steven Miller
is inexperienced but fast, quick and has the look of a playmaker.
Focal point:
Three days at Lions training camp revealed that they could face some intriguing bottom-of-the-roster decisions. The Lions are deep at tight end and running back, especially, and it makes you wonder whether they can afford to keep a No. 3 quarterback. Part of that decision includes the level of competence that
Kellen Moore
and
Thaddeus Lewis
demonstrate in preseason games.
Minnesota Vikings
Opponent:
Houston Texans
Location:
Metrodome
Time:
8 p.m. ET

Personnel notes:
A number of front-line players aren't expected to be in uniform, including defensive end
Jared Allen
(ankle). Cornerback
Xavier Rhodes
and linebacker
Desmond Bishop
were also nursing relatively minor injuries this week and could miss the game. Coach Leslie Frazier has said that tailback
Adrian Peterson
will get some work in the preseason, but it's not clear if that will come Friday or at some other point. The rest of the starters could play as much as a quarter.
Focal point:
We'll get our first real look at
Joe Webb
on the other side of his transition from quarterback to receiver/all-purpose playmaker. In training camp, Webb demonstrated excellent hands and catching radius but seemed to be laboring under the raw amount of running a receiver does in an NFL training camp. We all know he was an excellent open-field runner for a quarterback, but he won't have the advantage of surprising defenses anymore. Preseason games are important in this kind of situation. Webb must demonstrate enough playmaking capacity for the Vikings to use one of their 53 roster spots on him. Otherwise, it's difficult to carry a "developmental" player who is in the final year of his contract.
August, 9, 2013
8/09/13
8:55
AM ET
We're Black and Blue All Over:
We've made it! (Sort of.)
The entire NFC North will open its 2013 preseason schedule Friday evening, affairs that will be most notable for their impact on second-level job competitions and evaluations of previously untested players. We'll have a few preview details to post later in the day, and by Saturday morning we'll corral our vast network of resources to provide observations of all four games.
For now, let's take our morning tour -- one that by your request will continue through our current transition:
July, 23, 2013
7/23/13
9:00
AM ET
We're Black and Blue All Over:
Good mid-morning. I got fired up and
posted early Tuesday morning
on the vehement defense that Green Bay Packers quarterback Aaron Rodgers once offered for now-disgraced Milwaukee Brewers outfielder Ryan Braun, but I'm told there are three other teams in the NFC North that merit daily coverage as well.

So we'll begin (again) today with news that the Detroit Lions are continuing to acknowledge their lack of depth at receiver, a topic we've discussed in several SportsNation chats and
in two separate
posts
last week
. Via
Jason La Canfora of CBSSports.com
and others, the Lions have scheduled three veteran receivers for workouts this week: Laurent Robinson, Steve Breaston and Chaz Schilens. Robinson, who apparently has been cleared after suffering multiple concussions last season, worked out Monday for the New York Jets.
Once again, the fact is the Lions are thin at receiver behind Calvin Johnson. Nate Burleson has recovered from a broken leg that ended his 2012 season, but he will turn 32 in August and has played all 16 games of a season only once since 2007. Ryan Broyles is recovering from his second torn ACL in as many years, and Mike Thomas is entering his first full season with the team after arriving last year via trade with the Jacksonville Jaguars.
The Lions pursued free agent Darrius Heyward-Bey in free agency and it's clear they recognize this need hasn't gone away. We'll see if they believe it is acute enough to bring in a veteran off the street on the eve of training camp.
Continuing around the NFC North: