May, 13, 2010
5/13/10
1:00
PM ET
»
NFC Stock Watch
:
East
|
West
|
North
|
South
»
AFC
:
East
|
West
|
North
|
South
Falling

Competition for the left guard spot in Green Bay:
When the dust settled from the Packers' 2009 season, there was some sense that left guard
Daryn Colledge
's left guard position could be turned over. Colledge hadn't played well enough to guarantee a starting role in 2010, and he sat out the early part of the offseason program after refusing to sign his restricted free-agent tender. The Packers were looking for a place to play promising backup
T.J. Lang
, and they also would like to find a place for center/guard
Jason Spitz
if he returns healthy from a back injury. But this week, two revelations diminished that sense of competition -- at least for the time being. Colledge signed his tender and Lang was
revealed
to have undergone surgery on his left wrist, putting him on the sideline until training camp. That turn of events could give Colledge enough time to lay important groundwork during organized team activities to retain the starting job in 2010.
Rising

Chicago's reputation in the Cutler-Orton swap:
Those who wanted to take a short-term view of the
Jay Cutler
-
Kyle Orton
trade last season noted the Bears probably wouldn't have done much worse with Orton at quarterback in 2010. But any notion that Denver had stumbled into a steal should be alleviated by now. The Broncos have done nothing this offseason but collect quarterbacks, including a draft-day trade for future starter
Tim Tebow
. It's clear the Broncos want no part of a future with Kyle Orton as their starter. Despite his struggles last season, Cutler remains the Bears' starter for the foreseeable future.
May, 6, 2010
5/06/10
1:00
PM ET
»
NFC Stock Watch
:
East
|
West
|
North
|
South
»
AFC
:
East
|
West
|
North
|
South
Falling

Minnesota's bottom line:
Vikings officials told state legislators that the team is losing money during testimony for their stadium bill. Many roll their eyes at a statement like that, especially when financial books are closed. But I can tell you this: Owner Zygi Wilf and his investment partners have funneled at least $50 million in personal cash into the team's coffers in order to pay its bills since buying the team in 2005. From a practical sense, if not accounting rules, that adds up to a negative cash position to me. But the imminent demise of this year's stadium effort means at least one more year of deficit spending to run the team.
Rising

Character in Detroit's locker room:
Cornerback Adam "Pacman" Jones appears on the verge of
signing with Cincinnati
, a development that by default should help the Lions. Yes, you read that correctly. Although Jones would no doubt be the most-talented cornerback on the Lions' roster, he would also be the least reliable. I understand the allure of bringing him in to bridge the rebuilding process, but the Lions would have been counting on a player who has never answered the bell consistently in his NFL career. Lions coach Jim Schwartz had a front-row seat to Jones' act in Tennessee, and to anyone's knowledge, the Lions didn't pursue Jones beyond attending a workout in New Orleans. The Lions are better off in the long run looking elsewhere for cornerback help.
April, 29, 2010
4/29/10
1:00
PM ET
»
NFC Stock Watch
:
East
|
West
|
North
|
South
»
AFC
:
East
|
West
|
North
|
South
Falling

Average age of Minnesota's quarterbacks.
Last week, the Vikings' three quarterbacks --
Brett Favre
,
Tarvaris Jackson
and
Sage Rosenfels
-- boasted an average age of 33. But that number plummeted to 30.25 after they signed William & Mary quarterback
R.J. Archer
as a rookie free agent. And if you want to add Ryan Perrilloux to the mix -- he will participate in a rookie minicamp this weekend as a tryout basis -- the average drops all the way to 28.8. So take that, all you
naysayers
who questioned the Vikings' long-term viability at quarterback after they failed to draft one this year.
Rising

Optimism in Detroit. How often has a Lions coach been quoted saying something funny, much less something as wild as Jim Schwartz's joke (I think) that he gets "aroused" watching
Jahvid Best
highlight videos on YouTube? Yes, the Lions believe they have something going after overhauling their defensive line and adding a number of skill players -- Best, receiver
Nate Burleson
, tight end
Tony Scheffler
-- to their offense. When you've lost 30 of your past 32 games, and 37 of your past 40, you take advantage of every reason to smile.
April, 15, 2010
4/15/10
1:00
PM ET
»
NFC Stock Watch
:
East
|
West
|
North
|
South
»
AFC
:
East
|
West
|
North
|
South
Falling

Wardrobe expenses in Minnesota:
Earlier this month, Vikings players reporting for the offseason conditioning program didn't see quarterback
Brett Favre
in the locker room. (Come on now.) But they did find a brand-spanking new pair of Wrangler jeans hanging in their lockers, courtesy of Favre. My guess is Favre spent a grand total of $0 on the gesture, considering his endorsement deal with the company. But hey, it's the thought that counts. For an encore, I suggest a round of HD televisions
from Sears
.
Rising

Chicago linebackers:
The Bears got good news on two fronts this week, making it reasonable to suggest that linebacker is once again the deepest and strongest position on their roster. First,
Pisa Tinoisamoa
re-signed
to take another run at elevating the strongside position. Tinoisamoa missed most of last season because of two knee injuries but has gotten medical clearance to return. If he stays healthy, Tinoisamoa is a cheap and valuable upgrade over the trio of players who worked the position in 2009. Second, general manager Jerry Angelo
declared
middle linebacker
Brian Urlacher
"100 percent" recovered from the wrist injury that sidelined him for 15 games last season. It was only a matter of time before Urlacher reached that threshold, but the timing means he will be able to maximize his offseason work during minicamps and OTAs.
April, 8, 2010
4/08/10
1:00
PM ET
»
NFC Stock Watch
:
East
|
West
|
North
|
South
»
AFC
:
East
|
West
|
North
|
South
Falling

Veteran experience in Chicago.
When we look back at this offseason, we might see it as the moment when the Bears accelerated the breakup of their 2006 Super Bowl team. Already, right end
Alex Brown
and cornerback
Nathan Vasher
have been released. There is no indication the Bears will re-sign left end
Adewale Ogunleye
. Tight end
Desmond Clark
could be the next to go. Each decision was made on its own merits, and I doubt the Bears' brain trust is executing a systematic plan to tear down their team and start over. After missing the playoffs for three consecutive years, the Bears need to win in 2010. No matter what the intention, however, there will be more than a few new faces at prominent positions in Chicago this season.
Rising

Jimmy Clausen, potential Minnesota quarterback.
Discussion of a Clausen free-fall has generated suggestions that the Notre Dame quarterback could be available close to the Vikings' No. 30 overall pick. We've
chronicled
the team's need to find a long-term direction at the position, and Clausen's experience in a pro-style system is an attribute coveted by Vikings coach Brad Childress. It's not clear how the Vikings feel about the rest of Clausen's skills, but we might start learning more at an open throwing session Friday in South Bend, Ind. It now seems possible, at least, that the Vikings could have their pick of every quarterback in the draft with the exception of Oklahoma's
Sam Bradford
.
April, 1, 2010
4/01/10
1:00
PM ET
»
NFC Stock Watch
:
East
|
West
|
North
|
South
»
AFC
:
East
|
West
|
North
|
South
Falling

Greener pastures.
Chicago released cornerback
Nathan Vasher
after three consecutive sub-par seasons. No team wanted to see him rebound more than the Bears, who gave him a $28 million contract extension before the first of those three seasons. But Vasher never regained his 2006 form and the Bears finally gave up on him. It didn't take long, however, for another team to grow convinced things would be different with them. That team was San Diego, which boasts two of Vasher's former coaches on its staff. Chargers defensive coordinator Ron Rivera and secondary coach Steve Wilks each held similar positions with the Bears. The Chargers have minimal risk in the investment, but you wonder if they actually watched the film of Vasher's play over the past three years. Rivera and Wilks are good coaches, but as they say, the eye in the sky doesn't lie.
Rising

Jim Schwartz, Detroit head coach:
As he enters his second year with the Lions, Schwartz knows the healthy thing to do would be to
lower his blood pressure
a bit during games. The Lions have a long way to go and are going to present him plenty of temper-inducing moments in the short term. But to his credit, Schwartz realizes that's easier said than done. The worst thing he could do is begin accepting below-standard play. Schwartz said he will calm down once the team gets "the way we need [it] to be." That should be a good thing for the Lions and their fans.
March, 25, 2010
3/25/10
1:00
PM ET
»
NFC Stock Watch
:
East
|
West
|
North
|
South
»
AFC
:
East
|
West
|
North
|
South
Falling

Offended NFL coaches:
A number of NFL coaches, including Minnesota's Brad Childress and New Orleans' Sean Payton, expressed objections to the process by which owners approved an overtime rule change at the recently concluded owners meetings. After indicating a vote would come Wednesday morning, owners instead re-convened Tuesday afternoon during a coaches golf outing to settle the issue. Childress said: "Our understanding was we were going to come back and talk about it more. ... The word 'transparency' comes to mind." I don't doubt it was surprising and perhaps infuriating to feel misled in that manner. In fact, I know it felt that way. In the real world, bosses make decisions and change the rules every day without consulting and/or incorporating the rank and file. For one day, at least, NFL coaches were nothing more than employees. Welcome to paradise.
Rising

Julius Peppers, Chicago defensive end:
There has been considerable talk about whether Peppers would play left end or right end in the Bears' scheme. He's a rare pass-rusher who is completely comfortable with his left hand on the ground, allowing him to take advantage of a natural mismatch against the right tackle. But rather than lock him into one position, Bears coach Lovie Smith
suggested this week
that Peppers will flip between the two in order to maximize flexibility and mismatches. As long as Peppers is comfortable in that scenario, the approach is ideal. Some NFC North teams are weaker at left tackle than they are on the right side. There's no reason to ignore that matchup when it presents itself.
March, 18, 2010
3/18/10
1:00
PM ET
»
NFC Stock Watch
:
East
|
West
|
North
|
South
»
AFC
:
East
|
West
|
North
|
South
Falling

Favre conspiracy theories
: Can we all agree it's pointless to suggest that quarterback
Brett Favre
somehow
dropped the ball
on recruiting free-agent running back
LaDainian Tomlinson
? And that the uncertainty of Favre's future actually played a role in Tomlinson's decision to sign with the
New York Jets
? In my mind, it's simple: Tomlinson went to New York because he's going to play more there. If anything, I'm betting Tomlinson is guessing Favre will play in 2010. Because if he doesn't, the Vikings are likely to revert to their run-heavy scheme -- one that almost certainly would have a significant role for a backup tailback. "Favre's indecision hurts Vikings" makes for a good headline, but there's no meat on those bones.
Rising

Matthew Stafford, Detroit quarterback
: Stafford is close to being fully healed from the knee and shoulder injuries that limited him to 10 games in his rookie season. He reported to the Lions' offseason conditioning program as the team's unquestioned starter and has also taken up residence as a locker room leader and representative. Team officials have looped him into their offseason plans, asking him for opinions and even inviting him to make recruiting calls to free agents. "I think they know that I know a lot of guys in the league and personnel pretty well," Stafford said. "It's fun to be able to help out a little bit."
December, 15, 2009
12/15/09
11:00
AM ET
»
NFC Stock Watch
:
East
|
West
|
North
|
South
»
AFC
:
East
|
West
|
North
|
South
Falling
1. Lovie Smith, Chicago coach:
The Bears have lost seven of their last nine games. Their only victories in that stretch have come against Cleveland and St. Louis (combined records: 3-23). It's becoming more evident that Smith and offensive coordinator Ron Turner didn't prepare adequately for the transition made necessary by the arrival of quarterback
Jay Cutler
, who looks lost and frustrated. And while it didn't cost him Sunday's game against Green Bay, Smith has no excuse for the kind of sideline disorganization that led to a two-timeout fiasco in the fourth quarter. Perhaps you excuse that for a rookie coach, but Smith has been in his job long enough to expect a well-oiled infrastructure for challenging plays -- regardless of the circumstances.
2. Drew Stanton, Detroit quarterback:
What does it say about Stanton that the Lions aren't willing to give him a chance to play at the end of a lost season? With starter
Matthew Stafford
rehabilitating his left shoulder, the Lions continue to use veteran backup
Daunte Culpepper
in his place. Culpepper has received a decent opportunity this season, but the Lions' offense has scored only one touchdown in his three starts. Since arriving in Detroit last year, Culpepper hasn't won a game. If Stanton doesn't merit a chance in those circumstances, it should be clear the Lions have no future plans for him.
3. Jay Cutler, Chicago quarterback:
We've seen this name here before, but Cutler's performances have gotten worse as the season continues. His two interceptions Sunday came off horrible, back-foot throws. The Packers could easily have doubled that total by hanging on to a few more passes. Cutler continues to lead the NFL with 22 interceptions, the most by a Bears quarterback in 47 years. In case you're wondering, the franchise record for most interceptions in a season is 31, set by Sid Luckman in 1947.
[+] Enlarge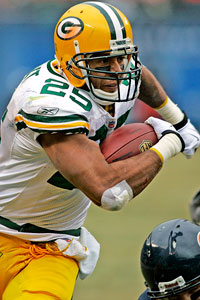 Rob Grabowski/US PresswireRyan Grant's 137 rushing yards Sunday put him over 1,000 yards for the season.
Rising
1. Ryan Grant, Packers tailback:
Grant demonstrated his explosiveness with a game-opening 64-yard touchdown run Sunday at Soldier Field, part of a 137-yard performance in a 21-14 victory over the Bears. It was Grant's longest run since Week 16 of the 2007 season, a span of 30 games. Leg injuries limited him for most of 2008, and the Packers' offensive line didn't open many holes during the first three quarters of this season. But Sunday's run was reminiscent of the game-breaking dashes Grant made routinely during the Packers' run to the 2007 NFC Championship Game.
2. Antoine Winfield, Minnesota cornerback:
Simply put, the Vikings' defense looked like a different group Sunday with Winfield in the lineup. Winfield's sure tackling (nine solo tackles) and solid coverage helped the Vikings limit Cincinnati to 210 offensive yards. His sprained foot isn't likely to heal completely until the offseason, but it was hard to notice any limitations Sunday. It's no coincidence that the Vikings clinched a playoff spot in Winfield's first game back. His return is a substantial boost as January football approaches.
3. Chester Taylor, Minnesota tailback:
In case you forgot, Taylor reminded everyone Sunday that the Vikings have a second option in their backfield behind
Adrian Peterson
. Taylor played a crucial role in the Vikings' opening drive of the second half Sunday, converting two third downs with receptions that totaled 32 yards, and also ripping off two runs for 22 yards. Peterson's subsequent 1-yard touchdown gave the Vikings a commanding 23-7 lead. As Peterson navigates one of the less productive stretches of his career, it's important to remember Taylor is healthy, fresh and available to contribute in many ways.
November, 24, 2009
11/24/09
11:00
AM ET
»
NFC Stock Watch
:
East
|
West
|
North
|
South
»
AFC
:
East
|
West
|
North
|
South
Falling

1. Ron Turner, Bears offensive coordinator:
You have to wonder if these are the final weeks of Turner's tenure. He has had one of the most difficult jobs in the Bears organization: Retrofitting his scheme to fit the sudden arrival of a downfield thrower. The challenge has been exacerbated by limited experience at receiver and an offensive line that has struggled to protect and open holes for the running game. But when an offense fails, you don't fire all the players. Usually the coordinator is the first to go. Turner's playcalling has left some room for debate as well. The use of receiver screens are good substitutes for a nonexistent running game, but only in moderation. Turner has overdone it to the point where defenses seem to know when the play is coming.

2. Minnesota Nice:
That's the phrase Minnesotans use to describe their cheery default condition for human relations. It's also what outsiders refer to as their passive-aggressive bite. The latter emerged last week when the Metrodome's landlord started an unnecessary fight with the Vikings over their future in the building. Asking the team to extend its lease or face penalty payments, even if a negotiating ploy, represented an underestimation of the team's (and NFL's) patience on the issue. Every moment spent talking about this secondary issue is one that won't be spent on solving the bigger problem.
3. Anterior cruciate ligaments:
Four of them have snapped this year on Green Bay players. The list includes not only linebacker
Aaron Kampman
and
Al Harris
, but also cornerback/kick returner
Will Blackmon
and receiver
Brett Swain
. The ACL tear no longer marks the end of a career, but all four players will at least face the same issue that Packers linebacker
Nick Barnett
dealt with: Controlled activity during training camp and the possibility of a "yellow light" for playing time when the 2010 season begins.
Rising

Stafford
1. Matthew Stafford, Detroit quarterback:
The final diagnosis is in, and we now know that Stafford threw the game-winning touchdown pass Sunday with a separated left shoulder. It seemed pretty obvious when Stafford dashed onto the field with his left arm hanging limp, but now we have further proof that Stafford cares deeply about winning and has the competitive/tough streak he'll need to navigate the Lions' rebuilding project. You might question the hubbub about a quarterback who has an injured non-throwing shoulder, but I think we can agree Stafford was in excessive pain that was probably exacerbated by taking a snap from under center.
Brett Favre
might have produced the division's play of the year Sept. 27 against San Francisco. If that's the case, Stafford certainly gave us the sequence of the year.
2. Charles Tillman, Chicago cornerback:
We can't let the Bears' third consecutive loss overshadow a signature performance from Tillman, who forced three fumbles in Philadelphia's 24-20 victory. Tillman is quite simply the NFL's best player at poking the ball loose from ball carriers. Occasionally he misses tackles when focused too hard on the strip, but isn't that ultimately the definition of defense -- getting the ball back for your offense? According to official NFL statistics, Tillman has already forced a career-high six fumbles this season in 10 games this season. That gives him 22 in his career. And counting.
3. Ryan Grant, Green Bay running back:
His second 100-yard game of the season couldn't have come at a better time for the Packers, who needed to protect their injury-plagued defense as Sunday's game against San Francisco progressed. His 129 yards helped the Packers maintain possession for a whopping 41:39 of the game, including the final 5:50. I think Grant would be a better back if he were complemented by a speedy backup, which would help make his own shifty pace more definable. But Grant's style -- five yards here, six yards there, the occasional 21-yard run -- does lend itself to grinding out the clock in November/December games.
November, 3, 2009
11/03/09
11:00
AM ET
»
NFC Stock Watch
:
East
|
West
|
North
|
South
»
AFC
:
East
|
West
|
North
|
South
Posted by ESPN.com's Kevin Seifert
Falling:

1. Ted Thompson, Green Bay general manager:
It wasn't a good week to be the Packers' official ultimately responsible for sending quarterback
Brett Favre
on his way. Favre has led an NFC North rival to a 7-1 start, and in the process he has nearly eliminated the Packers from contention for a division title. Thompson's own roster has proved dangerously thin at some positions, most notably offensive line and running back. The situation has prompted the midseason signings of veteran free agents
Mark Tauscher
and
Ahman Green
. For a personnel chief who prides himself on developing his own young depth, both were revealing moves. Thompson's narrow philosophy of team-building is being tested.
2. Dominic Raiola, Detroit center:
Usually a reliable veteran presence, Raiola doesn't seem to get the unfortunate reality of fan relations. In a nutshell, there's no arguing with them. No matter how nasty the criticism gets, it goes with the territory of being a professional athlete. (And trust me, Detroit fans are pretty average when it comes to nastiness.) After confronting some Lions fans Sunday, Raiola said he doesn't want them getting to rookie quarterback
Matthew Stafford
like they did to former Lions quarterback
Joey Harrington
. That's another misread by Raiola: It's up to Stafford to ignore the jeers, not for the fans to stop. If he's like Harrington, unable to block it out, then he wasn't destined to have a successful career in the first place.
3. Johnny Jolly, Packers defensive lineman:
His inexcusable head-butt of Minnesota tailback
Chester Taylor
in the first quarter Sunday helped Minnesota to an additional four points. It didn't cost the Packers the game, but it played a big role in the Vikings taking the Lambeau Field crowd out of the game early on. Worse, Jolly expressed no remorse immediately afterward. Jolly has been playing well this season, but I hope he realizes how loyal the Packers were following a 2008 arrest in Houston. (Felony drug issues were eventually dismissed.) Jolly needs to work harder at returning the favor.
Rising:

1. Minnesota's Triangle of Authority:
The "TOA" was once a sarcastic description for the Vikings' cumbersome leadership structure that included coach Brad Childress, vice president/football operations Rob Brzezinski and vice president/player personnel Fran Foley and later Rick Spielman. But with the support of owner Zygi Wilf, the TOA built a talent-studded team that has started 7-1 and is a legitimate Super Bowl contender. In Sunday's victory over Green Bay, the Vikings got key contributions from three players -- quarterback Brett Favre, receiver/kick returner
Percy Harvin
and defensive end
Jared Allen
-- who were all either drafted, signed, or traded for in the past two years.

2. Chicago's secondary:
We've questioned the Bears' defensive backs since training camp, but Sunday they fulfilled the mission of a Lovie Smith defense: Create havoc. Safety
Danieal Manning
forced two turnovers, including a diving interception and a strip/fumble recovery of Browns tight end
Steve Heiden
. Cornerback
Charles Tillman
also was in on two turnovers, recovering a fumble and returning an interception 21 yards for a touchdown. The Bears might continue to give up yards in the passing game this season, but they could certainly mitigate the damage by coming up with multiple turnovers in the secondary.
3. Cliff Avril, Detroit defensive end:
Yes, I'm fully aware the Lions absorbed an inglorious loss at home to previously winless St. Louis. But Avril should be recognized as the only Lions player who had field awareness on the Rams' fake field goal, which ultimately resulted in Josh Brown's 36-yard touchdown pass to
Daniel Fells
. Avril, a defensive end, chased Fells across the field. He was unable to make the tackle near the sideline, but give him some credit for recognizing the Rams made no attempt to actually kick what would have been a 54-yard field goal attempt.
October, 6, 2009
10/06/09
11:00
AM ET
»
NFC Stock Watch
:
East
|
West
|
North
|
South
»
AFC
:
East
|
West
|
North
|
South

Posted by ESPN.com's Kevin Seifert
Rising
1. Jermichael Finley, Green Bay tight end:
Finley enjoyed a breakout game on a national stage Monday night, displaying the kind of downfield playmaking that had so many people excited this summer. He finished the evening with six catches for 128 yards, including a 62-yard touchdown in the first quarter and also a 37-yard reception in the fourth quarter. The touchdown play displayed all of his skills: He ran past Minnesota cornerback
Antoine Winfield
, juked safety
Tyrell Johnson
and dragged cornerback
Cedric Griffin
for the final 5 yards. This might have been the week where Finley passed veteran
Donald Lee
, who dropped a critical fourth-down pass in the end zone.
2. Jared Allen, Minnesota defensive end:
Brett Favre
got all of the attention, but Allen might have been the best player on the field Monday night. His motor ran non-stop despite a sinus infection that had him speaking in a cracked voice after the game. His 4.5-sack night, which included a safety, brought his four-game sack total to six. It's still not clear why the Packers thought they could check him with mostly single-blocking schemes. But if there was any doubt, Allen showed what he will do when opponents try to cheat on him. Consider this statistic when evaluating the Vikings' decision to acquire him last season: He has 20.5 sacks over the first 20 regular-season games in Minnesota.
3. Matt Forte, Chicago tailback:
The Bears' running game had been a point of concern for fans and media over the past few weeks -- right up until Forte dashed 61 yards on his first carry Sunday against Detroit. Later, Forte had a 37-yard touchdown run and finished with 121 yards on 12 carries. There remains room for improvement; he managed 23 yards on his other 10 carries. But the two long runs each led to touchdowns for the Bears, and that translates into a productive day for any running back.
Falling
1. Dom Capers, Green Bay defensive coordinator:
Capers got plenty of recognition when his defense shot out of the gates on opening weekend, intercepting Chicago quarterback
Jay Cutler
four times. His zone-blitzing scheme seemed the perfect tonic for the problems that plagued the Packers last season. But it was hard to explain why Capers called such a passive game Monday night. He seemed to ignore the blitzes in favor of a run-stopping package against tailback
Adrian Peterson
. That's an understandable approach in theory, but in reality the Packers overcompensated. Peterson managed only 55 yards on 25 carries, but Favre was rarely hurried and hit only once. The result? Favre picked the Packers apart.
2. Adrian Peterson's grip:
There aren't too many more ways to say this: Peterson has got to find a way to protect the ball better, whether he's being gang-tackled by 10 players or tripped up by one. His strength admittedly worked against him Monday night, when the Packers' inability to bring him down on a second-quarter run ultimately gave linebacker
Clay Matthews
time to rip the ball away and return it 42 yards for a touchdown. But the play gave Peterson 15 fumbles since the start of the 2007 season, the highest total for a running back over that span. Unfortunately for him, Peterson is doing nothing to discourage future opponents from ripping, grabbing and punching the ball more frequently.

3. Detroit's special teams:
The Lions gave up four returns of 24 or more yards, including a 102-yard kickoff return to the Bears'
Johnny Knox
. Some of that can be credited to the typically superior Bears blocking schemes. But over the course of the game, the Bears' average drive started at the Lions' 46-yard line. That's right: Six of their 13 possessions started on the Lions' side of the 50-yard line. Detroit's defense isn't nearly good enough to handle that type of short field on a consistent basis. Things were just as bad in the flip scenario: The Lions' average drive started at their own 18-yard line.