NFC North:

Tahir Whitehead
November, 8, 2013
Nov 8
8:00
AM ET
Good morning and ROOOAAARRR!!!!
ALLEN PARK, Mich. -- Martell Webb didn't play much at Michigan. Stuck in an offense that didn't utilize tight ends and with Kevin Koger ahead of him, Webb's opportunity just never came.
The NFL, though, apparently sees something it likes in Webb, who had nine catches for 111 yards and two touchdowns in his college career. The Detroit Lions brought the tight end onto its practice squad this week -- Webb's seventh team since 2011.
"It's all been a learning experience," Webb said. "It's actually made me stronger throughout this whole time. I'm just grinding, going to grind it out, work hard. That's all I can do, and let the rest play out."
Webb's journey back home -- he is originally from Michigan as well -- started in Philadelphia as an undrafted free agent, and continued to the New York Jets, Tampa Bay, Arizona, Indianapolis, Tennessee and, now, Detroit.
The Lions brought Webb in because they have only two healthy tight ends -- Brandon Pettigrew and Joseph Fauria. The team cut Dorin Dickerson and Tony Scheffler earlier this season, and rookie Michael Williams is on injured reserve.
"Well, we needed a tight end. We were light on tight ends. Particularly with practice, it was hindering our ability to practice," coach Jim Schwartz said. "We were using defensive linemen and linebackers to get scout-team reps, and that played a big part. He worked out for us yesterday and showed some pretty good things.
"He's a big strong guy. More of a blocking-type tight end, but he'll fit in nicely for us."
And now a look at the Lions from around the Interwebs:
October, 11, 2013
Oct 11
5:18
PM ET
Detroit Lions
defensive end
Israel Idonije
was fined $15,750 for a leg whip during his team's 22-9 loss at Green Bay on Sunday, the only Lion to be fined this week.
Defensive tackle
Ndamukong Suh
, who had a tripping penalty in the first half against the Packers, was not fined. Suh disputed it was even a tripping play when asked about it this week.
"I wouldn't say it was a tripping play. I was more or less reaching out, trying to grab him and being held," Suh said. "It's part of the game. Got to find a better way to get off offensive linemen and make a play."
Linebacker
Tahir Whitehead
, who had an unnecessary roughness penalty in the fourth quarter Sunday, also was not fined.
September, 12, 2013
Sep 12
4:42
PM ET
ALLEN PARK, Mich. -- Outside linebacker
Ashlee Palmer
missed practice with an ankle injury according to the
Detroit Lions
' official practice report Thursday.

He was one of four Lions to miss practice, joining defensive tackle
Nick Fairley
(shoulder), right tackle
Jason Fox
(groin) and safety
Don Carey
(hamstring).
If Palmer were to miss Sunday's game, he would likely be replaced by veteran
Rocky McIntosh
, although
Tahir Whitehead
is listed as his backup on the unofficial depth chart.
McIntosh was the fourth linebacker used in Detroit's 34-24 win over Minnesota on Sunday. It also means the Lions now have five healthy linebackers on the roster: starters
Stephen Tulloch
and
DeAndre Levy
, McIntosh, Whitehead and
Travis Lewis
.
Detroit coach Jim Schwartz declined to discuss the injuries to Fairley and Palmer, although he did not Fairley did finish Sunday's game.
Safeties
Louis Delmas
(knee) and
John Wendling
(ankle) were limited Thursday. Running back
Reggie Bush
and defensive end
Jason Jones
practiced fully.
August, 26, 2013
Aug 26
2:45
PM ET
Along with the rest of the NFL, the
Detroit Lions
must reduce their roster to 75 players by Tuesday. They'll play their preseason finale Thursday at the
Buffalo Bills
and then cut their roster again to 53 players by Saturday. On the cusp of a busy week, both in the NFL and here
on ESPN.com
, let's review some of the biggest personnel issues the Lions have been working through this summer:

Right tackle/right guard
Seifert comment:
Jason Fox
started at right tackle and rookie
Larry Warford
at right guard in the presumably pivotal third preseason game, and that's the combination many of us thought would ultimately emerge from this competition. But the Lions haven't announced any winners, and coach Jim Schwartz said: "We have a lot of different options and a lot of guys that can potentially get the job done."
No. 2 receiver
Seifert comment:
As we noted over the weekend,
the Lions reportedly are making calls to see if they can upgrade here. That's understandable.
Nate Burleson
and
Ryan Broyles
are both working in the slot position.
Patrick Edwards
hasn't done much in the preseason after being given a nice opportunity to earn the role. Journeyman
Matt Willis
has been more productive.
Chaz Schilens
and
Mike Thomas
have already been released.
Strong-side linebacker
Seifert comment:
The Lions started off veteran
Ashlee Palmer
in this role and he has not relinquished it. Second-year players
Tahir Whitehead
and Travis Lewis have not mounted a serious challenge, and defensive coordinator Gunther Cunningham has suggested Lewis might be better suited in the middle. Two recent veteran acquisitions,
Rocky McIntosh
and
Chris White
, seem targeted more for special teams roles.
Safety
Seifert comment:
So far, it appears that the Lions' limited plan for
Louis Delmas
' camp participation has worked. Delmas looked healthy and active in 12 preseason snaps last week, and barring a flare-up of his knee condition, he is expected to start in Week 1 against the
Minnesota Vikings
.
Cornerback
Seifert comment:
Rookie
Darius Slay
had some predictably tough moments last week against
Tom Brady
, but there doesn't seem to be much reason to go back to veteran
Ron Bartell
. If anything, newly-signed
Rashean Mathis
will push for playing time, perhaps at nickel in competition with
Bill Bentley
.
Kick/Punt returner
Seifert comment:
The Lions have gotten returns from five different players in preseason games. They're trying to decide whether to dedicate a roster spot for a returner or use a backup player to handle the job. To this point, none of the participants
Place-kicker
Seifert comment:
Once
David Akers
proved he was healthy, it was clear the job would be his.
Havard Rugland
has been a fun camp story, but it's hard to imagine the Lions finding a spot on their roster for him -- especially with punter
Sam Martin
kicking off. Akers has converted seven of eight field goals in the preseason.
August, 17, 2013
Aug 17
3:05
PM ET
In the past two days, the
Detroit Lions
have signed a 34-year-old defensive tackle and a 30-year-old linebacker. They've also made plans to work out a soon-to-be 33-year-old cornerback while also signing a rookie defensive lineman whose checkered past left him unsigned when training camp began.

What in the name of panic is going on here?
I guess the easy answer is that the Lions are disappointed with their defensive personnel at certain positions and have called in reinforcements. In reality, the Lions have essentially acted on contingency plans they put in place before the start of training camp.
Defensive tackle
Justin Bannan
visited the team in July, as did linebacker
Rocky McIntosh
. In the interim, the Lions haven't had someone step up as a backup defensive tackle behind
Ndamukong Suh
and
Nick Fairley
. And the two young challengers to the strongside linebacker job,
Tahir Whitehead
and
Travis Lewis
, have both looked overmatched in preseason games.
Bannan is likely to have a backup role along with
C.J. Mosley
, while McIntosh gives the Lions an option besides
Ashlee Palmer
at that third linebacker spot. And in veteran cornerback
Rashean Mathis
, who was scheduled to visit Saturday, the Lions could see an option to incumbent
Ron Bartell
, who has struggled with injuries and has been pushed for playing time by rookie
Darius Slay
.
*Update:
The Lions announced that Mathis signed a contract after his visit. He was set to participate in Saturday's practice in Allen Park, Mich.
Finally, rookie defensive tackle
John Drew
agreed to terms about a month after the
New England Patriots
reportedly pulled their contract offer to him. Drew finished his college career at North Carolina Central University after he was kicked off the team at Duke because of a
gun-related arrest
. The Lions obviously wanted to evaluate their own depth first before signing him.
August, 10, 2013
Aug 10
8:15
AM ET
Reviewing Friday's action at Ford Field:
Detroit Lions 26, New York Jets 17
Preseason record:
1-0

Of interest:
The Lions couldn't have asked for a better start from rookie defensive end
Ziggy Ansah
, who snagged a
Mark Sanchez
pass on the second series of the game and returned it 14 yards for a touchdown. (To be fair, defensive linemen
Willie Young
and
C.J. Mosley
helped bust up a screen play, and Sanchez should have grounded the ball.) Ansah also had one tackle for loss in playing a total of 20 snaps. … New safety
Glover Quin
just missed a pick-six himself; Jets tight end
Kellen Winslow
dislodged the ball as he ran by. … Two of the young players competing for the Lions' third linebacker job appeared to make mistakes in the early going.
Tahir Whitehead
missed a tackle against Winslow, who went on to a 24-yard gain. And
Travis Lewis
might have been the player who busted coverage on
Jeff Cumberland
's 26-yard touchdown reception. … There is no doubt you'll hear plenty about
Havard Rugland
, aka "Kickalicious," after he converted field goals of 49 and 50 yards in the second half. But it was a strong night of kicking all around for the Lions' new-look special teams. Veteran
David Akers
also was good on both attempts, from 47 and 35 yards, and rookie punter
Sam Martin
averaged a net of 43.7 yards on three punts and had touchbacks on all three kickoffs. … It's vital for a rookie to get repetitions, and the Lions made sure to get right guard
Larry Warford
a game-high 53 snaps. That means he played about three-quarters of the game after replacing starter
Dylan Gandy
.
Local coverage:
Ansah on his touchdown, via
Kyle Meinke of Mlive.com:
"When I caught it, I was like, 'Oh wait, the ball is in my hands. I've got to go that way. I just did." …
Drew Sharp of the Detroit Free Press
: "It was a good start for the young man, but let's not stamp his ticket to Canton just yet, shall we? Detroit is an overly reactionary sports town -- to both positive and negative developments." … Rugland was so excited about his first field goal that he forgot he had to kick off afterwards, writes
Josh Katzenstein of the Detroit News.
… Young had another good preseason game, leaving us all to wonder whether he is ready to translate that production to the regular season.
Carlos Monarrez of the Free Press
explains.
Up next:
Thursday at
Cleveland Browns
July, 17, 2013
Jul 17
8:25
AM ET
We're Black and Blue All Over:
I didn't post anything immediately after
Tuesday's annual release
of the Green Bay Packers' financial report. I know how much you guys love those accounting/stadium/legal posts. But I do want to point out what I believe was the official release of the new capacity at Lambeau Field.

Vic Ketchman of Packers.com
notes that the Packers' most recent renovation project -- adding about 7,000 end zone seats -- brings the official capacity to 80,750. That makes Lambeau the third-largest stadium in the NFL behind FedEx Field (home of the Washington Redskins) and MetLife Stadium (New York Giants/Jets).
For those interested, I have a few thoughts on the Packers' financials that will post later Tuesday. Otherwise, don't forget: Today is the day that ESPN.com is scheduled to flip commenting procedures on posts. You'll need to log in via Facebook to leave a comment. Good luck!
Continuing around the NFC North:
June, 28, 2013
Jun 28
9:05
AM ET
We're Black and Blue All Over:
The annual ESPY awards
, held July 17 and hosted by Jon Hamm, will have plenty of NFC North connections.
The nominees include Minnesota Vikings tailback Adrian Peterson for Best Male Athlete. Peterson was also nominated for Best NFL Player along with Green Bay Packers quarterback Aaron Rodgers and Detroit Lions receiver Calvin Johnson. Finally, Johnson was nominated for Best Record-Breaking Performance after setting a new mark for receiving yards in a season.
The ESPYs are the last moment of the dead sports period of summer, at least for me. When they're over, training camp is just around the corner. And you know what that means….
Continuing around the NFC North on a quiet Friday morning:
May, 29, 2013
May 29
8:35
AM ET
We're Black and Blue All Over:
The arrival of a new quarterback always generates offseason buzz, even if it's to a team such as the Detroit Lions -- whose starter and backup appear firmly in place. Just the same, the Lions claimed former Cleveland Browns quarterback Thaddeus Lewis on waivers this week, according to
Josh Katzenstein of the Detroit News
among others, and he will at least give them an intriguing arm to evaluate this spring.

Matthew Stafford is the Lions' starter and veteran Shaun Hill would appear set as his backup, but No. 3 quarterback Kellen Moore's job could be available. Also, Hill is recovering from minor foot surgery and has been in a walking boot this spring. If nothing else, Lewis gives the Lions a live arm during organized team activities while Hill completes his recovery.
Lewis, a second-year player out of Duke, started the Browns' season finale last season, completing 22 of 32 passes for 204 yards with one touchdown and one interception.
Continuing around the NFC North:
February, 21, 2013
Feb 21
3:07
PM ET
INDIANAPOLIS -- As the NFL scouting combine gets underway, we have an official but tentative round-by-round list of draft choices for NFC North teams.
The quick breakdown is in the chart below, courtesy some spreadsheet magic from NFC West colleague Mike Sando. In case you're wondering, the
Detroit Lions
gave their fourth-round draft pick to the
Minnesota Vikings
last year so they could move up and draft linebacker
Tahir Whitehead
. So at the moment, the Vikings have the No. 5 and the No. 23 pick in the fourth round.
The
Chicago Bears
' third-round draft pick goes to the
Miami Dolphins
as part of the
Brandon Marshall
trade.
To be clear, this list does not include the compensatory picks that some teams receive as a result of the previous year's free agent gains and losses. Those picks will be announced in the spring, probably in mid-March.
August, 11, 2012
8/11/12
12:00
PM ET
ALLEN PARK, Mich. -- The
Detroit Lions
improved in each of their first three seasons under general manager Martin Mayhew and coach Jim Schwartz, progressing from 2-14 to 6-10 to last season's 10-6 playoff campaign. So, as they moved through training camp this summer, it was fair to ask: What's next?

"Every team wants to be a champion," receiver
Nate Burleson
said. "But now we just have to prove we can be consistently [good]. That's the most important thing. We're not that team yet that everybody looks at year in and year out and says we're going to be a contender. We don't have the consistency yet to give off that perception to people outside this facility.
"We don't want to be the team that falls back and be the team that makes mistakes. We don't want to be that successful team that ends up shooting ourselves in the foot halfway through the season."
A few days at training camp revealed the Lions are once again genuine playoff contenders, ones with a structure so routine that coaches had the entire scheme installed in three days. Discussion of an embarrassing offseason has faded, leaving the Lions to focus their attention elsewhere.
Mathematically speaking, the next step for this franchise would be a first NFC North title. But the Lions instead have spent the summer working to shore up the flaws that got them bounced from the 2011 postseason.
"Our goal is to make the playoffs," quarterback
Matthew Stafford
said. "Once you get in the playoffs, you've got a chance to be in it and go win it. You've seen that it doesn't matter whether you win your division or not. It's good to be fighting tooth and nail and trying to find a way to get in. Once you get in, anything can happen. We want to go back to the playoffs and do something when we get there."
THREE HOT ISSUES
[+] Enlarge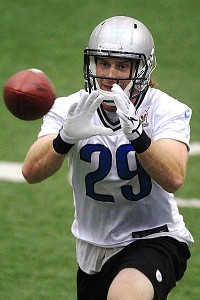 Carlos Osorio/AP PhotoEarly in the preseason, it appears John Wendling will be the Lions' starting safety.
1. Secondary holes:
The Lions had one of the NFL's worst pass defenses over the final six weeks of last season, partially because of injuries to cornerback
Chris Houston
and safety
Louis Delmas
. Houston has returned healthy, but
Delmas had surgery
last week on his left knee and might miss the preseason.
Meanwhile, safety
Amari Spievey
's camp performance has been uneven enough to allow veteran
John Wendling
to supplant him as a starter. The Lions are also working to find a replacement starter for released cornerback
Aaron Berry
, and the most optimism-inspiring turn of camp
has been the emergence
of rookie
Bill Bentley
.
In all, the project to repair one of the Lions' primary 2011 weaknesses remains a work in progress.
"It really doesn't matter what they look like in practice," Schwartz said. "It's how they play in games. These next … preseason games will go a long way toward determining how we feel about those guys and how they practice every day and things like that, not what they've done in the past. We've got some quality guys back there."
2. On-field judgment:
The Lions' issues with penalties last season have been well-documented, and players said Schwartz has been much
more vocal in practice to discourage such easily preventable mistakes
. At one point last week, right tackle
Gosder Cherilus
was removed from a team drill after jumping offsides.
"If you do have penalties, you're going to get it," Houston said. "He's going to yell at you."
Meanwhile, it was worth noting that rookie linebacker
Tahir Whitehead
kept his composure when veteran center
Dominic Raiola
whacked his helmet after getting tripped. Several defensive players surrounded Whitehead to prevent any escalation, but Schwartz was pleased with Whitehead's response and with how quickly order was restored.
"I think that that's a good step, particularly a rookie like Tahir," Schwartz said, "to be able to show restraint and keep focus even when guys were competing. The biggest thing is not letting those things get a hold of you, and I thought that Tahir did a very good job in that situation."
We're not going to declare the Lions a changed team based on one instance when cooler heads prevailed. But camp usually is when the tenor of a team is set. And even if you don't buy that theory, consider it this way: A focused camp where players are concentrating on their assignments is preferable to one where fighting and other chaos breaks the routine.
3. Health at running back:
After months of discussion about the potential of a full-strength backfield, the Lions have yet to get
Jahvid Best
and
Mikel Leshoure
on the practice field together. Best remains on the physically unable to perform list, still not cleared to practice, and Leshoure has missed most of camp because of a strained hamstring.
Leshoure is expected to return to practice next week, but, for now, the Lions' most likely Week 1 starter is veteran
Kevin Smith
. In many ways, Smith is an ideal option when a team's top two running backs are sidelined. He keeps himself in excellent condition and once again showed in camp that he is well-versed in the Lions' offense.
REASON FOR OPTIMISM
In this era of NFL passing efficiency, any team with a quarterback like Stafford, a receiver like
Calvin Johnson
and a cast of complementary players at tight end (
Brandon Pettigrew
and
Tony Scheffler
) and receiver (Burleson and
Titus Young
), will be competitive. Just as significant to the Lions' hopes, however, is the consistency of their program.
[+] Enlarge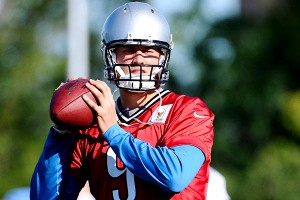 Tim Fuller/US PresswireQB Matthew Stafford & Co. have developed some consistency that should benefit the Lions this year.
Like Schwartz, offensive coordinator Scott Linehan and defensive coordinator Gunther Cunningham are entering their fourth seasons with the Lions. Special-teams coordinator Danny Crossman joined the team in 2010. That means the Lions have to teach their scheme only to the handful of newcomers they welcomed onto their roster and can spend more of training camp focused on higher matters.
"It's tough for a rookie, probably, to jump in," Stafford said, "but the whole playbook is in about three or four days. We have a lot of returning starters who know what to do, and it's on the rookies to pick it up along the way."
Schwartz noted that there are always new wrinkles to work on and adjustments to make, but added: "Our first day of training camp, if we had to go play a game, we probably would have been able to call an entire game on offense, defense and special teams. It gives you a little more leeway. You don't have to start over and you don't have to put things in."
REASON FOR PESSIMISSM
Detroit is a good, playoff-caliber team that plays in what might be the NFL's toughest division. Nothing I saw at training camp pointed to anything other than continued progress toward elite status. The Lions' biggest problem is that they will fight for a playoff-caliber record in a division that contains two similar teams, the Packers and Bears.
The Lions are 2-10 over the past three seasons against the Packers and Bears. Conventional wisdom suggests they will have to beat out at least one of those teams in the NFC North standings to earn a second consecutive playoff berth.
OBSERVATION DECK
It seems odd to move through a training camp snapshot without much mention of the player who last year had one of the best seasons for a receiver in NFL history. Johnson looked, well, like Johnson -- a man among boys. Earlier this summer, Burleson said he thought Johnson looked stronger and faster than ever. When I dipped into a media scrum surrounding Burleson's locker last week, he was suggesting that Johnson could outrun Olympic gold medalist Usain Bolt if he trained as a sprinter rather than a football player. I'm not sure whether Burleson was joking.

We're almost numb to seeing Johnson make inhuman catches, but we're still getting used to the third portion of the Lions' trio of top receivers. Young, by all accounts, has had an excellent camp. Thursday, I watched him meet a low throw in textbook fashion, snatching it with both hands just before it hit the ground. By grabbing the ball and not diving, Young stayed on his feet and used sideline footwork to earn a first down. "He's always been a very skilled player," Schwartz said. "Very good hands. He's an important player in our offense. … He's a guy that missed all of training camp last year. He had very, very few practices. So this is really his first training camp. We are seeing good signs from him but also continued development. It's not just flashes. It's been a lot more consistency."

The Lions are still working through options to find the best place for second-year defensive tackle Nick Fairley, who is spending time at defensive tackle and at defensive end in a new "Grey" scheme. Fairley is fully healthy for the first time since breaking his foot last August. When I asked Schwartz whether he has seen the player the team thought it had when Fairley was drafted, he said: "I don't want to read too much into practice. He's running well. He's strong. He's still developing in our scheme. This is a very important preseason to evaluate him. Last year, even when he was playing with us, he was never 100 percent. He is now, and this will be a good preseason for him to show that."

We have often joked in our SportsNation chats about the relative lack of recognition Stafford received after a 5,038-yard, 41-touchdown season. So I laughed when, asking Stafford whether he had allowed himself a moment to feel good about a 5,000-yard season, he said: "I mean, it means nothing at all. Shoot, I don't even think half the league even knew it happened. It doesn't matter to me."

Familiarity with Linehan's offense provides at least one advantage: Players are more likely to know multiple positions, allowing them to rotate more often and minimize defensive adjustments. "At this point," Burleson said, "we know the offense and we know each other's positions. Now we can make it even that much more difficult to guard us by moving [Johnson] around, moving myself around, moving Titus around, so you can't look at the depth chart and know where we're going to line up day in and day out."

Rookie first-round pick Riley Reiff got some first-team work at left tackle, where he probably will replace Jeff Backus one day. But there are no indications that Cherilus is in danger of losing his job, giving the Lions a better backup option than most teams have if a starting left tackle or right tackle is injured.

The Lions are hosting a punting competition for the second consecutive season, but no favorite has emerged. Ryan Donahue, who opened last season as the Lions' punter, is competing against the player who replaced him after a quadriceps injury, Ben Graham.
August, 9, 2012
8/09/12
4:00
PM ET
ALLEN PARK, Mich. -- Some thoughts and observations from our second day of training camp with the
Detroit Lions
: