February, 16, 2012
2/16/12
11:00
AM ET
Another in a daily series on NFC North players who are candidates to receive their team's franchise tag. The window for tagging players opens Monday and closes March 5.
[+] Enlarge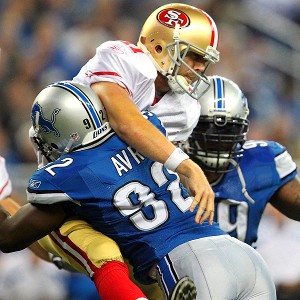 Mike Carter/US PresswireDetroit defensive end Cliff Avril, a potential free agent, had 11 sacks last season.
The future of
Detroit Lions
defensive end
Cliff Avril
remains
one of the Big Decisions
we identified last month for NFC North teams. Avril and the Lions find themselves in a vortex of variables: He will be a free agent after a career season at a premium position for a team pushed tight against the salary cap. Can the Lions afford to keep a homegrown talent who totaled 11 sacks and forced six fumbles last season?
Earlier in this Franchise Focus series, we noted the allure of the tag for the
Green Bay Packers
, who could lock up tight end
Jermichael Finley
for around $5.5 million, and the
Chicago Bears
, who could retain tailback
Matt Forte
for about $7.7 million. In Avril's case, however, the franchise tag would be an inefficient and costly tool in the short term.
The NFL has not released its official franchise numbers for 2012, but
writing for Football Outsiders
, Brian McIntyre has projected it to be about $11 million for defensive ends. At last check, the Lions were slightly over the projected NFL cap limit of $120 million, meaning they would have to clear (or create) $11 million in space prior to placing the tag on Avril.
That would be a difficult task for a team with deep cap issues and a number of equally important priorities. Of course, the alternative is signing Avril to a long-term extension that would require a significantly higher cash commitment but could be written to maintain a lower first-year cap total.
Two recent deals, both of which average about $12 million per season, provide context for the type of deal Avril could receive.
Kansas City Chiefs
linebacker
Tamba Hali
is playing under a five-year, $60 million deal that includes $35 million in guarantees, while
Carolina Panthers
defensive end
Charles Johnson
signed a six-year, $72 million contract last summer with $30 million guaranteed.
As we noted last month, Johnson's deal counted about $10 million against the cap in 2011, and his cap numbers will fluctuate between $11 million and $16 million throughout the deal.
Considered together, these numbers illustrate why it is going to be a difficult task for the Lions to bring Avril back. The Lions could artificially lower his first-year cap number in a long-term deal, but eventually they would have to pay for it. Pass-rushers almost always get paid, one way or the other, and Avril will be no different.
September, 30, 2011
9/30/11
1:30
PM ET
»
NFC Final Word
:
East
|
West
|
North
|
South
»
AFC
:
East
|
West
|
North
|
South
Five nuggets of knowledge about Week 4:
Speed rushers:
Two weeks ago,
Kansas City Chiefs
linebacker
Tamba Hali
put four hits on
Detroit Lions
quarterback
Matthew Stafford
. Last week,
Minnesota Vikings
defensive end
Jared Allen
sacked him three times while fellow defensive end
Brian Robison
brought him down twice. Hali and Allen are two of the NFL's best pass rushers. Sunday, the Lions will face the best. No NFL player has more sacks this season (5.0) or over the past three seasons (51.5), than the
Dallas Cowboys
'
DeMarcus Ware
. Stafford has had success getting the ball downfield despite facing those elite rushers. But the Lions probably don't want to find out how much damage Ware can do. They would be well-advised to devote more attention to him than Hali and Allen saw. Tight end
Brandon Pettigrew
is one of the NFL's top blockers at his position. The Lions might need to utilize him in that regard Sunday.
"Statement game:"
I personally hate that phrase and think it's mostly irrelevant in the world of the NFL. With that said, I think the Lions have their best opportunity yet to demonstrate how far they've come and to set their fan base into a frenzy heading into their Oct. 10 prime-time game against the
Chicago Bears
. The Cowboys are 2-1 and have designs on the NFC East title. The Lions, meanwhile, have won in Dallas only twice in their history. Last season, the Bears began walking with a little extra pep in their step after winning at Cowboys Stadium. The Lions could do the same. A win would give the Lions their eighth consecutive regular-season victory, dating back to last season. That would be their longest winning streak since taking nine consecutive games from 1953-54.
[+] Enlarge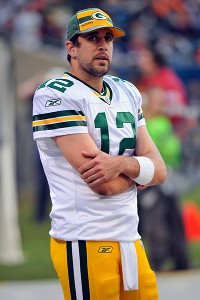 Rob Grabowski/US PresswirePackers QB Aaron Rodgers could make Denver pay if the Broncos continues to blitz as often as they have in their first three games.
Faint hopes:
The
Denver Broncos
have never won in the state of Wisconsin. They've lost seven consecutive road games and are one of three teams in the NFL whose pass defense has netted them zero interceptions this season. That's a bad combination for a 1-2 team traveling to Lambeau Field. Want some more? The Broncos have felt compelled to blitz on 41.9 percent of opponents' dropbacks this season, the sixth-highest rate in the NFL. Packers quarterback
Aaron Rodgers
is completing an NFL-high 74.4 percent of his passes against the blitz. It's unlikely to work Sunday for the Broncos. On his weekly radio show, Rodgers noted that the Packers have seemed an afterthought from national observers. "Let everybody talk about Philly and Dallas and Washington and Detroit and Buffalo and we'll keep on doing what we're doing," he said. It's hard to imagine the Packers doing anything other than continuing to plug along Sunday.
Run to daylight:
The
Carolina Panthers
are giving up an average of 117 yards rushing per game, the seventh-worst mark in the NFL. As we've
discussed a few times
, the Bears haven't paid enough attention to their running game this season. That has to stop Sunday. We can spend all the time we want discussing the return of Panthers coach Ron Rivera and tight end
Greg Olsen
. I'm sure they're both pumped for this game. But the Bears can control it if offensive coordinator Mike Martz can find a way to get the running game going. The Panthers should be vulnerable in that area.
Someone will win
: The 0-3 Minnesota Vikings play at the 0-3 Kansas City Chiefs. Something has got to give, right? A matchup of two winless teams after at least three weeks is relatively rare; it's happened six times in the past 10 years of NFL play. The Vikings haven't given up on their playoff hopes quite yet. After all, three teams have advanced to the postseason over the past 21 seasons after starting 0-3. But if the Vikings fall to 0-4 on Sunday, the most interesting question remaining in their season will be when rookie quarterback
Christian Ponder
will get on the field. When they acquired starter
Donovan McNabb
this summer, I don't think the Vikings believed they would be facing a Ponder Watch so early in the season.
September, 29, 2011
9/29/11
7:15
AM ET
We're Black and Blue All Over:
The Minnesota Vikings' quest to smooth out quarterback Donovan McNabb's mechanics, as explained by
Jeremy Fowler of the St. Paul Pioneer Press
, is a warning sign on several levels.

First, McNabb is in his 13th season and will be 35 in November. You don't typically see NFL teams tinkering with the mechanics of a veteran and presumably established quarterback at that point in his career, especially during the season.
Second, the Vikings have reacted to McNabb missing some open receivers and having some accuracy issues. Quite frankly, McNabb is performing at about his career level in that area. He is completing 58.0 percent of his passes this season. His career completion percentage is 58.9. McNabb has been many things during his career, but the NFL's most accurate passer isn't one of them.
When asked if he needed to change anything Wednesday, McNabb said: "No."
I don't blame him. After 13 years in the NFL, usually you're best off going with what got you here.
Obviously, the Vikings have the right to identify flaws and should attempt to coach any player toward a direction that could makes him better. But when it's the accuracy of your veteran quarterback at issue, there won't be any easy fixes.
Continuing around the NFC North:
September, 28, 2011
9/28/11
7:20
AM ET
We're Black and Blue All Over:
If you were the Chicago Bears, would you keep trotting receiver Roy Williams onto the field or would you back off his playing time until he demonstrated more efficiency in the offense? That was one of the questions our ESPNChicago.com crew considered in
this week's edition of "Four Downs
."

Jeff Dickerson had this strong response: "There is zero chemistry between Williams and Jay Cutler. None. The groin injury can't be used as an excuse because even before Williams got hurt in Week 1 he failed to show anything of substance in training camp or the preseason. He dropped a sure touchdown against the Packers, and his lack of effort on a few other throws was unacceptable. At this point, the Bears would be better served giving Johnny Knox all the game reps. Knox might drop some passes, but at least he runs full-speed while doing it."
I doubt the Bears will follow suit, but I think it's pretty obvious that Williams and Cutler have a lot of work to do in order to become an effective combination. In the meantime, a player Cutler had exceptional chemistry with -- tight end Greg Olsen -- will be standing on the visitor's sideline Sunday at Soldier Field.
Continuing around the NFC North:
October, 7, 2010
10/07/10
11:00
AM ET
By
Scouts Inc.'s Matt Williamson
| ESPN.com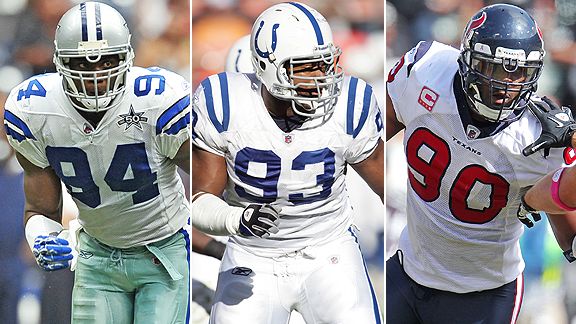 Icon SMI, AP PhotosDeMarcus Ware, Dwight Freeney and Mario Williams are among the most dominant pass-rushers.
Pass-rushers come in all shapes and sizes. But they are always at a premium.
Although they are difficult to find, there are a few tremendous interior forces when attacking quarterbacks. Those can be true upfield defensive tackles or even ends such as
Justin Tuck
who are versatile enough to move inside on passing downs.
But most great quarterback killers come off the edge, and this list reflects that. But edge-rushers also come in all shapes and sizes. Some are defensive ends in the 4-3, while others are pass-rushing outside linebackers in the 3-4. Some are tall, linear athletes with great wingspans, while others are shorter and built for leverage. Some pass-rushers rely on power, technique or speed. But every esteemed member of this group is more than just a one-trick pony.
One thing is certain: All can harass quarterbacks extremely well. These are the best of the best.
DeMarcus Ware, LB, Cowboys: Ware has it all. He has great quickness, but is also incredibly smooth and fluid with all his movements. Ware has a very long, lean athletic body type that he uses extremely well to keep blockers away from his frame, but also gets low and demonstrates great leverage. He also has a full array of pass-rush moves and a great motor to cap it all off. Ware already has four sacks in three games this year. Oh yeah, he also had 20 sacks in 2008.

Dwight Freeney, DE, Colts: If Freeney has lost a step, it is hardly noticeable. His body of work is amazing, but so is what he is doing now. Before his ankle injury last season, Freeney might have been rushing the passer at a higher level than at any point of his career. I also tend to think that the Super Bowl might have ended a little differently if the Colts' best defensive player had been healthy. Despite that injury, Freeney did notch 13.5 sacks in 2009.

Mario Williams, DE, Texans: This ultra-talented young man has come into his own in 2010. Only two players have more sacks this season than Williams (five). And he is one player on this list who is continually double-teamed. Few players look the part like Williams, and his skill set is off the charts. He has power, the body and closing speed. Now he is putting it all together. The league is taking notice.

Julius Peppers, DE, Bears: Peppers was great in Carolina, but looks rejuvenated -- and much more dangerous and consistent -- since joining the Bears. Peppers and Williams are the two players on this list who are just a different breed of athlete. Peppers and Williams are bigger and more gifted than the others. Although the Bears invested a small fortune in this great player, they must be happy with their investment to this point.

James Harrison, LB, Steelers: One of the functionally strongest players in the league, Harrison is a master at staying low and bullying his opponent. But his flat-out tenacity is what sets him apart. He got to the quarterback 16 times in 2008 and is also one of the very best in the business at dislodging the football when he does reach the quarterback. Harrison arrives with violence. Harrison and teammate LaMarr Woodley (see below) are probably the two best of this top 10 at setting the edge and playing the run.

[+] Enlarge

Jeff Hanisch/US PresswireClay Matthews leads the NFL with seven sacks.

Clay Matthews, LB, Packers: Bred to play the game, Matthews leads the NFL with seven sacks. Despite more or less learning a new position, he notched double-digit sacks as a rookie. He is a terrific blend of athletic ability, which he displays really well bending the edge without losing leverage or speed. But it is his technique -- most noticeably his use of his hands -- and overall tenacity that make Matthews special.

Robert Mathis, DE, Colts: Mathis is averaging a sack per game thus far in 2010, and the Colts have not played with their accustomed leads. Mathis benefits from Freeney being on the other side and also plays in the ideal conditions to use his amazing speed, but that should not take away from what he brings off the edge.

Jared Allen, DE, Vikings: Allen was second in the league in sacks last year, and from 2007 to 2009, Allen notched a whopping 44.5. Allen has begun this season rather slowly in this department, but the Vikings have played only three games and his track record speaks for itself. Not only is he a tremendous hustle player, but he uses his length extremely well.

Tamba Hali, LB, Chiefs: Hali doesn't get the credit he deserves or the accolades of the others on this list. In fact, Kansas City has really struggled to get after opposing quarterbacks over the last few years. But don't blame Hali. He has recently blossomed into a great 3-4 outside linebacker after spending time as a defensive end in Herm Edwards' Cover 2 scheme. The Chiefs are starting to get some recognition. Go out of your way to watch Hali. You will not be disappointed.

LaMarr Woodley, LB, Steelers: He has been great this year, but was out-of-this-world the second half of last season. He is one of the few pass-rushers on this list who usually lines up against slower-footed right tackles, but he can win one-on-one with technique, quickness or power. Woodley is just reaching his prime and will only get better.
Honorable Mention
:
Elvis Dumervil
,
Cameron Wake
,
John Abraham
,
Matt Roth
,
Ray Edwards
,
Trent Cole
,
Brian Orakpo
,
Terrell Suggs
,
Anthony Spencer
, Justin Tuck.
Scouts Inc. watches games, breaks down film and studies football from all angles for ESPN.com.
August, 21, 2009
8/21/09
8:50
PM ET
| | |
| --- | --- |
| | |
| | Kevin Seifert/ESPN.com |
| | It was standing room only for the media Friday night. |
Posted by ESPN.com's Kevin Seifert
MINNEAPOLIS -- Brett Favre jogged onto the field Friday night for pregame warm-ups at exactly 7:21 p.m. ET. At that moment, a media colleague elbowed me and said the scene in front of us -- Favre wearing a purple jersey, purple socks and horns on his helmet -- looked like a "real-life Photoshop."
I can't think of a better way to describe what unfolded in front of me and about 60,000 others over the past couple hours. The player wearing No. 4 looked like Brett Favre and carried himself like Brett Favre, but for a while it just didn't seem real. Even the most grizzled Metrodome veterans I know were blown away by how their worlds seemed to be colliding.
Maybe that's why darn near every person engaged in flash photography for the better part of an hour: To document one of the more historic days in Vikings history.
Unfortunately for the Vikings, that's about where the fun ended. Once the pomp and circumstance was over, Favre looked very much like a 39-year-old quarterback who just finished his first week of practice in almost nine months. He misfired on three of his four passes, his only completion a diving 4-yard catch by receiver Percy Harvin, and absorbed two heavy hits from an active Kansas City defense. The Vikings managed 9 yards over five plays in two series before Tarvaris Jackson replaced him.
(Those same fans booed Jackson as he jogged on the field. Classy.)
For those who are interested and don't have a live TV feed, here is what happened on Favre's four passes:
Favre throws several yards wide of fullback Naufahu Tahi, who is about 4 yards away from the line of scrimmage. Linebacker Tamba Hali slams Favre to the turf after beating left tackle Bryant McKinnie.
Harvin makes a diving catch of a low throw at the Chiefs' 47-yard line, but the dive causes Harvin to lose first-down yardage.
Favre steps up in the pocket and fires about 15 yards downfield to receiver Jaymar Johnson, but the ball sails about 3 yards wide of Johnson.
Chiefs linebacker Corey Mays bursts through the middle of the Vikings' line untouched on a blitz, slamming into Favre just as he lets go of the ball. Favre's pass falls well short of Harvin down the left sideline.
I'll have postgame reaction in a few hours.
May, 19, 2009
5/19/09
12:00
PM ET
Posted by Scouts Inc.'s Matt Williamson
It drives me crazy when teams make a drastic switch in scheme because that is what the cool kids are doing.
In this case, the cool kids are Baltimore, Pittsburgh, New England and other successful 3-4 teams. Of course, I understand many teams are now led by men who come from flourishing teams that ran the 3-4, but that doesn't make it the right decision. I can see -- to some degree -- why Denver would make this switch, as its defense hasn't been successful in recent memory and the defensive players on its roster were inadequate for either an odd or even front.
Kansas City bothers me because its most valuable front seven players -- Tamba Hali, Glenn Dorsey and Derrick Johnson -- all are far better fits for a traditional 4-3 than the 3-4. Doing that to Dorsey is especially sinister. However, it wasn't like Kansas City was a powerhouse on that side of the ball either.
| | |
| --- | --- |
| | |
| | Cliff Welch/Icon SMI |
| | The Packers are counting on B.J. Raji's versatility to help them in their transition to a 3-4 scheme. |
But the Green Bay switch really gets under my skin. Two years ago, the Packers had an upper-tier defense while running the 4-3. The strength of that team was a very deep, talented and versatile defensive line. The Packers rotated big men in, stayed fresh up front and put an awful lot of pressure on opposing offenses for four quarters. Last year, the defensive front was hit hard by injuries, Kabeer Gbaja-Biamila was released and Corey Williams was dealt to the Browns before the season. Why not just bring in one or two more 4-3 linemen and stick with what worked?
Turning Aaron Kampman, Green Bay's best front-seven player, into an outside linebacker is criminal. He was one of the better defensive ends in the league, and those guys don't grow on trees. Surely Kampman will not do it often, but dropping him into coverage with any regularity is a mistake. Although Cullen Jenkins, another very talented defensive lineman, is versatile enough to play end or tackle in the 4-3, he is a penetrator and asking him to hold the point as a 3-4 end could be a waste of what he does best.
I am also not fond of A.J. Hawk, a prototypical 4-3 weakside linebacker, and Nick Barnett, a very successful run-and-hit middle linebacker in the old scheme, being the starting two inside guys in the new 3-4. Neither player is equipped to take on massive guards at the point of attack. I expect to see these two getting swallowed up far too often.
I must admit that I expected the Packers' front seven to be even more ill-equipped to make this change at this point of the year than they are right now. I was shocked that B.J. Raji fell to Green Bay in the first round, and I feel Clay Matthews Jr. should fit the scheme well. Matthews is more linebacker than defensive end, while Kampman is the exact opposite. Those two could complement each other at outside linebacker rather well.
That being said, rookies rarely adapt quickly to the 3-4, and although Matthews did play some of the scheme last year at USC, neither player has extensive experience running it.
It should be noted that Dom Capers will be the one coordinating the change. Capers knows what will make the transformation more palatable.
I still contend that the Packers would have been better off sticking with the 4-3 and still drafting Raji. Without making the change, Green Bay would not have had to uncharacteristically jump back into the first round to fill a position of need, and could have used the resources that it took to get Matthews to add to other areas of the team, such as offensive tackle or another 4-3 defensive end. Expect some growing pains on defense.
Scouts Inc. watches games, breaks down film and studies football from all angles for ESPN.com.
NFC NORTH SCOREBOARD
Thursday, 9/4
Sunday, 9/7
Monday, 9/8