December, 6, 2013
12/06/13
4:17
PM ET
EDEN PRAIRIE, Minn. -- As we close out the week and get you ready for the
Minnesota Vikings
-
Baltimore Ravens
game on Sunday, I've got a few items left in the notebook to pass along. This post will serve as a place to discuss a handful of odds and ends. Here we go:


Cole looking set at MLB:
If the fact the Vikings moved
Erin Henderson
back to weak-side linebacker didn't clear it up, the fact the Vikings plan to make
Audie Cole
, and not Henderson, their middle linebacker in the nickel package should suggest the plan to make Cole the middle linebacker isn't a passing fancy. Coach Leslie Frazier said Henderson took to his old outside linebacker spot "like riding a bike," and as well as Cole has played in pass coverage the past two weeks, there's probably no reason to switch anything up there. Henderson admitted the move hurt his pride, but he seems to be accepting it for now. Given what Frazier said this week about Henderson not being the Vikings' preferred plan at middle linebacker, it's safe to assume he could stay outside if Cole keeps showing he can handle the middle.
Special teams could be pivotal:
The Ravens and Vikings both have dynamic return men who could affect Sunday's game; Baltimore kick returner
Jacoby Jones
has a 26.5-yard return average this season, and punt returner
Tandon Doss
is averaging 15.6 yards per return, with an 82-yard touchdown to his credit. The Vikings, of course, have three TDs between kick returner
Cordarrelle Patterson
(two) and punt returner
Marcus Sherels
(one). "Their kickoff return guy, Jones, he's impressive," Frazier said. "Of course, our guy is special as well. Whether it be a turnover or kick return or punt return, it could turn this game for sure."
Preparing for Pitta:
Ravens tight end
Dennis Pitta
is hopeful he'll make his season debut on Sunday after dislocating his hip in July, and if he does, the Vikings will have another element of the Ravens' offense to think about. They've been burned by several tight ends this year, giving up at least 60 yards to an opposing tight end in six games, but Cole's presence could help there. If Pitta plays -- which coach John Harbaugh wouldn't divulge on Friday -- the Vikings will be in for a test. "He's a pretty tough matchup for linebackers and sometimes even safeties," Frazier said. "He's almost a wide receiver in a lot of ways and it seems like he's one of those guys that their quarterback looks for often. So he presents some challenges for your defense for sure."
Wet weather possible:
Aside from rain in Week 2 in Chicago, the Vikings haven't had to deal with much inclement weather the past few seasons. That could change on Sunday, with the game-time forecast calling for a mix of rain and snow. And as we mentioned earlier this week, the Vikings are just 1-6-1 since 2006 when game-time temperatures are 40 or below, according to ESPN Stats & Information. "The guys will figure it out. We'll go play, regardless of the elements," Frazier said. "Depending on how bad the conditions are, it'll determine how much you're throwing the ball and how much you're running the ball. We'll see when we get out there in pregame."
Cassel vs. Ravens:
Even though he'd spent his entire career in the AFC before this season,
Matt Cassel
had only started one game against the Ravens -- and he probably doesn't have many good memories about it. He completed nine of his 15 passes for 92 yards and two interceptions last year, being knocked out with a head injury and missing the
Kansas City Chiefs
' next game after they lost 9-6 to the Ravens at Arrowhead Stadium. The Ravens' defense looks quite a bit different than the one Cassel faced last year, but he'll look to solve Baltimore's scheme on Sunday.
October, 13, 2013
10/13/13
8:45
PM ET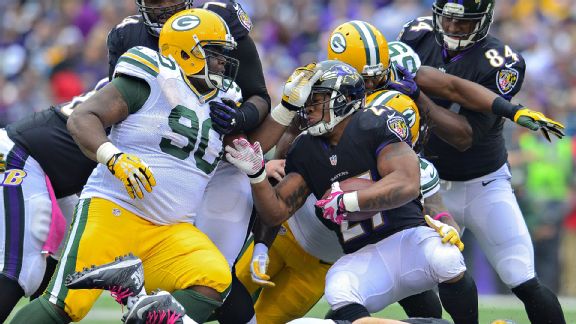 Doug Kapustin/Getty ImagesThe Packers' defense clamped down on Ray Rice and the Ravens' running game on Sunday.
BALTIMORE -- With 12 seconds left in the first half of Sunday's game against the
Baltimore Ravens
,
Green Bay Packers
outside linebacker
Nick Perry
sacked quarterback
Joe Flacco
and knocked the ball loose.
Rookie defensive end
Datone Jones
scooped up the fumble and returned it 20 yards to the Ravens' 13-yard line to set up
Mason Crosby
's 31-yard field goal on the final play of the first half.
It was exactly the kind of play that, according to Packers linebacker
A.J. Hawk
, great defenses make.
"We're definitely not a great defense yet," Hawk said after the
Packers' 19-17 victory
over the defending Super Bowl champs. "But we're trying to get there."
The Packers defense might have to get there -- and fast.
If the Packers (3-2) are going to be without receivers
Randall Cobb
and
James Jones
, both of whom left Sunday's game with injuries in the first half, then they're going to need their defense to pick up where it left off on Sunday at M&T Bank Stadium.
Among its noteworthy accomplishments in helping secure Green Bay's first road win of the season, the defense came through with:
A stop on fourth-and-goal from the 1-yard line in the second quarter after a special teams gaffe by John Kuhn, who touched a blocked punt that the Ravens recovered to keep a drive alive.

A stop on third-and-goal from the 5 in the third quarter that forced the Ravens to settle for a field goal.

Five sacks, including three by Hawk (who had that many all of last season).

A near complete shutdown of the Ravens' once-prolific running game.
"Today was good, I think, with those goal-line stands," Hawk said. "But you can't call yourself great until you're holding teams consistently under 13, 14 points, I think. We played pretty well, but it's a long season, that's for sure. We're only 3-2."
Perhaps most encouraging for the Packers was that they did it all without their best defensive player, outside linebacker
Clay Matthews
, who six days earlier underwent surgery to repair his broken right thumb, and without their defensive signal-caller, inside linebacker
Brad Jones
, who sustained a hamstring injury a week earlier against the
Detroit Lions
.
It all began with the goal-line stand.
On fourth-down from the Packers' 1-yard line, the Ravens called running back
Bernard Pierce
's number. Defensive tackle
Mike Daniels
and cornerback
Micah Hyde
were credited for stopping Pierce, but in reality it was a group effort that included Hawk and defensive tackles
B.J. Raji
and Mike Daniels.
"We pride ourselves on not giving up any rushing touchdowns," Raji said. "We stood up that play, and hopefully we can continue to do that."
[+] Enlarge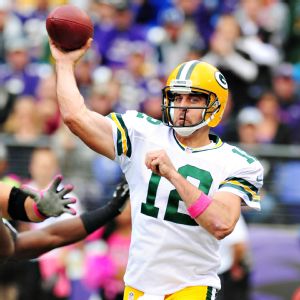 Evan Habeeb/USA TODAY SportsAaron Rodgers threw for 315 yards, but he also lost two receivers to injuries.
Just as important was the stop on third-and-goal from the 5 in the third quarter, when the Packers forced an incompletion by Flacco to receiver
Marlon Brown
. Linebacker
Jamari Lattimore
, the replacement for Jones, had tight coverage on the play. The Ravens settled for a field goal, cutting the Packers' lead to 9-3 with 4:34 left in the third quarter, and then on the next possession quarterback
Aaron Rodgers
finally hit on a big play -- a deep shot to receiver
Jordy Nelson
for a 64-yard touchdown.
"Like I tell Dom after a game like this on Monday, if you give up 17 points, we're going to win most of those games," said Rodgers, who was pressured often but still managed to throw for 315 yards on 17-of-32 passing with one touchdown and one interception.
To be sure, the Packers weren't facing an offensive juggernaut. The Ravens came into the game ranked 21st in total offense, and they haven't been able to protect Flacco. Even their usually reliable ground game with running back
Ray Rice
was just 27th in the league in yards per game coming in.
The Packers shut down Rice, who rushed 14 times for 34 yards, 11 of which came on one carry. They will almost certainly climb from their No. 5 ranking last week in rushing defense.
"The defense, I felt, carried us pretty much most of the game," Packers coach Mike McCarthy said.
That's not to say the Packers were perfect on that side of the ball. They had a major breakdown when the Ravens went for it on fourth-and-21 from their own 19-yard line with 2:40 left in the game. Safety
Jerron McMillian
fell down in coverage, which allowed Flacco to hit receiver
Tandon Doss
for a 63-yard completion. That set up an 18-yard touchdown pass to tight end
Dallas Clark
over McMillian on the next play, when McMillian said he did not hear the defensive call.
With the Ravens within two, the Packers needed their offense to burn off the final 2 minutes, 4 seconds. The combination of
Eddie Lacy
(who rushed for a career-high 120 yards on 23 carries) and a key third-down conversion to tight end
Jermichael Finley
(who should have stayed in bounds to keep the clock running after his 52-yard catch and run) did just that.
But with Cobb on crutches after the game and Jones having trouble walking, the fate of the Packers might rest on the defense.
"We're going to need them big," Finley said of the defense. "But at the same time, if Randall and James are out, it's called the next man up."
.