NFC North:

Tararis Jackson
December, 22, 2009
12/22/09
11:45
AM ET
Minnesota coach Brad Childress admitted Monday that he considered replacing quarterback
Brett Favre
in the third quarter of a 1-point game Sunday at Carolina, attributing it to a "stream of consciousness" thought he never intended to put into practice. But given an opportunity to address other instances where he considered benching Favre for performance or punitive reasons, Childress declined.
[+] Enlarge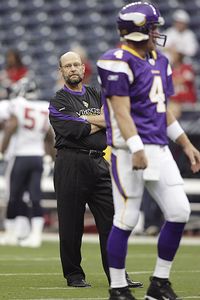 Brett Davis/US PresswireLast weekend's sideline skirmish between Brad Childress and Brett Favre is just the latest episode between the two.
"Now we're going deep," Childress said. "I'm going to let you guys go deep with however you want."
It appears that reporters around the country have taken Childress up on that offer. In the past 24 hours, detailed accounts have surfaced of at least six separate incidents between Childress and Favre this season.
The reports indicate Childress communicated plans to bench Favre in four games this season. The pair reportedly have also had two heated, private confrontations.
Let's take a stab at establishing a timeline of these events, with links to the reports I've found so far.
1. Date:
Oct. 5

Summary:
Leading Green Bay by 10 points late in the fourth quarter, Favre audibled from a run to a pass. A deep throw to receiver
Bernard Berrian
fell incomplete, stopping the clock and incensing Childress. Offensive coordinator Darrell Bevell talked Childress out of pulling Favre from the game.

Full story:
ESPN.com
2. Date:
Between Oct. 6 and Oct. 10.

Summary:
Favre confronted Childress about the incident in his office.

Full story:
ESPN.com
3. Date:
Nov. 1

Summary:
Favre changed a third-down run play into a pass at Green Bay, throwing a 16-yard touchdown to Berrian. Childress again has to be talked out of pulling Favre from the game.

Full story:
ESPN's Adam Schefter
4. Date:
Nov. 15

Summary:
Childress was unhappy with Favre's play in a 27-10 defeat of Detroit and wanted to replace him with backup
Tarvaris Jackson
.
Full story:
Star Tribune
5. Date:
Dec. 20

Summary:
Childress approached Favre about removing him from a 7-6 game in the third quarter. Favre refused and Childress left him in the game.

Full story:
ESPN.com
6. Date:
Dec. 20

Summary:
Childress directs a private, profanity-laced response toward Favre after the game in the Vikings' locker room.

Full story:
St. Paul Pioneer Press
It's a good thing that Minnesota's next game will be a lightly viewed, largely invisible matchup at Chicago.
Oh, wait. It's on ESPN's "Monday Night Football." Here we goooooooooooooooooooooo!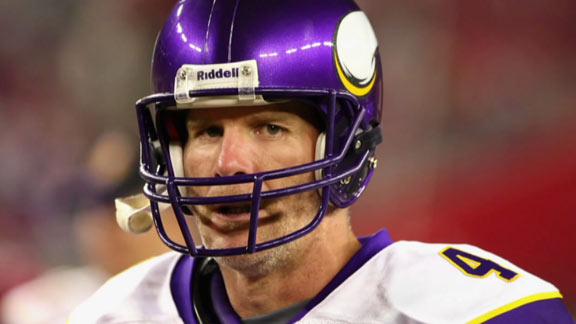 January, 4, 2009
1/04/09
7:52
PM ET
Posted by ESPN.com's Kevin Seifert


MINNEAPOLIS -- Minnesota's season ended Sunday evening much the way it began: With questions at the quarterback position and a series of mistakes that called into question how prepared the team was for the playoffs.
Quarterback Tarvaris Jackson misfired on 18 of his first 29 passes, had an interception returned for a touchdown and hardly appeared to be the Vikings' quarterback of the future. Coach Brad Childress -- who returned Jackson to the starting lineup even after backup Gus Frerotte won eight of 11 starts -- committed a first-quarter game management gaffe. And fittingly, the Vikings solidified the loss when center Matt Birk's shotgun snap hit Jackson in the shin, resulting in a fumble late in the fourth quarter.
Philadelphia played a strong game, especially considering the rowdy Metrodome crowd. But 10 of the Eagles' 26 points came courtesy of Jackson's interception and Childress' gaffe. The Vikings will watch film of this game and wonder why they weren't sharper for their first home playoff game in eight seasons.
Simply put, the Vikings had far too many cases of players appearing out of position or otherwise uncertain what to do. Where was the coverage on DeSean Jackson's two long punt returns, of 62 and 30 yards? Why was Adrian Peterson on the sideline for most of the fourth quarter?
Unfortunately for them, the Vikings will have an entire offseason to answer those questions.