December, 30, 2014
12/30/14
6:35
PM ET
Detroit Lions
coach Jim Caldwell has been asked in varying ways this season what it would be like not to have
Ndamukong Suh
in the lineup.
What would this defense be like without him this season? What will this team look like without him next season if he departs via free agency?
Consistently, Caldwell has said he doesn't want to find out. After Suh twice stepped on
Aaron Rodgers
' leg Sunday and drew a one-game suspension, Caldwell learned what devising a game plan without Suh would look like. It was probably not a vision he wants to have happen again.
The good news for the Lions is they won't have to find out just yet.
The Lions, in some ways, got lucky that Ted Cottrell, the appeals officer who heard Suh's case Tuesday, chose to overturn the one-game suspension. This is the smart decision all around.
[+] Enlarge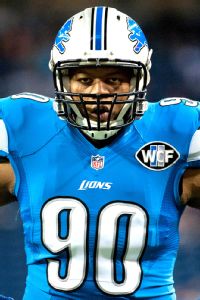 Tim Fuller/USA TODAY SportsNdamukong Suh will have to pay a $70,000 fine instead of serving a one-game suspension for stepping on the calf and ankle of Packers QB Aaron Rodgers.
What Suh did was absolutely fine-worthy. Even some of Suh's teammates, including safety
James Ihedigbo
, said as much.
A suspension seemed like overkill and Cottrell clearly agreed. What Cottrell decided on -- a $70,000 fine that will cost Suh more money than he'll make for this week's wild-card game -- just feels like an appropriate punishment for Suh's latest action.
There was not much question that Suh deserved some punishment. If another player had done what Suh did, it might have been a different case, but Suh's benefit of the doubt has long since expired.
Because of Suh's prior acts, the question of intent was much more difficult to answer. It likely helped, too, that Suh showed up in New York in person Tuesday to help make his appeal in front of Cottrell.
Suh was aided, too, by a provision in the NFL rules that wipes his lengthy fines slate clean in the eyes of the league if he goes 32 games without a player-safety penalty. The Lions picked up a lucky break there. Suh was fined twice in 2013 for player safety issues: Once in the season opener for a low block on Minnesota center John Sullivan and in Week 6 for a hit on then-Cleveland quarterback Brandon Weeden.
Since the fine for the Weeden hit was later rescinded, it meant Suh qualified to be considered a first-time offender under NFL rules. That became a huge break for the Lions.
Also, it doesn't punish Suh's teammates, none of whom had anything to do with Suh's actions and would have had a season ruined not by injury or by their own play but by a somewhat subjective decision made by the front office.
Let's face it. While they talked a good game about the next man up and
Darryl Tapp
saying the defensive line is like Yahtzee with whatever four linemen they roll out being capable of creating disturbances, the Lions know Suh is different.
They know the attention Suh causes opens up everything else. They've been able to sustain the losses of Stephen Tulloch,
Bill Bentley
,
Nevin Lawson
and
Nick Fairley
. They've dealt with Ihedigbo being out of the lineup for almost a month to start the season.
Much of that has been because of the one irreplaceable part of their defense -- Suh.
The way the majority of the Lions came screaming and yelling to Suh's defense Monday afternoon after the suspension was levied spoke volumes. His position mates insisted he is not the same player who consistently got fined over the first four seasons of his career.
Suh had been on his best behavior for the majority of the season, only getting into two questionable situations -- hits against quarterbacks
Josh McCown
in the regular season and
Chad Henne
in the preseason.
His teammates said he's a changed man and a player who wouldn't have maliciously stepped on Rodgers' calf and ankle twice without looking down or back to see what had happened.
"I've seen the play and I don't think it was intentional, and like I said he's been playing his heart out all year," linebacker
Tahir Whitehead
said. "He hasn't really done anything to hurt the team for some time, so I don't look at it as him being the same old Suh or whatever the case of what people may be saying.
"But I don't think that's the case at all."
The NFL initially did. Then the appeals officer didn't. And the Lions will go on with the full force of their top-rated run defense intact against
DeMarco Murray
and the Cowboys because one thing was obvious: If the Lions are going to have a legitimate shot of winning Sunday, they needed their best player to actually be on the field. And now, after a brief scare, that'll happen after all.
June, 23, 2009
6/23/09
8:53
AM ET
Posted by ESPN.com's Kevin Seifert
GREEN BAY, Wis. -- Oh yeah. It feels like summer here in Green Bay, with high humidity and temperatures expected to approach 90 degrees. So what else would you want to do other than watch some football practice?
That's what I'll be doing twice Tuesday over at Lambeau Field, where the Packers' minicamp continues with two scheduled practices. We brought you up to date Monday on safety Nick Collins and defensive end Aaron Kampman, and Tuesday morning Lori Nickel of the Milwaukee Journal Sentinel has this report: Receiver Greg Jennings said he and the Packers are close to an agreement on a contract extension.
Here is the key quote from Jennings, which he couched with an appropriately vague timetable:
"We've been working on some things. We're coming pretty close, as far as my understanding is, to some type of deal. But when I say close, we could still be far ... if that makes sense. But I think we're coming close. You just never know how long 'close' can take to actually closing the deal."
That jibes with everything that has been evident from afar this offseason: The Packers are making steady progress toward locking up their top business priority of the offseason. Jennings' contract expires in the spring of 2010, and the Packers want no part of having to compete for him on free agency or even applying their franchise tag on him.
Continuing around the NFC North:
March, 10, 2009
3/10/09
7:06
AM ET
Posted by ESPN.com's Kevin Seifert
Admit it. You were virtually joining me Monday night by flipping between "Dancing with the Stars" (We call it DWTS on Disney-owned ABC!), "2001: A Space Odyssey" on the Encore Mystery Channel and that 1985 matchup between Chicago and Green Bay on the NFL Network.

I must say that the Packers' Jim Zorn era had totally passed from my consciousness. Took me multiple squints -- thank you, video degradation -- to realize that the left-handed quarterback wearing No. 18 was Zorn. I thought it was cool seeing Minnesota defensive coordinator Leslie Frazier playing cornerback for the Bears in what was his last NFL season, but one part of the game stood out most prominently for me.
As you recall, William "The Refrigerator" Perry caught a 4-yard touchdown pass from Jim McMahon just before halftime, his first scoring reception. I vaguely remembered that play. What came next, however, I did not. Perry returned to the sidelines, joined the special teams huddle -- led by unofficial Bears assistant coach Jeff Fisher, who was on injured reserve at the time -- and trotted back onto the field to cover the kickoff.

That's something you don't see in today's game: A starting defensive tackle covering kickoffs, let alone one who participated in the previous offensive play. The Fridge got down the field, too, and was near the tackle. Just one example of how the game has changed over the years.
Oh, the Bears went on to defeat the Packers 16-10.
End fantastical digression. On with our morning march around the NFC North: