NFC North:

Terence Newman
September, 22, 2013
9/22/13
8:15
PM ET
CINCINNATI -- The question perhaps shouldn't be about
Green Bay Packers
coach Mike McCarthy's decision to go for it on fourth-and-1 from the Cincinnati Bengals' 30-yard line late in the fourth quarter of Sunday's game at Paul Brown Stadium.
Rather, it might be about the play he selected.
McCarthy's decision was an aggressive one. Pick up the first down, and the Packers might have been able to melt away the final four minutes of the clock and escape with a 30-27 victory.
But calling running back
Johnathan Franklin
's number was a risk that blew up on McCarthy. Without trusted fullback
John Kuhn
(inactive with a hamstring injury) to block, the 5-foot-10, 205-pound Franklin did not have a lead blocker to follow. And when he tried to leap for the first down, Franklin fumbled, setting off a wild play that ultimately decided the game.
Bengals defensive end
Michael Johnson
forced Franklin's fumble, which was recovered by safety
Reggie Nelson
. Packers receiver
Randall Cobb
nearly prevented a disaster when he knocked the ball away from Nelson, but Bengals cornerback
Terence Newman
picked it up and ran 58 yards for the game-winning touchdown with 3:47 to play.
"Obviously, I thought that we could convert it; that's why we called the play," McCarthy said. "We didn't get it done. That's the profession of play-calling. When it works, it's excellent execution by your players and when it doesn't, it's the play-caller."
McCarthy said his first thought was to attempt a field goal. But with time to think about it after the Bengals successfully challenged the spot on the previous play in which Cobb was initially ruled to have gotten a first down on a third-and-12 reception, McCarthy went for the kill shot.
"Probably over-thought it because my initial thought was to kick the field goal," McCarthy said. "I'm paid to make those decisions. When they go wrong, I'm responsible."
The problem was Franklin, being a small back, couldn't power his way through the line. When a player leaves his feet, the ball often becomes more exposed. Perhaps an outside run or a toss play – or even a sneak by quarterback
Aaron Rodgers
– might have worked.
Franklin's inexperience also may have played a role in his fumble. The rookie had not played a snap on offense the first two weeks but was forced into duty because
James Starks
, who started in place of the inactive
Eddie Lacy
(concussion), was lost to a knee injury late in the second quarter.
Until his fumble, Franklin was working on an heroic debut. He rushed for 103 yards on 13 carries -- all in the second half -- and scored his first NFL touchdown on a 2-yard run in the third quarter.
"I've just got to keep it high and tight," Franklin said. "It's no excuse for what I was doing or how I was doing it. It's all about technique. It's a big play, a big down, and I've got to make a play for my team regardless of whether it's my first game or not. If they call on me, I've got to do my job."
Combined with Starks' 132-yard rushing performance in Week 2 against the
Washington Redskins
, Franklin gave the Packers back-to-back 100-yard games by running backs since Weeks 16-17 of the 2007 season with
Ryan Grant
and
Brandon Jackson
.
September, 22, 2013
9/22/13
7:37
PM ET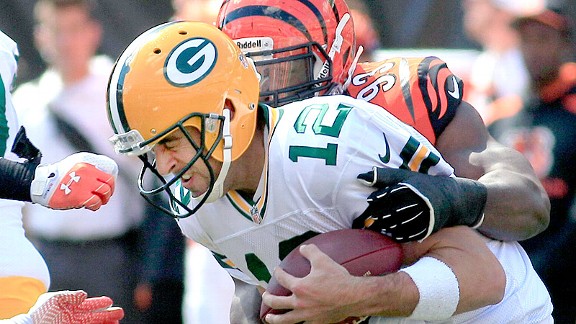 AP Photo/Tom UhlmanIt was a rare game of miscues for Packers quarterback Aaron Rodgers in a 34-30 loss to the Bengals.
CINCINNATI -- This was not what anyone is used to seeing from
Green Bay Packers
quarterback
Aaron Rodgers
-- on the field or on the sidelines.
Rodgers had his first multiple-interception, regular-season game in nearly three years, didn't finish drives in the red zone and got into a sideline spat with coach Mike McCarthy midway through the second quarter of Sunday's
34-30 loss
to the
Cincinnati Bengals
.
And to top it off, Rodgers will get saddled with another close loss in which he couldn't deliver a game-winning, fourth-quarter drive.
"I was frustrated because I didn't play very well," said Rodgers, who completed 26-of-43 passes for 244 yards with one touchdown and two interceptions. "I'm competitive and expect to play well every week and this week, it didn't happen."
On a day when the Packers' defense forced four turnovers, including a
Clay Matthews
-forced fumble that safety
M.D. Jennings
returned 24 yards for a touchdown in the second quarter, the Packers' offense converted just two out of the four trips inside the red zone into touchdowns.
It was after one of those failed red-zone drives that Rodgers became visibly frustrated with McCarthy.
"We're both passionate about the game and competitive," Rodgers said. "We want to win very badly. I went over and talked to him after that and just got on the same page. We needed to talk and we did, and we moved on."
The incident occurred after Matthews' second forced fumble of the day gave the Packers the ball at the Bengals' 21-yard line. Rodgers appeared to be unhappy with at least one play call from McCarthy during that series. Then, after a third-and-goal play from the 3-yard line broke down and Rodgers came up short on a scramble, Rodgers and McCarthy had an intense exchange while
Mason Crosby
kicked a 19-yard field goal with 6:32 left in the first half.
"I think we were both frustrated all day that we couldn't have a lot of success in the red zone and kicked way too many field goals and turned the ball over," Rodgers said.
Television camera caught the exchange between Rodgers and McCarthy.
"I think any time you get into a situation where there's a change in rhythm and personnel and play calls, things like that, it's frustrating," McCarthy said. "I had called a certain play in a certain situation, and he was frustrated by it. I feel good. One [disagreement] every three weeks would be awesome."
Added McCarthy: "He's competitive, man. That's what I love about him. I didn't really think it was that big of a deal, frankly."
Defensive tackle
B.J. Raji
quickly went over to Rodgers in an apparent effort to calm him down.
"That's a family issue; I'm not going to really touch on that," Raji said. "Sometimes within a family things happen, and it's all taken care of. When you've got a competitor like that in a situation that we were in, sometimes things happen, but we're fine."
It was Rodgers' first regular-season game with two interceptions since Week 7 of the 2010 season at Minnesota. He also threw two later that year in the NFC championship game at Chicago. Receiver
James Jones
took responsibility for the first interception, saying he failed to run his slant route properly and allowed cornerback
Terence Newman
to step in front of him on a late third-quarter pass. Rodgers' second interception came on the very next series.
Rodgers, whose record as a starter dropped to 5-17 in games decided by four points or less, also had three passes batted down at the line of scrimmage on the final drive, including his last pass on fourth-and-5 from the Bengals' 20-yard line with 1:25 remaining. On that final play, left tackle David Bakhtiari's attempt to cut block defensive end
Carlos Dunlap
failed, and Dunlap swatted the ball away to end the Packers' chances.
Before Sunday, Rodgers had only one game in the last five seasons with three passes batted down, according to ESPN Stats & Information.
November, 30, 2012
11/30/12
4:22
PM ET
Let's get inside the Friday injury report in the NFC North:
Chicago Bears:
We already knew that the Bears wouldn't have guard
Chris Spencer
(knee) or receivers
Devin Hester
and
Alshon Jeffery
(knee) for Sunday's game against the
Seattle Seahawks
. The rest of the Bears' roster, however,
should be available
. That includes tailback
Matt Forte
(ankle), linebacker
Lance Briggs
(ankle) and cornerback
Charles Tillman
(foot).
Detroit Lions:
Left tackle
Jeff Backus
was a limited participant in practice Friday and is listed as questionable for Sunday's game against the
Indianapolis Colts
. Rookie
Riley Reiff
would start in Backus' place if necessary. Cornerback
Jacob Lacey
(foot/knee) and defensive tackle
Corey Williams
(knee) did not practice and are listed as questionable.
Green Bay Packers:
Linebacker
Clay Matthews
(hamstring) is one of six players who have been declared out of Sunday's game against the
Minnesota Vikings
. He didn't practice all week and his designation is not a surprise. The "out" list also includes cornerback
Charles Woodson
(collarbone), defensive end
C.J. Wilson
(knee), running back
Johnny White
(concussion), cornerback
Sam Shields
(shin) and tight end
Andrew Quarless
(knee). Linebacker
Terrell Manning
(shoulder) is doubtful. Meanwhile, receiver
Donald Driver
did not practice all week because of a thumb injury. He is listed as questionable. Since he became a full-time player in 2000, Driver has missed only six games.
Minnesota Vikings:
Receiver
Percy Harvin
(ankle) is doubtful for Sunday's game. He didn't practice Friday and almost certainly will miss his third consecutive game. All other players will be available. Coach Leslie Frazier said Harvin is having difficulty cutting and changing direction, which makes you wonder whether he'll be available for the Dec. 9 game against the Bears.
October, 3, 2011
10/03/11
10:30
AM ET
After the Detroit Lions' 34-30 victory Sunday at the Dallas Cowboys, here are three issues that merit further examination:
Kevin SeifertFollowing their win over the Dallas Cowboys, the Detroit Lions take a seat in the examination room.

Last week, we introduced you to ESPN's win probability tool, which uses 10 years of NFL play-by-play data to estimate the likelihood that a team will win at a given point in the game. The data revealed that the Lions, at their lowest point against the Minnesota Vikings, had a two percent chance of winning. If possible, their predicament against the Cowboys was worse. According to statistical analyst Alok Pattani, the Lions' chances of winning when they fell behind 27-3 in the third quarter was one percent. That means in comparable situations over the past 10 years, NFL teams have lost at a rate of 99 times out of 100. Those figures add some statistical context to what we already know: The Lions have won consecutive games in extraordinarily rare fashion.

Here's an example of the Lions' progress. At about this time last year, I wrote about coach Jim Schwartz's unfounded confidence in his defense. He punted the ball away in a two-point game against the Green Bay Packers, hoping his defense would stop the Packers offense and give his team another chance to score in a two-point game. The Packers ran out the final 6 minutes, 32 seconds. Sunday, Schwartz's confidence in his defense was rewarded. He had Jason Hanson kick a 51-yard field goal with 4 minutes, 22 seconds left, a score that still left the Lions trailing by three points. This time, the defense got the ball back in one play on linebacker Stephen Tulloch's interception. Said Schwartz: "Part of that was having confidence that Jason would make it. And part of that was knowing we had three timeouts in our pockets and we could use them to get the ball back for our offense." But it's a moot point if the defense can't stop the Cowboys' offense.

When the NFL regular season schedule was revealed, we noted how difficult the Lions' opening stanza would be. From that post: "The Lions would be for real if they enter their Monday night game against the Bears with a winning record." The games were all winnable on paper, but the Lions appeared particularly proud Sunday that their 4-0 start came courtesy of three victories on the road. "It was a tough first four games," quarterback Matthew Stafford said. "You look at three of four on the road. The one at home was against a playoff team last year [the Kansas City Chiefs] with tons of talent. Every game in the NFL is tough, but being 4-0, you can't get any better than that."
And here is one issue I still don't get:
You'll hear a lot this week about receiver Calvin Johnson's first touchdown. Offensive coordinator Scott Linehan had drawn up the play in anticipation of favorable coverage. The Lions didn't get it, as Johnson was double-teamed, but Johnson still gave Stafford the signal to throw him the ball. The catch was incredible, but more egregious to me was the Cowboys' decision to leave Johnson in single coverage against Terence Newman later in the game on the winning play. "To tell you the truth," Stafford said, "I was really surprised. I'm throwing it to him every time, four downs in a row, I don't care, if they give me that coverage." I would, too. Kudos to Johnson for beating unfavorable matchups as well as capitalizing on single coverage. And phooey to the Cowboys for an inexplicable coverage decision.