January, 7, 2013
1/07/13
10:00
AM ET
After the Minnesota Vikings' 24-10 loss to the Green Bay Packers, here are three issues that merit further examination:
ESPN.com

As we've already discussed, quarterback Christian Ponder's late-season surge almost certainly cemented his status as the Vikings' 2013 starter. Given the poor crop of quarterback prospects in the draft and limited options in free agency, it would be an upset if coach Leslie Frazier doesn't commit to Ponder for 2013. The depth behind Ponder, however, is a different story. Backup Joe Webb deserves a partial pass given the unprecedented position he was put in Saturday night. As we've noted, never before had a quarterback made a postseason start without throwing a single pass during the regular season. Some rustiness was to be expected, and we've seen Webb have much sharper passing games in his career. It is also impossible to defend offensive coordinator Bill Musgrave's decision to get away from the kind of read-option plays Webb seemed comfortable running. On the other hand, the job of a backup quarterback is to be effective in unexpected and often adverse situations. He must be relatively sharp with little practice. Webb, who has three years of experience in this role, was not. You have to think there is a way to incorporate his exceptional, if narrow, skill set into the offense, but he is probably miscast as a traditional No. 2 quarterback. Filling that job should be among the Vikings' offseason priorities.

The Vikings claimed to be mulling three players with their No. 1 draft pick last spring: Left tackle Matt Kalil, cornerback Morris Claiborne and receiver Justin Blackmon. Kalil was the right choice. His Pro Bowl-quality season helped stabilize the Vikings' pass protection, and their sack per dropback rate fell from 8.8 percent in 2011 (No. 25 in the NFL) to 6.2 (No. 16). However, the Vikings still have needs at the positions Claiborne and Blackmon play. Veteran cornerback Antoine Winfield's full season was a surprise, but he will be 36 when training camp begins. Chris Cook's third NFL season was interrupted by a broken wrist, but even when healthy he was inconsistent. Rookie Josh Robinson showed promise but faded late in the season. At receiver, the Vikings had no downfield threat to pair with Percy Harvin, a liability they recognized and didn't try to force. Their passing offense ranked No. 30 in the NFL in yards per dropback (5.34) and last in air yards (6.43).

You could write a book on the meaning and implications of tailback Adrian Peterson's historic season. Some would suggest we saw a rebirth of the running game and a demonstration of how it can carry a team to the playoffs. I tend to look at it the other way. Peterson had one of the best seasons in league history for a running back and the Vikings still needed a victory in their last game to clinch the NFC's final wild-card spot. In this case, and with most 2,000-yard rushers in league history, the impact was capped. Of the five years in which a 2,000-yard rusher's team has made the playoffs, only one brought a postseason victory: Terrell Davis with the Denver Broncos in 1998. An imbalanced offense, whether it falls too far toward the running or passing game, is limiting.
And here is one issue I still don't get:
I don't understand the suggestion that Ponder should have "toughed out" his injury. From the best that I can tell, the decision wasn't based on pain tolerance. It was a matter of function. Ponder's bruised triceps was so tight he couldn't throw more than 15 yards. I saw his pregame warmup. Unless the whole thing was a conspiratorial ruse, Ponder could not have played anywhere close to effectively. If you think Ponder at 50 percent would have been better than Webb at 100 percent, you're missing the point. The quality of the backup, or lack thereof, shouldn't have bearing on the decision. They are two separate issues. Sunday's debacle at FedEx Field illustrates how short-sighted the tough guy mentality can be. Washington Redskins quarterback Robert Griffin III played with an injury that dramatically reduced his effectiveness. It hurt his team and played a big role in its season-ending loss.
January, 4, 2013
1/04/13
1:30
PM ET
»
NFC Final Word
:
East
|
West
|
North
»
AFC
:
North
|
South
Five nuggets of knowledge about Saturday's Minnesota Vikings-Green Bay Packers wild-card game:
[+] Enlarge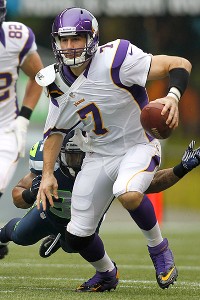 AP Photo/John FroschauerVikings QB Christian Ponder, who will make his first postseason start in temps under 40 degrees, is recovering from a sore elbow.
Frozen tundra:
You've already heard plenty of national nostalgia about playing a night game in freezing temperatures at one of the NFL's most sacred cathedrals. As much intimidation as Lambeau Field presumably exudes, it's worth noting that the Packers have
folded more frequently there than their opponents in recent history
. They are 2-4 over the past decade in home playoff games, and one of those losses was to the Vikings after the 2004 season. Packers receiver
Greg Jennings
was among those
who spoke honestly this week
about his preference for playing postseason games on the road.
Road struggles:
The Packers are 7.5-point favorites,
and all
14 ESPN analysts
picked them to win. One of the primary reasons: The perception that the Vikings, despite a four-game winning streak to end the season, are overmatched as a visiting playoff team. Quarterback
Christian Ponder
, for one, has never started a game in temperatures under 40 degrees. Saturday's high is expected to be in the mid-20s. Packers quarterback
Aaron Rodgers
, on the other hand, has 14 career starts -- and an NFL-high 75.1 Total Quarterback Rating -- in games below freezing. The Vikings' extended history reveals they have struggled in road playoff games since moving indoors in 1982. Over that 31-season span, they have won only four road playoff games (in 14 opportunities).
Slowing Peterson:
Vikings tailback
Adrian Peterson
rushed for 230 yards after contact in two games against the Packers this season, illustrating the Packers'
inability to tackle him over an extended period
.
Pro Football Focus
debited the Packers a combined 10 missed tackles on his 55 carries against them. The Packers have mostly been hurt when Peterson has bounced runs outside the tackles, accounting for 205 of his total yards on just 15 such carries, and they have suggested that better gap integrity could limit those occasions. But they might have to find a way to win despite Peterson. Of the six previous players to rush for 2,000 yards in a season, only one won a playoff game (in four opportunities). In 1998, the
Denver Broncos
'
Terrell Davis
rushed for 468 yards in three playoff victories on the way to winning Super Bowl XXXIII.
Ponder's issues:
Ponder solidified his status as the Vikings' 2013 starter with a strong finish to the regular season, but there is some understandable skepticism about his potential for succeeding Saturday night. He has been
limited this week by a sore right elbow
and, of more relevance, will be making his first playoff start at the same site where he has had two of his worst performances. In two games at Lambeau, Ponder has completed 47.4 percent of his passes with almost no downfield success. In those games, he has completed just three passes that traveled 15 yards or more past the line of scrimmage (in 14 attempts).
Close game?
The teams' two regular-season games were decided by a total of 12 points. Does anyone have the advantage if Saturday night's game is close? The Packers are 1-3 in games decided by three points or fewer this season and 6-14 all-time under coach Mike McCarthy. This season, the Vikings are 2-1 in such games. The Vikings have a Pro Bowl kicker in rookie
Blair Walsh
, who nailed all 10 of his 50-plus yard field goals this season, while Packers place-kicker
Mason Crosby
has been shaky during the second half of the season. All three of Walsh's misses this season came on the road, including his only career attempt at Lambeau.
(Statistics courtesy ESPN Stats & Information unless otherwise noted.)
October, 30, 2012
10/30/12
2:00
PM ET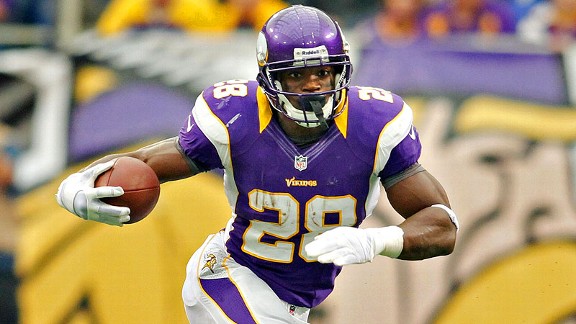 Bruce Kluckhohn/US PresswireVikings RB Adrian Peterson isn't playing like a guy who had major knee surgery in December 2011.
Six years ago, I spent some time with
Adrian Peterson
while working on a profile for the Minneapolis Star Tribune. Our conversation turned to his career goals, and a relatively lighthearted conversation grew serious.
If he were an actor, I would guess Peterson was pausing for effect. In this case, however, I think he was just taking a moment to put his ambitions into words. Eventually, Peterson turned, looked me straight in the eye and said he wanted "to be the best player to ever play this game."
That mentality is, I think, an appropriate context with which to view his unprecedented return from major knee surgery. Peterson wasn't driven simply to resume his career as soon as possible after tearing the ACL and MCL in his left knee on Dec. 24, 2011. He wanted to do it more quickly, and with better immediate returns, than anyone in the history of the game.
There are no objective ways to judge that mission, given medical advances and variances in the timing of injuries. But with the help of several resources, including ESPN Stats & Information, I looked at a cross-section of running backs who have suffered at least a torn ACL over the past decade or so. The chart shows our results, and while you'll notice some nice production in the first post-injury season for several backs, each had a substantially longer recovery time than Peterson.
Less than 10 months after his injury, Peterson leads the NFL in both yardage (775) and yards per game (96.9) while ranking second in offensive touches (174). He has run with power, leading the league with 479 yards after first contact while forcing a league-high 28 missed tackles, according to
Pro Football Focus
. And he has been explosive, ripping off a league-high eight runs of at least 20 yards and breaking away for a 64-yard touchdown scamper last Thursday against the
Tampa Bay Buccaneers
.
"He's doing everything you would hope he could do," Vikings coach Leslie Frazier said. Indeed, I would suggest Peterson has re-written the protocol for returning from an injury that has been career-ending even in some recent cases.
For years, the adage for NFL running backs was that any production in the first year after an ACL injury was gravy.
FootballDocs has a thorough examination (from a fantasy perspective.)
The mid-1990s case of former Vikings tailback
Terry Allen
marked the first really effective and immediate return from an ACL injury, but it's worth noting Allen's occurred during a July 1993 practice, giving him a full calendar year to recover before putting together a 1,031-yard season in 1994.
Until recently, however, Allen's case had proved the exception. It was only 11 years ago, in fact, that
Atlanta Falcons
tailback
Jamaal Anderson
retired because of lingering impact from a 1999 injury.
Denver Broncos
running back
Terrell Davis
, meanwhile, played two relatively unproductive seasons after tearing his ACL and MCL in 1999.
Medical advances have helped running backs resume their careers more regularly since then, and it's worth noting that
Baltimore Ravens
running back
Jamal Lewis
rushed for a combined 3,393 yards in his first two seasons back from an ACL injury. But like Allen, Lewis had a full 12 months to recover before resuming practice because the injury occurred during training camp in 2001.
Peterson, of course, had no such luxury after his injury occurred in Week 16 of the 2011 season. Yet he returned to the lineup, and played on more than half of the Vikings' offensive snaps, 260 days later. On the season, Peterson has played 70 percent of the Vikings' snaps and has appeared stronger with every week -- culminating in consecutive 100-yard games in Weeks 7 and 8.
"I said before I was at 100 percent, which I am," Peterson said recently. "But it's just so much more that I know is going to come. So each week, I feel myself getting better and just try to stay on path."
As a result, Peterson has outgained two other elite running backs who suffered ACL injuries last season.
Jamaal Charles
of the
Kansas City Chiefs
, whose injury occurred three months before Peterson's, has 595 yards in seven games. Meanwhile, the
Pittsburgh Steelers
'
Rashard Mendenhall
has returned to the field earlier this month after a January 2012 injury, but he is currently sidelined by an Achilles injury.
Documenting Peterson's production and putting it in perspective is easy. Explaining how it happened is much more difficult. As we've discussed, Peterson is as ambitious and competitive as they come. The Vikings have smartly limited the times he is asked to run laterally, directing 94.6 percent of his carries between the tackles, according to ESPN Stats & Info. Medical advances are making ACL rehabilitations more routine, and you can't discount the plan crafted by Vikings athletic trainer Eric Sugarman, who accommodated Peterson's wishes to do part of his rehab in Houston during the offseason.
A more detailed discussion is for another post, probably at the end of the season. For now, however, we can say that Adrian Peterson is on his way to being the best player to ever return to the game after suffering a catastrophic knee injury.
October, 26, 2011
10/26/11
11:55
AM ET
Trevor reached out during
Tuesday's SportsNation chat
:
Trevor (De Pere, WI)
Kevin! We need a ForteWatch up in this blog! He's on pace for over 2,000 yards from scrimmage! LOUD NOISES!
Kevin Seifert (2:16 PM)
I can see that. I need four arms to keep up with all of my Watches....
Trevor must be an experienced NFC North blog reader. Any Will Ferrell movie reference gets you points with the blogger, especially
if it's a Brick Tamland line
. And if anything, Trevor undersold Forte's season to this point.
Forte isn't just on pace for 2,000 combined rushing and receiving yards, a feat accomplished on 58 occasions in NFL history, according to
Pro Football Reference
. He has given himself a shot at producing one of the best seasons ever for a running back.
Check out the -- yes -- ForteWatch chart. At his current levels, Forte would finish the 16-game season with 2,493 total yards (rushing and receiving). That total would put him just 16 yards shy of the record set in 2009 by the
Tennessee Titans
'
Chris Johnson
.
(An aside: If there were ever a time for the Bears to break team policy and re-enter contract negotiations during the season, isn't it now? The Bears are in their bye week, and Forte's market value continues to rise.)
Obviously we still have more than half of the season remaining. Sometimes projecting 16-game performance is a silly exercise at this point in the season, but I think it's worthwhile to note that we have some NFC North players who are off to historic starts. Forte has joined
Detroit Lions
receiver
Calvin Johnson
(10 touchdowns) and
Minnesota Vikings
defensive end
Jared Allen
(11.5 sacks) in deserving their own Watches so far this season. We'll obviously add and subtract as needed. (Still trying to decide how to handle
Green Bay Packers
quarterback
Aaron Rodgers
' sizzling start.)
For those who are curious how Forte's performance compares to the best seven-game starts since 1960,
Pro Football Reference's outstanding database
has the answer.
Forte's 1,091 yards ranks eighth on a list that includes some pretty important names. Jim Brown totaled 1,193 yards in the first seven games of the 1963 season. Also appearing on the list are
Marshall Faulk
, O.J. Simpson and
Terrell Davis
. (Full list here.)
Related:
Forte ranks fifth on
NFC West blogger Mike Sando's MVP Watch
this week.
July, 19, 2011
7/19/11
1:30
PM ET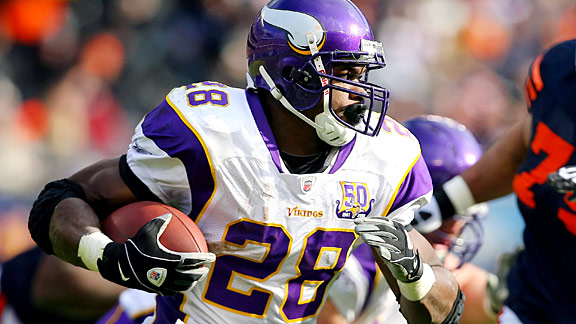 Dennis Wierzbicki/US PresswireAdrian Peterson's career is off to a hot start, but he still has work to do to become a Hall of Famer.
Last in a series on NFC North players whose career trajectories put them on a path to consideration for the Pro Football Hall of Fame:
Of the five players profiled in this project,
Minnesota Vikings
tailback
Adrian Peterson
might be the most accomplished relative to his career span. And yet his case exemplifies, more than any other, the difficulty of separating yourself as one of the all-time elites at your position.
Peterson has effected one of the most productive starts to a career for any running back in NFL history. And still, he'll probably need to repeat that output to land in the Pro Football Hall of Fame.
As the first two charts show, Peterson rushed for more yards (5,782) in his first four seasons than all but five running backs in NFL history and more touchdowns (52) than all but four. That measure quantifies what we already knew: Peterson has been the best back in the NFL over the past four years. It also gives us some perspective on how the start of his career compares to the best who ever played the game.
But four years of elite play doesn't necessarily qualify a running back for the Hall of Fame, not when players like
Emmitt Smith
endured for 15 years or
Marcus Allen
for 16 or Walter Payton for 13. The threshold for Hall of Fame running backs is the ability to sustain near-elite production beyond the short career arcs of most players at the position.
The next chart shows the 13 Hall of Fame running backs whose careers took place mostly in the post-merger era. Eleven eclipsed the 11,000-yard mark, and the two that didn't -- Larry Csonka and Earl Campbell -- were enshrined amid understandable mitigating factors. Csonka was the lead runner for the best team in NFL history, the 1972
Miami Dolphins
. Campbell's white-hot career was cut short after 115 games.
Let's say Peterson doubles his current rushing total to get to 11,564 career yards. Currently, there are 18 players who rushed for at least 11,000 yards. Of the seven who aren't in the Hall of Fame, only two are eligible.
Curtis Martin
(14,101) and
Jerome Bettis
(13,662 yards) missed out in their first year of eligibility in January, but both seem likely to be elected within a few years.
Of course, it will be no small feat for Peterson to double his total -- and it isn't likely to come in the four years it took him to get this far. Take another look at the first two charts, which illustrate the historical company Peterson has kept early in his career.
Quite simply, running back is a brutal position.
Terrell Davis
rushed for a stunning 6, 413 yards during his first four seasons with the
Denver Broncos
. Slowed dramatically by health issues, Davis managed only 1,194 yards during the final four seasons of his career.
Another former Broncos running back,
Clinton Portis
, rushed for 5,930 yards in his first four seasons and 3,993 in the five seasons since.
It's possible that history will grade Davis and Portis with a "Broncos curve," a reference to the annual success of running backs in the system of former coach Mike Shanahan. Regardless, both had more production in their first four years than Peterson but slipped off that Hall of Fame pace thereafter.
Since the moment he arrived in the NFL, Peterson has drawn comparisons to Campbell,
Eric Dickerson
and some of the NFL's other all-time great running backs. His production over that stretch, relative to their early career performances, has justified those associations.
But there is a reason why football people caution such early comparisons with Hall of Famers. Even the all-time greats slow down in the second half of their careers. But importantly, they still reel off a number of highly productive seasons after their early explosions.
Dickerson rushed for 6,291 yards over his final seven seasons after opening his career with 6,968 yards in his first four. Jumping ahead, the still-active
LaDainian Tomlinson
has rushed for 7,505 yards over six seasons after amassing 5,899 yards in his first four.
So let's arbitrarily say Peterson's cumulative production drops by 25 percent over the next four seasons. That means he averages 1,083 yards per season instead of his current 1,445. At that relatively optimistic rate, Peterson would need to play at least five more full seasons to eclipse 11,000 yards and demonstrate the kind of production over time that would give him the Hall of Fame spot he has positioned himself for.
Obviously, voters don't hold fast to the 11,000-yard barrier and have been known to consider mitigating circumstances. Campbell, for example, took a bruising 1,404 carries in his first four seasons. That's an average of 50 more per season than Peterson has taken, and it almost assuredly contributed to Campbell's short career.
It's easy to say that Adrian Peterson just needs to keep on running like Adrian Peterson in order to make the Hall of Fame. The history of running backs suggests he will slow down at some point in the next four years. The question is how much Peterson produces at a lower rate. To me, another five seasons of 75 percent Adrian Peterson should do the trick.
Earlier:
Green Bay Packers
quarterback
Aaron Rodgers
has
put himself on the path toward Canton
.
Chicago Bears
defensive end
Julius Peppers
and the Vikings'
Jared Allen
face stiff competition
. Vikings guard
Steve Hutchinson
has all the credentials
. Packers cornerback
Charles Woodson
is a lock.