NFC North:

Terrence Toliver
July, 28, 2014
Jul 28
5:05
PM ET
BOURBONNAIS, Ill. -- A daily review of the hot topics coming out of
Chicago Bears
training camp:
Expectations are sky high for a Bears offense that ranked No. 2 in the NFL last year in points scored (27.8 per game) and No. 5 in passing yards (267.6 per game), but the opening four days of practice have produced a mixed bag of results from a unit that is expected to return all 11 starters. Monday's performance was no different. At certain points of the session, quarterback Jay Cutler ran the offensive scheme to perfection, firing completions to wide receivers Brandon Marshall and Marquess Wilson and tight end Martellus Bennett that went for huge gains. On the flip side, Cutler badly underthrew Marshall on a deep route into double coverage that should've been intercepted by Bears defenders who were stationed in the area. Veteran cornerback Kelvin Hayden later picked off a deflected Cutler pass in full-team 11-on-11, Hayden's third interception since the start of camp. There were also batted-down balls at the line of scrimmage and botched snaps from the center to the quarterback that resulted in Cutler describing the offense as "good and bad." Cutler continued: "That is to be expected taking the time off in July. We're getting better and better. There's been some sloppy stuff out there. We've got to clean it up. I think the guys are doing a really good job of just recognizing the plays and getting lined up and knowing the concepts and knowing the checks and everything. So if we just clean up some of the little things as we go, we'll be all right."
The Bears desperately need their top three draft choices to step in and make immediate contributions on defense. First-round pick cornerback Kyle Fuller looks the part and continues to receive extensive reps on the first team in base and nickel with Tim Jennings temporarily sidelined due to a sore groin. Third-round choice Will Sutton got thrown into the fire on Monday at three-technique defensive tackle as the coaching staff decided to give Jeremiah Ratliff a veteran's day off. Sutton appeared to hold up OK versus the heightened competition. Rookie nose tackle Ego Ferguson flashes the ability to get up-field in one-on-one individual pass-rush drills, but Ferguson has ended up on the ground on at least three separate occasions since the pads came on. Ferguson needs to find the perfect combination of speed and balance to ensure he doesn't take himself out of the play when games begin for real next month.
Fans chanted "Mega-Punt" whenever first-year punter Pat O'Donnell connected with the football on Sunday. Not to be outdone, punter Tress Way won the matchup between the two aspiring kickers on Monday. As a sixth-round draft choice, O'Donnell is considered the favorite to win the job, but Way has proved to those in the organization that he is an NFL-caliber punter. Even if Way is eventually released, he can still make it in the league. Former Bears "camp legs" have found gainful employment in the league: Spencer Lanning (Cleveland Browns) and Ryan Quigley (New York Jets).
Most of the wideouts competing for the final roster spots have done little to distinguish themselves. The two exceptions are Eric Weems and Chris Williams. Not only are Weems and Williams natural fits in the return game, they have managed to catch the football in camp. The other reserve receivers have been plagued by drops.
Pro Bowl right guard Kyle Long (viral infection) visited doctors on Monday, but the team cannot say if Long will be back on the field when it returns to work on Wednesday. With Long out, the Bears have worked various combinations at guard, with Eben Britton, Michael Ola and Brian de la Puente all seeing time with the starters.
Wide receiver Alshon Jeffery (sore foot), receiver Terrence Toliver (toe), safety Chris Conte (PUP) and safety Craig Steltz (PUP) were all spectators on Monday.
The Bears are off on Tuesday. The next practice is scheduled for Wednesday at 9 a.m. CT.
July, 28, 2014
Jul 28
4:15
PM ET
BOURBONNAIS, Ill. --
Chicago Bears
Pro Bowl right guard
Kyle Long
met with doctors on Monday to check the progress of his recovery from a viral infection that's forced the former first-round pick to miss the opening four practices of camp.
Long
Despite Long's illness, the second-year guard had been present at every training camp practice until Monday's excused absence. The Bears next workout at Olivet Nazarene University is scheduled for Wednesday at 9 a.m. CT.
"I expect to hear from [Long] and the doctors today, and we'll get a better idea where he is at," Bears head coach Marc Trestman said.
The No. 20 overall pick of the 2013 NFL draft, Long started just five games at Oregon before making the jump to the NFL, where he became a permanent fixture in the Bears' starting lineup last season at right guard, helping the offensive line achieve its lowest sack total (30) since 2008.
But there is legitimate concern whenever an NFL player misses an extended period of training camp.
"Any player, no matter how long they've played the game, needs to practice and needs to work," Trestman said. "It doesn't matter who they are or at what level they play at. Kyle is missing time and there is nothing we can do about it. When he gets back here, he is going to have to get back into it and make up for some lost time."
With Long sidelined, the Bears have experimented with different combinations at guard, including
Eben Britton
,
Michael Ola
and Brian de la Puente. Ola and de la Puente finished practice on Monday at guard with the starters in a two-minute drill after left guard
Matt Slauson
sat out the final period for undisclosed reasons.
"It's been beneficial that we've been able to get some of these other guys in there," Bears offensive coordinator Aaron Kromer said. "We've been able to look closer at our rotation, but we hope to get Kyle back as soon as possible."
In other Bears injury news, cornerback
Tim Jennings
(quad) was sidelined for a third consecutive day, Pro Bowl wide receiver
Alshon Jeffery
sat out due to a sore foot and wideout
Terrence Toliver
is still out because of a bad toe. Veteran defensive tackle
Jeremiah Ratliff
was given Monday off by the coaching staff.
August, 31, 2013
8/31/13
6:30
PM ET
Most significant move:
Despite
J'Marcus Webb
making 44 starts in 46 career games, including 32 consecutive starts at left tackle over the last two years, the Bears made the decision to part ways with him, even after reducing his salary to the league minimum for a veteran with three years of tenure.

Webb entered the offseason as the starter at right tackle, and stayed in that spot through the early part of training camp. Then, after the preseason opener at Carolina, the club demoted Webb to the second team behind rookie fifth-round pick
Jordan Mills
.
The demotion put Webb in competition for a backup role with veterans
Jonathan Scott
and
Eben Britton
. A five-year veteran, Britton has 30 games of starting experience on his résumé, but also possesses more versatility than Webb because of his ability to kick inside to guard and center. Scott hasn't played all preseason, and recently underwent a procedure on his knee. But the team is confident that even a dinged-up Scott is more reliable than a fully healthy Webb.
Webb possesses the physical skillset to be a starter in the NFL for several years, but lacks motivation and passion, which is a no-no for general manager Phil Emery and the new coaching regime. The new staff worked diligently to coax out the best in Webb, but couldn't do it consistently enough for the team to feel confident in the three-year veteran, even as a backup.
Good outing, bad result:
Quarterback
Jordan Palmer
performed well in the preseason finale against Cleveland despite little preparation after signing as an injury replacement for Matt Blanchard. But a 64.7 completion percent and a passer rating of 102.8 with a touchdown pass in his preseason debut wasn't good enough to keep the Bears from cutting Palmer.
A big part of that was the team's reported desire to sign a third quarterback with practice-squad eligibility. Palmer doesn't have any practice-squad eligibility remaining.
What's next:
With the 53-man roster finalized, the Bears will start to build their practice squad. If the club wants to bring back some of the players it cut, it will have to wait until they clear waivers. The Bears will likely be looking to add a few players cut from other teams to their practice squad, too.
Bears cuts:
QB:
Trent Edwards
,
Jordan Palmer
. RB:
Armando Allen
. OG: Dennis Temple,
Edwin Williams
. LB:
Jerry Franklin
,
J.T. Thomas
. WR: Brittan Golden,
Terrence Toliver
, Josh Lenz. OT:
J'Marcus Webb
,
Cory Brandon
. DT:
Corvey Irvin
, Christian Tupou. S:
Tom Nelson
,
Brandon Hardin
. LS: Brandon Hartson. CB: Demontre Hurst. TE:
Fendi Onobun
. FB: Harvey Unga. DE: Aston Whiteside,
Josh Williams
.
Note:
Brandon and Irvin received injury settlements. Hardin was waived/injured, which means if he clears waivers, he'll revert to Chicago's injured reserve.
August, 29, 2013
8/29/13
8:27
PM ET
August, 26, 2013
8/26/13
2:49
PM ET
LAKE FOREST, Ill. -- The
Chicago Bears
returned to the field to resume workouts Monday, but continued to hold out defensive tackle
Henry Melton
and receiver
Earl Bennett
as the duo works through the steps of the concussion protocol to return to the field.
Melton and Bennett attended the session inside the Walter Payton Center during the portion of practice open to the media, but it appears neither has been cleared to return to activity. Considering the starters aren't likely to play much, if any, during the preseason finale against Cleveland on Thursday, there's no rush for Melton and Bennett to return to the field.
"Henry is into (the) running (phase of the concussion protocol). Earl is day-to-day," coach Marc Trestman said. "I know he was with some of the medical people this morning, I haven't checked. Henry ran today. He's going to run tomorrow and Wednesday and pick up that running significantly. That's where he is at this point."
However, the Bears have already begun preparations for the regular-season opener against the
Cincinnati Bengals
on Sept. 8, and the week leading into that outing would seem to be the target date for Melton and Bennett to rejoin the team for workouts.
As the club's franchise player, Melton has already solidified his status as a starter. Bennett, meanwhile, is competing with
Joe Anderson
,
Eric Weems
,
Terrence Toliver
and rookie
Marquess Wilson
for one of the receiver spots behind
Brandon Marshall
and
Alshon Jeffery
. Bennett hasn't practiced with the team since suffering the concussion on Aug. 3 at Soldier Field after a hard hit from safety
Chris Conte
.
Melton suffered his concussion in the first game of the preseason at Carolina.
In other injury news, the team held out quarterback
Matt Blanchard
(hand), linebacker
D.J. Williams
(calf), offensive tackle
Jonathan Scott
(knee), defensive tackle (
Corvey Irvin
) (ankle) and cornerback
Zack Bowman
(hamstring).
Fullback
Harvey Unga
(ribs), defensive end
Cheta Ozougwu
(hamstring), and long snapper
Patrick Mannelly
returned to the practice field Monday after missing last week's game at Oakland.
August, 20, 2013
8/20/13
5:20
PM ET
LAKE FOREST, Ill. -- Defensive tackle
Henry Melton
and wide receiver
Earl Bennett
remained sidelined on Tuesday due to concussions, but both players watched practice from the sidelines for the first time since the
Chicago Bears
concluded the Bourbonnais portion of their training camp on Aug. 13.
However, Melton and Bennett have still not passed the NFL concussion protocol to return to action, and therefore both continue to be off-limits to the media, per league rules.
While veteran
Nate Collins
has elevated his game filling in for Melton at defensive tackle, the picture at the No. 3 wide receiver spot is cloudier with Bennett out. Wideouts
Joe Anderson
,
Marquess Wilson
,
Eric Weems
,
Terrence Toliver
and
Devin Aromashodu
have all been given an opportunity to run with the first and second teams in recent weeks, but quarterback
Jay Cutler
said on Tuesday that he has no input on which specific player would fill the void left by Bennett if his absence continues to drag on.
"They don't give me an opinion so we'll see who they throw in there," Cutler said. "We'll see who Marc (Trestman), Phil (Emery) and those guys like. Whoever is out there I trust that they can get the job done."
In other injury news, quarterback
Matt Blanchard
(hand), fullback
Harvey Unga
(rib), defensive end
Cheta Ozougwu
(hamstring), linebacker
D.J. Williams
(calf), long snapper
Patrick Mannelly
(rib), offensive tackle
Jonathan Scott
(knee) and defensive tackle
Corvey Irvin
(ankle) were all held out of Tuesday's practice.
The news on Blanchard is encouraging. The second-year quarterback is expected to miss about a month, but could still have a role on the team in 2013 in some capacity. Blanchard also remains eligible for the practice squad.
August, 6, 2013
8/06/13
9:41
PM ET
BOURBONNAIS, Ill. -- In a practice filled with defensive highlights, defensive end
Shea McClellin
authored the play of the day on Tuesday when he sniffed out a screen pass and intercepted a hard-thrown ball from quarterback
Jay Cutler
in the flat.
McClellin initially rushed up field on the play from his end spot before anticipating the throw by Cutler and coming down with a difficult catch. If the sequence had occurred in a real game, McClellin would have scored an easy defensive touchdown.
[+] Enlarge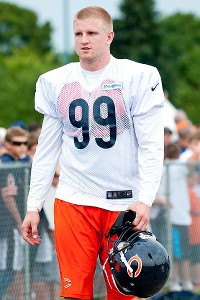 Bradley Leeb/US PresswireShea McClellin said he feels faster, and it showed on a nice play Tuesday.
"I was just doing my job and reading my keys," McClellin said. "The ball was right there so I picked it off. I was just doing my job. I feel faster out there than I did in the spring after I lost eight pounds. I still feel like I get a little heavier, but I'll work on that after camp.
McClellin has been in a groove the last week, routinely winning one-on-one battles with offensive lineman in individual and team drills. The likely plan for the former first-round pick is to move him around the defensive front, lining him up in a two-point or three-point stance depending on the defensive call or the matchup, while sometimes requiring that he cover a tight end or guard the flat on passing downs.
The Bears asked McClellin to do some of that last year as a rookie, but expect to see more of it in 2013. That's because McClellin should receive a significant boost in play-time in the Bears' three-man starting defensive end rotation that also includes
Julius Peppers
and
Corey Wootton
.
On the topic of defensive lineman moving around, the Bears had several lineman stand up in a two-point stance and either rush the quarterback or run with a tight end in coverage, the most notable being Pro Bowl defensive tackle
Henry Melton
.
As the wide receiver bubble starts to take shape, Joe Anderson is doing whatever he can to earn a spot on the Bears' final 53-man roster. A standout on special teams in the final three regular-season games of 2012, Anderson has made several impressive catches throughout camp.

On Tuesday, he beat safety Major Wright down the deep middle of the field and hauled in a touchdown bomb from Cutler.

"It was just a beautiful pass by Cut, man," Anderson said. "The safety sat and I just ran by him."

Anderson has the necessary physical skills (6-foot-1, 196 pounds), but admits that he still needs to work on the mental aspect of his game. Anderson was an undrafted rookie free agent last summer out of Texas Southern.

"I'm just as strong as Brandon Marshall or anyone else that is out here," Anderson said. "So it's not the physical part, it's more mental, like learning the fundamentals of the game. Just the little things that can get you open in tight coverages, and that starts in the film room, getting in your playbook and taking good notes in the meeting room. Then you need to come out on the field and apply it all."

It appears to be an open competition at wide receiver after the top three on the depth chart. Wideouts Anderson, Eric Weems, Devin Aromashodu, Terrence Toliver, Marquess Wilson, Josh Lenz, Marcus Rucker, Britton Golden and Jerrell Jackson all figure to get an extended look in the upcoming preseason games.

Wilson, the Bears seventh-round draft choice, is intriguing because although his 6-foot-4, 184 pound frame may not be ready to contribute much for the Bears on offense or special teams this season, would he clear waivers if the team cut him with the intent of bringing him back on the practice squad? The last thing the Bears want to do is completely cut ties with a 20-year old receiver, who if he stayed in school and continued producing at the same rate he had over his first three years at Washington State, would've been a first-round or second-round pick in 2014.



Wide receiver Earl Bennett (concussion symptoms), nickel back Kelvin Hayden (hamstring), linebacker D.J. Williams (calf), offensive tackle Jonathan Scott (knee) and Peppers (excused) were all sidelined on Tuesday.

Left tackle Jermon Bushrod participated in just individual drills for the second consecutive practice as he eases back from a right calf strain.

Defensive tackle Stephen Paea (hip) had full participation.



Team matriarch Virginia McCaskey watched the workout and later chatted with Bears general manager Phil Emery.