NFC North:

Third and one01
September, 14, 2009
9/14/09
5:41
PM ET

Posted by ESPN.com's Kevin Seifert
After Chicago's 21-15 loss to Green Bay, here are
three (mostly) indisputable facts I feel relatively sure about:

The Bears were 0-7 in games that linebacker Brian Urlacher missed for injury during the 2004 season. According to the Elias Sports Bureau, they gave up an average of about 10 additional points in the games they played without him. For better or worse, I don't think his season-ending wrist injury will impact the Bears that dramatically this season. Their linebacker corps revolves now around Lance Briggs, and I think most football people would choose him if they had to take one or the other. The Bears plan to sign free agent linebacker Tim Shaw for depth purposes, so for now it appears they will leave Briggs on the weak side and start Hunter Hillenmeyer in Urlacher's spot. Update: Shaw's signing has been announced.
The Bears are a team that gets off the bus running, as coach Lovie Smith likes to say. That's why I was among those surprised when they called 23 passing plays in the first half against only 10 runs. You could make an argument that you don't trade for a gunslinging quarterback to hand off the ball 50 times per game. But Jay Cutler clearly wasn't settled in during the early going Sunday night. When that was clear, I was surprised the Bears didn't pull back and rely more on Matt Forte.
As for Cutler: Ugh. The interceptions were bad, but I thought he was too emotional -- especially for a quarterback -- in the first half. I know that's part of his reputation, but frankly, it's something he might need to work on. NBC's cameras caught him shoving a Packers defender who got his hands on him after he threw the ball. Cutler screamed at the player before heading off toward the sideline. I'm all for intensity, but if a quarterback is emotionally out of control, how can the rest of the team play with composure?
And here
is one question I'm still asking:
Why can't more players be like Patrick Mannelly? The Bears long snapper owned up to a mistake that cost his team three points, saying he felt "stupid" for checking to a fake punt when he believed the Packers had 12 men on the field in the fourth quarter. It's not often that a long snapper is involved in that crucial of a play, but it's also not often when a player owns up so cleanly to a mistake.
September, 14, 2009
9/14/09
3:50
PM ET

Posted by ESPN.com's Kevin Seifert
After Minnesota's 34-20 victory over Cleveland, here are
three (mostly) indisputable facts I feel relatively sure about:

I walked out of Browns Stadium thinking that new center John Sullivan got worked over pretty good by Browns defensive tackle Shaun Rogers. But I'm backing off that a little bit. I definitely saw Sullivan get plowed into the backfield a few times. A little perspective is needed, though. Rogers is one of the NFL's best at his position and probably would have made some plays against former center Matt Birk as well. Second, you don't typically notice a center when he makes a good block. Finally, coach Brad Childress said Monday he thought Sullivan played "particularly well." Overall, I think Sullivan deserves another start.
Quarterback Brett Favre admitted he got crossed up on a third-down pass on the goal line in the first quarter, throwing a fade to receiver Sidney Rice while Rice broke off his pattern midway through the end zone. "I was wrong, he was right," Favre said. And I don't think Favre was just covering for his receiver, either. When I asked Rice about it, he paused several seconds and said: "It was a miscommunication." Had it been Rice's fault, I'm sure he would have taken the blame. The play didn't impact the result against a bad Browns team, but the Vikings won't be able to afford those kind of avoidable mistakes in division games.
Percy Harvin needs to watch out for more than just opposing defenders this season. Favre caught Harvin by surprise after his 6-yard touchdown pass Sunday, drilling him to the turf in celebration. "I seen him coming from a long way," Harvin said. "I thought we were going to try to bump chests. When I looked at him and saw that he wasn't slowing down at all, I just kind of took it. ... I hope it's a one-shot deal from my perspective." The Vikings will take a similar performance from Harvin every game, however. He netted 157 all-purpose yards against the Browns, but Monday, Childress was touting his pair of pancake blocks in the running game.
And here is
one question I'm still asking:
When will the Vikings' defense get tested? The Browns didn't offer much explosiveness Sunday. Detroit might muster a little more this week with receiver Calvin Johnson, but only if it can establish a semblance of a running game. I don't see San Francisco's offense as a particularly dynamic threat. So while we think this defense is pretty good, we might not know for sure when Green Bay I week arrives next month.
September, 14, 2009
9/14/09
2:55
PM ET

Posted by ESPN.com's Kevin Seifert
After Green Bay's 21-15 victory over Chicago, here are
three (mostly) indisputable facts I feel relatively sure about:

Before I could start banging the drum again, Packers coach Mike McCarthy said Monday that Allen Barbre will retain his job as the starting right tackle. Barbre had the kind of night offensive linemen dread: When it's apparent early in a game that they can't stop the player across from him. Bears defensive end Adewale Ogunleye embarrassed Barbre twice in the first quarter alone, and things improved minimally as the game went on. (You wonder if it had more to do with Ogunleye losing steam than it did Barbre improving.) Packers coaches should share some blame for not adjusting quicker to get Barbre some help. If you can't replace him, you can call plays that allows a tight end or running back to throw a shoulder at the defensive end to slow him down a bit.
After much ado, at least around here, the Packers ended up starting Nick Barnett at one of the inside linebacker spots. But true to their word, coaches rotated six players through the four linebacker spots. Brandon Chillar and Clay Matthews also played extensively. Chillar's hurdle of Chicago tailback Garrett Wolfe, and his subsequent sack, was one of the most athletic plays you'll ever see a blitzing linebacker make. Chillar received one of the Packers' game balls for his efforts. As it turned out, the Packers' sub packages made a huge difference Sunday night. According to ESPN Stats & Information, all four of the Packers' interceptions came when they were in a formation other than their base package.
The Packers slightly increased their percentage of running plays in the second half and then scored the winning touchdown on play action. Coincidence? Perhaps not. According to ESPN Stats & Information, the Packers rushed on 35 percent on their first-half plays and 45 percent in the second half. Greg Jennings' 50-yard touchdown reception came after quarterback Aaron Rodgers faked a handoff to tailback Ryan Grant. The play seemed briefly to slow down Bears cornerback Nate Vasher, who Jennings ran past about 10 yards into his pattern.
And here is
one question I'm still asking:
What happened to Jermichael Finley? Many of us media types have been touting Finley as a major part of the passing game, but he went silent after making a 6-yard reception on the Packers' second possession of the game. McCarthy said Monday that game situations didn't favor the tight end, pointing to six plays where the Packers faced second-and-10 or worse and another six where they faced third-and-11 or worse. Ultimately, I'm sure the Packers hope Finley can be the type of receiver who can help convert long-yardage situations. But not yet.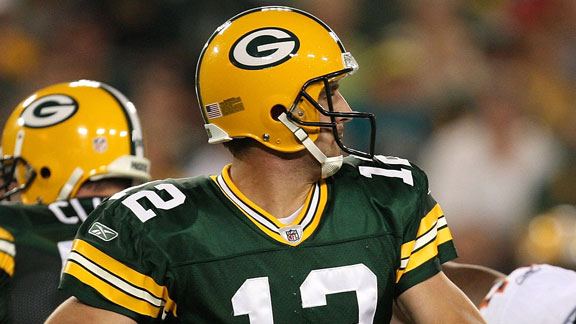 September, 14, 2009
9/14/09
2:12
PM ET

Posted by ESPN.com's Kevin Seifert
After Detroit's 45-27 loss to New Orleans, here are
three (mostly) indisputable facts I feel relatively sure about:

After he threw four interceptions in 55 preseason passes, we shouldn't be surprised that rookie quarterback Matthew Stafford tossed three on Sunday. Don't fret, Lions fans: That total didn't even qualify for a division high this weekend. But it was more than any of the past six rookie quarterbacks who have made an opening-week start since 2002. ESPN Stats & Information compared those performances and found that Mark Sanchez, Matt Ryan, Joe Flacco, Kyle Orton, Kyle Boller and David Carr threw a combined four interceptions in their first starts. Stafford's 27.4 passer rating was the lowest among that group. Overall, however, interceptions come with the territory. You can't start a rookie quarterback and start counting interceptions. (Unless you're a blogger.)
To me, here's a more concerning statistic: The Lions finished with 33 rushing yards on 20 carries. Nothing will make Stafford's life more difficult than if the Lions become a one-dimensional team. Offensive coordinator Scott Linehan's nature is to continue pounding the ball, but that's difficult to do when you fall behind 14-0 in the first quarter. Detroit elected not to shake up its offensive line this offseason, instead drafting tight end Brandon Pettigrew to help its edge blocking. Tailback Maurice Morris, signed to be a complement to starter Kevin Smith, was active but did not play Sunday. Absent of getting Morris more involved, the only thing the Lions can do is keep plugging away and hope to discover better cohesion.
The Lions started four rookie draft choices Sunday: Stafford, Pettigrew, safety Louis Delmas and defensive tackle Sammie Lee Hill. The rest of the NFC North started two draft choices. Total. The jury is still out on whether Stafford and Hill are ready to be NFL starters, and Pettigrew's summer quadriceps injury set him back a bit. But Delmas is ready to be a big playmaker. His 65-yard fumble return is an example of the kind of play the Lions are hoping to get from him on a regular basis.
And here is
one question I'm still asking:
Have the Lions adequately addressed the NFL's worst run defense of a year ago? The Saints put up some flashy passing numbers Sunday, but they also churned out 157 rushing yards. The Lions started two new defensive tackles in Hill and Grady Jackson, and they also have a new middle linebacker in Larry Foote. I consider that a personnel upgrade over their lineup last season, and it should be more difficult to push the Lions around this season. Sunday, however, wasn't a good start in that department.
NFC NORTH SCOREBOARD
Thursday, 9/4
Sunday, 9/7
Monday, 9/8