NFC North:

Third and one02
September, 21, 2009
9/21/09
2:51
PM ET

Posted by ESPN.com's Kevin Seifert
After Minnesota's 27-13 victory at Detroit, here are three (mostly) indisputable facts I feel relatively sure about:

Yes, you read it correctly Sunday: Backup quarterback Tarvaris Jackson was included in part of a new punt coverage scheme at Ford Field. Jackson was one of three gunners on each side. I can only assume it was an effort to put something on tape for future opponents, but if there was a grand scheme involved, Jackson didn't know what it was when I asked him in the locker room. Someone asked coach Brad Childress about it, but I don't know how much light his answer will shed. "It was a plus-50 and what it does is it makes them check their rush a little bit and some point and time the ball's got an opportunity to come back to him if we get a look we're looking for," Childress said. "…. [G]enerally it's going to get you a fair catch and no return." I think what Childress was trying to say is that there could be a play where the formation shifts to Jackson playing a quarterback. By using him on a regular punt, he warned future opponents against assuming a fake punt is on the way if they see Jackson coming on the field. As for the risk to Jackson in coverage, Childress is suggesting that there is rarely a return involved when the line of scrimmage is near the 50-yard line.
Want to know how intent Adrian Peterson is on delivering a blow? Re-watch his run around left end in the third quarter Sunday. As he approached the sidelines, Peterson saw Lions safety Louis Delmas preparing to go low on a tackle. Peterson lowered his shoulder to about a foot off the ground and drilled Delmas' helmet. It was totally unnecessary and totally awesome at the same time.
I was stunned when I looked at the postgame stat sheet and saw that receiver Bernard Berrian had six receptions. Those had to be the quietest six-catch performance in Berrian's career, but he said afterwards he is "communicating very nicely" with new quarterback Brett Favre. Berrian missed most of the preseason and didn't start working with Favre in game situation until last week. So it will be interesting to see when – and if – Favre starts looking to utilize Berrian's deep speed.
And here is
one question I'm still asking:
Does Favre still have the arm to throw a 60-yard bomb? I have no reason to think he doesn't, except for the fact that we really haven't seen him try it since he signed with the Vikings in mid-August. He's gunning his short passes with strong velocity, but he really hasn't let many loose from a downfield perspective. Is that because of the pass rush? Play-calling? Or an acknowledgement that his arm his almost 40 years old? Childress said Monday that he has no concerns about Favre's arm strength. Opposing defenses aren't convinced yet. They're still stacking the line to stop Peterson.
September, 21, 2009
9/21/09
1:57
PM ET

Posted by ESPN.com's Kevin Seifert
After Green Bay's 31-24 loss to Cincinnati, here are
three (mostly) indisputable facts I feel relatively sure about:

The Packers are preparing to play at St. Louis without two significant starters. Left tackle Chad Clifton has an ankle sprain that could sideline him for several weeks, and safety Nick Collins has what coach Mike McCarthy called a sprained clavicle. Clifton is likely to be replaced by left guard Daryn Colledge, with Jason Spitz moving to left guard and Scott Wells playing center. If Collins can't play, the Packers would be without both starting safeties. Backup Aaron Rouse already is starting for the injured Atari Bigby. That means Jarrett Bush or newcomer Derrick Martin would have to take over at Collins' spot. Collins was one of the Packers' few bright spots Sunday before he got injured, and there is definitely a dropoff when Rouse enters the game.
Sunday, I questioned why Packers coaches didn't give more help to Clifton and Colledge as Cincinnati's Antwan Odom motored to five sacks. But McCarthy said Monday that he called "heavy-protection" pass plays for the most part and said, if anything, he's giving his linemen too much help. "I'm not going to go overboard," he said. "But four of those [six] sacks are totally uncalled for and unacceptable." McCarthy said some linemen are just getting "flat-out" beat. To me, that paints a worse picture than I thought. I'd rather hear that coaches were slow to make an adjustment, as opposed to the adjustments didn't work. If your quarterback gets sacked six times while operating behind "heavy-protection" schemes, then you have a fundamental problem that might not be easily solved.
Inside linebacker Nick Barnett, a prodigious Twitter user, is pledging to stop tweeting until after the season after expressing a few emotional thoughts Sunday night. One of them suggested he isn't happy with the Packers' rotation at linebacker. ("Tough game!! Hard to get in The swing of things in a rotation.. Don't know why we are even in a rottion t this point..") The other chastised fans who were upset that he celebrated after making a tackle. Monday morning, he tweeted: "I am a emotional person and sometimes … With this Twitter thing I forget that everything is public.." As for the linebacker rotation, Barnett should recognize that it's in his best interest to keep the rotation going. While he was rehabilitating this summer, two other players -- Brandon Chillar and Desmond Bishop – proved they were more than capable of playing his position.
And here's
one question I'm still asking:
How good will the Packers' 3-4 defense be against the run? Sunday, Bengals tailback Cedric Benson rolled up 141 yards. We've heard a lot about Dom Capers' creative blitz schemes against the pass but not quite as much about its approach to the run. McCarthy said Monday that the Bengals' offensive line outplayed the Packers' defensive line Sunday. Does this mean we'll see rookie B.J. Raji in St. Louis? As of Monday, McCarthy said Raji was still walking with a limp because of a sprained ankle.
September, 21, 2009
9/21/09
1:16
PM ET

Posted by ESPN.com's Kevin Seifert
After Chicago's 17-14 victory over Pittsburgh, here are
three (mostly) indisputable facts I feel relatively sure about:

Quarterback Jay Cutler helped turn two unknown receivers into stars in Denver, and now he's working on a new project in Chicago. Brandon Marshall was a fourth-round draft pick, and the Broncos drafted Eddie Royal to be a kick returner. By the end of their rookie years, each was a Pro-Bowl caliber receiver. I'm not predicting the same thing for Bears rookie Johnny Knox, but it's hard to avoid the comparisons. Cutler clearly feels comfortable throwing him the ball, targeting him nine times Sunday against the Steelers. Knox figured as the Bears' No. 4 receiver this season, but his connection with Cutler should guarantee him regular playing time.
After all the late-week hubbub about a shakeup at safety, veteran Kevin Payne still got plenty of playing time. That's because the Bears decided to keep Danieal Manning as their nickelback despite making him a starting safety. That means every time the Steelers went to three receivers, Manning moved inside and Payne entered the game to play safety. It's a little unconventional to swap safeties so frequently during the course of the game, but ultimately I guess it's a reflection of whom the Bears consider their best five defensive backs. Tells you a lot about what the Bears think not only of Nate Vasher, but also Corey Graham. Both have been starting cornerbacks in the past.
We had a Tommie Harris sighting in the fourth quarter. Chicago's mysterious defensive tackle burst through the line and dropped Steelers tailback Mewelde Moore for a 2-yard loss on a first-down play. The Steelers ultimately were unable to convert a first down, and place-kicker Jeff Reed followed by missing a 43-yard field goal. Harris once made those plays routinely, tipping the field-position battle to the Bears' favor with a play behind the line. We've chronicled his knee problems this summer, but I think the Bears would be happy with one or two of those kinds of plays per game.
And here is
one question I'm still asking:
What's happened to the Bears' running game? In two games, Matt Forte has totaled 84 yards. And it's not like the Bears haven't given him a chance. Forte has 38 carries already, tying him for seventh in the NFL. If anything, you would think Forte would have more success early this season as teams adjust to Cutler's arrival. But that hasn't been the case. The Bears can certainly rely on Cutler to carry their offense, but it's not the style of coach Lovie Smith and I would expect him, if anything, to pound Forte even more until he breaks through.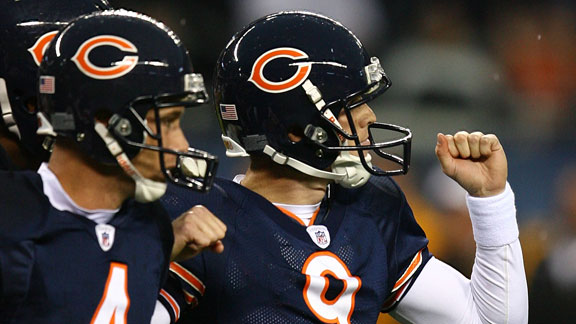 September, 21, 2009
9/21/09
12:25
PM ET

Posted by ESPN.com's Kevin Seifert
After Detroit's 27-13 loss to Minnesota, here are
three (mostly) indisputable facts I feel relatively sure about:

In general terms, I like the fire of right tackle Gosder Cherilus. I'm just not sure he has the ideal on-field personality for an offensive lineman. It was fun to watch his feud with the Vikings defense escalate Sunday, and I don't think it was an accident that he grabbed defensive end Jared Allen by the collar to pull him out of a pile. It was also entertaining to watch Cherilus celebrate after Vikings defensive tackle Kevin Williams earned a 15-yard penalty for shoving him to the ground. But there is a reason why most fiery big men are defensive linemen, and why most quiet big men play on the offensive side. Emotional offensive linemen lose their technique and make mistakes that hurt the team. Emotional defensive linemen channel it to get away from would-be blockers, or at least the good ones do. Cherilus could use a little less fire and a little more stoicism.
I love the way offensive coordinator Scott Linehan is looking for ways to get the ball to receiver Calvin Johnson. Linehan employed a reverse early in the game and later motioned Johnson into an I-formation in the backfield. Johnson took a pitch and ran around left end for a first down. With quarterback Matthew Stafford throwing interceptions at a rate of one for every 13.4 throws, it's a good idea to find simpler ways to get Johnson the ball.
I have no idea what left tackle Jeff Backus was doing for any part of the first play of the second half. He lined up across from Allen -- with no tight end help -- but never took a step to block Allen at the snap. Allen sacked Stafford untouched, forcing a fumble. Backus was facing the play at the time but made no move to recover the fumble, acting as if he thought the play was dead. (Finally, tight end Brandon Pettigrew fell on the ball.) Did Backus hear a whistle? Did he think that tailback Kevin Smith was going to block Allen? All the way around, a bizarre and crucial play for the Lions.
And here is
one question I'm still asking:
Why did the Lions get away from running the ball in the second half? They ran well and often in the first half, keeping the Vikings' normally stout run defense off-balance. But they called passes on two of the first three plays in the third quarter, a decision that coincided with a big swing in momentum. As crazy as it sounds, you would have thought the Lions would keep running the ball right at the Vikings as long as they kept the lead.