NFC North:

Third and one05
October, 12, 2009
10/12/09
3:13
PM ET

Posted by ESPN.com's Kevin Seifert
After Minnesota's 38-10 victory Sunday at St. Louis, here are
three (mostly) indisputable facts I feel relatively sure about:

The Vikings left the Edwards Jones Dome with an NFL-high takeaway ratio of plus-8, one of many reasons they're 5-0. They've created 12 turnovers, six via fumble and six via interception, and have only committed two interceptions and two fumbles of their own. (Green Bay is the only NFL team who has protected the ball better, having turned the ball over three times in four games.) The low turnover number is a good illustration that quarterback Brett Favre -- who holds the NFL record with 312 career interceptions -- isn't forcing the ball. The interception he threw Sunday to St. Louis linebacker James Laurinaitis was one of the few bad throws he's made this season. "That was a terrible play on my part," Favre said.
Right tackle Artis Hicks played decently as an emergency replacement for starter Phil Loadholt, who sprained his ankle last week in practice. As coach Brad Childress pointed out Monday, Hicks really only got one full day of practice to work at the position. That said, I'm still really surprised at Hicks' very late and aggressive shove of Rams defensive tackle Gary Gibson in the third quarter Sunday. Favre had thrown the ball several moments before, so much so that Gibson was already turning to chase it downfield. Gibson never saw the shove coming and suffered a season-ending leg injury as he fell to the turf. Hicks is a gentleman off the field, but I thought the hit was way too late. Update: Hicks defended the hit when a reporter asked him about it Monday. He said that he believed Gibson was still engaged with left guard Anthony Herrera at the time. "And I just gave him a shove. I didn't know the guy was out for the year. Football, it happens. ... I was just doing my job. I think that was well in the confines of what we do as an offensive lineman. We don't set out to hurt anybody or put anybody out for the year, but it happens. It's unfortunate, but it happens."
This struck me after 10 or so years of watching Minnesota games: I don't think I've ever seen the Vikings "go to the bullpen" three times in a season, let alone three times in the first five games. But that's what has happened at the end of victories against Cleveland, Detroit and St. Louis -- games that were decided by 14, 14 and 28 points, respectively. The Vikings have seemed especially eager to get backup quarterback Tarvaris Jackson into the game, and to throw passes. (He's completed 4 of 5 for 82 yards.) Could they be showcasing Jackson for a potential trade? The NFL trade deadline is next Tuesday. I'm not convinced the Vikings would part with quarterback depth at this point, but Jackson's activity has been interesting.
And here is
one question I'm still asking:
When will Adrian Peterson's next 100-yard game be? Peterson erupted for 180 yards in the season opener at Cleveland but hasn't risen above the century mark since. The Vikings have focused on the passing game while defenses stack against the run, and it's hard to imagine Baltimore doing anything different this week at the Metrodome. Before last weekend, the Ravens had gone 39 games without allowing a 100-yard rusher. Cincinnati's Cedric Benson rumbled for 127 yards against them, but historically that type of performance is the exception rather than the rule.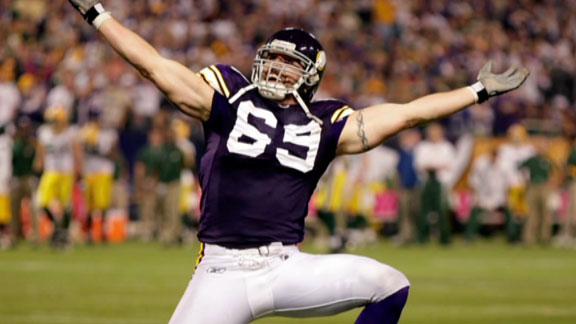 October, 12, 2009
10/12/09
11:58
AM ET

Posted by ESPN.com's Kevin Seifert
After Detroit's 28-20 loss to Pittsburgh, here are
three (mostly) indisputable facts I feel relatively sure about:

The end result of last week's linebacker commotion was that rookie DeAndre Levy replaced veteran Ernie Sims in the starting lineup. Levy continued to demonstrate speed and playmaking ability, making one tackle for loss and also tipping a pass. But was Sims benched? Coach Jim Schwartz said the decision was based more on the condition of Sims' shoulder, which caused him to miss a game two weeks ago. But was it? Schwartz has been quick to rotate personnel based on performance. If Sims' shoulder was healthy enough to play in sub packages, as it was Sunday, then why wouldn't it be healthy enough to play in base as well? It's not like the hits are softer in the nickel.
Daunte Culpepper played decently in his first start of the season and had the Lions chasing a game-tying score as time expired. I've suggested that Culpepper might have given the Lions a better chance at early success this season than rookie Matthew Stafford, but I didn't see much evidence of that Sunday. Culpepper's 32-yard scramble in the first quarter was the kind of play Stafford might not make. But I didn't find Culpepper's passing Sunday to be any sharper than what Stafford has provided. And in his first two series, Culpepper fumbled twice (recovering both) and committed an intentional grounding penalty that he could have avoided. That's what you accept from your veteran backup, not a veteran starter.
Rookie Derrick Williams displayed some juice in his first extended action as a kickoff returner, popping off a 34-yarder and averaging 21.8 yards on five returns. Williams looked to me like a player with speed and moves who will become dangerous once his confidence grows. I'm also a fan of fellow rookie Aaron Brown's playmaking ability, but maybe it's best that he focus on offense for now.
And here is
one question I'm still asking:
Should Schwartz have taken the Lions' first field goal off the board? Here's the situation: Lions placekicker Jason Hanson converted a 46-yard field goal on a fourth-and-5 play from the Steelers' 27-yard line. But Pittsburgh's William Gay was offsides on the kick, a 5-yard penalty. Officials informed Schwartz that the penalty would not be enough to give the Lions a first down; technically, it was fourth-and-5 1/2. Had Schwartz accepted the penalty anyway, the Lions would have lost the field goal but would have been inches away from converting a first down. As television analyst Dan Fouts pointed out, Culpepper's size makes him pretty reliable on the quarterback sneak. On the other hand, the Steelers have the NFL's top interior run defense. Ultimately, I can see the decision from both sides.