September, 22, 2011
9/22/11
12:45
PM ET
There was little evidence of a looming rout midway through the first quarter last Sunday at Ford Field. The
Kansas City Chiefs
had amassed 64 rushing yards on their opening drive, and the
Detroit Lions
were clinging to a 7-3 when the Chiefs took over for their second possession. What happened next provides an instructive illustration of the Lions' new defensive layer.
[+] Enlarge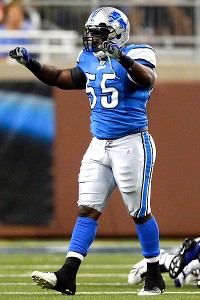 AP Photo/Rick OsentoskiStephen Tulloch is part of a revamped Lions linebacking corps that's taken some of the pressure off the defensive line.
Outside linebacker
Justin Durant
was involved in three tackles over the next six plays. One held Chiefs running back
Thomas Jones
to a three-yard gain. Another limited
Dexter McCluster
to a two-yard gain after middle linebacker
Stephen Tulloch
forced McCluster to change directions at the line of scrimmage.
Outside linebacker
DeAndre Levy
, meanwhile, combined with defensive tackle
Ndamukong Suh
to stop Jones for no gain. And Tulloch dropped receiver
Jerheme Urban
two yards shy of the first-down marker on third-and-8, forcing place-kicker
Ryan Succop
to attempt a 44-yard field goal.
Succop's kick sailed wide left, and the Lions never looked back in a 48-3 victory.
I won't suggest that Durant, Tulloch and Levy sparked the biggest regular-season victory in team history. But they played their part, especially in slowing down the Chiefs running game on that second drive.
I realize that Chiefs starter
Jamaal Charles
was already gone from the game after tearing his anterior cruciate ligament. Regardless, it's been a while since Lions linebackers so much as did their part. On a relative scale, what we saw last Sunday stood out like a new era. Durant finished the game with a team-high 11 tackles and Levy was second with seven. I gave them some additional props in our weekly NFC 411 video below.
"Bringing in Durant, Stephen Tulloch and having a healthy DeAndre Levy, we know we have good linebackers," Lions coach Jim Schwartz said. "I think our front seven is much improved, mainly because the linebackers are much improved."
As you might know, all three of the Lions' Week 1 starters last season --
Julian Peterson
,
Landon Johnson
and
Zack Follett
-- are out of football in 2011. Neither Durant, Tulloch nor Levy have so much as one Pro Bowl between them. But through two games, we can safely say the Lions no longer have a defense that counts solely on its disruptive defensive line to carry them.
"It's funny to watch them ... come here and translate and seamlessly make the change," Suh said of Tulloch and Durant, whom the Lions signed as free agents in August. "They're great players. They bring great character and atmosphere, and it only helps because they understand what we're working for and how we play up front."
In an ideal world, the linebacker trio will one day make offenses think twice about double-teaming Suh or another Lions defensive linemen. "But even if they're not getting those double-teams off us," Suh said, "they're going to be back there making plays."
Even a decent linebacker can be pretty good behind a defensive line like the Lions'. If nothing else, that's what we've seen in two weeks from the Lions. It's at least part of the explanation for a defense that has limited opponents to a combined 23 points, the second-best mark in the NFL. Based on total yardage, the Lions have the NFL's No. 7 defense. Those numbers are tangible progress.
October, 21, 2009
10/21/09
11:00
AM ET
»
NFC
:
East
|
West
|
North
|
South
»
AFC
:
East
|
West
|
North
|
South
Posted by ESPN.com's Kevin Seifert
Taking a look at Chicago's tailback as part of a larger ESPN.com project:
| | |
| --- | --- |
| | |
| | AP Photo/Dave Martin |
| | Matt Forte's numbers have dropped significantly from his rookie season. |
A half-yard per carry. About 19 yards per game. That's the production dropoff that has taken
Matt Forte
from NFC North blue-chipper to the division's biggest disappointment in 2009.
Through five games this season, Forte is averaging 3.4 yards per carry and about 58 yards per game. As one of the NFL's top rookies last season, he averaged 3.9 yards and almost 78 yards per game. Those numbers might not sound significant, but it's been alarming for a team that has few personnel options at the position.
Considering that almost 40 percent of his season total came in one game against 1-5 Detroit, Forte in essence has been in a season-long slump. It's too early to know where this will take us, but there seem to be three options:
The Bears have matched up against an exceptional collection of run defenses.
Chicago's offensive line is playing worse than imagined.
Forte is simply an average back.
The final explanation is most frightening for the Bears, who lost backup
Kevin Jones
during the preseason and have never seemed to trust the diminutive
Garrett Wolfe
. From the moment he was drafted last season, Forte was named the heir to the
Cedric Benson
/
Thomas Jones
duo. The Bears haven't hedged that bet, and so their 2009 fortunes are tied to Forte.
Regardless of the reason the Bears are not getting nearly the production they need from one of their key offensive players. (
Note:
An earlier version of this post contained an inaccurate number for Forte's receptions this season. He has caught 18 passes.)
Matt Forte game-by-game, 2009
Date
Opponent
Carries
Yards
Avg.
TD

Sept. 26

Green Bay


25

55

2.2

0

Oct. 5

Pittsburgh


13

29

2.2

0

Oct. 10

Seattle

21

66

3.1

0

Sept. 13

Detroit

12

121

10.1

1

Sept. 19

Atlanta

15

23

1.5

0

TOTALS

--

86

294

3.4

1
May, 13, 2009
5/13/09
7:00
AM ET
Posted by ESPN.com's Kevin Seifert
Green Bay officials made an interesting and aggressive move Tuesday by holding a promotional tour stop in Hudson, Wis. As most Upper Midwesterners know, Hudson is only a couple interstate exits away from the Minnesota state line and in many ways has become a suburb of St. Paul. I'd say it's 45 minutes, tops, from the Metrodome in Minneapolis.
But it's obviously border territory for the marketing arms of two NFC North teams. According to Patrick Reusse of the Star Tribune, tickets for Tuesday's event sold out the first day they were available. About 1,000 Packers fans flocked to Hudson to visit with team president Mark Murphy, safety Nick Collins, receiver Jordy Nelson and linebacker Brady Poppinga.
Murphy found himself answering questions about the organization's relationship with retired quarterback Brett Favre, who apparently is mulling a trip across the border himself. (Murphy reiterated that the Packers will retire Favre's number one day, according to Judd Zulgad of the Star Tribune.)
More interesting than the Favre issue, however, was the Packers' efforts to mobilize western Wisconsin. Reusse reports it's the first time they have visited Hudson in such a formal way. I'm guessing it won't be the last.
Continuing around the NFC North:
December, 18, 2008
12/18/08
7:23
AM ET
Posted by ESPN.com's' Kevin Seifert
One of the favorite whipping boys of Minnesota fans, and occasionally this blog, finally got his first interception of the season Sunday at Arizona. That play, combined with an apparent evening out of his overall play, drew some high praise this week from normally-conservative coach Brad Childress.
Asked about cornerback Cedric Griffin, Childress said:
"I've just seen continual growth from Cedric. I think he's an "A" competitor, first of all, and he's turning into an "A" technician. He has long arms. He can put his hands on you and jam you. He can get up in your grill and deviate you at the line of scrimmage, which is important with those wide receivers that can really run. I think he's paying attention to detail. While some [reporters] may have perceived him as a liability, I think he's become a strong football player. I know he wishes he would have caught a couple more balls, but the point is he's in position to make plays. He's playing at a very good level right now."
Opponents naturally throw more toward Griffin than fellow cornerback Antoine Winfield. But earlier this season, they were rewarded handsomely for picking on Griffin -- a player who seemingly never met a 5-yard cushion that didn't deserve another 3 yards tacked on.
But cornerback can be a tough position to judge from the outside. In the Vikings' scheme, Griffin at times has been asked to keep the ball in front of him at all costs -- hence the cushion. Whether he is simply trying to pump up Griffin with public praise, Childress' strong comments were notable and spurred Chip Scoggins of the Star Tribune to delve deeper into Griffin's season.
For us, we'll continue our jaunt around the division:
July, 24, 2008
7/24/08
10:20
AM ET
Posted by ESPN.com's Kevin Seifert
The Chicago Bears can't say for sure who will start at quarterback, receiver or running back. That makes for a few position battles, don't you think?
No. 1 and No. 2 receiver: Devin Hester vs. Marty Booker vs. Mark Bradley vs. Brandon Lloyd
The Bears bid farewell to 2007 starters Bernard Berrian and Muhsin Muhammad, leaving this position wide open for competition. They envision Hester as their top receiver, but an unexpected holdout -- not to mention his inexperience at the position -- could curtail their plans.
Otherwise, the position is a completely up in the air. Booker is a trusted veteran but not exactly a game-breaker, while Bradley has had trouble staying healthy. Lloyd, meanwhile, is on his third NFL team in six years. There isn't usually much to read into this, but for those interested: On the first practice of training camp Wednesday, the Bears had Booker and Bradley working with the starters.
Intensity index: Red hot
Running back: Matt Forte vs. Kevin Jones vs. Adrian Peterson
The Bears have all but anointed Forte as the successor to the Cedric Benson/Thomas Jones era, but Forte will still have to prove himself in training camp. He has the size and speed to be a 20-carry back in the NFL, but the Bears might ultimately choose to take it slow with him.
To that end, they signed Jones to provide depth and to hedge their bets a bit. Jones is less than seven months removed from surgery to repair a torn ACL in his right knee and isn't ready to practice yet. But in a best-case scenario, he could be ready to contribute a few weeks into the regular season.
Should the Bears need help before then, veteran Adrian Peterson will be available, as always. The Bears prefer to limit him to a backup role, but he is in position to bail them out if necessary.

Intensity index: Hot
NFC NORTH SCOREBOARD
Thursday, 11/27
Sunday, 11/30