January, 23, 2013
1/23/13
4:00
PM ET
Tim Brown
now claims
he never intended to suggest that former Oakland Raiders coach Bill Callahan sabotaged the Super Bowl in 2002. But
in this week's Inside Slant podcast

, Mike Sando and I discussed the impact of his original assertion and whether it will be used against him Feb. 2 when the Pro Football Hall of Fame selection committee assembles to elect the class of 2013.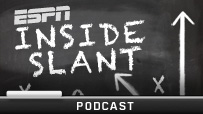 Could Brown have hurt his candidacy? Here's what one voter,
Rick Gosselin of the Dallas Morning News
, tweeted this week: "Blaming your head coach for a Super Bowl loss is no way to wage a Hall of Fame campaign. Poor timing, Tim Brown..."
Mike is a voter as well and offered his take in the podcast. You wonder if Brown could have effectively broken the three-way logjam of receivers -- himself, Cris Carter and Andre Reed -- by disqualifying himself for election this season. Mike and I were in agreement -- Brown's comments doesn't impact the quality of his playing career -- but you never know how a diverse group of people will react. Carter, the former Minnesota Vikings receiver, is in his sixth year of eligibility for the Hall of Fame.
January, 16, 2013
1/16/13
12:54
PM ET
Earlier Wednesday,
we discussed the likely reason why NFL teams never seriously considered Marc Trestman for head-coaching jobs during his heyday as an offensive guru from the mid-1990s until the early 2000s. His quiet and professorial personality didn't strike traditional football people as the type that could "command a room" and "lead the team" in a way that was generally expected of head coaches.
Longtime
Oakland Raiders
receiver Tim Brown became one of Trestman's first former players to put a voice to that sentiment. In an interview with
ESPN 1000
, Brown said he was "shocked" that the
Chicago Bears
hired him Wednesday because " I just never saw Trestman as being a head coach."
Brown appears to harbor a grudge against Trestman, who shifted the Raiders' offense from Brown to Jerry Rice when he took over as offensive coordinator in 2002. And like everyone who speaks of Trestman, Brown said he is "a really smart guy" and "knows football like the back of his hand."
However, Brown questioned whether Trestman has the skills to be a head coach. He said he and Trestman "had some interesting words" about his scheme.
"[T]here's a lot more to coaching than just X's and O's," Brown said. "You have to be able to deal with players and that's the reason [former Raiders coach] Bill Callahan hasn't succeeded as a head coach. Because he's a smart guy, knows football like the back of his hand, but when it comes to leading [men], it's a totally different intangible you have to have. It's going to be very interesting to see how [Trestman] and
Jay Cutler
get along, that's for sure."
Again, as we've discussed, there is at least an eight-year gap between Trestman and any people with NFL backgrounds who worked with him. A lot can change over that time, and Trestman is a good enough head coach to win two Grey Cup championships in the CFL. But if you're wondering why his first NFL opportunity didn't come until he was 57, Brown offers us some context.
February, 3, 2012
2/03/12
12:00
PM ET

Carter
In 1994, Cris Carter set an NFL record with 122 receptions over the course of a 16-game season. Shortly thereafter, the Pro Football Hall of Fame received and
put up for display his full uniform
, commemorating an achievement that figured to stand for some time.
The very next year, Herman Moore caught 123 passes for the
Detroit Lions
. Since then, the NFL has seen a 143-catch season (Marvin Harrison for the
Indianapolis Colts
in 2002) and another 123-catch campaign (
Wes Welker
for the
New England Patriots
in 2009). Welker also caught 122 passes this season. In fact, since Carter's 122-catch season, NFL wide receivers have produced 13 seasons that would have broken the record of 112 catches that Carter eclipsed in that 1994 season.
Carter was without question one of the best wide receivers of his era, but if I had to make an educated guess about why he has not yet been enshrined in the Hall of Fame, I would blame his timing. He produced his best seasons at the start of an NFL passing frenzy that has inflated statistics and left Hall voters reluctant to reward them.
There are 21 wide receivers in the Hall, fewer than any position except tight end, place-kicker or punter. And as the first chart shows, only four receivers whose careers began in the past 35 years have been elected. One of them, Art Monk, was enshrined 13 years after his retirement. A second, James Lofton, waited 10 years.
Hall voters might not agree, but the numbers suggest they haven't prioritized receivers as much as some other positions. And those who value the position have no doubt been torn in recent years by the presence of three quality candidates: Carter, Andre Reed and Tim Brown.
The second chart shows the receiving statistics of that trio over a relatively similar career span. Carter was a finalist in 2008, 2009 and 2010. Brown, who was also an elite kick returner, was a finalist in 2010. But Reed has been a finalist every year since 2007, and Carter's absence in 2011 suggests that Reed might have been pushed to the front of the line whenever a receiver (or two) is elected.
When he retired in 2002, Carter ranked second in NFL history in receptions and touchdown catches. He was No. 3 in total yards and total touchdowns. The NFL's offensive explosion has pushed him down in every category, and you hope he doesn't get permanently caught in the subsequent backlash. Catching 244 passes in two seasons, as Carter did in 1994 and 1995, was much more notable at the time than it is now.
While he will always be overshadowed by Jerry Rice, whose career more or less overlapped his, Carter also deserves some big-picture credit for sharpening the science of sideline footwork and warding off opponents with his arm. He was also as durable a receiver as this game as known, missing only four games in 14 seasons between 1988-2002.
I couldn't begin to tell you what might happen Saturday when voters convene to elect the class of 2012. Once again, Carter has joined Brown and Reed on the list of 15 semifinalists. Only five recently retired players, along with up to two nominees from the seniors committee, can make it.
I'll leave you with what the late Detroit Lions beat writer Tom Kowalski a said in a post-vote discussion last year. (
He also tweeted it
, so it's not as if I'm giving away a privileged conversation.) Kowalski, a member of the voting committee, looked at the projected ballots for 2012, 2013 and 2014 and predicted that the "snubs" of 2011 would be rectified over the next three years. If that's the case, it's just a matter of "when" for Cris Carter.
Note:
Carter is one of several former players with NFC North ties among the 15 semifinalists. That list also includes former Vikings defensive end Chris Doleman, current
Green Bay Packers
outside linebackers coach Kevin Greene and former Lions guard Dick Stanfel.
February, 5, 2011
2/05/11
9:16
PM ET
DALLAS -- I wish I had an explanation for what many of you are already asking: What is keeping former
Minnesota Vikings
receiver
Cris Carter
out of the Pro Football Hall of Fame?
When Carter retired in 2002, he ranked second on the NFL's all-time list of receptions (1,101) and touchdowns (130). He was one of the top receivers of his generation, but on Saturday he missed the selection committee's first cut for the second consecutive year. Former
Buffalo Bills
receiver
Andre Reed
made the first cut but was dropped after the second.
As we've noted before, Carter has several factors working against him that are out of his control.
First, the receiver position is not as valued as some others. Only 21 are currently enshrined.
Second, Carter seems to have been caught in a glut of receivers each year. Former
Oakland Raiders
receiver
Tim Brown
was also a finalist this season, and Sports Illustrated's Peter King -- who is also a voter --
tweeted
: "My sense is Reed, Carter, Brown canceling each other out. A shame, but I can tell you it's an honest disagreement by voters."
If that's the case, then it should just be a matter of time for Carter -- just as it was for former
Chicago Bears
defensive end
Richard Dent
, who finally
got his call Saturday
.
Indeed, Tom Kowalski of Mlive.com -- another voter --
tweeted
: "My guess? All 10 of the "snubbed" candidates from this season will be in the HOF in the next three years."
February, 4, 2011
2/04/11
10:10
AM ET
DALLAS -- The Pro Football Hall of Fame voting committee will gather here Saturday morning to determine the class of 2011. Three players with significant NFC North ties are finalists: Receiver
Cris Carter
, defensive end
Richard Dent
and defensive end
Chris Doleman
.
Handicapping their chances for enshrinement requires the acknowledgment that two other finalists, cornerback
Deion Sanders
and running back
Marshall Faulk
, are widely considered to be locks for election. That leaves 13 men competing for three spots, and a tremendous campaign is under way to push NFL Films founder Ed Sabol into one of those positions.
Regardless of the politics involved, let's stay in our lane (for now) and consider our neck of the woods. The announcement is scheduled for Saturday at 7 p.m. ET.

Carter
Cris Carter
Key qualification:
When he retired after the 2002 season, he ranked second on the NFL's all-time list of receptions (1,101) and touchdowns (130).
Working against him:
Receivers historically have a tougher time than at other positions. There are currently 21 receivers in the Hall of Fame, fewer than running backs (27), quarterbacks (23), offensive linemen (35) and defensive linemen (28). I refuse to believe that Carter's at-times caustic personality has impacted anyone's view of his on-field performance. But you never know for sure. Carter also will be competing with fellow receiver
Tim Brown
on this ballot.

Dent
Richard Dent
Key qualification:
When he retired after the 1995 season, his 137.5 sacks ranked third all-time in the NFL, thanks in part to a run of five consecutive seasons with 10 or more sacks.
Working against him:
There is nothing from a statistical standpoint to argue for Dent's continued exclusion. But for whatever reason, he has been passed over by other 100-sack players like Fred Dean,
Bruce Smith
and
John Randle
in recent years. This year, he is competing against two others in Doleman and
Charles Haley
. Sometimes players get lost in the maze. In the end, you hope that voters decide Dent has waited long enough.

Doleman
Chris Doleman
Key qualification:
You might not realize it, but Doleman's 150 career sacks rank fourth all-time in the NFL. Only Smith,
Reggie White
and
Kevin Greene
had more.
Working against him:
He's competing with two other high-sack players in Dent and Haley who have more ballot tenure. Also, Greene's exclusion demonstrates that voters don't always reward sack totals in a vacuum.