November, 15, 2012
11/15/12
2:00
PM ET
I've saved this season's Dirty Laundry posts for events that genuinely fall into a gray area of officiating or spur significant confusion, and I think we have one that qualifies this week.
The second-quarter play that left
Chicago Bears
quarterback
Jay Cutler
concussed, took $30,000 from the pocket of
Houston Texans
linebacker
Tim Dobbins
and officially never happened (because of offsetting penalties) has led to a disparate set of contradictory explanations and protests. So let's sift through the layers and explain why the penalty flag on Dobbins was justified regardless of other circumstances.
[+] Enlarge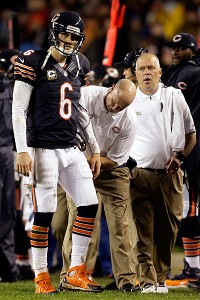 AP Photo/Nam Y. HuhBears QB Jay Cutler looks on after suffering a concussion against Houston on Sunday night.
First, a reminder of what happened on the play. With two minutes, 56 seconds remaining in the first half Sunday night, the Bears had a third-and-nine from the 50-yard line. Cutler scrambled from the pocket, headed upfield and threw a short pass to receiver
Devin Hester
as he approached the line of scrimmage. An instant later, Dobbins flattened Cutler with a hit as Hester turned the pass into a 42-yard gain.
Referee Gene Steratore's crew threw multiple flags: One against Cutler for an illegal forward pass (beyond the line of scrimmage), and the other against Dobbins for unnecessary roughness. In his announcement, Steratore said Dobbins was penalized for a "hit above the quarterback's shoulders."
That wording prompted justifiable confusion; if Cutler was in fact beyond the line, he was no longer protected by the NFL's long list of rules regarding hits on quarterbacks, otherwise known as "roughing the passer." Instead, he would be viewed as any other ball carrier. The NFL rule book states in case study 12.50 that "roughing the passer rules apply on all legal or illegal forward passes, as long as the pass is thrown from behind the line of scrimmage."
I realize it was a close call as to whether Cutler was fully past the line of scrimmage when he threw the ball, as required for that penalty to be called. For the sake of this post, however, let's assume Steratore was correct and that Cutler was merely a ball carrier and not a quarterback. Dobbins' hit would still be illegal.
Unnecessary roughness rules, applied to all positions, prohibit a player from using his helmet to forcefully hit an opponent. Here is the exact wording from Rule 12, Section 2, Article 8(g) of the rule book: "A player uses any part of his helmet (including the top/crown and forehead/'hairline' parts) or facemask to butt, spear, or ram an opponent violently or unnecessarily."
Go back and watch Dobbins' hit. The front of his helmet appears to hit Cutler's jaw and facemask. Cutler's head turns pretty decisively to the left on impact. Was Cutler turning away from the contact or did the force of Dobbins' blow cause that movement? It's difficult to tell for sure, but the play sure appears to fit the description of using "any part" of the helmet to "ram an opponent violently." (Former NFL vice president of officiating Mike Pereira, now an analyst for Fox Sports,
drew the same conclusion
this week).
Dobbins might not have gotten the same opportunity to make such a hit on a running back or receiver, of course. Most ball carriers would be better braced for impact than Cutler was as he focused on Hester. But if he had, based on NFL rules, the same unnecessary roughness penalty would be justified.
During a Twitter discussion Wednesday, some of you thought Dobbins' $30,000 fine suggested the NFL viewed Cutler as a passer. I'm not sure about that. There is precedent for players to face elevated fines for helmet-to-helmet hits on non-quarterbacks. Two years ago, in fact,
Atlanta Falcons
cornerback
Dunta Robinson
was fined $50,000 for a hit that gave
Philadelphia Eagles
receiver
DeSean Jackson
a concussion.
Now, let's update our NFC North penalty tracker, updated through Week 10:
November, 14, 2012
11/14/12
5:30
PM ET
Chicago Bears
quarterback
Jay Cutler
is "getting better" as he recovers from a concussion suffered three days ago, coach Lovie Smith
said Wednesday.
In reality,
as we've discussed already,
we won't have a meaningful update on Cutler's condition and playing status until we find out if he joins the team for its first practice of the week Thursday.

Campbell
Would the Bears clear Cutler to play Monday night against the
San Francisco 49ers
without a full week of practice? There is no way of knowing that. But the Bears would be foolish to rush Cutler back after spending $3.5 million this spring to sign backup
Jason Campbell
.
So while we have a moment, let's circle back on a portion of Campbell's relief appearance Sunday night that no doubt had some fans concerned.
As we noted,
Campbell attempted only two passes that traveled more than 10 yards past the line of scrimmage, a conservative approach that grew less understandable as the clock became a factor in the fourth quarter.
Research from John McTigue of ESPN Stats & Information suggests Campbell has played that way for much of his career. Since the start of 2008, during which he has thrown more than 1,500 passes, Campbell's average throw has traveled 6.6 yards past the line of scrimmage.
That's the lowest figure for all quarterbacks who have thrown at least 1,000 passes over that time. The highest average belongs to the
New York Giants
'
Eli Manning
(8.8). Cutler, meanwhile, ranks No. 9 at 8.2 yards.
Campbell has a strong arm, and in some cases that average has probably reflected the scheme he has been in. But it might be a bit much to expect a quarterback to depart dramatically from a trend that's carried over from three franchises over that period.
Related:
Houston Texans
linebacker
Tim Dobbins
was
fined $30,000 for the hit that caused Cutler's concussion.
We will circle back Thursday with a more detailed post on the rules that did and did not apply on the play in a Dirty Laundry post.
November, 12, 2012
11/12/12
2:45
PM ET
After the Chicago Bears' 13-6 loss to the Houston Texans, here are three issues that merit further examination:
ESPN.com

Bears coach Lovie Smith acknowledged Monday that "we think" quarterback Jay Cutler suffered his concussion on a hit by Texans linebacker Tim Dobbins with 2:30 remaining in the first half on Sunday night. So why did Cutler remain in the game? Smith insisted that he was evaluated by the team's medical staff before the next play and did not show any concussion symptoms until halftime. According to Smith, that's why Cutler played seven more snaps over two possessions. "Our trainer talked to him, evaluated him, and he was fine from there," Smith said. "Players from the huddle didn't see anything wrong with him. Not just then. We continued to talk to him all the way out until halftime. … If you look at his play, it's not like he was light on his feet or starry-eyed or anything like that. We felt like he was in control of everything." There are two options here. One is that the Bears fell short on their medical protocol, either failing to examine Cutler thoroughly or making an inaccurate initial diagnosis. The other is that Cutler had a relatively minor concussion that didn't present right away. Regardless, given the concussion climate in today's NFL, it's fair to consider Cutler questionable at best for next Monday's game against the San Francisco 49ers.

Going back to Week 7 of last season, the Bears are 12-1 in games Cutler starts and finishes and 1-6 in those he either doesn't play or leaves early. That's precisely why the Bears spent $3.5 million to sign Jason Campbell this offseason, hoping that he could bridge any Cutler absence better than Caleb Hanie and Josh McCown did last season. Replacing Cutler at halftime of a bad-weather game against a tough opponent was far from ideal, but as Smith said, "that's why you bring in a veteran like Jason Campbell." You can only assume Campbell will look more comfortable with a week of preparation, but it's not unheard of for a premium backup to play better under unexpected circumstances than Campbell did. He was exceedingly cautious, attempting only two passes that traveled more than 10 yards past the line of scrimmage. He also had trouble against the Texans' blitz, completing only three of 10 passes when they brought at least five pass-rushers.

The Bears' defense did a fine job against Texans quarterback Matt Schaub, holding him to 14 completions and 95 total yards. But the Texans were able to run the ball much better than anticipated. Tailback Arian Foster was one of the few runners to beat the Bears to the outside, gaining 45 of his 102 yards outside the tackles, according to ESPN Stats & Information. In their first seven games, the Bears defense allowed only 107 total yards outside the tackles. Just something to keep an eye on.
And here is one issue I still don't get:
Normally I'm in favor of a "number count" approach to calling offense. If the defense is lined up to stop the run, you pass. Likewise, if the defense is aligned to stop the pass, you run. But considering Sunday night's rain and wind, it was surprising to see the Bears throw so much in the first half while Cutler was in the game. Cutler dropped back on 17 of his 25 first-half plays. He threw 14 passes and scrambled three times. Meanwhile, Matt Forte and Michael Bush combined for 22 yards on eight carries. Whether or not the Bears should be able to throw in the rain and wind, and regardless of the advantage receivers should have in unsure footing, it became clear pretty early that the Bears were having trouble throwing. How bad? Cutler completed only one pass that traveled more than five yards past the line of scrimmage (in eight attempts). You don't normally want to force the run, but in this case I'm not sure why the Bears were so willing to throw.
November, 12, 2012
11/12/12
10:30
AM ET
Let's take a closer look at NFC North quarterback play in Week 10, which didn't include an idle
Aaron Rodgers
but did feature extended play by a backup in one division locale. Thanks again to ESPN statistics analyst Jacob Nitzberg for his help in interpreting the Total Quarterback Rating.
Christian Ponder
Passer rating:
114.2
QBR:
90.0
Action plays:
42
Comment:
Ponder's QBR was a career high, mostly because he opened with a game-changing play -- a 54-yard deep post to receiver
Jarius Wright
-- to put his team in position for an early lead. After that, he was efficient and nearly mistake-free. Although he didn't attempt a pass that traveled more than 14 yards downfield after the big throw, Ponder completed eight of 10 third-down passes overall. He didn't commit a turnover and took only one sack. How successful can the Vikings be when Ponder simply plays at an average level? This season, they are 5-0 when his QBR is above 50 (considered exactly average). They are 1-4 when it has been below 50.
Matthew Stafford
Passer rating:
104.2
QBR:
65.9
Action plays:
50
Comment:
The entire Lions offense had a rough go of it in the first half, and Stafford's role was throwing a first-quarter interception and taking two sacks on third down. He rallied in the second half, completing six of seven passes that traveled at least 15 yards in the air, but by then the Lions were too far behind for him to fashion one of his signature fourth-quarter comebacks.
Jason Campbell
Passer rating:
70.9
QBR:
21.7
Action plays:
23
Comment:
During the final 11 minutes, 45 seconds Sunday night, Campbell was too careful. With the Bears trailing by a touchdown, he attempted only two passes that traveled more than 10 yards in the air. Both fell incomplete. The Texans also knocked him off stride with their blitz, against which he completed only three of 10 passes -- including none of his four when the Texans rushed a defensive back. Campbell looked uncomfortable throughout, and he implied afterwards he would be better with a week's worth of practice with the first team. We'll see if he gets it this week.
Jay Cutler
Passer rating:
16.7
QBR:
20.7
Action plays:
17
Comment:
In the rain and wind Sunday night, it was surprising to see Cutler and the
Chicago Bears
throw as much as they did in the first half. Cutler completed half of his 14 throws, but two others were intercepted. Cutler did have three nice scrambles that totaled 37 yards, and he was out of the pocket on the play that presumably caused his interception. But the blame for that hit doesn't go to Cutler for recklessly scrambling or the Bears for calling a pass. It was a flat-out illegal hit by Houston linebacker
Tim Dobbins
.
November, 12, 2012
11/12/12
12:10
AM ET
Michael C. Wright of ESPNChicago.com
has posted our Rapid Reaction for the
Chicago Bears
' 13-6 loss to the
Houston Texans
. Before closing up the blog for the evening, let's circle back on
two key questions we've already identified
relative to quarterback
Jay Cutler
.
As you know, Cutler didn't return after halftime because of a concussion. That left us wondering exactly when he suffered the concussion and what his status would be for next Monday's game against the
San Francisco 49ers
. After all, it was the third concussion of Cutler's NFL career and at least the six of his playing career.
Bears coach Lovie Smith, speaking to reporters after the game, said Cutler had "no symptoms until the half." He said the symptoms began clearing afterwards and was "hopeful" Cutler could play against the 49ers but acknowledged: "We can't go that far."
Cutler took an illegal and painful helmet-to-helmet shot from Texans linebacker
Tim Dobbins
with two minutes, 30 seconds remaining in the first half. He remained in the game for seven more plays after two possessions. When pressed on why he wasn't removed from the game after the Dobbins hit, Smith said: "Didn't have any symptoms. There were a lot of hard hits out there today. You can't start taking guys out for that. When they're injured, then we take them out. But before that? No."
Receiver
Brandon Marshall
said Cutler "seemed normal to me" in the huddle after the Connor hit and added: " If he was hurting, he wouldn't tell us, anyway. When he was in the huddle, everything was normal."
NFL rules require a player demonstrating concussion symptoms to be removed from a game immediately and evaluated away from the sideline. Those rules are to prevent a player with a concussion from continuing to absorb potentially damaging hits while already injured.
I'm sure there will be more on this in the coming day. Back with you Monday morning.