August, 26, 2014
Aug 26
11:57
AM ET
GREEN BAY, Wis. -- It should come as no surprise that
Green Bay Packers
coach Mike McCarthy ranked as one of the NFL's top coaches in ESPN NFL Insider Mike Sando's extensive project that
examined all 32 coaches

through the eyes of a wide range of league sources.

McCarthy
In a poll of 30 NFL people -- eight current general managers, four former GMs, four personnel directors, four executives, six coordinators and four position coaches -- McCarthy came out tied for sixth with Pittsburgh's Mike Tomlin. They ranked behind only New England's Bill Belichick, Seattle's Pete Carroll, New Orleans' Sean Payton, Kansas City's Andy Reid and Tom Coughlin of the
New York Giants
.
McCarthy's 88-50-1 record in his eight seasons gives him the fourth-highest winning percentage in the league among current coaches with a minimum of 60 games.
Using the same voting system Sando employed earlier this year in his
"QB Tiers" project

, the coaches were broken up into five different tiers. McCarthy came in near the top of the second tier.
But it was perhaps more interesting what some of those league sources told Sando about McCarthy.
Here's an excerpt:
Like Payton, McCarthy gets high marks for his offensive acumen and overall leadership. The Packers have won with varying run/pass emphasis and they continue to evolve as their personnel changes. But the Packers' defensive performance has declined in recent seasons, leading voters to cite the same reasoning over and over when asked why McCarthy wasn't a '1' in their eyes.
"I like him as a head coach and would love to work for him," one veteran assistant coach said. "I think Mike is a great offensive coordinator who has done some pretty good things as a head coach, but defensively and on special teams, they have never done well enough up there. There is something missing in the program."
A former GM said he thought McCarthy needed to "fix the staff defensively" while noting that the head coach must coach the coaches, not just the players. McCarthy did get 11 votes in the first tier, however. One of those votes came from an executive who blamed some of the defensive issues on personnel, noting that McCarthy had in fact made sweeping staff changes back in 2009.
A GM placing McCarthy in the top tier focused on offensive flexibility. "You look at him as an offensive play-caller and he was grinding the s--- out of the ball when he was in New Orleans, and then he changed things up," the GM said. "He developed a passing game in Green Bay, and he is just the same guy all the time – strong leader."
November, 23, 2012
11/23/12
1:30
PM ET
»
NFC Final Word
:
East
|
West
|
North
|
South
»
AFC
:
East
|
West
|
North
|
South
Five nuggets of knowledge about Week 12:
November woes:
The
Green Bay Packers
have won four consecutive road games against the
New York Giants
, their opponent in Sunday's prime-time game. And are the Packers getting the Giants at a good time? Recent history is inexplicable but clear. The Giants are a bad November team, and this year quarterback
Eli Manning
has slumped badly as well. Under coach Tom Coughlin, the Giants are 13-21 in November and 67-37 in all other months. The Giants have lost their past five games in November, including two this season. Manning, meanwhile, hasn't thrown a touchdown pass since the fourth quarter of Week 7, a span of 99 passes. Since Week 8, Manning has completed only 54.5 percent of his total throws and has a Total Quarterback Rating (QBR) of 27.1, ranking him No. 29 of 33 qualifiers during that span.
Run opportunities:
The Packers achieved rare equality in their run-pass ratio last week against the
Detroit Lions
, running on 28 plays and passing on 31. Coach Mike McCarthy lamented a relative lack of production from starter
James Starks
, who rushed for 74 yards on 25 carries, and it appears Starks and
Alex Green
will rotate more frequently Sunday night. The Packers should have some opportunities against a Giants defense that has allowed at least 150 rushing yards in consecutive home games for the first time since 2006. The
Pittsburgh Steelers
rushed for 158 yards against them two weeks ago, and 99 of those yards came after contact, an indication of the state of the Giants' tackling.
[+] Enlarge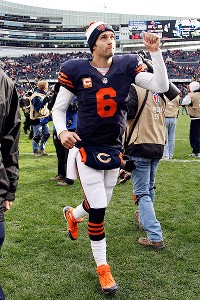 AP Photo/Nam Y. HuhThe Bears will be counting on QB Jay Cutler to make an impact in their upcoming games against Minnesota.
Big meeting:
Few thought when the season began that the Week 12 meeting between the
Chicago Bears
and
Minnesota Vikings
would be so crucial to the NFC North race. Only one game separates the Bears (7-3) and Vikings (6-4), and they're set to play twice in the next three weeks. The Vikings have lost 10 of their past 11 games in Chicago, and the only game they've won in that span required a 224-yard effort from tailback
Adrian Peterson
and a 54-yard game-winning field goal from
Ryan Longwell
. The Bears are coming off a short week after an embarrassing road loss, but they appear likely to get back the services of quarterback
Jay Cutler
, who has won 12 of his past 13 games that he has finished.
Of ESPN's 14 NFL experts
, all but one picked the Bears to win this game.
Tracking Allen:
Vikings defensive end
Jared Allen
had at least one sack in six consecutive games but has now gone two games without one. But the last time Allen saw the Bears, he lit up left tackle
J'Marcus Webb
for 3.5 sacks in the 2011 season finale.
Webb is one of three offensive linemen who kept his job after backup quarterback
Jason Campbell
was sacked six times by the
San Francisco 49ers
on Monday night, but offensive coordinator Mike Tice has pledged constant chip help for Webb this weekend. The Bears will try to contain the rest of the Vikings' defense with a new right tackle (
Jonathan Scott
) and left guard (
Chris Spencer
).
Peterson power:
The Bears' defense has proved vulnerable recently to what has been the decided strength of Peterson all season. Specifically, they have given up at least 80 yards on runs between the tackles in each of their past five games. Peterson, of course, has been gashing teams almost exclusively between the tackles since returning from knee surgery. This season, 174 of his carries, 922 of his yards, six of his touchdowns and 11 of his 20-plus yard runs have come on runs that began between the tackles. There is every reason to believe the Vikings will attack that area early and often, and then probably follow up with a heavy dose of their play-action game.
September, 19, 2012
9/19/12
3:45
PM ET
I took the role of Tom Coughlin in
this week's Inside Slant podcast
,

while partner Mike Sando got all revolutionary in the Greg Schiano sense of the word. Our wide-ranging discussion not only hit the concept of NFL protocol, but it also included how best to approach two-point conversions and how the heck the
Philadelphia Eagles
are 2-0.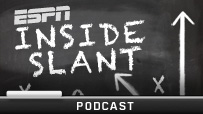 From an NFC North perspective, we noted how Sunday night's game at Candlestick Park provided a stark example of the elevated risk to player safety as long as the NFL uses replacement officials.
You might recall that
Detroit Lions
quarterback
Matthew Stafford
was sacked twice on one play because referee Matt Nicks didn't notice that Stafford's knee clearly hit the ground after getting hit by the
San Francisco 49ers
'
Aldon Smith
.
With no whistle blown, Stafford popped back up in one of those chaotic and unnatural situations that leaves a quarterback vulnerable to an unexpected hit. Ultimately, he was dragged down for a second time by the 49ers'
Ray McDonald
.
The Lions challenged the play and got back the additional yardage they lost between the first and second hits. But a referee is expected to protect the quarterback, not expose him to additional and unnecessary contact.
Related:
I also
jumped on ESPN Radio

earlier Wednesday to wrap up a week's worth of discussion about
Chicago Bears
quarterback
Jay Cutler
.
January, 8, 2012
1/08/12
4:28
PM ET
Three things to know about next Sunday's New York Giants-Green Bay Packers divisional playoff game:


1. Memories:
It's inevitable. Tom Coughlin,
Eli Manning
,
Lawrence Tynes
,
Corey Webster
and their Giants teammates will all return to the scene of one of the Packers' most disappointing games ever: an overtime loss in the
2007 NFC Championship Game
. On a minus-3 degree day at Lambeau Field, quarterback
Brett Favre
threw an overtime interception to Webster on what turned out to be Favre's final pass as a Packers player. Tynes kicked a 43-yard field goal to pull off the upset and deny the Packers a chance to play in the Super Bowl. Sunday's rematch will be the Packers' first home playoff game since that loss. For those interested, long-range forecasts are calling for a high of 21 degrees. Here's what receiver
Greg Jennings
tweeted Sunday afternoon
: "The team that kept us from our potential Super Bowl in 08 is back on OUR turf now. Trust me, we haven't forgotten. Here. We...GoPackGo! #BeGreat"
2. Close as ...:
The Giants might have given the Packers their second-toughest game of the regular season, getting 347 yards from Manning in a
38-35 Packers victory
. It wasn't until quarterback
Aaron Rodgers
led the Packers on a 69-yard drive over the final 58 seconds that the Packers were able to secure a victory with the decisive
Mason Crosby
field goal. The Giants rolled up 447 total yards despite holding the ball for only 26 minutes, 47 seconds, getting big chunks along the way and averaging 8.7 yards per play. The Packers were the better team that day, but the teams were evenly matched for most of it.
3. Theory tested:
If they are to win the Super Bowl again, the Packers quite possibly will have to defeat a Pro Bowl quarterback every step along the way. That begins with Manning and could move next to the
New Orleans Saints
'
Drew Brees
. That will be the ultimate test of a Packers defense that gave up more passing yards than any team in NFL history during the regular season. The Packers got by because they also led the league in interceptions, but the concern during the regular season was that an elite quarterback could roll up the yards, avoid the interceptions and knock the Packers out of the playoffs. Manning is first up.
August, 22, 2011
8/22/11
11:24
PM ET
Observations from the Bears 41-13 preseason loss to the New York Giants on "Monday Night Football":
Last October, the Giants
slapped 10 sacks
on the
Chicago Bears
.
Monday night, they didn't.
That's probably the most encouraging thing I can say about the Bears loss Monday night at New Meadowlands Stadium. This is not meant as (a total) back-handed compliment. In all sincerity, the Bears' first-team offensive line rebounded nicely from last week's four-sack outing and probably isn't in danger of the kind of shakeup a poor performance in this game could have generated.
[+] Enlarge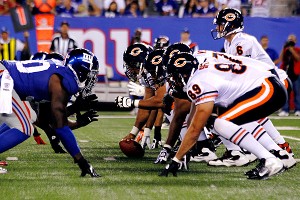 AP Photo/Julio CortezChicago's first-team offensive line played into the third quarter, but allowed only one sack.
Tackles
J'Marcus Webb
and
Gabe Carimi
were each called for a false start, but I thought Carimi, especially, held his own against Giants defensive end
Justin Tuck
. The first-team offensive line played into the third quarter but allowed only one sack. Even that instance seemed more the fault of Cutler, who escaped the pocket but then slid to the ground rather than throw the ball away.
Stranger things have happened, but the Bears would be justified in keeping this offensive line together for at least another week. On a night when many people will overreact to a mostly meaningless preseason score, I also think:
1. Receiver Roy Williams needs to get his act together.
His drop of Cutler's first third-down pass of the night, inexplicably undetected until Giants coach Tom Coughlin challenged it, was indicative of the performances he's put forth recently in practice. His second third-down opportunity was more difficult but still could have been caught.
Regardless, how much could Cutler possibly trust Williams at this point? And will the Bears keep him in the starting lineup or at least give
Earl Bennett
more repetitions? There is no doubt about Bennett's connection with Cutler. He targeted Bennett five times, connecting for three catches and 58 yards.
2. BREAKING: Tailback Matt Forte is fast.
Forte put his speed on display during the first-quarter screen pass he took across the field and down the left sideline for 42 yards. That's the kind of (dare I say)
Marshall Faulk
-like open-field running he brings to the Mike Martz offense.
3. Goal-to-go woes.
We've chronicled the Bears'
ineffectiveness in goal-to-goal situations
over the past few years, and it's worth noting two more failures Monday.
In the first quarter, Forte managed 2 yards on first-and-goal at the 7. The Bears wound up throwing on second and third downs before settling for a 23-yard
Robbie Gould
field goal.
The Bears signed free agent
Marion Barber
for these kinds of situations, but in the third quarter, Barber failed on three consecutive runs to push the ball into the end zone. The last attempt was on fourth down at the 1-yard line. Barber still runs hard, but nothing requires more power than a goal-line play.
4. A punting competition?
The Bears signed free agent
Adam Podlesh
to a five-year contract worth $10 million, and almost half of that total is scheduled to be paid out in the next 12 months. You don't commit that kind of money to a punter who isn't a lock to make the team, so it was surprising to hear ESPN announcers describe Podlesh's punting battle with
Spencer Lanning
based on discussions with Bears coaches.
Lanning has had a nice summer, and I wouldn't blame a blocked second-quarter punt on him. But it would be a stunner if Podlesh weren't the Bears' punter to start the season.
5. Devin Hester's night.
It was an interesting one, to say the least. He broke open down the right sideline in the first quarter for a 37-yard reception, but it could have gone for a touchdown if Cutler had got it out in front of him a little more. Later on the drive, however, Hester slipped near the goal line and couldn't reach a pass that otherwise would have gone for a score. He finished with three receptions for 46 yards.
6. Giving up 41 points:
I know the final score was ugly, but the Bears defense that will spend regular-season games on the field didn't provide too many causes for alarm as far as I was concerned. The Giants offense went three-and-out on its first two possessions. Linebacker
Lance Briggs
didn't play and middle linebacker
Brian Urlacher
left after four series. Not much to see here.
January, 1, 2011
1/01/11
9:00
AM ET
It's New Year's Day, the first installment of 2011, and we should all be doing something other than what I'm about to embark on. But sorry, I can't help it. I tried all week to calm down, but I still can't help myself from climbing on the soap box one more time to point out another round of reasons why the NFL shouldn't put officiating in the hands of its coaches.
[+] Enlarge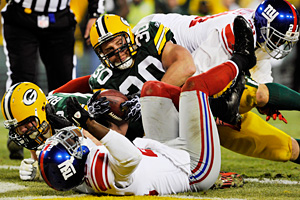 AP Photo/Jim PrischingPackers fullback John Kuhn wasn't sure he scored on this second-quarter run that was ruled a touchdown against the Giants. The play was not reviewed.
Yes, I've
already complained
a
few times this season
about the l
imitations of the replay review system
, specifically the way it makes good officiating a matter of strategy rather than effective oversight. We had three more examples last weekend of poor calls that, for various reasons, the current challenge system could do nothing about. In order:
Sunday at Lambeau Field, Green Bay Packers running back John Kuhn took a handoff at the New York Giants' 8-yard line and rumbled toward the end zone. Referee Walt Anderson's crew awarded Kuhn a touchdown, and almost immediately, Kuhn jumped up and started sprinting toward the sideline. As he ran, Kuhn was rolling his right index finger to encourage the Packers' extra-point team to hurry onto the field.
The play occurred with 1 minute, 54 seconds remaining in the second quarter, meaning that only the replay official in the booth -- and not New York Giants coach Tom Coughlin -- could initiate a review. Initial replays showed Kuhn's right knee touching the ground with the ball close enough to the goal line to merit a review, but the Packers got the extra point quickly enough to avoid it.
Afterwards, Kuhn said: "I felt like it was pretty close. I wasn't sure if I was down first, but I felt like my knee hit right near the goal line, so I wanted to make sure we got out there and kicked it as fast as we could."
It was a smart reaction by Kuhn and absolutely within the rules. But getting a call right shouldn't be a race. Teams shouldn't have the opportunity to beat replay officials to the punch. We don't know for sure if that's what happened in this case, but it's certainly what Kuhn was trying to do. Quite simply, that option shouldn't exist. No team should be disadvantaged by a strategy that externally speeds up the replay process. Booth officials should have the option of stopping the next play until determining, in a thorough and sensible manner, whether a review is necessary.
Meanwhile, in the fourth quarter, the Giants were unable to challenge an obvious mistake. Packers nickel back Sam Shields was awarded an interception at the Giants' 46-yard line even though his left foot clearly came down out of bounds. Coughlin, however, had used two challenges in the third quarter. The second was unsuccessful, therefore leaving him without an available red flag for Shields' interception.
You could blame Coughlin for making a poor decision to challenge Brandon Jacobs' fumble in the third quarter, but to me, that shouldn't be part of the equation. Coaches shouldn't have to weigh the potential for challenging bad calls later in the game when deciding whether to throw the red flag now. The goal should always be getting every call right, one that could be achieved by expanding the number of challenges available or moving complete responsibility to the booth.
To be clear, this rant is not to suggest the Packers stole a victory or cheated or did anything other than what they should have done Sunday. This is not about the Packers or the Giants. It's about removing teams and strategy from efforts to ensure a well-called game, and instead placing it totally within the third-party area that officials are intended to inhabit.
And finally, it's not about the Minnesota Vikings, either. If you were watching their game in the fourth quarter Tuesday night, you saw quarterback Joe Webb get credit for a 6-yard run on third-down-and-6 -- a play that allowed the Vikings to run off another three minutes while nursing a 10-point lead over the Philadelphia Eagles.
Replays showed Webb's right knee hit the ground with the ball a full yard behind the first-down marker. It was a poor spot, but Eagles coach Andy Reid was powerless to do anything about it. Why? Because he had already used all of his timeouts and, thus, with about four minutes remaining in the game, lost the opportunity to challenge. (A challenge costs a timeout if it fails, so you can't buy one without it.)
In this case, you couldn't blame Reid for using up his challenges. He simply used his final timeout on the play before to stop the clock. To me, it doesn't seem fair for teams to save a timeout for a possible late-game challenge. That's a strategy that gets in the way of, rather than promotes, a well-officiated game.
Again, finally, and for the last time (I think): There should be no limitations on correcting bad calls.
And, oh, Happy New Year.
And now, on to our penultimate Challenge Tracker:
July, 31, 2010
7/31/10
11:00
AM ET
After months of public discussion about his fumbling problems, here's what
Adrian Peterson
came up with:
It's all mental. Basically, it's that simple. Just mentally being aware of my surroundings at all times. Knowing guys are definitely throwing those extra punches to knock it out at all times. So just mentally knowing that I have it high and tight at all times.
In an
interview with reporters
after the
Minnesota Vikings
' opening practice of training camp, Peterson said it comes down to holding the ball "high and tight." He added: "When I was holding it low, it gives those guys that space to be able to punch up and knock the ball out at times. Bring it up high. Keep it high and tight. Just getting back to the way it's taught and the way you're supposed to carry the ball. It's pretty simple."
I took exceeding care to bring you the preceding three paragraphs without bias or slant. We've
questioned Peterson's approach
to the offseason a few times, and it's only fair to give him the opportunity to expound fully on his plan for addressing this issue.
Now, then.
The sympathetic side of me wants to commend Peterson for continuing to compartmentalize the issue and not allow it to consume him. As coach Brad Childress told reporters Friday, Peterson is still a "hell of a talent" who has had "three exceptional years," and that even the best talents still have areas for improvement.
The other side, however, remembers
what we discussed
in the hours after his disastrous NFC Championship Game. (Notice how similar Peterson's quotes were then.)
Peterson has said often that obsessing over fumbles only creates a compounding effect. But I think he has reached the point where he needs to consider a fundamental intervention this offseason to address the issue.
"With my running style," he said, "it will be something I think about as far as protecting and keeping the ball high. The way I run, the ball kind of gets low. I've got to be more cautious of that: Keeping the ball high. That will be something I'm more conscious of in the offseason."
So here's the reality: Peterson has changed nothing about his approach other than to recommit himself to the points he has always held dear. It's clear he has eschewed a more dramatic intervention along the lines of what
New York Giants
coach Tom Coughlin effected with tailback
Tiki Barber
several years ago.
I would have favored the latter -- 20 fumbles in three seasons is enough for me -- but I'm willing to give him the chance to take the "simpler" route.
Because it's true: Carrying the ball "high and tight" will prevent most fumbles. Should we consider it reasonable that a running back can suddenly increase his awareness of something that is drilled from the lowest levels of football? Or did he need to fundamentally change the way he carries the ball to solve this problem? For now, let's give Peterson the benefit of the doubt. We'll find out if he's right soon enough.
February, 3, 2010
2/03/10
10:00
AM ET
MIAMI -- The story has been told many times. Former
New York Giants
tailback Tiki Barber fumbled 35 times over four seasons from 2001-04. After adjusting the way he held the ball from a mechanical perspective, Barber put the ball on the ground only nine times during the final three seasons of his career.

Peterson
So as he made his way around the Super Bowl media center Wednesday, Barber was a natural target for questions about Minnesota tailback
Adrian Peterson
-- who has an NFL-high 20 fumbles over the first three seasons of his career.
Barber minced few words during an interview with SIRIUS NFL radio, saying Peterson "loses awareness" when he's running and that "any looseness" with the ball makes it vulnerable to fumble. And then Barber endorsed what
we discussed last month
: A fundamental offseason intervention to correct the problem.
Said Barber: "Adrian Peterson, I think, needs to be told directly, almost as an affront to his pride, 'You are hurting your team. You're becoming more of a liability than you are an asset to your football team.' And that hurts. When Coach [Tom] Coughlin told that to me, it hurt me and I had to find a way to correct it, but … he told me how to fix it, and I took it to heart and it really helped me craft my game. And Adrian Peterson needs some of that same tough love, because right now it's hard to get tough on Adrian Peterson because he's so damn good."
Indeed, Peterson fumbled twice and was responsible for a botched handoff in the Vikings' 31-28 loss to New Orleans in the NFC Championship Game. At one point in the second half, the Vikings had to stash him on the sideline to let him calm down. In between, he scored three touchdowns and gained 122 yards.
December, 24, 2008
12/24/08
6:00
PM ET
Posted by ESPN.com's Kevin Seifert
It was interesting to hear Chicago coach Lovie Smith speak this week on the possibility of the New York Giants sitting some of their starters Sunday against Minnesota.
The Bears, of course, need a Giants victory -- combined with a win of their own at Houston -- to secure the NFC North title.
Smith made clear that the decision was up to Giants coach Tom Coughlin and reiterated that the Bears could do nothing but focus on the Texans. But Smith also noted that in 2007, he played his regular lineup for the Bears' final games even though they were not in playoff contention.
Here's what Smith said Tuesday to reporters in Chicago:
"You play to win, period. Last year, we were out of it with two games left to go in the season. We played every guy we had that we thought gave us an opportunity to win. We played them. There was no looking forward to the future and all that. You play every game like it is your last one, period. I assume all teams will do that."
Well, not exactly. A few readers have pointed out the end of the 2005 season, when Smith sat five starters and gave the rest of his regulars most of the day off in a 34-10 loss to Minnesota. The Bears had already clinched the NFC North and didn't want to risk the health of quarterback Rex Grossman, among others. (Grossman tore his ACL at the Metrodome in 2004.)
This is not a criticism of Smith. I just think everyone should do what is best for their own team. In 2005, the Bears believed that resting Grossman and others was the right thing to do for them. (It didn't affect any other team's playoff situation, but I doubt that would have pushed Smith in a different direction.) And this season, the best thing for the Giants might be to rest some of their starters. It might not be good for the Bears, but it's not the Giants' obligation to make it fair for them.
With that, we're signing off for the evening. Have a great holiday and we'll be back with you Friday morning.
December, 24, 2008
12/24/08
7:01
AM ET
Posted by ESPN.com's Kevin Seifert
Reading between the lines, it sounds as if New York Giants coach Tom Coughlin won't go overboard with his veterans Sunday at the Metrodome.
This will come as good news to Minnesota, who need a victory over the Giants to clinch the NFC North, and bad news to Chicago. The Bears are hoping for a Giants victory, combined with a win of their own at Houston, to grab the NFC North division title for themselves.
But if you read my colleague Matt Mosley's take over on the NFC East blog, you'll see Coughlin talking about "medical people" and doing "the best thing for our football team."
Coughlin insists that "we play every game to win" and that "we have always believed at this time of the year it is important to be playing your best football." But ultimately, Coughlin said: "We would like to continue to do that but we will do the right thing and the smart thing [for] our team."
It's not as if the absence of a few Giants starters would guarantee a Vikings victory. But the mentality of sitting or limiting starters tends to permeate the rest of a roster. According to Brad Biggs of the Chicago Sun-Times, Bears coach Lovie Smith made it clear he hopes the Giants play a normal game but added:
''We shouldn't have to think about what someone else is doing or hope someone does something to help us.''
This will be a topic of conversation all week, but I think it's pretty clear we'll see the likes of quarterback Eli Manning, tailback Brandon Jacobs and defensive end Justin Tuck on the sidelines pretty early Sunday at the Metrodome.
Continuing a look around the NFC North on Christmas Eve morning:
December, 23, 2008
12/23/08
8:45
AM ET
Posted by ESPN.com's Kevin Seifert
We spent most of our postgame time in Chicago's locker room Monday night, but Tom Silverstein of the Milwaukee Journal Sentinel hit on a Green Bay point I was wondering about during the game.
Namely: Why, after attacking the Bears all evening with their passing game, did the Packers use three consecutive running plays prior to Mason Crosby's ill-fated 38-yard field goal in the fourth quarter?
The plays netted four yards, moving the ball from the Bears' 24-yard line to the 20. It was another example of late-game caution from the Packers' otherwise aggressive coach, Mike McCarthy. After watching Crosby botch a 46-yarder earlier in the game, how comfortable could McCarthy have been with a 38-yard attempt?
Silverstein questions whether McCarthy went conservative or lost faith in quarterback Aaron Rodgers. McCarthy responded that he has "full confidence" in Rodgers and added:
"I have no problem calling any pass play. I think it was evident from the way we threw the ball down the field. I thought we played aggressive. I thought we played to win."

If anything, I think McCarthy is guilty of underestimating the degree of difficulty on field goals. Last month, he played for a 52-yard attempt against Minnesota. Crosby missed that long-distance kick, which would have given the Packers a last-second victory. Monday night's conditions at Soldier Field, meanwhile, dictated that no distance was a sure bet.
We'll touch on this topic later Tuesday. For now, let's take a morning spin around the division:
December, 22, 2008
12/22/08
7:14
PM ET
Posted by ESPN.com's Kevin Seifert
Looks like New York Giants coach Tom Coughlin isn't tipping his hand about his intentions for Sunday's regular-season finale at the Metrodome.
The Giants have clinched the NFC's No. 1 seed in the playoffs and have nothing quantifiable to gain from a victory over the Vikings. But if he plans to rest or limit any of his starters, Coughlin wasn't saying so on Monday.
Here's what Coughlin said about the topic, according to giants.com:
"I disagree with the idea that you have nothing to gain. There is a lot to be gained. If you believe, as we do, that you have to be playing your best football at this time of the year, you certainly do have some things to build on, and particularly when you are not going to play for a couple of weeks. I am taking all that into consideration and I am not going to answer any further questions about that stuff, because quite frankly I haven't had a chance to sit and talk with the various medical people or the coordinators or anyone in terms of our approach to this game."
Even so, it would be surprising to see all of the Giants' starters play the entire game Sunday. Yes, Coughlin did exactly that in the 2007 regular-season finale against New England. But those were different circumstances. Among other things, the Giants knew they wouldn't have a first-round bye last year and thus didn't want to disrupt their weekly routine.