May, 8, 2014
May 8
11:00
AM ET
MINNEAPOLIS -- Well, we've reached draft day at last, which means our series looking at the Vikings' quarterback possibilities comes to a conclusion today. This post will be a quick-hit look at some of the other options in the class. Several of them, like Alabama's AJ McCarron, could be viable possibilities for the Vikings in this draft, so we'll spend more time on some quarterbacks than others in this post, but this is meant to wrap up the series with some final words from our resident experts: ESPN NFL analyst Louis Riddick (a former pro personnel director for the
Philadelphia Eagles
) and ESPN NFL scout Matt Williamson (who used to be a college and pro scout for the
Cleveland Browns
):
AJ McCarron, Alabama
2013 stats:
67.3 completion percentage, 3,063 yards, 28 touchdowns, seven interceptions
NFL combine measurements:
6-foot-3, 220 pounds, 31 1/2-inch arm length, 10-inch hand span
Williamson's take:
"I don't like McCarron at all, especially not for them. I think he's vastly overrated as a player, and certainly as a passer."
Riddick's take:
"I'm not someone who dings players for playing with other good players. AJ has shown more than enough, as far as executing the things you need to see a college quarterback execute, regardless of who he's playing with, to say he projects as being a good pro in the right context. Knowing his background, he's another guy that, despite playing in that pro style, can really benefit from going to a place where footwork, mechanics, progression reading, essentially staying within the structure of the offense and not being given any slack will benefit him greatly. A place like Kansas City -- and I say Kansas City because of Andy Reid -- is the kind of place he really needs to go. I like him a lot."
Aaron Murray, Georgia
2013 stats:
64.8 completion percentage, 3,075 yards, 26 touchdowns, nine interceptions
NFL combine measurements:
6-foot-1, 207 pounds, 30 5/8-inch arm length, 9 1/8-inch hand span
Riddick's take:
"I've talked to people who say, 'Slow down (on his return from a torn ACL).' If you're going to draft him high, understand that it's probably best for him to sit a year, whether that be starting off on the PUP (physically unable to perform list). If it weren't for the knee, and how much it would benefit him to have a quote-unquote 'redshirt' year, and not have to be rushed into action, the only thing you would be noticing about Aaron Murray is the same thing you were noticing about
Russell Wilson
when he came out. It was just, 'But he's not 6-5.' That's the only thing you would be able to say, because the kid ran an offense that was as multiple as any in college football, and probably as multiple as many in the National Football League. He executed from the pocket, from the shotgun, he executed situational football brilliantly. He made big plays with his feet, he threw on the run. He did every single thing. This past year, he lost his top three receivers, his top two running backs, and was still balling. If it wasn't for the knee, there would be no other reason besides our preconceived notions (to keep him from) being a top-level pick. What else are you going to say? I like Aaron Murray a whole, whole lot."
Jimmy Garoppolo, Eastern Illinois
2013 stats:
66.0 completion percentage, 5,050 yards, 53 touchdowns, nine interceptions
NFL combine measurements:
6-foot-2, 226 pounds, 31-inch arm length, 9 1/4-inch hand span
Riddick's take:
"Of all these guys, he has the longest road to travel before he's ready. His offense was nothing like what he's going to be asked to do in the NFL, unless they're going to take his offense there. He has so much to learn, just from a footwork perspective. He had a lot of yards last year, a lot of short passes, a lot of bubble screens, didn't look very comfortable in the pocket, didn't look comfortable at all under pressure. He seems to be the most green, and has the biggest road to travel as far as development. He's a great kid, very smart and he has a quick release. He doesn't have a great arm. He's never demonstrated pro-style footwork and/or mechanics, and he played at a lower level of competition, although he dominated that level of competition. To me, it's a very vague projection. It's almost more of a guess. When I start thinking in those terms, I'm not going very high for that player."
Logan Thomas, Virginia Tech
2013 stats:
56.6 completion percentage, 2,909 yards, 16 touchdowns, 13 interceptions
NFL combine measurements:
6-foot-6, 248 pounds, 34 1/4-inch arm length, 10 7/8-inch hand span
Williamson's take:
"He might be a real good fit for Minnesota's offense. He's got a rocket launcher for a right arm, and he's got unbelievable physical characteristics, but he needs time. He's the type of guy that, if you draft him in the second or third round -- the second's probably a little rich -- you'd hope he doesn't see the field at all in 2014. You groom him, you let Norv (Turner) and (Matt) Cassel take him under their wing. To me, he's got more upside than (Zach) Mettenberger, (Tom) Savage, maybe more than anyone in the draft, to be honest with you. I think he's as gifted, and probably more so, in terms of arm strength, athletic ability, size, he's more gifted than anyone else in the draft."
May, 7, 2014
May 7
1:05
PM ET
[+] Enlarge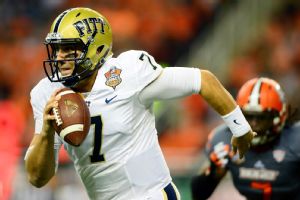 Andrew Weber/USA TODAY SportsAs the NFL draft nears, it appears that quarterback Tom Savage's stock is rising.
MINNEAPOLIS -- We're (finally) less than 36 hours from the start of the NFL draft, which means we're bringing our look at the
Minnesota Vikings
' quarterback draft options in for a landing. We'll wrap things up with a final post tomorrow on a couple other options, but we'll give our final solo spotlight today to a quarterback who has been attracting plenty of attention in the past few weeks.
Pittsburgh quarterback
Tom Savage
didn't show up as a top name in many early mock drafts, after putting up forgettable numbers behind the Panthers' shoddy offensive line, but his size and arm strength have earned him mention as a sleeper quarterback. The Vikings brought him in for their top-30 prospects event last month, and Savage has said he's met with 24 of the 32 teams in the league. Longtime NFL scout Gil Brandt, who drafted
Troy Aikman
with the
Dallas Cowboys
in 1989,
compared Savage to him last fall
, and according to NFL draft wonk Tony Pauline, the
New England Patriots
are
referring to Savage as "Tom #2,"
for the comparisons he evokes to
Tom Brady
.
So what gives? Is Savage really worth the late-developing buzz he's attracting before the draft? Once again, we'll consult our in-house experts: ESPN NFL scout Matt Williamson, who used to be a college and pro scout for the
Cleveland Browns
, and ESPN NFL analyst
Louis Riddick
(the former pro personnel director for the
Philadelphia Eagles
).
2013 stats:
61.2 completion percentage, 2,958 yards, 21 touchdowns, nine interceptions.
NFL combine measurements:
6-foot-4, 228 pounds, 31 5/8-inch arm length, 9 5/8-inch hand span.
Pros:
Savage has plenty of arm strength to make the tough throws required of a NFL quarterback, and of the quarterbacks who might be available on the second day of the draft, Riddick sees Savage as being a possible match for the Vikings. The Brady comparisons come from Savage's release, which looks similar to the Patriots quarterback's setup and allows Savage to make quick, clean throws with velocity. "The top of the second round is very reasonable," Riddick said. "If you're somewhere between (picks) 32 and 38, I would take him and keep on trucking."
Cons:
Williamson wasn't as high on Savage, saying he didn't think the quarterback was worth a second-round pick and would need more seasoning after starting just one year at Pitt. "The old (Bill) Parcells rule is where you want a three- or four-year starter with X number of reps under your belt," Williamson said. "He also had some really good receivers. That kid (Tyler) Boyd here at Pitt, nobody knows about him, but he's going to be a first-round pick someday. His line in front of him was very bad. He made a statement there; he's very tough. But he'll miss some open guys, too." According to ESPN Stats & Information, Savage was off-target with 24.7 percent of his passes,
which was the worst among the 10 quarterbacks ESPN NFL Nation reporter Kevin Seifert analyzed here.
Bottom line:
There's quite a bit of projection required with Savage, and he'd have to go to a team that could afford him time to sit and learn. That might explain some of the Patriots' interest in him, but the Vikings could have a favorable setup, where Savage can bide his time behind
Matt Cassel
, learn from Norv Turner and step into an offense with plenty of talent around him once he's ready. "It's important he continues to get the level of coaching in order for him to reach what really is tremendous potential," Riddick said. "Development programs across the NFL are not uniform. The thing about Minnesota is, Norv's one of the best. It's almost like a perfect match if he holds the prospect in the same regard." If the Vikings are still looking for a quarterback on the second day of the draft, and they're willing to let Savage grow before putting him on the field, the Pitt quarterback's name could be one to remember.
May, 6, 2014
May 6
4:15
PM ET
GREEN BAY, Wis. -- Let's get this out of the way from the top: We know
Green Bay Packers
general manager Ted Thompson does not draft for need -- or so he says.
But in the months leading up to this week's draft, Thompson and his scouts have spent hundreds of hours not only discussing the prospects who will be available to them but also their current roster and its strengths and weaknesses.
With that in mind, let's break the 12 position groups that make up the roster into four parts based on the following categories of draft needs.
We will define them this way:
Part 1: Negligible
-- positions where there is little or no need.
Part 2: Non-essential
-- positions where there is a need but it is not paramount to fill.
Part 3: Secondary
-- positions where there is a need but not at the critical level.
Part 4: Pressing
-- positions where it is imperative that help be found.
On Monday, we
looked at the negligible needs
, Nos. 10-12.
Next up are the nonessential needs.
7. Quarterback
: It's too early to start thinking about a replacement for
Aaron Rodgers
, who turned 30 last December and is under contract through 2019, but they need to find the next
Matt Flynn
-- a long-term backup who can be counted on to win games just in case. Flynn is back under a one-year deal, but coach Mike McCarthy has said he would like to develop a young quarterback. Is that
Scott Tolzien
? Perhaps, but don't be surprised if they bring in a mid-to-late-round quarterback.
Possible players of interest
:
AJ McCarron
, Alabama;
Tom Savage
, Pittsburgh;
David Fales
, San Jose State;
Keith Wenning
, Ball State;
Brock Jensen
, North Dakota State.
8. Cornerback
: The Packers committed to
Sam Shields
this offseason with a four-year, $39 million contract just as free agency opened, but veteran
Tramon Williams
is in the final year of his contract.
Casey Hayward
is expected to be back from the hamstring injury that ruined his 2013 season, and there's depth with
Micah Hyde
,
Davon House
and
James Nixon
, although Hyde may move to safety. If the right corner fell to the Packers, Thompson might jump at the chance.
Possible players of interest
:
Justin Gilbert
, Oklahoma State;
Kyle Fuller
, Virginia Tech;
Lamarcus Joyner
, Florida State;
Keith McGill
, Utah;
Stan Jean-Baptiste
, Nebraska.
9. Outside linebacker:
Like defensive end, this is another position where there's plenty of talent depending on who lines up where. Beyond Pro Bowler
Clay Matthews
, there's
Julius Peppers
(who will play a combination DL-OLB), former first-round pick
Nick Perry
, former second-round pick
Mike Neal
and second-year players
Andy Mulumba
and
Nate Palmer
.
Possible players of interest
:
Anthony Barr
, UCLA;
Kyle Van Noy
, BYU;
Jeremiah Attaochu
, Georgia Tech;
Demarcus Lawrence
, Boise State.
May, 3, 2014
May 3
8:00
AM ET
Thanks to all of you who submitted questions for our weekly
Minnesota Vikings
mailbag. You can send them to me on Twitter any time during the week at
@GoesslingESPN
, using the hashtag #VikingsMail.
.