July, 8, 2014
Jul 8
10:00
AM ET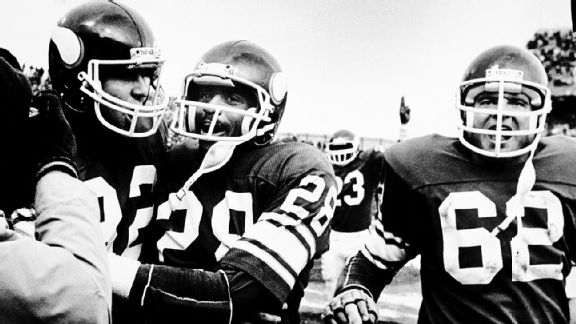 AP Photo
»
VOTE HERE
»
NFC Plays:
East
|
West
|
North
|
South
»
AFC:
East
|
West
|
North
|
South
This is the second of three plays nominated as the most memorable play in Minnesota Vikings history. We looked at Brett Favre's interception in the 2010 NFC Championship Game on Monday, and we'll feature Gary Anderson's missed field goal in the 1999 NFC Championship Game tomorrow. Please vote for your choice as the Vikings' most memorable play.
Score:
Vikings 28, Browns 23
Date:
Dec. 14, 1980
Site:
Metropolitan Stadium.
Description:
The Vikings' 1980 NFC Central Division championship was the last of 11 titles they'd win under coach Bud Grant, and they clinched it on one of the most dramatic finishes in team history.

Trailing the Cleveland Browns by a point with 14 seconds left, the Vikings got the ball on their own 20 with no timeouts left. They needed just nine seconds to move to the Browns' 46, thanks to a hook-and-lateral pass that wound up in the arms of running back Ted Brown. Then, quarterback Tommy Kramer -- whose 456 passing yards are still the most by a Vikings quarterback in a non-overtime game -- lofted a pass toward the right side of the end zone as time expired. Three Browns defenders leaped for the ball, but tipped it back to receiver Ahmad Rashad, who reached out and caught the ball as he backpedaled across the goal line. Vikings players piled on top of Rashad -- who finished with nine catches for 142 yards and two scores -- in the corner of the end zone, and both teams poured off the field before the extra point could be attempted.
The victory secured the division title for the Vikings with a week to go in the season and set up a matchup with the
Philadelphia Eagles
in the divisional round of the playoffs. The Vikings lost the game, 31-16, and by the time they reached the playoffs again, in the strike-shortened season of 1982, they had already moved into the Metrodome. That meant the "Miracle at the Met" was the last great moment of Grant's coaching career at Metropolitan Stadium, and with the Vikings set to move back outdoors for two seasons starting this fall, the old footage of players mobbing Rashad on a frigid day (wind chill at kickoff was 11 degrees) is particularly poignant.
October, 25, 2011
10/25/11
2:01
PM ET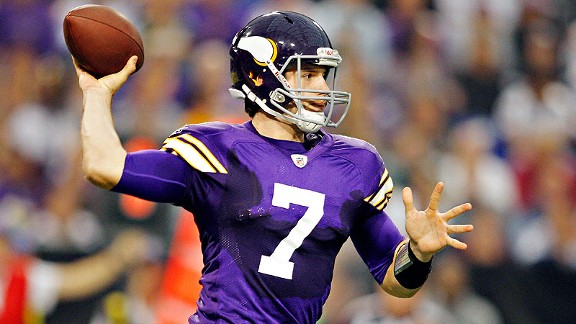 Bruce Kluckhohn/US PresswireChristian Ponder, the Vikings' 2011 first-round pick, made his first start this week.
Two ingredients are mandatory for the success of an NFL franchise.
You need a quarterback to win games and a modern stadium to make money.
And at this moment, it's uncertain whether the
Minnesota Vikings
have either.
So pardon the dramatics, if you will, but I truly believe the Vikings are entering the most critical time period in their 51-year existence.
During the month, they will find out whether the state of Minnesota will finance a new stadium or risk losing them to another market. And by the end of 2011, the Vikings should have a decent idea whether rookie
Christian Ponder
is a true franchise quarterback or just the next in a long line of short-term starters.
Check out the chart to your right. Since their inception in 1961, the Vikings have had only three quarterbacks I would consider long-term starters. Fran Tarkenton (13 seasons), Tommy Kramer (seven) and
Daunte Culpepper
(five) are the only quarterbacks to have been the Vikings' primary starter for more than three seasons.
The Vikings have filled the other 26 years with a mishmash of journeymen (Gary Cuozzo,
Wade Wilson
and
Rich Gannon
) and big-time veterans at the end of their careers (
Warren Moon
,
Brett Favre
,
Randall Cunningham
and
Jim McMahon
). Their hope is that Ponder, 23, will put an end to their annual search for a Band-Aid solution.
If first impressions mean anything, Sunday's debut performance against the
Green Bay Packers
was encouraging. Ponder threw aggressively downfield; seven of his 13 completions went for at least 15 yards. He was mobile, routinely buying extra time outside the pocket and gaining 31 yards on four scrambles. And he without question brought an energy and confidence to an offense that seemed to be treading water for the season's first six games.
"He took charge with confidence," tailback
Adrian Peterson
said. "He never seemed rattled. Just very comfortable, which is something I am very excited about. He bounced back from two interceptions and continued to go strong, which says a lot about him as a leader."
Peterson said the difference was "definitely very noticeable" and, as someone who just signed a seven-year contract extension, seemed optimistic about the franchise's future.
Smart Vikings observers know not to overreact to the emotional debut of a quarterback candidate, and there are plenty of unanswered questions about Ponder's long-term viability. After watching him float a few passes to the Packers' secondary, I would rank arm strength atop that list. But the next nine games should give us a good sense of where his career is headed.
If all goes well, Ponder will be the Vikings' quarterback when they open their next stadium. Where that facility will be located, of course, remains a topic of fierce debate both in Minnesota and in the NFL offices.
[+] Enlarge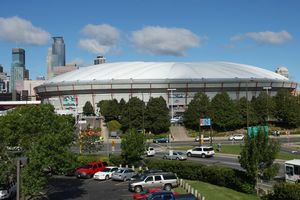 Doug Pensinger/Getty ImagesThe Vikings' lease at the Metrodome, their home since 1982, expires in less than four months.
The Vikings' lease at the Metrodome expires in less than four months -- on Feb. 1, 2012. A top league official has already acknowledged the Vikings would be free to pursue relocation options at that point, and owner Zygi Wilf has said he won't sign a short-term lease extension at the Metrodome without financing approval for a new stadium.
Without a deal in place by Feb. 1, the Vikings could technically move to Los Angeles or another market in time for the 2012 season, provided NFL owners grant approval. That timetable has finally moved a decade-long conundrum to the front burner of Minnesota politics, putting enormous pressure on a resolution -- one way or the other -- before Thanksgiving.
Gov. Mark Dayton has set a Nov. 7 deadline for settling on a project site and plan. Wilf prefers a suburban site for a project that would cost $1.1 billion, but powerful members of the business community are pushing for a site in Minneapolis. After making his recommendation, Dayton will oversee two weeks of debate and public hearings prior to a proposed Nov. 21 special session of the state legislature to vote on the final package.
Anything short of approval at that point almost certainly would push the next round of debate past the expiration of the Vikings' lease.
Would Wilf commence relocation efforts in February? Last week, NFL executive vice president Eric Grubman told
1500ESPN.com
: "[T]hey are free to explore their options and from all I know they already could be exploring their options. They do not need clearance from us."
It's more likely that Wilf would put the franchise up for sale under that scenario. Presumably, the new buyer would pursue relocation. In either event, we'll know in a matter of weeks whether that possibility will even exist. Barring an extension of Dayton's pre-holiday deadline, Judgment Day is coming for the Vikings -- both on and off the field.
October, 21, 2011
10/21/11
10:20
AM ET
There has been considerable debate this week about whether the
Minnesota Vikings
could have, or should have, waited to find a less formidable opponent than the defending Super Bowl champions for rookie quarterback
Christian Ponder
's first NFL start.

My take: Ponder was the No. 12 overall pick of the draft and a player the Vikings are counting on to lead them for a decade or longer. There should be no concern about protecting him from fierce opponents, now or ever. If they were afraid to play Ponder against the archrival
Green Bay Packers
, I would be concerned for both his and their future.
With that said, it's fair to point out that only five rookie quarterbacks in NFL history have made their first start against the defending NFL champion. As the chart below shows, the
Arizona Cardinals
'
Max Hall
was the only such rookie to win that start.
It's interesting to note that former Vikings quarterback Tommy Kramer is on the list as well. Kramer and Ponder are two of only three quarterbacks the Vikings have drafted in the first round. (
Daunte Culpepper
in 1999 was the other.) That two of them will have made their first start against the defending champions is interesting to me, if not to anyone else.
Regardless, Ponder will step on the field Sunday in front of a fan base that couldn't have higher expectations for him. Nothing like starting off in the pressure cooker, huh?
"I don't think anyone's expectations have been higher than what I put on myself," he said. "I have high expectations for myself, and I prepare myself for success. When things don't go my way, I make sure that they do. I am a perfectionist, and I am going to do everything I can and reach my expectations."
February, 25, 2011
2/25/11
11:28
AM ET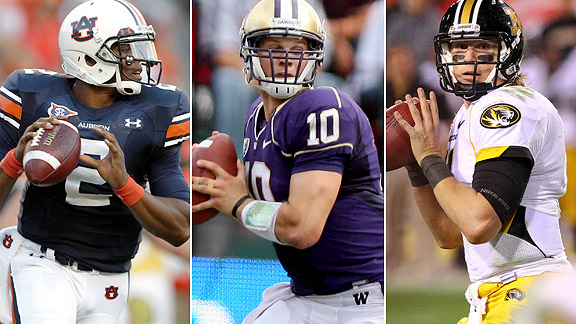 US Presswire/Icon SMIWill the Minnesota Vikings position themselves to draft Auburn's Cam Newton, left, Washington's Jake Locker, center, or Missouri's Blaine Gabbert?
INDIANAPOLIS -- The
Minnesota Vikings
arrived at this week's scouting combine carrying the most intense personnel burden a team can face: They have no starting quarterback and no clear path for finding an obvious answer in the draft.
You've heard of the Scarlet Letter? In the Nathaniel Hawthorne novel, Hester Prynne is forced to wear an "A" on her chest to signify a moral crime. So let's assign our own Scarlet Letter to the Vikings for putting themselves in this position. We'll slap them with a "B." Their cupboard is Barren at the most important position in professional sports, a hole that will swallow up their new coaching staff unless it is filled quickly and creatively this offseason.
"We're going to look at all avenues at the quarterback [position]," vice president of player personnel Rick Spielman said at the NFL scouting combine, which he and his scouts are scouring for quarterback options. "... But you're hoping that by the time all the dust settles and we're getting ready to go into the season that we have that position pretty much resolved."
We've seen this act before, of course. Consider the first chart: The Vikings have been patching together this position for an extended period of their history, spanning multiple ownership regimes, personnel executives and coaching staffs.
In the 21 years since Tommy Kramer's final season, the Vikings have used 10 different primary starters. Most recently, they set themselves back with an indefensible plan to develop
Tarvaris Jackson
as their long-term answer. Jackson is a pending free agent and, with the departure of coach/benefactor Brad Childress, seems unlikely to return.
That leaves the Vikings with second-year player
Joe Webb
as the only returning player who has taken a snap with the team. Spielman said "we're very excited about what Joe Webb brings to the table," but it's hard to believe that new coach Leslie Frazier will open his first full season with a player as raw as Webb as his starter.
History has showed the Vikings can find a temporary solution. This year, it could be
Donovan McNabb
,
Kyle Orton
,
Vince Young
or some other passer whose previous team is willing to part ways. But more important to me is whether the Vikings will make the long-overdue plunge into planning their future at the position.
In their 50-year history, the Vikings have drafted only two quarterbacks in the first round: Kramer in 1977 and
Daunte Culpepper
in 1999. It only takes a look around the NFC North to realize that finding a long-term starter in the modern-day NFL usually requires a first-round commitment. That's how the
Detroit Lions
got
Matthew Stafford
(No. 1 overall). It's how the
Chicago Bears
acquired
Jay Cutler
(two first-round picks in a trade) and it's how the
Green Bay Packers
secured
Aaron Rodgers
(No. 24 overall).
Can the Vikings make a similar grab at No. 12 overall this year? Will they move up to ensure they can draft Auburn's
Cam Newton
or Missouri's
Blaine Gabbert
, both of whom will likely be off the board at No. 12? Would Washington's
Jake Locker
make sense at that spot? Or would the Vikings identify a second-level prospect, perhaps Florida State's
Christian Ponder
, and maneuver to draft him in the second or third round?
That approach is how the Vikings landed Jackson in 2006, and Childress' insistence that Jackson would develop into a permanent starter held back the team from planning for the eventual retirement of
Brett Favre
. My understanding is that even last year, Childress' vision was for Jackson to take over whenever Favre retired.
That position caused considerable consternation within the Vikings' front office, which under Spielman had taken a proactive approach to planning for other veteran departures. Center
John Sullivan
, for example, was drafted in 2008 with the intent of replacing
Matt Birk
. The same was true for safety
Tyrell Johnson
, who took over for
Darren Sharper
in 2009.
[+] Enlarge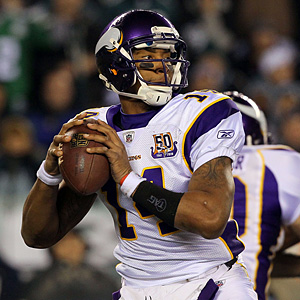 Jim McIsaac/Getty ImagesQuarterback Joe Webb is the only returning player who has taken a snap with the Vikings.
Never in his career had Jackson demonstrated the aptitude to be a long-term starter. So why didn't the Vikings seek a successor to Favre as they had with Birk, Sharper and others? I asked Spielman that question Thursday, fully expecting to get the answer he provided.
"We're excited to move forward on everything," Spielman said through gritted teeth.
The real answer, of course, is that Childress had amassed enough internal power to serve as the Vikings' general manager when it came to quarterbacks. He plainly disapproved of Spielman's decision to acquire
Sage Rosenfels
two years ago and summarily buried him on the bench. And in the previous three years, the only quarterback the Vikings drafted was USC's
John David Booty
, a project who didn't make it past his rookie year.
Vikings fans should feel optimistic that Frazier agrees with Spielman on the state of the position. And in truth, the first offseason of a coaching regime can and should be a seminal moment at the quarterback position.
On Thursday, I sought out Lions coach Jim Schwartz to talk about the similar position he found himself in two years ago. The Lions had the No. 1 pick, of course, but Schwartz knew he wanted to build his program around the identity of his quarterback.
"[Drafting Stafford] allowed us to select personnel," Schwartz said. "You're not spinning your wheels. If you don't have a quarterback, you're drafting maybe a different kind of running back, maybe a different kind of offensive lineman, than if you have somebody. We had
Calvin Johnson
. But our ability to get
Jahvid Best
,
Nate Burleson
in free agency, to draft
Brandon Pettigrew
. Those pieces were because of the quarterback that we have. You're probably not going to run the ball 45 times per game when you have a quarterback that you want the ball in his hands.
"So in order to make progress, in order to fit guys to where they're going to be, in order to fit guys to a job description, you need to know what that job description is going to be. Having a quarterback settles a lot of that, knowing what that quarterback can do, knowing his ability to make throws, knowing his ability to process things, those kinds of things, it's all very important.
"The quarterback is the most important position on the team, and if you're strong at that position, you can overcome weaknesses at other positions."
Injuries have prevented Stafford from establishing himself as a franchise anchor, but the point is the Lions have built their team with a clear vision based on his presence. That's something the Vikings have done only rarely in their history.
As the second chart shows, they haven't had many opportunities. The Vikings' prospects for drafting a blue-chip passer at No. 12 overall are murky at best, but years of neglect and poor evaluations have left the Vikings in an unenviable spot.
No one wants their hand forced in a draft, but the Vikings are as close as they can be to that ultimatum. We've seen how far the Band-Aid solution can take them. They won't win a championship with someone else's quarterback. Even they now realize it's time to find one of their own.
April, 6, 2010
4/06/10
5:00
PM ET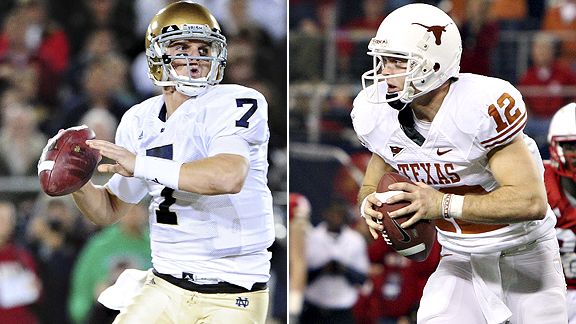 US PresswireQuarterbacks Jimmy Clausen and Colt McCoy are two options the Vikings could consider to be the long-term replacement for Brett Favre.
I
posed the question
before FavreWatch II started. We started discussing it prior to the
Donovan McNabb
trade saga, one that Minnesota ultimately sat out. And now we're approaching, one way or another, the exciting conclusion.
The Vikings have staked their 2010 season on the hope that a 40-year-old quarterback (and
new grandfather
) will give them one more year at the position. But no matter what
Brett Favre
decides, the Vikings will still have the same long-term hole at the most important position in sports. Now seems a perfect time to identify their quarterback of the future, give him at least one year's cushion on the bench, and close a 20-year gap in their team-building process.
But when you cross-reference the Vikings' draft position with the list of elite prospects, you have to wonder if a realistic pairing exists. Only two quarterbacks are considered sure-fire first-round material, and both
Sam Bradford
(Oklahoma) and
Jimmy Clausen
(Notre Dame) should be off the board by the time Minnesota picks at No. 30 overall. That leaves the Vikings to determine whether they should trade up for Clausen or if
Colt McCoy
(Texas) is worthy of their top pick.
Among media analysts, at least, there is significant debate on the latter issue.
ESPN's Mel Kiper
ranks McCoy as the No. 21 overall prospect in the draft, while Scouts Inc. gave him a third-round grade. Vikings vice president Rick Spielman attended Texas' pro day, but to my knowledge coach Brad Childress did not. If there were substantive interest there, you would think an offensive-minded head coach who prefers the West Coast scheme would be heavily involved.
To me, it appears the Vikings are caught in no-man's land for this year's quarterback class. They would have to expend dramatic firepower to grab Clausen and McCoy might not be worthy of a No. 1 pick. Scouts Inc.'s Steve Muench said McCoy could make sense with the Vikings' second-round pick, the No. 62 overall. But in today's quarterback-obsessed climate, a late-second round pick is hardly considered a likely long-term starter.
Meanwhile, the list behind McCoy --
Dan LeFevour
(Central Michigan),
Tony Pike
(Cincinnati) and
Tim Tebow
(Florida) -- all have their deficiencies as well.
"It's a bad quarterback class this year as far as the top guys go," Muench said. "Keeping that in mind, they might be better served waiting. ... We think McCoy is great in terms of leadership and presence, but I have my concerns about him ever developing into a starting quarterback on an NFL level. He does not have a very strong arm and he's 6-foot-1. That's an issue when you're talking about pro-style offenses."
Speaking earlier this offseason, Childress said he would prefer long-term certainty at the position. "No question," he said. But Childress also made clear he didn't want to force a decision based on potential future need.
"You don't want a round peg in a square hole," he said, noting the unpredictability of availability at the No. 30 spot.
Spielman didn't sound much more optimistic while speaking to reporters at the scouting combine. Referring to the quarterback class in general, he said: "I don't know if it's as heavy at the top as it has been, but there may be some value as you go down through the rounds."