April, 6, 2010
4/06/10
5:00
PM ET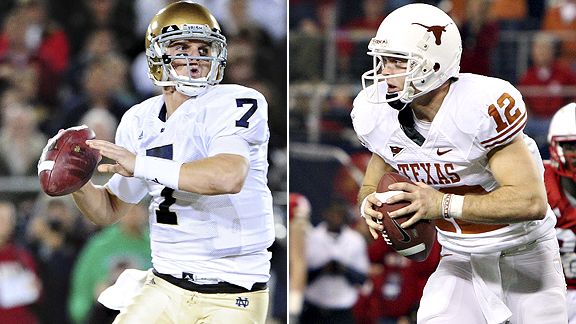 US PresswireQuarterbacks Jimmy Clausen and Colt McCoy are two options the Vikings could consider to be the long-term replacement for Brett Favre.
I
posed the question
before FavreWatch II started. We started discussing it prior to the
Donovan McNabb
trade saga, one that Minnesota ultimately sat out. And now we're approaching, one way or another, the exciting conclusion.
The Vikings have staked their 2010 season on the hope that a 40-year-old quarterback (and
new grandfather
) will give them one more year at the position. But no matter what
Brett Favre
decides, the Vikings will still have the same long-term hole at the most important position in sports. Now seems a perfect time to identify their quarterback of the future, give him at least one year's cushion on the bench, and close a 20-year gap in their team-building process.
But when you cross-reference the Vikings' draft position with the list of elite prospects, you have to wonder if a realistic pairing exists. Only two quarterbacks are considered sure-fire first-round material, and both
Sam Bradford
(Oklahoma) and
Jimmy Clausen
(Notre Dame) should be off the board by the time Minnesota picks at No. 30 overall. That leaves the Vikings to determine whether they should trade up for Clausen or if
Colt McCoy
(Texas) is worthy of their top pick.
Among media analysts, at least, there is significant debate on the latter issue.
ESPN's Mel Kiper
ranks McCoy as the No. 21 overall prospect in the draft, while Scouts Inc. gave him a third-round grade. Vikings vice president Rick Spielman attended Texas' pro day, but to my knowledge coach Brad Childress did not. If there were substantive interest there, you would think an offensive-minded head coach who prefers the West Coast scheme would be heavily involved.
To me, it appears the Vikings are caught in no-man's land for this year's quarterback class. They would have to expend dramatic firepower to grab Clausen and McCoy might not be worthy of a No. 1 pick. Scouts Inc.'s Steve Muench said McCoy could make sense with the Vikings' second-round pick, the No. 62 overall. But in today's quarterback-obsessed climate, a late-second round pick is hardly considered a likely long-term starter.
Meanwhile, the list behind McCoy --
Dan LeFevour
(Central Michigan),
Tony Pike
(Cincinnati) and
Tim Tebow
(Florida) -- all have their deficiencies as well.
"It's a bad quarterback class this year as far as the top guys go," Muench said. "Keeping that in mind, they might be better served waiting. ... We think McCoy is great in terms of leadership and presence, but I have my concerns about him ever developing into a starting quarterback on an NFL level. He does not have a very strong arm and he's 6-foot-1. That's an issue when you're talking about pro-style offenses."
Speaking earlier this offseason, Childress said he would prefer long-term certainty at the position. "No question," he said. But Childress also made clear he didn't want to force a decision based on potential future need.
"You don't want a round peg in a square hole," he said, noting the unpredictability of availability at the No. 30 spot.
Spielman didn't sound much more optimistic while speaking to reporters at the scouting combine. Referring to the quarterback class in general, he said: "I don't know if it's as heavy at the top as it has been, but there may be some value as you go down through the rounds."
January, 28, 2010
1/28/10
5:00
PM ET
As the Senior Bowl practices build up to Saturday's game, I figured we could have some fun and try matching one participant with each NFC North team. I did my best to consider where each team is drafting, but this is mostly about filling needs -- and enjoying ourselves in the dark days of the early NFL offseason.
Remember, our friends at Scouts Inc. are putting together a daily blog of practice evaluation over on our
draft page
. Here goes nothing:
Chicago Bears
Player:
Nebraska safety Larry Asante
Comment:
Safety might be the Bears' top need, and we all know they don't have a pick in either the first or second rounds of the 2010 draft. So it's worth noting that Asante has impressed Todd McShay and Co. with his across-the-board skills. He might not be an elite cover safety, but you don't have to be in a Cover-2 scheme like the Bears'.
Detroit Lions
Player:
Oregon running back LeGarrette Blount
Comment:
I know I've advocated the Lions focus on improving both of their lines, but that doesn't mean they should ignore a pretty significant need at running back. Kevin Smith's torn anterior cruciate ligament makes him a question mark for next season. We all know Blount has some serious character issues, but the Lions' coaching staff is getting an up-close look at him as one of their players this week on the North squad. If nothing else, the Lions should leave Mobile, Ala., with a good idea of whether his reputation is valid. If they are comfortable with him, he could be a draft value. If they're not, the Lions are also getting long looks at offensive linemen like Idaho's Mike Iupati.
Here
is McShay's running evaluation of Blount, available to Insider subscribers.
Green Bay Packers
Player:
UMass offensive lineman Vladimir Ducasse

Comment:
Ducasse comes from a smaller program, but he fits the profile of many lineman the Packers have drafted: Players who could potentially develop into a tackle or guard depending on need. The draft's best offensive linemen aren't at the Senior Bowl, but Ducasse is scouts have paid attention to during practices.
Here
is McShay's evaluation.
Minnesota Vikings
Player:
Cincinnati quarterback Tony Pike
Comment:
The Vikings need to identify a long-term answer at quarterback, whether or not
Brett Favre
returns in 2010. The top arms don't attend the Senior Bowl, but Pike is a mid-round draft pick with the size (6-foot-6) and arm strength to develop into an NFL starter.
Here
is what McShay thinks of him. Pike's biggest obstacle is transitioning from a spread offense to more of a pro style.

NFC NORTH SCOREBOARD
Friday, 8/22
Saturday, 8/23