September, 7, 2010
9/07/10
12:14
PM ET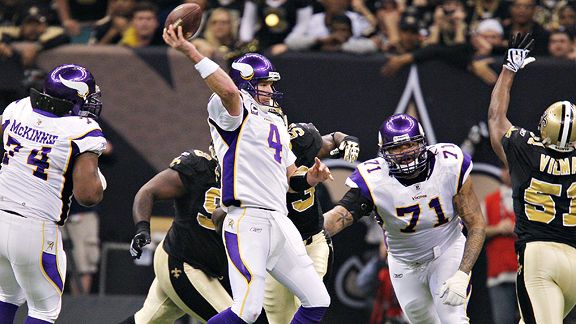 Derick E. Hingle/US PresswireBrett Favre had more success throwing the ball in last season's NFC Championship Game when the Saints brought additional pressure.
EDEN PRAIRIE, Minn. -- We've had our fun discussing
late hits, cheap shots and payback
. We've heard
Brett Favre
say the beating "didn't really hurt," listened to the
New Orleans Saints
brashly
plot a repeat performance
and wondered if the
Minnesota Vikings
have adequately
fortified their quarterback depth
.
I hope you've enjoyed it. Because now it's time to drop the drama and recognize a secret nearly hidden in the 2009 NFC Championship Game: The Vikings handled the Saints' aggressive blitz schemes significantly better than they did the four-man pass rush. Ultimately and ironically, Minnesota took the Saints out of their high-energy pressure and forced them into a more traditional scheme by the end of the game.
"The pressures?" Favre said this week. "We handled them pretty well."
Close your eyes and start your internal video. Dial up the final play of the Vikings' first possession. Saints safety
Darren Sharper
charged the left side of the offensive line just as
Adrian Peterson
took a handoff. Peterson juked Sharper (with the help of a
Jim Kleinsasser
block), burst into the secondary and galloped 19 yards untouched into the end zone.
[+] Enlarge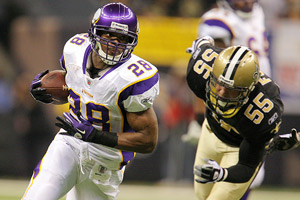 Derick E. Hingle/US PresswireDespite two fumbles -- both of which were recovered by the Vikings -- Adrian Peterson still rushed for 122 yards in the NFC title game.
Now recall the two first-half plays when Sharper came on a "zero blitz" that in essence ensured he wouldn't be blocked. On the first, Favre spotted receiver
Percy Harvin
over the middle and rifled the ball just before Sharper arrived, completing a 20-yard play to convert a third down. On the second, Favre found receiver
Bernard Berrian
on the right sideline for 13 yards and another successful third-down play.
After Berrian's reception, Favre said, "we didn't see that blitz anymore."
It's true that the Saints transitioned to some blitz schemes later in the game. Without question, their pressure impacted the outcome and figures to play an important role Thursday night at the Superdome. And we can't forget that the Vikings' offense remains in flux after a summer-long string of injuries, late arrivals and health emergencies.
But believe me when I tell you the Vikings are drawing great confidence from their performance last January, one that netted 475 total yards and was ultimately felled by turnovers rather than an inability to handle pressure or move the ball.
"We feel like we have playmakers outside," said offensive coordinator Darrell Bevell, "and if we can hold up long enough inside and block them up to give Brett enough time to get it out there we'll make big plays. I think it showed itself in that game. We were still able to make plays even when they had a free rusher.
"Yes, we kind of take it as a challenge. We want to block them up, and we want to be able to make them pay for it when they do it. Most of the time when you make them pay, you run them right out of it. They say, 'We better think twice about doing that.' And that's what we have the ability to do."
Indeed, the reality is that good offenses embrace and invite the type of defense the Saints play, knowing that if their quarterback can release the ball quickly enough, the numbers will dictate favorable matchups downfield. Consider the chart accompanying this post, which spells out Favre's performance against the Saints' blitz compared to their standard four-man pass rush.
The Saints' most effective move that night, Favre said, was to pull back the pressure during key points of the second half. The resulting coverage numbers led to both of Favre's interceptions, including the fourth-quarter pass snatched by cornerback
Tracy Porter
that turned the Vikings away from a potential game-winning field goal.
"In a roundabout sort of way, that's kind of the beauty of that defense," Favre said. "You get so caught up in pressures, blitzes, things like that, that your time clock speeds up. What do you do now? Take a deep breath. That's obviously easier said than done."
So what does all of this mean for Thursday night? Favre, Bevell and coach Brad Childress have all gone out of their way to depict the offense as a work in progress following Favre's post-camp arrival, Harvin's bouts with migraine headaches,
Sidney Rice
's hip surgery and center
John Sullivan
's calf injury. Rice will miss the first half of the season, and as of Tuesday, it's not clear whether Sullivan or backup
Jon Cooper
-- or even left guard
Anthony Herrera
-- will be holding down the middle of the line.
But we'll soon find out if the Vikings are justified in drawing confidence from their January performance or if their offense is too unfinished to handle this type of defense. With Peterson, Harvin, Berrian and
Visanthe Shiancoe
still on the field, the Vikings have enough weapons to capitalize on pressure. But Childress warned that the Vikings are "not by any stretch" close to where they were by the end of last season.
That dynamic would seem to put a premium on Peterson controlling the game on the ground. Remember, Peterson's 122-yard performance in January was his best over the final 2 1/2 months of the season. But given the Saints' own explosive offense, it's hard to imagine the Vikings winning without getting a significant contribution from their passing game.
Which brings us back, as always, to Favre and the reason the Vikings so desperately pursued him this offseason. Success against pressure ultimately comes down to a quarterback's ability to identify the open area, release the ball quickly and absorb the inevitable hit that follows. That's how Favre amassed 310 passing yards in January, and it's the type of elite play the Vikings will need to win Thursday.
Missing from this analysis is a simple but still-overlooked fact: Like the Vikings, the Saints' defense is also in its own transition. Sharper won't play because of a knee injury and their linebackers have been shuffled all summer. That's why it's hard, from a clinical sense, to go along with the prevailing theory that the Vikings are overmatched in this game.
We know both teams have a road map for how they plan to win. The evidence is all there on that 8-month-old video. But the unpredictability of the NFL's Week 1 means we should probably leave it the way Favre did the other day. "Who knows what will happen in this game -- either way," he said.
February, 8, 2010
2/08/10
12:08
AM ET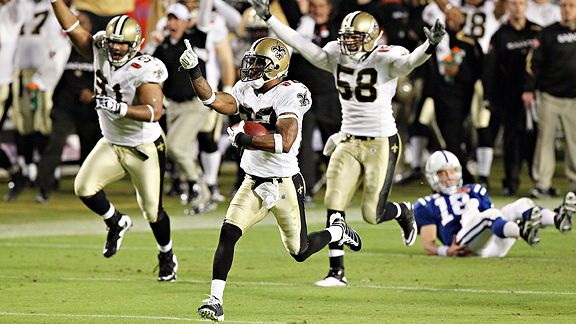 Jed Jacobsohn/Getty ImagesTracy Porter celebrates on his way to the end zone after picking off Peyton Manning.
MIAMI -- Of this, there was little doubt: New Orleans brought a smart and fast defense to Miami. Here was the problem as Super Bowl XLIV approached: Indianapolis quarterback
Peyton Manning
was smarter and faster.
(That's what a
few of us thought
, anyway.)
And so it was fascinating to watch Sunday night's game turn when a 23-year-old Saints cornerback outsmarted Manning late in the fourth quarter.
Tracy Porter
said he knew "immediately" that the Colts were running one of their "bread and butter" 3rd-down plays with 3 minutes, 24 seconds left in the game. Porter stepped in front of receiver
Reggie Wayne
, intercepted Manning's pass and returned it 74 yards for a touchdown. The play accounted for the final margin of the Saints'
31-17
victory.
"I saw it over and over on film the past two weeks," Porter said. "On third down, the route they ran there was always big for them to convert third downs on. Through numerous amounts of film study we've done all week, when the route came, it felt like I was watching it on film. When I saw the ball coming, I knew I was going to be in the end zone."
The play capped another high-risk, high-reward performance by the Saints defense, one in which they gave up 432 yards but only one score after the first quarter. Defensive coordinator Gregg Williams mixed versions of the 4-3 and 3-4 in a calculating way that I'll detail in a bit
Before examining Williams' successful game plan, however, let's take a closer look at the play that won New Orleans its first championship. Remember, Wayne would have had an easy first down at the Saints' 26-yard line in a one-score game had Porter not made the interception.
If anything, Saints players and coaches seemed surprised at how predictable the Colts were on the crucial play. Manning and offensive coordinator Tom Moore are known for prescient late-game play calling, but multiple Saints defenders identified the route tree before the snap.
"I can tell now that Tracy pays attention in the film room," safety
Darren Sharper
said. "Because he read that play well and trusted his instincts."
Before the snap, Porter noticed receiver
Austin Collie
as the outside receiver and Wayne in the slot position. "We knew Collie wasn't normally a guy they liked in that spot," Porter said.
In previous instances of that formation, Porter said, Collie had gone into late motion and run the slot position's route. The slot man, in turn, ran what's known as a "stick route" -- essentially a 6-yard pattern designed to reach the yardage "stick" and convert a first down.
On cue, Wayne ran that route. He had no chance to make the catch.
"It was just a great play by Porter," Manning said. "That's all I can really say about it."
Indeed, everything about the Saints' defense on that play suggested a stick route would work. Williams blitzed all three linebackers, leaving open the underneath for what should have been an easy conversion. Who would expect a young cornerback, even one who intercepted Minnesota's
Brett Favre
late in the fourth quarter in the NFC Championship Game, to take the risk of jumping a route? Had he missed the ball or guessed wrong, Wayne might have scored.
If you watched the Saints' defense all year, however, it probably wasn't a surprise. New Orleans ranked second in the NFL with 39 takeaways, a number you don't normally achieve if you simply sit back in coverage. Williams, in fact, said he has encouraged his players "to be aggressive, to take chances and to jump routes from the first day I got here."
Williams added: "If you're afraid to jump routes, if you're not willing to play aggressively that way, you're not going to make it."
Williams took his own calculated risk Sunday, holding back his trademark blitz packages until the fourth quarter. He employed a 3-4 defense in the first quarter, switched to a 4-3 scheme in the second quarter and then mixed those two fronts with a 3-3 nickel scheme.
"Peyton Manning is too smart to just do the same thing the entire game," Williams said. "We knew we needed a first half game plan and a second half game plan. And if we could split it between quarters, we would do that too. If you keep doing the same thing against him, he'll pick you apart.
"But we also said this: If we got to a close game at the end of the Super Bowl, we were going to be who we are. And that's a pressure defense."
The blitz didn't get to Manning on the Porter play. "We had it blocked up fine," Colts center
Jeff Saturday
said.
But to me, the triple-linebacker blitz was the reason Manning was so quick to throw in Wayne's direction -- and play right into Porter's hands.
"He's so smart that he'll figure you out if you stay stagnant as a defense," Sharper said. "We showed something in the first half and then did something different in the second. That's what we practiced for the past two weeks. I think by the fourth quarter, we did confuse him a little."
Ultimately, the Saints did what they had done to Arizona and Minnesota in previous weeks -- limit scoring through turnovers despite giving up massive yardage totals. The Cardinals rolled up 359 yards but only 14 points thanks to a pair of turnovers. The Vikings scored 28 points but committed five turnovers amid their 475-yard effort.
"Everybody wanted to predict and say this and say that," Sharper said. "But we took it personally that everyone believed Peyton was going to dice us up and that it was going to be a scoring fest. To hold an offense like that to 17 points is a testament to our team."
And, as much as anything, its intelligence. The Saints outsmarted Peyton Manning. Who would have predicted that?
February, 2, 2010
2/02/10
6:00
PM ET
MIAMI -- There's been plenty of discussion about Minnesota's penalty for 12 men on the field near the end of regulation in the NFC Championship Game. But the intrigue extended to the next play, where New Orleans cornerback
Tracy Porter
's interception ended the Vikings' chance of breaking the tie before overtime.
The interception came only after a last-second adjustment by the Saints defense. Hall of Fame safety
Rod Woodson
-- appearing Tuesday at Super Bowl media day as part of the NFL Network contingent -- picked it up right away.
"If you go back and look at that play, you see [Saints linebacker Jonathan] Vilma make a check to bring Porter to the other side," Woodson said. "And what happens? Porter gets the pick."
Indeed, the Saints changed from a man-to-man to a cover-2 look that proved advantageous on the play. Coach Brad Childress said last month that Favre's first read was receiver
Bernard Berrian
, but the coverage dictated he move to his third read, which was Rice.
Woodson made the observation as a way to illustrate how Saints defensive coordinator Gregg Williams has empowered his players to make on-field adjustments.
"That's the sign of a great defensive coordinator," Woodson said. "He's not going to limit what his players can do. He allows his players to make plays for him."
January, 25, 2010
1/25/10
1:29
AM ET
NEW ORLEANS -- Minnesota was in business with one minute, six seconds remaining in regulation of the NFC Championship Game. The Vikings had the ball on first down at New Orleans' 33-yard line, with two timeouts and the NFL's second most-accurate field goal kicker this season.
It all unraveled, however, in a two-play sequence that will be discussed all offseason in Minnesota. Here's a closer look:
Prior to third down at the 33, the Vikings called a timeout with 19 seconds left. They changed their personnel during the break, according to coach Brad Childress, but not every player got the message. Childress said the Vikings "slipped up" and had an extra fullback on the field, leading to a crippling 5-yard penalty for 12 men in the huddle. It's believed the fullback was
Naufahu Tahi
.
That pushed the ball back to the 38-yard line, meaning placekicker
Ryan Longwell
-- who had converted 26 of 28 field goals during the regular season -- would be faced with a 55- or 56-yard attempt to win the game. Longwell's career high came from 55 yards to win a 2007 game at Soldier Field.
"We would have tried that from 56 yards," Longwell said." But after that 12-men-on-the field penalty, they felt we needed to get a little closer."
So the Vikings sent quarterback
Brett Favre
on a rollout. Afterwards, Favre would say he wished he had run the ball and called a timeout. Instead, he threw across his body toward receiver
Sidney Rice
at the Saints' 22-yard line. Cornerback
Tracy Porter
stepped in front of Rice and intercepted the pass.
"I was actually late to Sidney," Favre said. "I probably should have ran it. I don't know far I could have gotten, but in hindsight, that is probably what I should have done."