NFC North:

Training camp 2011
August, 3, 2011
8/03/11
5:51
PM ET
It appears the
Detroit Lions
avoided the worst-case scenario Wednesday with their top draft choice. Defensive tackle
Nick Fairley
had surgery on his left foot immediately after meeting with specialist Dr. Robert Anderson, but
ESPN's John Clayton reported
that Anderson didn't find the type of injury that would have threatened Fairley's season.
The Lions didn't specify the exact nature of the diagnosis, but Clayton reported it is not a Lisfranc sprain. Clayton's source said Fairley will miss three or four weeks of practice, information that jibes with a Lions statement that said Fairley would miss a "significant" portion of training camp.
All things considered, the Lions are surely taking a deep breath Wednesday evening. A Lisfranc injury for a 300-pound player can take months to recover from. Unless we're being misled here, Fairley should be ready to play by next month sometime. I consider that (relatively) good news.
August, 3, 2011
8/03/11
9:30
AM ET
In
Tuesday's Camp Confidential
, I noted an episode that quickly grew into one of the highlights of the
Green Bay Packers
' first weekend in training camp.
Tight end
Jermichael Finley
, back from knee surgery that cost him 11 regular-season games last season, caught two passes within a second or so after two quarterbacks inadvertently threw his way during individual drills. So if a picture is worth 1,000 words, how much would a video of the play be worth?
As it happens, the Packers posted official video of the play on their site. You can watch it
by following this link
. It's worth your 24 seconds.
Finley, by the way, might have been the first Packers player or coach to acknowledge the growing public discussion about the new NFC force the
Philadelphia Eagles
are trying to build out east. Tuesday,
Finley tweeted
:
Man i wish we had the damn Eagles on the schedule. All this "Dream Team" talk is killin me..
That's what the playoffs are for, Jermichael. That's what the playoffs are for.
August, 2, 2011
8/02/11
9:49
PM ET
A few Tuesday training camp tidbits in quick-hitting fashion ...
Item:
The
Chicago Bears
signed tight end
Desmond Clark
to
a one-year contract
.
Comment:
It's not entirely clear what the Bears are up to at tight end. Clark was inactive for 11 of 16 games last season and didn't seem to fit into the team's plans. But he has been a locker room pillar for years and might have extra value now that we know center
Olin Kreutz
won't return. Said Clark: "I think the way the Bears viewed me as a leader had a great deal to do with it."
Item:
After mulling retirement, Kreutz wants to play somewhere this season,
according to his agent
.
Comment:
Kreutz didn't encounter a ton of interest on the free-agent market, but someone will need a veteran center in the next few weeks, if not before.
Item:
The
Indianapolis Colts
signed former Bears defensive tackle
Tommie Harris
.
Comment:
Four sacks in two years.
Item:
The
St. Louis Rams
signed former
Green Bay Packers
linebacker
Brady Poppinga
.
Comment:
Poppinga is
expected to compete
with another former Packers linebacker,
Na'il Diggs
, for a starting job. He'll certainly bring an aggressive attitude to the Rams' defense.
Item:
The
Minnesota Vikings
might still be in the market for free-agent receiver
Malcom Floyd
, according to
Judd Zulgad of the Star Tribune
.
Comment:
Could Floyd bulk up and play left tackle?
August, 2, 2011
8/02/11
4:52
PM ET
In 2002,
Bryant McKinnie
was the No. 7 overall pick of the NFL draft. In 2006, he signed a seven-year contract extension as the
Minnesota Vikings
sought stability in the first year of coach Brad Childress' tenure.
[+] Enlarge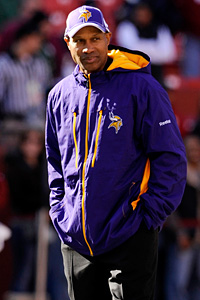 Rafael Suanes/US PresswireVikings coach Leslie Frazier might have sent a message to the rest of the Minnesota roster by parting ways with longtime left tackle Bryant McKinnie.
Those two events gave McKinnie what appeared to be lifetime tenure as the Vikings' left tackle, a position that teams can struggle for years to fill. The Vikings soon forgot the pain of his near-100 day rookie holdout. They never seemed overly concerned about a number of off-field issues. They turned the other way when the NFL kicked him off the 2009 Pro Bowl team and, most important, seemed willing to tolerate some underwhelming seasons -- most recently in 2010.
Finding a true long-term answer at left tackle is arguably as difficult as finding a franchise quarterback. There aren't many of them out there, and in truth McKinnie is better than many of them -- regardless of how short he might have fallen from reaching his potential.
For that reason, if nothing else, I was surprised to hear the Vikings
terminated McKinnie's contract Tuesday
. He had been placed on the non-football injury list the day before, reportedly overweight and, according to
Sean Jensen of the Chicago Sun-Times
, fighting off the Vikings' efforts to cut his $4.9 million base salary.
No matter McKinnie's blemishes, real and imagined, you can understand why the Vikings stood by him for so long. Although they have a few options for replacement, none of them will play at the level McKinnie could have been counted on this season. Namely:
Charlie Johnson: The Vikings signed him Monday as a free agent who has played multiple positions along the line. Johnson has played left tackle, most recently for the Indianapolis Colts, but at 6-foot-4, he doesn't have the typical frame of a 16-game left tackle.

Phil Loadholt: The Vikings' 6-foot-8 right tackle played on the left side at Oklahoma and reported to training camp in good shape. Loadholt, however, has yet to establish himself as an above-average right tackle. Could he make the switch to left tackle at this point in his career?
Obviously, no team wants to part ways with its left tackle two days into training camp. So why did this happen? Why did the Vikings choose now to battle McKinnie on issues that have been present at various times throughout his career?
Perhaps we'll find out more when coach Leslie Frazier addresses reporters Wednesday morning. But until then, I'll consider it a warning shot from a new coach who wanted to shake up a culture of continuity.
Frazier was the Vikings' defensive coordinator for four years before the Vikings promoted him to the full-time head coaching position. So it would be reasonable for players to expect a comfortable transition, robbing Frazier of the unease that many new coaches project on an underachieving roster. In that regard, who better to chase off than McKinnie, who might be the most stark symbol of the Vikings' problems over the past decade?
Latest evidence: McKinnie's three-word summation of his career via Twitter:
"Its been fun."
Without question, this move will cause some short-term pain. It's rare to have a seamless transition at left tackle. You could argue that Frazier might have found a less critical position to sacrifice to make his point. But if McKinnie has lost his tenure, no one on the Vikings roster should feel comfortable. Welcome to Camp Frazier.
August, 1, 2011
8/01/11
4:52
PM ET
GREEN BAY, Wis. --
Randall Cobb
is already in the NFC North blog doghouse.
When a reporter noted that the
Green Bay Packers
haven't returned a kick for a touchdown since 2000, Cobb smiled and said: "I was 10 years old."
[+] Enlarge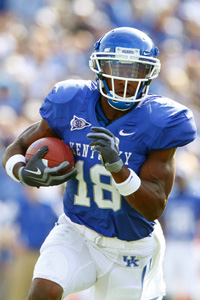 Mark Zerof/US PresswireRandall Cobb returned two punts for touchdowns in his college career.
Regular readers know that I
haven't quite accepted
that players born in 1990 are now in the NFL. (Cobb's ridiculous birthday: Aug. 22, 1990. So, in other words, is still three weeks away from age 21.)
But from what I've seen so far here at Packers training camp, it won't be hard for Cobb to redeem himself. There are some players whose open-field running ability translates even in the most laid-back practices, and Cobb has shown the same kinds of glimpses we once saw from
Percy Harvin
,
Devin Hester
and others.
The return of free agent
James Jones
might put the squeeze on Cobb's early-season receiving role, but he'll get an extended opportunity to win the kickoff- and punt-return duties this summer.
The Packers rotated a number of players through the return portion of practice this weekend, from Cobb to rookie running back
Alex Green
to cornerback
Pat Lee
to receiver
Jordy Nelson
. But there has been no mistaking the difference in Cobb's acceleration and aggressiveness in the return game, and on more than one occasion he has drawn whistles from a knowledgeable crowd.
"Returning is definitely a lot easier [than playing receiver] just for the fact that it's a natural play," Cobb said. "You're just able to be back there and make a play. ... All you have to do is understand the blocking and the concept and you're off."
The Packers haven't had a kick return for a touchdown since
Allen Rossum
took back a kickoff 92 yards on Nov. 19, 2000. (When I was NOT 10 years old.)
"Hopefully that's something I'll be able to do moving forward," Cobb said, "and take that task on and help us get better field position to start the offense."
It shouldn't devalue kick returns in any way to point out that, immediately following the draft, most of you were hoping Cobb would immediately step in as a multipositional receiver/returner/running back/wildcat quarterback in the mold of Percy Harvin. That could all come soon enough, but for now the Packers are smartly limiting his exposure.
While he has worked at all three receiving positions and has even served as the holder in special-teams drills, Cobb hasn't yet gotten an indication that the Packers will use him in the backfield.
"If they want," he said, "I'll be happy to do it. But that's not anything we've put in or even looked toward doing. That's not something I'm really worried about right now. I'm just trying to learn the basic stuff."
Which is a task for any rookie, not to mention one who was drafted into a lockout that canceled offseason contact before training camp. Cobb's first reaction when he saw the Packers' offensive playbook? "It was huge," he said. Learning three receiving positions, plus multiple roles on special teams, is probably enough for this summer.
"I'm trying to ... learn as much as I can to get on the field as fast as I can," he said.
At this pace, it shouldn't be long.
July, 31, 2011
7/31/11
11:16
PM ET
GREEN BAY, Wis. -- Here's a trivia question for you: How many preseason games has
Green Bay Packers
linebacker
Clay Matthews
played in his career?
Put it this way: He's played more seasons (two) than preseason games (one).
[+] Enlarge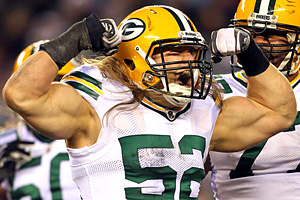 Al Bello/Getty ImagesClay Matthews has collected 23.5 sacks in his first two seasons in the league.
With all the hand-wringing going on in recent months about missed offseason practices and shortened training camps, it's worth noting Matthews' alternative path. In each of his two previous training camps, Matthews has suffered a significant hamstring injury. In 2009 it cost him more than two weeks of practice and three preseason games. Last season, he suffered the injury during the second week of camp and didn't return to practice until days before the regular-season opener.
Those absences hardly slowed him on the way to a combined 23.5 sacks over those two seasons. So I had to stifle a laugh Sunday when Matthews went out of his way to note offseason work designed to lessen the possibility of a summer injury.
I asked Matthews: "Did you really need those camps?"
Matthews' response: "What do you think?"
Me:
Uh-oh. Don't hit me.
Matthews added: "Obviously I would like to be out there with the team, but fortunately I stood aside and made mental notes and stayed involved in the defense and everything. But hopefully we can stay healthy this year. For the most part, I'll be ready to go."
Matthews said he had slimmed down this offseason, taking advantage of a consistent workout schedule in California and adopting a more disciplined eating program. He wouldn't say if he reported to camp at a lower weight but joked "I just got myself a six-pack."
In all seriousness, Matthews does appear slimmer. He said he put "extra emphasis on running and field work" during the offseason so he could make sure he was able to "handle anything I need as far as running and lifting" this summer.
I can't even bring myself to note that Matthews has made it through the Packers' first two practices of camp considering players aren't wearing pads and there has been no real contact. (Wait, I just did.) Monday evening will feature the Packers' first padded practice of the summer.
Before we sign off, however, here are a few thoughts from Sunday evening's session:
The Packers have been cautious with defensive end Mike Neal, the heir apparent at right end who still isn't completely recovered from shoulder surgery. He has been in uniform but hasn't participated in team drills, so obviously I haven't gotten much of a read on him. Packers coach Mike McCarthy has been singing the praises of C.J. Wilson, who has been working with the first team, but Wilson suffered a bruised calf during a special teams period Sunday night.

If a rookie has stood out in the past day, it's tight end D.J. Williams. He has connected with quarterback Aaron Rodgers on a number of downfield passes and made a one-handed catch near the sideline Sunday night that caught my eye. The Packers are limiting Jermichael Finley (knee) and holding out Andrew Quarless (hip flexor), so Williams has a significant opportunity to make an early splash. You wonder if he has a chance to unseat Quarless on the depth chart.

Finley did some work in 7-on-7 drills and McCarthy said he could join full-team drills by Wednesday. There has been no setback in Finley's recovery from a knee injury, but the Packers are giving him as much time as they can to ease him back into football activities.

Rookies Randall Cobb and Alex Green have gotten significant work at kickoff returner. It's hard not to get excited about Cobb's speed and the aggressiveness he hits the hole with, even if he's just in shorts and a helmet.

Rookie Derek Sherrod said he has never played guard in his life and didn't know he would be moved to left guard until he reported to training camp. Still, he doesn't look out of place and McCarthy noted that his addition has given the Packers the biggest offensive line they've had in some time.
July, 30, 2011
7/30/11
5:48
PM ET
For months, we've been discussing the
Chicago Bears
' offensive line* with a presumed asterisk. All five of their starting positions were pending post-lockout moves. We wouldn't know their first-team lineup, it seemed, until the start of training camp.

Even now, however, it's impossible to know if what the Bears trotted out during their opening practice Saturday in any way resembles their intentions for Week 1 of the regular season. For the record, here is what they used during the early portion of team drills:
Left tackle:
Frank Omiyale
Left guard:
Chris Williams
Center:
Roberto Garza
Right guard:
Lance Louis
Right tackle:
J'Marcus Webb
Here's what I think we can glean from that grouping:
The Bears aren't eager to move Webb to left tackle, as some have discussed this offseason. If they were, it stands to reason he would have opened training camp there even if the rest of the group is in flux.
For similar reasons, it appears the Bears want Williams to be their left guard first and foremost. They could conceivably work him at left tackle or even a center, but if they wanted him to play either of those positions on Sept. 11, you would think they would have started him there right away.
Garza is at center because Olin Kreutz remains unsigned. The Bears would much prefer to play Garza at right guard, but in the short-term it couldn't hurt them to get Garza some work as an emergency center. The real question is if he would be their answer if Kreutz pulls a surprise and signs elsewhere.
Where does this leave rookie
Gabe Carimi
? For the moment, it's no surprise that he wasn't working with the first team in his first NFL practice. But he will get his work at left tackle, as
Brad Biggs of the Chicago Tribune
notes, and at some point this summer he should overtake Omiyale. In that scenario, Omiyale could ultimately serve as an expensive but experienced backup at both guard and tackle positions.
July, 26, 2011
7/26/11
3:30
PM ET
Earlier Tuesday, we noted the post-lockout arrival of the Minnesota Vikings'
Percy Harvin
, who lost about 10 pounds during the offseason in anticipation of what
could be a much more significant role
as a receiver this season. So let us also note the interesting tone
Detroit Lions
quarterback
Matthew Stafford
took during an interview session with reporters.
Stafford's injury history has been chronicled to exhaustion, both on this blog and from a national perspective. It would be only natural to carry a little angst about it, but I thought Stafford's approach mixed the right amount of reality and swagger.
"During the season," Stafford said, "I just want to be there. That's the big thing. If I can get out there and stay healthy ... I don't have to make any predictions. My play will do my talking for me."
(Audio
courtesy the Lions' website
.)
In truth, there are two parallel discussions on Stafford. One is whether he can stay healthy. The other is whether he can play. Neither has been completely resolved.
No one can predict health moving forward. And we only had
parts of three games
last season to evaluate the progress Stafford made from his 20-interception rookie season. Stafford's response suggested the former will take care of the latter. That's a fair way to put it.
July, 25, 2011
7/25/11
5:58
PM ET
To the extent that we can, let's bring you up to date on the scheduling information we've received thus far from NFC North teams.
But first, a very important note.
We are all learning this one-time transition process together, and it is like nothing we've ever experienced. But here is the way I understand things: Only players who have signed contracts will be allowed to participate in the early part of training camps. Veteran players who either change teams or re-sign with their previous teams won't be able to practice until the new league year starts Aug. 4.
Also, remember that padded practices can't take place until the third day of camp.
Long story short: Most teams won't be up to full speed until the end of the first official week of camp. Onward:
Related:
NFC West colleague Mike Sando
delves deeply into the NFL's final free agency timetable. It begins Tuesday morning at 10 a.m. ET, when teams will be able to sign rookies, negotiate with veteran free agents and discuss trades.
More to come …
July, 25, 2011
7/25/11
12:16
PM ET
I have one request for those of you making training camp plans: Understand the difference between the doors opening and the traditional beginning of camp.
Sunday evening,
we discussed the logical day
that each NFC North team will open its doors based on NFC West colleague Mike Sando's deduction work. The NFL Network is reporting those dates to be firm: The
Detroit Lions
would be eligible
to open their doors to Thursday
, while the rest of the division would
open its doors Friday
.
What happens after that, however, is up to each individual team. Some could get players on the practice field within 24 hours. Others might not have players in for days while they handle important business decisions. And in the case of the
Chicago Bears
and
Minnesota Vikings
, the door opening could occur at their permanent training facilities before moving operations to their respective off-site camps a few days later.
I think it's fair to assume that all four NFC North teams will be practicing by the beginning of next week, which is when they had planned all along. If anything, they're most likely to use the time in the interim for a frantic catch-up and rookie/newcomer indoctrination. Stay tuned.