August, 31, 2013
8/31/13
6:30
PM ET
Most significant move:
Despite
J'Marcus Webb
making 44 starts in 46 career games, including 32 consecutive starts at left tackle over the last two years, the Bears made the decision to part ways with him, even after reducing his salary to the league minimum for a veteran with three years of tenure.

Webb entered the offseason as the starter at right tackle, and stayed in that spot through the early part of training camp. Then, after the preseason opener at Carolina, the club demoted Webb to the second team behind rookie fifth-round pick
Jordan Mills
.
The demotion put Webb in competition for a backup role with veterans
Jonathan Scott
and
Eben Britton
. A five-year veteran, Britton has 30 games of starting experience on his résumé, but also possesses more versatility than Webb because of his ability to kick inside to guard and center. Scott hasn't played all preseason, and recently underwent a procedure on his knee. But the team is confident that even a dinged-up Scott is more reliable than a fully healthy Webb.
Webb possesses the physical skillset to be a starter in the NFL for several years, but lacks motivation and passion, which is a no-no for general manager Phil Emery and the new coaching regime. The new staff worked diligently to coax out the best in Webb, but couldn't do it consistently enough for the team to feel confident in the three-year veteran, even as a backup.
Good outing, bad result:
Quarterback
Jordan Palmer
performed well in the preseason finale against Cleveland despite little preparation after signing as an injury replacement for Matt Blanchard. But a 64.7 completion percent and a passer rating of 102.8 with a touchdown pass in his preseason debut wasn't good enough to keep the Bears from cutting Palmer.
A big part of that was the team's reported desire to sign a third quarterback with practice-squad eligibility. Palmer doesn't have any practice-squad eligibility remaining.
What's next:
With the 53-man roster finalized, the Bears will start to build their practice squad. If the club wants to bring back some of the players it cut, it will have to wait until they clear waivers. The Bears will likely be looking to add a few players cut from other teams to their practice squad, too.
Bears cuts:
QB:
Trent Edwards
,
Jordan Palmer
. RB:
Armando Allen
. OG: Dennis Temple,
Edwin Williams
. LB:
Jerry Franklin
,
J.T. Thomas
. WR: Brittan Golden,
Terrence Toliver
, Josh Lenz. OT:
J'Marcus Webb
,
Cory Brandon
. DT:
Corvey Irvin
, Christian Tupou. S:
Tom Nelson
,
Brandon Hardin
. LS: Brandon Hartson. CB: Demontre Hurst. TE:
Fendi Onobun
. FB: Harvey Unga. DE: Aston Whiteside,
Josh Williams
.
Note:
Brandon and Irvin received injury settlements. Hardin was waived/injured, which means if he clears waivers, he'll revert to Chicago's injured reserve.
August, 30, 2013
8/30/13
10:25
AM ET
CHICAGO -- The
Chicago Bears
have informed veteran quarterback
Jordan Palmer
that he will be released prior to the deadline for NFL teams to establish their 53-man roster, Palmer announced Friday morning on his official Twitter account (@JwPalms).

"I really appreciate all the kind words from the #Bears fans but I'm headed home today," Palmer wrote. "Crazy biz but appreciative."
Palmer had a strong first-half performance Thursday against Cleveland when he completed 11-of-17 passes for 111 yards and one touchdown, for a passer rating of 102.8. Chicago receivers also dropped at least three throws that would have otherwise resulted in completions.
Bears head coach Marc Trestman praised Palmer following the game. The Bears signed both Palmer and fellow quarterback
Trent Edwards
after second-year QB Matt Blanchard fractured his left hand in the club's second preseason game. The Bears and Blanchard later reached an injury settlement.
"It says a lot about his preparation," Trestman said. "He came in here; he dug in; he has learned a lot of the offense and spent a lot of time, on his own, trying to assimilate all of it. I'm happy for him that he came out and played very efficiently for us."
It's possible the Bears could turn to Palmer later in the regular season if the team suffers an injury to either starting quarterback
Jay Cutler
or No. 2
Josh McCown
.
Edwards replaced Palmer in the second half and went 10-of-17 for 135 yards and tossed an interception that went through the hands of tight end
Fendi Onobun
and returned for a touchdown by the Cleveland defense.
The Bears could be leaning toward keeping just two quarterbacks on the Week 1 active roster and signing a quarterback to its practice squad.
In other news, the Bears also informed wide receivers Britton Golden and
Josh Lenz
of their release Friday.
NFL teams have until 3 p.m. CT on Saturday to trim the roster to 53, but the Bears are expected to make the majority of their roster moves on Friday.
August, 30, 2013
8/30/13
12:58
AM ET
CHICAGO –
Jordan Palmer
made a strong case to enter the regular season as the Chicago Bears' No. 3 quarterback with a smooth first-half performance Thursday against Cleveland when he completed 11-of-17 passes for 111 yards and one touchdown, for a passer rating of 102.8.
Palmer
In fact, Palmer deserved to finish with better numbers in a game the Bears lost
18-16
. Chicago receivers dropped at least three throws that would have otherwise resulted in completions.
Bears head coach Marc Trestman previously stated that his preference has always been to keep three quarterbacks on the 53-man roster, and if that philosophy holds true over the next two days, it would be hard to imagine the club cutting ties with Palmer after it finalized an injury settlement with Matt Blanchard on Tuesday.
Trestman sounded impressed that Palmer was able to learn the offense in such a short period of time. The former
Cincinnati Bengals
and
Jacksonville Jaguars
quarterback signed with the Bears on Aug. 17 and was pressed into action a mere six days later when he played the fourth quarter in the Bears' third preseason game in Oakland.
With more time to prepare for the preseason finale, Palmer had command of the offense, despite throwing the ball to receivers that are bound to get cut before Saturday's deadline to trim the roster to 53.
"It says a lot about his preparation," Trestman said of Palmer's effort Thursday night. "He came in here; he dug in; he has learned a lot of the offense and spent a lot of time, on his own, trying to assimilate all of it. I'm happy for him that he came out and played very efficiently for us."
Palmer's second-half replacement,
Trent Edwards
, passed for more yards (135) but had a more difficult time moving the offense down the field. Some of that, obviously, was due to the personnel on the field and substandard pass-protection. Edwards also had a ball go through the hands of tight end
Fendi Onobun
that resulted in an interception return for a touchdown. However, some of Edwards' throws didn't appear to be as sharp as Palmer's, but it is tough to be overly critical of a quarterback who's throwing to third-team wideouts and playing behind reserve offensive linemen.
But in the battle of backup quarterbacks Thursday, Palmer emerged as the winner. The next question is whether or not that earned him the opportunity to join
Jay Cutler
and
Josh McCown
on the Bears' Week 1 depth chart.
August, 29, 2013
8/29/13
11:38
AM ET
Here are three positional battles to monitor heading into the Chicago Bears' preseason finale versus the Cleveland Browns:


1. Running back: Undrafted rookie
Michael Ford
is making a strong push to grab one of the final spots on the 53-man roster after returning a kickoff 100 yards in the second preseason game against San Diego, then following up that performance with 58 rushing yards and a touchdown on nine carries last week in Oakland. If the Bears decide to keep just three tailbacks, it means either Ford or veteran
Armando Allen
has to go. Allen played well last season for the Bears, appearing in 15 games and recording seven special-teams tackles. But Allen has been working his way back from an injury the past couple weeks, which has opened the door for the less expensive rookie out of LSU to showcase himself in these preseason games. Both figure to receive ample playing time tonight at Soldier Field.
2. Quarterback: The Bears' offense is entirely in the hands of veteran quarterbacks
Jordan Palmer
and
Trent Edwards
after Bears head coach Marc Trestman announced last week that starter
Jay Cutler
and No. 2
Josh McCown
would not see the field in the final preseason contest. If the Bears open the season with three quarterbacks, and that is still an if, the final spot could be determined by which of the two reserves has a better game against the Browns, plus what each accomplished on the practice field the past two weeks. The Bears got a brief look at just Palmer last week in the fourth quarter (1-for-1, five yards), but both quarterbacks will get an extended look tonight. Even if the Bears decide to go with just two quarterbacks to start the year, the team might still find themselves in need of another QB later in the season -- that's why this is still an important game for Palmer and Edwards, regardless.
3. Offensive line: If the Bears retain eight offensive linemen, as offensive coordinator Aaron Kromer hinted earlier in training camp, then two spots might still be available. That means
Jonathan Scott
,
Eben Britton
,
J'Marcus Webb
and
Taylor Boggs
are probably the guys still alive to make the team, although sometimes these calls are already made before the final preseason game. Scott has actually pulled off the rare feat of improving his position on the team despite missing the past several weeks with a knee injury that required a procedure to clean it out. That's because Webb has continued to struggle ever since being demoted to second-team left tackle. Webb is a mystery. He has all the physical gifts, but his inconsistency coupled with his strange behavior and apparent lack of passion toward the game, makes him a strong candidate to get cut. If Scott's knee is OK for Week 1, then it might make sense to just keep him and Britton, try and sneak Boggs on the practice squad, and send Webb on his merry way. But if Webb wants to make one final stand, he better make the most his opportunities tonight.
August, 27, 2013
8/27/13
4:35
PM ET
LAKE FOREST, Ill. -- The
Chicago Bears
whittled to the 75-man roster limit Tuesday by finalizing an injury settlement with quarterback
Matt Blanchard
.
A second-year veteran, Blanchard fractured a knuckle on his left hand during the team's win over the
San Diego Chargers
. Prior to the injury, it appeared likely the Bears would try to keep Blanchard on the 53-man roster or waive him in final cuts with the expectation of adding him to the practice squad.
The problem is there's no way a team can release an injured player without reaching a settlement.
"I'm just disappointed he was injured. I really liked his progress. I think we resonated that through the times we've talked here," Bears coach Marc Trestman said. "I think everybody has an idea how we felt about Matt while he was here."
Blanchard's settlement makes him ineligible to return to the Bears until after Week 10. After the timeframe for the settlement expires, Blanchard can sign with another team. So it's likely the quarterback would sign with another club after the length of the settlement -- which is commensurate with the time a player is expected to be out due to the injury -- has expired because he can't rejoin the Bears until 2 1/2 months into the season.
In making the decision, Trestman said he hasn't "even thought about" the timeframe for Blanchard's recovery, adding that "we'll just see how it goes as we move forward."
When the team hit the practice field for the portion of Monday's workout that the media is allowed to view, Blanchard wasn't out on the field with the rest of his teammates. With the team going into the final exhibition game Thursday not expecting to play any of its starters, it's likely the team would have played Blanchard for a significant amount of repetitions.
Instead, the Bears will divvy up the snaps to recently-signed quarterbacks
Jordan Palmer
and
Trent Edwards
, with the former set to start.
"They're both really smart guys and knowledgeable. They've practiced well," Trestman said. "I expect that they're gonna do well."
Blanchard spent the majority of the 2012 season on the practice squad.
August, 19, 2013
8/19/13
7:57
PM ET
LAKE FOREST, Ill. --
Chicago Bears
head coach Marc Trestman revealed on Monday that starting quarterback
Jay Cutler
and his primary backup,
Josh McCown
, will not see the field in the team's preseason finale Aug. 29 versus the
Cleveland Browns
.
[+] Enlarge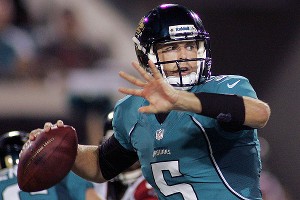 Phil Sears/USA TODAY Sports
"This is a great opportunity," Jordan Palmer said of being named to split reps with Trent Edwards during the Bears preseason finale against the Browns on Aug. 29. "I'm at the point in my career where I just want to play football."
Instead, newcomers
Jordan Palmer
and
Trent Edwards
will lead the Bears offense against the Browns as both try to earn a spot on the team's 53-man roster in the aftermath of
Matt Blanchard
's hand injury, which could keep him out a month.
"The reason, obviously, why we got them both in is we worked them out, we liked them both," Trestman said. "We'll get them a chance to play and get on tape. I think they'll be pretty familiar with the offense once they get out there, and we'll do the best we can.
"If something would happen to Jordan as the third [QB on the depth chart], we still would have wanted to protect Josh. So that's the reason why we've got two quarterbacks coming in."
Palmer said on Monday he relishes the chance to showcase himself in the preseason after working in sports marketing as recently as late last week. Palmer appeared in four games for the
Cincinnati Bengals
from 2008 to 2010 and spent time last season with the
Jacksonville Jaguars
.
August, 19, 2013
8/19/13
7:51
PM ET
LAKE FOREST, Ill. -- Second-year quarterback
Matt Blanchard
watched practice on Monday with a soft cast on his fractured left hand, but
Chicago Bears
coach Marc Trestman acknowledged that a final decision on Blanchard's roster status has not been made after the club acquired veteran quarterbacks
Jordan Palmer
and
Trent Edwards
.
Blanchard broke a knuckle in his left hand in the third quarter of the Bears' 33-28 preseason victory over the
San Diego Chargers
.
[+] Enlarge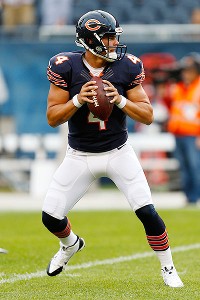 AP Photo/Scott Boehm
A broken knuckle has the roster status of Bears quarterback Matt Blanchard in jeopardy.
"We've got to see how this injury unfolds and how it relates to the roster," Trestman said. "So we're just giving that some time, but it's a relevant question. We just are not in position to make that decision yet, so we're just going to see how this injury unfolds and what the length of it would be."
Blanchard could not put a timetable on a return.
"I really don't know yet," Blanchard said. "We're still talking and I still have to see some doctors. I still have to talk to our trainers and figure that stuff out."
Based on Trestman's comments throughout training camp, Blanchard had performed well in the preseason and appeared to be a strong candidate to earn a spot on the final 53-man roster as the Bears' No. 3 quarterback before the injury. Blanchard completed 15 of 18 passes for 194 yards in the Bears' opening preseason game against the
Carolina Panthers
.
"I feel good about my progress [in the offense]," Blanchard said. "I feel good about moving forward and a lot of the stuff's out of my hands at this point.
"I just have to help the new quarterbacks coming in to get them ready for Oakland and get them ready for the last preseason game and be the best teammate possible."
June, 7, 2013
6/07/13
9:18
PM ET
By
ESPN.com staff
| ESPN.com
Quarterback
JaMarcus Russell
, the top pick in the 2007 draft who's been out of the league for three years, showed up at the expected weight and displayed a "big arm" and "good, positive demeanor" during a Friday workout for the
Chicago Bears
, sources told ESPNChicago.com, but the team is unlikely to offer him a contract.
Russell looked a bit rusty but was solid overall, the source said, but with three quarterbacks already on the roster --
Jay Cutler
,
Josh McCown
and
Matt Blanchard
-- it appears Chicago won't be moving on Russell or the other two signal-callers who participated in the session at team headquarters --
Jordan Palmer
and
Trent Edwards
-- anytime soon.
For Michael C. Wright's full report, click
here
.
October, 28, 2010
10/28/10
3:00
PM ET
Minnesota Vikings
quarterback
Brett Favre
was not on the field during the early portion of practice Thursday, which was fully expected and doesn't have much bearing on whether he will start Sunday at the
New England Patriots
. Favre, who has two fractures in his left foot, has said the earliest he would try to practice is Friday.
This relative break in the news cycle gives us a chance to consider in further detail the darker part of this scenario. Will Favre's poor play this season factor in to coach Brad Childress' decision?
I've
already suggested
that the Vikings would have a hard time benching Favre outright after begging him to return and giving him a raise to at least $16 million in total compensation this season. But what about a benching masked by an injury? That might be a possibility, especially when you consider a
unique and telling statistical analysis
over at Brian Burke's Advanced NFL Stats.
Burke uses a metric called Win Probability Added (WPA). Essentially, it's a way to measure how a player's performance impacts his team's chances to win or lose. (Here is the
complete explanation
for those interested.)
We already know that Favre's 68.0 passer rating is the fourth worst among NFL quarterbacks. But the nuanced WPA paints a more dire picture. His WPA rating is by far the worst among 39 qualifiers. In fact, his standing in this metric is three times worse than the next-lowest rated quarterback.
One way of looking at this statistic is that no quarterback is hurting his team more than Favre -- not the
Chicago Bears
'
Jay Cutler
, not the
Cincinnati Bengals
'
Carson Palmer
not even
Trent Edwards
of Buffalo/Jacksonville. In fact, Favre is hurting his team three times as much as Cutler, who ranks one spot ahead of Favre in WPA.
Quoting Burke: "Everyone knows Favre isn't doing well, and we don't need fancy stats to tell us that. But when we actually quantify just how bad his play has been so far, it's eye-popping."
Indeed, anyone who has watched Favre commit 14 turnovers this season knows he hasn't been very good in 2010. But Burke's metric reflects the type of analysis NFL teams often make, detailing what the mistakes lead to and whether they are made up for in other situations. When your quarterback is not only struggling, but is hurting your team far more than any other quarterback in the league, would you at least consider a change?
July, 15, 2009
7/15/09
3:30
PM ET
Posted by ESPN.com's Kevin Seifert
Earlier Wednesday, I pointed you toward SportsNation's interactive ranking of the NFL's top 20 quarterbacks, with the promise I would return with my own list. I'm a man of my word. (Except when I'm not, of course). So here is my take, followed by some notes and explanations:
I know there was a fierce Brady-Manning debate during ESPN.com's all-decade rollout last month. Sorry, I'm big on championships. Brady has more. And in the one season where he ran a pass-heavy offense, Brady's production was comparable with Manning's best season.
I managed to squeeze both NFC North entrants into my top 10, with an order that shouldn't be surprising to readers of this blog. I'm a bit more comfortable now with Rodgers than Cutler, but that of course is subject to change over time.
To do so, I put some big names in the lower half of my ranking. Romo (11), Rivers (12) Eli Manning (13), and Delhomme (14) have all been named to a Pro Bowl. My NFC West colleague, Mike Sando, notes Rivers' feistiness, but I wonder what his passing numbers would look like without the Chargers' huge running game. And I've never been a huge fan of Eli Manning, who has been pretty average for most of his career. He's a career 56 percent passer.
Sometimes evidence of potential outweighs past performance. I have more confidence in the immediate and future success of Ryan, Rodgers and Cutler than I do in Eli Manning, Delhomme or Hasselbeck.
This is just one blogger's ranking.
Remember these are FUN and NOT NFL canon. With that, please proceed to tear me to shreds in the comments below.