NFC North:

Trent Richardson
October, 18, 2013
Oct 18
12:00
PM ET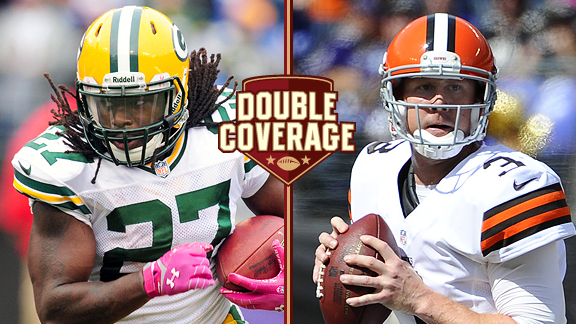 USA TODAY SportsThe Packers may have to rely more on their run game, while Browns QB Brandon Weeden seeks to recover from a forgettable outing.
The
Green Bay Packers
have made it past a difficult stretch in which they played four playoff teams from last season in their first five games.
And they came out of it with a respectable 3-2 record.
The
Cleveland Browns
, despite going from
Brandon Weeden
to
Brian Hoyer
and now back to Weeden at quarterback, also aren't out of anything yet at 3-3.
ESPN.com Packers reporter Rob Demovsky and Browns reporter Pat McManamon break down the matchup:
McManamon:
Rob, what will Green Bay do at receiver with all those injuries, and how much will it affect the offense?
Demovsky:
It's bound to have a significant impact.
Randall Cobb
more or less became the focal point of the passing game last season and if anything, that intensified this season. Sure, he's only a slot receiver and the Packers still have the deep threat of
Jordy Nelson
on the outside. But in this offense, a lot of those quick-hit passes -- especially against teams that blitz -- are directed to the inside. No team used more three-receiver sets than the Packers had until Cobb went down last week against the Ravens. They had used a three-receiver set on 90 percent of their snaps. That number likely will go down beginning this week against the Browns. They might have to rely on their new-found running game more than ever. But with fewer threats in the passing game, teams might be able to load up to stop running back
Eddie Lacy
.
The Browns have offensive issues of their own, Pat. Brandon Weeden's turnovers in the loss to the Lions looked like killers, especially that backhanded, underhand flip. How can they get him to play smarter?
McManamon:
That backhanded, underhand flip will live for a long time in the annals of Cleveland Browns misplays since 1999, Rob. A lengthy list just got longer. As for getting him to play smarter, that's the challenge. And the challenge has gone on for 18 starts. Weeden actually started fairly well as a 29-year-old rookie, but he struggled the end of last season and this season he's played in fits and starts. Which of course won't be good enough against Green Bay. With Brian Hoyer injured, the Browns have few other options -- it's not like
Tom Brady
is on the streets waiting for a job -- so they will stick with Weeden. But you have to wonder whether the Browns aren't coming to the conclusion that what they see is what he'll be when it comes to this 30-year-old quarterback.
Rob, Weeden does not read the rush well and does not move well. The Packers are ninth in the league in sacks. Is that yet another bad recipe for Weeden and the Browns offense?
Demovsky
: It remains to be seen whether they can keep up their sack pace. They did it without
Clay Matthews
last week, getting five sacks at Baltimore, but now they're going to be without another outside rusher,
Nick Perry
. Matthews and Perry each have three sacks on the season, which ties
A.J. Hawk
for the team lead. At some point, those injuries have to slow down their pass rush. The one thing that's helping them is they're playing the run very well, probably the best they have since they led the league in rushing defense in 2009. After shutting down
Ray Rice
last week, they're up to third in the NFL in rushing yards allowed per game (78.2). That's putting teams in a lot of third-and-long situations, which allows defensive coordinator Dom Capers to blitz. That's how Hawk got all three of his sacks against the Ravens.
Perhaps the Browns can help protect Weeden if they run the ball effectively to keep the Packers from rushing like crazy. What are their prospects for doing that?
McManamon:
Running the ball would protect Weeden. But it helps to have a ... well ... a running game. At present, the Browns are in make-do mode with the running game, and as the season continues that will more and more become a problem. Since the trade of
Trent Richardson
the Browns have relied on aging
Willis McGahee
, young
Bobby Rainey
and fullback
Chris Ogbonnaya
. These guys give effort, but there's only so much they can give. McGahee can't run outside, Rainey is inexperienced and Ogbonnaya is what he is. The Browns rank 22nd in the league by running for 86.8 yards per game -- though they are averaging 3.9 yards per carry. If the Browns want to run, they will have to commit to it and pound it out, something I am not sure they can do.
Rob, the Browns have had 19 starting quarterbacks since 1999 -- and it appears next year or soon after that number will hit 20. Do the Packers and their fans realize just how fortunate they have been these many years to have
Brett Favre
and
Aaron Rodgers
?
Demovsky:
They should. There are only a handful of organizations who can say they've had the kind of quarterback transition that the Packers had. The 49ers with
Joe Montana
to
Steve Young
come to mind. Maybe the Colts have that now with
Andrew Luck
following
Peyton Manning
. Not only was Favre a great quarterback, but he was there week in and week out. Rodgers is pretty much the same way. Those guys rarely get injured and when they do, they still play.
Most Packers fans here are still fond of Mike Holmgren, for leading them to the Super Bowl XXXI title. His tenure with as a Browns executive was much shorter. What impact, if any, did he have on the organization?
McManamon
: Let's just say the feelings for Holmgren are a lot warmer in Green Bay -- odd as that sounds -- than in Cleveland. Many fans feel Holmgren's epitaph with the Browns should be "As a president, he was a great coach." A lot of that is frustration at constant losing. Some is frustration at the job title and salary scale Randy Lerner gave Holmgren. More still that Holmgren never took on the coaching duties himself. On balance, Holmgren's tenure was no worse than many, and better than some. He and GM Tom Heckert brought in some good players who are helping the team win now. But with any regime change comes more change, and Joe Banner has gotten rid of some of Holmgren's guys -- notably Richardson. Holmgren's biggest gamble was selecting a quarterback in the first round a year ago who is now 30. But Weeden clearly would have been helped by more continuity in the front office.
.
September, 19, 2013
Sep 19
2:37
PM ET
EDEN PRAIRIE, Minn. -- In the hyper-regimented world of the NFL, a team trading its top running back hours after naming its third-string quarterback the starter qualifies as a major disruption: not just for the
Cleveland Browns
, but for the
Minnesota Vikings
, who play them this weekend. In fact, it's such a departure from the normal routine that the Vikings spent more time on Thursday morning talking about the hardship of trying to find film on
Brian Hoyer
and
Willis McGahee
more than the help of not facing the injured
Brandon Weeden
or the departed
Trent Richardson
.
[+] Enlarge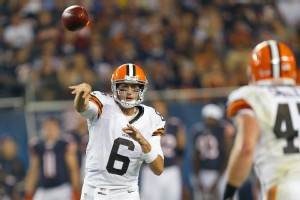 AP Photo/Scott BoehmBrian Hoyer will be making just his second career start on Sunday.
Only defensive end
Jared Allen
would admit a little joy about the news -- "I'm not going to say I didn't smile about it," he said -- but the rest of the talk from the Vikings' defense about the Richardson trade was centered on what an inconvenience it is.
"It's a little bit mixed up right now, but it's the NFL. I think everybody has to adjust at some point in some phase," defensive coordinator Alan Williams said. "It's tough, but preparing for a team, knowing what they have, is tough also. The coaches are good about doing the research, seeing what guys can do. It's a (Rob) Chudzinksi, Norv Turner-type of scheme. They do have some characteristics they've shown in the past."
That might be enough to keep the Vikings from drifting to the school of thought that the Browns, who are also 0-2, will be a pushover this weekend. Hoyer is making just his second NFL start, and McGahee -- who was reportedly set to sign with the Browns pending a physical -- has only started more than 10 games in a season once since 2007.
But the Vikings, who are also 0-2, can ill afford to take anyone lightly at the moment. Williams said they'll focus more on the Browns' scheme than the people running it, while looking at tape of Hoyer in the team's fourth preseason game and whatever they can find of the Browns' running backs.
In the process, the Vikings hope they'll avoid turning the Browns' turmoil into an advantage.
"They know," Williams said. "I know our guys are mature enough and professional enough to not fall into the trap that maybe my boys at home, looking at fantasy football, think that, 'Oh, Dad, you've got 'em.' Our guys are brighter and smarter than that."
September, 19, 2013
Sep 19
12:00
PM ET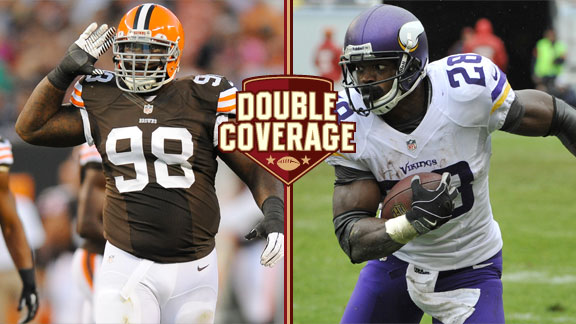 Getty ImagesPhil Taylor and the thus-far stout Browns run defense gets a major test in Adrian Peterson.
A pair of teams desperate for their first victory square off in Minneapolis this weekend when the
Minnesota Vikings
host the
Cleveland Browns
.
The Vikings are coming off a last-second loss in Chicago, after which players were venting about the defensive call that led to the Bears' touchdown with 10 seconds left. Minnesota goes from Minneapolis to London for a date with the
Pittsburgh Steelers
, and the Vikings are in dire need of some positive momentum.
The Browns, meanwhile, have scored just 16 points in a pair of losses, and already have made major changes. They will start
Brian Hoyer
at quarterback this weekend with starter
Brandon Weeden
out because of a thumb injury. Meanwhile, the Browns traded running back
Trent Richardson
on Wednesday, parting with their top playmaker in exchange for the
Indianapolis Colts
' 2014 first-round draft pick.
As the teams meet for the first time since 2009, ESPN.com Vikings reporter Ben Goessling and ESPN NFL Insider Matt Williamson break down the game:
Goessling:
Matt, the last time these two teams faced each other, it was on opening day in 2009,
Brady Quinn
was under center for the Browns and Brett Favre was playing his first regular-season game in a Vikings uniform. How things have changed since then. The Vikings have their own quarterback issues --
Christian Ponder
probably keeps his job for now after a solid second half in Chicago last week, though he's in serious need of some consistency. With Hoyer at quarterback, Richardson gone to Indianapolis and
Josh Gordon
coming back from a suspension, what can we expect from the Browns' offense?
Williamson:
I was feeling optimistic about Cleveland's offense going into Week 3 with Gordon returning and the disaster at the right guard position seemingly resolved. But now Weeden is out and Hoyer is in. That doesn't bother me nearly as much as the loss of Richardson, who should be the foundation of this offense as a runner and underrated receiver. I truly think the Colts got themselves a great young back. But that leaves the Browns in a very precarious situation in the backfield. It is going to be a long year on this side of the ball.
The Vikings had an outstanding rookie class in 2012 and made three picks in the first round of this latest draft. Although there are obvious concerns at the quarterback position, Minnesota has quietly established a fine young nucleus. What roles do you see for its three first-round picks for this game, as well as going forward in 2013?
Goessling:
It's interesting you bring that up, because
Cordarrelle Patterson
's role -- or perhaps his absence -- has been a big topic of conversation this week. He got only five snaps in the Vikings' first game, and had just six as a receiver last Sunday, even after he ran the opening kickoff back 105 yards for a touchdown. He's young, and raw, but he might also be one of the most dangerous players the Vikings can put on the field, aside from
Adrian Peterson
. Coach Leslie Frazier all but called for Patterson to be on the field more during his news conference Monday. The challenge for the Vikings is to either work him into their base offense or go to enough multiple-receiver sets that they can use him, but I don't doubt we'll see him more going forward.
That could be especially important considering how good the Browns have been against the run in their first two games. They've allowed just 59.5 yards per game -- how will they fare against Peterson this weekend?
Williamson:
Well, facing Peterson is obviously the ultimate challenge, and his run blocking, including the tight ends and fullbacks, is quite good as well. But I am very impressed with the Browns' run defense -- and it starts up front. I believe that
Phil Taylor
is on the verge of stardom; his battle with
John Sullivan
, an excellent center in his own right, in the middle of the formation, will be crucial for the success of Cleveland's interior run defense. But the Browns also have very good size at outside linebacker and do a nice job containing the outside run; their second- and third-level defenders get to the ball carrier well.
I mentioned before that the right guard position has been a nightmare, but the Browns' excellent set of offensive tackles,
Joe Thomas
and
Mitchell Schwartz
, also has struggled much more than would be expected against two formidable defenses. As you know,
Jared Allen
is still playing at a very high level. But as some might not know,
Brian Robison
is also excelling this year and
Everson Griffen
is a highly athletic and intriguing end, too. Could Minnesota's defensive ends rule the day?
Goessling:
They certainly could. They struggled in Week 1 in Detroit, as
Matthew Stafford
found
Reggie Bush
on a number of early screen passes before the rush could get home. But the Vikings put consistent pressure on
Jay Cutler
last week, and Allen caused a Cutler fumble that Robison returned 61 yards for a touchdown. The Vikings also have not played at home yet, which means they will have the advantage of the crowd disrupting the opposing offense's snap count for the first time this year. Minnesota has enough issues on the back end of its defense that it needs a strong pass rush to cover up for some of those deficiencies, and if the defensive line can get to Hoyer, the Vikings should be able to slow the Browns down and win the game.
To close this up, what's the biggest thing you think the Browns need to do to win the game? What kind of a shot will they have without Weeden and Richardson?
Williamson:
I really don't like Cleveland's chances at all, but its defense could keep this game close and limit Peterson's production. Of course, Ponder could have a very poor game, or the Browns could score on defense or special teams. But I can't see their offense this week moving the football with any sort of consistency. As Cleveland's front office is doing, it is time to start looking toward next year.
September, 18, 2013
Sep 18
7:30
PM ET
EDEN PRAIRIE, Minn. -- The
Minnesota Vikings
will play the
Cleveland Browns
at Mall of America Field on Sunday, and they spent the first two days of the week preparing for a team that likely would start
Jason Campbell
at quarterback and
Trent Richardson
at running back.
The team they face in actuality will use neither player.
The Browns announced Wednesday morning they would start third-stringer
Brian Hoyer
, not Campbell, in place of the injured
Brandon Weeden
, a move that had a grateful Leslie Frazier chuckling about how he'd rather find out now than at game time on Sunday. Then, on Wednesday evening, Cleveland traded Richardson to Indianapolis for a first-round pick, as ESPN NFL Insider Adam Schefter reported.
Not only does the latter move take the Browns' top playmaker off the field on Sunday, it adds another interesting wrinkle to one of Vikings general manager Rick Spielman's biggest trades.
It was Cleveland, you'll recall, that sent three additional picks to the Vikings last year to swap first-rounders with Minnesota, moving up one spot from No. 4 to No. 3 overall. The Browns drafted Richardson, and the Vikings got the player they were targeting anyway (USC offensive tackle
Matt Kalil
). The trade gave the Vikings an extra fourth-rounder, making it easier for them to part with their own fourth-round selection to move back into the first round and take Notre Dame safety
Harrison Smith
. Kalil reached the Pro Bowl last year, and Smith looks like he could be headed in that direction.
The Browns, meanwhile, gave up three picks for a running back they decided to deal 17 games into his career. Richardson scored 11 touchdowns as a rookie, and it's not the Vikings' business what the Browns did with him after they took him, but the Browns-Colts trade does speak again to Spielman's ability to create a market for his assets. The Browns likely believed they had to move up to No. 3 to take Richardson, and in return the Vikings got the flexibility to deal back into the first round and pick up a starting safety in addition to the tackle they wanted. It's similar to what Spielman did in March, landing three picks for
Percy Harvin
(a receiver it seemed obvious the Vikings would trade at some point) and moving back into the first round to draft
Cordarrelle Patterson
after taking
Sharrif Floyd
and
Xavier Rhodes
with Minnesota's other two first-rounders.
With Harvin out for at least the first six weeks of the season, and Richardson gone to Indianapolis, the ledger looks like this: From the Cleveland trade, the Vikings got picks to take receiver
Jarius Wright
and safety
Robert Blanton
(who are still on the team), and had an extra fourth-rounder to help them move up and get Smith. From the Seattle trade, they got Rhodes and offensive guard Travis Bond (who is currently on their practice squad). In exchange for all that, the Vikings gave up Harvin and the rights to two picks that became Ravens linebacker
Courtney Upshaw
and offensive guard
Gino Gradkowski
.
Again, Spielman couldn't control anything that happened to the pieces he parted with in trades, but the fragility of the NFL so often rewards teams that are more willing to assemble pieces than pay dearly for one player. The Richardson trade was a reminder of that, and the fact the Browns won't have him on Sunday probably shouldn't be the only reason for Spielman to smile today.
April, 26, 2012
4/26/12
7:20
PM ET
EDEN PRAIRIE, Minn. -- We'll start our draft coverage by giving credit to
Minnesota Vikings
general manager "Crazy" Rick Spielman, who succeeded in creating a trade market for his No. 3 overall pick.
ESPN's Adam Schefter
has reported
that the Vikings will move back one spot in the first round after making a trade with the
Cleveland Browns
. The Vikings got three extra picks -- in the fourth, fifth and seventh rounds -- to make room for a team to draft a player the Vikings had no plans to select. In other words, Spielman just got something for nothing.
The Browns are expected to draft Alabama running back
Trent Richardson
. That means the Vikings will still have the opportunity to draft all three players they have targeted -- USC left tackle
Matt Kalil
, LSU cornerback
Morris Claiborne
and Oklahoma State receiver
Justin Blackmon
-- at No. 4, with additional trade compensation as well.
Having publicly ruled out Richardson as an option for the Vikings, Spielman must have convinced the Browns that they were in talks with another team that also had interest in him. I'm going to guess we'll never know who that team was (or wasn't). That's how these things go.
Back in a bit.
April, 26, 2012
4/26/12
1:30
PM ET
There are some genuine reasons to believe the
Minnesota Vikings
would seriously consider selecting LSU cornerback
Morris Claiborne
. The most obvious was the Vikings' historically poor pass defense last season, along with the national consensus that Claiborne is the best cornerback in the draft.
But there are just as many reasons to be suspicious of the sudden league-wide uncertainty about the Vikings' intent, which for months we assumed to be either a trade or the selection of USC left tackle
Matt Kalil
. It coincides with the very public efforts of
Vikings general manager (Crazy) Rick Spielman
to create that very impression. Based on individual team needs, it's more likely that a team in the top 5-8 would trade up for Claiborne, or possibly Oklahoma receiver
Justin Blackmon
or Alabama running back
Trent Richardson
, than Kalil.
[+] Enlarge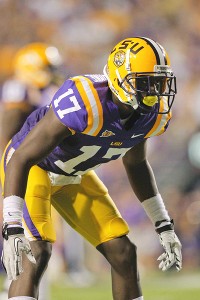 Derick E. Hingle/US PresswireLSU cornerback Morris Claiborne had 11 interceptions over his final two college seasons.
From a football perspective, some people are shaking their heads and wondering why a team whose base defense includes more zone coverage than anything else would spend the No. 3 overall pick on a cornerback. As conventional wisdom goes, individual coverage skills aren't as valuable when not employed in man/press coverage. Thus, you can get cornerbacks to play in a Cover-2 scheme lower in the draft than if you plan to use them in man coverage.
The Vikings have based their scheme on the Tampa-2 framework since 2006, when Mike Tomlin took over as defensive coordinator. Current coach Leslie Frazier, who like Tomlin is a protégé of modern-day Tampa-2 linchpin Tony Dungy, maintained continuity when he replaced Tomlin in 2007.
The goal of the scheme is to find elite pass-rushers to create havoc among the front four and allow the remaining seven players to flood the coverage zones. As a result, teams that use the Tampa-2 framework don't often pursue cornerbacks in the first round.
The
Indianapolis Colts
selected cornerbacks
Marlin Jackson
and
Kelvin Hayden
with their first two picks of the 2005 draft when Dungy was the coach there. In 2008, the
Tampa Bay Buccaneers
selected cornerback
Aqib Talib
and the
Buffalo Bills
selected
Leodis McKelvin
.
Those picks were the exceptions to the rule, and none of the cornerbacks were taken in the top 10.
Spielman said this week that the Vikings aren't a pure zone team, which is true. No NFL team could get away with a single form of coverage for 16 games. ESPN Stats & Information doesn't track coverages, and it is almost impossible to do accurately without help from someone who knew the exact play call on every play.
But considering Frazier's roots with Dungy, and a similar history of new defensive coordinator Alan Williams, it would be fair to say the Vikings' coaching staff has a strong background in zone coverage. That doesn't mean the Vikings won't, or shouldn't, draft Claiborne. But it means that one way or the other, changes would be afoot if they do.
If you have a player as talented as Claiborne in coverage, it makes sense to use more man/press coverage than the Vikings have used in the past. And if that's an issue for the coaching staff, you wonder if drafting Claiborne would further shake the ground under Frazier.
We've already noted the unique position
Frazier finds himself in entering a rebuilding process in his second full year as head coach. Would a commitment to an elite cover corner mean that Spielman isn't expecting his Tampa-2 coach to be around much longer? It's a question worth asking. We'll know if it's even relevant in a few hours. Stay tuned.
April, 25, 2012
4/25/12
9:41
AM ET
The freight train of national discussion continues to move away from USC tackle
Matt Kalil
. The latest episode: ESPN draft analyst Todd McShay has changed his pick for the
Minnesota Vikings
at No. 3 in his soon-to-be released mock draft.
Speaking Wednesday morning on
ESPN Radio's "Mike and Mike in the Morning
,"

McShay said he now thinks it's more likely the Vikings will draft LSU cornerback
Morris Claiborne
if they don't trade down in the first round.
"Nobody knows for sure except the Minnesota Vikings right now," McShay said. "I'm not getting great information but I do get the sense from the people I'm talking to that they're leaning toward going in a different direction than Kalil."
McShay added: "You can't go wrong taking Morris Claiborne."
Agreed. But in the same breath, McShay also noted that if the Vikings truly favor Claiborne at No. 3 and the
Cleveland Browns
prefer Alabama running back
Trent Richardson
at No. 4, then the
Tampa Bay Buccaneers
will miss out on their top two priorities in the draft.
Which, among other things, illustrates why it would be in the Vikings' favor to portray more interest in Claiborne than Kalil. Ostensibly, that could motivate the Bucs to offer a trade that would ensure they could draft Claiborne or Richardson at No. 3. The Vikings could then draft Kalil at the Bucs' No. 5 spot and also add an extra pick.
Earlier:
Is Vikings general manager Rick Spielman
crazy smart or just crazy
?
March, 20, 2012
3/20/12
10:45
AM ET
Bob Sansevere's column
provides us with another instance of
Minnesota Vikings
general manager Rick Spielman going out of his way to suggest that he is far from certain to draft USC tackle
Matt Kalil
with the No. 3 overall pick in the April draft.
[+] Enlarge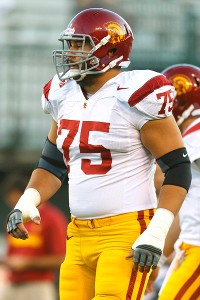 Jason O. Watson/US PresswireMatt Kalil is one player the Vikings will consider with their first-round draft pick.
Last month, Spielman on multiple occasions noted how important it is
to surround a young quarterback with playmakers
, and fill in at left tackle as needed. More recently, Spielman asked Sansevere to name the starting left tackles of the past two Super Bowl champions and apparently talked up LSU cornerback
Morris Claiborne
.
I judged the first instance to be blatant draft posturing, and the second might well fall into the same category. But let's take a closer look and make sure we all understand why Kalil is the presumed pick at No. 3 rather than Claiborne, Oklahoma State receiver
Justin Blackmon
or even Alabama running back
Trent Richardson
.
First off, it's true that the Giants won Super Bowl XLVI with a replacement left tackle,
David Diehl
, who took over during the season for an injured
Will Beatty
, a second-round draft pick in 2009. The Packers won Super Bowl XLV with left tackle
Chad Clifton
, a second-round draft pick in 2000 and two-time Pro Bowler. For good measure, we should note that the
New England Patriots
and
Pittsburgh Steelers
advanced to the title games with
Matt Light
and
Jonathan Scott
starting at left tackle, respectively. Light was a second-round pick in 2001 and is a four-time Pro Bowl player; Scott was a fifth-round pick of the
Detroit Lions
in 2006.
That cross section of history allows Spielman to make an obvious point: There is no step-by-step manual for building a championship team, other than having a good quarterback, and a contending team does not necessarily need an elite left tackle. But to me, the argument for Kalil is not so much that he plays left tackle but that he is widely assessed -- at least by media draft analysts -- to be the third-best player in the draft.
The Vikings shouldn't target Kalil just because he is a left tackle, nor should they zero in on Claiborne because they are thin at cornerback or Blackmon because they want a downfield threat for quarterback
Christian Ponder
. The only relevant question is who the best player is.
So we will give Spielman some leeway here. I still think his public statements lend themselves more to posturing than honest assessments. But if he and his scouts truly judge Claiborne or Blackmon or even Richardson as a better prospect than Kalil, then by all means they should draft that player and put up that evaluation to stand the test of history.
If that's the case, however, you can only hope that Spielman will have made a position-neutral decision. At such a high spot in the draft, it seems like splitting hairs to debate which position is more valuable. The only choice at No. 3 is to take the best player. The media consensus suggests it's Kalil, but the media has been wrong before.
February, 22, 2012
2/22/12
3:00
PM ET
The NFL's annual scouting combine opens Wednesday and will conclude next Tuesday. I wouldn't miss it for the world. Media interviews begin Thursday morning and continue through Sunday, and I'll be on hand for an access schedule that should net us time with the general manager and/or coach of every NFC North team over the next few days.
Although we don't have access to most of the workouts themselves, dozens of players should be available for interviews. I'll feed the blog with zeal, of course, but to help sharpen our focus, let's consider a few important NFC North storylines to follow. If you have other ideas,
hit the mailbag
.
[+] Enlarge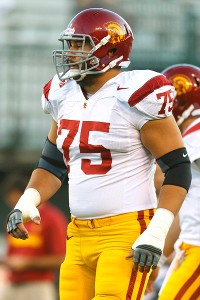 Jason O. Watson/US PresswireWill USC left tackle Matt Kalil be available for Minnesota to draft with the No. 3 pick in April?
The value of the No. 3 position:
Historically, the combine has helped solidify the top of the draft. We don't always leave Indianapolis knowing the order of the top few picks, but we generally know which players will comprise that pool -- knowledge that should help the
Minnesota Vikings
determine who they'll have to choose from at No. 3 and how intense trade interest will be.
We should know, for example, if USC's
Matt Kalil
is unquestionably the draft's top left tackle, or if there are any lingering doubts about his status. Is Kalil good enough that the
St. Louis Rams
will consider him at No. 2 overall? We'll get a better idea of interest in Baylor quarterback
Robert Griffin III
. Would the Rams trade out of No. 2 with a Griffin-infatuated team?
Finally, what other options would the Vikings have if they neither draft Kalil nor trade out of the spot? Is LSU cornerback
Morris Claiborne
a top-3 pick? What about Oklahoma State receiver
Justin Blackmon
or Alabama running back
Trent Richardson
?
That Mega-contract:
The
Detroit Lions
' tight
salary cap situation
has been one of our top offseason storylines, and presumed relief would begin with extending the contract of receiver
Calvin Johnson
. As it stands, Johnson is scheduled to have
a cap number of around $22 million
in 2012 and, if unaddressed, would be eligible for a franchise tag of around $26 million in 2013. The proximity of agents and team executives at the combine often fosters productive negotiations, and it's safe to assume that Lions president Tom Lewand will have some talks with Johnson's agent, Bus Cook.
The Lions aren't yet in crunch time with Johnson, but reducing his cap number by March 5 would make it easier for them to use the franchise tag on defensive end
Cliff Avril
, as they reportedly plan to do. Johnson has most of the leverage in this situation and figures to emerge, eventually, as the NFL's highest-paid receiver and possibly the best-paid non-quarterback in the league.
Second-tier pass rushers:
The
Green Bay Packers
certainly will spend time negotiating with their free agents, from tight end
Jermichael Finley
to center
Scott Wells
to special teams ace
Jarrett Bush
. But it's also safe to assume they'll focus on prioritizing the pool of pass rushers who could be available to them at the bottom of the first round, or possibly in a trade to move up in the second round.
Elite pass rushers usually don't get past the top half of the first round, putting the Packers in a race to find the next
Brooks Reed
, the
Houston Texans
' second-round pick in 2011 who started 11 games and had six sacks as a rookie. Scouts Inc. currently has two defensive ends with grades that would give them value at the end of the first round: Syracuse's
Chandler Jones
and USC's
Nick Perry
.
Secondary help:
To varying degrees, all four NFC North teams could use an influx of defensive backs. Given the league-wide passing explosion in recent years, it's fair to say there are plenty of other teams on that list as well. That means searching far and wide for talent, and to that end, Scouts Inc.'s Kevin Weidl
offers a list of 12 small-school defensive backs

who should get attention.
You'll need an Insider subscription to see the entire list, but it's topped by former Florida cornerback
Janoris Jenkins
, who spent last season at North Alabama. It also includes Montana cornerback
Trumaine Johnson
and Coastal Carolina cornerback
Josh Norman
.
WR depth:
If new
Chicago Bears
general manager Phil Emery takes to heart a suggestion from his quarterback, he'll have an interesting group of big receivers to evaluate this week. "Anyone really over 6-2 at this point is going to look good,"
Jay Cutler
said this week on ESPN 1000.
It's safe to assume that Blackmon won't be available when the Bears draft at No. 19 overall. The rest of ESPN anlayst
Mel Kiper's list top five receivers

looks like this: Baylor's
Kendall Wright
, Notre Dame's
Michael Floyd
, LSU's
Rueben Randle
and South Carolina's
Alshon Jeffery
. Wright is a 5-10 speedster, so if the Bears truly focus on big receivers, our combine focus will be on Floyd (6-3), Randle (6-4) and Jeffery (6-4).
Related:
For those interested,
here is a comprehensive schedule
for the players invited to Indianapolis, beginning with medical testing for three position groups who will arrive Wednesday.
January, 21, 2012
1/21/12
12:00
PM ET
A series of unexpected events left the blog lighter than normal Friday, and that will continue through the weekend unless important news breaks. I had planned to do more with
Todd McShay's latest ranking of the the top 32 players available

in the 2012 draft, especially on the heels of Mel Kiper's first mock draft of the year, but for now I'll just leave you with McShay's top five players overall. You'll need an Insider subscription to see the whole thing.
December, 1, 2011
12/01/11
10:55
AM ET
The
Minnesota Vikings
' 2-9 record is tied for the second worst in the NFL, and
as we noted earlier this week
, they currently hold the tiebreaker over the 2-9
St. Louis Rams
and for now are positioned to be assigned the No. 2 overall pick in the 2012 draft.
It's worth noting that three teams are 3-8 and eight others are 4-7. Plenty could change in the next five weeks. Regardless, I think it's time to start familiarizing ourselves with some players the Vikings might consider at the top of the draft.
ESPN draft analyst Todd McShay has updated
his top 32 players in the draft

, including underclassmen who haven't yet had the opportunity to declare for the draft. The entire list is available to Insider subscribers, but I can bring you the top five as a way of getting an idea of the players who will receive early scrutiny in the draft season.
1. Stanford quarterback Andrew Luck
Seifert comment:
Luck seems destined to go No. 1 overall if the
Indianapolis Colts
hold that position.
2. USC offensive tackle Matt Kalil
Seifert comment:
The early consensus is that Kalil, 6-foot-7 and 295 pounds, will be ready to start at left tackle on the first day of training camp.
3. LSU cornerback Morris Claiborne
Seifert comment:
Cornerback might be the Vikings' top need. Claiborne is big (6-foot-1) and is said to have elite coverage skills.
4. Alabama running back Trent Richardson
Seifert comment:
Running back might be the only position the Vikings absolutely don't need to address this offseason.
5. USC quarterback Matt Barkley
Seifert comment:
If Barkley, Oklahoma's Landry Jones or Baylor's Robert Griffin III prove to be a legitimate top-five talent, the Vikings could have an opportunity to trade down and accumulate a pile of extra draft picks.
ESPN's Mel Kiper Jr. has been updating
his Big Board

throughout the fall, and for the most part it matches McShay's latest offering. Kiper does rank Oklahoma State receiver Justin Blackmon in his top five instead of Barkley. Stay tuned. I'm guessing we'll hit this topic once or twice more before April 26, 2012.