August, 25, 2014
Aug 25
4:45
PM ET
EDEN PRAIRIE, Minn. -- Three months before the
Minnesota Vikings
drafted
Teddy Bridgewater
, they had constructed a climate in which Bridgewater -- or any young quarterback -- should be able to develop without the pressure of immediate expectations.
The Vikings committed more cash to veteran
Matt Cassel
when he opted out of his 2014 deal, giving him a two-year, $10 million contract that effectively set him up as the bridge to the team's next young QB. They had hired offensive coordinator Norv Turner, who had Troy Aikman,
Drew Brees
and
Philip Rivers
in the nascent stages of their careers. They even had
Christian Ponder
, the former first-round pick who could serve -- at least for a year -- as an emergency option in case Cassel got injured and the Vikings weren't ready to put a rookie on the field.
[+] Enlarge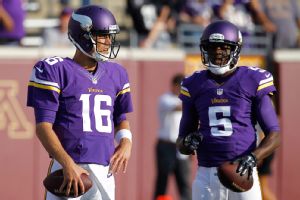 AP Photo/Ann HeisenfeltBy starting Matt Cassel over Teddy Bridgewater, Vikings coach Mike Zimmer has given his rookie more time to develop.
All of the levers were in place to ensure a healthy environment for Bridgewater to develop. The only question: Would the Vikings pull the right ones?
Based on how new coach Mike Zimmer and Turner handled the first three months of Bridgewater's career in Minnesota, the answer appears to be yes. Zimmer named Cassel the starting quarterback Monday for the beginning of the regular season, rewarding the veteran for playing well enough to keep the job after he'd called Cassel the team's No. 1 QB on the first day of training camp.
Zimmer said at the time the designation didn't mean anything, but in a subtle way, it did: It set up a system in which Bridgewater would have to outplay Cassel to get the job, removed whatever temptation there might have been to play the rookie right away and sent a message to an offense filled with veterans -- 29-year-old running back
Adrian Peterson
among them -- that immediate success wouldn't take a backseat to development.
"The team has a lot of confidence in him," Zimmer said of Cassel. "They feel good about his veteran leadership and presence. I had to think about the whole football team; it wasn't just about the quarterbacks. I've said this before: It's not always the best player at that position -- and I'm not saying Matt's not -- but any position, it's how everything works together and at this stage in where we are at right now, I feel like that's the best thing to do."
How this coaching staff handles Bridgewater will play a major role in Zimmer's longevity with the Vikings probably more than how the team fares this season. The decision Zimmer announced on Monday -- and the one his actions had been pointing toward for weeks -- worked on two fronts: It curried favor with players weary of quarterback instability after last season, and it provided more time for Bridgewater to learn in a forgiving environment.
Cassel will be asked to solve a tough
St. Louis Rams
defense on the road in Week 1, and could possibly have to trade scoring drives with
Tom Brady
and Brees the next two weeks. That's a daunting task for a rookie, and by assigning it to Cassel, the Vikings can retain some control over the setting in which Bridgewater eventually debuts.
They've been in a position to do that all along, with a sturdy (but not irreplaceable) veteran and an offensive coordinator who has done this before. All the Vikings needed was a rookie coach who would be pragmatic enough to manage it correctly, and it appears that's what Zimmer has done.
December, 11, 2013
12/11/13
12:15
PM ET
GREEN BAY, Wis. – If anyone should be wary of what a backup quarterback can do in a game between the
Green Bay Packers
and
Dallas Cowboys
, it's Jason Garrett.

Garrett
The current Cowboys coach has a special distinction in the history between these two teams. On Thanksgiving 1994, Garrett, then the Cowboys' third-string quarterback, was forced into action because of injuries to starter Troy Aikman and top backup Rodney Peete, and led the Cowboys to a 42-31 win over Brett Favre and the Packers at the old Texas Stadium.
"Well that was a long time ago, I appreciate you remembering," Garrett said during a conference call on Wednesday with reporters at Lambeau Field. "We had some great games against the Packers in the '90s. On that particular Thanksgiving, I got a chance to play and really all I was trying to do was function as one-eleventh of the offense and just kind of do my job as best I could. We had some really good players around me and made sure I gave them a chance to do what they do best. It was a great team win for us, a great memory, but, again, it's getting to be a long time ago."
Nearly 20 years later, Garrett might have to prepare his team to do what the Packers did back in 1994 -- deal with a backup quarterback.
With
Aaron Rodgers
' status for Sunday's game in Dallas
still in doubt because of his Nov. 4 collarbone injury
, the Packers may have to start
Matt Flynn
for a third straight game. While Garrett was the third Cowboys quarterback in 1994, Flynn is the Packers' fourth. But he's the only one to lead them to a win – Sunday's 22-21 victory over the
Atlanta Falcons
– since Rodgers got hurt. Neither
Seneca Wallace
nor
Scott Tolzien
could do that.
A week ago, Falcons coach Mike Smith said he was preparing as if Rodgers was going to play. Garrett said his approach is "fairly similar."
"One of the things that we try to do is we try to see if there's a difference between how they play with the starting quarterback playing or the backup quarterback playing," Garrett said. "It doesn't seem to be a significant difference in scheme and in plays that like they to run. So you start there, but you certainly start your preparation with Aaron and then in this case Matt Flynn, who has been playing the last couple of weeks. We certainly study him and understand what he wants to do and try our best to get ready for both as we go."
February, 16, 2012
2/16/12
3:20
PM ET
EDEN PRAIRIE, Minn. -- There aren't many people around the NFL -- coaches, executives or even media analysts -- who think the
Minnesota Vikings
will select a quarterback with the No. 3 overall pick of the April draft. But to cover his bases, if nothing else, general manager Rick Spielman said Thursday that the Vikings will "be doing the full monty" on Stanford's
Andrew Luck
and Baylor's
Robert Griffin III
during next week's scouting combine, along with predraft workouts and pro days.

Griffin
Luck
It's exceedingly rare for NFL teams to use first-round draft picks on a quarterback in consecutive drafts, and the Vikings selected
Christian Ponder
last season with the No. 12 overall pick. The most recent example in 1989, when the
Dallas Cowboys
used the No. 1 overall pick on
Troy Aikman
and then committed another first-round pick to
Steve Walsh
in the supplemental draft.
Although quarterback is the most important position in the game, the Vikings have greater needs elsewhere. Luck is widely expected to be drafted No. 1 overall by the
Indianapolis Colts
, and presumably, the only way Griffin could work his way into their picture is if Spielman and his scouting staff are blown away by his predraft work.
To that end, Spielman said the Vikings are "very confident in what Christian Ponder brings" but added: "If one of those quarterbacks is too good to pass up, you have to weigh that too. … . You never know what happens on draft day, and I would rather be over-prepared than under-prepared."
It wouldn't be surprising, however, if the Vikings sign a veteran quarterback to back up Ponder when the free-agent market opens.
"We have some veterans that we have our eye on that can come in and play that mentor role but could also come in and play if they had to play as well," Spielman said. One option for that role is
Sage Rosenfels
, whom Spielman signed late last season and is a pending free agent.
October, 27, 2011
10/27/11
4:00
PM ET
Some officiating calls are as direct and objective as they can be. A receiver steps out of bounds. A defender grabs a facemask. A running back's knee touches the ground.
Many, however, are subjective and require officials to match the action with a set of rules that doesn't address every specific instance. Officials must make a real-time decision about what they saw and how it applies to the general standards of the NFL, usually without the benefit of a possible replay challenge.
[+] Enlarge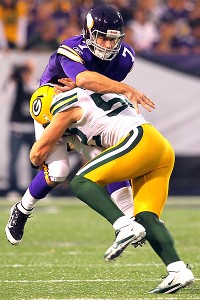 Adam Bettcher /Getty ImagesClay Matthews was penalized for this hit on Christian Ponder.
Roughing the passer falls squarely into the latter category, especially as the league has attempted deep regulation of the contact quarterbacks can receive. Every week of the NFL season includes some debatable roughing calls, or non-calls, and we had at least two in Week 7 here in the NFC North.
The first came in the second quarter of the
Detroit Lions
' 23-16 loss to the
Atlanta Falcons
. Referee Bill Leavy called Lions defensive end
Kyle Vanden Bosch
for a helmet-to-helmet hit on Falcons quarterback
Matt Ryan
, resulting in a first down after an incomplete third-down pass.
Vanden Bosch vehemently protested, pointing at the replay as it was shown at Ford Field. A review of the play shows that Vanden Bosch might not have initiated much helmet-to-helmet contact. But he at least inadvertently hit Ryan's neck/chest area with the top of his helmet and facemask, which technically violates NFL rules.
Here is the applicable language straight out of the NFL's 2011 rule book: "A defensive player must not use his helmet against a passer who is in a defenseless posture for example, (a) forcibly hitting the passer's head or neck area with the helmet or facemask, regardless of whether the defensive player also uses his arms to tackle the passer by encircling or grasping him, or (b) lowering the head and making forcible contact with the top/crown or forehead/"hairline" parts of the helmet against any part of the passer's body."
In this case, it was up to Leavy to determine whether Vanden Bosch's hit qualified as "forcible contact." Given that both Vanden Bosch and Ryan fell to the ground as a result, I can see why Leavy decided it was.
The second play came in the fourth quarter of Sunday's game at the Metrodome. Referee Peter Morelli called
Green Bay Packers
linebacker
Clay Matthews
for roughing against
Minnesota Vikings
quarterback
Christian Ponder
. A second look at the play, as well as the photograph accompanying this post, shows Matthews in a textbook tackling position with his helmet clearly to the side of Ponder's body just after the release.
Part of that form was to grab the back of Ponder's legs. In the course of leaning forward to complete the throw, Ponder left his feet. The force of contact with Matthews drove Ponder onto his back.
It might have looked like a standard football play to you and I and even Hall of Fame quarterback
Troy Aikman
, who was broadcasting the game and objected to the call. But check out how the NFL rule book addresses such a situation:
"When tackling a passer who is in a defenseless posture (e.g., during or just after throwing a pass), a defensive player must not unnecessarily or violently throw him down and land on top of him with all or most of the defender's weight. Instead, the defensive player must strive to wrap up or cradle the passer with the defensive player's arms."
Remember: This part of rule enforcement is subjective. It was up to Morelli to decide whether Matthews "unnecessarily" or "violently" threw down Ponder and/or landed on top of him with most of his weight. Morelli also needed to judge if Matthews made an effort to "wrap up or cradle" Ponder to break his fall, as anti-football as that might seem.
Given the NFL's emphasis on quarterback safety, it's not surprising that Morelli leaned toward Ponder on that play. I don't think Matthews intended to drive Ponder to the ground, but that isn't the question. Did he drive Ponder to the ground? Morelli's judgment was that he did.
On to our Penalty Tracker:
October, 27, 2010
10/27/10
10:00
AM ET
»
NFC Stock Watch
:
East
|
West
|
North
|
South
»
AFC
:
East
|
West
|
North
|
South
FALLING
1. Qualifications for linebacker in Detroit:
The Lions signed free agent
Bobby Carpenter
during their bye last week. This week, it's possible he'll be in their starting lineup because of
Zack Follett
's neck injury. Much is left to be decided this week during practice, and Carpenter has more pedigree than the average player you sign off the street in midseason. But the bottom line is he flamed out as a 2006 first-round draft choice for the
Dallas Cowboys
and made it through only five games this season with the
Miami Dolphins
before being released. When a player walks in your door one week and has a chance to start the next, you know your depth at the position is far from adequate.
2. Tolerance for interceptions in Minnesota:
Last summer, the Vikings signed the quarterback who has thrown more interceptions than any other in NFL history. They were the beneficiaries of a one-year aberration in 2009;
Brett Favre
threw seven in what was the best season of his career. But what they've gotten this year -- 10 in six games -- is closer to Favre's career-long habit. The big problem for 2010 is not the interceptions, but the fact that Favre has made less big plays to even out the mistakes. Still, no one in the Vikings organization, from coach Brad Childress on down, should be complaining at this point. If you're not going to tolerate the occasional (or even somewhat frequent) head-scratching throw, then Favre wasn't the right quarterback to bring in.
3. Numbers on the Detroit Lions' injury list:
The Lions emerge from their bye with the likelihood that two key players who have missed most of the season will return. Quarterback
Matthew Stafford
(shoulder) and linebacker
DeAndre Levy
(ankle) are on pace to play Sunday against the
Washington Redskins
. Hopefully, we'll get a chance to see Stafford play the Lions' final 10 games and observe the progress for ourselves that the team has suggested he made in the offseason. Levy will help settle down a position that has been in disarray, but it's critical for the future of the franchise to get a better handle on where Stafford is and how far he might be able to take it.
RISING
1. Tramon Williams, Green Bay Packers cornerback:
How confident are the Packers in Williams' ability to hold down this position? We got two big clues last week. First, the Packers didn't seem compelled to rush back former starter
Al Harris
from the physically unable to perform (PUP) list for Sunday's game against the Vikings. Second, it was Williams -- and not All-Pro
Charles Woodson
-- who was matched up most frequently against Vikings receiver
Randy Moss
. Williams helped hold Moss to three catches for 30 yards, and overall has been the best cover corner on the Packers' roster this season. That's right. From a coverage standpoint, at least, Williams has surpassed Woodson.
[+] Enlarge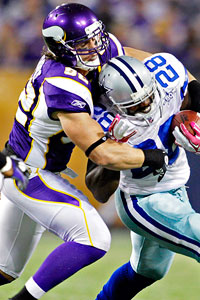 Bruce Kluckhohn/US PresswireChad Greenway has spent more time this season in opposing teams' offensive backfields.
2. Chad Greenway, Minnesota Vikings linebacker:
Greenway has always run up high tackle totals, but I think close observers would note he has taken his game to a higher level in 2010. In the past, I've noted that Greenway's tackle totals didn't often include many of the game-changing plays that big-time linebackers make. But this season, Greenway has made more plays behind and close to the line of scrimmage than I've ever seen from him. He already has seven tackles for a loss, one behind his career high for an entire season. Three of them came Sunday night against the Packers, and on a fourth play he stopped
Brandon Jackson
for a 1-yard gain and forced a fumble. Greenway leads the Vikings with 65 tackles through six games and might be on track for Pro Bowl recognition.
3. Interception totals in Chicago:
Quarterback
Jay Cutler
held himself to three over the Bears' first six games, causing some of us to wonder whether he had put behind his irrational gun-slinging habits. Oops. Four second-half interceptions Sunday against the Washington Redskins, all to cornerback
DeAngelo Hall
, reaffirmed that Cutler's self-destruction gene is still active and operating. The quarterback isn't always fully responsible for every interception, and FOX analyst Troy Aikman blamed Bears receivers for two of them during the live broadcast. But this was Cutler's third four-interception start in his first 22 games with the Bears. Sacks are one thing. As with Favre, we're willing to tolerate some interceptions if they're balanced with a requisite number of big plays. But Cutler now has 33 interceptions during his short Bears career. It will be impossible to consider him a long-term franchise quarterback at that pace.
November, 2, 2009
11/02/09
12:00
PM ET
Posted by ESPN.com's Kevin Seifert
After Green Bay's
38-26 loss to Minnesota
, here are
three (mostly) indisputable facts I feel relatively sure about:

I've always liked Packers coach Mike McCarthy from a personal standpoint, but I have to join the chorus in at least some of the criticism directed his way. The Packers have some consistent problems that won't go away, and thus far McCarthy and his staff have had no answers. No matter what has caused an NFL-high 32 sacks, it's a sign of questionable coaching when they continue to appear with such frequency. Sacks are a critical measure of offensive efficiency, and even if it takes away from another area, the Packers must take more dramatic steps to shore it up. Under McCarthy, the Packers continue to commit penalties that indicate a lack of discipline. Johnny Jolly's head-butt of Minnesota tailback Chester Taylor is a prime example. Finally, and this is less urgent, McCarthy would probably do well to examine the frequency of successful 50-plus-yard field goals relative to the field position damage they create when they go unconverted.
FOX analyst Troy Aikman was critical of quarterback Aaron Rodgers for not stepping up in the pocket to avoid pressure and sacks. In this case, I agree Rodgers held the ball inexplicably long at times, especially in the first half, and seemed more willing to take a sack than throw the ball away. At the end of the day, Rodgers finished with a 108.5 passer rating. That's an elite number, but it sure didn't feel like an elite outing. I thought Rodgers' first-half performance was pretty rough, and certainly not what a young and hyped-up team needed to start the game.
You're starting to see the frustration caused when 4-3 players are transitioned into a 3-4 team. Cornerback Charles Woodson and defensive end Cullen Jenkins have both spoken out, putting Aaron Kampman's offseason silence into a new light. (Maybe Kampman saw what was coming.) The Packers have some good defensive players, and the 3-4 scheme can be successful. So we're back to where it started: It's incumbent on defensive coordinator Dom Capers to find a way to make it all work. No one thought the Packers would run a pure 3-4 this season, given their personnel. But Capers has yet to find the formula that mixes his ideas with his players' strengths.
And here is
one question I'm still asking:
At halftime Sunday, McCarthy told his team that the turning point of its season was coming in the second half. He was referring to a comeback victory that never happened, raising this question: Where do the Packers go from here? Despite the problems that surfaced in both games against Minnesota, Green Bay is still 4-3 and can put itself into the wild-card chase with an even second-half performance. Will that happen? Or will this game turn the Packers in the other direction?
April, 11, 2009
4/11/09
12:00
PM ET
Posted by ESPN.com's Kevin Seifert
Let's wrap up the news cycle with some weekend mail. We'll continue our new approach: Less questions = Better (or at least more long-winded) answers.
Joe of Chicago writes: This whole argument about Cutler's record is ridiculous. What was Manning's record after 37 games? (Either one.) Aikman, Bradshaw, Montana?
Kevin Seifert: Cutler's 17-20 record during his first three seasons in Denver has definitely drawn some scrutiny. I haven't put a ton of emphasis on it, most because of Denver's historically bad defense last year. But it turns out that all but one of the quarterbacks you mentioned had better 37-game records than Cutler.
Here's how it broke down: (Feel free to check my work using pro-football-reference.com.)
Terry Bradshaw: 21-16
Joe Montana: 21-16
Peyton Manning: 19-18
Eli Manning: 19-18
Troy Aikman: 13-24
Although the quarterback is the most important player on the field, ultimately his record is impacted heavily by the team around him. Aikman lost 18 of his first 21 starts on a rebuilding Cowboys team. In 2008, Cutler played with one of the worst defenses in the past decade, as determined by Football Outsiders.
But facts are facts. Cutler's first 37 games haven't gone quite as well as some of the Hall of Famers you named.
---
Renzo of Dinkytown writes: I've been wondering about this for a while. Does it seem like there is a substantial communication problem between Brad Childress and his players? Adrian Peterson says he wants to go to 230 pounds. Childress responds, Did he say that? I don't think he said that. But he shouldn't do it, and I don't have a problem telling him that. Meanwhile Rick Spielman OKs the weight gain, and Peterson I'm sure is left shrugging his shoulders. Similarly, there were reports that the Vikings plan to work out Ryan Cook at center, but Cook says he has heard nothing of the sort. There seemed to be some kind of similar situation with Matt Birk, where the coaches were never quite clear whether or not they wanted to keep him. Is this normal for a head coach/ franchise?
Kevin Seifert: At the top, I can tell you I was there when Spielman commented on the situation. He definitely chose his words carefully and ultimately deferred to Childress. But I never heard him say it was OK. From body language, at least, I got the impression Spielman was pretty dubious about it but didn't want to speak out of turn.
Many coaches play mind games and/or communicate to their players through the media, but I don't think Childress is one of them. I know he reads everything written about the Vikings, so I'm sure he knew Peterson had been quoted saying he wanted to gain 12 pounds this offseason. My educated guess is that Peterson never spoke to Childress or the Vikings' strength staff about it. If anything, this sounds like a player thinking out loud.
NFL teams give each player a weight guideline, so it's pretty likely that there would be a conversation about such a significant weight gain. Is the onus on Peterson to talk to Childress about it? Or should Childress have sought out Peterson as soon as he read the quotes? Probably the former more than the latter, but either side could have avoided this communications lapse.
In general, I can't tell you how many NFL players have complained about being in a communications blackout. Many players feel in the dark. They don't want to ask how they're doing and coaches don't always confront them. That's probably no different from many workplaces. As for Childress specifically, some situations during his career could have been avoided with better communication. Most of them occurred during his first season. But I wouldn't say his communication with players is substantially worse than other coaches I've covered.
---
Matt of Frederick, Md., writes: You mentioned in your previous article about passing in the draft that you feel rookie salaries are out of control and probably bad for the league. I wholeheartedly agree, and wonder how you see the possibility of an uncapped year playing into rookie contracts this year. I don't know if I fully understand the ramifications of it. Would players/agents want longer contracts or possibly shorter ones so they might be able to go find one more lucrative in the uncapped year? I only ask because I would expect it to play into contract negotiations, not because I actually foresee an uncapped year
Kevin Seifert writes: Really good question, Matt. There is definitely a general feeling among NFL people that the potential for an uncapped year is going to cause some complications in negotiating rookie contracts. Some teams already were forced to address the issues this offseason when they signed big-money free agents.
Agents always like shorter contracts, even if there is no threat of an uncapped year. The closer a player is to expiration of his deal, the more leverage he has. But keep in mind one change if the uncapped year occurs: Players will need six years of experience, instead of four, to qualify for unrestricted free agency. So there is no new incentive that I can think of for the 2009 rookie class to seek contracts shorter than normal.
As for the impact an uncapped year might have, I refer you to the blog of an anonymous but very astute NFL observer who refers to himself as AdamJT13. (I've linked previously to his analysis of compensatory draft picks.) The main point is that it will be harder for teams to achieve the typical goal of lowering a salary cap figure in the first year of a contract. I won't attempt to explain the minute details, but if you're curious, be sure to check the blog entry.
---
Brian from East Lansing, Mich., writes: I am a very passionate Lions fan and I thoroughly understand the need for a franchise quarterback. Maybe Matthew Stafford will be great. Maybe he will be a bust but don't we have more pressing issues? I mean Daunte Culpepper will probably do an okay job for us and Stafford won't start right away anyway. So why don't they try and coach Drew Stanton and develop him and see if he is capable? I am sure they haven't given him as good a look as they should. I might be a little biased as I am graduating from State this spring, but I think they should at least see what he can do?
Kevin Seifert: I edited down Brian's question a bit, but I'm especially interested in the Stanton angle. I chided some readers who pushed for the Lions to make Stanton their starter last season. After all, he missed most of training camp because of a thumb
injury and didn't practice at all as a rookie in 2007. On paper, he was woefully unprepared to start last season.
At the same time, I'm a little surprised at how quickly the Lions' (semi-)new regime seems to be writing him off. You figure Daunte Culpepper is going to be on the roster in some capacity, most likely as the starter, and the Lions have said they want to sign another veteran. If they draft a quarterback as well, you wonder if Stanton will even make the roster.
I don't think he should be in the mix to start, but it's a little early to cut ties entirely. After all, Stanton still hasn't gone through a full training camp in the NFL. Scott Linehan will be his third offensive coordinator in three years. And, the Lions made him a high second-round pick and guaranteed him $2.85 million in 2006. How could they already have made up their mind on him?
July, 3, 2008
7/03/08
2:21
PM ET
Posted by ESPN.com's Matt Mosley
By all accounts, pretty much everyone in the Packers organization is on vacation right now. But something tells me GM Ted Thompson and head coach Mike McCarthy have heard and discussed Wednesday's ESPN report that quarterback Brett Favre has the "itch" to play again.
As the Milwaukee Journal Sentinel reports, Favre is dismissing the report as "rumor," but his family members have been singing a different tune. His brother, Scott, told WTMJ-TV in Milwaukee that he thinks there's a "50-50" chance Favre will play next season.
Asked whether his brother would play for another team if the Packers chose to go in a different direction, Scott said, "I don't see why not. I'm sure
plenty of other teams would want him. If the Packers decide it's time
to move on, it's time for Brett to move on, if that's the case."
Meanwhile, Favre's longtime agent, Bus Cook, isn't saying anything of substance publicly. And there's really no reason to when Favre's brother and mother, Bonita, are doing all the talking. If Favre wanted all this to go away, don't you think he'd instruct family members not to pick up the phone?
In early April, the Los Angeles Times had a report that Cook had quietly inquired with teams about their interest in trading for Favre. Cook denied the report, telling the LA Times that Favre was "retired, period, point blank."
Now it's not looking so "point blank," whatever that means. The Favre camp shot down that April report, but it seems to be fueling the latest comeback story.
If Favre truly wants to return, he's about to put Thompson in the toughest spot of his career. Favre's legion of fans in Wisconsin and other outposts will accurately point out that he gives the team the best chance at a Super Bowl in 2008.
If Thompson refuses to reactivate Favre, he's risking a huge backlash. But in the Packers defense, this "will he or won't he?" has hung over the franchise for years. The team has moved forward with former first-round draft choice Aaron Rodgers and two rookie quarterbacks.
Sources with the team are telling Chris Mortensen they'd be reluctant about a return because "Brett retired for the right reasons."
That's a diplomatic way of saying "we've moved on without him."
Through comments from Cook in the past and Favre's family members Wednesday, there's still a sense that the Packers didn't do enough to talk the legendary quarterback out of retiring. I hope none of this is catching you off guard. Even as he made his tearful farewell speech, Favre didn't sound like a man who was finished.
I know that Dan Marino once told Troy Aikman to play as long as he could, and that he would regret walking away from the game early. In Aikman's case, a series of concussions didn't give him much choice. Favre, who was still in peak form last season, has received similar advice from Aikman and John Elway.
It's completely unnatural for Favre to not be preparing for training camp right now. He's going through what almost every retired athlete experiences. He doesn't want to look back the rest of his life and think he left a year or two on the table.
Forcing the Packers' hand in this situation might not be a gracious move on Favre's part, but in his mind, it might beat the alternative.