NFC North:

Trumaine Johnson
November, 27, 2013
11/27/13
3:44
PM ET
LAKE FOREST, Ill. -- The NFL fined
Chicago Bears
offensive guard
Kyle Long
$7,875 for his role in an altercation that broke out in the second quarter of the Bears' 42-21 loss to the
St. Louis Rams
last Sunday, Long confirmed on Wednesday.
K. Long
With 8:59 left in the first half, Bears quarterback
Josh McCown
threw an incomplete pass that bounced in the direction of fullback
Tony Fiammetta
and scooped up by St. Louis cornerback
Trumaine Johnson
. Because none of the officials blew a whistle, Fiammetta grabbed Johnson's facemask as the Rams' defender attempted to advance the ball up field.
Further up the field, Long went after St. Louis defensive end
William Hayes
near the Rams' sideline and had to be restrained by several players, including Long's older brother Chris, a star defensive end for the Rams who left his team's bench to try to break up the fight.
Long received a 15-yard unnecessary roughness penalty but was not ejected from the game. He did not elaborate on what sparked the incident when speaking with reporters in the postgame locker room, but did apologize via his official Twitter account (@Ky1eLong).
"I want to apologize to the fans for losing my cool today," Long tweeted on Sunday. "Not a representation of the person that I am or the Bears. Shouldn't happen."
Long, the Bears' 2013 first round draft choice, has started all 11 games this season at right guard.
April, 27, 2012
4/27/12
11:21
PM ET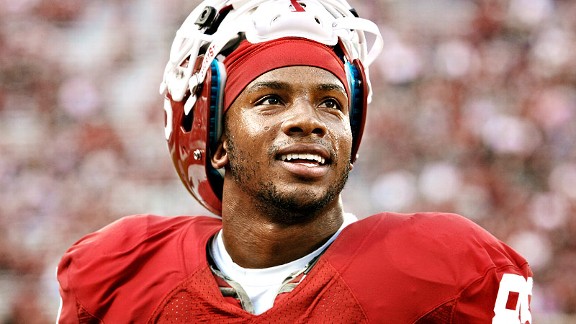 Brett Deering/Getty ImagesBy drafting Ryan Broyles Detroit stuck to their philosophy of targeting talent instead of need.
As they approached their second-round position Friday night, the
Detroit Lions
sure seemed to be sitting pretty. A team with a shortage of cornerbacks was looking at a nice group of second-tier defensive backs whose time on the market appeared up. In addition, the draft's top center was still available if the Lions were inclined to secure a future replacement for starter
Dominic Raiola
.
With their No. 54 overall pick, the Lions passed on Wisconsin center
Peter Konz
, who ultimately went one slot later to the
Atlanta Falcons
.
They turned away a trio of cornerbacks: Vanderbilt's
Casey Hayward
, Montana's
Trumaine Johnson
and Central Florida's
Josh Robinson
. Hayward went at No. 62 to the
Green Bay Packers
, Johnson at No. 65 to the
St. Louis Rams
and Robinson at No. 66 to the
Minnesota Vikings
.
The Lions? Naturally, they went for a 24-year-old slot receiver who tore his anterior cruciate ligament last November. Oklahoma's
Ryan Broyles
will join a seemingly crowded position group that also includes
Calvin Johnson
,
Nate Burleson
and 2011 second-round pick
Titus Young
.
I got a number of immediate reactions along these lines of this one from
@breynolds0324
: "Sadly, best case he is 4th receiver. That secondary made [Matt] Flynn a multimillionaire. Feel like we are a secondary away from SB."
I understand where you're coming from, and perhaps some of you were assuaged when the Lions drafted Louisiana-Lafayette cornerback
Dwight Bentley
in the third round. But I feel like many of you allowed your immediate emotions to overtake rational thought, and more importantly, what should be a clear understanding of how the Lions operate under general manager Martin Mayhew and coach Jim Schwartz.
You can object to the relative lack of attention the Lions have paid their secondary during this rebuilding process. Feel free to dispute their assessment of the talent they've passed over. But by now, like it or not, you should have come to expect that they will follow their board in as much of a vacuum as any team in the NFL. And I hope you also realize that approach has left the Lions short in the secondary but is probably the single-biggest factor in their return to contention.
"You don't solve needs by drafting poor players," Lions coach Jim Schwartz
told reporters in Detroit
. "… There's a discipline that goes into it. You have to be able to stick with that philosophy. The philosophy is: 'Talent rules the board.' … If you chase need, you're chasing a moving target. What looks like a need one day might not be a need another day. If you have the discipline to say, 'Hey look, let's get good football players that fit a philosophy that we have a plan for, that continue to be the highest rated guys on your board,' then you're going to be successful over the long run.
"Even in this organization in the past, I think everybody knows some examples where this organization reached for certain players because of needs. I don't see how that solves your need. When it's all said and done, the need is still there."
It would be reasonable to question whether, say, Hayward would have been a reach at No. 54 when the Packers selected him just a few spots later. But the more relevant question is whether the Lions would have left a more talented player on the board. And in the Lions' evaluation, they would have. That made their decision easy Friday night at No. 54.
Broyles is one of the most productive receivers in the history of college football, having caught an NCAA-record 349 passes in his career. Just five months after surgery to repair his ACL, he ran the 40-yard dash in 4.57 seconds. Mayhew, whose success in recent drafts grants him some leeway in making such judgments, told reporters: "If the guy were healthy now he'd have been gone way before our pick."
And while they are in fact stacked at the front end of their depth chart, the Lions in reality were one injury away from not being able to use offensive coordinator Scott Linehan's three-receiver set. Burleson, meanwhile, will turn 32 this summer. In other words, the Lions could be a year or two away from having an obvious need at receiver. As we discussed Thursday, the key to orderly transitions is acquiring the replacement before he is needed.
Look, the Lions don't need me to be an apologist for a decision -- and thus far, an entire draft -- that might not have much impact on their 2012 team. You have a right to dispute it. But you shouldn't be surprised, and the Lions' success to this point earns them at least a partial benefit of the doubt from me.
April, 23, 2012
4/23/12
11:04
AM ET
You can't have an NFL draft without drama, and for weeks -- if not months -- there has been near certainty about the top two picks. We've also been pretty close for a while at No. 3, so it shouldn't be surprising that national discussion has swerved into whether the
Minnesota Vikings
might pick someone other than USC left tackle
Matt Kalil
with the third overall pick.
I think we all understand the Vikings have been working hard to create a trade market at No. 3, mostly in hopes that a quarterback-needy team would swap picks to ensure the acquisition of Texas A&M quarterback
Ryan Tannehill
. But general manager Rick Spielman
said last week
that the team has graded Kalil, LSU cornerback
Morris Claiborne
and Oklahoma State receiver
Justin Blackmon
as equal prospects and are trying to decide what position best fit their needs.
I find that awfully convenient and difficult to believe, frankly. I understand the Claiborne angle, mostly that he's the draft's best cornerback and the Vikings' pass defense was historically bad in 2011. But I can tell you from experience that Spielman is a meticulous draft grader. His system takes grades out to a half-dozen decimal points, guaranteeing that there are no ties. There is no doubt that as pure prospects, the Vikings have a vertical ranking for Kalil, Claiborne and Blackmon.
One explanation is that Spielman is making a final effort to generate a trade market for teams who really want Claiborne or Blackmon. If that were the case, however, you would think he would have included Alabama running back
Trent Richardson
in that group. Richardson is reportedly coveted by the
Cleveland Browns
at No. 4.
We could go around and around on what the Vikings need more: A left tackle or a cornerback. They need to put up a better fight against the NFC North's elite quarterbacks, which Claiborne would help with. But they also need to be in position to better match those quarterbacks with their own offense, something Kalil would presumably play a central role in.
But the Vikings also have the No. 3 pick of the second and third rounds. What position would they have a better chance at finding an elite player at the top of the second or third rounds: Left tackle or cornerback?
There has also been discussion about the difference between an elite left tackle and a functional one. Right now, however, the Vikings aren't guaranteed of either in 2012. What would you rather have: A team that has Kalil at left tackle, along with Chris Cook, Antoine Winfield and perhaps Montana's
Trumaine Johnson
at cornerback? Or Ohio State's Michael Adams at left tackle, along with Cook, Winfield and Claiborne at cornerback?
In the end, the Vikings need to draft the very best player on their board at No. 3. If that's Claiborne, then so be it. Some would argue that Kalil has gotten the benefit of the doubt because he plays left tackle, a position that is traditionally valued highly in the draft. If Kalil isn't the third-best player in this draft, I've written many times that I would be fine with the Vikings drafting the player they think is. Time will be the ultimate judge and jury on that decision.
But generally speaking, we haven't heard too many draft observers suggest Claiborne is a better prospect than Kalil. The Vikings would be setting themselves up for long-term failure by allowing positions -- and not talent -- to dictate draft decisions. Stay tuned.
April, 18, 2012
4/18/12
5:00
PM ET
ESPN draft analyst Mel Kiper Jr. took a stab at
a three-round mock draft

using only his personal rankings of players. In this edition, Kiper did not take into consideration who he thought the teams might be leaning toward. Kiper is the judge and jury here. My comments follow his picks:

Chicago Bears
1. Illinois defensive end
Whitney Mercilus
2. Appalachian State wide receiver
Brian Quick
3. Penn State defensive tackle
Devon Still
Seifert comment:
Most everyone agrees the Bears need to find some help at defensive end, and their inability to do so in free agency leaves the draft as their final option. Mercilus has gotten as much attention as anyone at that pick. Quick is a 6-foot-3 receiver who ran a 4.55 at the scouting combine but, like veteran
Brandon Marshall
, would offer a different skill set than what the Bears have been using in recent years.

Detroit Lions
1. Nebraska outside linebacker
Lavonte David
2. Montana cornerback
Trumaine Johnson
3. Boise State safety
George Iloka
Seifert comment:
I like the David pick mostly because it mirrors the thought process Lions general manager Martin Mayhew usually takes in the draft. Need, or lack thereof, won't influence his decisions anywhere but at quarterback. If David or another linebacker sits high on the Mayhew's draft board, the Lions won't hesitate to take him if he's there at No. 23.

Green Bay Packers
1. Boise State linebacker Shea McClellin
2. Nebraska defensive end
Jared Crick
3. South Carolina safety
Antonio Allen
Seifert comment:
McClellin is getting a lot of discussion as a so-called late riser who would fit the versatile pass-rushing role the Packers would like to have. Meanwhile, the third round is a solid place to find a potential replacement for safety Nick Collins if he retires.

Minnesota Vikings
1. USC tackle
Matt Kalil
2. Notre Dame safety
Harrison Smith
3. Iowa receiver Marvin McNutt
Seifert comment:
Kiper notes he would try to trade down in the first round and would consider LSU cornerback
Morris Claiborne
if he couldn't. But in the end, there aren't many people who think the Vikings will look elsewhere from Kalil if they keep the No. 3 spot. Getting Smith in the second round would be a nice pick if he is still available.
April, 4, 2012
4/04/12
1:15
PM ET
ESPN.com's Mel Kiper Jr. has produced a two-round mock draft this week. Let's dive in,
knowing that the entire file

requires an Insider subscription and that you should be eternally grateful to me for lifting the NFC North-relevant information for you.
3. Minnesota Vikings
Mel's picks:
USC offensive lineman
Matt Kalil
. Second round: Notre Dame safety
Harrison Smith
Seifert comment:
Smith is a borderline first-round pick. Getting a starting safety at the top of the second round would be nice value. As for Kalil, Mel remains in the camp that refuses to overthink the Vikings' choice at No. 3.
19. Chicago Bears
Mel's picks:
Illinois defensive end
Whitney Mercilus
. Second round: LSU receiver
Rueben Randle
Seifert comment:
Most mockers have dropped away from the idea of the Bears selecting a receiver in the first round, partially because Notre Dame's
Michael Floyd
figures to be long gone by No. 19. A lineman for either side of the ball seems reasonable, and getting Randle in the bottom third of the second round seems like a good value.
23. Detroit Lions
Mel's picks:
Stanford offensive lineman
Jonathan Martin
. Second round: Montana cornerback
Trumaine Johnson
Seifert comment:
Both players make sense as far as needs go. Johnson has gotten a lot of publicity in this draft despite playing at Montana. You would think he would have an immediate chance to start. Martin would get a year behind Jeff Backus.
28. Green Bay Packers
Mel's picks:
USC linebacker
Nick Perry
. Second round: Nebraska defensive lineman
Jared Crick
Seifert comment:
Defense, defense, defense. It's also notable that Mel didn't feel compelled to draft Wisconsin center
Peter Konz
for the Packers. I agree on that one.
February, 22, 2012
2/22/12
3:00
PM ET
The NFL's annual scouting combine opens Wednesday and will conclude next Tuesday. I wouldn't miss it for the world. Media interviews begin Thursday morning and continue through Sunday, and I'll be on hand for an access schedule that should net us time with the general manager and/or coach of every NFC North team over the next few days.
Although we don't have access to most of the workouts themselves, dozens of players should be available for interviews. I'll feed the blog with zeal, of course, but to help sharpen our focus, let's consider a few important NFC North storylines to follow. If you have other ideas,
hit the mailbag
.
[+] Enlarge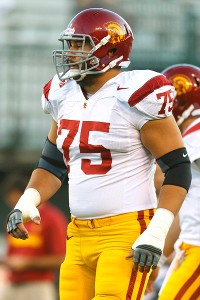 Jason O. Watson/US PresswireWill USC left tackle Matt Kalil be available for Minnesota to draft with the No. 3 pick in April?
The value of the No. 3 position:
Historically, the combine has helped solidify the top of the draft. We don't always leave Indianapolis knowing the order of the top few picks, but we generally know which players will comprise that pool -- knowledge that should help the
Minnesota Vikings
determine who they'll have to choose from at No. 3 and how intense trade interest will be.
We should know, for example, if USC's
Matt Kalil
is unquestionably the draft's top left tackle, or if there are any lingering doubts about his status. Is Kalil good enough that the
St. Louis Rams
will consider him at No. 2 overall? We'll get a better idea of interest in Baylor quarterback
Robert Griffin III
. Would the Rams trade out of No. 2 with a Griffin-infatuated team?
Finally, what other options would the Vikings have if they neither draft Kalil nor trade out of the spot? Is LSU cornerback
Morris Claiborne
a top-3 pick? What about Oklahoma State receiver
Justin Blackmon
or Alabama running back
Trent Richardson
?
That Mega-contract:
The
Detroit Lions
' tight
salary cap situation
has been one of our top offseason storylines, and presumed relief would begin with extending the contract of receiver
Calvin Johnson
. As it stands, Johnson is scheduled to have
a cap number of around $22 million
in 2012 and, if unaddressed, would be eligible for a franchise tag of around $26 million in 2013. The proximity of agents and team executives at the combine often fosters productive negotiations, and it's safe to assume that Lions president Tom Lewand will have some talks with Johnson's agent, Bus Cook.
The Lions aren't yet in crunch time with Johnson, but reducing his cap number by March 5 would make it easier for them to use the franchise tag on defensive end
Cliff Avril
, as they reportedly plan to do. Johnson has most of the leverage in this situation and figures to emerge, eventually, as the NFL's highest-paid receiver and possibly the best-paid non-quarterback in the league.
Second-tier pass rushers:
The
Green Bay Packers
certainly will spend time negotiating with their free agents, from tight end
Jermichael Finley
to center
Scott Wells
to special teams ace
Jarrett Bush
. But it's also safe to assume they'll focus on prioritizing the pool of pass rushers who could be available to them at the bottom of the first round, or possibly in a trade to move up in the second round.
Elite pass rushers usually don't get past the top half of the first round, putting the Packers in a race to find the next
Brooks Reed
, the
Houston Texans
' second-round pick in 2011 who started 11 games and had six sacks as a rookie. Scouts Inc. currently has two defensive ends with grades that would give them value at the end of the first round: Syracuse's
Chandler Jones
and USC's
Nick Perry
.
Secondary help:
To varying degrees, all four NFC North teams could use an influx of defensive backs. Given the league-wide passing explosion in recent years, it's fair to say there are plenty of other teams on that list as well. That means searching far and wide for talent, and to that end, Scouts Inc.'s Kevin Weidl
offers a list of 12 small-school defensive backs

who should get attention.
You'll need an Insider subscription to see the entire list, but it's topped by former Florida cornerback
Janoris Jenkins
, who spent last season at North Alabama. It also includes Montana cornerback
Trumaine Johnson
and Coastal Carolina cornerback
Josh Norman
.
WR depth:
If new
Chicago Bears
general manager Phil Emery takes to heart a suggestion from his quarterback, he'll have an interesting group of big receivers to evaluate this week. "Anyone really over 6-2 at this point is going to look good,"
Jay Cutler
said this week on ESPN 1000.
It's safe to assume that Blackmon won't be available when the Bears draft at No. 19 overall. The rest of ESPN anlayst
Mel Kiper's list top five receivers

looks like this: Baylor's
Kendall Wright
, Notre Dame's
Michael Floyd
, LSU's
Rueben Randle
and South Carolina's
Alshon Jeffery
. Wright is a 5-10 speedster, so if the Bears truly focus on big receivers, our combine focus will be on Floyd (6-3), Randle (6-4) and Jeffery (6-4).
Related:
For those interested,
here is a comprehensive schedule
for the players invited to Indianapolis, beginning with medical testing for three position groups who will arrive Wednesday.
February, 17, 2012
2/17/12
4:00
PM ET
Earlier Friday
, our friends at Football Outsiders offered an Insider-only (!!) look at NFC North team needs. We can now pair that post with another Insider offering that
matches those needs with specific players available

in the draft. I have to leave most of the good stuff behind the paywall, but here is a smidgeon of what Scouts Inc's Kevin Weidl wrote:
Chicago Bears:
Two offensive linemen to keep in mind at No. 19 overall are Stanford's
Jonathan Martin
and Ohio State's
Mike Adams
. Both could conceivably play left tackle.
Detroit Lions:
If the Lions want to upgrade at guard, one possibility at No. 23 overall is Stanford's David DeCastro. Another is Georgia's
Cordy Glenn
.
Green Bay Packers:
Assuming the Packers agree with Football Outsiders' suggestion to focus on their defensive line, Mississippi State defensive lineman
Fletcher Cox
could be an option at No. 28 overall. In the second round, Boise State's
Tyrone Crawford
would be an intriguing prospect.
Minnesota Vikings:
No. 3 overall is high for a cornerback, especially if USC offensive lineman
Matt Kalil
remains on the board. Montana cornerback
Trumaine Johnson
could be a player worth considering at the top of the second round.