July, 14, 2011
7/14/11
10:37
AM ET
Despite a few grumblings of antipathy, I appreciate you gamely improving my initial nominees for the
inaugural NFC North blog fantasy 4x100 relay race
. The teams are now assembled and ready for your vote.
Your suggestions led me to:
I bowed out of the comments section when the debate descended into the merits of using 40 times to determine credibility for relay. Whatever the opposite of a trackhead is, that's me.
Go ahead and register your vote. I'll find a way to work in the results into a future post.
February, 15, 2011
2/15/11
12:15
PM ET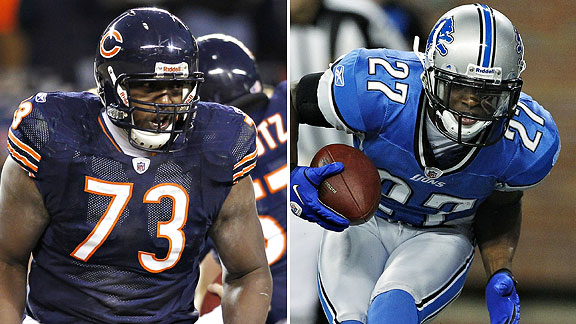 Getty ImagesChicago's J'Marcus Webb, left, and Detroit's Alphonso Smith were pleasant surprises in 2010.
About this time last year, we
compiled a list of four NFC North players
who had the opportunity to alleviate some pressure to acquire upgrades at their positions -- provided they demonstrated notable offseason development. In reviewing that post, I feel better about the positions we identified than the specific players we picked out. But such is life.
This year's pending lockout presents a curveball for offseason development. If a lockout begins in early March and continues through the summer, coaches and front office executives won't have their typical opportunity to improve and observe younger players. Free agency could also be truncated and risky. Ultimately, teams might be left to rely on observations and projections based on last season's performance.
In that vein, let's pick one player per team whose 2010 emergence seemingly eliminated a 2011 offseason need.
Chicago Bears
Player:
Offensive lineman
J'Marcus Webb
2010 notables:
The Bears made Webb a seventh-round pick last spring and, desperate for alternatives after a rough start, elevated him to the starting lineup in Week 5. Webb's ascendance coincided with the stabilization of the Bears' line, and he remained the starter for the rest of the season. How well he played as an individual is up for debate. According to ESPN's penalty database, Webb was called for 11 penalties in his 12 starts, including seven for holding.
Position status:
If nothing else, Webb enters the offseason as one of the Bears' top two tackles along with
Frank Omiyale
. Offensive line might be the single-most needy position group on the Bears' roster, and the team could legitimately address any of its five positions in the first round of the 2011 draft. Based on how the draft plays out, the Bears could keep Webb at right tackle. Or, given his 6-foot-8 frame, they could consider moving him to left tackle and returning Omiyale to the right side. The future of 2008 first-round pick
Chris Williams
, who was moved from left tackle to left guard midway through last season, could also affect where Webb plays.
2011 projection:
Yes, there are many moving parts here. But Webb has a couple of things going for him. One, he is a 22-year-old player who has navigated his way through 12 NFL starts and still has plenty of room to improve. Long-range planners are always infatuated by a young player with experience. Second, Webb is a favorite of Bears offensive line coach Mike Tice, who personally scouted him before the draft -- and came away from Webb's workout
with a chipped tooth
. There is a long way to go here, and it would be wrong to assume Webb is a lock to start in 2011. But the Bears can't address all five positions in one offseason, and Webb's presence might help make their decisions easier this spring.
Detroit Lions
Player:
Cornerback
Alphonso Smith
2010 notables:
Acquired in a preseason trade with the
Denver Broncos
, Smith made a productive if uneven debut by intercepting five passes in 12 games. A shoulder injury ended his season in December, and many fans' lasting impression might have been his
embarrassing Thanksgiving Day performance
against the
New England Patriots
. But playmaking cornerbacks are difficult to find, and Smith gives the Lions a viable option at a position of significant need.
Position status:
Veterans
Chris Houston
and Nate Vasher are pending free agents, but the Lions have said they want Houston to return. Veteran
Eric King
has been informed of his release, according to
Dave Birkett of the Detroit Free Press
.
Tye Hill
,
Prince Miller
and
Paul Pratt
are all pending free agents, although the Lions have exclusive rights on Miller and Pratt. Last season's Week 1 nickelback,
Aaron Berry
, spent most of the season on injured reserve.

2011 projection:
In 2010, the Lions brought back only one member of their 2009 secondary: Safety
Louis Delmas
. Smith's performance in 2009 should at least lessen the overhaul necessary this offseason. Like Webb, he shouldn't be a lock to start in 2011. But the Lions also shouldn't be starting from scratch, either. Smith gives the Lions a legitimate option in the event they focus their resources elsewhere.
[+] Enlarge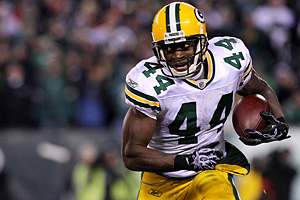 Nick Laham/Getty ImagesLate-season starter James Starks gives the Packers options at running back next season.
Green Bay Packers
Player:
Running back
James Starks

2010 notables:
Starks' story has been well-told. After spending the first half of the season on the physically unable to perform (PUP) list, he rushed for 73 yards in his NFL debut and amassed 315 yards in four playoff games. In part because he never fumbled, Starks earned the trust of coach Mike McCarthy, and proved to be a reliable and instinctive runner.

Position status:
The Packers are expected to get former starter
Ryan Grant
back from an ankle injury. Grant is scheduled to earn about $5.25 million in 2011, the final year of his most recent contract extension. Backups
Brandon Jackson
and
John Kuhn
are pending free agents. Starks leapfrogged fellow rookie
Dimitri Nance
, who is signed through 2013.

2011 projection:
In an era where many teams split carries among their tailbacks, Grant was the Packers' primary runner from 2007 to 2009. That was the plan for 2010 as well, before his injury. But if nothing else, Starks gives the Packers a second option and important insurance should Grant be felled by another injury. Does Starks deserve to compete with Grant for a starting job next season? That's a question the Packers' coaching staff will have to answer whenever training camp convenes. But the Packers learned the hard way last season that a two-man backfield is a requirement, not a luxury.
[+] Enlarge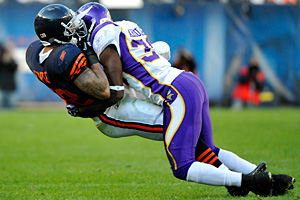 Rob Grabowski/US PresswireVikings safety Husain Abdullah might have played himself into a starting role next season.
Minnesota Vikings
Player:
Safety
Husain Abdullah

2010 notables:
Known mostly for special teams play and fasting during training camp, Abdullah unseated
Tyrell Johnson
and was a surprise starter at strong safety. He missed one game because of a concussion and tied for the team lead with three interceptions. You never know how players will be viewed by a new coaching staff, but Abdullah seemed to show enough promise to merit another chance to start in 2011.

Position status:
The Vikings have long been due for changes at safety, where Johnson and
Madieu Williams
have performed poorly over the past three seasons. Williams could be released this offseason, opening at least one starting spot.
Jamarca Sanford
struggled to stay healthy last season but might be best suited as a special teams player.

2011 projection:
Would the Vikings replace both starting safeties this offseason? Or would they give Abdullah another chance while focusing on Williams' free safety spot? The latter scenario seems more likely. At this time last season, few would have expected Abdullah to be in this spot. But if last season were any indication, he had leapfrogged every other safety on the Vikings' roster. Read into that ranking what you will.
December, 26, 2010
12/26/10
4:21
PM ET
A few thoughts on the end of another
late-game victory
for the
Detroit Lions
:
What it means:
The Lions won their third consecutive game, two of which have come on the road, and now have a chance to elevate out of the NFC North basement for the first time in three seasons. A victory in next Sunday's regular-season finale against the
Minnesota Vikings
will ensure it. Sunday's game should be an instant classic in recent Lions history.


What I liked:
The Lions scored the final 17 points to complete a comeback from 10 points down in the fourth quarter. A 53-yard touchdown reception by tailback
Jahvid Best
,
Dave Rayner
's 47-yard field goal and
DeAndre Levy
's 30-yard interception return accounted for the scoring. Levy's decision to cut back at about 10-yard line was a smooth, veteran and knowledgeable football play.
What I liked II:
Cornerback
Nate Vasher
intercepted Dolphins quarterback
Chad Henne
to set up Rayner's field goal and also made a textbook tackle of Dolphins running back
Ronnie Brown
on the final play of the game, keeping Brown in bounds with the Dolphins out of timeouts. Vasher seemed buried two years ago in Chicago, and his career took him to San Diego and finally to Detroit. But Sunday, we got a reminder of how good of a player he once was.
What I liked III:
Nate Burleson
's 30-yard block of Dolphins cornerback
Vontae Davis
in the fourth quarter allowed tailback Best to maneuver downfield for his touchdown. Burleson basically face-guarded Davis across the field and down the right sideline before pancaking him near the goal line. Best got the credit for the score, but it wouldn't have happened if Burleson hadn't stayed with Davis.
Secondary woes:
The Lions began the game without safety
Louis Delmas
, who was deactivated because of a concussion, and I checked my Lions roster a few times to identify some unfamiliar numbers. At different point, you saw
Eric King
, Prince Miller and
Tye Hill
playing in the Lions' beleaguered secondary. While Vasher bailed out the secondary, it's worth noting that Hill should have intercepted a Henne pass late in the second quarter. But the ball glanced off his hands and into those of
Davone Bess
for a 13-yard touchdown that gave the Dolphins a lead heading into halftime.
What I wasn't sure of:
Receiver
Calvin Johnson
wasn't on the field for much of the fourth quarter. Did he have an injury? There was no official announcement that I saw or heard.
*Update:
Johnson had an ankle injury.
What's next:
The Lions will return home for their season finale to take on the Vikings, who might or might not have played their Week 16 game against the
Philadelphia Eagles
by then.
April, 3, 2010
4/03/10
11:00
AM ET
Chug-a-chug. Chug-a-chug.
Can you hear it? That's the sound of our NFC North train gaining steam as we approach the 2010 NFL draft. We're at T-minus 19 days. The intensity of our discussions will continue ramping up until April 22 arrives.
There are any number of places where we can rap about the draft. (Like my flow?) You can hit the
mailbag
, join us over on
Facebook
or tweet us on
Twitter
. Let's see what's on your mind this weekend.
Christopher of Minneapolis writes:
Kevin, I gotta ask why you think players have been turning down coming to play for the Vikings. Last offseason,
T.J. Houshmandzadeh
decided to go to a Seattle team that was obviously in a much worse place than the Vikings at the time in their division. Then this year already two free agents have chosen other teams over us:
LaDainian Tomlinson
and
Tye Hill
(not sure how good of an addition he would actually have been). So I'm asking what do you think it is about playing here? We have a an owner that wants to win, a very good team with a good chance at making a deep playoff run. I just don't get why free agents would pass up the opportunity to play here.
Kevin Seifert:
Christopher, I think you're looking at only half of a trend. There's no doubt some high-profile free agents/trade candidates have turned down offers from the Vikings in recent years, but there are plenty of others who did not. The list includes quarterback
Brett Favre
, defensive end
Jared Allen
, receiver
Bernard Berrian
and tight end
Visanthe Shiancoe
. It's not as if no one will come to the Vikings. It's more like
some
.
If there is a trend, we should look for a common denominator. In the cases you mention, I don't see one. Houshmandzadeh went to Seattle in part because he thought the Seahawks' quarterback position was stronger. Favre was still months away from signing. Tomlinson, meanwhile, is going to play a lot more with the
New York Jets
than he would have in Minnesota. That's just a fact of life with
Adrian Peterson
on the roster.
As for Hill, you're right: His decision was a relatively minor one. At best, he would have competed for the nickel job with
Benny Sapp
. The timing of his decision to sign with Tennessee -- hours after visiting the Vikings -- suggested the visit might have been intended all along to increase leverage with the Titans.
I know there are some issues that might make the Vikings less than attractive to some free agents, from the aging practice facility to their uncertain future in the Metrodome. But I don't see any common thread in the instances you've mentioned.
---
Via Facebook, Ben of Fort Smith, Ark., writes:
I just read that
Jared Gaither
could possibly be available for a second-round pick. He played very well last year and still has plenty of room to improve. I believe the Ravens use a different blocking scheme than Green Bay does, but do you think it would be worthwhile for the Packers to make a move for him and get the jump on one of the top corners or OLBs in the draft, rather than settle for possibly the fifth-best tackle prospect and then whichever corners or OLBs are left later on?
Kevin Seifert:
I've gotten more than a few questions on Gaither, not only from Packers fans but also from those who follow Detroit.
To review: Gaither is Baltimore's 24-year-old left tackle, a player many in Baltimore figured would be a fixture for the next 10 years. The Ravens hedged their commitment, however, by placing only a first-round tender on him as a restricted free agent. That means a team signing Gaither to an offer sheet would only have to give up a first-round pick, and perhaps less if they work out a sign-and-trade deal with the Ravens.
If you're the Packers, you would gladly give up the No. 23 overall pick for a long-term answer at left tackle. The same would probably go for the Lions, who have the second pick (No. 34 overall) of the second round.
But here's the question: Is Gaither a lock to be that kind of franchise player? It's only fair to wonder when the Ravens, who know him best, seem prepared to listen to offers. You could point out that Baltimore has
Michael Oher
on board and ready to move to left tackle. But if the Ravens trust Gaither's future, it's doubtful they would give up on him regardless. They seem to have some doubts.
It's easy to think that another team's disappointment could be your club's success story. Ultimately, that could be the case with Gaither. But if he's really available, it's fair to wonder why the Ravens don't want to keep him.
---
Rob of Milwaukee writes:
If the rumors are true about the Packers interest in
Brian Westbrook
, could this mean the end of
Ahman Green
in Green Bay?
Kevin Seifert:
First, I don't have any confirmation that the Packers are in fact interested in Westbrook. General manager Ted Thompson doesn't often have interest in aging veteran free agents, no matter what position or talent level. And as we
discussed Thursday
, coach Mike McCarthy believes backup tailback
Brandon Jackson
made significant strides last season.
If the Packers decide they need a veteran in the backfield, I wouldn't at all be surprised if Green -- not Westbrook -- is the choice. Here's what McCarthy said on that topic at last month's owners meeting: "...I like what Ahman Green gave us there at the end of the year. I thought once he got reacquainted with some of the things we do that are different from when he was here earlier, and frankly he did some nice things on special teams once he got comfortable. I mean, he's definitely an option that's potentially out there."
---
Bryan of St. Marys, Ga., writes:
I was wondering if you had heard anything about a possible trade between the Lions and Redskins switching first round picks?
Kevin Seifert:
It's certainly being rumored, but like most draft-related intrigue, it's based mostly on circumstantial evidence.
St. Louis seems likely to draft Oklahoma quarterback Sam Bradford at No. 1 overall. The next-best quarterback is Notre Dame's Jimmy Clausen, who seems to be drawing interest from Washington (No. 4) and Cleveland (No. 7), among other teams.
So if you're Detroit and you want to trade out of the No. 2 pick, you have to hope that multiple teams emerge with a strong desire to draft Clausen. That team could take a chance and deal with Tampa Bay at No. 3, but the only way to ensure Clausen will be available is to trade into the Lions' spot.
To be clear, there is no evidence that we've reached this point yet. But that's what would need to happen for the Lions and Redskins to swap places in the draft.
---
Chris of San Diego writes:
I read that
Lance Louis
of the
Chicago Bears
is subject to the NFL conduct policy for a crime he committed prior to being drafted because he pleaded guilty to it a year after he was drafted. Can you explain why he is retroactively subject to NFL rules?
Kevin Seifert:
The original incident -- a fight with a former San Diego State teammate -- occurred in November 2008. But from what I understand, the league considers the incident part of its personal conduct policy because the charges were filed after Louis signed with the Bears last summer. That's the distinction, however arbitrary it might be.
With all that said, Louis pleaded guilty to misdemeanor battery, making it unlikely he'll face an NFL suspension. A fine could be in order, however.
March, 31, 2010
3/31/10
7:08
AM ET
Chicago defensive end Alex Brown seemed to confirm reports that he will soon be leaving the Bears via release or trade. As
Sean Jensen of the Chicago Sun-Times
notes, Brown sent a pretty clear message via Twitter on Tuesday evening. Here's what Brown (
@AlexBrown96
) wrote:

I am extremely grateful for my time as a Chicago Bear and I wish the Bears the best. I am glad that they gave me an opportunity to realize ... a dream I had [as] a child. I appreciate the fans but as we all know this is the nature of the business. Bear down!
Brown has essentially
been displaced
by newcomer Julius Peppers, who will spend at least part of his time at Brown's former position on the right side of the Bears' defensive line.
Continuing around the NFC North:
March, 30, 2010
3/30/10
6:58
AM ET
Well, well. I took a couple hours away from the blog following the
NFL owners meeting
, and here's all I missed:
Chicago is planning to
part ways
with a core member of its defense. A Pro Bowl quarterback wants to play for Minnesota, but the team that
wants him most
is Oakland. The Vikings signed another cross-border free agent. The
success
of a certain Oklahoma quarterback's Monday workout suggested
more strongly than ever
Detroit will be in position to draft Nebraska defensive tackle Ndamukong Suh.
That's not bad for the final weekend of March. Let's do some catching up here Tuesday morning: