October, 20, 2013
10/20/13
2:45
PM ET
Some halftime thoughts as the
Cincinnati Bengals
lead the
Detroit Lions
,
14-10
, at the half.

Not finishing drives:
Detroit has moved the ball fairly well during the first half, but stalled twice inside the red zone. One resulted in a
David Akers
field goal. The other was a blocked field-goal attempt by Akers from 34 yards with a little under three minutes left in the first half. Detroit has been good in red zone opportunities this season, scoring touchdowns 61.9 percent of the time entering Sunday. The Lions struggled there in the first half and considering their inability to cover
A.J. Green
(more on that next), that could be a problem.
Defend A.J. Green better:
It might sound silly, but Detroit gave Green a ton of cushion in the first half and it showed. He burnt Lions cornerback
Chris Houston
on a double move in the first quarter that led to the Bengals' only touchdown. Green has four catches for 135 yards and a touchdown in the first half and has caught all four of his targets. In the realm of the NFL, none were particularly difficult catches and two of them, including the touchdown, were wide open. Detroit will have to figure out some scheme change there. The Lions have been good against
Tyler Eifert
, though, as he has no catches and has just been targeted once.
Injuries a concern:
Detroit knew it'd be without starting right tackle
Jason Fox
(he's been out for a while), but the Lions also lost left tackle
Riley Reiff
to a hamstring injury in the second quarter. This leaves Detroit without both of its Week 1 starting tackles. Unlike losing Fox and having a veteran like
Corey Hilliard
backing him up, the Lions are going with undrafted free agent
LaAdrian Waddle
at left tackle while Reiff is out. It'll be interesting to see how he holds up as the game progresses. He has been decent in his first real action.
September, 5, 2013
9/05/13
1:00
PM ET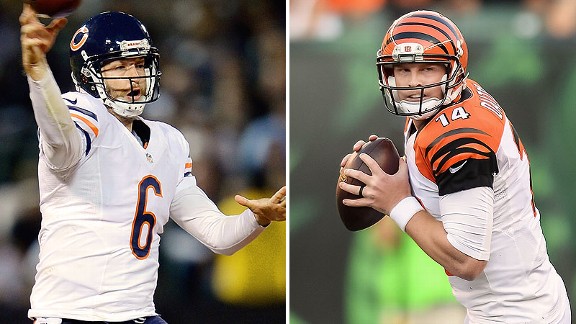 Getty ImagesChicago's Jay Cutler, left, and Cincinnati's Andy Dalton lead their respective offenses against very stingy defenses.
Two strong defensive teams led by highly scrutinized quarterbacks in
Jay Cutler
and
Andy Dalton
set the scene for what should be a hotly-contested matchup between what are expected to be ascending clubs.
Marc Trestman makes his debut as an NFL head coach at Soldier Field on Sunday, leading a Bears team with plenty of roster turnover on offense, including a totally revamped line expected to better protect Cutler as he operates the club's new scheme. That group will be tested by a Bengals defensive line, led by
Geno Atkins
, that accounted for 43 of the team's franchise-record 51 sacks in 2012, and also paved the way for the defense to finish the season ranked No. 6 for fewest yards allowed.
Chicago's defense in 2012 was even better, finishing fifth in net defense, third in scoring defense (17.3 points per game) and No. 2 in turnover differential while leading the NFL in interceptions (24) and total takeaways (44).
While home-field advantage can be key for teams, it's certainly been a factor in this series. The Bengals hold a 4-1 road record against the Bears and own a 6-3 series lead, which includes victories in their last outings (2005 and 2009).
Chicago hasn't beaten the Bengals since 2001.
ESPN.com's Matt Williamson and Bears team reporter Michael C. Wright discuss the matchup.
Wright:
The Bears hope they fixed the offensive line with a combination of scheme (shorter drops for Cutler), beefed up protection with
Jermon Bushrod
at left tackle and a pair of draft picks in
Kyle Long
(first round) and
Jordan Mills
(fifth) at right guard and right tackle, and another weapon for Cutler to find down the middle of the field when he's in trouble. But the inexperience of Long and Mills will be question marks against Cincinnati's active defensive line.
It seems Cincinnati's defense is built around Atkins, but how much of a factor are guys like
Carlos Dunlap
and
Michael Johnson
?
Williamson:
Atkins is the foundation of the defense for sure and everyone thrives off his presence, but the Bengals have a lot invested in the defensive line now in terms of finances and draft picks. This is an extremely deep and talented group that makes the entire defense go. Dunlap might be a little underrated and Johnson a little overrated, but they form an impressive pair of defensive end. These three players, along with the rest of Cincinnati's defensive front, will prove a very steep challenge for Chicago's rebuilt offensive line in Week 1.
What can the Bengals' defense expect from this new Trestman offense?
Wright:
The Bears will utilize zone blocking in the running game, which should allow
Matt Forte
to pick his own holes. That should open up the passing game, where the Bears will use West Coast philosophies such as shorter routes and drops for Cutler so he can get rid of the ball quickly. Look for the Bears to also try to use
Earl Bennett
down the seams to exploit potential matchup problems, especially on traditional running downs where the Bengals might be using base personnel.
Speaking of the Bengals, they've made the playoffs in three of the last four years, but really haven't made much noise. What are the expectations for this team now?
Williamson:
Expectations must go up. They had yet another high-quality offseason and this team has an exceptional young core of players on both sides of the ball. They clearly play in a tough division, but going one-and-done in the playoffs yet again will not be considered a successful season in Cincinnati. I fear they will only go as far as their quarterback will take them. But Bengals fans have a lot to be excited about.
Do you think this Bears defense can defend
A.J. Green
?
Wright:
They should be able to keep him from dominating the game. It's likely the Bears match
Charles Tillman
up against Green, but if the receiver winds up in front of
Tim Jennings
, the team is confident he can get the job done, too. The Bears typically don't double or shade coverage against players such as Detroit's
Calvin Johnson
, so don't count on seeing the Bears try that against Green. Cincinnati's tight ends could be an issue now that they've got two good ones in
Jermaine Gresham
and
Tyler Eifert
.
With such a talented supporting cast, do you see Dalton as just a guy surrounded by weapons, or a blossoming young quarterback?
Williamson:
He shows signs of blossoming into a solid young quarterback, and has been especially adept in the red zone, which is very noteworthy for a young quarterback. But I think he is more of the former. He is a limited passer who lacks great tools, and isn't as accurate or on time with his throws as you would like for someone with his limitations. The Bengals knew this and landed two very "Dalton-friendly" receivers for him in Eifert and
Giovani Bernard
. Eifert should develop into an exceptional target in the middle of the field as well as the red zone, while Bernard provides an easy dump-off option for Dalton. With all the Bengals' resources over the past two offseasons, it really surprises me that Cincinnati didn't do more to challenge Dalton or greatly improve its backup quarterback spot.
April, 28, 2013
4/28/13
9:30
AM ET
Reading
Mel Kiper Jr.'s grades

the morning after the draft is like a holiday tradition. No matter how much we all understand intuitively that it's impossible to project future success, we still want to know what the man who has spent three decades evaluating draft classes thinks of our favorite team's efforts.
You'll need an Insider subscription to read the entire evaluation, but below is what I can sneak to you if you don't tell anyone:
Green Bay Packers
Mel's grade:
B+

Kiper Jr. snippet:
" I love what Green Bay got out of this draft, particularly at two spots -- defensive end and running back."
Seifert comment:
The Packers really went after the running back position, drafting two backs --
Eddie Lacy
and
Johnathan Franklin
-- that many teams pegged as feature backs on their own. Franklin also hedges concerns about Lacy's durability. The Packers can feel confident that at least one of them will make an impact on 2013. Defensive end
Datone Jones
is a different-looking player than what the Packers currently have at the position, and fits into the league's trend toward longer and leaner even for 3-4 ends.
Minnesota Vikings
Mel's grade:
B

Kiper Jr. snippet:
"Hey, they got starters, but they needed to add impact in this draft considering they dealt
[Percy] Harvin
and had a few pretty big needs."
Seifert comment:
A good portion of evaluating this draft will come down to whether receiver
Cordarrelle Patterson
pans out. The Vikings gave up their chance to draft a starting-caliber middle linebacker, among other things, by trading back up into the first round to draft him. The Harvin trade was a big motivator. Kiper really thought the Vikings needed to get linebacker
Manti Te'o
; I just thought they needed someone at that position. Seventh-round draft pick
Michael Mauti
could be a factor if he can recover from a third torn ACL. Regardless, three first-round draft choices give the Vikings a good chance at a high-impact draft.
Detroit Lions
Mel's grade:
B

Kiper Jr. snippet:
"The pivot point for how we see this draft in three years will be
[Ezekiel] Ansah
. If he's great, then it looks good. If he's not, and
Dee Milliner
thrives with the Jets, fans will wonder."
Seifert comment:
It would be disappointing if the Lions didn't get at least two functional starters out of their first three picks. It doesn't matter who is on the field for the first play of the game, but you would like to see Ansah get as many snaps as he can for development purposes. Cornerback
Darius Slay
should compete with
Bill Bentley
to start opposite
Chris Houston
and, at worst, play in nickel situations that comprise more than half of most team's defensive snaps. And third-round guard
Larry Warford
should push hard for the right guard spot.
Chicago Bears
Mel's grade:
C+

Kiper Jr. snippet:
"My issue with
[Kyle] Long
isn't that he's short on talent -- he's not. I just wasn't in love with the value."
Seifert comment:
We'll never know if the Bears would have been better off trading down to grab Long later or waiting until the second round. Kiper Jr. didn't like the decision and thought tight end
Tyler Eifert
would have been a better choice. I'm stuck here, because we all know how much help the Bears' offensive line needs. Solidifying an interior spot, if that's what Long does, will help quarterback
Jay Cutler
in a measureable way. That's no different in the big picture than what Eifert could do. We all can agree, however, that the Bears upgraded their linebacker depth significantly with
Jon Bostic
and
Khaseem Greene
.
Related:
For fun, here are Kiper Jr.s NFC North grades for the
2010
,
2011
and
2012
drafts.
April, 24, 2013
4/24/13
7:55
AM ET
We're Black and Blue All Over:
Not every arrest of an NFC North player merits a blog entry, and I haven't covered all of them this offseason. This week, however, we learned that the Detroit Lions' list of offseason arrests had grown to two, so I guess it's time to catch up.

Last weekend, Lions defensive end Ronnell Lewis was arrested after an altercation at an Oklahoma bar and charged with three misdemeanors, according to
Jake Trotter of ESPN's SoonerNation
. Lewis, who played one defensive snap last season, was booked on complaints of disturbing the peace, public intoxication and interfering with official procedure. Officers used a taser to try to subdue him during a fight, according to
Dave Birkett of the Detroit Free Press
.
The arrest came a month after safety Amari Spievey was charged with felony assault and misdemeanor risk of injury to a child after a domestic dispute. Spievey has entered a counseling program and his attorney
hopes to have the charges dropped
.
From a legal and NFL eligibility standpoint, these arrests are relatively minor. But taken together and added to last year's string of spring incidents, they feed the Lions' reputation for employing players who find trouble in the offseason.
Continuing around the NFC North:
April, 23, 2013
4/23/13
2:35
PM ET
Our 2013 #bloggermock took an early twist and left me only partially satisfied as the protector of NFC North interests. Of note: Not a single quarterback was drafted in the first round, something that hasn't happened in the real draft since 1996. We also passed up the running back position in the first round, which that hasn't happened since the common draft began in 1967.
Below are the players I would up picking for the NFC North and my reasoning in each instance.

Johnson
5. Detroit Lions
My pick:
Oklahoma left tackle
Lane Johnson
Final decision:
Between Johnson, Alabama cornerback
Dee Milliner
and BYU defensive end
Ezekiel Ansah
Process and reasoning:
The Lions' true intentions are tough to read at left tackle. When they drafted
Riley Reiff
at No. 23 overall last year, we all assumed he was the heir apparent at the position. Since the retirement of incumbent
Jeff Backus
, however, the Lions have emphasized Reiff's versatility and suggested he could play right guard or right tackle. To me, versatility is irrelevant if you have a true long-term answer at left tackle.
It's possible the Lions are deliberately clouding Reiff's future to hide their draft intentions. In the end, I thought the No. 5 pick was a great place to find a blue-chip left tackle and further strengthen the Lions' line by allowing Reiff to start at right guard or right tackle.
Johnson might be the third-best left tackle in the draft, but
draft analysts
have suggested that's a
matter of experience more than aptitude
. I had a brief pre-draft trade discussion with AFC East blogger James Walker, who wanted to use the
Miami Dolphins
' No. 12 overall pick to move up and draft a left tackle. But there was no way Johnson would be available at No. 12, so I needed much more than what Walker was offering (a second-round pick) to pass up getting him.
I know I've pushed the Lions to draft a cornerback like Milliner for years, but finding a left tackle can be even more difficult. I was tempted by Ansah, but decided to gamble that some decent defensive ends would make it to the top of the second round. In this mock, three of Mel Kiper's top five defensive ends would be available after the first: UCLA's
Datone Jones
, Auburn's
Corey Lemonier
and Florida State's
Tank Carradine
.
Ogletree
20. Chicago Bears
My pick:
Georgia linebacker
Alec Ogletree
Final decision:
There wasn't much debate.
Process and reasoning:
I did not expect Ogletree to be available at No. 20 and knew it would be difficult for the Bears to move up. But once he made it past the
New Orleans Saints
at No. 15, I thought I had a chance. The
New York Giants
have been speculated as a possible landing spot, but the Giants haven't selected a linebacker in the first round since 1984 (Carl Banks).
I'm still not sure Ogletree will be available at No. 20 in the real draft Thursday night, but in this case -- with Notre Dame tight end
Tyler Eifert
already off the board -- I couldn't justify passing him up as a long-term replacement for
Brian Urlacher
.

Williams

Hayden
23 and 25. Minnesota Vikings
My picks:
North Carolina defensive tackle
Sylvester Williams
, Houston cornerback
D.J. Hayden
Final decision:
Between Williams, Hayden, Cal receiver
Keenan Allen
, Notre Dame linebacker
Manti Te'o
Process and reasoning:
I really do think that Vikings general manager Rick Spielman has genuine interest in Te'o and wants to draft him. In looking back on this mock, I just got too greedy and sneaky for my own good.
I had enough ammunition to move up, but for whom? Tennessee receiver
Cordarrelle Patterson
went way too high (No. 8 to the
Buffalo Bills
), and West Virginia's
Tavon Austin
was gone at No. 13. Is Austin worth even an extra second-round pick to the Vikings? I couldn't do it.
Ogletree plays a position of need, but I felt sketchy about giving up extra draft choices for a player with multiple off-field flags in the past year.
So my plan was to grab two really good non-middle linebackers and then cross my fingers that someone, perhaps even Te'o, would be available in the second round, where Spielman could work some trade magic and grab one. It almost worked. Te'o made it to No. 32, where the
Baltimore Ravens
drafted him just after learning that
Rolando McClain
had been arrested once again.
Media analysis is split on whether Te'o is significantly better than the next tier of middle linebackers, and most people think the Vikings are most interested in him. So if the Vikings passed, I thought there was a chance he would tumble. In the end, that's why I passed him over even though I'm not sure Spielman will.
As for receiver, I had my eyes on Tennessee's
Justin Hunter
, but he went one slot ahead at No. 22. So I went with Williams, who could be a long-term replacement for
Kevin Williams
, and Hayden. I had a small chance to trade down, but the best offer I got to move from No. 25 to the top of the second round at No. 35 was an additional fifth-round pick. Not good enough. The cornerback class drops off after the first round, and Washington's
Desmond Trufant
was already off the board. In this scenario, the Vikings would be in position to maneuver in the second round for a receiver. Among those who are left is Clemson's
DeAndre Hopkins
.

Jenkins
26. Green Bay Packers
My pick:
Georgia defensive tackle
John Jenkins
Final decision:
Between Jenkins, Syracuse offensive lineman
Justin Pugh
, Florida State offensive tackle
Menelik Watson
Process and reasoning:
The honest truth of the matter is that I was just guessing here. Congratulations to the Packers. No one ever knows for sure who a team is going to draft, but this year, no one really has anything more than a guess on the Packers. They appear to be interested in improving their defensive line, at least based on their limited activity in free agency, and Jenkins seemed the best of what was still remaining on the board. I don't mind saying he was even more of a guess than usual.
April, 15, 2013
4/15/13
4:20
PM ET
Let's review the timeline while we have a moment.
In January, general manager Phil Emery admits the
Chicago Bears
need to
improve their mid-range passing game
, an area often reserved for tight ends.
Hours after the free-agent market opens in March, the Bears sign veteran tight end
Martellus Bennett
to a
four-year contract
. Veteran
Steve Maneri
, meanwhile, signs a one-year contract.
As the April 25 draft approaches, a number of respected mock drafters -- including
ESPN's Todd McShay

and the
Chicago Tribune's Dan Pompei
-- predict the Bears will make Notre Dame tight end
Tyler Eifert
the No. 20 overall pick of the draft. Meanwhile,
Michael C. Wright of ESPNChicago.com
reports the Bears have genuine interest in Stanford tight end
Zach Ertz
.
So what's going on here? Have the mock drafters forgotten about Bennett and Maneri? Do they really think the Bears would use one of their five draft picks to further stock the tight end position when more pressing short- and long-term needs exist at other positions?
Here's what I can tell you: The Bears aren't just working back from a deficit at the position. Statistically speaking, at least, they had one of the worst tight end situations in the NFL last season. As the chart shows, Bears tight ends had the NFL's lowest production in terms of receptions. Only two teams targeted their tight ends fewer times than the Bears.
Can Bennett alone spark a turnaround? (Maneri is generally considered a blocking tight end.) That might be a lot of pressure to put on one player who has caught more than 20 passes in only two of his five seasons. And it's worth noting that Bennett's contract, ostensibly worth $20.4 million, is probably better viewed as a one-year deal worth $5.315 million. Bennett's 2014 salary includes $4 million guaranteed for injury only, which means the Bears could release him if he is healthy after the 2013 season without owing him more money. (It will be guaranteed for skill as well as injury if he is on the roster on the third day of the 2014 league year.)
I don't think you could argue that tight end is the Bears' top need entering the draft. On the other hand, everything must be viewed in context. The Bears' pick at No. 20 overall puts them in good position to select the best tight end in the draft. Indeed, over the past 10 drafts, 10 tight ends have been selected in the first round. Only two,
Vernon Davis
in 2006 and
Kellen Winslow
in 2004, were selected higher than No. 20.
Pass-catching tight ends are a requirement in modern-day NFL offenses, and last year the Bears didn't have one. If they are serious about making it a strength of their offense, perhaps they do need more than one.
April, 10, 2013
4/10/13
4:30
PM ET
Tuesday's SportsNation chat
brought a question that I ultimately posed to Scouts Inc.'s Steve Muench in the video accompanying this post. What should the
Detroit Lions
do, asked
Jay of Chicago
, if all four of the most publicly-discussed possibilities for their No. 5 overall pick are off the board?
That list includes left tackles
Luke Joeckel
(Texas A&M) and
Eric Fisher
(Central Michigan), Alabama cornerback
Dee Milliner
and BYU defensive end
Ezekiel Ansah
. My first-blush answer in the chat was Oregon defensive end
Dion Jordan
. In the video, Muench has a different -- and intriguing -- suggestion.
Steve and I discussed another scenario later in the video: Which middle linebacker should the
Chicago Bears
and
Minnesota Vikings
draft, if any, should Georgia's
Alec Ogletree
go before the Bears' No. 20 overall pick? I also pressed Steve on whether the
Green Bay Packers
should draft a running back in the first round.
It's worth comparing that discussion with the
latest mock draft of ESPN analyst Todd McShay

, who found a way to get Fisher to the Lions and Ogletree to the Vikings. (He still has the Bears drafting Notre Dame tight end
Tyler Eifert
. The Packers get Syracuse guard
Justin Pugh
in this version of the mock.)
Note: I'm aware I referred to LSU linebacker "Kevin Minter" as "Alex Minter." Such is the nature of one-take videos.
April, 5, 2013
4/05/13
4:00
PM ET
Thursday,
we reviewed Mel Kiper Jr.'s fourth mock draft
. Meanwhile, fellow ESPN analyst Todd McShay posted an update to his fourth mock. Two of the NFC North's five first-round picks changed
in McShay 4.1,

which I will pass along below.
At No. 5 overall, McShay now has the
Detroit Lions
drafting Central Michigan left tackle
Eric Fisher
instead of BYU defensive end
Ezekiel Ansah
, who is already off the board on this update. My feelings haven't changed on this issue. It's rare when you get a chance to draft an elite left tackle, assuming that's what the Lions think Fisher is. If they don't, then they have another option with
Riley Reiff
.
Meanwhile, McShay has the
Minnesota Vikings
drafting Notre Dame linebacker
Manti Te'o
at No. 25 instead of Cal receiver
Keenan Allen
, who was off the board by No. 25 in this update. Both Allen and Te'o visited the Vikings' practice facility this week.
McShay had the same players going to the
Chicago Bears
(Notre Dame tight end
Tyler Eifert
)
Green Bay Packers
(Florida State tackle
Menelik Watson
) and Vikings at No. 23 (Florida State defensive end
Bjoern Werner
)
as he did in his 4.0 mock
.
March, 28, 2013
3/28/13
1:59
PM ET
By
ESPN.com staff
| ESPN.com
ESPN's Todd McShay
has unveiled his latest mock draft

, this one covering the first two rounds. Here's a quick peek at the players McShay has projected for the NFC North teams:
Detroit Lions
No. 5:
Ezekiel Ansah
, DE
No. 36:
Blidi Wreh-Wilson
, CB
Chicago Bears
No. 20:
Tyler Eifert
, TE
No. 50:
Kevin Minter
, LB
Minnesota Vikings
No. 23:
Bjoern Werner
, DE
No. 25:
Keenan Allen
, WR
NO. 52:
Johnathan Hankins
, DT
Green Bay Packers
No. 26:
Menelik Watson
, OT
No. 55:
D.J. Swearinger
, S
March, 28, 2013
3/28/13
8:40
AM ET
By
ESPN.com staff
| ESPN.com
Minnesota Vikings
Dan Wiederer of the Star Tribune examines the
"complex"and "fluid" situation
surrounding free-agent cornerback Antoine Winfield and a possible return to Winter Park.
The Vikings will bolster their receiving corps by
selecting Tennessee wideout Cordarrelle Patterson
in the first round of next month's draft, according to the latest mock draft from NFL.com's Gil Brandt.
Green Bay Packers
Should the Packers
take the risk of drafting a talented running back like Marcus Lattimore
who is coming off devastating knee injuries in back-to-back years? Tyler Dunne of the Milwaukee Journal Sentinel considers.
Rick Klauer of the Journal Sentinel
compiled mock draft picks
for the Packers from around the Web. There's no consensus, but the name of Notre Dame tight end Tyler Eifert shows up most often.
The Packers' mandatory minicamp
will run from June 4 to June 6, reports Pete Dougherty of the Green Bay Press-Gazette.
Detroit Lions
Darrius Heyward-Bey
visited the Lions Wednesday and left without a deal
, but the free-agent receiver is excited about the prospect of catching passes from Matthew Stafford, reports Dave Birkett of the Detroit Free Press. "It's very appealing," Heyward-Bey said after his visit. "No. 1, he's a great guy. I've known him since we were coming out in the draft. And just the ability for him to throw the ball and how smart he is. Coach lets him do his thing back there."
Amari Spievey was arrested
in his hometown of Middletown, Conn., Tuesday after a dispute with his girlfriend over child support, reports Viktoria Sundqvist of the Middletown Press. Spievey was charged with third-degree assault, risk of injury to a child and disorderly conduct.
An MLive.com poll conducted over the weekend shows fans are now strongly in favor of the team
using its first-round pick on an offensive tackle
, writes MLive.com's Justin Rogers.
Chicago Bears
Guard Lance Louis
signed with the Dolphins
on Wednesday. Louis started 24 games the past two seasons at right guard and right tackle for the Bears, reports Michael C. Wright of ESPNChicago.com.
In his latest mock draft, NFL.com's Gil Brandt has the Bears
selecting Notre Dame linebacker Manti Te'o
with the No. 20 overall pick to replace Brian Urlacher.
January, 16, 2013
1/16/13
5:00
PM ET
ESPN draft analyst Todd McShay offered his
first mock of the draft season last month
, and Mel Kiper followed this week
with his Mock 1.0
.

As always, you'll need an Insider subscription to see the entire post. But as NFC North blogger, I have enough security clearance to pass along his choices for our four teams:
5. Detroit Lions
Kiper pick:
Georgia linebacker
Jarvis Jones
Seifert comment:
Jones had 14.5 sacks last season, but you wonder how a pass-rushing outside linebacker would be used in a 4-3 scheme. The idea of adding a playmaker to this defense seems sound, however.
20. Chicago Bears
Kiper pick:
Notre Dame TE
Tyler Eifert
Seifert comment:
General manager Phil Emery has made clear he thinks the team needs more production from the tight end in its passing game. Eifert would join Kyle Rudolph as Notre Dame tight ends in this division.
23. Minnesota Vikings
Kiper pick:
Baylor receiver
Terrance Williams
Seifert comment:
Every mock drafter worth his or her mock draftness is going to connect the Vikings with his or her own favorite receiver. And for good reason.
26. Green Bay Packers
Kiper pick:
Stanford TE
Zach Ertz
Seifert comment:
This pick is based on the assumption that Jermichael Finley won't return in 2013, a possibility coach Mike McCarthy seemed to minimize this week in his end-of-season news conference.