April, 28, 2011
4/28/11
11:10
AM ET
We've spent the past few months reviewing the various incarnations of mock drafts produced by ESPN analysts Mel Kiper and Todd McShay, so let's take a final look at their latest.
Kiper's went live

late Wednesday night, and
McShay's just posted

.
I should also note that one of the country's most respected draft predictors, Rick Gosselin of the Dallas Morning News,
published his mock draft
Thursday morning. You need Morning News subscriber access to read it, but
he did predict an early run on quarterbacks
that would leave the
Minnesota Vikings
choosing TCU quarterback
Andy Dalton
at No. 12 overall.
Onward...
Minnesota Vikings
Pick:
No. 12
Kiper:
Washington quarterback
Jake Locker
McShay:
Boston College offensive tackle
Anthony Castonzo

Seifert comment:
McShay's mock illustrates the Vikings' positional problem. By taking Castonzo at No. 12, they miss out on the top seven quarterbacks of the draft. By the time their No. 43 pick arrived in McShay's 7-round effort, the following quarterbacks were all off the board:
Cam Newton
,
Blaine Gabbert
, Locker, Dalton,
Christian Ponder
,
Ryan Mallett
and
Colin Kaepernick
.
Detroit Lions
Pick:
No. 13
Kiper:
USC offensive tackle
Tyron Smith
McShay:
Smith

Seifert comment:
Conventional wisdom has suggested the
Dallas Cowboys
will take Smith at No. 9. But if Smith falls to the Lions, they would be getting the player generally considered the top offensive tackle in the draft. There is every reason to believe that general manager Martin Mayhew would make this choice if Smith is his highest-rated player at the time, regardless of need at other positions.
Chicago Bears
Pick:
No. 29

Kiper:
Mississippi State offensive tackle
Derek Sherrod
McShay:
Sherrod
Seifert comment:
Obviously, trades weren't a part of these mocks. Sherrod is the best tackle available in each case, but it's not clear if the Bears value him as a first-rounder or if they would trade down in this scenario.
Green Bay Packers
Pick:
No. 32
Kiper:
Baylor guard
Danny Watkins

McShay:
Texas cornerback
Aaron Williams
Seifert comment:
It's almost impossible to predict what general manager Ted Thompson will do, given the relative balance of his roster, and it's very reasonable to expect him to consider a trade that would move out of the first round altogether.
April, 28, 2011
4/28/11
10:45
AM ET
Circling back one final time on draft issues we've discussed over the past few months:
As we speak on the first day of the NFL draft, the
Chicago Bears
haven't filled any of their five positions along the offensive line. They have candidates for each spot, and they're hoping to re-sign free-agent center Olin Kreutz, but the next three days will play a big role in determining how the lineup shakes out.
But the Bears face a practical dilemma with the No. 29 overall pick: Will an offensive lineman worthy of that spot still be on the board? And if not, should they trade down or take a player at another position? To be sure, the Bears also have needs at defensive tackle and linebacker, and I, for one, wouldn't hammer them for drafting a receiver at No. 29.
But first, the offensive line: Tackles are typically the most sought-after line position in the draft. Everyone has their own evaluation, but it's hard to imagine the top two -- USC's
Tyron Smith
and Boston College's
Anthony Castonzo
-- being available at No. 29. It also wouldn't be surprising if Colorado's
Nate Solder
and Wisconsin's
Gabe Carimi
were gone as well.
If that's the case, the Bears might have to decide between Mississippi State tackle
Derek Sherrod
, a marginal first-round pick, or move on to guard, where Baylor's
Danny Watkins
could be available. (Florida guard-center
Mike Pouncey
is probably a top-20 pick.) Other options include North Carolina defensive tackle
Marvin Austin
and even Pittsburgh receiver
Jonathan Baldwin
.
Depending on their partner, trading down could net the Bears anywhere from an extra sixth-round pick to a 2012 first-round pick. Such are the myriad options when a team is positioned so low in the first round. Hang on for the ride.
Earlier:
Solder is an
interesting prospect
. The Bears' offensive line
is in flux
.
Establishing the value
of the No. 29 pick. I
managed to draft Carimi
in the ESPN.com Blog Network mock draft. The Bears have spent
a lot of time researching Austin
.
April, 22, 2011
4/22/11
11:15
AM ET
In my continuing efforts to muddy the water around the
Detroit Lions
' No. 13 overall pick, I throw out the following scenario. Let's say the Lions agree that cornerback is their biggest need and that no surprise players -- i.e. Clemson defensive end
Da'Quan Bowers
or USC offensive tackle
Tyron Smith
-- drop into their lap.
So with the Lions on the clock, the top two cornerbacks available are Nebraska's
Prince Amukamara
and Colorado's
Jimmy Smith
. We've discussed Amukamara
as the obvious choice in that situation
, mostly because of the character concerns that reportedly have caused teams to dig deep into Smith's background. But with the draft less than a week away, how sure are we that the Lions rank Amukamara higher than Smith?
We know the Lions brought Smith to their practice facility last month for a visit, and on Thursday, general manager Martin Mayhew told reporters "we've done a lot of work on Jimmy." Given the period of misinformation we're in, everything else Mayhew said about the subject has to be considered accordingly.
With that said, I'm inclined to believe Smith is very much in play for the Lions. Would they take him over Amukamara? I don't know. But here's the way Mayhew described his position based on his talk with Smith and a conversation with Smith's former position coach, Ashley Ambrose.
"We keep our options open," Mayhew said. "I had a great talk with Jimmy. I felt like after meeting him I felt much better about him as a player. I spoke with his position coach, Ashley Ambrose, who is now coaching at Cal. [He] had nothing but great things to say about him. We've done a lot of work on Jimmy and I feel better about him than I did before I met him."
Mayhew acknowledged that some college coaches might gloss over negatives in their players but said: "I've called coaches and I've gotten the warning signs. ... They may not kill a player, but they'll say enough about a player that you'll know there's a cause for concern. I did not get that with Jimmy Smith, or with Ashley Ambrose talking about Jimmy Smith."
Mayhew's relative optimism coincides with what Kevin Weidl
recently wrote on his Scouts Inc. draft blog

. Here's a snippet:
Scouts I've talked to recently have also said that the more they dig, the more comfortable they are getting with Smith's off-field character and any potential risk involved in drafting him. And let's be clear that the character issues are the only thing holding him back at this point.

There is no questioning Smith's overall physical talent. He has an impressive frame (6-foot-2¼, 211 pounds) and shows great athleticism, balance and fluidity for his size. He also has good instincts and an ability to turn and run with receivers downfield, displaying good closing burst/recovery speed to make up ground when the ball is in the air.
I'm guessing Amukamara is a safer pick, but I wouldn't call Mayhew risk-averse. Consider the Amukamara-Smith question another twist for us to chew on over the next few days.
April, 16, 2011
4/16/11
9:00
AM ET
This lockout needs to end.
With some (unwanted) spare time this week, I traveled to a dark, dark place.
Namely: The 1990s.
One night, I was checking out VH1's "
40 Greatest One Hit Wonders of the 90s
." Prior to then, I hadn't realized the '90s were old enough to have confirmed one-hit wonders. I mean, shouldn't there still be hope for Right Said Fred, Lou Bega and the Crash Test Dummies?
A few days later, I was trying to do some actual work when I got stopped cold.
For the first time that I'm aware of, players born in 1990 are eligible for the NFL draft.
Clemson defensive end
Da'Quan Bowers
was born Feb. 11, 1990.
USC offensive lineman
Tyron Smith
was born 19 stinkin' days before the start of 1991.
Every generation reaches that point. We're at the point where babies born during the Bell Biv Devoe period are headed to the NFL. It's time to pass the Geritol around. Wasn't it just yesterday that we watched the Jim Harbaugh-led
Chicago Bears
win the NFC Central, all while dreaming about
the Cradle of Love girl
?
(Or was that just me?)
Stay tuned for more ground-breaking NFC North coverage in a few hours.
April, 13, 2011
4/13/11
5:09
PM ET
I'm all for traveling outside of the box to conduct an otherwise traditional exercise, so kudos to ESPN's Todd McShay for
steering two NFL scouts through a mock draft

that produced some interesting results based, I think, more on the best player available at each spot than the likely target of individual teams.
With that in mind, let's take a look at the players our teams received in this exercise:
12. Minnesota Vikings
Player:
Auburn nose tackle
Nick Fairley

Seifert comment:
Earlier this year, Fairley was considered the top prospect in the draft. Scouts Inc. now ranks him No. 11 overall. Vikings coach Leslie Frazier has made clear that he wants to rejuvenate the defensive line, and the possible departure of free agent Pat Williams would open a hole that Fairley could fill.
13. Detroit Lions
Player:
USC offensive tackle
Tyron Smith

Seifert comment:
In this mock, Clemson defensive end
Da'Quan Bowers
was already off the board. (
Varying reports about his knee injury
have caused some to speculate he will be available when the Lions choose.) I would be more than fine with Smith, who might be the top tackle in the draft. Coincidentally,
he visited the Lions' Allen Park facility Wednesday
.
29. Chicago Bears
Player:
Baylor nose tackle
Phil Taylor

Seifert comment:
This would be an interesting choice. The Scouts Inc. scouting report on Taylor paints him as a classic 335-pound run-stopping nose tackle. But the Bears need a pass-rushing three-technique defensive tackle much more following the release of Tommie Harris, even if unproven Henry Melton ultimately makes a successful transition from the end position.
32. Green Bay Packers
Player:
Baylor guard
Danny Watkins

Seifert comment:
At No. 32, general manager Ted Thompson could go in any number of directions. The Packers are set at right guard with Josh Sitton but have not displayed significant interest in signing left guard Daryn Colledge to a long-term deal.
April, 5, 2011
4/05/11
9:25
AM ET
By
ESPN.com staff
| ESPN.com
We're Black and Blue All Over:
Chicago Bears
Pittsburgh
offensive lineman Jason Pinkston
is one player the Bears are keeping an eye on heading into the draft later this month.
Former Bears cornerback Roosevelt Williams
isn't letting the "bust" label
prevent him from helping others succeed on the football field.
Detroit Lions
UCLA linebacker Akeem Ayers is reportedly making a
pre-draft visit
with the Lions.
USC
offensive tackle Tyron Smith
is who NFL Network's Charles Davis has the Lions picking in his latest mock draft.
Green Bay Packers
Eleven Packers
showed off their pitching arms
Monday at Miller Park in Milwaukee.
Running back Ryan Grant took a
less conventional way
to get to his appearance at the Brewers' home opener.
Minnesota Vikings
As expected, the minicamp the Vikings had originally planned for this coming weekend
has been canceled
.
A bill that would use public subsidies
for a new Vikings stadium
would allow a local government to increase sales taxes for the project without first being subjected to a referendum.
March, 9, 2011
3/09/11
2:15
PM ET
Mel Kiper's latest ESPN.com mock draft

features a mixture of need and value for the NFC North teams. Let's take a look:

12. Minnesota Vikings
Kiper's pick:
North Carolina defensive end
Robert Quinn
Seifert comment:
Kiper had the draft's top two quarterbacks off the board with the first four picks. He doesn't consider his third-ranked quarterback, Washington's
Jake Locker
, a smart choice at No. 12. That order of events would leave the Vikings with a talented player, but not a clear answer at quarterback. Quinn is well-regarded edge rusher who is suited for either a 3-4 or 4-3 scheme, and the Vikings are expected to bid farewell to starting left end
Ray Edwards
. They would have to thoroughly investigate Quinn, who did not play in 2010 because of an NCAA suspension for accepting gifts from an agent.

13. Detroit Lions
Kiper's pick:
USC offensive tackle
Tyron Smith

Seifert comment:
For months, media draft analysts have seen offensive line value at this segment of the draft. In this mock, Smith is the first offensive lineman off the board. Smith's stock hasn't dropped despite a limited showing at the scouting combine, and he could figure as a long-term replacement for left tackle
Jeff Backus
. Kiper didn't give the Lions a cornerback here because LSU's
Patrick Peterson
and Nebraska's
Prince Amukamara
are already off the board. Kiper has his next cornerback, Colorado's
Jimmy Smith
, going late in the first round.

29. Chicago Bears
Kiper's pick:
Colorado offensive tackle
Nate Solder
Seifert comment:
Going this late would represent a significant slide for Solder, an athletic 6-foot-8 mammoth who could play left or right tackle. The Bears should be pretty happy if this scenario occurs. Solder would give the Bears additional flexibility to arrange their best five linemen in a coherent Week 1 starting group.

32. Green Bay Packers
Kiper's pick:
Arizona outside linebacker
Brooks Reed

Seifert comment:
Kiper refers to Reed as a "sleeper" in his class with strong instincts and good enough speed to get to the passer in a 3-4 scheme. My guess is the Packers will take an outside linebacker here only if value suggests they should. It's a need, but not to the extent that general manager Ted Thompson will move past his core philosophies.
March, 4, 2011
3/04/11
10:45
AM ET
Conventional wisdom suggests the
Detroit Lions
' biggest positional needs this offseason are cornerback and outside linebacker. After the
decision to part ways
with veteran
Kevin Smith
, a few of you are adding tailback to that list. Mock drafts in which the Lions select an offensive tackle at No. 13 overall have been attributed to value, not need.
Are we sure about that?
[+] Enlarge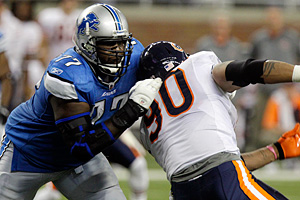 AP Photo/Carlos OsorioGosder Cherilus played well in 2010, but there is concern about the status of his surgically repaired right knee.
We know that Lions left tackle
Jeff Backus
had a pretty decent year in 2010. (How else would he have been named to our
prestigious All-NFC North team
?) On the right side, the Lions saw significant progress from former No. 1 pick
Gosder Cherilus
. But an underplayed element of the Lions' short-term future on the offensive line -- and possibly beyond -- is the state of Cherilus' surgically repaired right knee.
Cherilus had microfracture surgery on the knee in December, which by my count was at least the third procedure he's had on that knee. One came during his time at Boston College and another was last spring. Microfracture surgery is a serious undertaking that involves drilling holes in the bone to help stimulate recovery. Plenty of players have returned from it, and Lions general manager Martin Mayhew
said as recently as last week
that "we think he's going to come back fine."
But would the Lions say anything else at this point? If they were concerned about Cherilus' long-term future and interested in drafting a potential replacement at No. 13, I don't think they would say so right now. Speaking last week at the NFL scouting combine, Lions coach Jim Schwartz noted that "injuries have been a concern" for Cherilus.
"He's had some things that have set him back along the way," Schwartz said. "But Gosder's probably our most improved offensive player, particularly on the offensive line last year. He missed most of the offseason last year and then came out in training camp competing for his job. And he didn't win it by default. He stepped out and earned it every single day. He was very consistent and put a lot of the inconsistencies that he had in his first two years behind him, and was having a very, very consistent season. And [we] started to see some of the reasons that he was a first-round draft pick.
"Unfortunately he has been set back a little bit, but I think that he showed enough and had enough success that we feel like he was on the right track and there's good things to come from him."
We
discussed one intriguing prospect
, Colorado's Nate Solder, earlier this week. After the scouting combine,
Scouts Inc.
rated Solder the top offensive lineman in the draft and the No. 12 overall prospect. ESPN analyst Mel Kiper, meanwhile,
dropped Solder to his No. 22 overall prospect

because he completed only 21 repetitions of the 225-pound bench press. USC's Tyron Smith is Kiper's top offensive lineman and his No. 18 overall prospect.
February, 27, 2011
2/27/11
8:59
AM ET
February, 25, 2011
2/25/11
8:55
AM ET
January, 19, 2011
1/19/11
12:35
PM ET
Whether we're at the Epicenter of Humanity or not, there's no beating down ESPN's draft coverage.
Mel Kiper

and
Todd McShay

each weighed in Wednesday with mock drafts. You'll need an Insider subscription to see all of the picks, but I can slip you each man's choices for the two NFC North teams whose draft positions are locked in.
12. Minnesota Vikings
Kiper's pick:
Colorado offensive lineman
Nate Solder
McShay's pick:
USC offensive lineman
Tyron Smith
Seifert's comment:
I'm presuming Solder or Smith would be envisioned as replacements for two-year starter
Phil Loadholt
. I wouldn't count right tackle as the Vikings' biggest need, but an upgrade wouldn't hurt. Quarterback is the Vikings' top priority, but Missouri's
Blaine Gabbert
and Auburn's
Cam Newton
are already off the board in both mocks. McShay also has Washington's
Jake Locker
taken ahead of the No. 12 spot.
No. 13. Detroit Lions
Kiper's pick:
UCLA outside linebacker
Akeem Ayers
McShay's pick:
Solder
Seifert's comment:
The Lions are expected to release veteran linebacker
Julian Peterson
, and
Zack Follett
's neck injury has left his future cloudy. So along with cornerback, outside linebacker ranks as the Lions' top need. If all things are equal, Ayers seems a smarter pick than Solder -- even if
Gosder Cherilus
had his moments last season.