February, 27, 2014
Feb 27
2:24
PM ET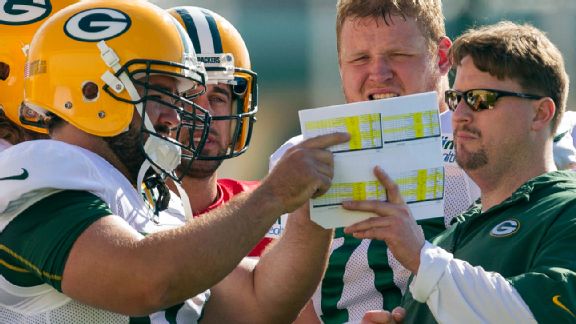 AP Photo/Mike RoemerNew Giants' offensive coordinator Ben McAdoo: "I'm confident. I've been groomed for this position."
New York Giants
offensive coordinator Ben McAdoo held a conference call Thursday, the first time he's spoken publicly since the Giants hired him Jan. 14 to replace Kevin Gilbride. McAdoo is no Rob or Rex Ryan -- he didn't make any headlines with his initial remarks to the media. There were a lot of "at the end of the day's" and "first and foremost's" and a lot of platitudes about the importance of fundamentals. One of my first impressions was that he sounded, in tone and delivery, almost exactly like Packers coach Mike McCarthy. Which is no surprise, since the 36-year-old McAdoo has spent the past decade working for and training under McCarthy.
"I'm confident. I've been groomed for this position," said McAdoo, who has never been a coordinator or called plays on game day, as he will with the Giants. "It's something that we train our coaches and our quarterbacks for. We've done it in Green Bay and it's something that I feel very confident about. I'm excited for the opportunity, but at the end of the day, play-calling isn't just about one guy pulling plays out of a hat. It's the process that you go through during the week. A lot of it has to do with game-planning, and has to do with ranking plays in the plan. Everyone's involved with it, not just coaches, not just the head coach, but the players as well. "
McAdoo was asked about some specifics, and here's what he had to say about them:
On whether he's a "West Coast offense guy"
: "Most teams in the league have West Coast principles built into their offense, and we'll be one of them. We're going to be an offense that has an identity, first and foremost. We're going to be sound, smart, and tough. We're going to be committed to discipline and poise, and at the end of the day, we're going to hang our hat on the fundamentals."
My take:
Every coach says the same stuff about fundamentals and about tailoring your system to your personnel. I look at McAdoo as a guy who has been thinking about this opportunity for a long time and is likely to incorporate some of what he's been trained in, some of what is already present and some of his own ideas. You don't hire a coach because you like his system. You hire a coach because you think he's smart and has good ideas and can communicate them to players in effective ways. That is what the Giants see in young McAdoo. His "system," such as it is, has yet to develop itself.
On what needs to be done to help Eli Manning recover from his 27-interception season:
"Taking care of the football is the biggest factor in winning and losing games. Fundamentals can help you there. At the same point in time, everybody on the offensive side of the ball needs to play better. With that being said, everyone comes in with a clean slate. This is going to be a new operation on offense. There are some new coaches in place, there are some coaches who have been here who have been in different spots, but at the end of the day everyone has a clean slate. That's how we're going to start, and that's important for the players to know. Also, winning in this league, the quarterback gets a lot of credit and gets too much credit. When you don't play so well and you lose in this league, the quarterback gets a lot of blame and probably too much blame. But that is the nature of the beast."
My take:
McAdoo's is a new voice in Manning's ear after 10 years of the same one. I think Manning will be energized by the change.
The importance of the screen game in the offense:
"We're definitely going to spend time in the screen game. It's something that will be a focal point, and needs to be installed. We'll have different types of screens, whether they're sidewalk screens or half screens, so fourth and so on, just like everybody else in the league. At the end of the day, it comes down to fundamentals and guys getting enough repetitions where they're productive."
My take:
The deterioration of the screen game because of the injuries to and eventual departure of
Ahmad Bradshaw
was a huge part of why the Giants' offense went downhill the past two years. They absolutely need a running back or two who can help in the pass game as a blocker and a receiver.
What kinds of players the Giants have who might fit his system:
"Well, first things first, it's not my system. It's our system here, and we're building it right now. I've had a chance to meet different guys going through the building. It'll be exciting. A lot of guys are in and out right now, so I haven't had a chance to meet all of them.
Victor [Cruz]
, we had over at the Pro Bowl, and Eli, it'll obviously be exciting to get going with those guys.
Henry Hynoski
, I'm familiar with, he played at Pitt and Southern Columbia High School. I've followed him since he was in high school really. A lot of other guys.
Rueben Randle
, I had a chance to meet yesterday, he's excited to get going. Just to name a few that I had a chance to talk to.
Chris Snee
has been in the weight room a ton, I've run into him and
[Kevin] Boothe
and all of those guys, so it's been great seeing them and I look forward to getting going."
My take:
I think Cruz is going to be huge for McAdoo as a guy who can make plays once he gets the ball in his hands, and I don't think it's a coincidence he's the first player he mentioned in this answer.
December, 20, 2013
12/20/13
10:30
AM ET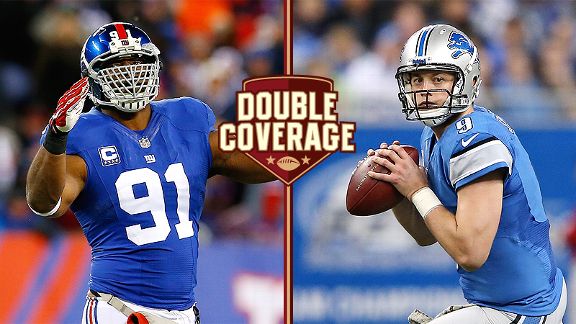 Getty ImagesJustin Tuck, left, and the Giants will be trying to end the playoff hopes of Matthew Stafford's Lions.
It is a battle of disappointments on Sunday at Ford Field: the
New York Giants
, who have been disappointing all season, against the
Detroit Lions
, who have been one of the more surprising teams over the second half of the season -- in a bad way.
The Giants have no playoff hopes. The Lions need to win their final two games and then hope for help (i.e., losses) from Green Bay and Chicago.
Taking you through Sunday's matchup are ESPN.com NFL reporters Michael Rothstein (Lions) and Dan Graziano (Giants).
Rothstein:
The Giants have struggled all season, and
Eli Manning
has been at the forefront of that. What has changed there?
Graziano:
It's basically just a complete bottoming-out on all fronts, starting with the protection. A line that wasn't great to begin with is down two starters and has been playing a rookie at right tackle all season. The blocking help the line used to get from running backs and tight ends disappeared when the Giants let
Ahmad Bradshaw
and
Martellus Bennett
leave in the offseason.
Hakeem Nicks
has had a terrible year at receiver, playing like he is more worried about staying healthy in advance of free agency than trying his best to win. There has been no run game at all for long stretches. And Manning has failed to elevate above his miserable circumstances, missing too many throws and too often looking as though it has all been too much for him. It's been a total whitewash of a season for the Giants' offense. They are the only team in the league that has been shut out even once this season, and they've been shut out twice.
What is the deal out there in Detroit? To my eyes, the Lions should have put this division away by now with
Aaron Rodgers
and
Jay Cutler
having been out for so long. What is the main reason they seem to have squandered such a great opportunity?
Rothstein:
I don't know whether there are enough words to describe all that has gone on, although the simplest way to put it would be consistent end-game meltdowns, either from turnovers, coaching decisions or a defense that suddenly faltered.
A lot of it has to do with
Matthew Stafford
, who has had accuracy issues in the second half of the season. Really, there have been issues everywhere but the lines, from turnovers to coverage breakdowns on defense.
This is a team that should be safely in the playoffs right now instead of needing to win out and get help.
That obviously leads to job-security questions for Jim Schwartz. Although that doesn't seem to be the case for Tom Coughlin, has this season given any indication as to how much longer he plans to be on the sideline?
Graziano:
No, Coughlin is really a what-you-see-is-what-you-get sort of guy. He's completely believable when he insists he's focused on only this week's game and doesn't want to address anything beyond this season. People close to Coughlin insist he won't quit as long as he feels he can still do the job, and there is no indication he feels otherwise. He has as much passion and energy as anyone else in the building (and right now, more than most!). I don't think Giants ownership would fire him, and I'd be stunned if he got into the offseason and decided he was done. As one person close to him told me, "He has no hobbies. There's nothing for him to retire TO." At 67 years old, he understands why the questions get asked, but he doesn't view himself as near the end of a career, I don't think. As of now, he plans to be part of the solution here, and it would be a major upset if he wasn't back in 2014.
One of Coughlin's biggest immediate problems is keeping his quarterback from getting killed. How is that Detroit pass rush looking these days?
Rothstein:
Eli, meet Ndamukong. He will be the guy tossing you to the ground today. In all seriousness, though, the Lions' pass rush has been interesting. The Lions have been great at applying pressure (other than against Pittsburgh) but don't have the actual numbers to show for it, which can be confusing.
What teams have done is bottle the middle on
Ndamukong Suh
and
Nick Fairley
, and have either a tight end or running back help on either
Willie Young
or Ziggy Ansah on the ends.
So to answer your question, it has been OK, but not the consistently dominant force some were expecting.
That leads into my last question. The Lions' run defense, headed by that front, has been one of the best in the league this season. Have the Giants figured any way to solve their run woes?
Graziano:
Andre Brown
was hot for a while when he came back from his injury, and the offensive line was starting to block better for the run. But the past two weeks have seen a step backward, and the way the line is configured now, with starting left guard
Kevin Boothe
playing center and backups rotating in and out at left guard, has left it very vulnerable and one-dimensional. The Giants were able to take advantage of some good matchups with Brown running well, but against tougher fronts like the one they saw against Seattle last week, they struggle. I imagine they will struggle against the Lions' front in the run game as well.
Two straight disappointing games for Stafford and
Calvin Johnson
. Do you expect Megatron to blow up this week and victimize the Giants' secondary?
Rothstein:
Kind of. As cornerback
Rashean Mathis
told me this week, if the Lions don't find their urgency now, they'll never find it this season. So I'd imagine you would see Johnson -- who is Detroit's best player -- at the forefront of that if the Lions have any shot over the next two weeks. Plus, those two drops he had against Baltimore will gnaw at him all week long. I expect he'll have a big game.
Stafford, on the other hand, I'm not as sure about because he seems genuinely rattled this second half of the season. Detroit needs to find what was working for him at the start of the season and bring that back, otherwise its season is over.
.
September, 12, 2013
9/12/13
9:30
AM ET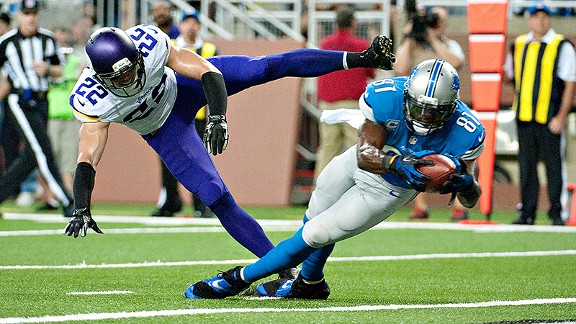 Tim Fuller/USA TODAY SportsCalvin Johnson dropped a would-be TD catch because he didn't complete the "process of the catch."
In 2010, I sat in the Soldier Field press box and
watched as "process of the catch" became a term of great derision and mystery.
Four seasons later, it seems, nothing has changed. Players, fans, media members and even officials remain confused about the corresponding rule, what it means, and how it should be implemented.
Three plays from Week 1 help illustrate our continuing state of disorder, one that first became evident when
Detroit Lions
receiver
Calvin Johnson
lost an apparent game-winning touchdown in 2010 after leaving the ball on the ground to go celebrate. As we (thought we) learned at the time, the NFL rulebook includes this note in Rule 3, Section 2, Article 7:
"A player who goes to the ground in the process of attempting to secure possession of a loose ball (with or without contact by an opponent) must maintain control of the ball throughout the process of contacting the ground, whether in the field of play or the end zone. If he loses control of the ball, and the ball touches the ground before he regains control, there is no possession. If he regains control prior to the ball touching the ground, it is a catch, interception, or recovery."
Johnson lost another touchdown Sunday, against the
Minnesota Vikings
, after replay officials and referee John Parry ruled -- correctly -- that he did not control the ball through the entire process of the catch. When you watch the replay, you see Johnson gather
Matthew Stafford
's pass in a firm grasp with two hands and with two feet on the ground at the 1-yard line. He dove across the goal line, but the ball trickled out when his arms hit the ground.
Regardless of what you think about the rule, Parry's decision made sense given its wording -- at least until Sunday night. In the third quarter at AT&T Stadium,
New York Giants
receiver
Victor Cruz
was awarded an 18-yard touchdown catch under what seemed to be identical circumstances to the play ruled incomplete a few hours earlier in Detroit.
Cruz made a leaping grab at the 1-yard line, turned toward the end zone and stretched the ball with his right hand over the goal line. When the ball hit the ground, it squirted out of his hand. Cruz did not regain possession.
What was the difference between Cruz's touchdown and Johnson's incompletion? I suppose you could argue that Cruz wasn't going to the ground as he made the catch. His dive over the goal line was a separate action, coming after he technically gained possession.
Regardless, the rule put referee Tony Corrente in a tough spot, and it's not at all clear that he made the right call. Former NFL vice president of officiating Mike Pereira, now a Fox Sports analyst,
tweeted this week:
"The Cruz catch was ruled complete. It should not have. Ball came lose when he hit the ground. He did not complete the process."
In the aftermath, no one from the
Dallas Cowboys
complained about the call, from what I could tell. The knowledgeable announcing duo of Al Michaels and Cris Collinsworth didn't immediately question it, either. The play passed the smell test, as did Johnson's, and applying the "process rule" seemed artificial and awkward to the layman.
[+] Enlarge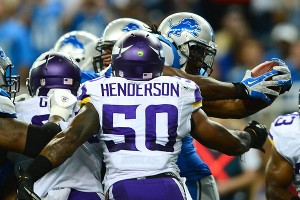 Andrew Weber/USA TODAY SportsJoique Bell lost the handle on this carry, but not before he had crossed the plane and scored.
That sense seems especially vivid when considering our third play, also from the Lions' victory over the Vikings. In the second quarter, Lions running back
Joique Bell
took a handoff at the 1-yard line, leaped and stretched the ball over the goal line. Almost instantaneously, Vikings safety
Jamarca Sanford
knocked the ball lose.
Parry initially ruled the play a fumble and awarded possession to the Vikings on the recovery. Upon reviewing the replay, however, Parry noted correctly that the ball crossed the plane a moment before Sanford dislodged it. In such situations, the play is dead the moment the ball crossed the plane. The ruling is a touchdown. Nothing that happens afterward matters at all.
So why is the Bell play dead the moment the ball crosses the plane, while the Johnson play is not? That question has always bothered me. It's as if the NFL has two separate rules for possession in the end zone, one for a running play and one for the pass.
The clinical answer is that the league does not consider Johnson to be in possession of the ball as he falls to the ground. He can have the ball firmly in grasp, with two feet on the ground, but if he is falling, the process rule means he must have possession until after he has landed.
Only then, according to the rule, could Johnson be in possession and be awarded the touchdown that Bell got by crossing the plane long before he fell to the ground and an instant before he fumbled.
I can understand that explanation in a vacuum, but too often this rule leads to decisions that don't pass the obvious smell test. The league considered but ultimately abandoned attempts to rewrite the rule a few years ago. Here's hoping the smart men on the competition committee revive those discussions.
July, 11, 2013
7/11/13
3:00
PM ET
Bubba
caught me off guard in
Tuesday's SportsNation chat
when he/she asked about recent contract news:
Bubba (Green Bay)
Cobb
Does
Victor Cruz
's new contract paint a picture of what we may see
Randall Cobb
get?
Kevin Seifert (2:17 PM)
That and
Percy Harvin
, yes, but we're probably a year or more away from that as a serious discussion.
It seems like yesterday when Cobb was
scoring two touchdowns in his first NFL game
for the
Green Bay Packers
. But he is entering the third season of a four-year contract, making it possible the Packers will seek to extend him sometime in the next calendar year. (The deal expires after 2014.)
Both Cruz and Harvin were one year away from unrestricted free agency when they signed their recent contracts, just as Cobb will be after the 2013 season. Harvin received a six-year, $67 million deal from the
Seattle Seahawks
with $25.5 million guaranteed, while Cruz just signed his six-year, $46 million deal from the
New York Giants
that includes $15.6 million in guarantees.
Harvin's status as a multi-dimensional threat added to his value over that of a standard 1,000-yard receiver like Cruz. The Packers have used Cobb in the backfield, albeit less frequently than the
Minnesota Vikings
did with Harvin, and are hoping but not certain that he won't have to return kickoffs or punts in 2013.
Regardless, Cobb was the Packers' leading receiver in 2012, and he could solidify value in the Cruz-Harvin range with a commensurate performance in 2013. So yeah, Bubba, you're on to something.
December, 26, 2012
12/26/12
7:45
PM ET
»
NFC Pro Bowl
:
East
|
West
|
North
|
South
»
AFC Pro Bowl
:
East
|
West
|
North
|
South
Perfect sense:
Minnesota Vikings
tailback
Adrian Peterson
has rushed for 1,898 yards this season -- 508 more than the next-closest running back. His fullback,
Jerome Felton
, has been responsible for a stunning dichotomy -- the Vikings average 7.7 yards per carry out of the two-back set and 3.6 in the one-back -- that made his inclusion a no-brainer. Quarterback
Aaron Rodgers
(NFL-high 106.2 passer rating) and linebacker
Clay Matthews
(12 sacks in 11 games) are the
Green Bay Packers
' two most indispensable players. Receivers
Calvin Johnson
(
Detroit Lions
) and
Brandon Marshall
(
Chicago Bears
) rank 1-2 in the NFL in both receptions and yards. Bears cornerbacks
Tim Jennings
(NFL-high eight interceptions) and
Charles Tillman
(10 forced fumbles) have been the league's best duo all season. They deserved to be the first cornerback teammates named Pro Bowl starters in 24 years. Finally, it was a pleasant surprise to see Vikings rookie place-kicker
Blair Walsh
on the roster. Walsh set an NFL record for long-distance kicking (9-of-9 from at least 50 yards) and is fourth in the league with a touchback percentage of 62.0, but rookies are often overlooked.
Made it on rep:
With all due respect to one of the classiest men in the game, Packers center
Jeff Saturday
did not have a Pro Bowl season. His inclusion is Exhibit A on how broken the Pro Bowl process is. Saturday is a six-time Pro Bowl player, but he played so poorly this season that the Packers benched him last week. Saturday might not have been one of the top 25 centers in the NFL this season, let alone one of the top three in the NFC. Vikings defensive end
Jared Allen
and Bears defensive end
Julius Peppers
are perennial Pro Bowl players who were destined to make this roster no matter what sack totals they produced. Allen had two last Sunday to bring his total to 11, and Peppers has 4.5 over his past two games to reach 11.5. Those totals gave late legitimacy to what had been relatively quiet seasons for both veterans.
Got robbed:
Vikings center
John Sullivan
might have been the best center in the NFC this season and deserved to be sent ahead of Saturday. Sullivan has been the catalyst for a line that opened up record-breaking holes for Peterson this season. It was surprising to see Bears linebacker
Lance Briggs
left off the roster for the first time in seven years. He has two touchdown returns and has been a sideline-to-sideline playmaker. The Lions'
Ndamukong Suh
had seven sacks this season, second-most among all NFL defensive tackles, but was passed over for the Bears'
Henry Melton
, the
San Francisco 49ers
'
Justin Smith
and the
Tampa Bay Buccaneers
'
Gerald McCoy
. Suh has had a nice rebound season in 2012, and you could make arguments for Melton, Smith and McCoy to be voted ahead of him. But you always wonder how reputation factors into voting. Finally, Packers receiver
James Jones
ranks second in the NFL with 13 touchdowns, but unfortunately the rest of his numbers (58 catches for 772 yards) don't merit Pro Bowl recognition in a conference with Johnson, Marshall,
Julio Jones
and
Victor Cruz
.
Click here for the complete Pro Bowl roster.
March, 13, 2012
3/13/12
12:00
PM ET
All things being equal, most of you wouldn't turn down the
Chicago Bears
' potential addition of defensive end
Mario Williams
. The unrestricted availability of one of the NFL's top pass-rushers is attractive to just about any football fan, and the prospect of Williams teaming up with current Bears All-Pro
Julius Peppers
is frightening.
Williams
In reading through our
hastily-arranged Have at It post
, I saw only a few objections. Most of them related to the salary-cap limitations Williams would impose on improvement in other areas. ESPN's Adam Schefter reported Monday that Williams is likely to command a contract that averages $15 million per season, and signing him would make it tougher to improve their thin group of receivers in an immediate way for 2012.
Recoil47
rejected a comparison with the
New York Giants
, who have won two Super Bowls in recent years in large part because of their dominating defensive lines. But in 2011, at least, the Giants were also stacked at receiver.
Wrote recoil47: "The comparison with the Giants hoarding defensive ends is a bad one. The Giants also have three wide Receivers who are better than the Bear's best wide receiver.
Hakeem Nicks
and
Victor Cruz
are far better than anything the Bears have, and
Mario Manningham
would sadly be a #1 on this team. So it's easy to try to make that comparison, but try to remember that the Giants were also stacked in areas the Bears ALSO need to fill."
Point taken. But the allure of creating an elite segment of a team seemed overwhelming for many of you.
Family_man1
wrote that "it's always temping to fix weaknesses so you can feel more "comfortable" but added: "Far more likely to succeed in the NFL is to be dominant at a few phases of the game then above be average in everything. The Packers, Patriots, Saints, 49ers all did this with great success this season. The champion Giants have a terrible secondary, but a stellar line and it paid off. Therefore, I say seek greatness in the pass rush and find cheap solutions in the other phases. "
In that vein, many of you suggested that Williams could team with Peppers for a few years of double-barreled pass rush before providing a relatively seamless transition when Peppers' career with the Bears ends. Williams just turned 27 in January, and is five years younger than Peppers.
"The one advantage of signing Williams is you are set at DE for the next 8-10 years," wrote
adambballn
. Added Family_man1: "He's a building block no
matter what you do."
My take:
I've been squarely on the side that believes receiver/tight end should be the Bears' top priority in free agency. As my colleague
Jeff Dickerson of ESPNChicago.com
notes, the Bears have spent more than twice as many draft choices in rounds 1-3 on defensive linemen than receivers since coach Lovie Smith's arrival in 2004. You get what you pay for. But I also acknowledge it's rare when a pass-rusher of Williams' abilities becomes available in free agency, and we've seen how Peppers has impacted the Bears.
So I won't hammer the Bears for signing a player of Williams' stature. I'll just take a rain check, because signing Williams doesn't mean the Bears can't address receiver through the draft and later during free agency. They might not get the prize of the receiver market,
Vincent Jackson
, but Jackson won't be the only receiver available. Stay tuned.
February, 6, 2012
2/06/12
5:45
PM ET
You're thinking it. I'm thinking it. And so was
ESPNChicago.com's Jeff Dickerson
. Namely: How nice would
Mario Manningham
look in a
Chicago Bears
uniform in 2012?

Manningham, of course, made one of the best catches in Super Bowl history Sunday night, a 38-yard grab down the left sideline that got the
New York Giants
moving toward their game-winning touchdown. It was a bright ending to a disappointing fourth season in New York for Manningham, who just so happens to be a pending free agent.
Overshadowed by teammates
Victor Cruz
and
Hakeem Nicks
, Manningham managed 39 receptions in 12 games for the Giants in 2011. But we all saw what he is capable of Sunday night, and I don't think you would find many objections to Dickerson's assertion that Manningham would improve the Bears' receiving corps.
Here's how Dickerson put it: "While it's unlikely he would solve all the Bears' issues at receiver, Manningham would certainly upgrade a group that failed to have a single member crack 40 catches or 750 yards last year."
I'm guessing we'll circle back on this discussion once or twice before March 13, when the free agent market opens.
January, 10, 2012
1/10/12
1:58
PM ET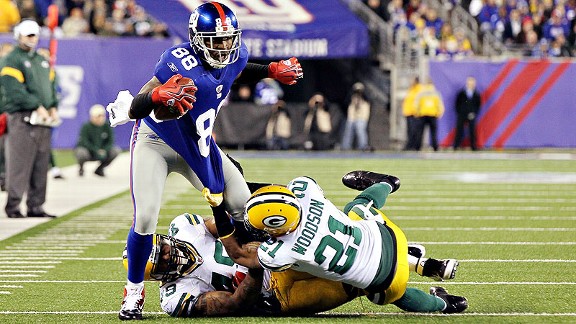 Jim McIsaac/Getty ImagesStar cornerback Charles Woodson is among those to express concern about the Packers' defense.
(Note: I hope everyone is good with pushing forward on our football discussion even as the Green Bay Packers are mourning the death of a family member. I considered holding off out of respect for those impacted by the death of Michael Philbin, but in the end I think we can be respectful while also providing an outlet for those who want to read about Sunday's divisional playoff game.)
Fear is a strong word. I don't think the Green Bay Packers fear the consequences of their historically porous pass defense. They won 15 games with it during the regular season, after all. I'm not even sure they're worried about it. They discovered and have implemented the antidote throughout the past four months.
But if you're someone who likes to conceive the worst-case scenario, you don't have to think too hard.
The Packers tripped only once this season, despite giving up an NFL-record 4,796 passing yards, mostly because they intercepted a league-leading 31 passes. In the playoffs, of course, the quarterbacks are better and less prone to mistakes. The Packers could face a Pro Bowl quarterback at every step between now and Super Bowl XLVI.
The bottom line: If an elite quarterback gashes them for yards but avoids the interceptions, he could knock the Packers out of the playoffs.
To be sure, there have been all kinds of attempts to poke holes in the Packers' near-perfect season. To me, this is the one instance with merit. The Packers' only loss this season came when
Kansas City Chiefs
quarterback
Kyle Orton
threw for 299 yards with no interceptions -- the only game this season the Packers didn't create at least one turnover.
First up this postseason will be the
New York Giants
'
Eli Manning
, who fell 67 yards shy of a 5,000-yard season and threw for 347 yards and three touchdowns in a Week 13 loss to the Packers. The final score was
38-35
, and the Packers' scoring included linebacker
Clay Matthews
' interception return for a touchdown.
With the exception
of a few pointed statements
from cornerback
Charles Woodson
, the issue has mostly bubbled below the surface. But speaking late in the regular season, Woodson reiterated his concerns about the defense's aptitude for postseason football.
"Defensively we still have some problems," Woodson said after the Packers allowed 441 total yards in Week 16 against the
Chicago Bears
. "We just give up way too many things on a consistent basis, so we have a long way to go. … Just not playing good football at times. We've been consistently inconsistent throughout the season. It's on each man to get it done. Moving forward we have a great opportunity. … Everybody on this team, to the man, has to look within himself and just get the job done."
As the chart shows, the Packers allowed a 300-yard passer in nearly half their games this season. They intercepted the
Carolina Panthers
'
Cam Newton
three times to spoil a 432-yard day, for example, and held off the
San Diego Chargers
mostly because they intercepted
Philip Rivers
a career-high three times and returned two for touchdowns.
Manning, meanwhile, compiled eight 300-yard games during the regular season; the Giants were 4-4 in those games. He threw the seventh-most interceptions in the NFL, 16, but has thrown only one interception in the Giants' past three games.
Packers defensive coordinator Dom Capers has addressed the issue on almost a weekly basis this season. Speaking to Wisconsin reporters last week, Capers admitted that "we don't like" the yardage totals but added: "We've been able to win 15 games, and the reason for that, with our defensive stats the way they are, is the fact that we ended up No. 1 in the league in takeaways and No. 1 in the league in interceptions. That's something we obviously place a high priority on."
What has been the issue? As the second chart shows, the Packers' standard pass rush -- four or less rushers -- hasn't been nearly as effective as it was last season. They have given up an NFL-high 8.5 yards per attempt on those plays and managed only 11 sacks.
As a result, Capers has dramatically increased his blitz totals from last season. He elevated from a blitz on 32.8 percent of opponents' drop-backs in 2010 to 45.7 percent in 2011, the fourth-most in the NFL, according to ESPN Stats & Information. The only NFL team that affected a bigger blitz uptick this season was the
Houston Texans
, who changed defensive coordinators in the offseason.
I included the blitz percentages for each of the 300-yard games in the first chart; they blitzed 51.6 percent of the time on Orton's 299-yard day.
The blitz is the ultimate risk-reward proposition, and it brought the Packers 18 of their 29 sacks on the season and limited opponents to eight touchdown passes. (The Packers actually had more interceptions out of their standard rush, possibly a reflection of non-elite quarterbacks forcing the ball into coverage.)
Given his druthers, I doubt Capers wants to blitz as much as he has. In his session with reporters, he pointed to the Packers' Week 12 game against the
Detroit Lions
as "far more like [the way] we want to play." In that
27-15
victory, the Packers blitzed a season-low 22.4 percent of the time and limited Lions quarterback
Matthew Stafford
to 276 yards. None of Stafford's 32 completions went for longer than 23 yards.
Is the answer to pull back on the blitz Sunday against the Giants? In that Lions game, I'm guessing Capers considered it a higher priority to cover Detroit's slew of pass-catchers than to pressure Stafford. The Giants have a similar situation, especially now that receiver
Mario Manningham
is healthy and available to complement
Victor Cruz
and
Hakeem Nicks
. Perhaps, perhaps.
To be clear, this is not meant to ring alarm bells. I haven't been impressed with most of the attempts to poke holes in the Packers' success this season. 15-1 is 15-1, and it's clear the Packers know how to win. They are nine-point favorites in this game for good reason. All I want to do is note that a season-long issue was never resolved. The Packers have to hope it won't bite them now.
January, 1, 2012
1/01/12
11:28
AM ET
MINNEAPOLIS -- Greetings and Happy New Year from the Metrodome. Let's start off a busy day of news with Adam Schefter's report on a nice holiday present heading the way of
Detroit Lions
receiver
Calvin Johnson
.
According to Schefter, Johnson is on the verge of earning a $4.5 million bonus on top of his $8.875 million base salary. To earn the bonus, Johnson needed to qualify under five separate categories of performance. He's already hit three of them and is reach of at least two more. Among them:
We'll keep you updated.
August, 23, 2011
8/23/11
12:00
PM ET
I'll admit I was a bit groggy by the time I posted
Monday night's Observation deck
on the
Chicago Bears
' 41-13 loss to the
New York Giants
. My general impression of the Bears' defense was pretty neutral, especially on a night when the opponent rang up 41 points, and I wrote as much. I saw what I thought was some really sharp play in the first couple of series and thought the Bears' performance dipped at about the same time that coach Lovie Smith began removing his starters.
So I was surprised Tuesday morning to see the teeth-gnashing and general concern about the way the Bears' defense played and, especially, tackled. And I agree with
Brad Biggs of the Chicago Tribune
on this much: Smith's postgame criticism is as rare as it gets.
(While talking about the health of his team, Smith interjected: "You've got to tackle a little bit better before you start talking about injuries and things like that." Smith almost never criticizes his players, assistants or team in public.)
[+] Enlarge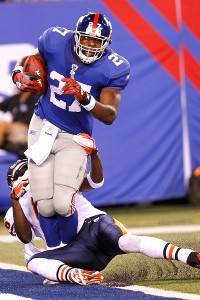 Tim Farrell/The Star-Ledger via US PresswireBrandon Jacobs
Maybe my expectations for preseason games are too low, but I go into them thinking they will be sloppy and light on fundamentals. You can get a sense for individual skills and competence in some instances, but once coaches begin sitting their starters, you're riding a slippery slope on any subsequent judgment from a team perspective.
But just for fun, I went back and re-watched the Bears' first four defensive series, after which middle linebacker
Brian Urlacher
departed. Remember, linebacker
Lance Briggs
was already sidelined for the game. What I saw confirmed my original thoughts: The Bears' starters missed maybe three tackles, one of them glaring, but also made more than a few secure stops to minimize or break up plays in the early going.
Here's what I saw:
First possession
Second possession
Third possession
Defensive end Israel Idonije missed a backfield opportunity on tailback Brandon Jacobs, who went on to a 7-yard gain on first down.

Nobody missed a tackle on Jacobs' 18-yard run on third-and-1. The Giants caught the Bears in a man defense, and linebacker Brian Iwuh followed the receiver in motion away from the point of attack.

Peppers rushed Manning on two other plays, contributing to incompletions.

Jennings tackled Bradshaw 4 yards short of a first down on third-and-10.

The Giants caught the Bears in another favorable matchup on fourth-and-4. Manning lofted a nifty 21-yard pass over Moore to receiver Victor Cruz.

Urlacher tackled Jacobs after a 4-yard gain in the red zone.

Iwuh knocked away Manning's pass for Manningham on third-and-goal, forcing a field goal.
Fourth possession
The Giants took over at the Bears' 31-yard line following Devin Thomas' 73-yard kickoff return.

Linebacker Nick Roach stuffed a Jacobs run for a 1-yard loss.

Harris stopped a reverse to Manningham after a 1-yard gain.

Bradshaw gained 13 yards on a screen play largely because center David Baas drilled Iwuh to the turf.

On the next play, Wright whiffed on Jacobs at about the 10-yard line and Jacobs dragged Harris about 4 yards into the end zone for an 18-yard scoring jaunt.
To be sure, the night didn't end well for the Bears' defense. Maybe you can excuse a safety getting dragged a few yards by a 275-pound back, but never do you want to see a safety juked by the same guy. Considered as a whole, however, I didn't see nearly enough to panic during those four possessions.
You could make the argument that backups should play better than the way the Bears' did Monday night. You can question whether they have the depth to withstand any significant injuries. Specifically, you could argue that Wright shouldn't have continued to miss tackles later in the second quarter just because he was playing with some non-starters.
But you're on your own there. In my experience, you're much better off under-analyzing preseason games than overanalyzing them. I understand why Smith was upset. He is a stickler for physical football, and he can't excuse the play of backups and mishmash lineups. But we can. So let's everyone calm down and move on.