NFC North:

Vikings-Packers III
January, 4, 2013
1/04/13
9:34
PM ET
GREEN BAY, Wis. -- Good evening from the site of Saturday night's wild-card playoff game between the
Minnesota Vikings
and
Green Bay Packers
. The drive over was smooth. Thanks for asking. All I have to say is that the difference between a car with satellite radio and without is pretty much the same as good and evil.
Ponder
As I was puttering over here, to a nice toggle of "E Street Radio" and "The Blend," the Vikings listed quarterback
Christian Ponder
as questionable on their final injury report of the week.
We already knew
that Ponder was limited in practice this week by an elbow injury he suffered last Sunday, but the "questionable" designation added a bit more gravity to the situation. Technically, it means Ponder has a 50-50 chance of playing Saturday night.
I did a little snooping this evening, and here's what I can tell you: Ponder's injury is more than a simple bump or bruise, but if there is real concern about his ability to play, it's being kept well under wraps. The injury might be significant enough for the Vikings to have No. 3 quarterback
McLeod Bethel-Thompson
in uniform for the first time this season, but it would be a real surprise if Ponder doesn't start, as
ESPN's John Clayton reports
.
It's fair to wonder how the game would be affected if Ponder departs, considering the unique skills of No. 2 quarterback
Joe Webb
-- who has played only three snaps this season but confounded opponents in 2010 and 2011 with his open-field running ability. Webb could be a wild-card factor in a game between two familiar teams, but based on what we've seen from coach Leslie Frazier this season, there is no reason to think the Vikings are looking for an excuse to get Webb on the field. Frazier stuck with Ponder during his worst days of the season, so why would he to turn to Webb now?
We'll continue poking around Saturday, and I'll update the blog as warranted.
January, 4, 2013
1/04/13
1:30
PM ET
»
NFC Final Word
:
East
|
West
|
North
»
AFC
:
North
|
South
Five nuggets of knowledge about Saturday's Minnesota Vikings-Green Bay Packers wild-card game:
[+] Enlarge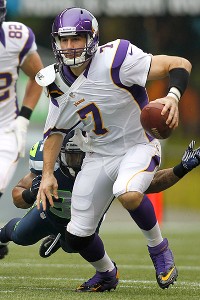 AP Photo/John FroschauerVikings QB Christian Ponder, who will make his first postseason start in temps under 40 degrees, is recovering from a sore elbow.
Frozen tundra:
You've already heard plenty of national nostalgia about playing a night game in freezing temperatures at one of the NFL's most sacred cathedrals. As much intimidation as Lambeau Field presumably exudes, it's worth noting that the Packers have
folded more frequently there than their opponents in recent history
. They are 2-4 over the past decade in home playoff games, and one of those losses was to the Vikings after the 2004 season. Packers receiver
Greg Jennings
was among those
who spoke honestly this week
about his preference for playing postseason games on the road.
Road struggles:
The Packers are 7.5-point favorites,
and all
14 ESPN analysts
picked them to win. One of the primary reasons: The perception that the Vikings, despite a four-game winning streak to end the season, are overmatched as a visiting playoff team. Quarterback
Christian Ponder
, for one, has never started a game in temperatures under 40 degrees. Saturday's high is expected to be in the mid-20s. Packers quarterback
Aaron Rodgers
, on the other hand, has 14 career starts -- and an NFL-high 75.1 Total Quarterback Rating -- in games below freezing. The Vikings' extended history reveals they have struggled in road playoff games since moving indoors in 1982. Over that 31-season span, they have won only four road playoff games (in 14 opportunities).
Slowing Peterson:
Vikings tailback
Adrian Peterson
rushed for 230 yards after contact in two games against the Packers this season, illustrating the Packers'
inability to tackle him over an extended period
.
Pro Football Focus
debited the Packers a combined 10 missed tackles on his 55 carries against them. The Packers have mostly been hurt when Peterson has bounced runs outside the tackles, accounting for 205 of his total yards on just 15 such carries, and they have suggested that better gap integrity could limit those occasions. But they might have to find a way to win despite Peterson. Of the six previous players to rush for 2,000 yards in a season, only one won a playoff game (in four opportunities). In 1998, the
Denver Broncos
'
Terrell Davis
rushed for 468 yards in three playoff victories on the way to winning Super Bowl XXXIII.
Ponder's issues:
Ponder solidified his status as the Vikings' 2013 starter with a strong finish to the regular season, but there is some understandable skepticism about his potential for succeeding Saturday night. He has been
limited this week by a sore right elbow
and, of more relevance, will be making his first playoff start at the same site where he has had two of his worst performances. In two games at Lambeau, Ponder has completed 47.4 percent of his passes with almost no downfield success. In those games, he has completed just three passes that traveled 15 yards or more past the line of scrimmage (in 14 attempts).
Close game?
The teams' two regular-season games were decided by a total of 12 points. Does anyone have the advantage if Saturday night's game is close? The Packers are 1-3 in games decided by three points or fewer this season and 6-14 all-time under coach Mike McCarthy. This season, the Vikings are 2-1 in such games. The Vikings have a Pro Bowl kicker in rookie
Blair Walsh
, who nailed all 10 of his 50-plus yard field goals this season, while Packers place-kicker
Mason Crosby
has been shaky during the second half of the season. All three of Walsh's misses this season came on the road, including his only career attempt at Lambeau.
(Statistics courtesy ESPN Stats & Information unless otherwise noted.)
January, 4, 2013
1/04/13
10:00
AM ET
A few of you have suggested I've been a bit negative toward the
Green Bay Packers
' chances of winning Saturday night's wild-card playoff game against the
Minnesota Vikings
. For me, this week has been about presenting some undeniable facts in context, from the Packers'
recent playoff struggles
at Lambeau Field to
their inability to slow down
Vikings tailback
Adrian Peterson
during the regular season.
Of course, I've had this post in my back pocket all along. The Packers' best and most obvious advantage is the career-long dominance of quarterback
Aaron Rodgers
against the Vikings. We
noted some of his numbers
against them last week, and Rodgers followed up with a 365-yard, four-touchdown performance in the Vikings' 37-34 victory.
In 10 career starts against the Vikings, whether at Lambeau or the Metrodome, Rodgers has a 116.4 passer rating. He's completed 70.6 percent of his passes and averaged 282.3 yards per game while throwing 24 touchdowns and only four interceptions.
As the chart shows, Rodgers' ratio of six touchdowns for every interception against the Vikings ranks as the second-best by a quarterback against one opponent -- minimum 15 touchdown passes -- in NFL history. In other words, it's exceedingly rare for a quarterback to be so productive and efficient over time against a regular opponent.
To be fair, the Vikings have sacked Rodgers 35 times in those games and have won four of the 10 starts despite his passing brilliance against them. But if you're the Packers, and you know Rodgers will have his full complement of wide receivers --
Greg Jennings
,
Jordy Nelson
,
Randall Cobb
and
James Jones
-- for the first time in three months, you realize you have a sizable advantage in this aspect of the matchup.
Here is just one recent example of how Rodgers has found ways to slice up the Vikings' pass defense. Last Sunday, veteran cornerback
Antoine Winfield
departed the game because of pain in his broken hand. That shuffled the Vikings' nickel defense and required kick returner
Marcus Sherels
to play 34 snaps in the second half.
Rodgers targeted Sherels on 10 of the 21 passes he threw after halftime, according to
Pro Football Focus
, and completed nine of them for 162 yards.
Winfield has pledged to play Saturday night
, but history tells us we can count on Rodgers finding the weak spot in the Vikings' defense at some point.
January, 3, 2013
1/03/13
2:24
PM ET
The
Minnesota Vikings
and
Green Bay Packers
have essentially wrapped up their practice weeks in advance of Saturday night's wild-card playoff at Lambeau Field. There is a relatively short list of significant injuries in play this week, and by far the most intriguing to emerge is the sore right elbow of Vikings quarterback
Christian Ponder
.
Ponder suffered the injury in the second quarter of last Sunday's 37-34 victory over the Packers after a hit by Packers safety
Morgan Burnett
. He had an ice pack on the elbow immediately after the game and was limited in practice this week. The Vikings "didn't ask him to do a whole lot" in practice Thursday,
coach Leslie Frazier told reporters,
because they wanted to "let that elbow calm down a little bit."
There is every expectation Ponder will play Saturday night, but it's becoming clear he won't be at 100 percent. You wonder if his injury is significant enough for the Vikings to put their third quarterback,
McLeod Bethel-Thompson
, in uniform on game day for the first time this season.
Joe Webb
is the No. 2 quarterback but has played only three snaps this season.
Let's take a look at the rest of the teams' injury lists:
Vikings:
Cornerback
Antoine Winfield
(hand) again sat out practice but there remains optimism that he will play Saturday. He worked on the sidelines and, as
Tom Pelissero of 1500ESPN.com
notes, Winfield will wear a larger protective cast Saturday than he did last Sunday. Linebacker
Tyrone McKenzie
(shoulder) isn't expected to play. All other players should be available.
Packers:
Cornerback
Tramon Williams
didn't practice Thursday because of an illness, but he is expected to be ready for the game. Receivers
Jordy Nelson
(knee) and
Randall Cobb
(ankle) both were full participants Thursday, making it likely the Packers will have their full complement of top-end receivers. Defensive back
Charles Woodson
(collarbone) was a full participant and remains on track to play. Receiver
Jarrett Boykin
(ankle) again sat out practice and would seem unlikely to play.
January, 3, 2013
1/03/13
11:30
AM ET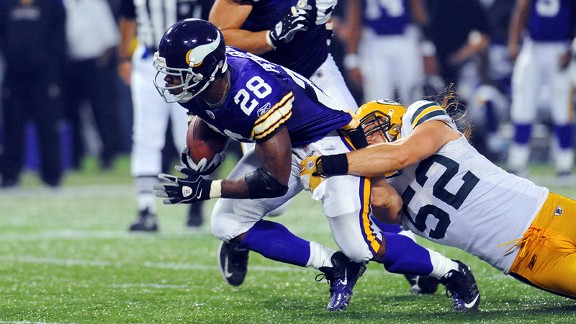 Marilyn Indahl/USA TODAY SportsLinebacker Clay Matthews says the Packers are focused on slowing Vikings RB Adrian Peterson down.
I'm going to throw out a number, and I want you to keep your composure and hold your breath until I'm through explaining it. It will require reading more than one paragraph before reacting, but I know you can do it.
As
Minnesota Vikings
tailback
Adrian Peterson
romped through their defense this season, the
Green Bay Packers
brought down an extra man down to the line of scrimmage on only 24 percent of his rushes (13 of 55), according to ESPN Stats & Information. On the rest, they attempted to stop the NFL's top offensive player with a standard front of seven (or fewer) players.
Now hold up. Before you accuse Packers defensive coordinator Dom Capers of gross negligence, consider what happened on those 13 plays against an extra run-defender in "the box." (ESPN Stats & Information defines "the box" roughly as 2 yards outside of the tackles and about 5 yards beyond the line of scrimmage.)
On those 13 carries against eight or more Packers defenders in the box, Peterson averaged 6.9 yards per rush. Based on this sample size, at least, the Packers' schematic commitment to stopping Peterson wasn't their primary problem.
So what was? Why did Peterson, even in the midst of a career season, torch the Packers so thoroughly in two regular-season games? Remember, Peterson averaged 204.5 yards per game against the Packers and 120.6 against everyone else. And what, if anything, can the Packers do to slow him down Saturday night at Lambeau Field?
Speaking to reporters this week, Packers players mostly blamed undisciplined gap integrity for allowing Peterson to pop off big runs that ballooned his total against them. Indeed, Peterson had seven carries of at least 20 yards against them that totaled 249 yards. He averaged 3.3 yards on his other 48 carries.
Still, those seven big runs won one game in the season series and had the Vikings in position to steal the other as well. Whether the yards come in big doses or in a steady stream, they are the biggest threat to the Packers advancing in the playoffs.
"We ain't giving up 200 again," linebacker
Clay Matthews
told reporters this week. "... We'll do a better job this weekend."
According to Matthews, the Packers need to "play a little smarter in regards to scheme" against Peterson.
"We had the right calls," Matthews said. "We just need to be a little smarter as far as where we fit and being a little more accountable and reliable as far as what we do. There were a couple of times where perhaps if we were playing somebody else, we might be able to fall inside somebody else's gap, but with this team, they'll make you pay."
An amateur review of Peterson's big plays reveals several examples of Matthews' point. Left outside linebacker
Erik Walden
got caught inside on a run away from him in the second quarter on Sunday, so he was out of position and lost contain when Peterson broke it back the other way for an 18-yard gain. Cornerback
Tramon Williams
, meanwhile, lost contain on a 22-yard run in the first quarter, taking on fullback
Jerome Felton
's inside shoulder while Peterson broke to the sideline.
"Guys need to hold their leverage," safety
Morgan Burnett
told reporters, "not being nosy, trusting that your next guy will be there to make the play. ... If one guy is supposed to contain, you've got to keep that contain."
Indeed, Peterson has hurt the Packers mostly on runs he has broken outside of the tackles and down the sideline, or at least outside of the hashmarks. As the chart shows, 205 of his 409 yards have come on 15 carries outside of the tackles. He averaged 5.1 yards on carries that remained between the tackles.
"It would be nice if we could keep him inside and not let him bounce to the edges," Matthews said. "His speed helps him get to the outside and turn it up, especially on those generally smaller DBs back there."
It would be wrong, however, to suggest this is all a matter of maintaining gap and lane integrity. The Packers' tackling against Peterson has been weak at times, albeit in some cases because players were slightly out of position. According to
Pro Football Focus
, the Packers missed 10 tackles against him in two games. And in some cases, they were simply blocked well by the Vikings.
Linebacker
Brad Jones
, for instance, tried to grab Peterson's arms and ultimately missed the tackle on Sunday that would have stopped that 22-yard run after about 4 yards. And on Peterson's decisive 26-yard run in the fourth quarter, Vikings tight end
Kyle Rudolph
pushed Matthews away and finally to the ground. Left tackle
Matt Kalil
down-blocked on defensive tackle
Mike Daniels
, and Felton got enough of Jones to knock him away.
The Packers' best bet, frankly, is to minimize Peterson's carries. One way to do that, of course, is to establish a big early lead. Absent that, maybe we're back to the original issue of adding extra men to the box.
As recently as two weeks ago, the Vikings demonstrated a willingness to rely more on quarterback
Christian Ponder
if the defense dictated it. In Week 16, the
Houston Texans
slowed Peterson enough (86 yards on 25 carries) that Ponder took 38 drop-backs in a game the Vikings led throughout and eventually won 23-6.
Would consistent eight-man boxes against Peterson cause the Vikings to shift more responsibility to Ponder, who has played well lately but has never started a playoff game or in any game in temperatures under 40 degrees? Matthews wasn't saying, of course, but he did offer this nugget: "If we can limit those carries and force Ponder to beat us, that's the plan we'll want to play."
That's the goal, of course. We should all, however, be glad that it's not our job to figure out how.
January, 3, 2013
1/03/13
11:11
AM ET
Because I'm sure all of you make a daily habit of watching "
Wonder Pets
," as I do, I'm going to acknowledge I just said out loud: "This … is …
serious.
"
Is there any other way to react to the news that the
Green Bay Packers
have moved up last call at Lambeau Field for Saturday night's wild-card playoff game against the
Minnesota Vikings
? Alcohol sales will cease at the beginning of the third quarter instead of the end.
The Packers' website
attributed the decision to "the game's unique circumstances: Saturday night, playoffs and a division rival."
Up next: The Apocalypse.
In all seriousness, I shouldn't be too sarcastic about drinking at Lambeau during a Vikings-Packers game. A total of 15 people were ejected from the teams' Week 13 meeting, which kicked off at noon local time, and two were arrested.
According to WBAY,
a dozen fights broke out in the stadium district after the game. One man was hospitalized.
We won't keep our heads in the sand. Lots of people are going to be drinking Saturday night. Hopefully they limit their arguments to words and leave the stadium closer to sober than they would have been with the regular cutoff time.
January, 2, 2013
1/02/13
5:00
PM ET
Christian Ponder
played the worst game of his career in a Week 13 loss to the
Green Bay Packers
. His Total Quarterback Rating (QBR) was 3.1 on a scale of 0-100.
Four weeks later, Ponder played arguably his best game in the
Minnesota Vikings
' 37-34 victory over the Packers. His QBR was 94.6.
So what happened? Other than the vagaries of pro sports, how do we explain the difference in Ponder's performances?
Ponder surely deserves credit for getting himself under control after the Lambeau Field disaster. Sunday was the culmination of a four-week trend that had him playing as well as any quarterback in the NFL,
based on QBR analysis
. But what role, if any, did the Packers play in Ponder's success -- particularly as a passer -- in last Sunday's game?
I asked John McTigue of ESPN Stats & Information to help answer that question. The charts in this post contain some of what he came up with.
In short: Defensive coordinator Dom Capers heavily blitzed Ponder in Week 13 but pulled back, especially on third downs, last Sunday. Ponder smoked the Packers on third down in the re-match, and you wonder if Capers will head back in the other direction during Saturday night's wild-card playoff game.
The Packers blitzed Ponder on 60 percent of his dropbacks in the teams' first game, tied for the highest blitz percentage he faced this season. As the first chart shows, that figure increased to 75 percent on second and third downs. In the second game, the Packers' total blitz percentage dropped to 44 percent -- including 25 percent on third down.
The second chart shows Ponder was terrible on third down in the blitz-heavy first game and stellar when he mostly faced the Packers' standard rush in the second. Ponder had been steadily improving entering that Week 17 game, but you could argue the Packers made his job easier than it would have been if they had maintained their Week 13 approach.
We should make clear that game-planning and strategy is not this simple. The answer isn't necessarily to blitz Ponder more often on third down Saturday night. As outsiders, we're in a much better position to identify and discuss
what happened
than what
should happen.
But you now know what Capers understood on the short flight back to Green Bay last Sunday: That Ponder was near-perfect on the game's most important plays, and the circumstances surrounding that success were much different than those that contributed to his near-total failure just four weeks ago.
What Capers decides to do with that information is why people will buy tickets and watch Saturday night's game. The return of defensive back
Charles Woodson
brings back an important asset in Capers' bag of tricks. I'll be as interested as you to see his response.
January, 1, 2013
1/01/13
5:30
PM ET
Faced with a short work week, Tuesday was really a Wednesday for the
Minnesota Vikings
and
Green Bay Packers
. Both teams had full practices scheduled, and in Minnesota, the Vikings opened the doors to their practice facility to give them at least a partial sense of the elements they'll face Saturday night at Lambeau Field.

I'm sure you'll hear plenty of discussion this week about the Packers' home-field advantage on the proverbial frozen tundra. Indeed, the Packers have won 20 of their past 21 regular season games (and 26 of 28) at Lambeau dating to Week 10 of 2009, the best home record in the NFL over that time period.
But it's worth pointing out that the Packers' once-mighty home playoff advantage has dissipated noticeably over the past decade. After winning the first 11 playoff games in Lambeau history, the Packers are 2-4 over their past six. During that stretch, the only team the Packers have defeated is the
Seattle Seahawks
-- who have won one road playoff game in the history of their franchise.
The goal of every competitive team is to secure home playoff games, and it seems inconceivable that the Packers would consistently play worse than their opponents at Lambeau. If anything, you would expect the visitors to be limited by the weather, crowd or field conditions.
Each game is independent of the rest, but as the chart shows, one common thread over the past 10 years has been the number of Packers turnovers. In those six games, they have committed 17 and forced four, a minus-13 ratio. To state the obvious, turnovers and turnover ratio are closely aligned with winning and losing. I don't have an answer for why the Packers have made more mistakes than their opponents in those games, but there is no doubt why they have lost those games.