NFC North:

Vikings-Saints 2010 Week 1
September, 10, 2010
9/10/10
1:48
AM ET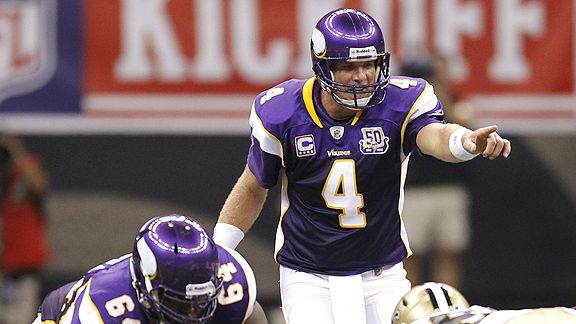 Derick E. Hingle/US PresswireBrett Favre completed just four passes to his wide receivers in the 14-9 loss to New Orleans.
NEW ORLEANS -- For followers of the
Minnesota Vikings
, Thursday night was a litmus test. Are you an optimist or a pessimist? Do you see potential and get excited? Or do you see too many loose ends and wonder if the magic is gone?
That's the fence I'm sitting on after the
Vikings' 14-9 loss
to the
New Orleans Saints
. Being the cynic I like to be, much of me wants to spew what seems to be obvious: The Vikings' once-explosive offense appeared neutered and in many ways out of synch in what turned out to be a highly winnable game at the Superdome.
After all, before Thursday night, the Saints had never scored so few points in a victory under coach Sean Payton. The output was testament to what was a powerful and inspiring performance by the Vikings' defense. Had the Vikings approached anything close to their 2009 offensive production, they could have won Thursday night in a rout. But what we saw should be concerning to anyone who fears a season-crushing slow start by an offense that spent the summer in flux.
Quarterback
Brett Favre
uncharacteristically missed open receivers
Greg Lewis
and
Percy Harvin
on key third-down plays in the second half. Erstwhile No. 1 receiver
Bernard Berrian
appeared blanketed by a surprise Cover 2 scheme and finished with a single 3-yard catch. Tailback
Adrian Peterson
ran for 87 bruising yards but never busted anything longer than 14.
In all, the Vikings went three-and-out on five of their 10 possessions. They managed only three plays of longer than 15 yards. Their 253 yards and 12 first downs would have qualified as their second-worst outing last season.
Favre insisted the offense "can be really good this year," but he didn't dispute my primary point. While they offered some glimpses of elite play, the Vikings aren't yet good enough to face a schedule that includes matchups against the Saints,
Miami Dolphins
,
Dallas Cowboys
and
New York Jets
before the middle of October.
"I can't say we're hitting on all cylinders like we did in the NFC Championship Game," Favre said. "I'd be lying if I said that. People can attribute that to whatever they want. They can call it rusty. People are going to have their own opinions. I know we're better than what we showed. ... If we were not any good, it would be obvious."
I don't dispute the Vikings can be better than they were Thursday night. But if you're a pessimist, this was your fear all along. You wondered if Favre's late arrival, combined with Harvin's bout with migraines and
Sidney Rice
's hip surgery, would conspire to stymie the offense. A few more outings like Thursday night's could bury this team before the NFC North race even starts.
I didn't see an incompetent offense Thursday night, but it was definitely still under construction. The Vikings got away with a transition phase in 2009, taking care of inferior opponents in Cleveland and Detroit. But this year, they might not have that luxury.
"I missed on some of those throws," said Favre, who completed 15 of 27 passes for 171 yards. "Everything felt fine, but I just threw it a little bit behind a couple of times. The reads that I made or didn't make, you can say in a couple of weeks that will come back or whatever. But this first game means a lot. You have to be ready for the first game. I came in as prepared as I could be. It's obvious we can get a lot better. It's obvious."
On top of their own struggles, the Vikings seemed thrown for a loop by the Saints' decision to limit their normal pressure packages and play a zone Cover 2 defense. Favre estimated the Saints used their maximum blitz package on "two or three plays, tops" and Berrian said the zone defense appeared "way more than anticipated."
"Their defense disrupted our timing a little bit," Berrian said. "I just think the looks that they gave us, we really couldn't adjust to them. I thought they would definitely blitz a lot more in this game."
Said coach Brad Childress: "I have to take my hat off to them. It was set up as a big blitz game. The blitz was very, very infrequent. So they did a nice job with that. There were not a lot of throws to be made far down the field."
Remember, the Vikings morphed into a passing offense last season because teams were ganging up on Peterson and the running game. That means they should have been able to run the ball more effectively and explosively Thursday night. But in a close game, the Vikings still threw more times (27) than they ran (23).
"Probably in some instances we can be a little bit more patient," Childress said. "We like to be able to run the ball."
More than anything, the Vikings don't look like they know what they want to be offensively. Peterson was a workhorse Thursday night, but he really didn't impact the game despite some favorable defensive fronts. Ultimately, I think the Vikings must find some combination in the passing game to find their explosive offensive plays. Thursday night, Favre found tight end
Visanthe Shiancoe
for consecutive passes of 33 and 20 yards to take a 9-7 halftime lead, but Shiancoe had only two passes thrown his way thereafter and didn't catch a pass in the second half.
Childress suggested that Saints linebacker
Jonathan Vilma
was holding Shiancoe for much of the game -- "When he didn't maul him, [Shiancoe] ran down the middle for a touchdown," Childress said -- but more generally, what I saw was an offense still finding its way.
That's how the Vikings' offensive development played out after Favre's late 2009 arrival, and it wasn't unexpected this season. But I'm not sure if the Vikings can get away with it for a second consecutive year.
"This is nothing we're going to panic on or get distraught on," Shiancoe said.
I would agree -- if the Vikings had more margin for error. This year, they might not have it.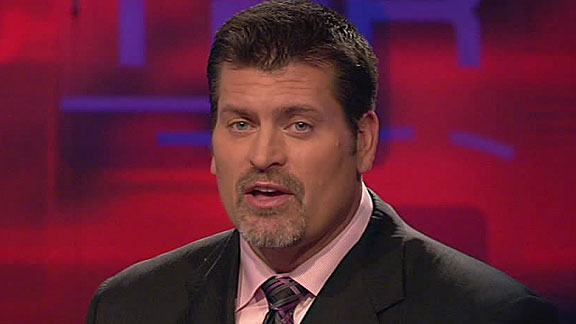 September, 9, 2010
9/09/10
11:24
PM ET
NEW ORLEANS -- Let's hit some hot spots here:


What it means:
The
Minnesota Vikings
fell to 0-1, obviously. But I think this game should relieve some concern about the cloud of drama that hovered over the team all summer. The Vikings withstood the
New Orleans Saints
' early emotional surge, held a 9-7 halftime lead and really made the Saints work hard
to win their home opener
.
Big revelation:
Receiver
Sidney Rice
's hip surgery opened up the question: Where would quarterback
Brett Favre
look in key passing situations? Thursday night's game revealed that, in essence, he's most comfortable with three pass-catchers: tight end
Visanthe Shiancoe
, receiver
Percy Harvin
and running back
Adrian Peterson
. That trio accounted for more than half of Favre's 15 completions. For reasons that must be explained, Favre didn't seem to have much of a connection with erstwhile No. 1 receiver
Bernard Berrian
, who finished with one reception for 3 yards. That's not going to cut it if the Vikings are going to adequately replace Rice.
Injury of note:
Left tackle
Bryant McKinnie
was taken off the field in the fourth quarter with what was reported to be a finger injury. That must have been one major finger injury. His departure forced the Vikings to shift right tackle
Phil Loadholt
to left tackle and insert
Ryan Cook
on the right side. Loadholt committed a key holding penalty on his first series in the new position, and Favre had happy feet thereafter.
Critical call:
With 14:51 left in the game, Vikings coach Brad Childress challenged an incomplete pass to tight end Jim Kleinsasser on third-and-7. I thought replays clearly showed the ball bounced before Kleinsasser grabbed it. Perhaps Childress was attempting to give his defense some extra time to rest before coming back on the field. Regardless, the Vikings had one less timeout to work with while trying to regain possession at the end of the game.
What's next:
The Vikings have nine days to prepare for their next game, the Sept. 19 home opener against the
Miami Dolphins
. Players probably will have the weekend off.
September, 9, 2010
9/09/10
7:15
PM ET
NEW ORLEANS -- I'll be hanging out in
our Countdown Live chat room
during Thursday night's game, but before and after, you'll see traditional posting here on the blog.
Along those lines, the
Minnesota Vikings
announced two lineup changes along with their game day inactive list.
Asher Allen
will start at right cornerback, ahead of
Lito Sheppard
, who I presume will play in the nickel. Meanwhile,
Husain Abdullah
will start at strong safety ahead of
Tyrell Johnson
.
The Allen decision wasn't too surprising, considering that Sheppard was playing with the third-team defense during last week's preseason finale. But if Abdullah saw any time this summer with the Vikings' first-team defense, I missed it. I'm guessing the decision is based on the matchup against New Orleans' pass-happy offense, but I'm not sure.
Abdullah likely will shift to cornerback in dime situations because the Vikings have only three true cornerbacks active.
Cedric Griffin
, who returned to practice this week as he continues recovering from knee surgery, was deactivated. The Vikings did not activate practice squad cornerback
Marcus Sherels
, as had been discussed.
Other notable deactivations included rookie tailback
Toby Gerhart
, meaning
Adrian Peterson
and
Albert Young
will carry the load Thursday night. Gerhart has been dealing with a knee injury.
September, 9, 2010
9/09/10
6:38
PM ET
NEW ORLEANS -- Greetings from the Superdome press box. I wanted to pass along an interesting note from ESPN's Ed Werder, who interviewed
Minnesota Vikings
quarterback
Brett Favre
here in New Orleans.
As you know, Favre has begun a treatment plan of lubricant injections into his surgically-repaired left ankle. Favre told Werder that he has already had two such injections since re-joining the Vikings three weeks ago, and is scheduled to have a third after Thursday night's game.
Favre, who turns 41 next month, said that his mobility remains limited and that he no longer considers scrambling from the pocket an option. But he believes the surgery and subsequent treatment has left him with enough movement to dodge pass rushers in the pocket. We'll know soon.