February, 19, 2015
Feb 19
4:55
PM ET
INDIANAPOLIS --
Julius Peppers
ought to serve as an inspiration to the handful of veteran
Chicago Bears
defensive ends who are expected to switch roles and become 3-4 outside linebackers/edge rushers.
One of the most feared 4-3 pass-rushers of his generation, Peppers' decision to sign with rival Green Bay last offseason forced the 13-year veteran to transition from his customary defensive spot to outside linebacker, where Peppers primarily operated out of a two-point stance.
The results speak for themselves.
Peppers started all 16 games for the Packers, registering 44 tackles, seven sacks, four forced fumbles, two interceptions, 11 passes defensed and two defensive touchdowns.
In two playoff games, Peppers tallied 2.5 sacks and two forced fumbles.
That type of productivity convinced Green Bay to bring back the 35-year-old, eight-time Pro Bowl selection for another season, even though Peppers is scheduled to earn $9.5 million ($8.5 million base salary, $500,000 roster bonus and $500,000 workout bonus) in 2015.
"I'm still the only one who doesn't understand why this question comes up," Packers head coach Mike McCarthy said Thursday. "Yes, he'll be back. He looked very comfortable and had a great year. He made an impact both on the field and in the locker room. It was unique to get to know Julius throughout the process once he signed as a free agent.
I think he looks great in green and gold."
Bears head coach John Fox, who coincidentally coached Peppers for eight years in Carolina, is hopeful
Jared Allen
,
Lamarr Houston
and
Willie Young
can enjoy similar success in the Bears' new 3-4 hybrid look on defense.
However, there are no guarantees the Bears' trio of pass-rushers will be able to accomplish the feat.
Young had a terrific first season in Chicago with a career-high 10 sacks in 15 games, but Allen and Houston both failed to live up to expectations. Although Allen held up OK versus the run with 64 tackles, he finished 2014 with a disappointing 5.5 sacks. Meanwhile, Houston's lone sack of the season came against New England reserve quarterback
Jimmy Garoppolo
in the Bears' humiliating 51-23 loss to the Patriots in Week 8. Houston celebrated the sack (the game was over at that point) by tearing his ACL.
"We'll line them up there, what they become is up to them," Fox said. "In Willie's case he's coming off an Achilles surgery, you know same thing with Lamar Houston, he's coming off an ACL. You know I had two guys a year ago, Chris Harris and
Von Miller
were coming off ACLs and they both had Pro Bowl seasons. So again, that's all part of the process, you know, getting guys healthy, medically, and getting them ready to play. We're working on that as we speak daily.
I haven't seen Allen, so it'd be hard for me to evaluate until we get him out there. But he's a good football player, he's got good instincts. My experience has been that works in a two-point or a three-point stance."
May, 13, 2014
5/13/14
12:00
PM ET
MINNEAPOLIS -- We
talked a bit last week
about the different dynamic UCLA linebacker
Anthony Barr
would bring to the
Minnesota Vikings
' defense, providing a bigger pass-rush presence than they have had at linebacker in some time. But then the Vikings traded up to take
Teddy Bridgewater
, the quarterback stole the headlines and we haven't discussed Barr much since.
I wanted to return to that this morning, with a more detailed discussion about how the Vikings might employ the rookie linebacker. Coach Mike Zimmer was coy about the subject after the Vikings drafted Barr last Thursday night -- "I don't want to tell Green Bay, Chicago and Detroit. I want to let them try and figure that out at some point," he said -- but there are some precedents from Zimmer's past defenses about where Barr might fit.
[+] Enlarge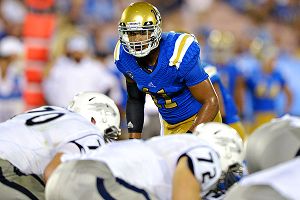 Kirby Lee/USA TODAY SportsExpect to see Vikings rookie Anthony Barr rushing the passer a lot, no matter where he lines up.
The most recent comparison is
James Harrison
, the former
Pittsburgh Steelers
linebacker whom the
Cincinnati Bengals
signed to play in Zimmer's 4-3 defense a year ago. Harrison wound up doing many of the same things he did as a pass-rushing linebacker in the Steelers' 3-4 defense, and didn't see many differences in his role in the two defenses. "I'm playing 'Sam' (strongside linebacker), so I'm basically doing the same thing I do in a 3-4 defense,"
he told the Cincinnati Enquirer last April.
"It's just that I'll switch where I'm lining up," he said. "I'll be ... stacked behind a tackle or guard or whatever it may be. And I'll do my job from there."
Harrison had a disappointing season at age 35, but he was more active as a pass-rusher in the Bengals' defense than any other linebacker -- or, for that matter, anyone the Vikings have had in years. According to Pro Football Focus, he rushed the passer on 36.4 percent of his snaps, playing run defense on 41.5 percent of them and dropping into coverage 22 percent of the time. No Vikings linebacker rushed the passer on more than 11 percent of his snaps last season in the team's old Cover-2 defense.
Zimmer also said Denver's
Von Miller
is a good comparison for what the Vikings would like to do with Barr; Miller rushed 46 percent of the time in the Broncos' defense last season, playing the run 40 percent of the time and dropping into coverage 13 percent of the time, according to Pro Football Focus.
"Typically, our 'Sam' linebacker blitzes a lot more than our 'Will' linebacker," Zimmer said last Thursday. "We're thinking of ways to continually try and pressure the quarterback as many times as we can, and the position he plays is a pressure position, that's why we felt good about him."
Barr will have to adapt to the nuances of the linebacker position in Zimmer's defense after primarily rushing the passer as a 3-4 outside linebacker at UCLA, but Zimmer didn't seem concerned with him getting a feel for a broader role. "The biggest part for me, would be that he has been in the outside linebacker rushing a large majority of the time, or he would be a cover down linebacker some, you know he goes out in space," Zimmer said. "Sometimes he lines up over the guards, but he is right on top of the guards. He will be backed up a little bit in some of our base defensive packages, so that won't be that hard for him to learn the reads from that position opposed to outside."
The Vikings could move Barr around somewhat in sub packages, and they will undoubtedly fit their scheme to what Barr can do, but Harrison's and Miller's roles last season seem like a decent baseline for what Barr could do in Minnesota. It's also easy to see why Zimmer pushed so hard for Barr; there was no one on the Vikings' roster who was an obvious fit for the strongside spot in Zimmer's defense, whereas Barr seems like a natural fit for the role.
"The guy has played two years on defense. He's like a fawn," Zimmer said. "He's just learning some of these things. It's not that he is so raw that he is not a good football player, because he is a really good football player. I don't want anybody to think that because he is inexperienced that he is not a good football player. He will be good. I'm excited about the chance to take him and mold him into what I really envision him to be, which I think will be good."
April, 15, 2013
4/15/13
1:00
PM ET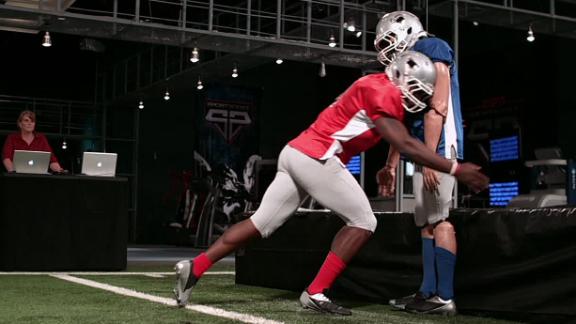 We all have our doubts on whether Georgia linebacker
Alec Ogletree
will
be available
when the
Chicago Bears
and
Minnesota Vikings
draft at No. 20 and No. 23/25 overall, respectively. This Sport Science video helps explain why.
Ogletree puts up acceleration numbers that compare him with
Pittsburgh Steelers
outside linebacker Lamar Woodley and produces a force of impact on par with the
Denver Broncos
'
Von Miller
. Overall, Sport Science puts Ogletree on par with
Carolina Panthers
middle linebacker
Luke Kuechly
, the No. 11 overall pick of the 2012 draft and last year's Defensive Rookie of the Year.
November, 30, 2011
11/30/11
6:00
PM ET
March, 19, 2011
3/19/11
9:00
AM ET
After the NFL labor situation took a few unfortunate turns last week, let's once again check in with Vince Lombardi: "Once you have established the goals you want and the price you're willing to pay, you can ignore the minor hurts, the opponent's pressure and the temporary failures."
I'll be here all week via
the mailbag
,
Facebook
and
Twitter
.
Clay of Minooka, Ill., wants to comment on Minnesota Vikings tailback Adrian Peterson's use of the term "modern-day slavery" to describe players' relationship with NFL owners:
I feel everyone is making it up to be something bigger than what it is. If you read the entire statement, he discusses how the players, like most employees under owners, are making fractions of what the owners make. He seems to be saying that without the employees there is no business, and yet owners constantly try to take away from them.
This is very true for a majority of today's business. (Hence modern-day slavery.) He wasn't making any remarks toward race, simply making an analogy which really is not off base. Given that we are in a world where everyone gets to have an opinion (as I am doing right now) I think it is too bad that people with a forum that has a following (such as ESPN) are trying to make this a story. I guess I miss the days where ESPN wasn't such a gossip-filled media.
Kevin Seifert
: Typically I don't choose questions or comments that long, but I think Clay has given us a relatively level-headed perspective on exactly why this
is
a story and why using the term "modern-day slavery" in the context of NFL labor relations is inappropriate and indefensible.
First, let me reiterate what I originally wrote. My dealings with Peterson over the past four years have revealed him to be a thoughtful and charitable man. He chooses his words carefully, is fully aware of public perception and always projects himself professionally. Almost without fail, he represents the Vikings in a positive manner.
I also think NFL players can justifiably argue that they, as Clay writes, make a fraction of what team owners make. And like many businesses, the NFL wouldn't be as successful as it is without the unique skills of its players. Perhaps players should be rewarded more, not less, for their efforts.
Here's the problem: That debatable inequity isn't slavery, either in the modern or historical sense. It's a predicament. A bad deal. A discrepancy.
People often use the term "modern-day" to denote the evolution of something historical into a faster-paced era. "Modern-day romance" can spark via internet dating services. "Modern-day warfare" takes place in areas far removed form the traditional battlefield. "Modern-day medicine" is ruled by insurance companies, not doctors.
And "modern-day slavery" is known as human trafficking. Anyone who thinks that it's analogous to the NFL should check out the
U.S. State Department's 2010 report on human trafficking
. It estimates that 12.3 million people worldwide were in forced or bonded labor, or forced prostitution during 2010. The report includes countless
victim profiles
that describe the work forced upon abducted children, among other atrocities.
Here's one that details a woman abducted in Kenya and enslaved in Saudi Arabia:
Salima was recruited in Kenya to work as a maid in Saudi Arabia. She was promised enough money to support herself and her two children. But when she arrived in Jeddah, she was forced to work 22 hours a day, cleaning 16 rooms daily for several months. She was never let out of the house and was given food only when her employers had leftovers. When there were no leftovers, Salima turned to dog food for sustenance. She suffered verbal and sexual abuse from her employers and their children. One day while Salima was hanging clothes on the line, her employer pushed her out the window, telling her, "You are better off dead." Salima plunged into a swimming pool three floors down and was rescued by police. After a week in the hospital, she was deported. She returned to Kenya with broken legs and hands.
If you can find a parallel between Salima and an NFL player, let me know.
I agree that Peterson's comments in no way invoked race, but slavery has never been just about race. It's about class, sexism and many other issues.
The big point -- and for me it's so obvious that I don't know if I need to make it -- is that NFL players aren't forced into anything and do nothing against their will. Owners might have a monopoly on their profession, which might be unfair, but it's hardly a moral atrocity.
As for the issue of using the ESPN forum "to make this a story," I think quite the opposite. In this case, I'm grateful to have the opportunity to (hopefully) push people away from comparing everyday bummers to illegal evils.
I was going to let this issue slide until
Pittsburgh Steelers
tailback
Rashard Mendenhall
expressed support for Peterson's statement
via Twitter, saying: "Anyone with knowledge of the slave trade and the NFL could say these two parallel each other."
Actually, even the most cursory knowledge of slavery -- either historical or modern-day -- reveals there are no parallels whatsoever. Everyone is entitled to an opinion, but this isn't an issue of subjective interpretation. To me, it's frightening to see social misinformation spread in the name of an economic cause. NFL players might feel minimized, condescended to and used. Enslaved? Please.
---
Anthony of Clinton Township, Mich., writes:
Remember at the beginning of last season your NFC North faithful readers had an NFC North ESPN fantasy football league? I won, I think I should get a little blip in a story.
Kevin Seifert:
I vaguely remember someone asking if I would organize and participate in a fantasy league. I passed, mostly in fear of being revealed as an uninformed fraud. But I'm glad to hear you all organized amongst yourselves and I offer my hearty congratulations to you and yours.
---
Jim of St. Paul noted I wasn't sure of the Green Bay Packers' season ticket payment deadline and wrote:
I am a season ticket holder at Lambeau. Their payment deadline is March 31.
Kevin Seifert:
Several other readers noted this date as well. I'm still interested to see if the Packers, or any other NFC North team, follow the
New York Giants
' lead and push back deadlines until after the NFL and its players reach a new collective bargaining agreement (CBA). That's the fairest way for teams to treat their best customers during a time when the business has been shut down.
---
Kyle of Grand Rapids, Mich., writes:
I am still hot about this draft boycott idea by the NFLPA. I don't get it. The prospects being at the draft is far more for them and the fans than for ANY team or owner. What exactly is boycotting going to accomplish? To me it just shows even more that the players' claims to be concerned about the fan are either lip service or they are generally disconnected with what fans want.
Kevin Seifert:
In the event any of you missed it, the NFL typically invites 15-20 players to attend the draft in New York City and shake commissioner Roger Goodell's hand upon being selected. Kyle is referring to
Adam Schefter's report
that the NFL Players Association will "ask" those players to decline their invitations. Instead, there have been indications the NFLPA will hold a parallel event for them to attend.
Honestly, Kyle, I'm not caught up in the outrage over this request. I'm sure it's probably cool for the 15-20 players who attend. But I'm sure it's much cooler to deposit that first paycheck a few months later. If this labor strife has shown us anything, it's that this game is all about the money.
And I have to ask how devalued the draft broadcast really would be without those players. Will people really tune in to watch
Cam Newton
hug his agent and proceed to a photo op with Goodell? Or do you watch
to find out who your team drafts?
To me, that is and will always be the true drama of the draft.
---
Nathan of Phoenix writes:
Todd McShay's draft scenario
is a dream come true for me as a Lions fan and as a Baylor graduate. However, try to imagine this scenario: The Vikings picking at No. 12, where they are about to take _____ and then they realize, "If we take _____, then Detroit will take
Prince Amukamara
. Do we really want that?" To your point, do they let a division rival get an elite cover cornerback with 4.37 speed?"
Kevin Seifert:
It's a very interesting point and scenario, Nathan. In the end, however, I don't think you can play defense in the draft, especially in the first round. At that point, there should be no motive other than picking the best player for your team.
The trickier question is whether the Vikings should pass on Amukamara for their own purposes. The only certainty they have at cornerback is veteran
Antoine Winfield
, who turns 34 in June.
Cedric Griffin
is recovering from a torn anterior cruciate ligament, his second in as many seasons.
Chris Cook
showed some promise last summer in training camp but two knee injuries held him back during the season.
The Vikings would have to think hard about taking Amukamara. The Lions' needs shouldn't have anything to do with it, but their own might provide enough motivation.
---
Lou of Yuma, Ariz., writes:
Thanks so much for your
comments on the "
Calvin Johnson
Rule!" I'd totally forgotten about Bill the Cat, and his normal comment exactly describes how I feel about the entire situation. I haven't laughed so much in years -- it was a "funny-always" line (as opposed to "funny-once" or "funny-never").
Kevin Seifert:
Glad someone got it! I'll tell
Milo and the gang
next time I see them.
---
Andy of Chicago writes:
Much has been made about the Packers' roster depth. Along with the 53 they had at the end of the season, they could return as many as 15 players from IR and perhaps
Johnny Jolly
from suspension. Throw in another 8 or 9 draft picks, and those first-year gems that Ted Thompson seems to find outside of the draft before the season (
Sam Shields
,
Frank Zombo
,
Ryan Grant
, etc.) and that's a lot of bodies in camp. Figuring they'll probably lose 7 or so players to free agency, do you think Thompson might change his strategy and package picks in the draft to prioritize quality over quantity, i.e., move up on the board?
Kevin Seifert:
It's an interesting perspective that more than a few of you have asked about. The first thing to remember is that from a pure numbers standpoint, no team is allowed more than 80 players in training camp. That number could change in the new collective bargaining agreement, but I realize you're referring to a lot of players who could/should make the team, as opposed to just a lot of players.
So is this the year that the Packers can afford to sacrifice multiple draft choices if there is a player they really feel strong about? A few of you have asked about Texas A&M linebacker
Von Miller
, who
Scouts Inc. is ranking
as the second-best prospect in the entire draft.
If the Packers think Miller is as good as media analysts suggest, would it be worth them to trade multiple picks to get into the top 5 and draft him? The idea would be that any players the Packers take on the second and third days of the draft are going to have a hard time making their roster.
It makes some sense, but I it would require a significant departure from the way Thompson has built the team in the first place. I think the chances of his staying course -- adding more and more talent on annual basis -- are much higher than a one-time philosophical shift.
February, 2, 2011
2/02/11
7:45
AM ET
We're Black and Blue All Over:
When they finally get down to conducting a Super Bowl practice Wednesday, the Green Bay Packers will have one big personnel question: Who will start at left outside linebacker in Super Bowl XLV?

The top two candidates -- Erik Walden and Frank Zombo -- are recovering from ankle and knee injuries, respectively. Walden is the Packers' first choice, but he hasn't practiced since suffering his injury in the NFC Championship Game.
Walden said he plans to "give it a go" in practice Wednesday, according to
Bob McGinn of the Milwaukee Journal Sentinel
. His status isn't likely to be determined until the end of the week at the earliest. Zombo, meanwhile, returned to practice last week but hasn't played in nearly two months.
Continuing around the NFC North:
January, 28, 2011
1/28/11
11:30
AM ET
As promised, it's time to take a look at some potential Senior Bowl draft targets for the
Detroit Lions
. To be clear, all we can do at this point is match up the positions the Lions need help at with the reports we're getting out of Mobile, Ala.

Toward that end, outside linebacker is a position of need for the Lions and ESPN's Todd McShay has been raving about Texas A&M linebacker Von Miller all week. Miller has also got some work at defensive end, but at 6-foot-3 and 237 pounds,
McShay writes
: "He's looking like a perfect fit for a strongside linebacker in a 4-3 scheme."
Another snippet of McShay's report: "It's very clear Miller has the athleticism, speed and raw, natural football instincts to not only become adequate in coverage, but to make it a strength of his game, which already includes man-to-man coverage ability."
It doesn't sound like Miller will rise into the conversation for the Lions' first-round pick, No. 13 overall, but he is certainly a player who improved his stock this week.
On the other hand, our Scouts Inc. partners aren't that enamored with another position of need for the Lions this week. McShay wrote he didn't see a cornerback who would be worth of a first- or second-round draft pick.
McShay: One position group that really failed to make a mark this week was the defensive backs. Where were they? In recent years, we've seen standout performances from players like Chris Cook, Devin McCourty and Alphonso Smith, but this year has seen a very average group. There are no safeties like Taylor Mays, who wowed you with his size, speed and freakish natural athleticism. And looking at the cornerbacks, we don't know whether we saw anyone who will go in the first two rounds. No one rose to the top of the class and took advantage of the opportunity.
I always look at the Senior Bowl as an appetizer. Along with the East-West shrine game, it's the first step in a long process of matching college players with NFL teams. But it sure gets our juices flowing.
January, 13, 2011
1/13/11
4:00
PM ET
Our
inaugural 2011 DraftWatch post
got lost in the shuffle following quarterback Andrew Luck's surprise announcement that he would bypass the draft and instead return to Stanford next season. This week, we'll take another look at
Mel Kiper's updated Big Board
, which requires an Insider subscription for full viewing, and extract his top two players at the three positions most likely to be targeted by the NFC North teams whose draft position is set.
(Wow. That was a mouthful.)
The
Minnesota Vikings
need a quarterback. The
Detroit Lions
could use help at cornerback and outside linebacker. Here is how Kiper currently rates the elite players at those positions among his top 25 prospects:
Quarterback

8.
Blaine Gabbert
* (Missouri)
14.
Cam Newton
* (Auburn)
Cornerback

4.
Patrick Peterson
* (LSU)
6.
Prince Amukamara
(Nebraska)
Linebacker

9.
Von Miller
(Texas A&M)
12.
Akeem Ayers
* (UCLA)
*Underclassman